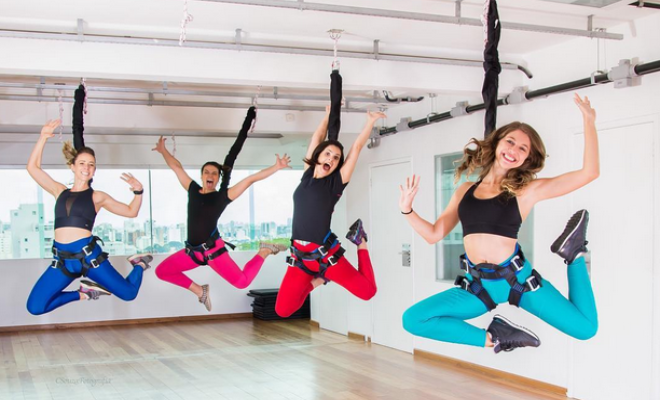 A new workout has taken the fitness industry by storm. It is highly loved by thrill-seekers who want to strengthen their core muscles while trying new trends. It is known as the fly bungee fitness workout.
The term "bungee" automatically brings the image of jumping down the cliff or falling bridges. Sadly, none of this is involved in bungee fitness workout class.
So, what is this new fitness craze all about? Let's find out everything about the fly bungee fitness workout and why you should try this new fitness trend.
Read more- Best Detox Drinks For Weight Loss
What Is Bungee Fitness?
Bungee fitness is a crazy fun alternative to your regular old-school workouts. Started in Thailand, this workout focuses on resistance training to build and tone muscles while you have fun. People have to wear harnesses attached to bungee cords in order to provide resistance and assistance throughout the class.
You can find plenty of videos online showing people with a harness attached to the legs and suspended by a bungee cord from the ceiling. You can dance, plunge on the floor, perform aerobics, bounce off the wall, and fly in the air.
Benefits of Fly Bungee Fitness Workout
The biggest benefit of practicing fly bungee fitness is it helps to increase endurance and fitness while burning calories and building more muscles.
You can do a large variety of moves with the help of a bungee which helps in giving a full-body workout. Get ready to work your legs, core, back, and arms.
Thanks to harness, you can also practice low-impact workouts that combine strength moves and cardio together without compromising on intensity.
There is 70% cardio and 30% strength training in a standard Bungee workout class, including squats, lunges, jumping, and pushups.
This workout technique is unique and is a great way to reignite the love for workouts without jumping out of your comfort zone.
Read More- How to Walk 2,000 More Steps a Day and Keep Weight Off
Can You Do a Bungee Workout?
If this is your first time trying a bungee fitness workout, you do not need to feel deterred. This workout is suitable for people of all ages and body types to get them moving in different ways.
If you have ever suffered injuries during workouts, you can still try cardio workouts in bungee without causing any pressure on your joints. People who have hip, knee, or ankle issues can benefit a lot by trying a low-impact bungee fitness workout.
If you like to indulge in cardio fitness workouts but do not like jogging or running, you are definitely going to love the fly bungee fitness exercises.
What to Expect in a Bungee Workout Class?
When you go to any bungee workout class near you, the main focus will be on the learning curve. Classes will require a degree of familiarity with trust in the bungee system. Some studios also offer introductory classes to get you familiar with the equipment.
Every person has a different weight and height. The learning curve when trying to perform basic body-weight moves while being strapped into a harness, every client needs to learn the fundamental exercises.
The bungee harness system is customizable to every person's height and weight. Instructors can adjust the harness to make it fit your body. However, you need to be mentally prepared to wear the equipment for one long hour.
The harness can be a bit daunting in the first go. During the five minutes in the class, people spent most time beneath the bungee line to get used to the equipment and resistance. After they have passed the familiarization period, the workout will begin with various moves, squats, lunges, and pushups.
The last 30 minutes of the workout is complete cardio, where you have to leap, run and drive around the room from walls to walls.
Tips for Your First Bungee Workout
In the initial few days of bungee fitness workout class, your body and hips will take some time to get used to wearing a harness. Make sure to carry a water bottle and wear fitted moisture-wicking clothes to avoid tripping. The best options are to wear bike shorts over leggings to reduce the harness sensation for the first few days of using the equipment.
Some studios offer shorts with extra padding where the harness will come in contact with the body. Some fly bungee fitness studios may even ask you to wreck tennis shoes.
You should attend the class with an adventurous spirit and an open mind. It will be an extremely new experience for you. Be ready to laugh and sweat it all out.
Read More- How Many Calories Do You Burn Every Day?
Where To Find a Bungee Workout Class Near You?
As the bungee fitness workout is gaining popularity across the country, there are more upcoming studios. Usually, studios offer aerial yoga classes used to offer bungee fitness because of their already attached harness system to the ceilings.
Now that bungee workouts are becoming popular still there is no chain franchise of studios yet. So the class type, size, and prices may vary in every studio. In general, you can expect the charges between $20 to $35 with a small number of participants since every person requires their own bungee suspension system.