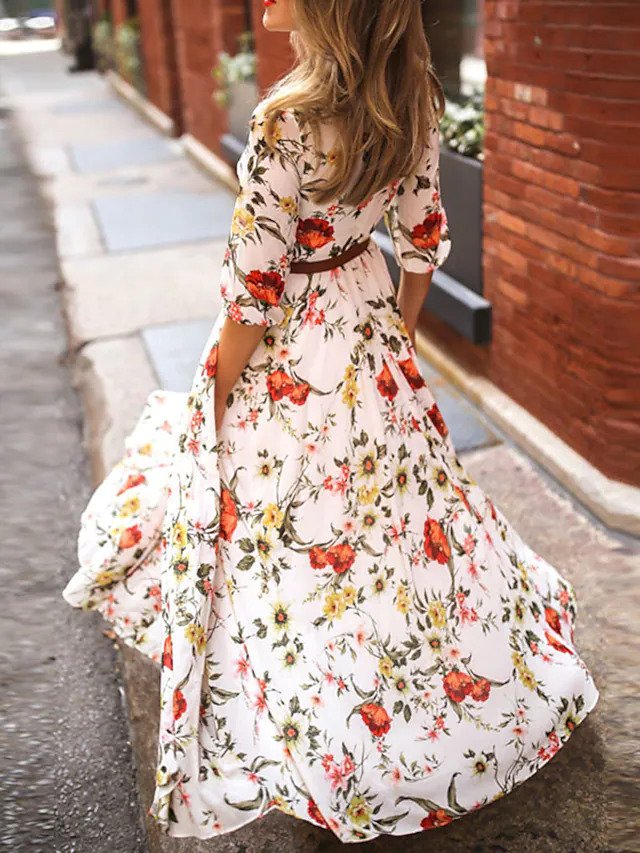 Ah…summer dresses! The ideal ones make for a gorgeous outfit in 2023 that keeps you stylish and comfy all day and night.
It's time we look at why wearing boho-chic maxi dresses is ideal for that summer season.
A bit of drama
Whether you are an inner diva or an inner hippie, maxi dresses for women can let you express that. You see, there's something about wearing a floor-length dress (even the most casual) that makes you like to make an entrance by gliding into a room with all that beautiful fabrics and doing a quick spin.
Oh, so casual
Don't you simply love casual dresses? One that says, "no pumps or stockings allowed. Only sandals and bare feet, please."
One of the cool things about a boho-chic maxi dress is that it looks as much at home on a beach as it does at a stylish resto with your favorite summer sandals.
Boho-chic also draws on different hippie and bohemian influences and trends to have an unconventional, bold, and relaxed look. Further, boho-chic often involves a combination of many colors and natural elements, textures, and patterns.
In short, the creation of a perfect casual summer dress!
WORTH CHECKING: Woman's Dress changes color from white to Pink in the Sun – Watch Video
Ideal for travel
Are you searching for a practical and beautiful dress to pack for your trip? Make it a maxi.
Part of the fun is getting to wear clothes that are not for work. A boho-chic maxi dress will motivate you to let your hair down on vacation. In addition, it has the versatility that you crave in travel clothes.
You can throw it on in the morning, enjoy a hectic day of shopping or sightseeing, and then go out to dinner in it at night.
Different maxi dresses could even work as a beach cover-up. That flowy casual vibe is supernatural for the beach. You can simply toss on your boho-chic maxi dress over that swimsuit and be prepared to travel to the beach and enjoy the scenery.
ALSO READ: 10+ The Best Peacock Chairs That Shout Boho Chic
All colors of the rainbow
Summer is the ideal time to break out your favorite colors, and maxi dresses are the ideal excuse to do that. From beautiful pastels to dramatic neutrals to the brightest brights, you could find them in a maxi dress.
How to Style a Boho-Chic Maxi Dress
Boho-Chic maxi dresses can be styled in various ways to achieve a bohemian, free-spirited look. Here are some tips to help you style a boho-chic maxi dress:
Add statement jewelry such as large hoop earrings, layered necklaces, bracelets, or timeless D&G eyeglasses to complement your dress.
Choose comfortable, earthy-toned sandals or ankle boots to complete the look.
A wide-brimmed hat or a headscarf can add a touch of bohemian flair to your outfit.
Layer your dress with a denim jacket, a kimono, or a cardigan for added warmth and dimension.
A large, woven tote or a fringed crossbody bag can complete your boho-chic look.
Remember, boho-chic is all about being carefree and individualistic, so feel free to mix and match pieces to create a unique, personal style that reflects your personality.