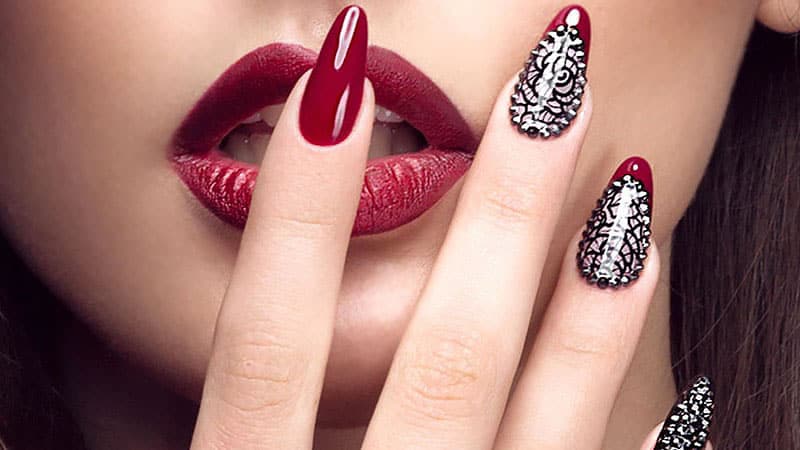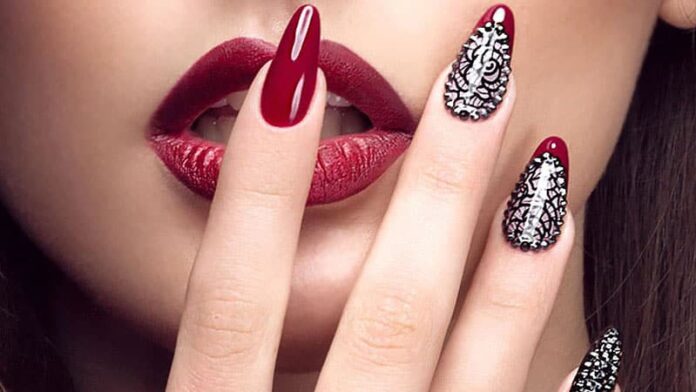 "We understand your love for your regular manicure and pedicure sessions, but have you ever found yourself a bit weary of the same old pale pinks, nudes, or blacks? If you're searching for an elegant 3D nail design to make your nails truly stand out, 3D nail art is here to fulfill your manicure wishes."
Whether intricate flower designs or elegant stud embellishments, three-dimensional nails have never looked more enticing.
In this amazing 3D nail design collection, we've handpicked some of the most captivating 3D nail designs to spark your creativity for your next manicure."
1. Lace 3D Nails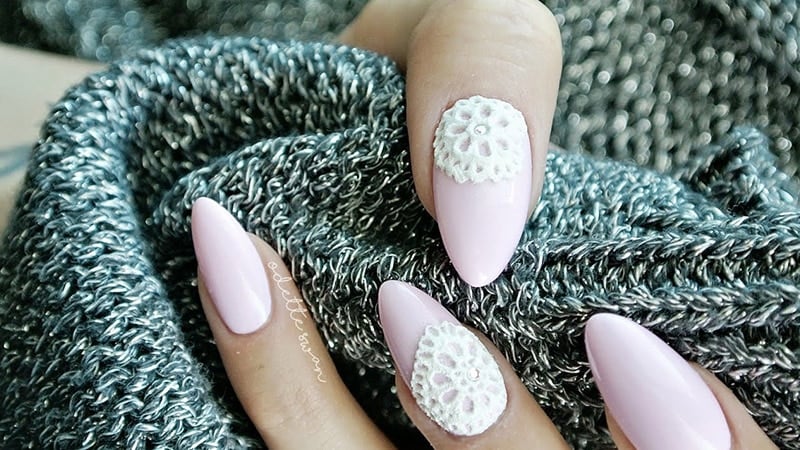 Lace 3D nail art is a fantastic option because it offers versatility in terms of coverage. You can go for a subtle touch or fully embrace the lace effect.
Begin by selecting your base colour and gather some lace. The process resembles a standard lace manicure but with a twist.
Instead of applying polish over the lace and peeling it off, you affix the lace directly onto your nail, resulting in a textured 3D look. It's a creative and stylish way to elevate your nail game.
2. 3D Unicorn Nails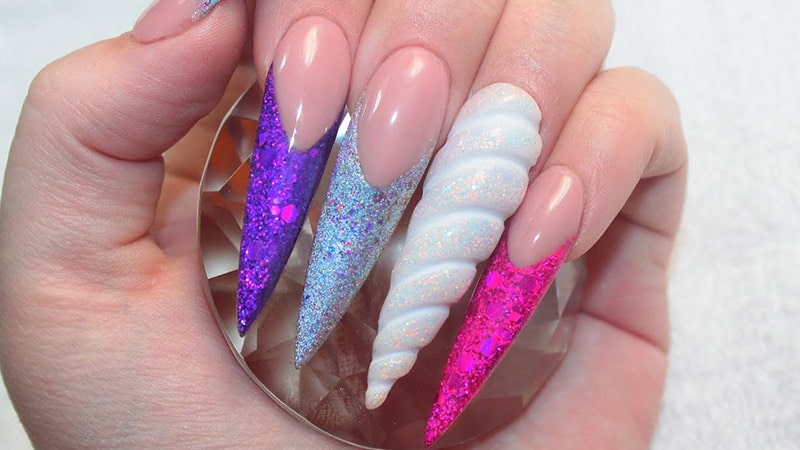 3D unicorn nails are a must-try if you're all about the unicorn craze, which has taken everything from highlighters to doughnuts by storm.
Why not give your nails a touch of magic, too? Dive into this dazzling glitter design featuring a unicorn horn accent nail.
It's a whimsical and eye-catching way to embrace the unicorn trend and add a sprinkle of enchantment to your nail game.
3. 3D Snowflakes Nail Art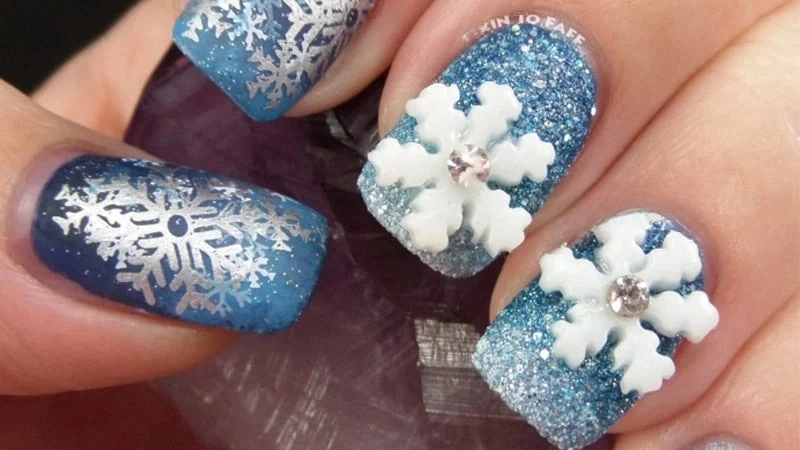 Get ready to embrace the winter vibes with a frosty and adorable 3D snowflake nail design. This charming look will have you welcoming the cold weather with open arms.
Apply a blue base, then add delicate white snowflakes to complete the wintry masterpiece. It's a fun and festive way to celebrate the season on your nails.
4. 3D Bridal Nails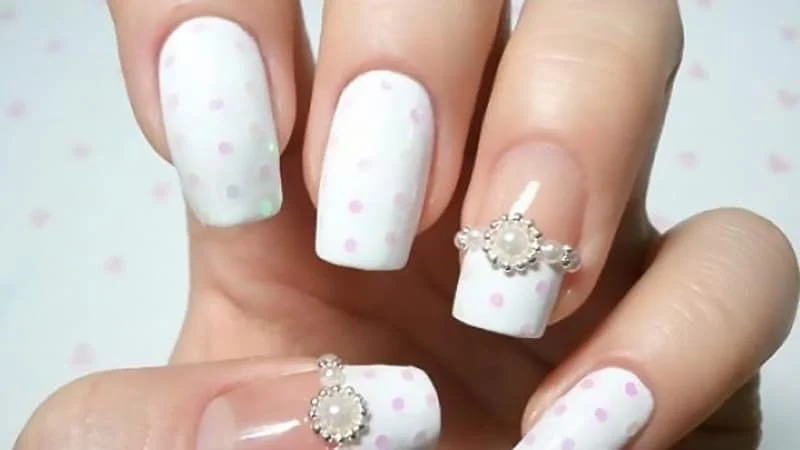 Who says your engagement ring should be the only bling on your big day? While 3D nails might not be the first thing that comes to mind for bridal elegance, a subtle touch can make all the difference, especially in those close-up ring shots.
So, why not add a hint of 3D glamour to your bridal nails to complement your stunning ring and make your hands truly shine on your special day?
5. 3D Rose Nail Art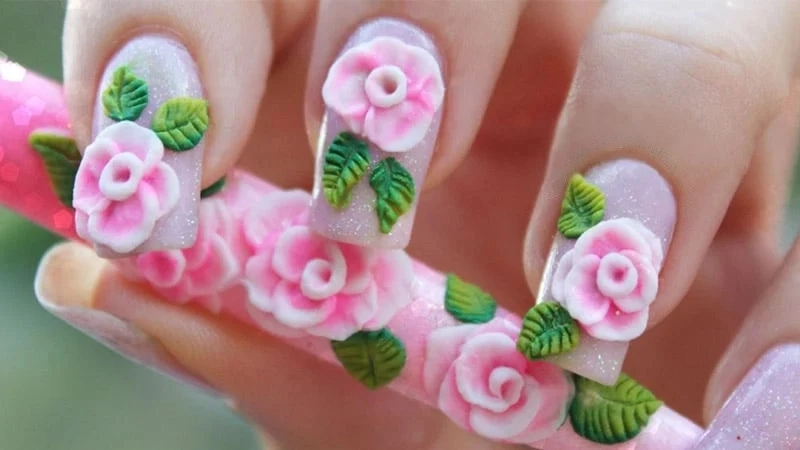 If you're into floral nail art, take advantage of the charm of 3D roses. A lovely pink rose design with delicate leaf details offers a fresh and youthful twist on the classic red rose style.
It's a pretty and captivating choice for those who want to embrace the beauty of roses in a unique and trendy way.
6. Mermaid 3D Nails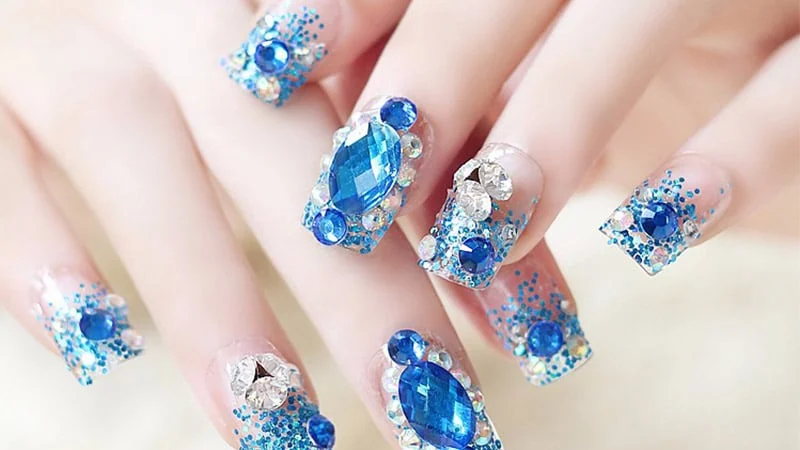 Embrace your inner sea enchantress with this stunning blue jewel-adorned design.
7. DIY 3D Nails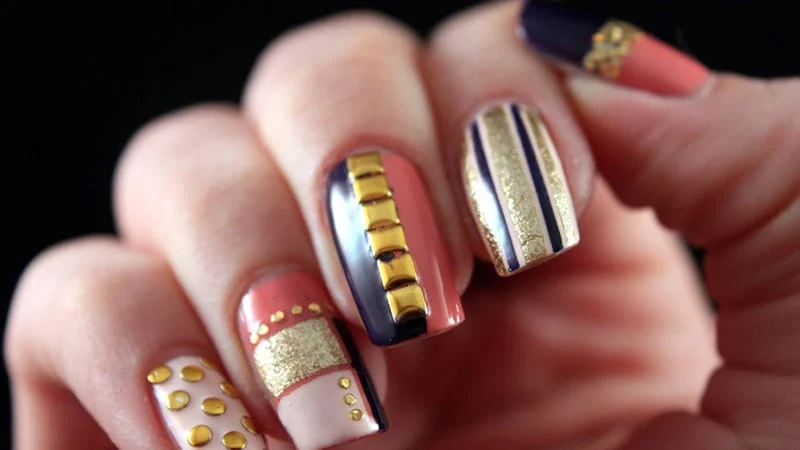 Creating your 3D nails at home is a breeze! All you need is some nail glue, diamantes, and some inspiration from Pinterest.
While there are numerous intricate designs to experiment with, if you're new to nail art, consider kicking off your DIY journey with stud embellishments.
They're among the most straightforward styles, and you'll soon be rocking fabulous 3D nails in no time.
8. 3D French Nails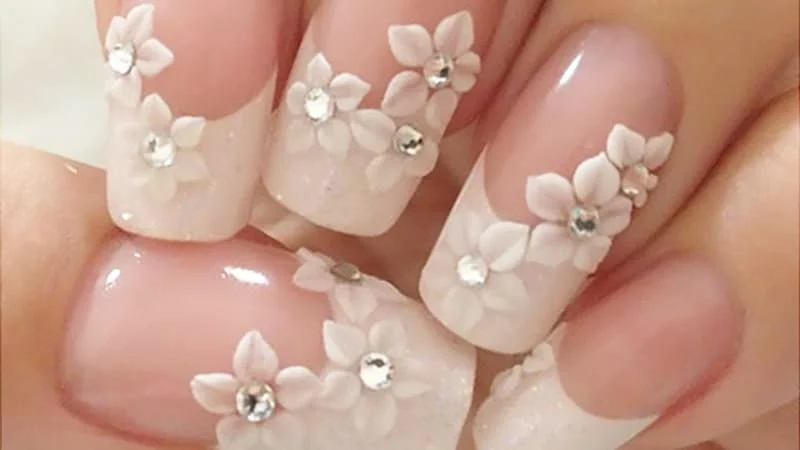 Elevate your elegance with 3D French nails that exude femininity. This style combines the timeless French manicure with delicate 3D flowers, adding a modern and trendy twist to your classic French tips.
The stunning white flowers will make a statement and enhance your overall look.
9. Bejeweled 3D Nails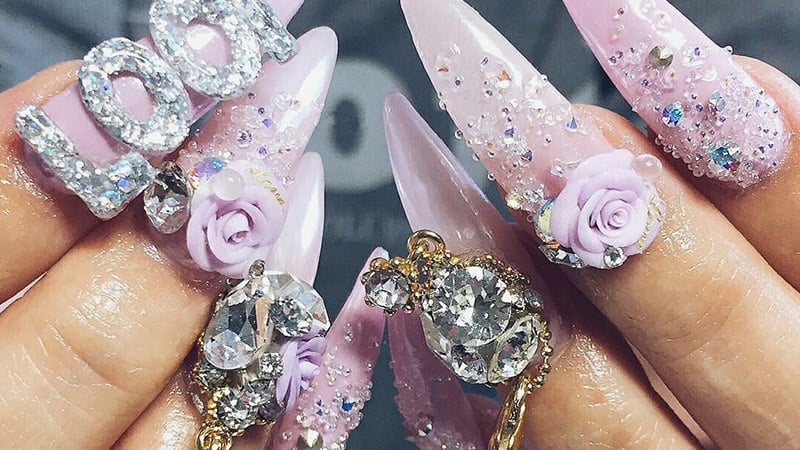 "If you're not into subtlety, why not opt for something more dazzling? From incorporating words to embellishing with jewels and even adding chains, the possibilities for attaching 3D elements to your nails are endless.
So, let your creativity flow and unleash your artistic side."
10. Simple 3D Nails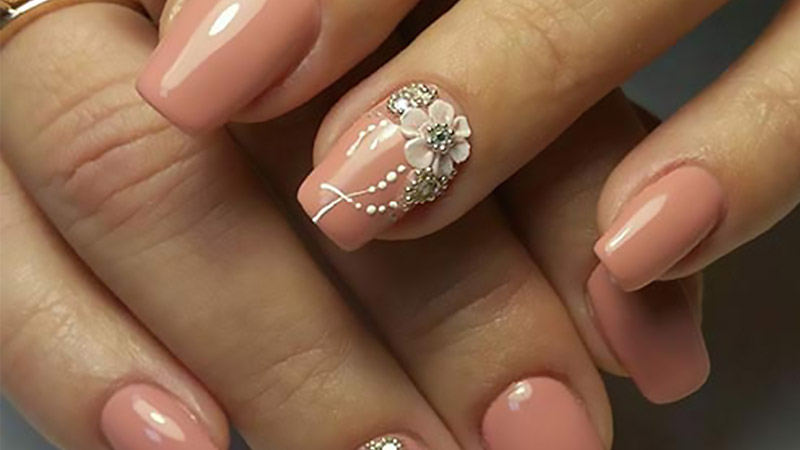 If you want something simple and not too flashy, try a basic 3D nude manicure. Nude colours can work for all sorts of occasions. Even if you add subtle silver or white decorations, your nails will still look stylish and suitable.
11. Matte 3D Nails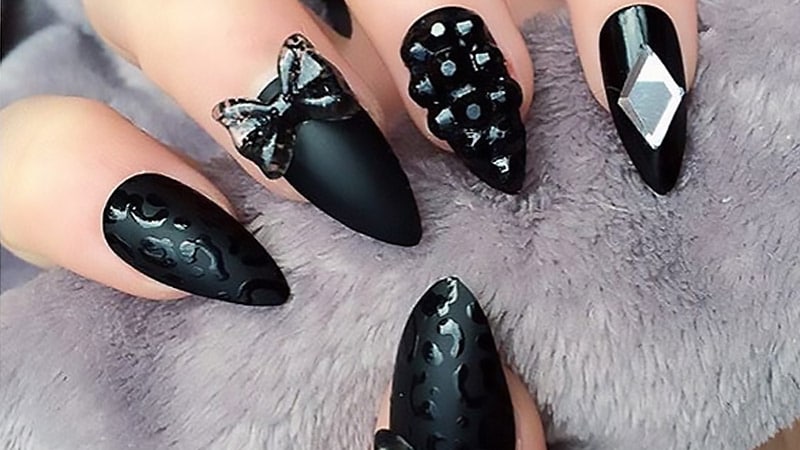 "Injecting a 3D flair can revitalize a classic matte nail polish. To achieve a striking and chic look, consider pairing black nail polish with a black bow and studs."
12. Glossy 3D Nails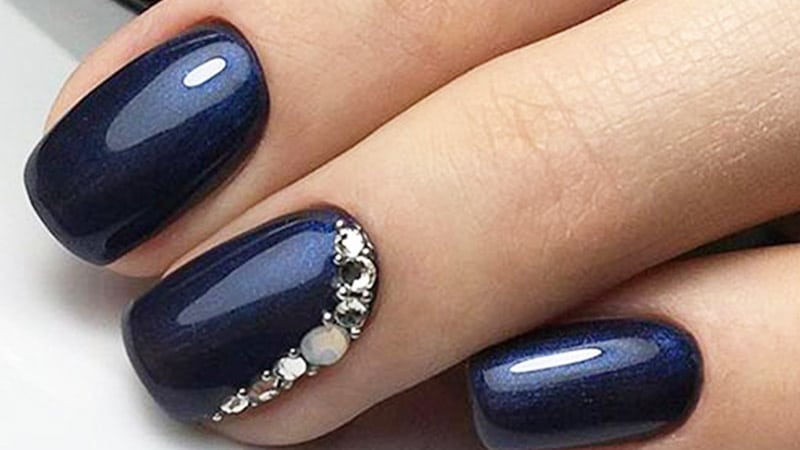 Matte nails are classy, but there's something about glossy nails that adds a touch of excitement. And when you throw in a 3D element, it's even more captivating.
Experiment with a stunning navy polish and add a sprinkle of diamontes for that extra sparkle. It's the perfect way to make your nails shine and stand out.
13. Gold 3D Nails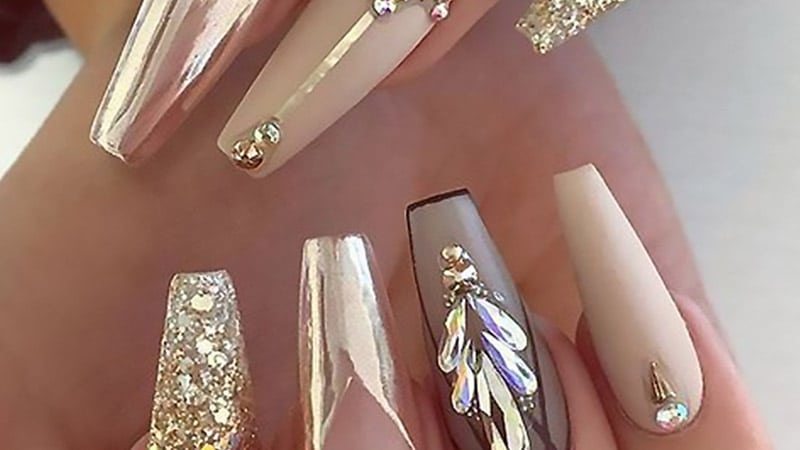 If you're aiming for the pinnacle of glamour with your gold manicure, why not elevate it further? Consider incorporating 3D embellishments like studs or diamontes to take your gold nails to the next level of sophistication and style.
It's the perfect way to make your nails shine and make a statement.
14. Coffin Nails with 3D Design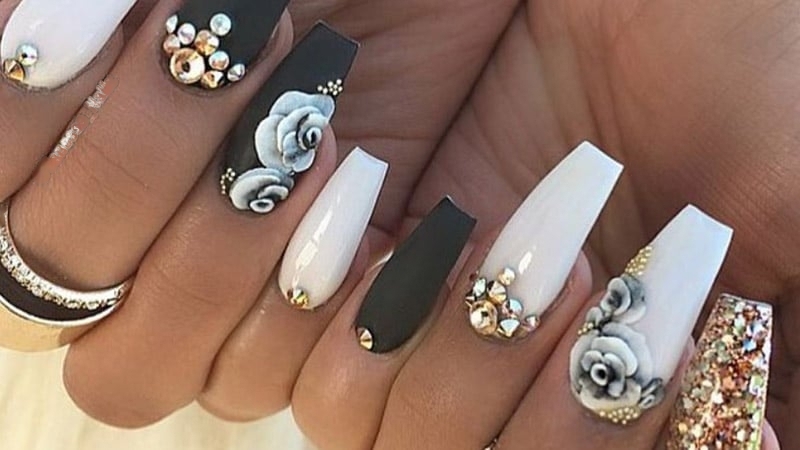 Coffin nails are all the rage, and so are 3D nail designs. Why not merge the two trends for a unique and striking look?
Whether you want to go all out with elaborate 3D accents or prefer a subtle accent nail, you have endless possibilities to explore with these extra-long coffin nails. It's a creative way of expressing your style and nail art preferences.
15. Ombre 3D Nails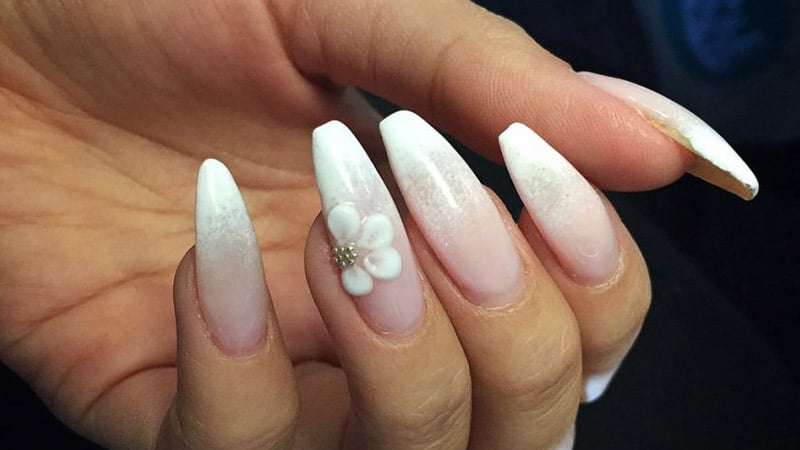 The ombre nail trend, which was super popular for a while, is fading. But if you want to make your ombre nails cool again, consider adding some 3D sequins or cute floral stuff. It'll give your nails a fresh and unique vibe.
Recommendation
17 Most Gorgeous Black Glitter Nails Ideas
25 Red Coffin Nails to Try in 2023
Cute Birthday Nail Designs For Your Special Day Glam
How to Stop Nail Biting- Reasons and Prevention of Nail Biting
FAQs
Q: What is a 3D manicure?
A: A 3D manicure is more than just nail polish. It has extra details glued to the nail, such as jewels, flowers, lace, bows, or anything else you can imagine.
It's generally then lacquered over to seal it in for extra security. Alternatively, your nail artist can use different gels or acrylic to sculpt shapes, such as unicorn horns or flowers.
Q: How do you do 3D nails?
A: With artwork as intricate as some 3D designs, it's best to head into your favourite nail salon. They will do the manicure as usual and apply a base coat colour in whatever shade or theme you like.
Then, it's time for the actual art. Depending on their skills, they'll glue decorations using nail glue or create custom art using extra nail gel or acrylic. Special tools, as does a slow-setting product, make this process a lot easier.
Q: What are the five basic nail designs?
A: The five basic nail shapes are square, oval, round, almond, and stiletto.
Q: What is the popular nail colour for 2023?
A: The popular nail colours for 2023 are deep reds, shades of brown, blueish-grey, muted greens, nude, navy, and metallic finishes.
Q: What is the difference between 3D and 4D nail art?
A: One of the key differences between 3D and 4D is that 3D is static, while 4D is dynamic.
Q: What nail shape looks best on short, chubby fingers?
A: For chubby fingers, you can opt for these nail shapes: oval, round, almond, and coffin. These nail shapes will make your nails and fingers look longer and hide the chubby fingers underneath the tip of your nails.
Conclusion
In summary, 3D nail art is an exciting trend to revamp your regular manicure routine. From lace and unicorn designs to snowflakes and bridal elegance, these captivating 3D nail styles offer something for everyone.
Whether you prefer subtle elegance or bold bling, 3D nails can elevate your nail game and express creativity. So, let your nails steal the spotlight with these enchanting designs.
Also, remember to keep in mind what to do to protect your amazing nails after manicure.
More Elegant 3D Nail Designs