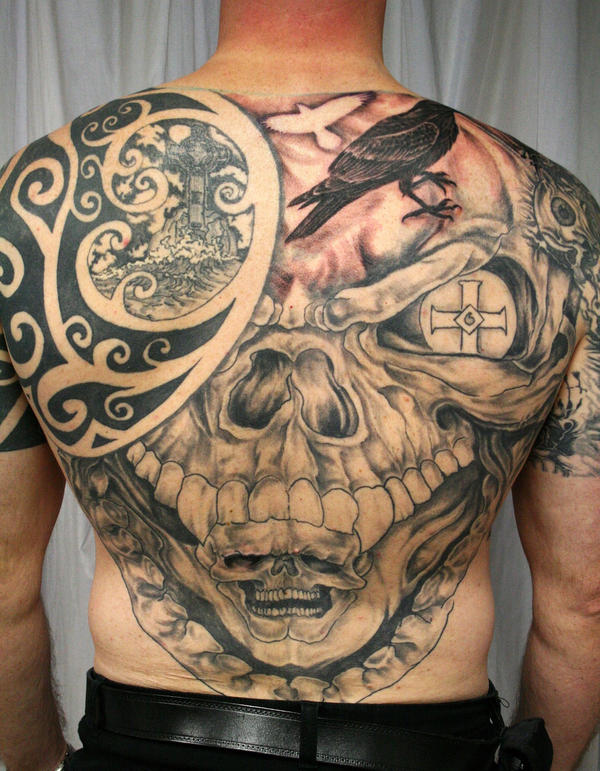 With a plethora of design options to choose from, it is hard to pick something that really speaks about you. Badass tattoo ideas are more than just artwork. Every person has different reasons for getting inked. Some do it as a sign of self-expression, some to honor their loved ones with a meaningful quote. Whatever might be your reason, we have something for everyone.
Whether you are looking for a badass arm, back, forearm, chest, shoulder, hands, or sleeve tattoo, our collection of designs will help you pick one for you. From small to big, simple to chic, feminine, and masculine, we have all the options you can ask for. Let's check them out.
Badass Tattoo Ideas For Men and Women
It's time to unreveal the hardcore side with these awe-inspiring tattoo designs.
Badass Neck Tattoo
I don't think there is anything cooler than badass neck tattoo ideas unless you plan on wearing turtlenecks for the rest of your life. A neck tattoo loudly screams, "I'm A Badass." But hey! Neck tattoos can also be beautiful. Not every tattoo needs to have guns and skull designs. A swallow neck tattoo symbolizes affection and love and can serve as a eulogy for loved ones.
Full Back Tattoo
Want to take things up a notch? Get a gull badass back tattoo. A shark would be quite daring, and the back will provide a huge area to showcase the intriguing designs.
Read More- Fascinating Black And White Tattoo Ideas To Adorn Yourself
Skull on the Chest
Skull tattoos have always been considered badass tattoos for both men and women. A demonic skull is an ideal representation of showing your cool side.
Butterfly Tattoo
A butterfly tattoo design is not limited to girly aesthetics; it can also be transformed into a small badass tattoo. Using a good optical illusion and perfect positioning, any tattoo can be befitted into badass tattoo ideas. Get a classic black butterfly design on the neck, and all eyes will be on you.
Bull on the Chest
There is nothing that says badass louder than a bull tattoo. Embrace your check with a beautiful badass tattoo.
Birds Tattoo
Bird tattoos have been admired forever, and they are eternally awesome. A bird is a symbol of independence and imagination. A bird tattoo on your shoulder and chest in black ink looks stunning. To make it more badass, extend the tattoo up to your spine to create an illusion.
Crow Tattoo
If you are looking for some small badass tattoos, then definitely get a crow tattoo. It looks cool, marvelous, and excellent in a badass way. Sometimes we do not require meaning and symbolism; a design attractive enough to grab attention is the way to go.
Quote to Flaunt
Do you have any favorite quotes? Then incorporate it into badass arm and sleeve tattoos. Don't worry if you do not have anything in mind. You can find plenty of inspiring quotes on the internet to choose from. All you need to do is research to find something that resonates with you.
Joker Tattoo
Joker has several interpretations for different people. The reasons for finding this character impressive can never end. You can incorporate joker into small badass tattoos as well as large ones on your check or back. If you want colorful badass tattoos for both men and women, a joker is a perfect choice.
Wolf Tattoo
If you are looking for badass tattoos for women, we believe wolf tattoo ideas are the best. They look not only attractive but also realistic and make a great piece of art. But to get it right, you will have to find a great tattoo artist, which will need a lot of research on your part. Wolf tattoos are not only beautiful to look at, but they also have deep symbolism. It represents free spirit and fierceness.
Eagle Designs
We all know that the eagle is a proud symbol of courage and freedom and is a fierce character in itself. The badass image of eagles has made them popular with plenty of tattoo ideas. Every eagle design looks like a unique piece of art. Use your imagination to create something unique and inspiring.
Zombie Man
We all know about the legendary zombie man, but why not take things to another level. Transform your whole body into a badass art by getting your whole body inked with awe-inspiring designs.
Rose Rib Tattoo
Floral tattoos don't always have to be feminine and pretty every time; they can also be fierce if done right. Get a rose rib tattoo in black ink with multiple flowers covering your entire ribs. Imagine going on a becak in your favorite bikini and showing off this cool tattoo.
Rose Hand Tattoo
Rose tattoos are feminine and pretty, but when mixed with something edgy, they can look tough. A rose hand tattoo is trendy and can easily pass for small badass tattoos that look chic. The only downside of getting hand tattoos is that they cannot be covered. However, if you are looking for some chic and badass tattoos for women, definitely give this one a thought.
Dragon Arm Tattoo
Are you fascinated by arm tattoos, then? How can you not get a dragon? Dragon will make every badass arm tattoo eye-catching and awe-inspiring. This black ink features bold and big dragon designs that cover half your arm. You can even add any color of your choice inside the black lines. Dragon tattoos look amazing on everyone, be it, men and women. You can even get it on your ribs and legs to make it look more trendy.
Palm Tattoo
If you want to look different than most of the crowd, then get unique palm tattoos. Get a quirky and eye-catching design on your palm that will become a trendsetter. Girls can opt for floral designs, and this placement will make it a badass tattoo. You can even get butterflies; you have endless options to choose from. This type of tattoo can have feminine elements to resonate with your personality.
Read More- Epic Leg Tattoo Ideas for a Stylish Look
Lion Back Tattoo
Show your fierce inner side and get a lion tattoo on your back. Who says only men can get lion tattoos. Show your tough side by getting a beautiful lion inked on your back that is sure to wow anyone who sees it.
Wolf Thigh Tattoo
Like we discussed earlier, the fox is a fierce animal and symbolizes the free spirit. Get a pretty wolf tattoo on your thigh with unique elements combining patterns to make it a badass tattoo design. Wolf is a strong animal, and it will be a perfect symbol for women who want to represent their strength.
ROCKABILLY SKULL
Do you dig vintage vibes? Then you must check out Rockabilly Skull. This design takes a unique spin on vintage tattoos. It renders a vintage vibe but in a badass way with the skull element. The flowers add to the feminine touch, and this design can be recreated in so many unique ways. Creativity is your limit!
Read More- Appealing Spine Tattoos to Try this Summer for a Fashionable Look
HALF SLEEVE
If full sleeve tattoos scare you, why not get badass half sleeve tattoos instead to make a bold statement. This will give you the vibe that you are looking for and can be covered by wearing long sleeves whenever required. The pretty floral design elements give an extra edge because of using them as sleeves. We love this design, and you will too!
Shark Tattoos
Like neck tattoos, finger tattoos scream badass. You will always have the ink upfront for people to see unless you plan on wearing mittens your whole life. This badass body part deserves a badass tattoo, and what better than a shark tattoo. A great white shark tattoo looks pretty amazing and can even fit small body parts like a finger.
Final Words:
The tattoo industry has been a witness to major technological strides. If you want to challenge your inner badass with some badass tattoo ideas, then you are at the right place.
We have put together a list of the best tattoo ideas to resonate with your tough side. We have badass tattoo options for both men and women. There is something for every personality, from feminine to fierce, cool to chich we have compiled various designs.
Thanks for source – https://www.articledesk.net/badass-tattoo-ideas/