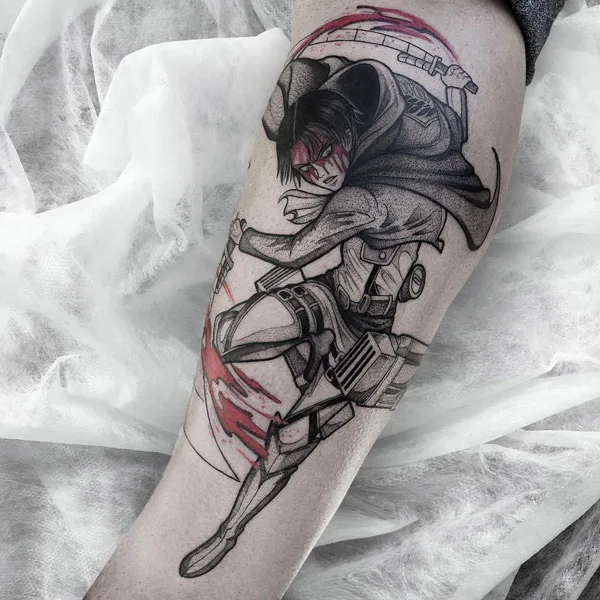 If you're a fan of the famous anime Attack on Titan (AOT), you may have thought about getting an Attack on Titan tattoo. However, consider this article a helpful resource if you've been hesitant due to a lack of signs or encouragement.
Attack on Titan is a dark fantasy anime known for its compelling storyline and visually striking elements, making it suitable for tattoo designs. Each scene features a unique colour palette, and the characters have aesthetic qualities that can be faithfully translated into tattoos.
If you've been dismissing the idea of an Attack on Titan tattoo because it conflicts with your principles, it may be worth reading this article. On the other hand, if you've been procrastinating because you needed help to develop a design, we've got you covered. Continue reading to discover some great strategies to incorporate into your Attack on Titan tattoo!
Discover a collection of Attack on Titan tattoo designs tailored for every devoted AOT fan!
Attack on Titan is widely recognized for its impressive animation. The artwork and illustrations crafted for the anime have consistently captivated audiences and can seamlessly be translated into tattoo designs.
Unlike the intricate storyline of the show, obtaining a tattoo should be a relatively simple endeavour, given the abundance of available options. Moreover, these options can be customized and placed on any body area.
Without any delay, if you're experiencing difficulties in devising a design, presented here are a multitude of options that will undoubtedly aid you in overcoming your current creative block!
Attack on Titan Sleeve Tattoo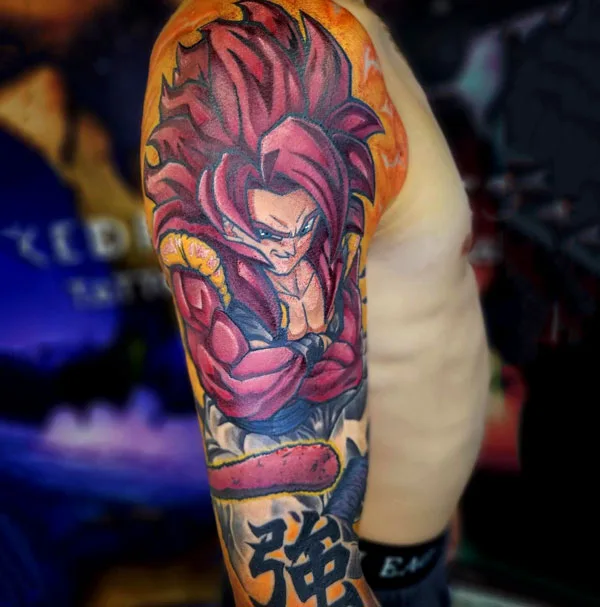 You have two main choices when getting an Attack on Titan tattoo. If you prefer a minimalistic style that suits your taste, you can go for a design with a sketch-like appearance. On the other hand, if you want a larger artwork that allows for future additions, a sleeve tattoo is the perfect option.
The sleeve tattoo is especially great for those who like bold designs and offers plenty of room for modifications, allowing you to unleash your creativity.
Moreover, the artwork in Attack on Titan often features clear and intricate visuals that can be enhanced with vibrant colours. This makes it an excellent choice if you want to showcase an image with rich and neutral tones.
Attack on Titan Small Tattoo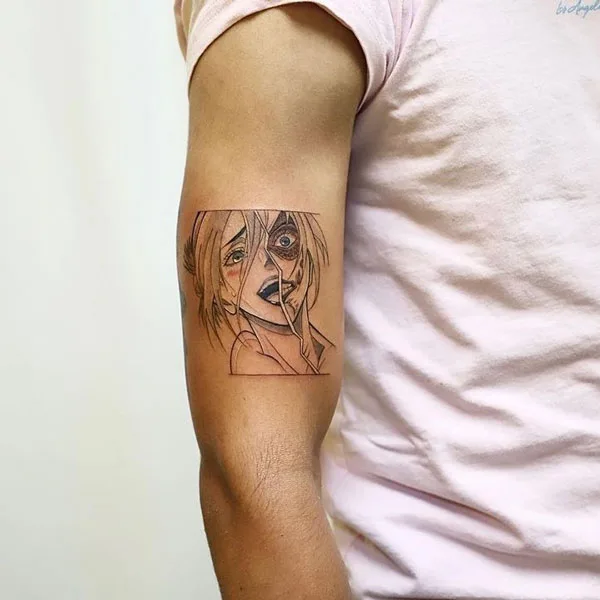 Expressing your love for Attack on Titan can sometimes require a giant titan-sized image. A small artwork that includes elements from the anime can be just as meaningful.
When it comes to the design, the possibilities are practically limitless. You can choose emblem tattoos, script tattoos, or even compact portrait tattoos to incorporate colours and intricate details.
Moreover, it's crucial to consider the placement of your tattoo carefully. Opt for long, narrow, or relatively compact areas of your body. While creating a small image might present some challenges, it will likely look better once done than many other variations of this tattoo design.
Wings of Freedom Attack On Titan Tattoo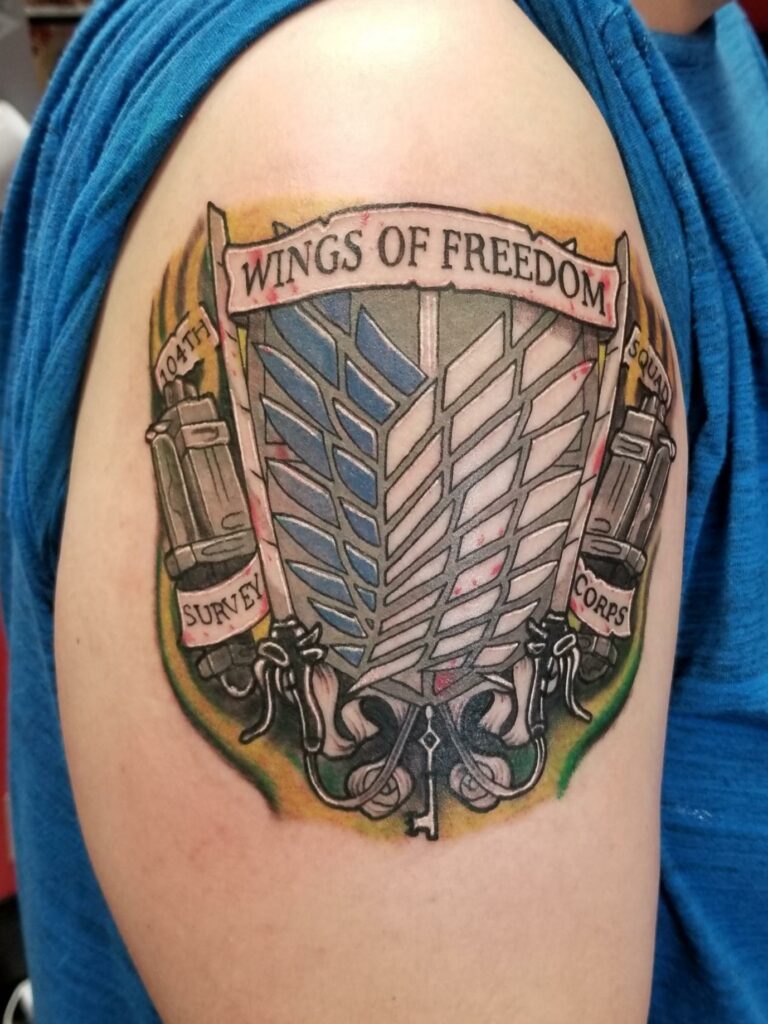 If you already know about it, you can move on to the next paragraph. If not, Wings of Freedom is a video game based on Attack on Titan, released in 2016.
Aside from its captivating story and unforgettable gameplay, the game features impressive graphics that can be wonderfully captured in a tattoo design.
One of the most beloved artworks from the game showcases a blue and white wing logo. It has a clean, neat appearance, soft colours, and a solid, straight border surrounding the central wing logo.
Attack on Titan Eren Tattoo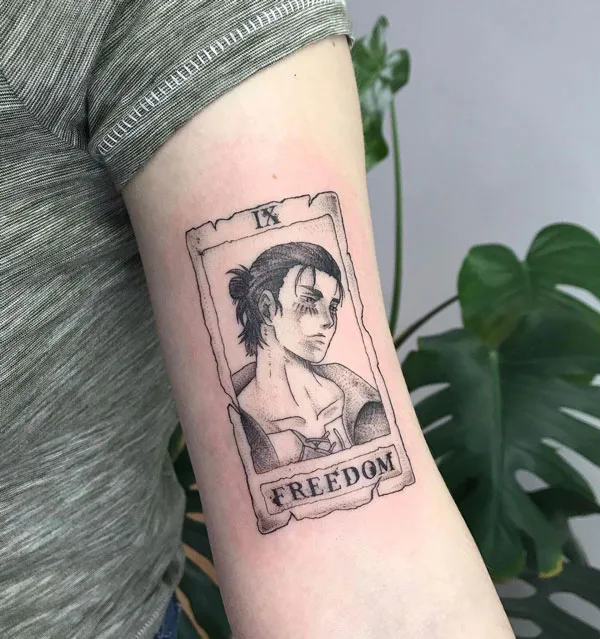 If you're a fan of Attack on Titan and particularly admire Eren Yeager, consider a portrait tattoo of him before getting an Attack on Titan tattoo. His impressive physique, unique facial features, and iconic man bun were created for the show and can be incorporated into a tattoo design.
However, it's essential to understand that while this option may seem exciting, bringing the design to life as a tattoo can be challenging and time-consuming. Some aspects of the invention can be complex. Therefore, planning, clearing your schedule, and allocating enough time before visiting a tattoo artist are essential to avoid potential issues or disappointments.
Attack on Titan Levi Tattoo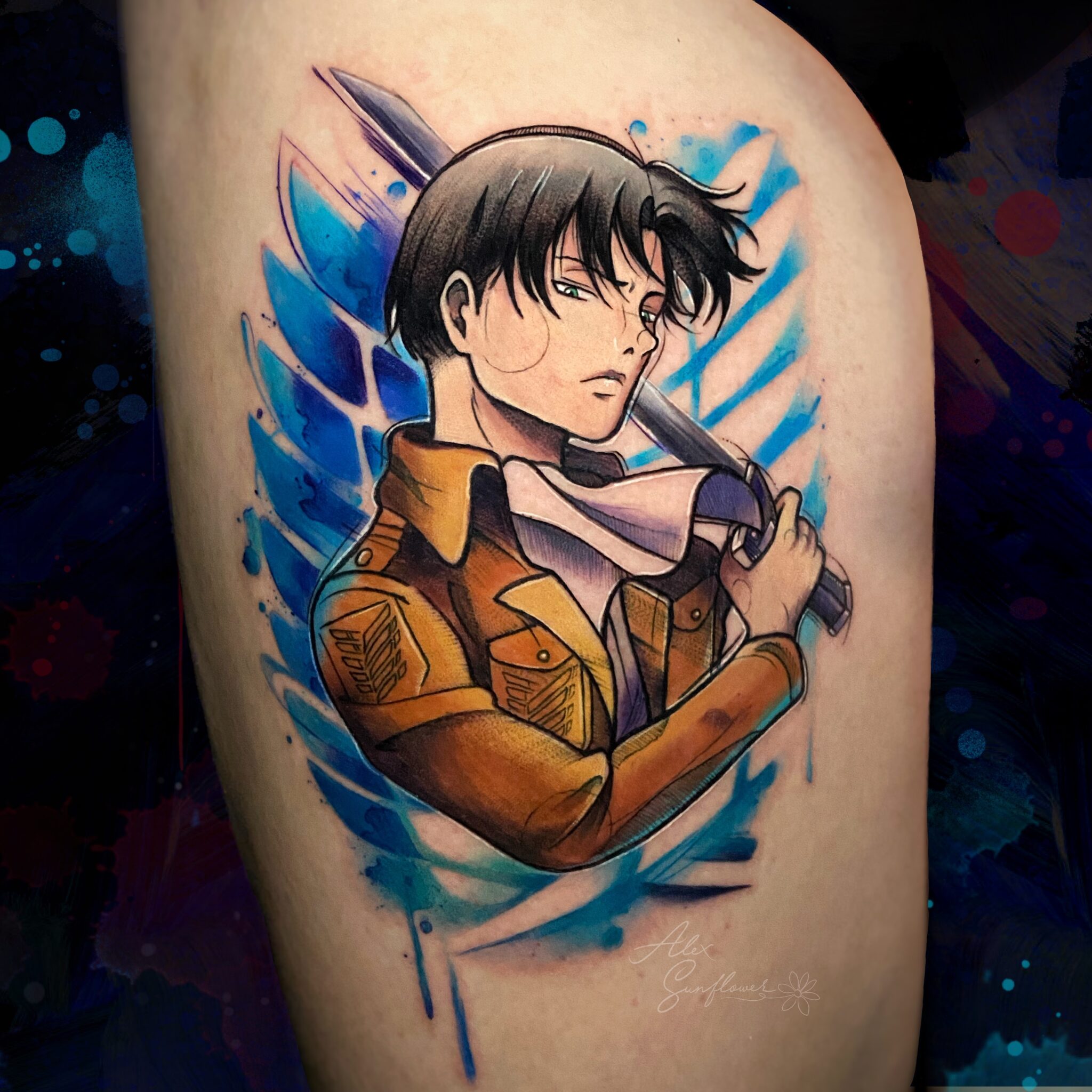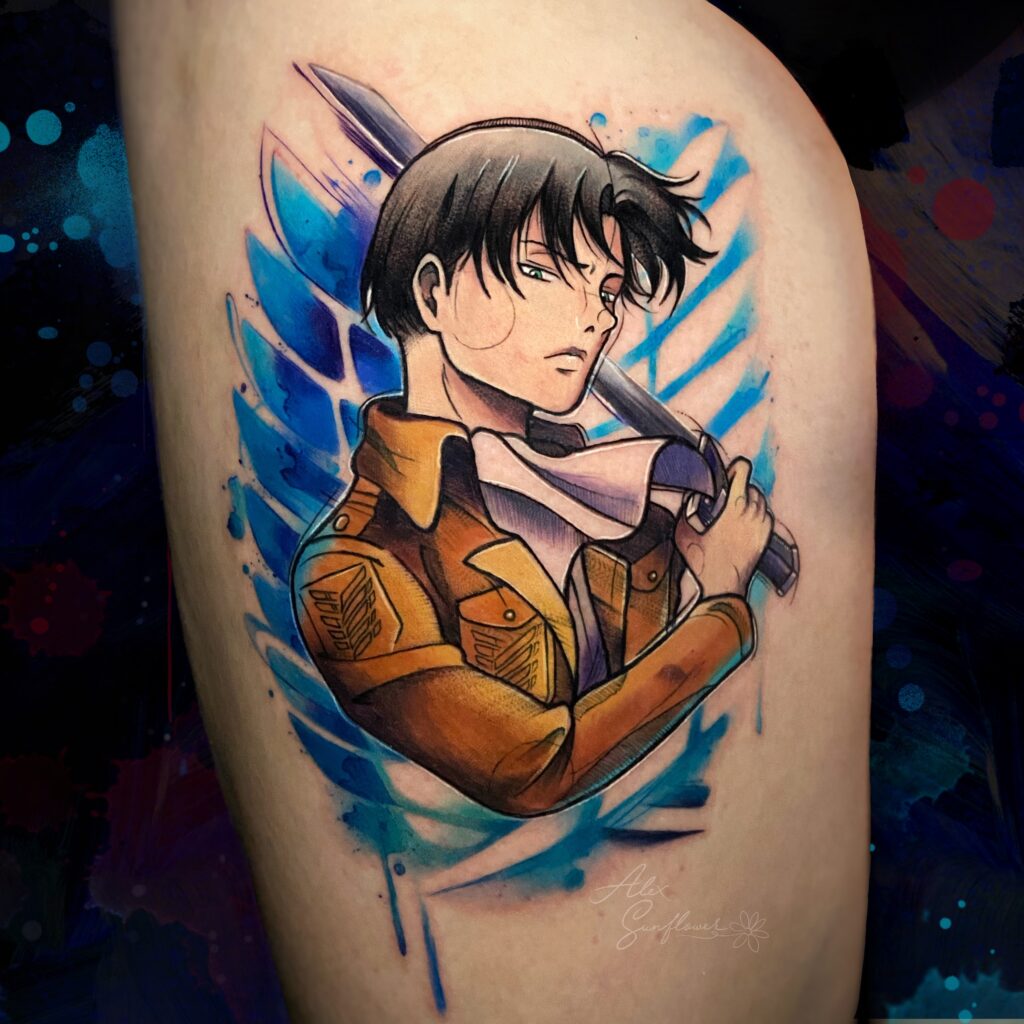 Levi Ackerman is another remarkable character in the anime. He's a heartthrob on the show and a favourite among tattoo enthusiasts due to his unique physical features. His slender build and iconic curtain hairstyle are an ideal tattoo design choice.
When deciding where to place this tattoo, it's recommended to avoid more expansive areas and instead chooses narrow and slender locations that match the character's proportions. By doing this, you'll achieve a visually pleasing design with an appealing colour combination that is sure to capture the attention of others.
Attack on Titan Back Tattoo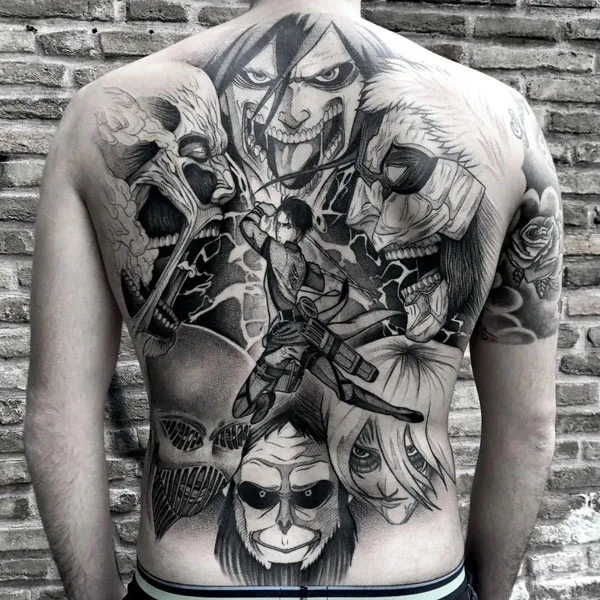 If you're considering getting an Attack on Titan tattoo that depicts your favourite scenario, the back is an excellent choice as a canvas. Unlike many other areas, the rear provides plenty of space to bring your desired design to life.
Furthermore, the back is known for being resilient and having more fat, making the tattooing process relatively painless. Additionally, if you opt for a larger image, the back will showcase it beautifully, allowing intricate details to stand out more than other body parts.
Attack on Titan Mikasa Tattoo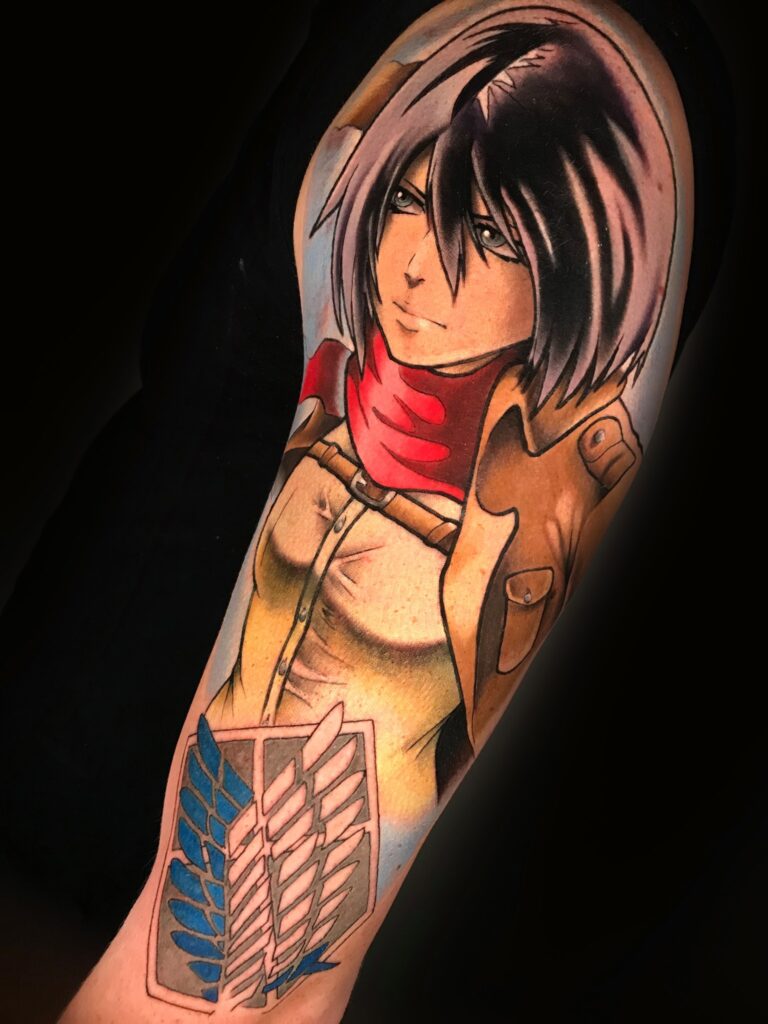 If you're looking for a portrait tattoo that stands out from the usual choices in the Attack on Titan community, consider getting a tattoo of Mikasa, an underrated character in the anime.
While it appeals to those who want to showcase feminine energy, this option suits everyone due to its remarkable design. The tattoo is also versatile, allowing you to place it on your chest for a bold statement or on your shoulder to match the energy of a shoulder tattoo.
Attack on Titan Butterfly Tattoo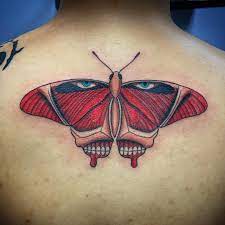 A butterfly tattoo may not be an obvious choice, but it holds a profound metaphor you'll understand if you've watched the show. If you still need to, keep reading to learn more.
In the entire anime series, there is no appearance of a butterfly. However, in the final season's opening theme, a scene shows a crushed butterfly. This butterfly serves as a symbol, representing Eren's friends who sacrificed themselves in the fight against the Colossal Titan. It signifies their lives being tragically cut short amidst the chaos and turmoil.
The design of the tattoo features a sketch of a butterfly intertwined with the Colossal Titan. Although it may not have the same visual appeal as other options, it carries profound symbolism, making it a meaningful choice for a tattoo.
Attack on Titan Traditional Tattoo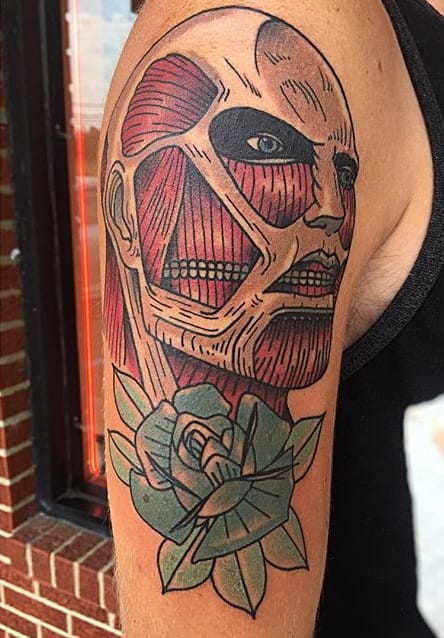 Consider a traditional Attack on Titan tattoo to capture that nostalgic feeling.
Featuring dark borders and vibrant colours, this tattoo style is perfect for minimalists and those who prefer bold designs. You can choose from various methods, including portraits or iconic emblems from the anime.
Remember that traditional Attack on Titan tattoos tend to be larger, so not all placement areas may be suitable. It's best to opt for larger sizes if you want the tattoo to look well-proportioned and visually striking.
Attack on Titan Thigh Tattoo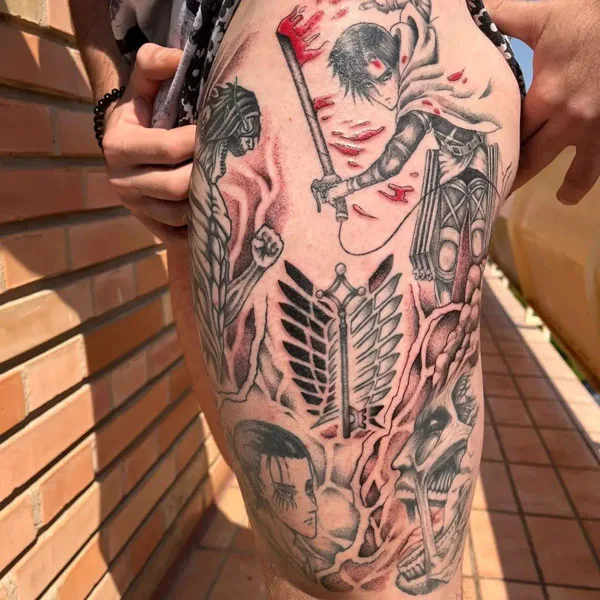 Getting a thigh tattoo might be perfect if you love the intricate details and grand scale of Attack on Titan's characters and scenes. The thigh offers plenty of space to precisely replicate your favourite character or set from the show.
Not only does the thigh provide ample room for the artwork to fit well, but it's also a resilient area with fewer sensitive nerve endings. This makes it an excellent option for beginners who prefer a less painful tattooing experience.
Attack on Titan Dagger Tattoo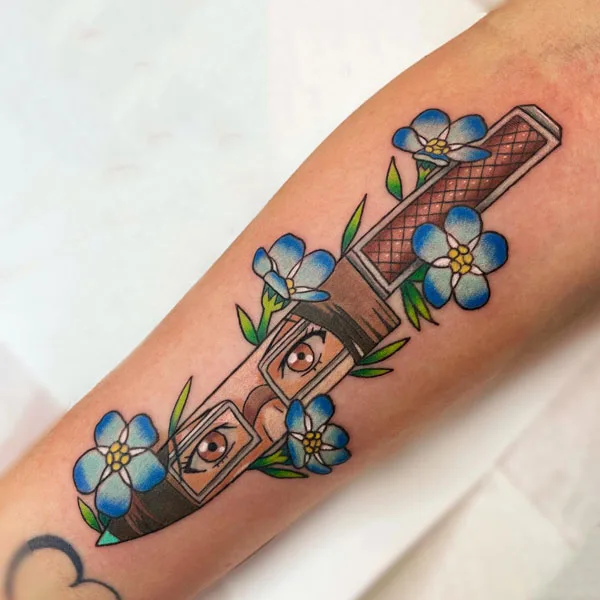 In Attack on Titan, weapons like daggers play an essential role so that they can be an excellent addition to your AOT tattoo. You can get a sword tattoo or incorporate an image within the weapon's shape.
If you decide on the first option, adding bright colours can make the image more striking. On the other hand, if you want to include another embodiment alongside the dagger, consider incorporating the colours and energy of a portrait tattoo.
Attack on Titan Forearm Tattoo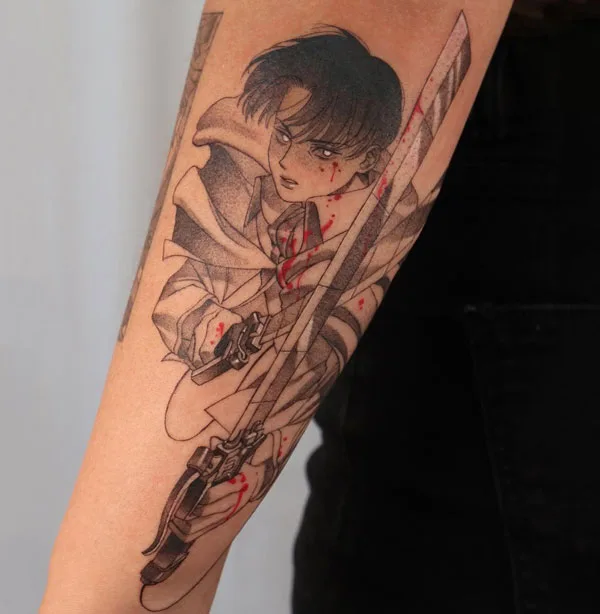 If you're considering a larger design, the forearm is an excellent choice for an easy and impactful tattoo.
The forearm provides enough length to accommodate portrait tattoos and offers plenty of space and width. This allows you to expand your design into a chain tattoo or even transform it into a sleeve tattoo.
Additional Attack on Titan tattoos featuring remarkable illustrations
If you're looking for more, here are a few other captivating Attack on Titan tattoos you should consider getting!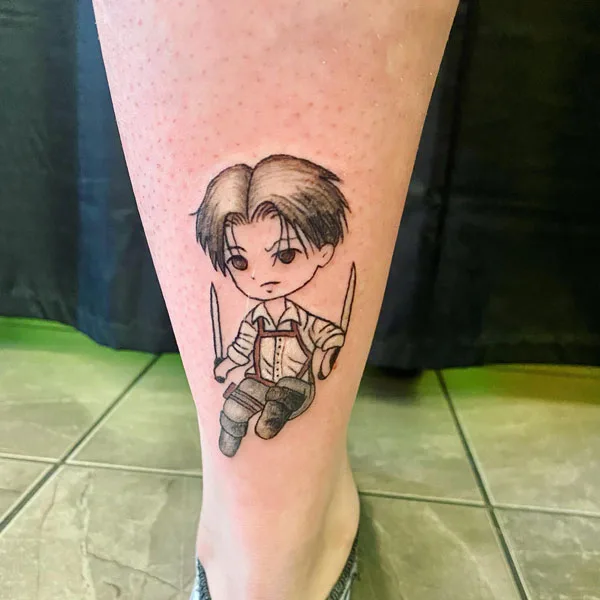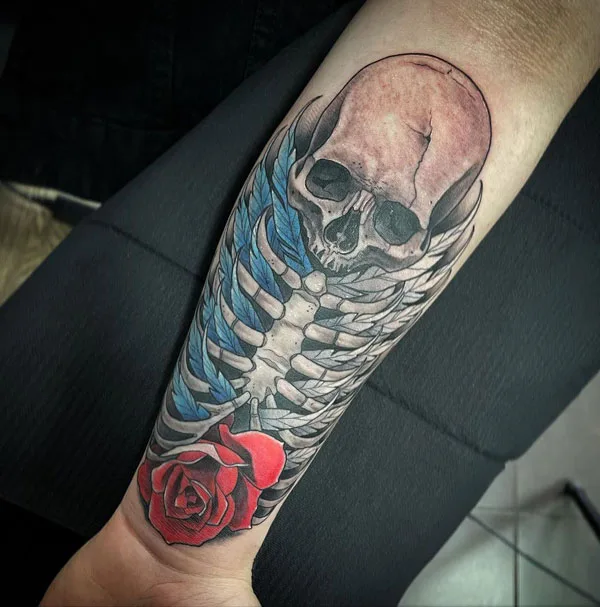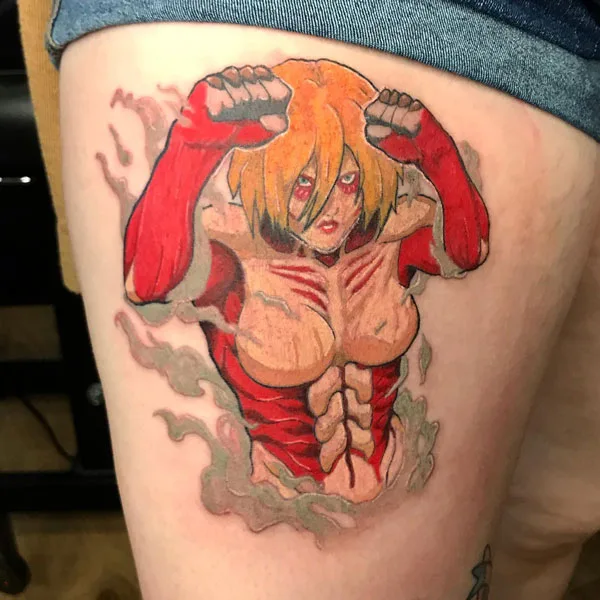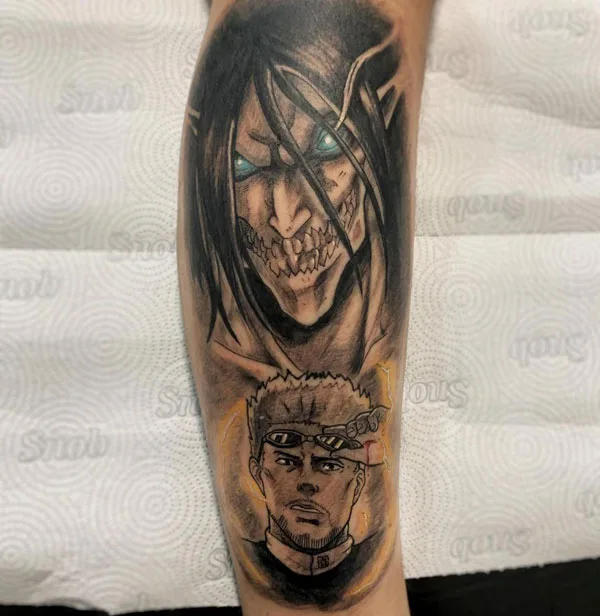 Note: Tattooing of minors is against the law according to Section 260.21 of New York State Penal Law

Read more: Inspiring Stairway to Heaven Tattoo Concepts
Final Words
As I mentioned, many memorable moments in Attack on Titan can be transformed into beautiful tattoos. All you have to do is choose your favourite character or emblem and create a design that captures the nostalgic emotions associated with Attack on Titan.
If you're concerned about how the artwork will look, finding a talented artist before going to a tattoo artist is essential. This way, you can be confident that the design will be well-executed and result in a tattoo you'll cherish and enjoy wearing!
FAQs
Where to Get an Attack on Titan Tattoo
Here are some popular options to consider when deciding where to place your Attack on Titan tattoo:
Back
Thigh
Forearm
Calf
Shoulder
What is the Price Range for Attack on Titan Tattoos?
The cost of an Attack on Titan tattoo follows a similar calculation to other tattoos. Generally, you should spend around $100 for a well-done tattoo. Smaller tattoos, ranging from 2 to 4 inches, can cost between $50 and $250. Medium-sized tattoos, measuring 4 to 6 inches, may vary from $150 to $450. If you're interested in a giant tattoo over six inches in size, be prepared for a cost between $500 and $4,000.
Are there any celebrities who have an Attack on Titan tattoo?
To the best of our knowledge, there haven't been any celebrities who have revealed their Attack on Titan tattoos publicly. However, numerous celebrities are avid fans of anime! One notable example is the popular K-pop group BTS, known for their love of Attack on Titan. They have even released a song titled "Attack on Bangtan" as a tribute to the series.