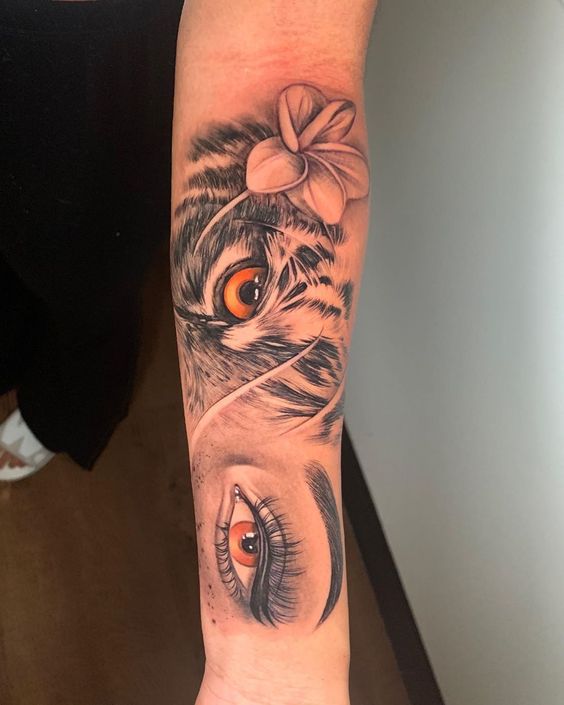 Tattoos on the arm are a common thing among women also nowadays! But getting you a unique and unusual tattoo is what's most appreciated.
Arm tattoos for women are a great idea to showcase elements such as boldness, feminism, independence, freedom, and real self. Different tattoos have different messages. It may depict learning from experience. It could represent gain, achievement, or grief.
Women express their personalities, points of view, and ideas in the form of tattoos. Most of them love to get it on the arm to flaunt the meaning of their tattoos.
Here we have listed the fantastic arm tattoos for women that can help you showcase your true self.
Before discussing the best ideas of arm tattoos for women, let's first look upon this frequently asked question by most of the women.
Most Frequently Asked Regarding Arm Tattoo
Several people ask several questions regarding arm tattoos. Here we have listed the most frequently asked questions along with the explained answers. Scroll down and clarify your doubts!
How much is an Arm Tattoo Costs?
The arm tattoo doesn't cost you much as it is the least pain tattoo placement. But tattoo's cost solely not depends on the placement; there are many other factors affecting arm tattoo price.
These factors are-
The design is one of the significant factors affecting the price of an arm tattoo. If your tattoo is more complicated and involves fine details, then the tattoo price will be higher.
If your arm tattoo includes a variety of colors, then your tattoo will be more expensive than an ordinary tattoo.
Location of the tattoo studio
If the tattoo studio is situated at a prime location, the tattoo artist may charge you higher prices for even a small tattoo.
If the tattoo artist is very experienced and professional, he may charge higher for your arm tattoo.
Sizes play an important role in deciding the price of an arm tattoo. There are four major categories: tiny, small, medium, and large.
If you are getting yourself ready for a tiny arm tattoo, you must know that it will cost between $50 and $100.
The small tattoo design can be the best upper arm tattoos for women. It ranges from 2 to 6 square inches that will cost you around the average of $150.
Medium-sized tattoo
The medium-sized tattoo ranges from 7 to 16 square and can cost you $250 to $500.
Large tattoos can be a Half and full sleeve tattoo. It can cost you between $500 and $5,000.
Do Tattoos Make Your Arms Look Bigger Or Smaller?
Different people have different opinions regarding this question. But let us tell you the fact that black ink used for designing the tattoo has a matte effect on the skin. Such an effect can make illusionary visual space flatter.
If you compare a tattooed arm with the bare-skinned arm, then you will see the difference. The tattooed arm appears to be smaller than the average skinned arm. So we can say that tattoos do make your arms look slimmer.
Do Arm Tattoos Hurt?
Let us tell you the fact that arms are one of the least sensitive parts to tattoo pain. Hence it becomes easier for a tattoo artist to ink your favorite design on your arm.
If you get tattooed on your arm, it doesn't hurt you as badly as your wrist, behind the ear, neck tattoos.
The arm is an excellent spot for a first tattoo, especially if your main objective is to maximize the tattoo's visibility and decrease the pain from getting a tattoo.
Muscles and Fat are the best protectors against tattoo pain, making the arm an ideal spot for big or small tattoos.
Here we have listed the fantastic arm tattoo ideas that you must select for your next tattoo.
READ MORE: Pretty Finger Tattoos To Try This Year
7

Best Arm Tattoo Ideas For Women 
When the tattoo has some meaning, the more you will be excited to get your arm tattooed.
There can be different types of tattoo and its placement, depending upon your preference.
Here we have listed the unique tattoos for women that can make your arm look beautiful and mysterious.
Let's have a look on the below-mentioned arm tattoos for girls-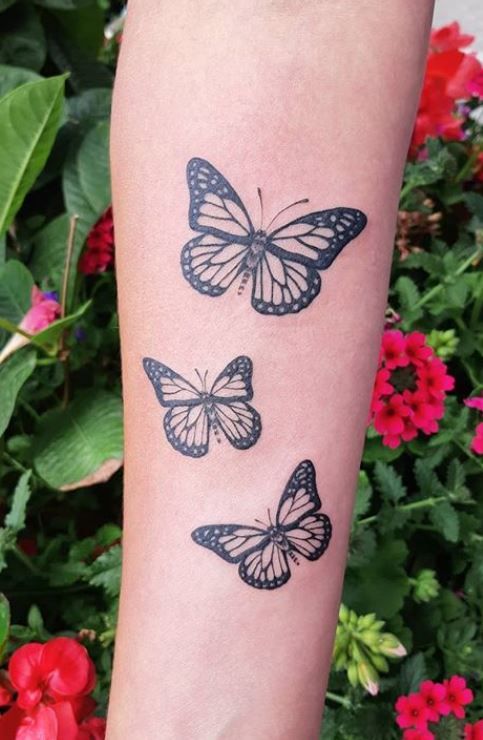 Butterfly Arm Tattoo
A butterfly is the most common arm tattoo that women often prefer. The butterfly stands for freedom, transformation, and beauty.
As we all know, how much a butterfly change when it comes out of the cocoon. It faces many challenges during the process and yet managed to become independent.
If you get a butterfly tattoo on your arm, it means you are an independent and free being. Even if the challenges come, you will be fearless and fight like a warrior. Like a butterfly, you will also fight and transformed into a beauty.
READ MORE: Can You Get Tattoos On Dark Skin Tones?
Malin Arm Tattoo
Malin is a symbol of two opposite ends arrows. It means that one has to face challenges, hurdles, and hardships before making it in life. If you get it tattooed on your arm, your arm will look cool and mysterious about your personality.
The Malin symbol can also be a perfect option for forearm arm tattoos for women.
Zodiac Sign Arm Tattoo
Zodiac sign is the most popular concept to flaunt one's zodiac sign and personality. This is the coolest idea for women to showcase their character, nature, and identity.
The arm is one of the most noticed placements for tattoos, so that a zodiac sign will be the perfect option for your next arm tattoo. This arm tattoo could also mean the desire and future aspirations of a woman.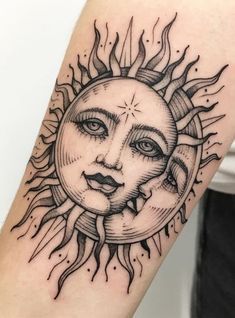 The Sun Arm Tattoo
The sun can be the best arm sleeve tattoos for women. The symbol depicts the source of life. The sun has a lot of power and influence. Likewise, a woman can showcase her strength and energy by getting a sun arm tattoo.
It also signifies the consistency and perseverance.
If a woman wearing a sun arm tattoo means she is tough and gone through many rough times. And it can also mean a new start to define the new chapter of her life.
RELATED: Best Sun Tattoo Ideas With Their Meanings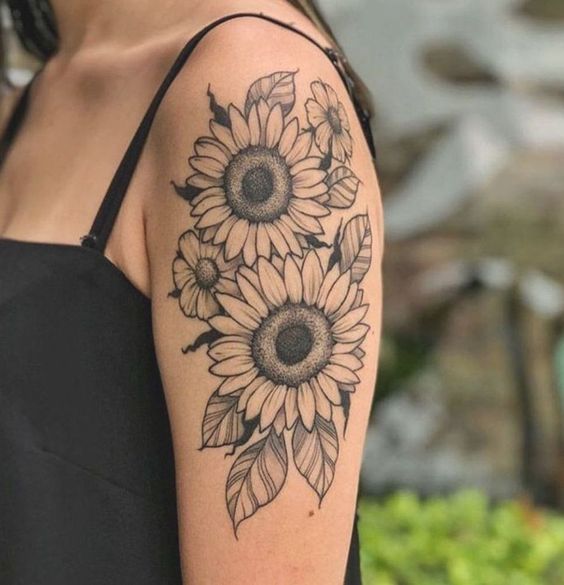 Sunflower Arm Tattoo
Sunflower arm tattoo can be the perfect arm tattoo. You will get two enlarged sunflowers aligned vertically on your arm.
The tattoo will look rich when filled with white and black ink. It must have both the light and dark contrast to create a sunflower's real look on your arm.
Feather Arm Tattoo
Feather arm tattoo can be the best lower arm tattoos for women. The feather represents freedom, which means you are independent.
Feather is a part of a bird, so if you get yourself a feather arm tattoo, then you will others that you are a free bird. The feather tattoo is simple and looks fantastic when shaded with different colors and patterns.
RELATED: Popular Dreamcatcher Tattoo ideas
Rose Arm Tattoo
Rose is the most common arm tattoos for men and women. It is the most popular flower on earth and possesses several meanings depending on its color.
A red rose means strength, passion, beauty, love, and a black rose mean grief or loss. On the other hand, a white rose stands for innocence while a yellow rose signifies joy or friendship.
Mostly women prefer a rose tattoo for tiny, small, or large tattoos.
READ MORE: The Complete Guide To Getting A Hand Tattoo
Final Words
An arm is the most visible placement for a unique tattoo. It can be a perfect place to showcase your perspective, a glimpse of your personality and character.
Imagine a butterfly tattoo on your arm; it will help others see the world through your eyes. In this article, we have listed the fantastic arm tattoos for women to opt for your next inking.
Comment down below if you found this article helpful.
READ MORE:
How To Take Care Of A Tattoo – According To A Pro Tattoo Artist