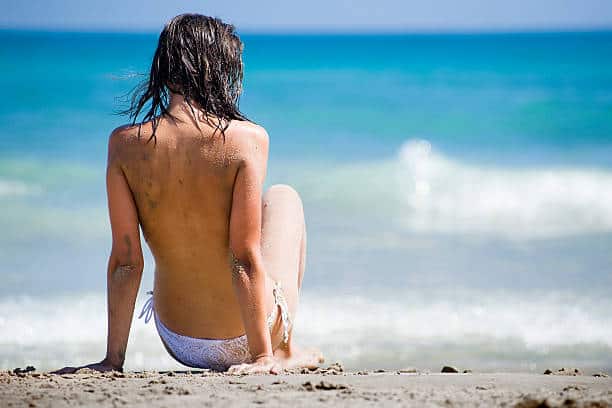 Are you planning a trip to Oahu, Hawaii, and wondering about the possibilities of enjoying the sun and surf in your birthday suit at a nude beach Oahu? While Oahu doesn't have official nude beaches, it does offer options for those looking to avoid tan lines or embrace naturism.
In this article, we'll explore the opportunities, accommodations, and social activities available for nudists on the island. We'll also discuss the importance of respecting local customs and laws to ensure a trouble-free experience.
So, if you're curious about nudist-friendly options in Oahu, including the concept of a nude beach, keep reading to discover how you can make the most of your visit while staying au naturel.
LEGALITY
Understanding the rules about being naked on Hawaii's beaches can be a little tricky. It depends on what you mean by "naturism," which is the belief that being naked is a natural and healthy way of life. Here's a simple explanation:
It's okay for women to be topless on the beach.
Hawaiian laws say that women can choose to sunbathe without their bikini tops because there are no rules against it.
There are strict laws against doing anything indecent or rude, but these don't cover women sunbathing without their bikini tops on a public beach.
Most of the time, you won't see women doing this on the beach, so if you decide to try it on a crowded beach, be prepared for people to look at you.
But complete nudity is not allowed on state beaches.
The state of Hawaii has a rule that says you can't be naked on state beaches. But that hasn't stopped local people or tourists from trying to get an all-over tan.
They usually do this on beaches that aren't run by the state, where you're less likely to get into trouble with the law. Even on public beaches in Oahu, where the police are around more, these laws aren't often enforced.
One thing to remember is that Oahu can be very crowded, so it might be hard to find a quiet spot for you to be naked. Suppose you're a naturist and want to find a place to sunbathe without any clothes on.
In that case, other Hawaiian islands like Maui or the Big Island might be better options because they have more private and naturist-friendly beaches.
HOW TO BEHAVE ON NUDE BEACHES IN HAWAII?
If you're new to sunbathing in the nude at a public beach, it's important to know some basic rules to make sure everyone feels comfortable.
Hawaii's beaches, especially those on Oahu, can get crowded. So, it's a good idea to respect other people's personal space. While some people are fine with being close to others, not everyone is comfortable with that. So, give people their space.
It's also important not to do things that might make others uncomfortable. Avoid staring at or pointing at people, whether they are naked or not. And don't fly drones too close to people at the beach, as it can be bothersome.
Hawaii has its own culture and customs, so it's important to be respectful. This means being considerate of people's modesty and making sure your actions don't upset anyone.
Hawaii has different traditions and values, and it's important to understand and respect them so that everyone can enjoy their time at the beautiful beaches.
BEST NUDE BEACHES ON OAHU
There aren't any specific public nudist beaches or areas in Hawaii. But on Oahu, some beaches are favoured by nudists who prefer full nudity, not just going topless.
Generally, if you go away from Honolulu and the more crowded areas, you might find more naturalists enjoying these beaches.
Polo Beach
Polo Beach is a well-known "clothing-optional" beach on the North Shore. It's a favourite spot for locals and tourists to enjoy a day under the sun without any clothes.
Although it might not be as private as some other beaches on the list, it's still a good choice for sunbathing naturally.
You can find Polo Beach in Molukeia, just to the west of Wailua, near the Farrington Air Field. Follow the trail by the horse pens and turn right to get there.
Kahuku Beach
Kahuku Beach, located near the old Kahuku airstrip, is not an official clothing-optional beach, but it's similar to Polo Beach, and it's usually less crowded.
Kahuku Beach is a peaceful place to spend a relaxing day by the ocean. It's away from the busy Waikiki area, so you can escape the crowds. The beach is beautiful with its blue-green waters and soft white sand.
You can enjoy the calm atmosphere and find plenty of things to do. If you're a naturist looking to sunbathe, swim, or just take in the stunning views, Kahuku Beach is a great choice.
When swimming here, be cautious, avoid diving, and watch out for the surf, as there are hidden limestone rocks near the beach entrance.
Mokulē'ia Army Beach
This beach is somewhat remote and is popular with local naturists. However, you might come across beach patrols here quite often.
They won't usually give fines to naturist beachgoers, but they might ask them to put on clothes. So, it's important to be aware of this while enjoying the beach.
Goat Island aka. Mokuaia Islet Seabird Sanctuary
Goat Island is a popular choice for nudists because it's far away from the crowds, making it a private place with fewer patrols.
Near Kahuku Point
If you head to the western side of Kahuku Point, located about a mile east of Turtle Bay Resort, you'll find a quiet beach that's good for swimming. While it's not an officially designated naturist beach, it's not unusual to see other naturists and sunbathers there.
Diamond Head Beach
Diamond Head Beach is a little hidden and not officially known as a natural beach. Some people might think of it as a beach for the LGBTQ+ community, but it doesn't stop female naturists from visiting.
You'll need to take a short walk to get there, and parking options are quite limited. It's a lovely spot for swimming and surfing, but be careful of strong rip currents.
As a bonus, you can reach this beach as part of the Diamond Head Hike.
We recommend a tour that includes admission fees and transportation to and from your hotel. The guides not only capture great photos but also share some fantastic humour.
Nearby, you'll discover the famous Black Point Pool, but please note that it's not a suitable place for naturists.
LOCAL NATURIST BEACH GROUPS IN HAWAII
In Hawaii, some organizations arrange trips to clothing-optional beaches. These groups often visit the following places:
The Kauai Naturists
The Kona Sun Klub
Friends of Little Beach
Friends of Kehena Beach
If you're interested in experiencing these beautiful spots without clothes, you can consider joining these groups during your visit to Hawaii.
NUDE RESORTS AND ACCOMMODATION OPTIONS ON OAHU
If you're looking for accommodations that are welcoming to naturists on Oahu, there are limited options available. The Paul Mitchell Villa at Lanikai Beach is the sole known choice.
However, it's essential to note that this villa can be quite expensive, with rates sometimes exceeding $10,000 per night. This might not be a feasible choice for most naturist travellers due to its high cost.
Hawaiian Vacation Villas Perfect for Nude Sunbathing
If you're looking for the perfect spot to sunbathe in the nude, your own private Hawaiian Vacation Home is the way to go!
Whether you want a peaceful beachfront location or a hillside villa with breathtaking ocean views, our Exotic Estates vacation specialists can help you discover a Hawaiian vacation home that offers privacy and fantastic outdoor amenities.
Here are a few options that offer complete seclusion and wonderful pools.
Anini Vista Drive Estate – Kauai
Luxury Vacation Rental Villa on Kauai – Exotic Estates
This villa boasts one of the most incredible pools we've ever seen. It features a massive 90,000-gallon saltwater pool with waterfalls, a bridge, and natural landscaping.
There's even an outdoor shower area with a wall of orchids that bloom at certain times of the year. Whether you're accustomed to skinny-dipping or not, this exceptional Kauai villa may inspire you to connect with nature in a luxurious and private setting.
Whether you're in your swimsuit or birthday suit, this Kauai Vacation Home is an incredible place for a retreat with friends, offering comfortable accommodation for up to 12 guests.
Kaanapale Hale – Maui
Kaanapale Hale is a fantastic vacation home in Maui. It has a private pool, a nice outdoor grill area, and even a room with a pool table for fun. You can relax and have your own space here.
Imagine waking up to the warm Hawaiian sun, having a delicious tropical breakfast on the outdoor patio, and taking a morning swim in the pool before heading out for a day of golf or beach fun in beautiful Kaanapali.
Kaanapali Hale has five bedrooms and three bathrooms. It's right in the middle of the famous Kaanapali Golf Resort, between the Royal and Kai golf courses. This makes it a perfect place for a family vacation or a golf trip with friends in Maui.
From the windows and the private front lanai, you can enjoy stunning views of the blue Pacific Ocean and the distant islands of Molokai and Lanai. The house can comfortably accommodate up to ten guests.
The master bedroom is really special, with its own bathroom, a king-size bed, and a lovely porcelain bathtub that feels like a spa.
Two bedrooms have cosy queen-sized beds and access to an outdoor balcony. There's another bedroom with a queen-size bed, and the fifth has two twin beds. It's a great place to stay and enjoy all that Maui has to offer.
Pauoa Beach Oceanfront Villa – Big Island
Introducing a fantastic villa on the Big Island that offers both privacy and luxury. This villa is located in the exclusive Pauoa Beach community within the prestigious Mauna Lani Resort on the Kona Coast.
It provides an outstanding vacation experience for those who appreciate elegance, access to exclusive Club amenities, and proximity to one of the Kona Coast's finest beaches.
The villa features four bedrooms and a spacious 5,000 sq. ft. of living space designed to capture ocean views from various angles. It exudes a tropical charm and is carefully integrated into the natural landscape, ensuring both privacy and breathtaking views.
From an aerial perspective, you can admire the villa's graceful layout, which includes a formal entrance opening onto a serene Zen courtyard and the main living areas.
Inside, the Pauoa Beach Oceanfront Villa is all about the Hawaiian indoor-outdoor lifestyle. The main interior spaces seamlessly connect to a large covered lanai at the rear of the house through folding pocket doors.
This clever design allows the refreshing ocean breezes to flow through and creates an ideal setting for sunset gatherings.
This remarkable Big Island villa can accommodate up to ten guests and is situated in Mauna Lani, one of the island's top resort areas located along the Kohala Coast between the Waikoloa and Mauna Kea Resorts.
Paul Mitchell Villa at Lanikai – Oahu
Explore this remarkable villa nestled on the beautiful Lanikai Beach in Oahu. It's located within a private community originally created by the famous stylist Paul Mitchell.
This stunning property offers complete privacy in its inner courtyards, pool area, and extensive lawns.
Drawing inspiration from traditional Hawaiian design and culture, the villa features warm wooden elements, captivating fish ponds, and a luxurious pool area adorned with a delightful waterfall and lush landscaping.
The villa has the capacity to comfortably accommodate up to 14 guests, making it a fantastic choice for groups seeking a luxurious and private poolside retreat.
Recommendation
Top 5 Cheapest Hawaiian Island You Must Visit Before You Die
The Most Expensive Hawaiian Island to Live On
Anakeesta's Treetop Skywalk: Tree Walk in Gatlinburg, Tennessee
Driving in Paradise: Summer Safety Tips for Beach Towns
Pros And Cons of Living in Texas
Best Travel Backpack For Women
A Tale of two Cities: Exploring Switzerland and Paris
The Magic of Montreal: 10 of The Best Things to See and Do
Mysterious Haunted Places in California
The World's Best Black Sand Beaches
Conclusion
In conclusion, while Oahu, Hawaii, may not have official nude beaches, there are opportunities for those interested in naturism. Women can sunbathe topless as it's permissible by Hawaiian law, but complete nudity is not allowed on state beaches.
It's essential to respect local customs, personal space, and beach etiquette, especially on crowded shores. Several beaches on Oahu are popular among naturists. Additionally, local naturist beach groups organize trips to clothing-optional beaches.
FAQs
Q: Is it illegal to sleep on the beach in Oahu?
A: In brief, it is not legally permitted to sleep overnight in your car or RV at public beaches in Hawaii. Nevertheless, there are alternative options for beach camping. Some privately owned campgrounds do offer the possibility of overnight parking and beachfront camping.
Q: Do Oahu beaches close at night?
A: While the majority of public beaches in Hawaii remain accessible around the clock, certain parks and associated amenities nearby might adhere to specific operational schedules.
Q: What is the most relaxing beach on Oahu?
A: Waimea Bay: Top Beach Destination on Oahu's North Shore. As you venture along the North Shore, you'll spot Waimea Bay, distinguished by the church tower in the distance. This generous expanse of sandy beach offers an ideal spot for relaxation and sunbathing.
Q: Can you drink alcohol on the beach in Oahu?
A: Consuming alcohol on the beach is not permitted. However, you'll find many bars and restaurants in the vicinity that provide outdoor seating options with beach views. Another option to explore could be booze cruises.