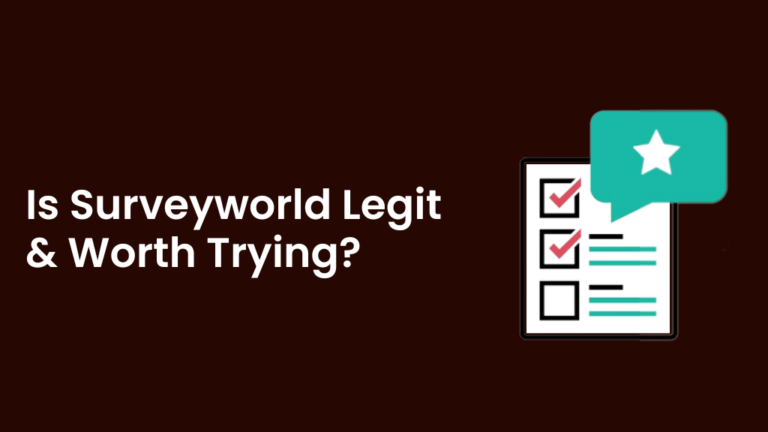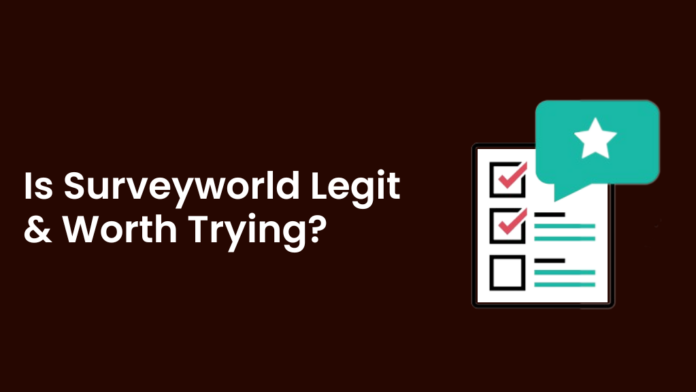 Engaging in online surveys can be a convenient method to earn additional income. Getting started is relatively straightforward; you only need an internet connection and insights.
You may have come across SurveyWorld and similar websites that claim you can generate income by expressing your viewpoints. However, the question is: Is SurveyWorld legit, or are there superior alternatives?
In this SurveyWorld review, I will provide you with comprehensive information, including its purpose, operational mechanism, and reliability as a means to earn money.
SurveyWorld Review
SurveyWorld is a site that collects surveys from various sources and directs you to those survey platforms. At first glance, this may appear similar to other survey websites, but there's something unusual about it.
Interestingly, SurveyWorld doesn't simplify the process. Instead, it complicates things more than signing up directly on survey websites. It acts like an unusual intermediary that needs to make things more straightforward.
To uncover the peculiarities of this extraordinary survey site, continue reading.
Here's the Key Information to Remember:
Time: Signing up on SurveyWorld can be time-consuming, and how many surveys you can do depends on the survey sites they direct you to.
Earnings: Your earnings can fluctuate and are determined by the number of surveys you complete on the sites they send you to. You might earn anywhere from $0.05 to $0.50 for each survey.
Trust: SurveyWorld doesn't appear to have trust issues, but its role as a middleman in the survey process is unusual.
Payout Options: Your payout options are determined by the survey site(s) they recommend so they can vary.
Country Availability: SurveyWorld is accessible in the USA, Canada, the United Kingdom, the European Union, Australia, India, Japan, and worldwide.
What is SurveyWorld?
SurveyWorld functions as a central hub for finding survey opportunities. It doesn't have its surveys to pay you for; instead, think of it as a "matchmaker" that connects you with various research companies and their surveys. They describe themselves as "An independent comparison community of research companies."
The website is owned by e-Bron Marketing, located in the Netherlands. Unfortunately, we don't have extensive information about this company or the individuals managing it. However, their website claims to have over 200 survey panels in operation, operate in more than 70 countries and have accumulated more than five years of experience in this field.
How Does SurveyWorld Work?
SurveyWorld is a free-to-join website that connects you with various survey companies. To get started, you only need an email address to receive survey invitations and an internet connection to complete these surveys online.
Here's how SurveyWorld operates:
Sign Up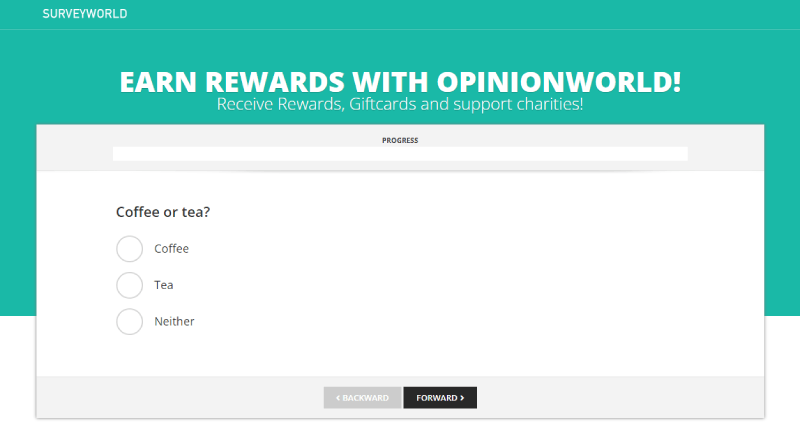 Registering on SurveyWorld is more complex than on most legitimate websites. Instead of finding a straightforward signup form on their homepage, you'll have to contact their support team through their official Facebook page or use the contact form on their website to express your interest in joining.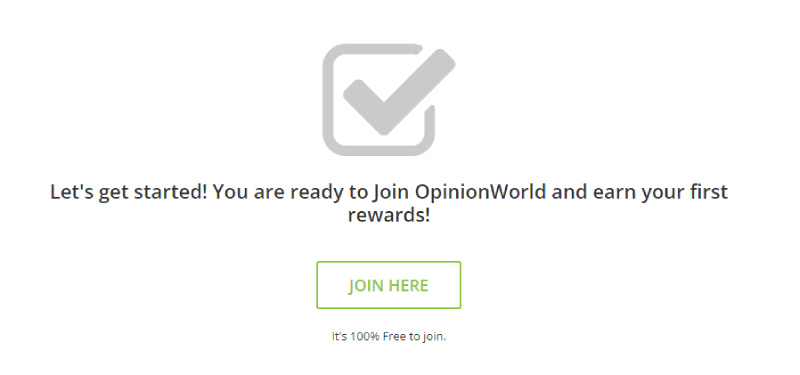 If SurveyWorld is available in your country, they will send you a signup link. It may seem unusual that they complicate it, but that's how their process works.
Find Surveys
Once you've successfully signed up for SurveyWorld, they assist you in discovering paid survey opportunities. However, here's the twist – SurveyWorld itself doesn't offer surveys. Instead, it collects surveys from sources like Opinion Outpost, Valued Opinions, and Opinion World.
Consequently, the types of surveys available and your potential earnings depend on your chosen site. Some sites may reward you with points that can be exchanged for rewards, while others may immediately pay you in cash. Think of SurveyWorld as a messenger that informs you about these survey opportunities.
Get Paid
Since SurveyWorld doesn't directly host surveys, your earnings depend on the survey site you opt for. Different sites offer varying payment rates. SurveyWorld directs you to these external sites, resulting in payment rates that can vary widely. Some survey sites may offer as little as $1 per survey, while others could provide $50 or more, depending on the site and the survey's length.
Payment methods also differ depending on the site you use. Standard payment options include PayPal, gift cards for popular retailers like Amazon, Walmart, Target, VISA and MasterCard gift cards, cryptocurrencies like Bitcoin, bank transfers, and checks. Most survey sites offer gift cards or PayPal cash, but some provide alternatives such as cryptocurrency or bank transfer.
To ensure you understand how much you can earn and how you'll receive your rewards, reviewing the details of the specific survey site you choose is crucial.
Who Can Join Surveyworld


In theory, anyone can join SurveyWorld if they successfully navigate the challenging signup process we mentioned earlier. To clarify, when you "join" SurveyWorld, you sign up for one of the recommended survey sites. They don't have strict restrictions on who they provide signup links to, given their claim to be available in over 70 countries.
Even more surprising than their global availability is their statement that they have a massive user base of 5,000,000 people. Take a moment to think about that number. Is it realistic that 5 million individuals would have undergone the complex signup procedure we discussed earlier? It appears highly improbable. As I explored this SurveyWorld review further, I thought the website might be some intricate joke.
Is SurveyWorld Legit?
SurveyWorld isn't considered a scam because it doesn't take money from people. It's a platform that gathers different survey websites and panels in one place. However, SurveyWorld is an intermediary between you and these various survey platforms. It's more efficient to directly visit well-known survey sites like Pinecone Research, Branded Surveys, and Swagbucks.
SurveyWorld has received a rating of 2.7 stars on Trustpilot, classified as "Poor."
The drawbacks of SurveyWorld include a lack of customer support options, a website that can be confusing to navigate, and the fact that there needs to be more information available about its ownership. These factors make SurveyWorld less appealing.
SurveyWorld isn't a scam, but it may not be the optimal choice to make money through online surveys. You'd have better success with the sites I mentioned earlier.
Can You Use SurveyWorld to Make Money?
You won't make money directly through SurveyWorld, but they redirect you to other websites where you can earn cash. These other websites are legitimate and offer opportunities like taking surveys or testing products to make extra money.
The big question here is, why go through this whole process? SurveyWorld, also known as Surveyworld. Me, it doesn't provide any money-making chances on its own. Consider it a starting point with hidden links to other survey websites.
There's no opportunity to earn anything directly from SurveyWorld. While it's okay to recommend which survey websites to use (we do it too, remember!), the way they do it, which can be confusing and a little misleading, doesn't sit well with me.
If you need more proof, take a look at their Facebook page. They have a lot of followers, but they rarely talk about surveys there. It's unusual for a survey website. Instead, they seem more interested in posting about random things like "National Penguin Day" (I wish I were kidding).
Actual Ways to Earn Money Online
Don't worry about SurveyWorld; instead, sign up directly! We've got an extensive list of online ways to earn, and all it takes is a simple click on the link – it's that straightforward!
SurveyWorld Pros and Cons
Now, let's examine the positive and not-so-positive aspects of SurveyWorld to help you decide if it's worth using.
Pros Here are the positive aspects of SurveyWorld:
It directs you to legitimate survey websites.
It provides recommendations from various sites in different countries.
Cons And Here are the less favourable aspects:
You can't directly make money on the site.
It functions as an intermediary, not a direct money-making platform.
It may need to be clarified to navigate.
Ownership and management details of the site are not transparent.
Locating a signup form can be challenging.
SurveyWorld Review: Summary
The SurveyWorld website is a middleman, connecting you to different survey sites and groups.
However, finding a signup form on the site can be challenging, and, to be honest, the website isn't straightforward to use.
In conclusion, instead of investing your time in SurveyWorld, visiting survey websites and signing up there is a wiser choice.
Final Thoughts
SurveyWorld has a specific purpose: to help its owners make money through affiliate or referral programs. Now, that's not too strange on its own, but what's truly odd is that it doesn't offer much in return. Even more, it needs to be clarified how they make it tricky for people to access their affiliate or referral links.
Although it calls itself a survey website, SurveyWorld works differently than one. Instead, it's more like a website that does not effectively guide you to other survey sites. It adds extra steps to signing up for survey sites that you could quickly join directly.
This is one of the most bewildering survey websites we've ever seen.
In a nutshell, this site is a prime example of a middleman. It's better to skip it and explore other options to be more productive and earn more money.