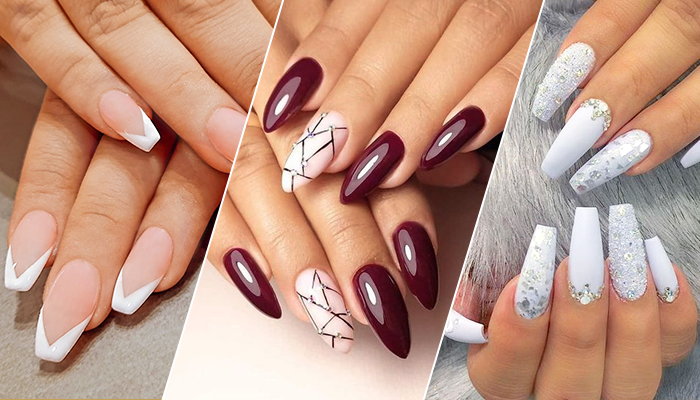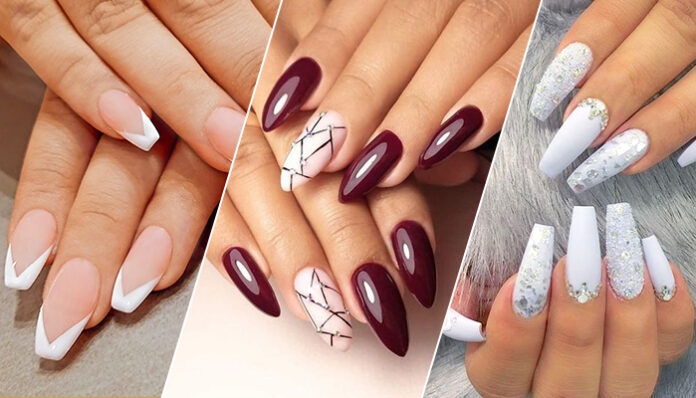 Expressing yourself is not limited to just clothes and makeup. Nails can be your canvas for self-expression, too. Whether you love classic French tips, enjoy getting creative with amazing nail designs from 2023.
If you like bold styles like coffin nails with gels and decorations, changing your nail design can add a fun twist to your daily routine. It's like adding a burst of sunshine to your day.
We've gathered amazing nail designs from 2023 to make picking your next manicure easier. You can choose based on your favourite colours, special occasions, the nail shape you like, or the type of nails you prefer, such as acrylic, gel, or ombre.
We've got all your eye catching nail designs from 2023.
The Best Nail Design Ideas For 2023
Nail Designs By Colour
White Nail Designs 2023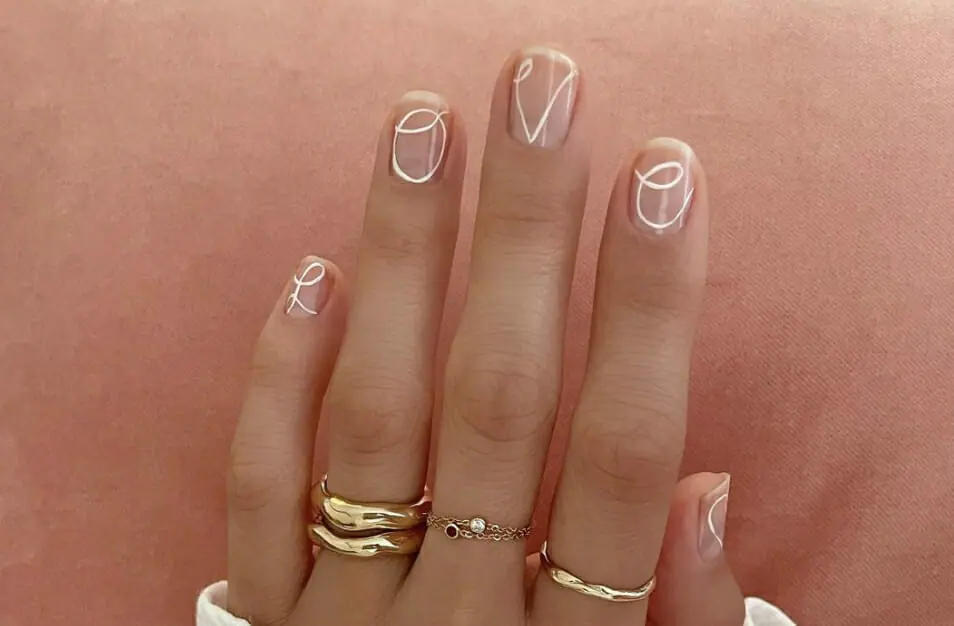 Choosing a white nail design is a timeless and versatile option for achieving a clean, sophisticated, or monochromatic look.
It seamlessly complements nails of various shapes and lengths, serving as an excellent canvas for creating diverse nail art with various colour schemes.
Whether you favour a classic, subtle appearance or a vibrant, daring design, white nails offer the ideal backdrop for showcasing your creative flair.
Black Nail Designs 2023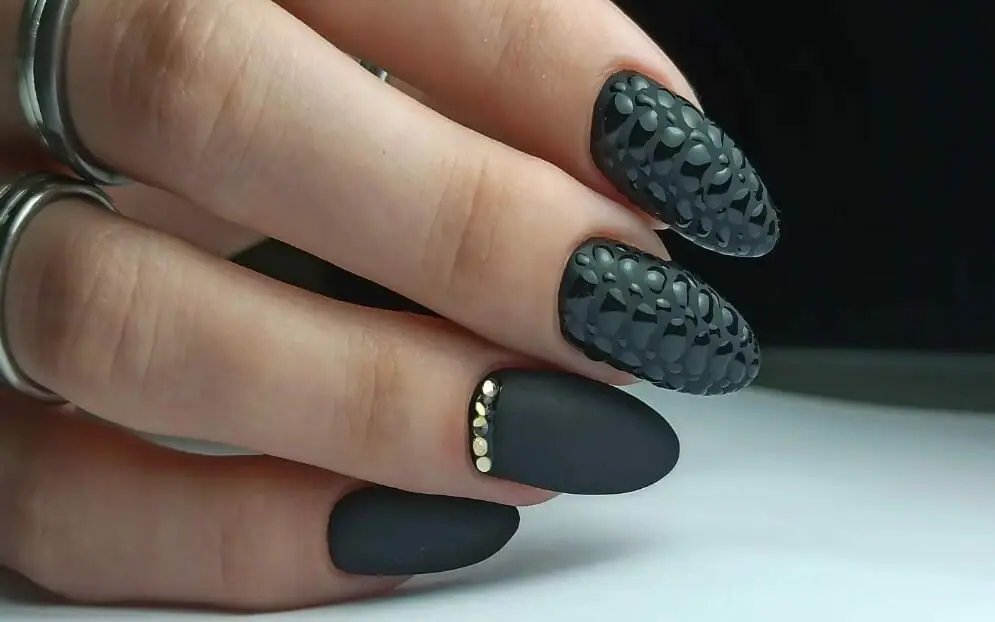 Black nail designs exude style and sophistication rather than grunginess. You can experiment with various textures and shapes to achieve a chic and refined look.
What's more, black nails effortlessly match any outfit, making them a year-round choice for nail enthusiasts seeking versatility. Whether your taste leans towards classic elegance or bold experimentation, black nails cater to all preferences.
Black and White Nail Designs 2023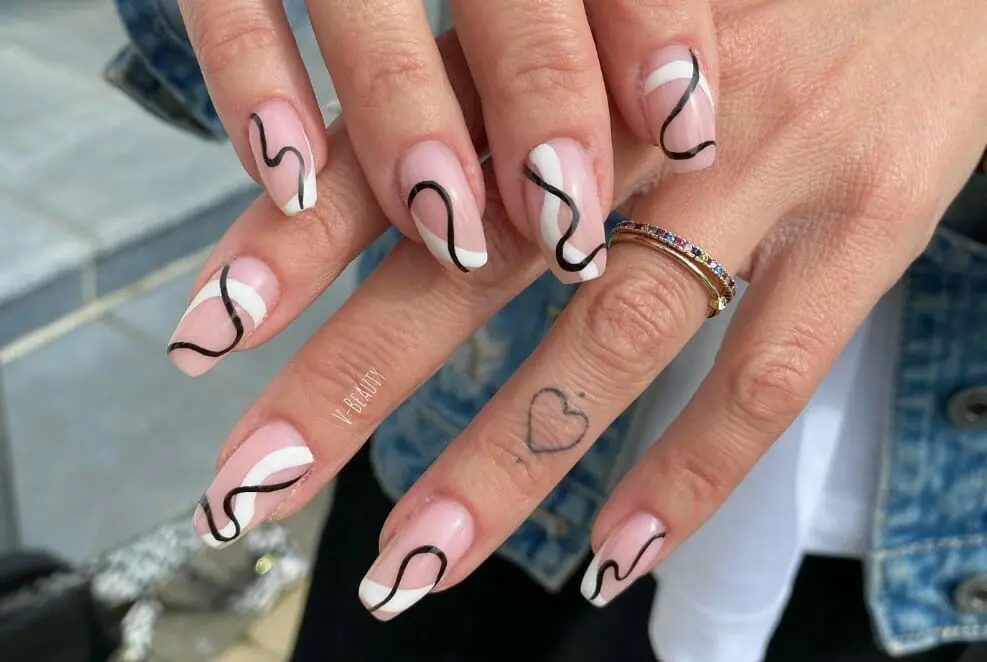 The timeless appeal of monochrome is evident in these swirling black-and-white nail designs. Exceptionally adaptable, they effortlessly complement any ensemble.
The swirling patterns add an element of sophistication reminiscent of the chic style associated with Paloma Picasso. Whether you're dressing up or keeping it casual, these black and white nails are guaranteed to make a statement and elevate your overall appearance.
Nude Nail Designs 2023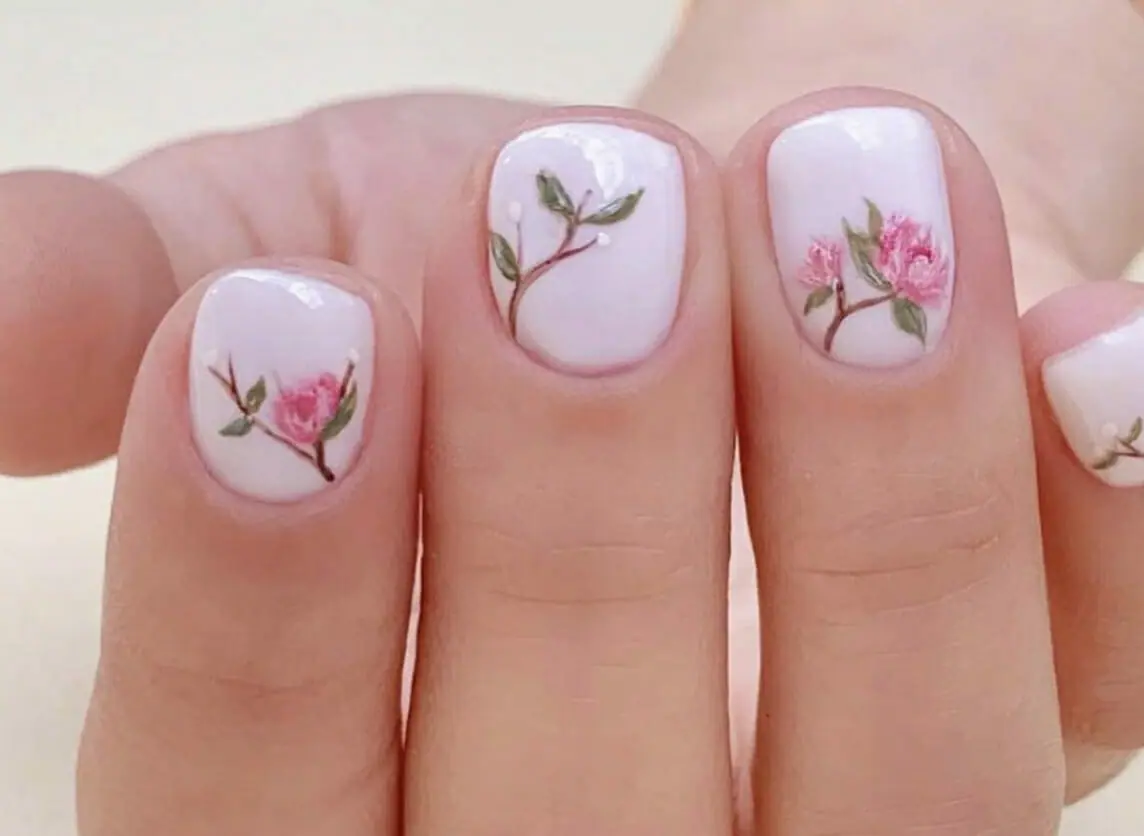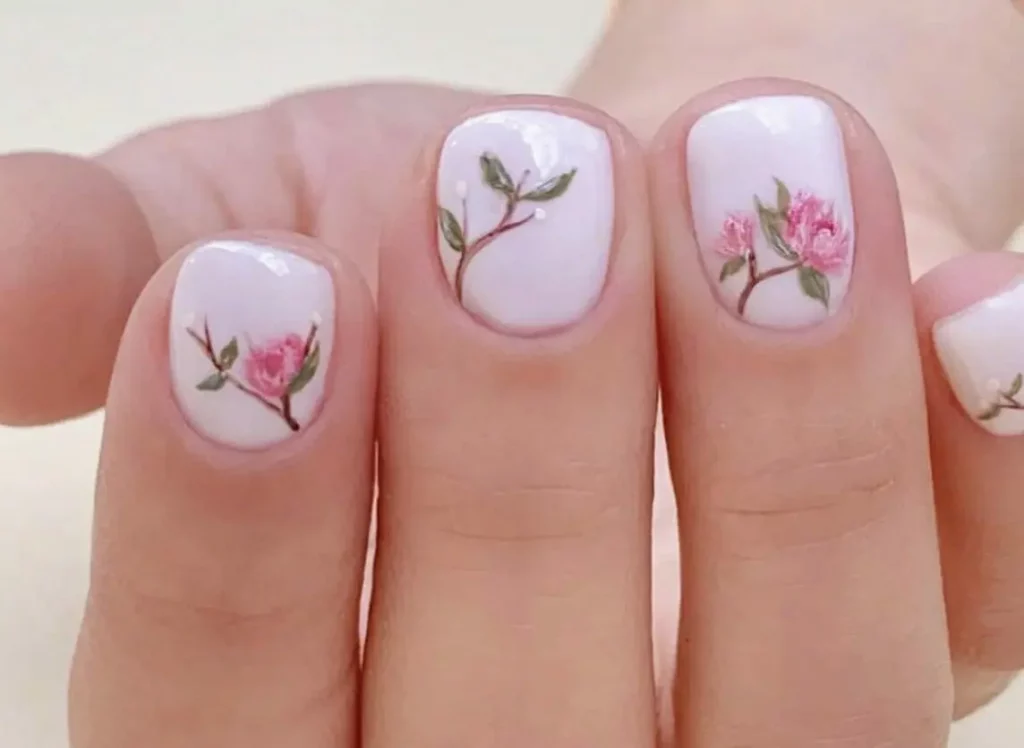 Nude nails stand the test of time, harmoniously complementing any attire and ensuring your style remains on point throughout the year.
This understated nude floral design perfectly balances charm and subtlety, making it a versatile choice for adorning your nails on various occasions.
Nude Glitter Nails 2023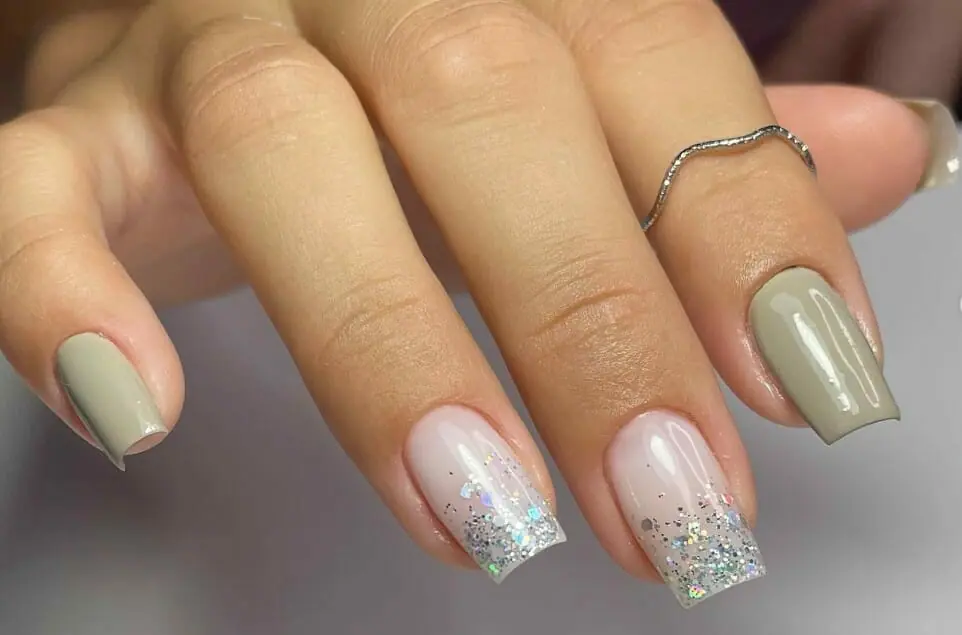 Glitter nails can radiate subtle elegance without overwhelming your look. These captivating glitter accent nails offer a more understated interpretation of the trend.
However, if you're feeling bold, you can always fully embrace the sparkle and add glitter to every nail for a glamorous and dazzling appearance.
Peach Nail Designs 2023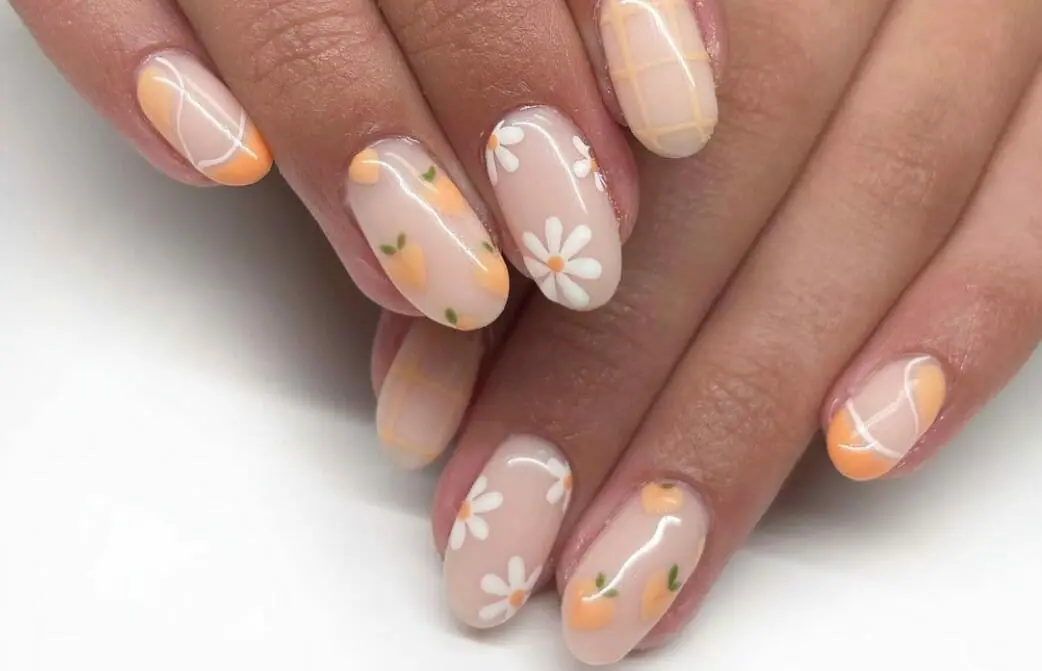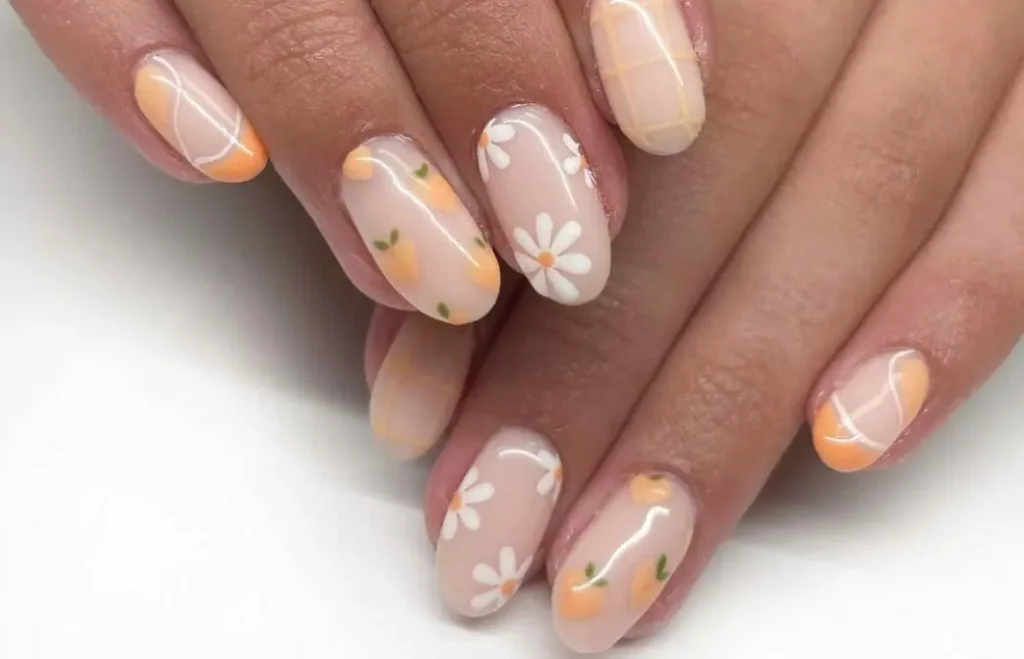 Peach nail designs provide a delightful and adaptable option for your manicure. The gentle, warm tones of peach nails harmonize beautifully with a range of outfits and occasions.
Whether you opt for a simple, solid peach shade or incorporate intricate patterns and accents, these designs exude charm and sophistication. Peach nails are ideal for those seeking a delicate and stylish look that effortlessly transitions from day to night.
Light Pink Nail Designs 2023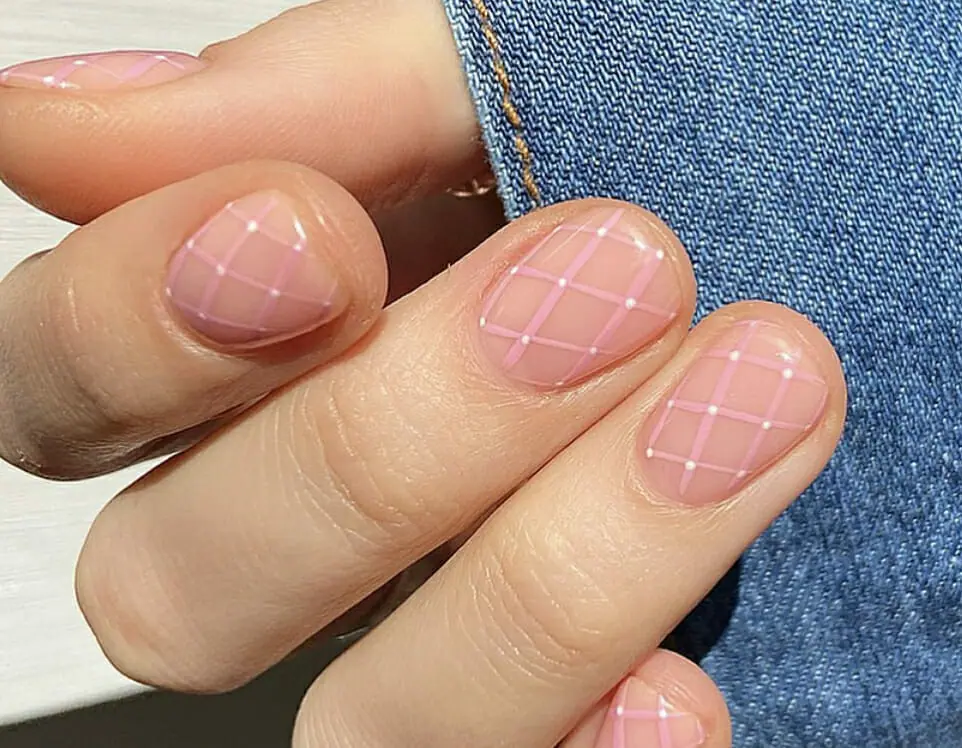 Light pink nail designs featuring delicate flowers impart a graceful and feminine touch to your manicure. The intricate lattice patterns delicately painted over a light pink base create a charming and refined aesthetic.
These designs are perfect for individuals who appreciate understated beauty and wish to showcase their femininity with a touch of sophistication.
Whether you're attending a special event or aiming to add subtle elegance to your everyday appearance, light pink nails with floral embellishments make for a lovely choice.
Hot Pink Nail Designs 2023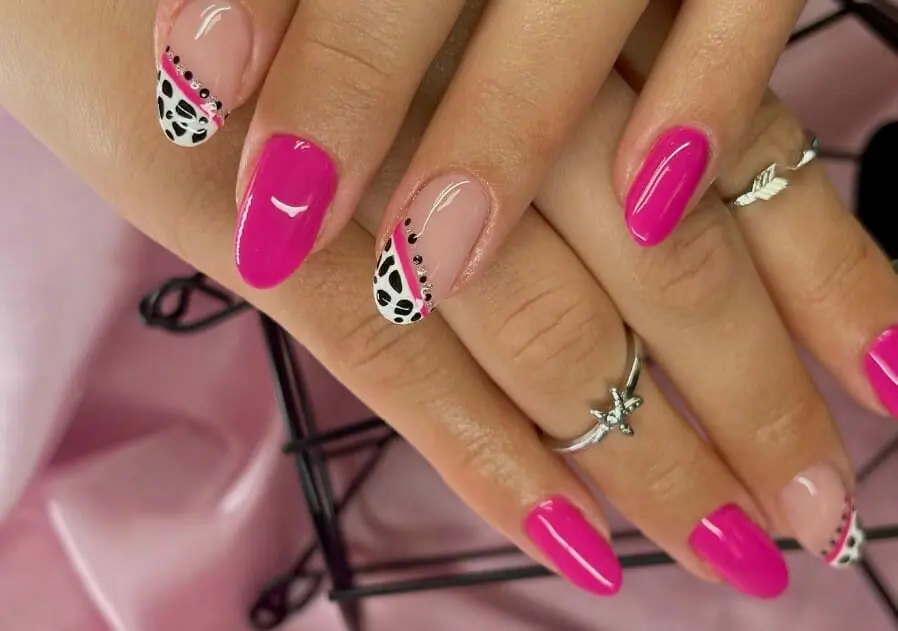 Hot pink nail designs are all about making a bold and lively statement. This electrifying colour choice is ideal for those who want to stand out and convey their vibrant personality through their nails.
Whether you opt for solid hot pink nails to add a burst of colour or intricate designs featuring hot pink as the primary element, these nail creations exude energy and confidence.
From playful patterns to elegant accents, hot pink nails are a fantastic choice for embracing your lively side and injecting excitement into your overall look.
Yellow Nail Designs 2023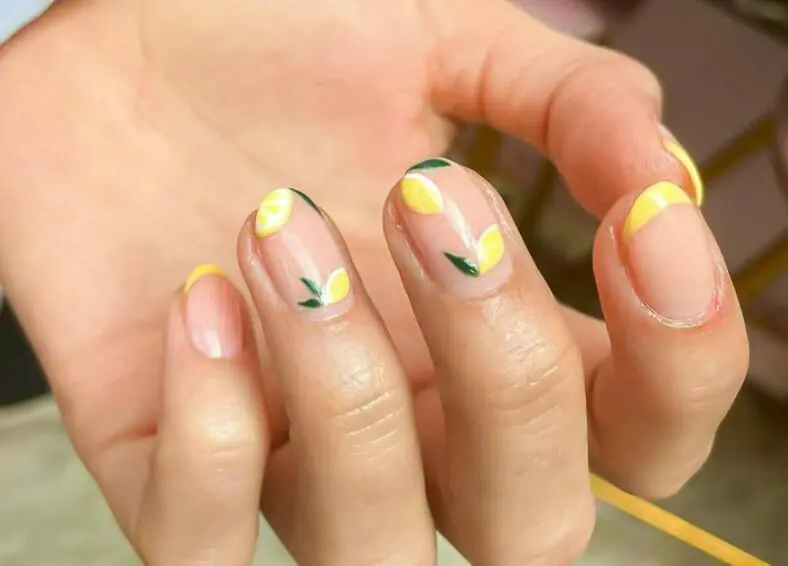 Yellow nail designs bring forth a sense of positivity and vibrancy, offering a delightful way to infuse a touch of sunshine into your daily life.
Whether you lean towards a cheerful sunflower motif, favour soft pastel yellow hues, or opt for bold and radiant shades, yellow nails emanate a vibrant and joyful aura.
They are a fantastic choice to embrace the warm and sunny vibes of summer or simply add a burst of brightness to your day.
Whether you decide on a subtle accent nail or go all-in with a complete yellow manicure, these designs are guaranteed to evoke smiles and capture the attention of those around you.
Neon Yellow Nails 2023
Embrace the vibrant and electrifying energy of neon yellow nails. These striking nail designs exude a sense of playfulness and nostalgia, reminiscent of the trendy 90s era.
Featuring eye-catching neon yellow shades and charming heart motifs, this nail art truly celebrates boldness and individuality. It's a fantastic choice for those who love to make a statement and add a pop of fun and colour to their overall look.
With neon yellow nails, you'll shine bright and stand out from the crowd, radiating confidence and enthusiasm wherever you go.
Red Nail Designs 2023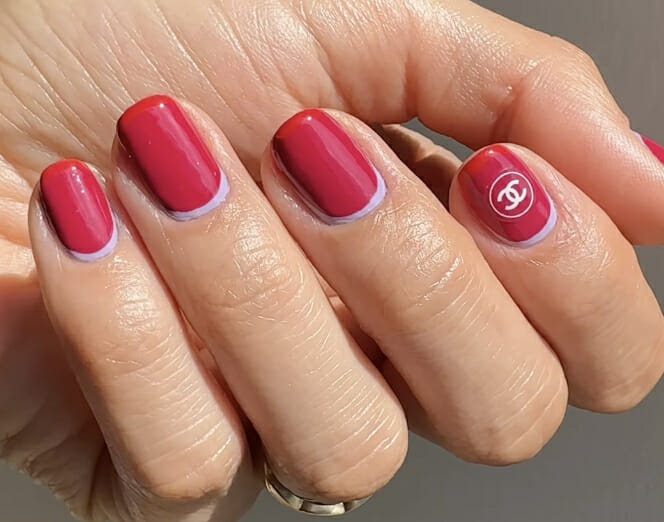 Red nails are a classic and highly requested choice among clients who want stylish nail designs. Chanel nail artist Betina Goldstein created this contemporary interpretation of red nail designs, featuring a triple French tip style enhanced by a chic Chanel decal.
These red nails exude sophistication and elegance, making them suitable for various occasions, from special events to everyday wear.
With their timeless appeal and modern twist, these red nail designs are sure to make a fashionable statement and add a touch of glamour to your hands.
Orange Nail Designs 2023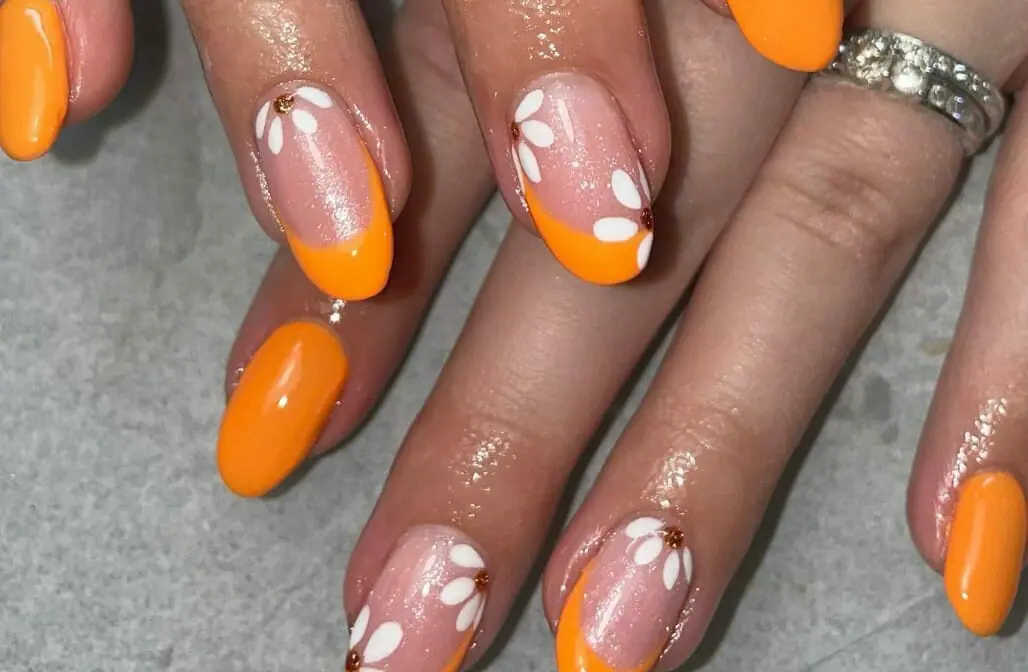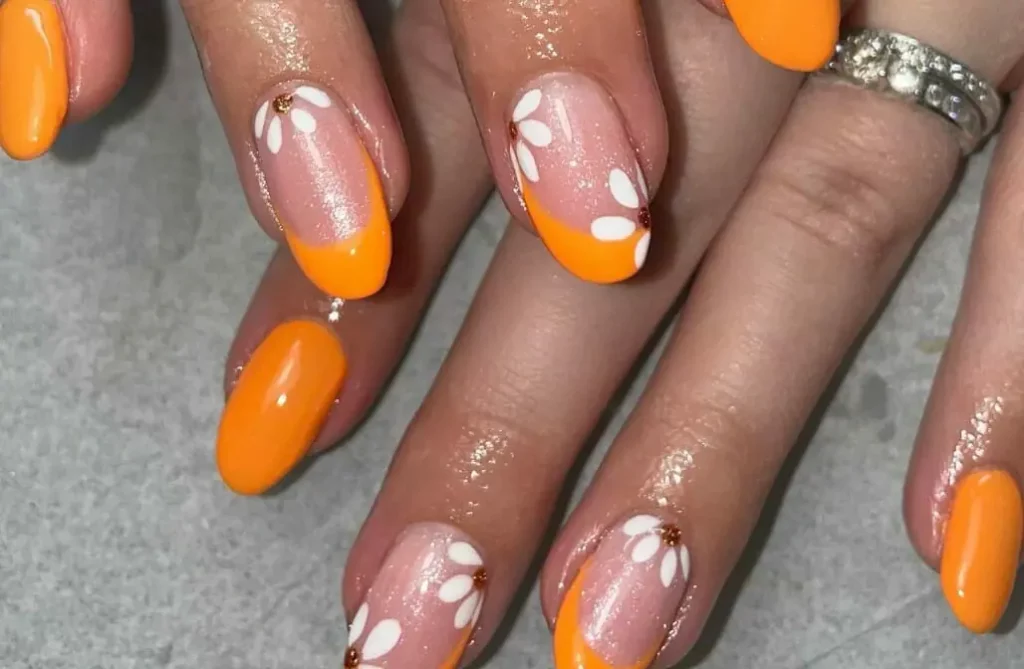 Vibrant and lively, these juicy orange nail designs are perfect for the spring and summer seasons. The addition of delicate daisies embellished with gold dots adds a unique and captivating detail to the nail bed.
These orange nail designs beautifully capture the essence of sunny days and cheerful vibes, making them an excellent choice to elevate your manicure and embrace the warmth of the seasons.
With their playful and spirited appearance, these orange nails are certain to make a statement and showcase your stylish and fun-loving personality.
Green Nail Designs 2023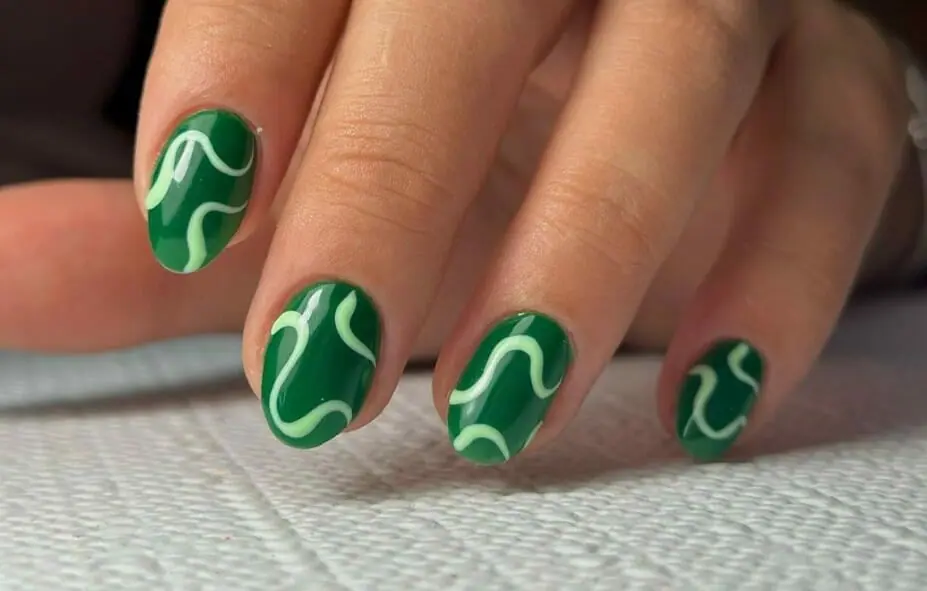 Swirly nail designs are all the rage on social media platforms like Instagram and Pinterest. They bring a modern and versatile vibe to any outfit.
This particular groovy green nail set featuring minty swirls is a prime example of the trend. The intricate swirl patterns add a unique and playful twist to the classic green manicure, making it a stylish and attention-grabbing choice.
Whether you want to express your artistic side or simply stand out, these green nails are an excellent way to make a statement and enhance your overall look. Embrace the swirls and enjoy a contemporary and fun nail design that suits your style.
Blue Nail Designs 2023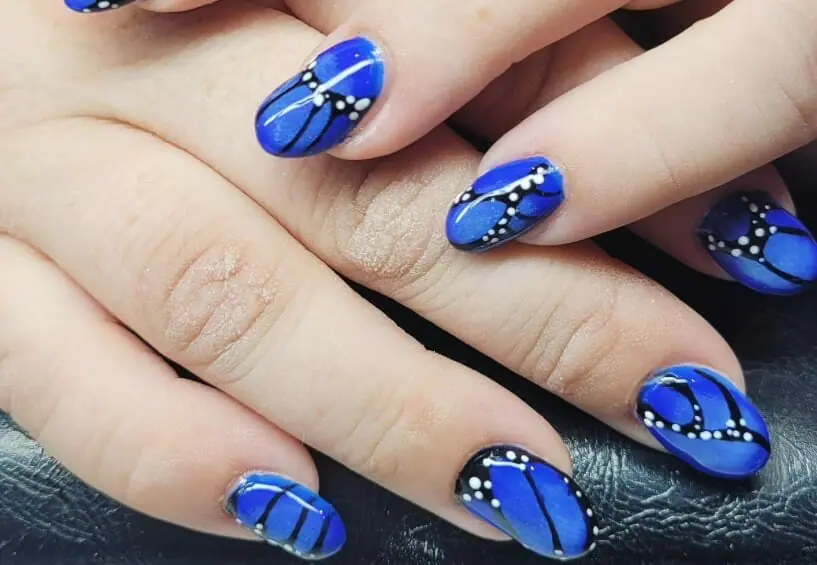 The intricate butterfly blue nail design may have a retro vibe, but in 2023, this charming insect is making a stylish comeback. With its delicate details and captivating shades of blue, this nail art choice adds a touch of whimsy and nostalgia to your manicure.
The butterfly motif exudes a playful and feminine charm and showcases your love for nature and its beauty.
So, if you're looking for a unique and trendy nail design that brings a sense of fun and elegance to your look, consider fluttering your way into this butterfly-inspired blue nail art trend.
Light Blue Nail Designs 2023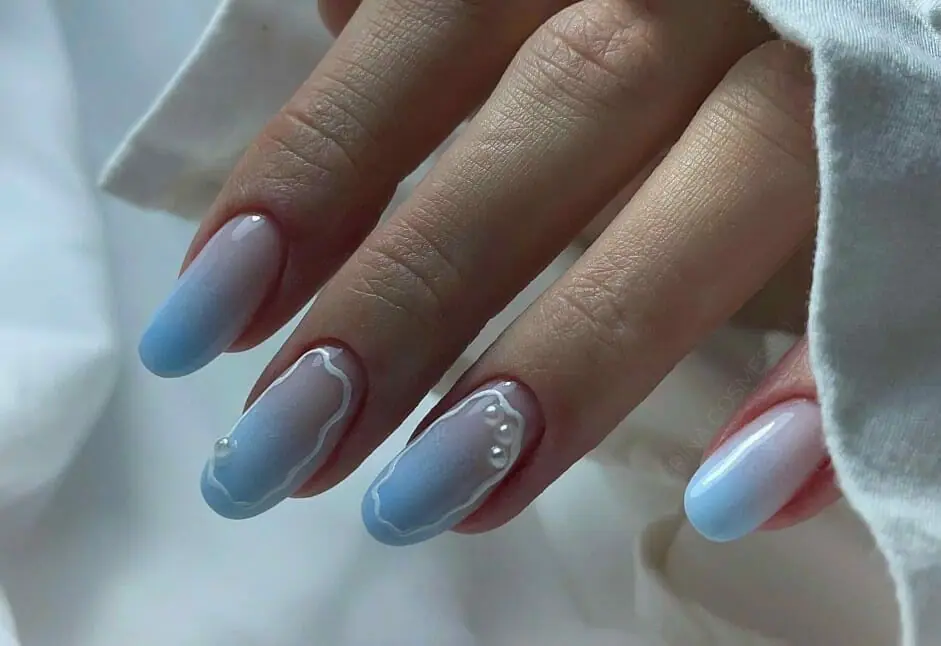 "A light blue nail design can impart a fresh and serene aesthetic to your nails. This set is particularly captivating, featuring delicate pearls that lend a charming 3D dimension to the overall appearance.
The gentle blue shade evokes sensations of tranquillity and peace, making it a perfect choice for those who value simplicity and refinement in their nail art.
Whether you're preparing for a special event or aiming to elevate your daily style, these light blue nails adorned with pearl embellishments introduce an element of sophistication and elegance to your manicure."
Turquoise Nail Designs 2023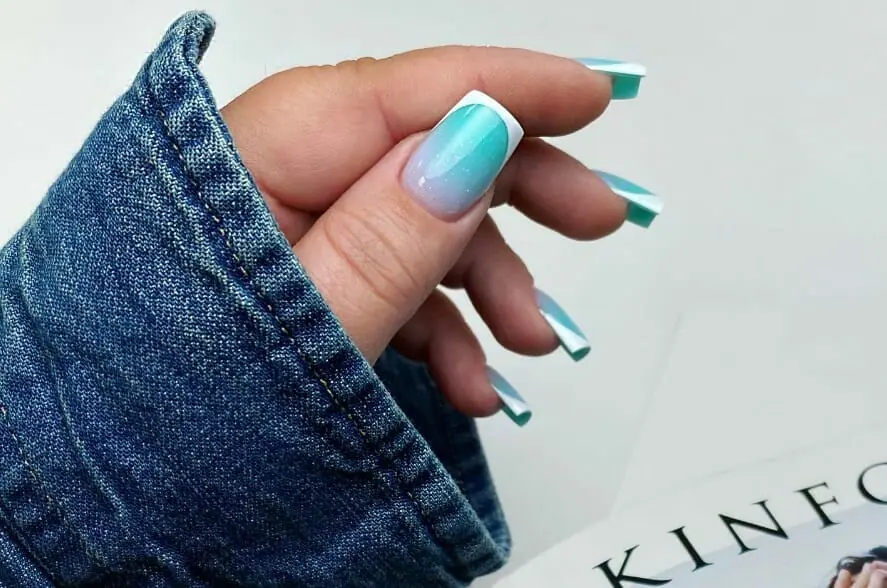 "These turquoise glitter gradient nails give off major mermaid vibes, making them a fantastic choice for a summer look. However, their versatility shines through as they can also serve as a frosty winter set, perfect for the holiday season.
The turquoise shade, combined with the sparkling glitter gradient, adds an element of enchantment, making your manicure truly captivating.
Whether you're soaking up the summer sun or getting into the festive spirit during the holiday season, these nails are sure to elevate your style with their captivating and adaptable allure."
Royal Blue Nail Designs 2023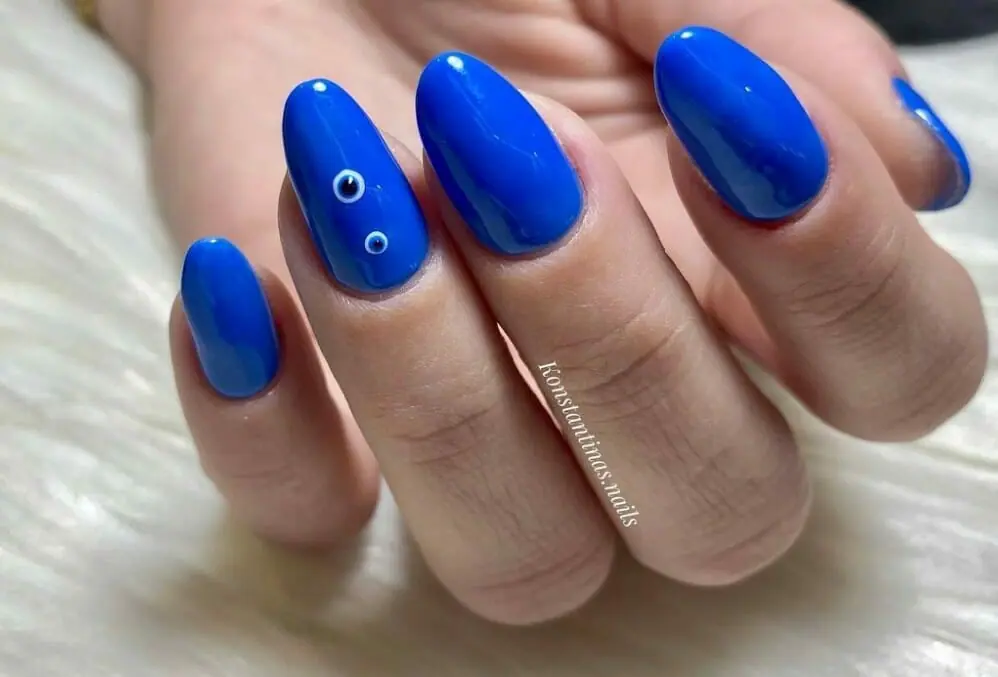 In recent times, numerous well-known nail artists have been fashioning striking evil eye amulet-inspired designs, showcasing the traditional royal blue hue frequently linked with Greece and Turkey.
This particular nail design is tailor-made for individuals who hold superstitions dear to their hearts. It embraces an enchanting shade and carries a special cultural relevance, injecting depth and fascination into your manicure.
Therefore, whether you seek to make a daring style statement or infuse a touch of mystical allure, these royal blue nails are the ideal choice to express yourself uniquely.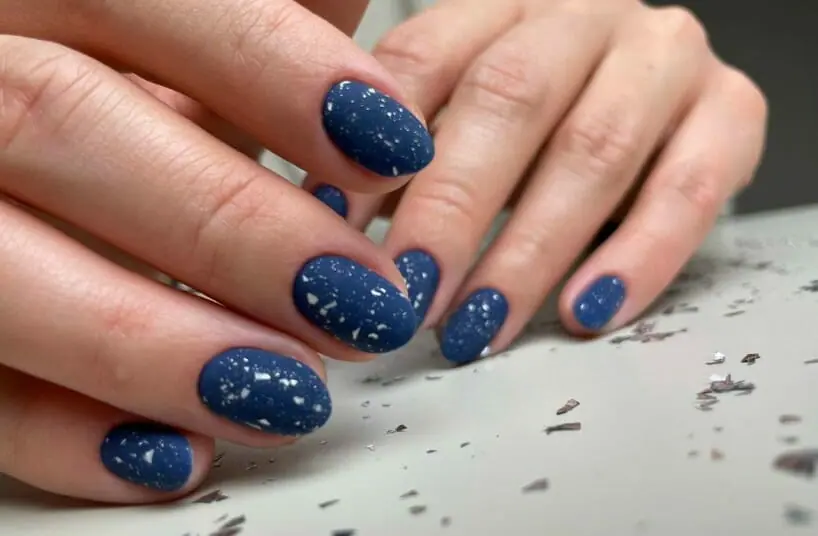 Navy blue nail designs offer a cool, mysterious allure that never goes out of style. They pair beautifully with warm silver tones, copper, or rose gold accents, creating a striking contrast that adds depth and sophistication to your overall look.
Whether you're aiming for a chic, evening-ready appearance or simply love the timeless elegance of navy blue, these nail designs are versatile and can complement various accessories and occasions.
Purple Nails Designs 2023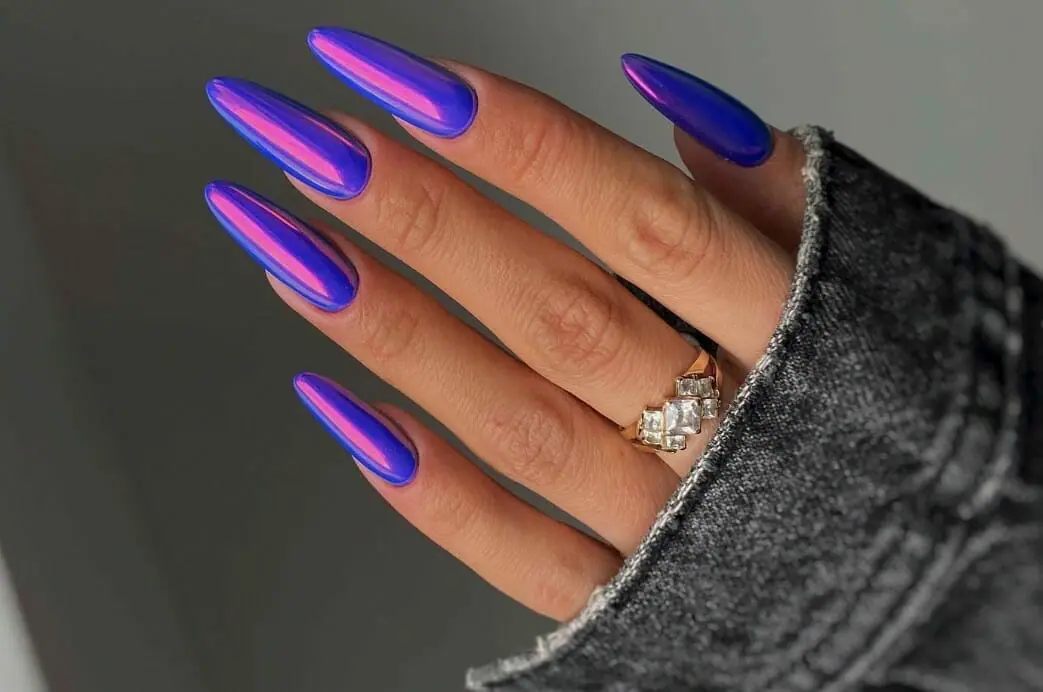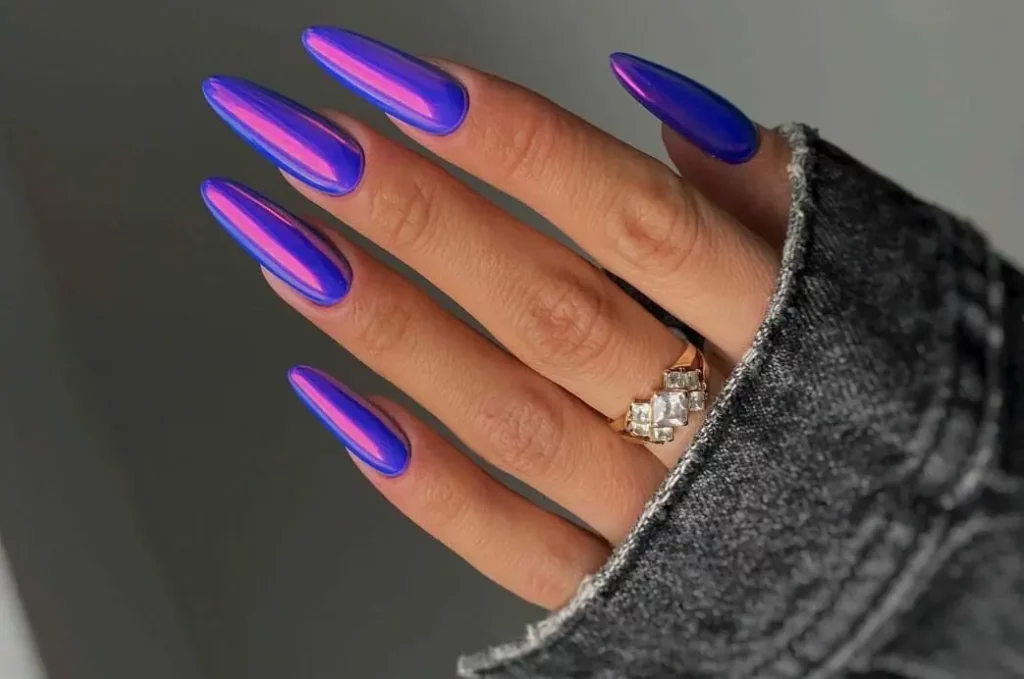 This unique set of purple nails is sure to make a statement and capture everyone's attention. With their bold and vibrant shade of purple, these nails exude futuristic and space-inspired vibes.
Whether you're a fan of sci-fi aesthetics or simply want a standout manicure, these purple nails offer a touch of cosmic chic to elevate your look. Embrace the future with this captivating nail design that's truly one-of-a-kind.
Lilac Nail Designs 2023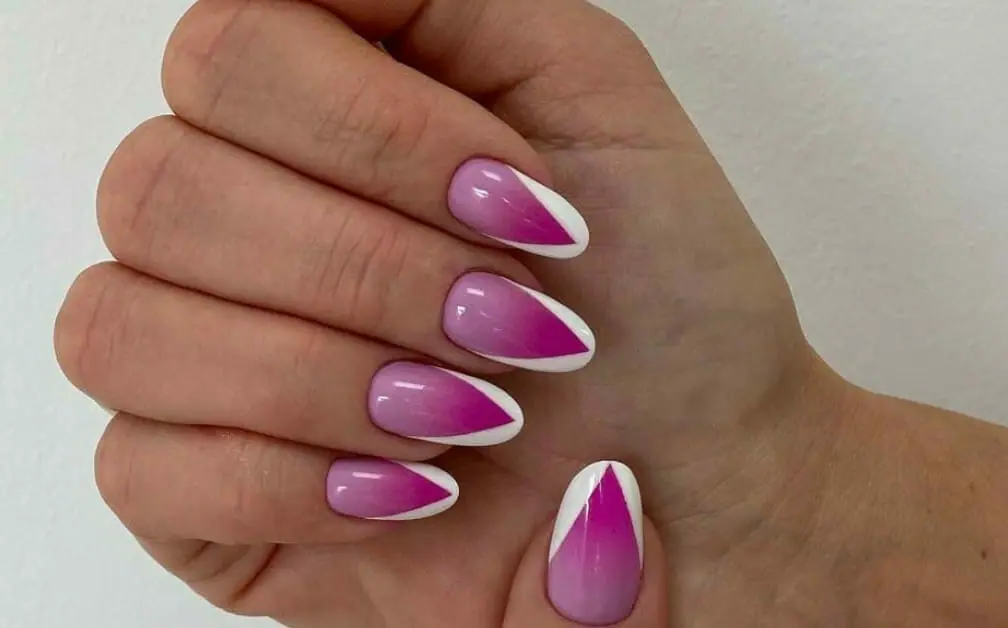 Lilac nail designs are a wonderful choice if you're looking to achieve a soft and feminine aesthetic for your manicure. The gentle pastel hue of lilac radiates an air of elegance and sophistication, making it a versatile option suitable for various occasions.
Whether you opt for a straightforward, solid lilac nail or incorporate intricate floral or geometric patterns, this colour selection will surely complement your personal style.
Lilac nails exude a fresh and youthful ambience, making them particularly well-suited for the spring and summer seasons, and they effortlessly add a touch of grace and charm to your overall appearance.
Sparkly Purple Nails 2023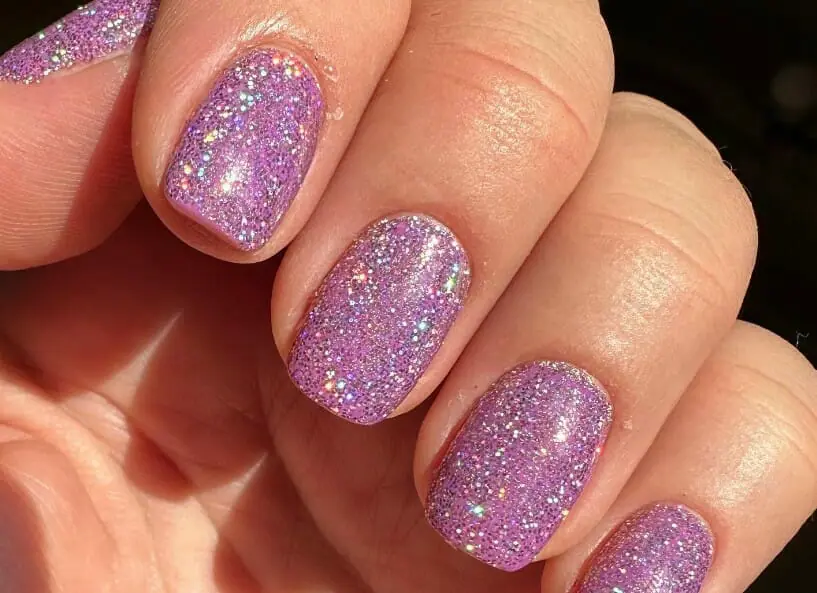 "Sparkly purple nails are a fantastic choice when you want to add a touch of glamour and glitz to your manicure.
Whether you're attending a special event, celebrating a holiday, or simply looking to elevate your everyday style, sparkly nail designs offer a fun and versatile option.
The shimmering purple hue adds a sense of luxury and sophistication to your nails. What makes sparkly nail designs truly appealing is their ability to be customized to suit your preferences.
You can opt for full-on glitter for a bold statement, subtle accents for a touch of sparkle, or intricate patterns for a more artistic look. This makes sparkly purple nails a dazzling and dynamic choice for any occasion or mood."
Lavender Nail Designs 2023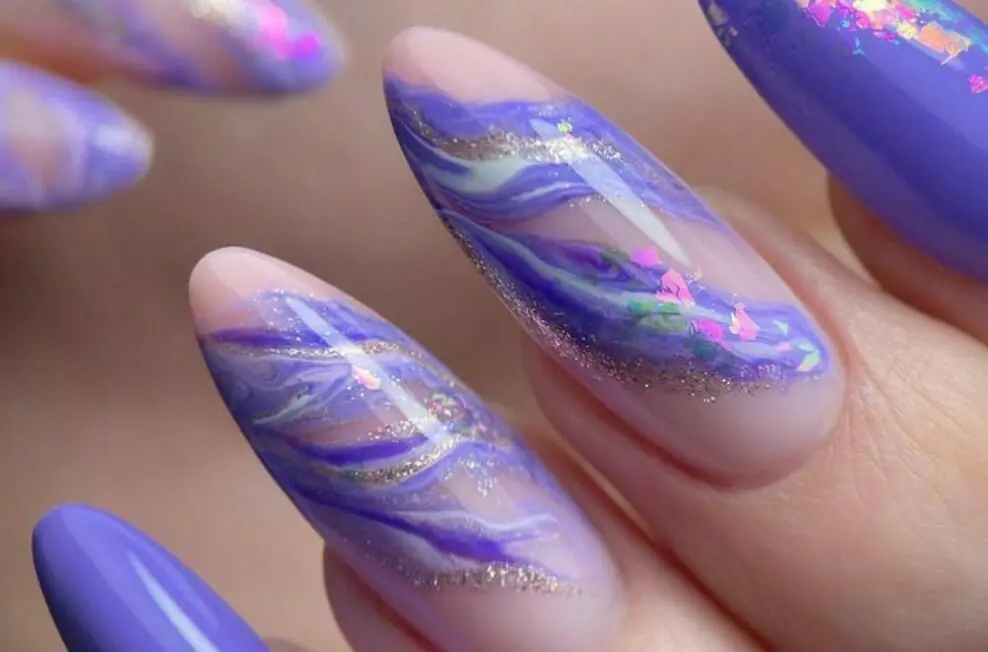 "Lavender nail designs are simply dreamy, and this particular set featuring lavender, silver, glitter, and marble acrylic nails is no exception.
This design's cool and ethereal digital lavender hue has been crowned as WGSN's colour of the year for 2023, ensuring you're right on-trend with this mesmerizing set.
The combination of lavender and silver, sparkling glitter accents, and marbled patterns create a captivating and modern look that's perfect for any fashion-forward individual.
These nails capture the essence of the year's colour trend and bring enchantment and elegance to your fingertips."
Brown Nail Designs 2023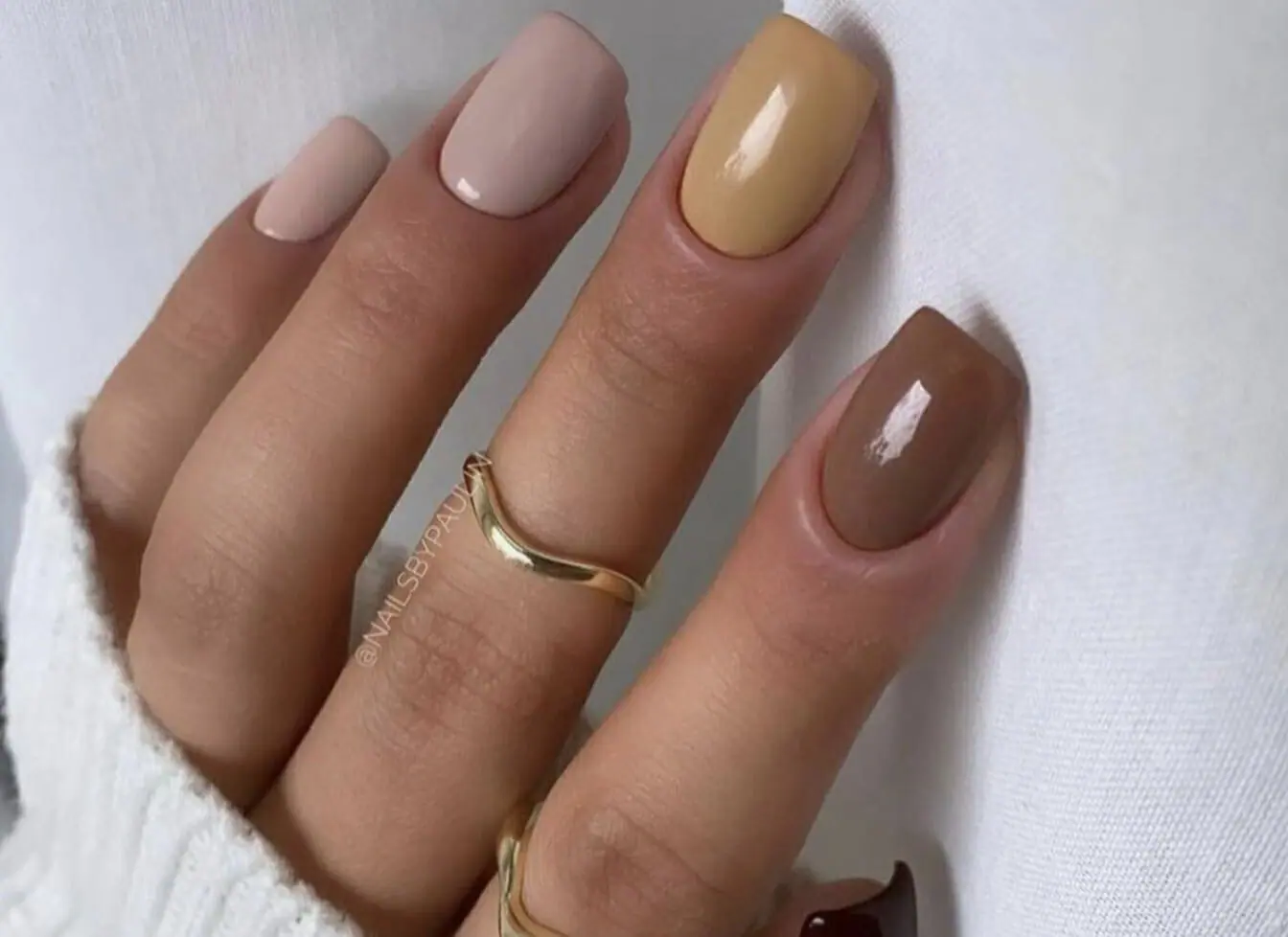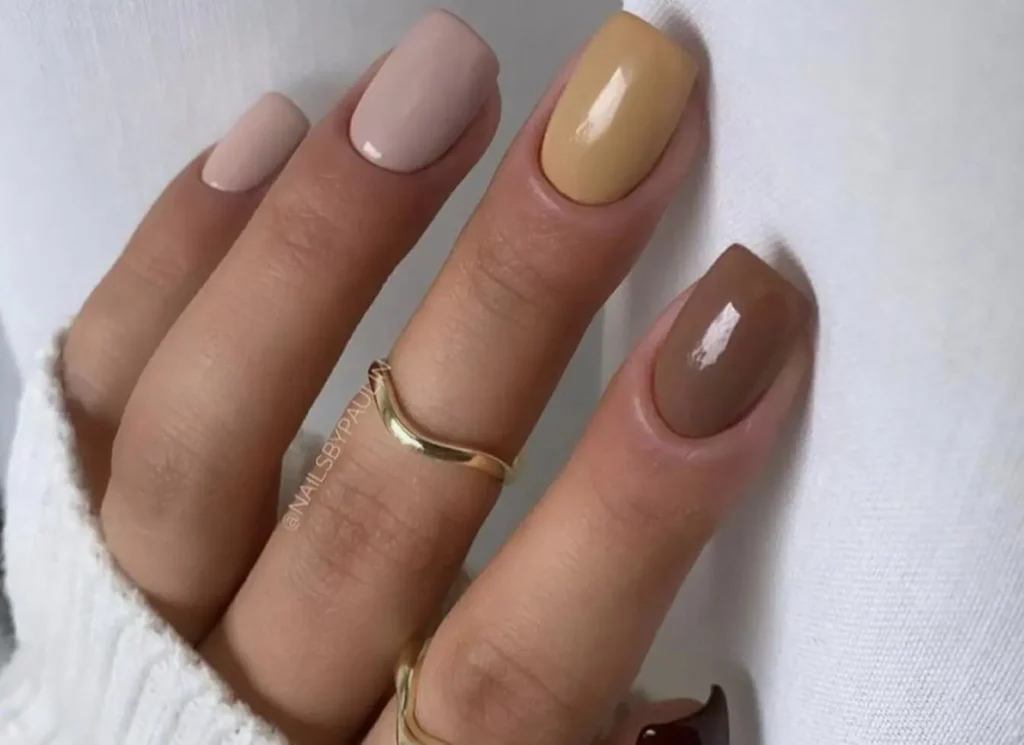 "Brown nail designs exude style and sophistication, infusing warmth and elegance into your overall appearance. Brown nails offer a versatile canvas for accessorizing with both silver and gold jewellery, making them a perfect match for any outfit.
This multi-tonal brown design, with its captivating shades and charming pattern, adds a touch of uniqueness and cuteness to your nails.
It's a chic choice that complements various styles and occasions, proving that brown is anything but boring when it comes to nail fashion."
Gold Nail Designs 2023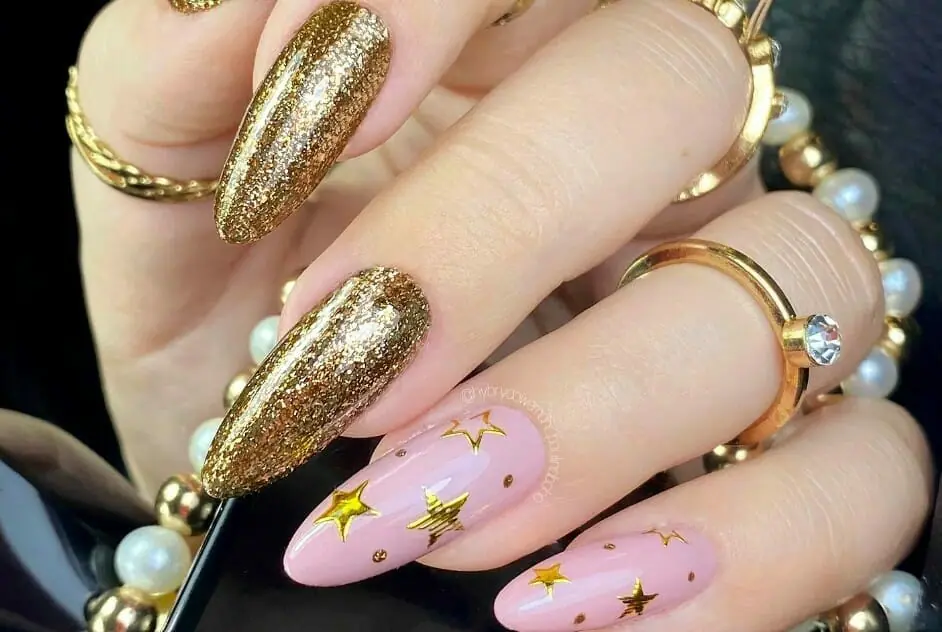 "Gold nail designs offer a multitude of possibilities, allowing you to experiment with various styles like chrome gold, glitter gold, sparkling gold, and incorporating gold accent nails.
This particular set features a captivating blend of glitter and delicate stars against a golden backdrop, creating a dazzling and celestial look. Gold nails add a touch of opulence and glamour to your manicure, making them a versatile choice for any occasion.
With their radiant and eye-catching appeal, gold nail designs are a true fashion statement."
Rose Gold Nail Designs 2023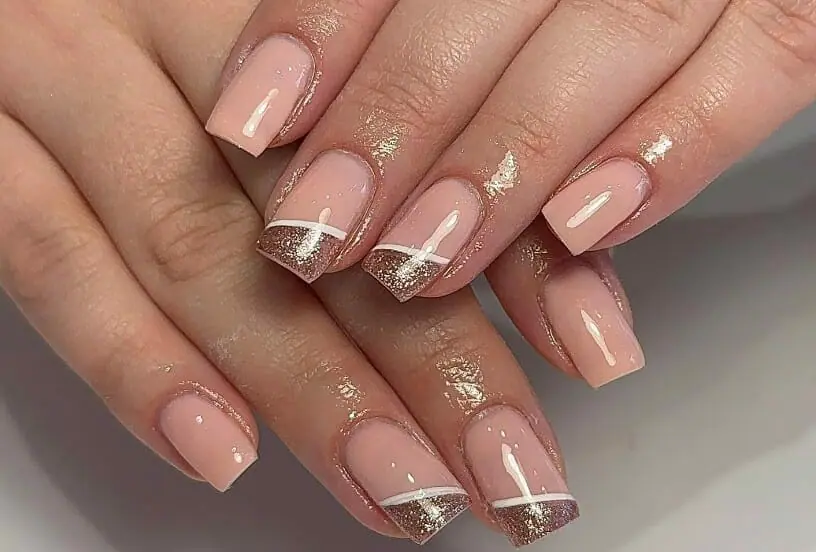 "Rose gold nail designs are a symbol of timeless elegance and versatility, making them a perfect option for any occasion or outfit. This specific design combines the allure of rose gold with a coordinating nude shade, resulting in a harmonious and sophisticated appearance.
One of the remarkable features of rose gold is its compatibility with various contrasting colours, allowing you to personalize your manicure to align with your unique style and preferences.
Due to its enduring appeal and adaptability, rose gold nail designs remain a sought-after and fashionable choice among nail art enthusiasts."
Silver Nail Designs 2023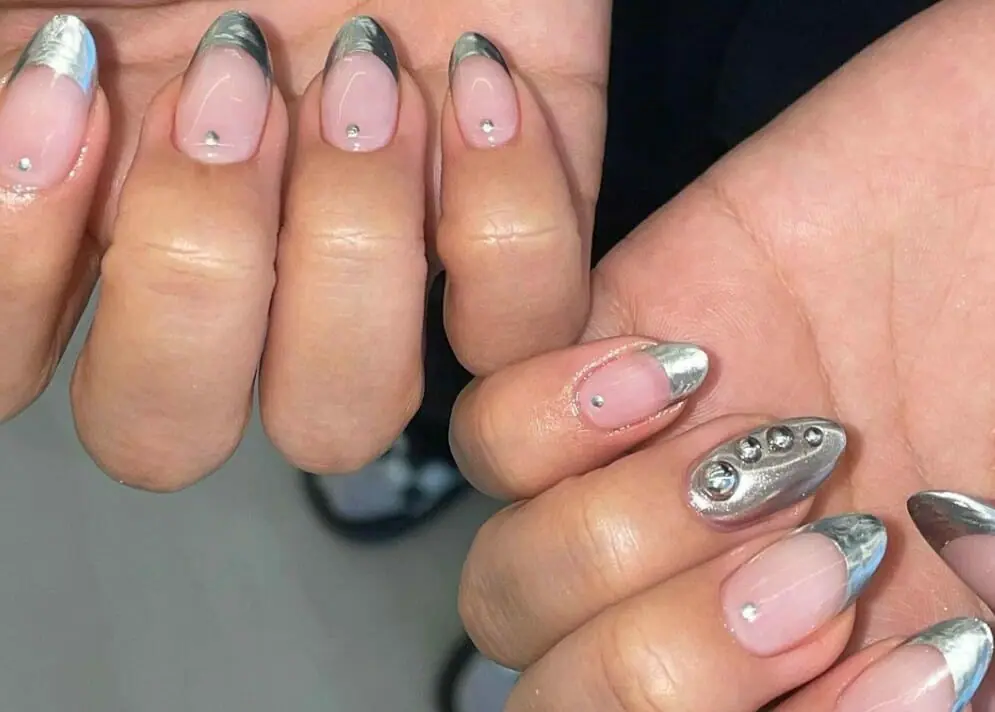 "Silver French tip nails are effortlessly chic, and this design takes them up a notch with the addition of delicate gems on the nail bed. It's a subtle yet distinctive twist that elevates the classic silver manicure, adding a touch of glamour and uniqueness to your nails."
Chrome Nail Designs 2023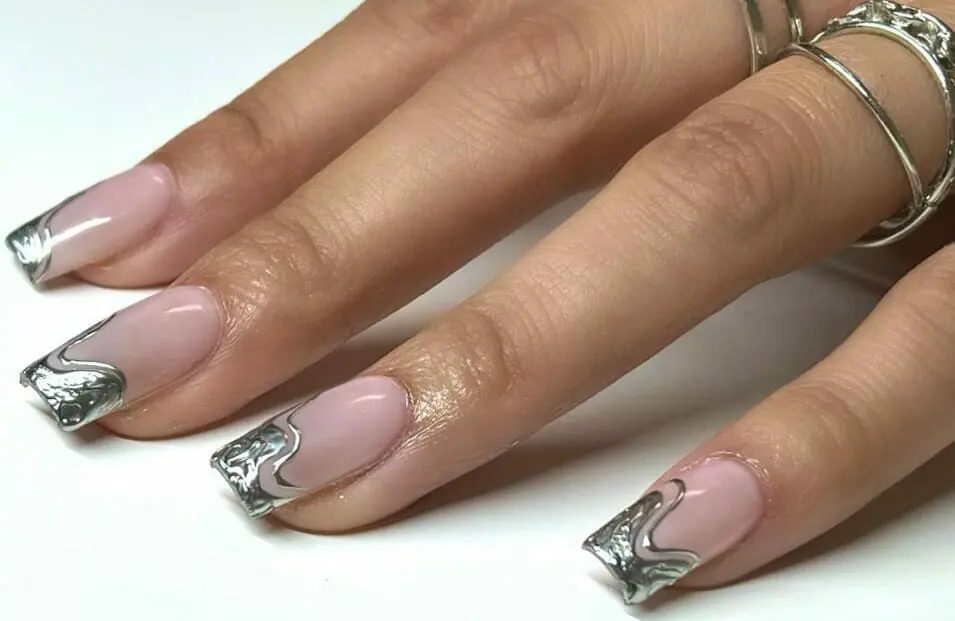 "If you're looking to add a subtle touch of glam without going overboard, consider trying chrome tips on longer nude nails. Pair them with your favourite silver rings for an effortlessly chic look."
Multi-Colour Nail Designs 2023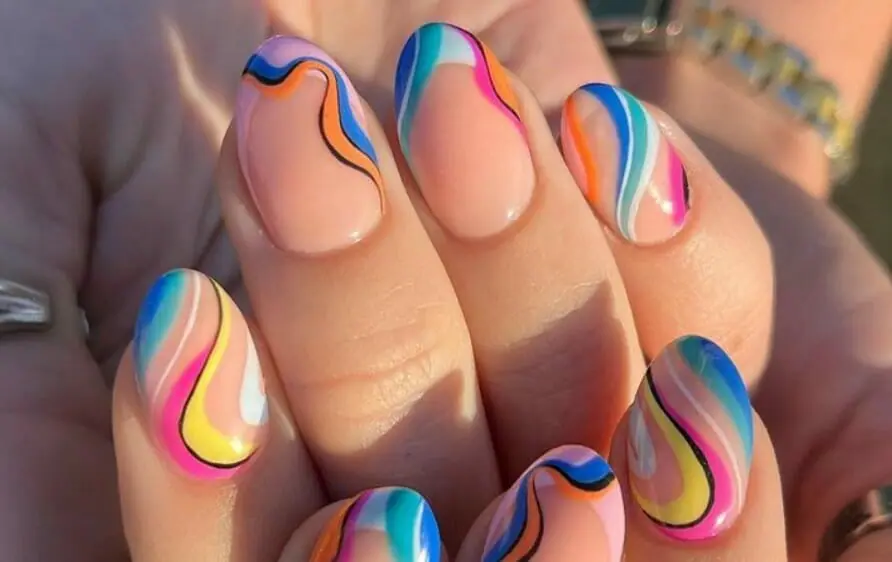 "Bring a touch of tradition into your nail art with a contemporary twist. Consider hand-painted rainbow swirls on a neutral nail base, a versatile design that pairs perfectly with pastel and neon nail varnishes.
Whether you choose to cover your nails entirely with delightful swirls or opt for a subtle pop of colour at the tips, this style allows for creativity and personalization."
Multicoloured Gem Nails 2023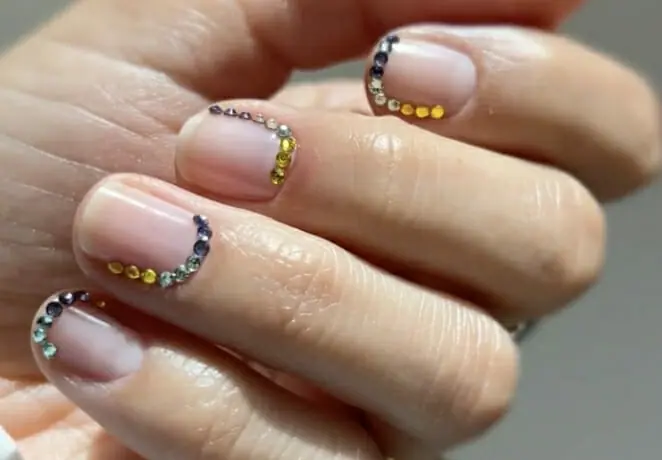 "These multicoloured gem nails are true attention-grabbers. While many gem nail designs feature rhinestones, studs, crystals, or charms, this minimalist set takes a unique approach with abstract shapes, setting it apart as a bold choice for those looking to make a statement."
Multicoloured Abstract Nails 2023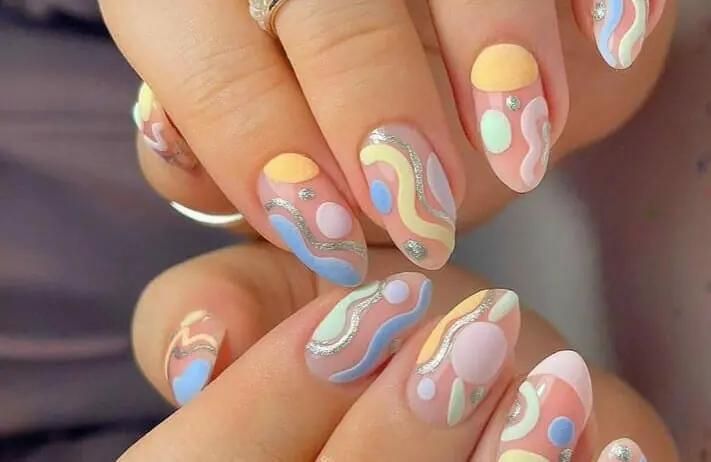 "Block colours, squiggly lines, and abstract shapes define the trend of multicoloured abstract nails, a style that has become a sensation on Instagram."
Nail Art Designs 2023
Flower Nail Art Designs 2023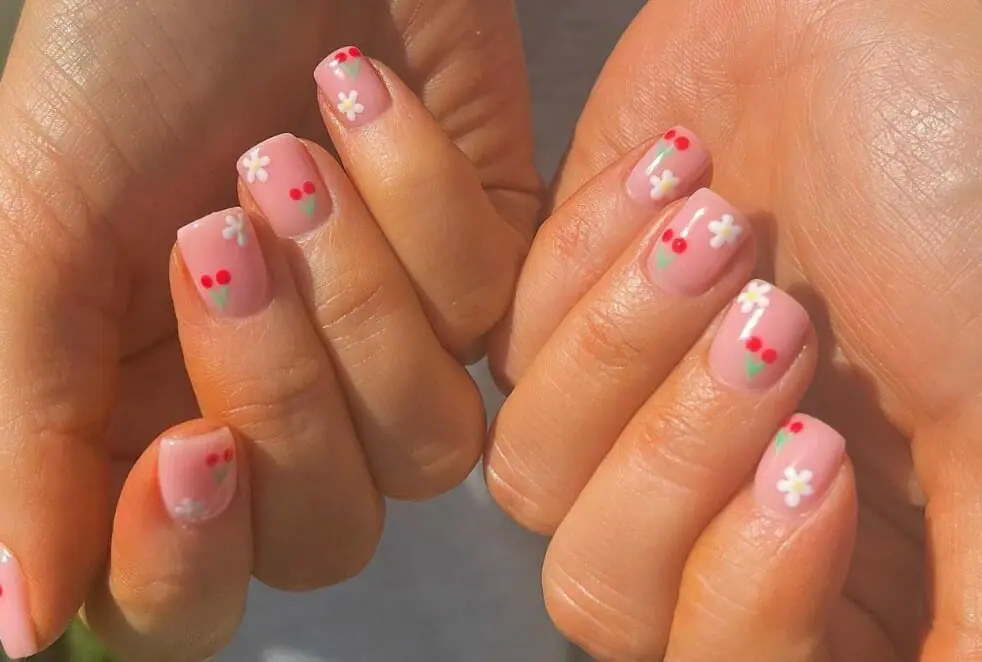 "Flower nail art designs offer a multitude of creative possibilities.
Whether you choose to adorn every nail with intricate flowers, add delicate dots or painterly leaves, or opt for a burst of vibrant colours, there are endless ways to embrace this trend and express your unique style."
Bright flower Nail Art Designs 2023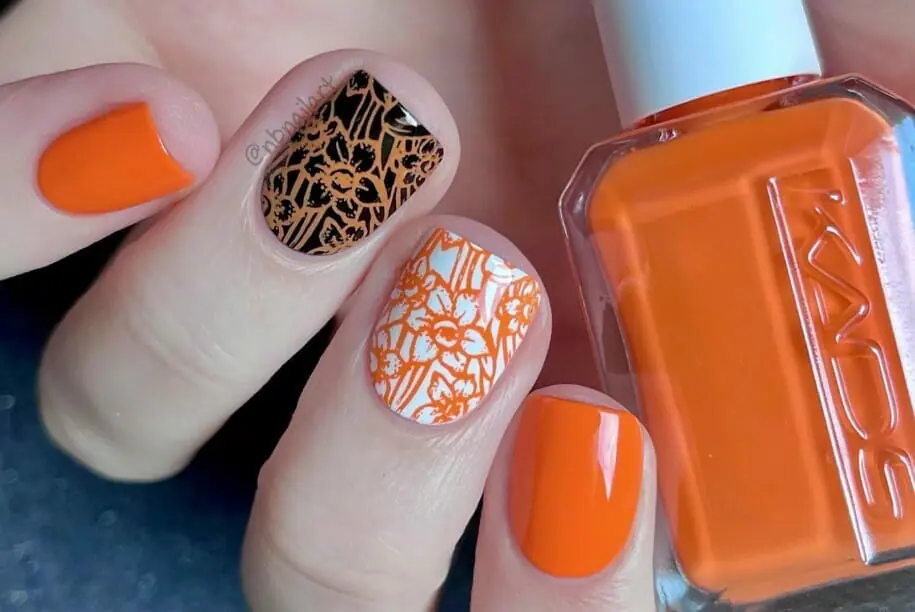 "Unleash your creativity with these mesmerizing flower nail art designs. There are countless ways to embrace this trend, from delicate, dainty dots to painterly leaves and a burst of colours.
With a multitude of floral patterns to choose from, you'll find yourself spoiled for choice.
French Tip Nail Art Designs 2023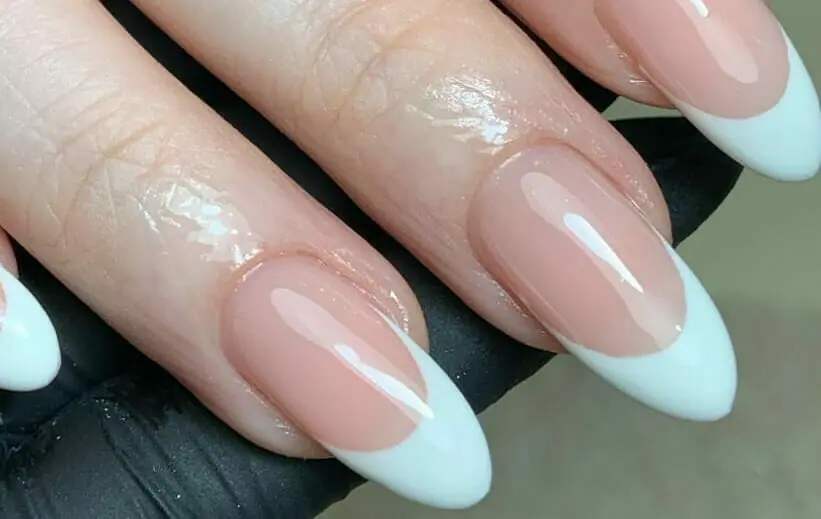 French tip nail art designs provide a classic and timeless elegance that can elevate your nails with a sophisticated touch.
Whether you opt for the traditional white tip or explore various colours and patterns, French tip designs offer limitless opportunities to showcase your unique style and creativity.
Colourful French Tip Nail Art Designs 2023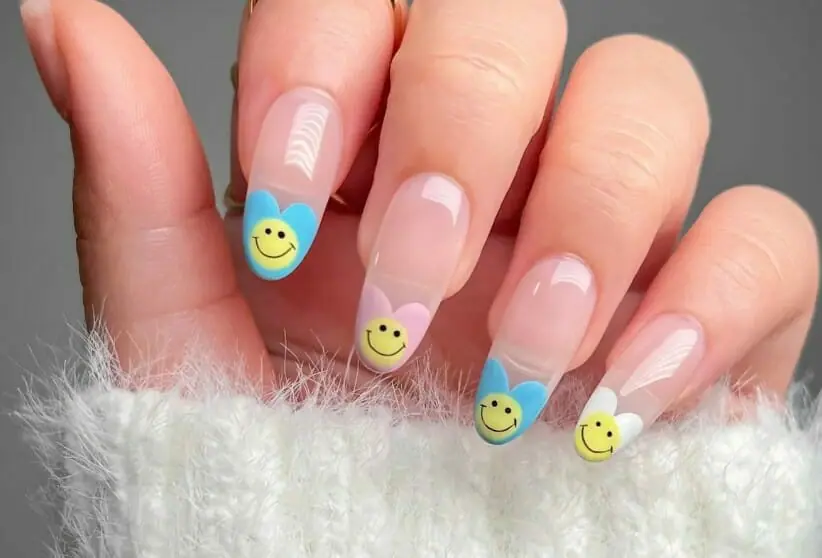 Colourful French tip nail art designs put a fresh and lively spin on the timeless and sophisticated French manicure. You can inject your nails with individuality and flair by integrating an array of colours and imaginative patterns into the conventional white tip.
Whether you lean toward pastels, neons, or striking hues, vibrant French tips offer a flexible option to showcase your distinct fashion taste.
Rainbow Nail Art Designs 2023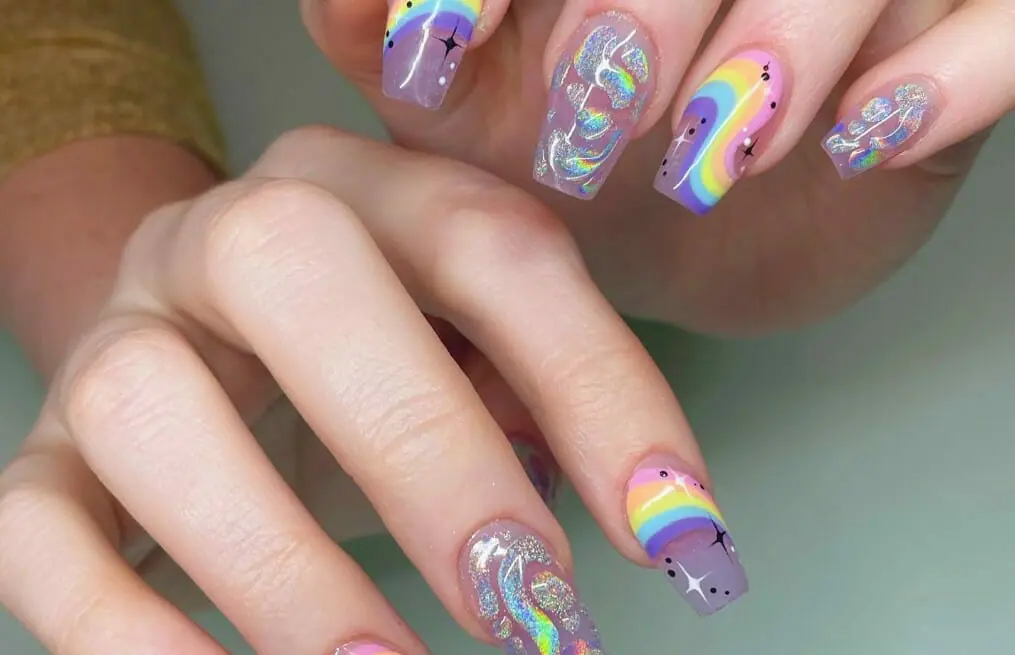 Rainbow nail art designs offer a playful and vibrant way to express your creativity. These swirly pastel rainbow nails, adorned with delicate painted stars and a touch of glitter, provide a dreamy and whimsical take on the classic rainbow motif.
They prove that rainbow nails can be both fun and dreamy, allowing you to showcase your unique style with a touch of colourful elegance.
Tie-dye Rainbow Nail Art Designs 2023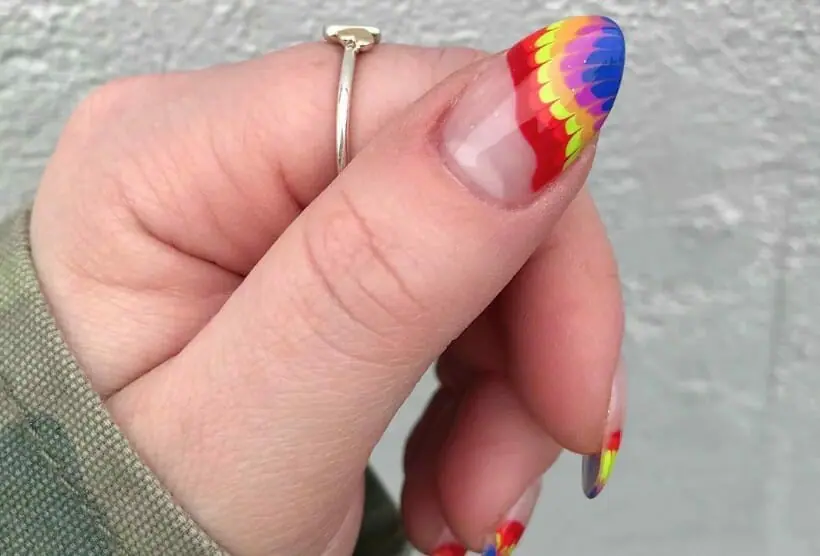 If you adore bright and vivid styles, these tie-dye nail art designs are a fantastic way to embrace a colourful spectrum. They offer a playful and eye-catching take on the classic rainbow nail art.
These nails are a perfect choice for those who want to make a bold statement and express their vibrant personality through their manicure.
Simple Nail Art Designs 2023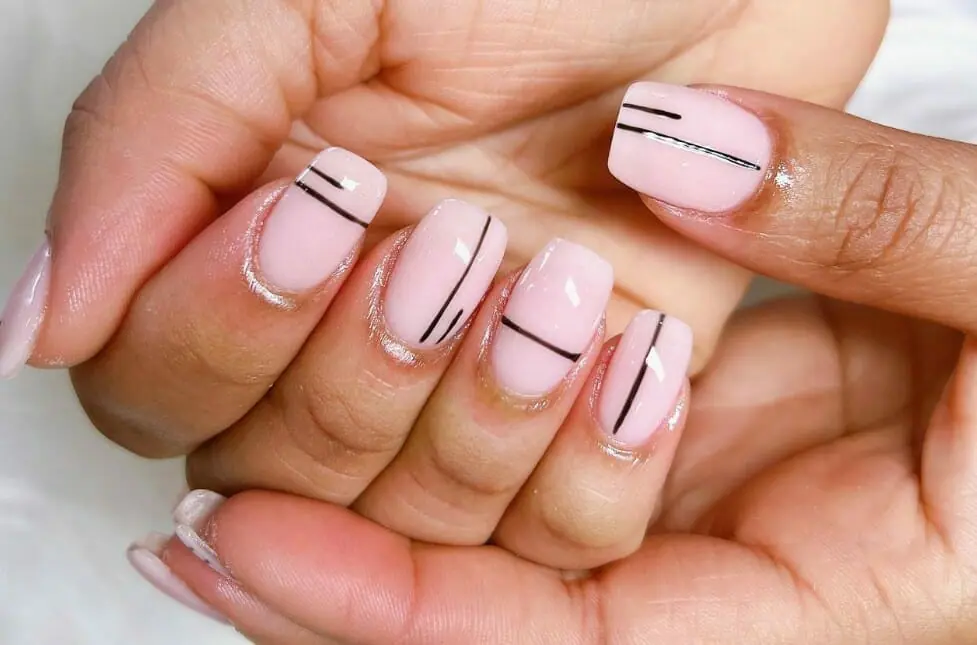 "We often come across elaborate and intricate nail art designs on social media platforms. However, this set featuring straightforward line nail art demonstrates beauty in simplicity.
It manages to capture attention without the need for intricate patterns. Its unassuming elegance and minimalist allure make it a versatile option that complements any ensemble.
If you're feeling a bit artistic, you can even try replicating this design at home using thin brushes or nail tools, adding a touch of chic and trendiness to your nails."
Easy Nail Art Designs 2023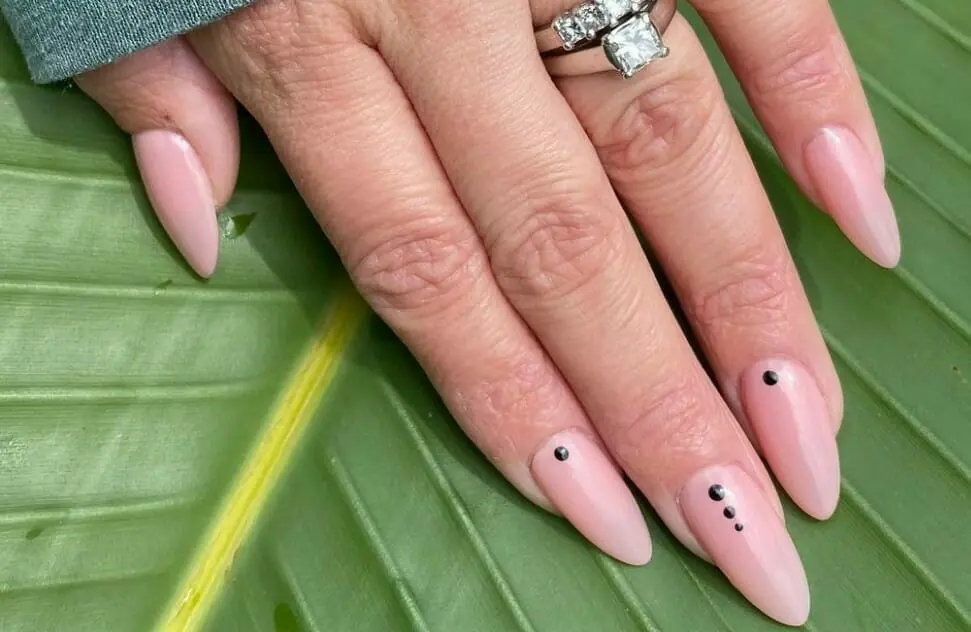 If you prefer doing your own nail art at home instead of visiting a salon, we've got a fantastic and beginner-friendly nail art design for you to try. All you need is a small brush or a wooden dotting tool to create this effortless look.
It's a perfect way to experiment with nail art without requiring advanced skills. Give it a shot and bring a dose of creativity to your manicure routine.
Holiday nail designs 2023
Spring nails
Easter Nails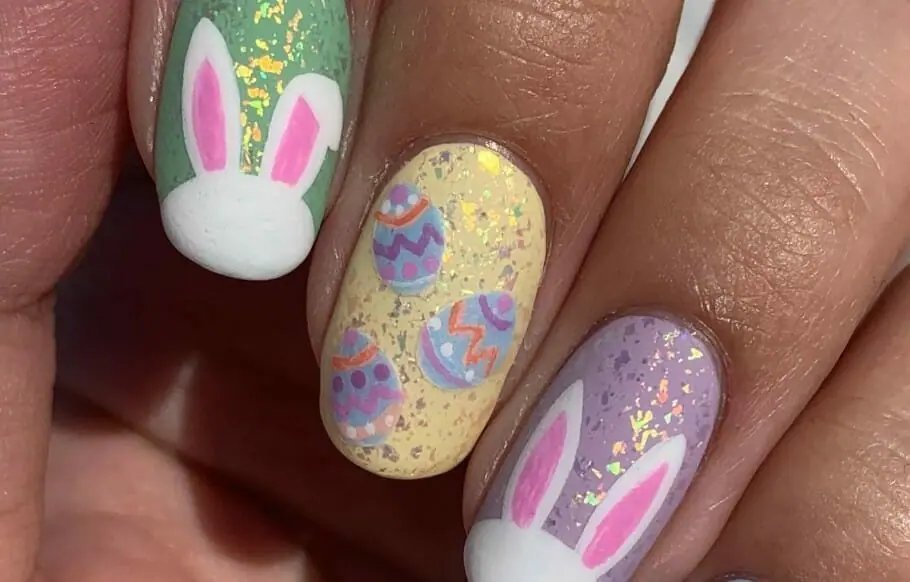 "Easter festivities wouldn't be complete without the delightful presence of bunnies and the vibrant colours of eggs. These beloved symbols of the season bring an air of joy and celebration that people of all generations cherish."
Valentine's Nail Designs 2023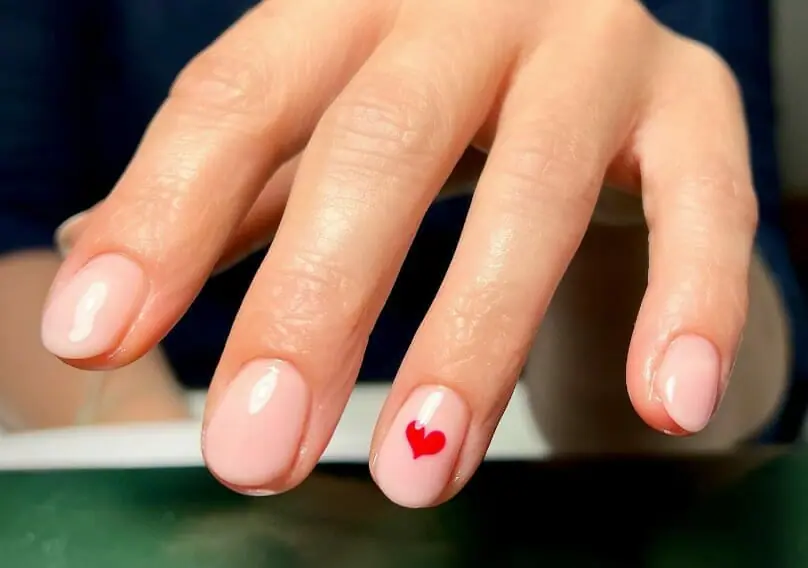 Adding a touch of whimsy to your ensemble can be delightful when it comes to a romantic dinner with your special someone or celebrating "Galentines" with your closest friends.
These understated Valentine's nail designs, featuring a neutral base adorned with delicate hearts, are the perfect way to elevate your look.
Whether you're sharing a romantic evening with your partner or enjoying quality time with your besties, these nails will add a charming and unique flair to your outfit.
Summer Nail Designs
Beach Nail Designs 2023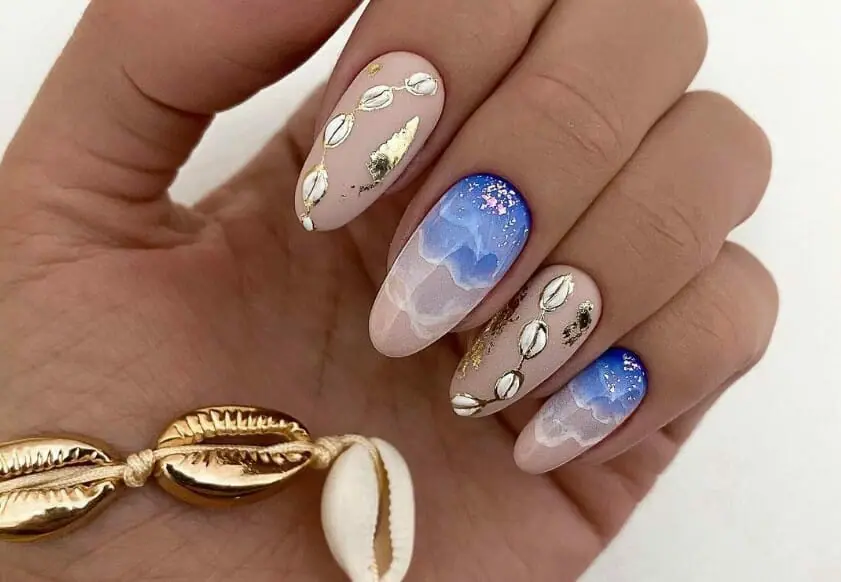 If you're looking to evoke the feeling of a day at the beach through your nail art, there's no better way than to incorporate delicate seashell designs and soothing oceanic colours.
This particular nail design features a long, almond-shaped manicure adorned with petite seashells. It's a beautiful and elegant way to bring the tranquil essence of the beach to your nails.
Whether you're anticipating a seaside getaway or simply want to infuse some coastal charm into your daily life, these beach-inspired nail designs will transport you to the sandy shores and the calming embrace of the ocean.
Tropical Nail Designs 2023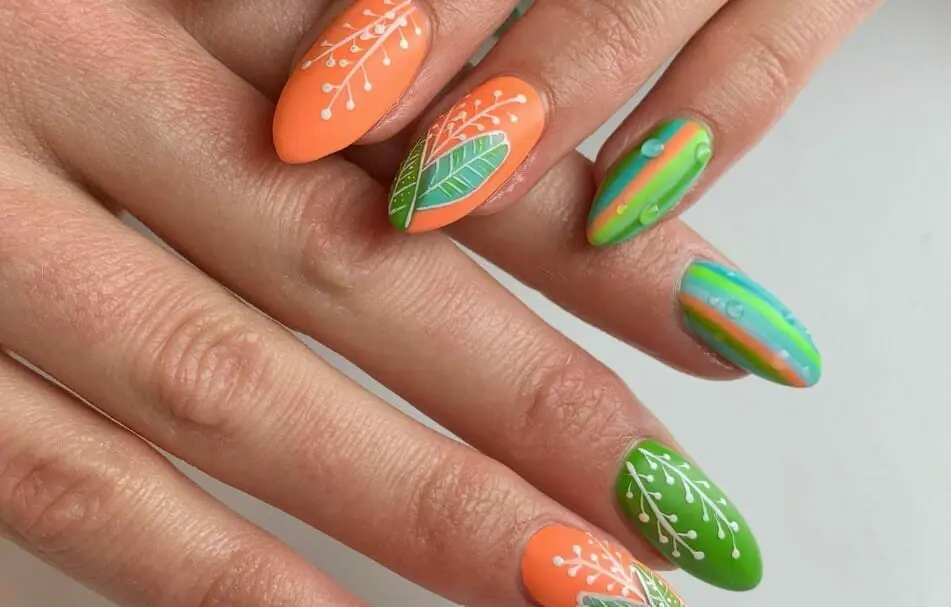 Tropical nail designs offer a burst of vibrant, vacation-inspired beauty that can transport you to a sunny paradise, even if you're miles away from the beach.
While there are countless variations of this trend, from palm tree gel nails to neon colours and exotic motifs like pineapples and flamingos, one particular style that stands out is the matte finish.
This matte look adds a touch of sophistication to your nails while still embracing the tropical theme.
Whether you're sipping a piña colada on the sandy shores or simply daydreaming about a tropical escape, these matte tropical nail designs will make you feel like you're on a permanent vacation.
Fall Nail Designs 2023
Halloween Nail Designs 2023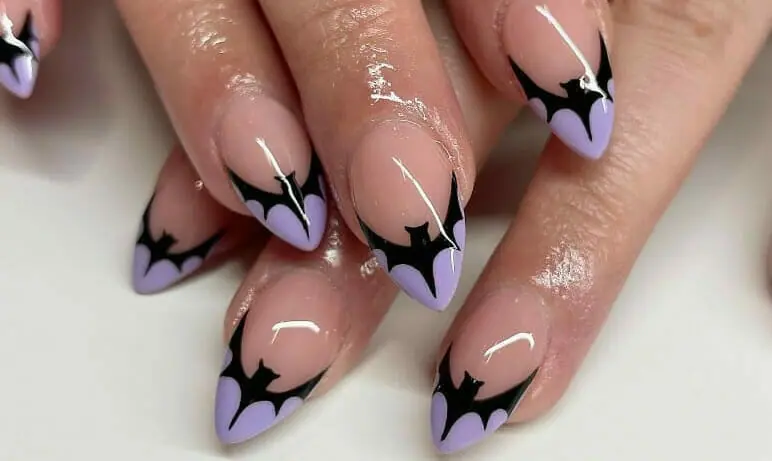 Halloween nail designs are all about embracing the spooky and fun side of the holiday, and these bat-themed nails are no exception. While bats might have a reputation for being a little scary, these nail designs give them an adorable and whimsical twist.
It's a perfect way to showcase your Halloween spirit with a touch of cuteness. Whether you're dressing up for a Halloween party or simply want to get into the festive mood, these bat-themed nail designs are a playful and charming choice.
Olive green Fall Nails Designs 2023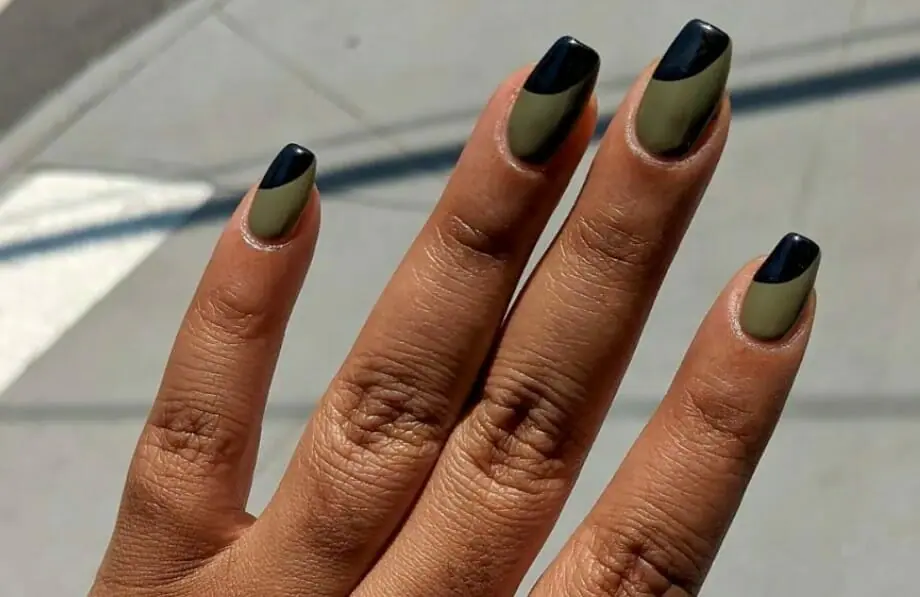 Olive green is a gorgeous, warm, muted green shade that works well in all seasons but truly comes into its own during the fall. It's particularly favoured during autumn for its role as a versatile neutral base that complements other colours exquisitely.
This shade is the perfect canvas for creating stunning nail designs that encapsulate the season's essence.
Whether you opt for a minimalist and subtle look or decide to incorporate vibrant accents, olive green fall nails are a fashionable and trendy choice that captures the spirit of autumn.
Winter Nails Designs 2023
Christmas Nail Designs 2023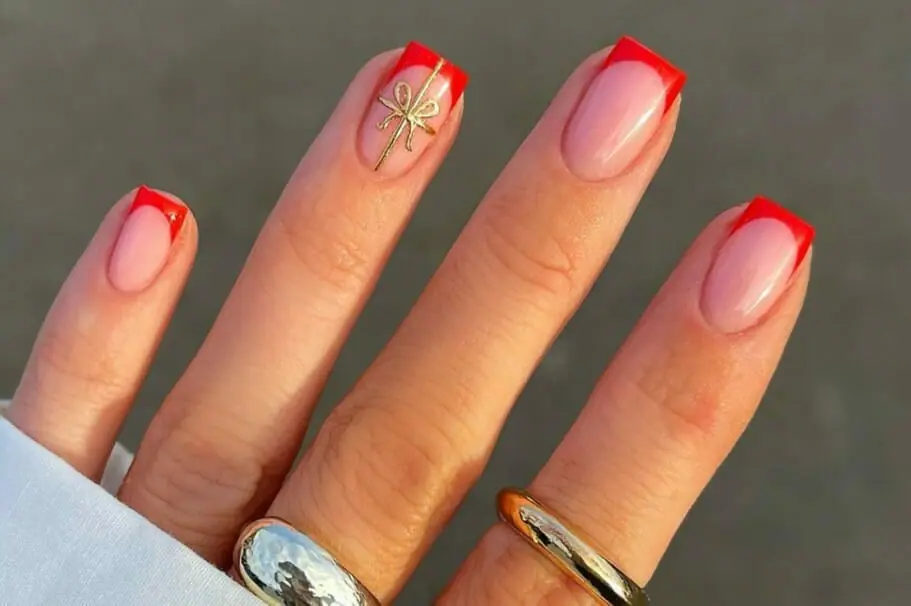 This Christmas nail design is like receiving a gift, all wrapped up with a beautiful bow.
It incorporates two of the most cherished Christmas colours: the classic red that symbolizes holiday traditions and the opulent gold that brings an element of sophistication to the festive season.
Festive Nail Designs 2023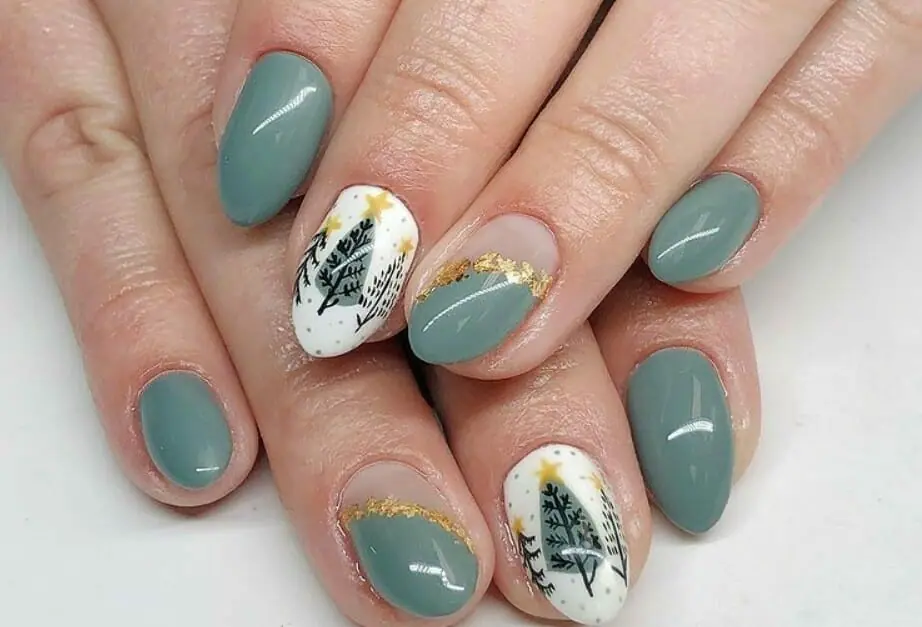 Celebrate the holiday season with these festive nails that capture the joy of decorating the Christmas tree. Featuring a combination of green, white, and gold shades, along with the iconic star on top, these nails bring a touch of yuletide magic to your fingertips.
It's a delightful way to embrace the holiday spirit and pay homage to the cherished tradition of trimming the Christmas tree.
Nail Designs By shape
Long Nail Designs 2023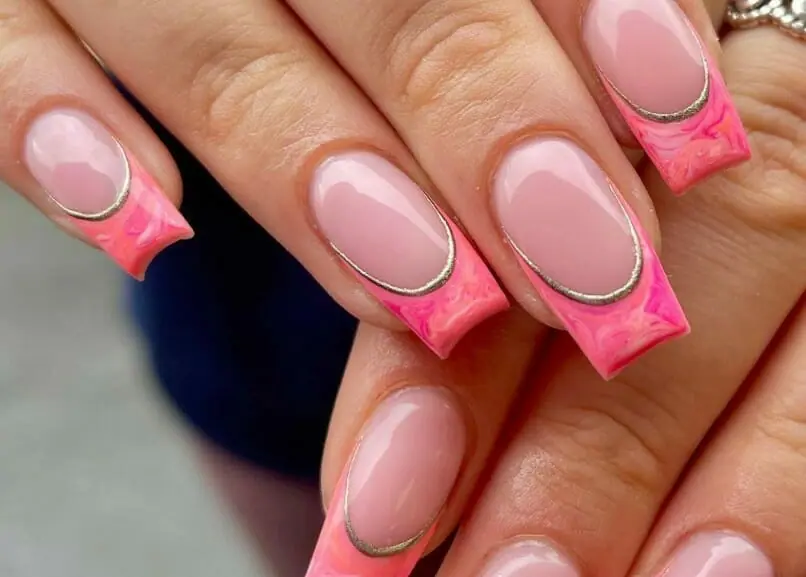 Long nails can be shaped stylishly like almond, square, round, or stiletto, highlighting their elegant length. Many people prefer to keep it classy and adaptable by choosing soft, neutral base colours like blush pink or nude, just like the ones you see here.
Moon and Star-long Nail Designs 2023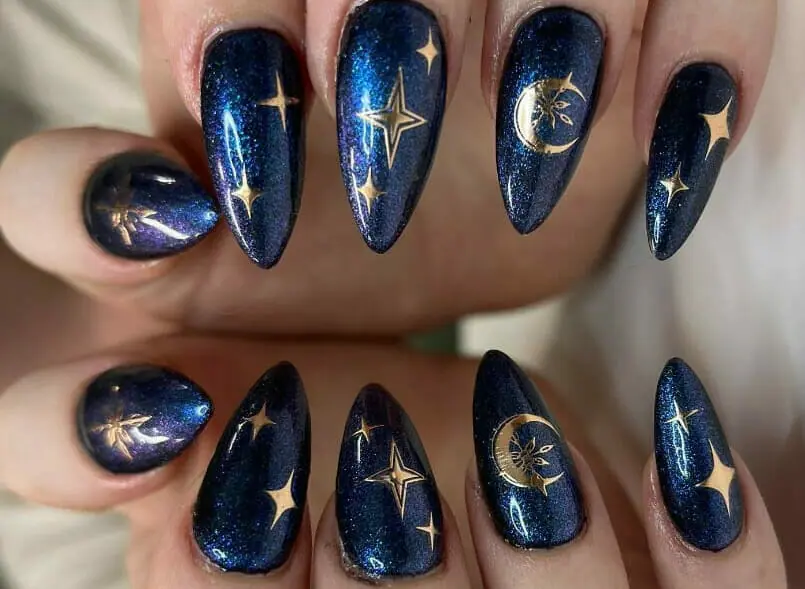 Celestial stuff like suns, moons, and stars are super trendy right now, and we're totally loving it. Check out these mesmerizing metallic blue nails with intricate gold celestial designs – they're a fantastic way to rock this cosmic trend.
Short Nail Designs 2023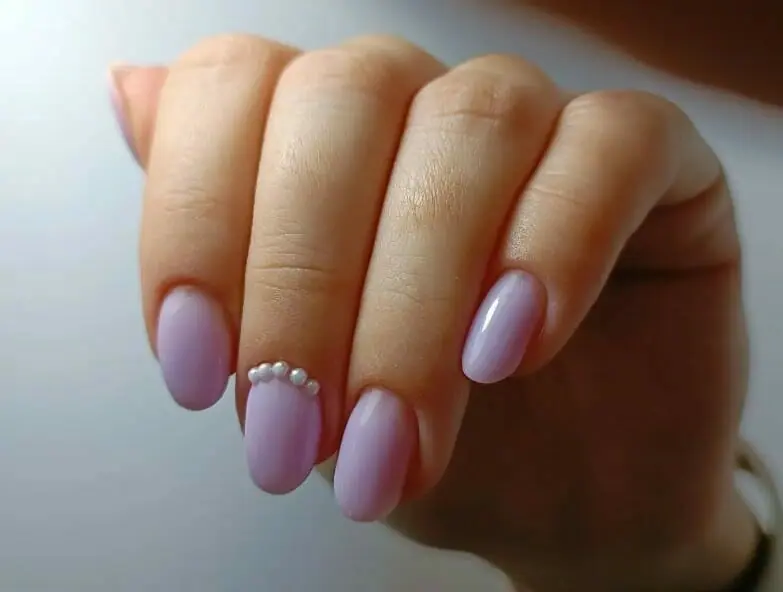 Short nails are practical, especially for those of us with busy lives or jobs that involve a lot of typing. But having shorter nails doesn't mean you can't have fun with your manicure. Look at this set below; even short nails can look stylish when you add gems or pearls.
Block Colour Short Nail Designs 2023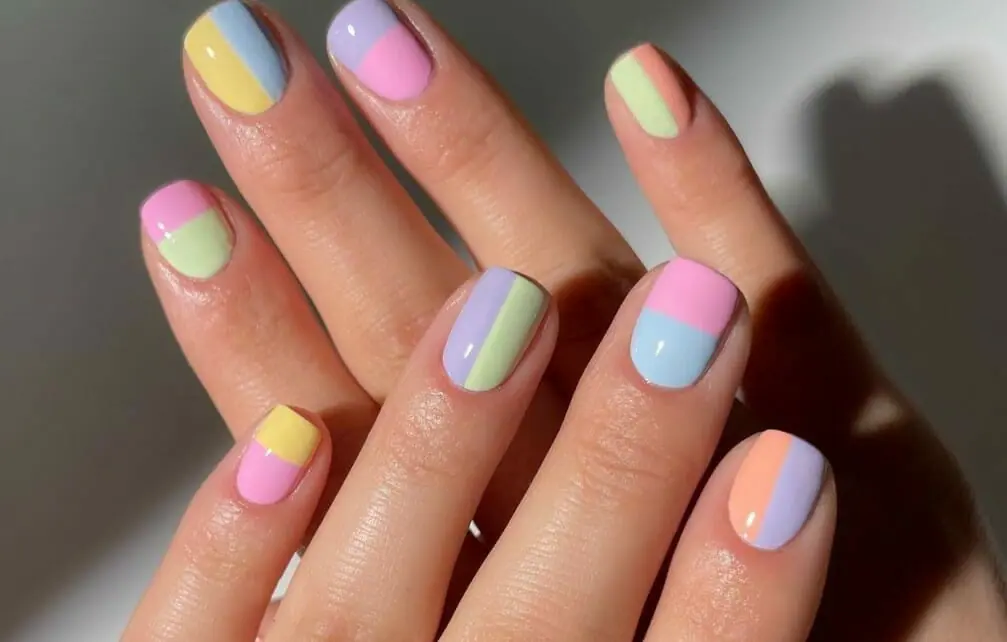 Short nails with one solid colour look great, and you can choose from a wide range of colours to match your unique style. It's a simple yet chic way to keep your nails looking fresh and fashionable.
Almond Nail Designs 2023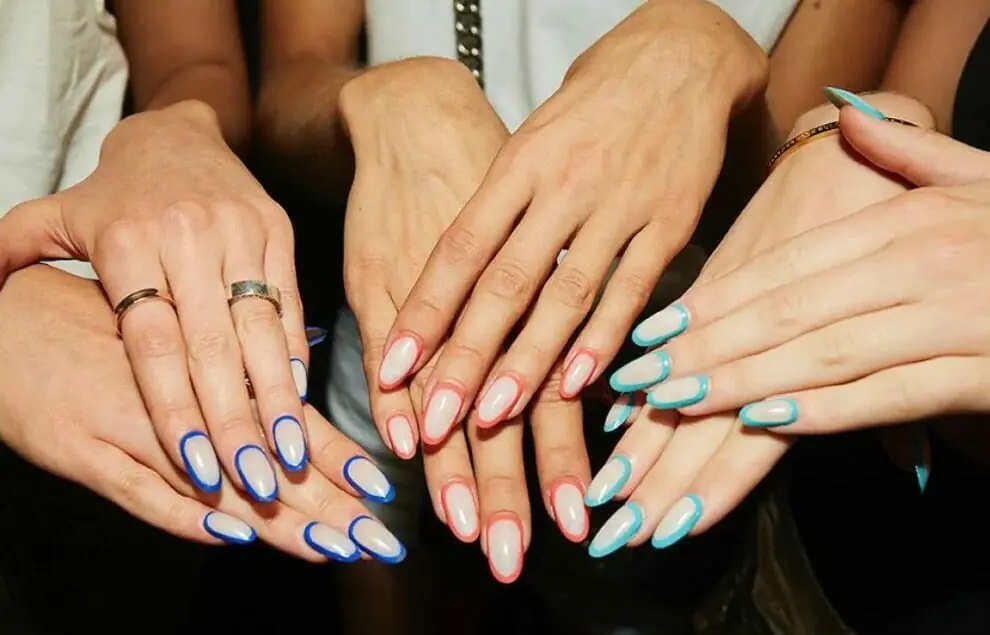 These nail styles, affectionately dubbed 'the orbit,' first graced the catwalk during the Jeremy Scott Spring/Summer 2019 fashion showcase. This trend has stood the test of time, and its enduring appeal is evident.
3D Almond Nail Designs 2023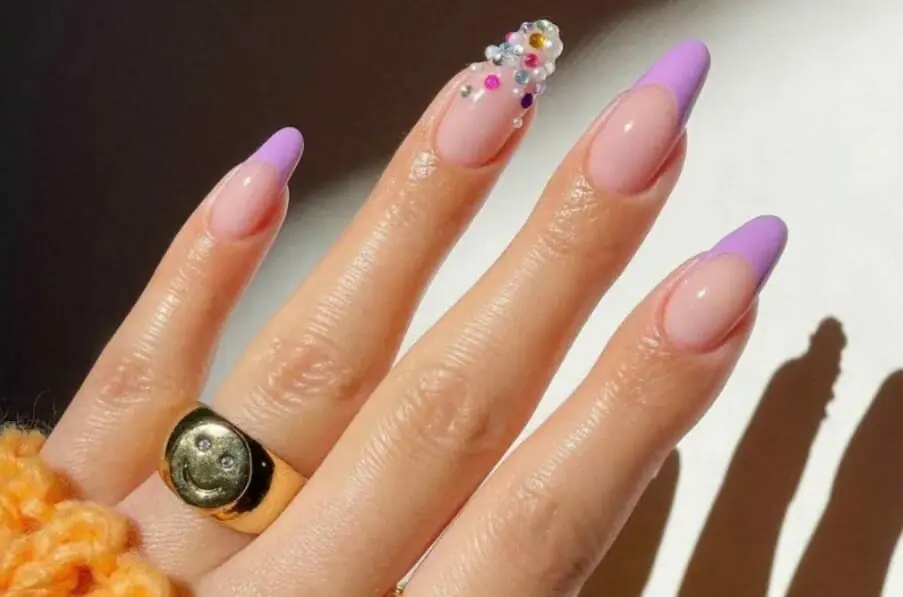 Elevate your nail art game by incorporating three-dimensional elements like gems, pearls, and charms. This embellishment adds an endearing touch to your nails.
Stiletto Nail Designs 2023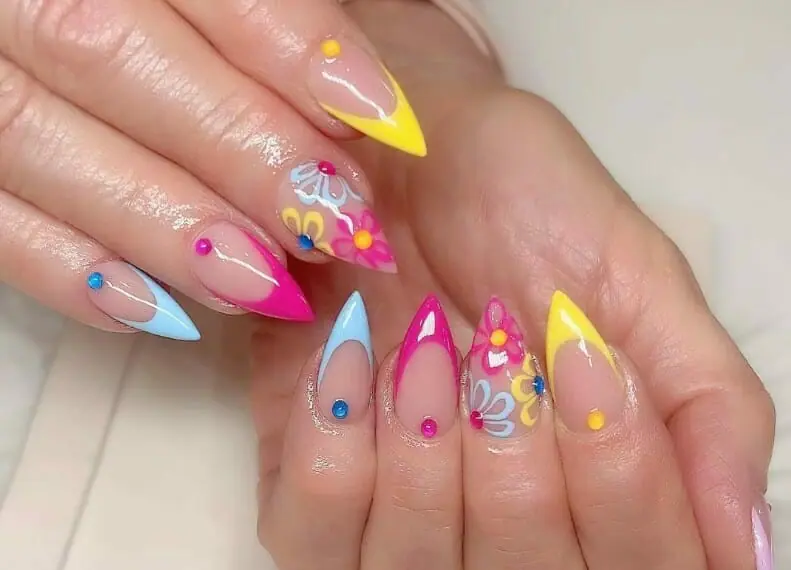 Achieving this striking nail style necessitates long nails, with safety considerations taking precedence over colour choices. Be cautious not to inadvertently poke yourself in the eye with these daring nails.
Flame Stiletto Nail Designs 2023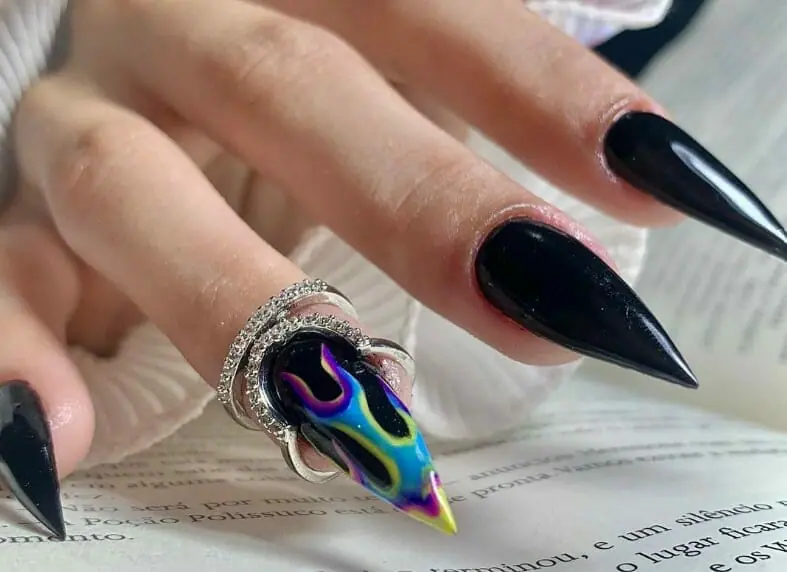 The trend of flame-inspired nail art is ablaze, particularly on stiletto-shaped nails. Opt for a bold contrast, such as neon and black, as seen in the set below, or opt for subtlety with pastel hues.
Oval Nail Designs 2023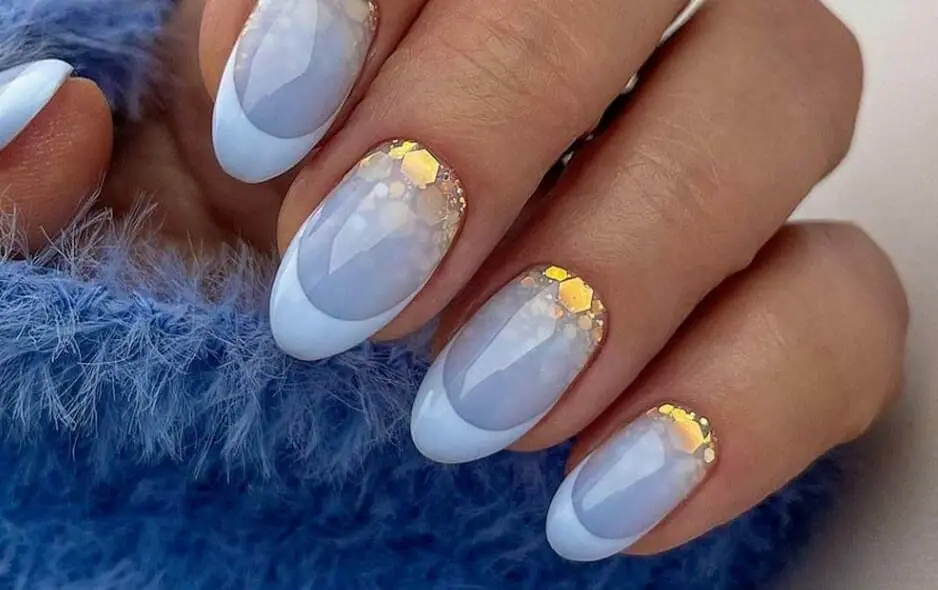 The timeless oval nail shape is renowned for its universal appeal. Its gently curved edges mirror the natural cuticle curve, resulting in a polished and symmetrical appearance.
Nude Oval Nail Designs 2023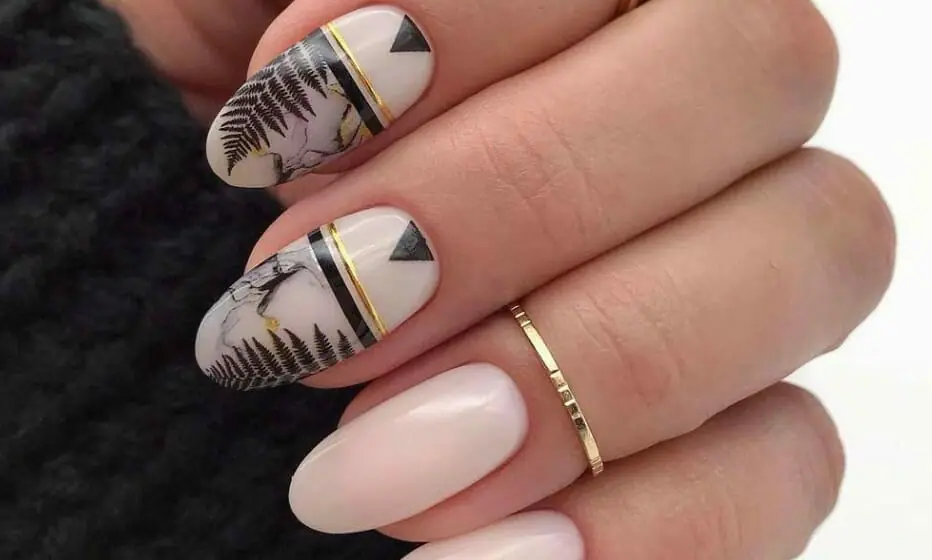 A nude nail base complements virtually any colour choice. Consider this Aztec-style set adorned with painted ferns, black triangles, and golden line accents.
Square Nail Designs 2023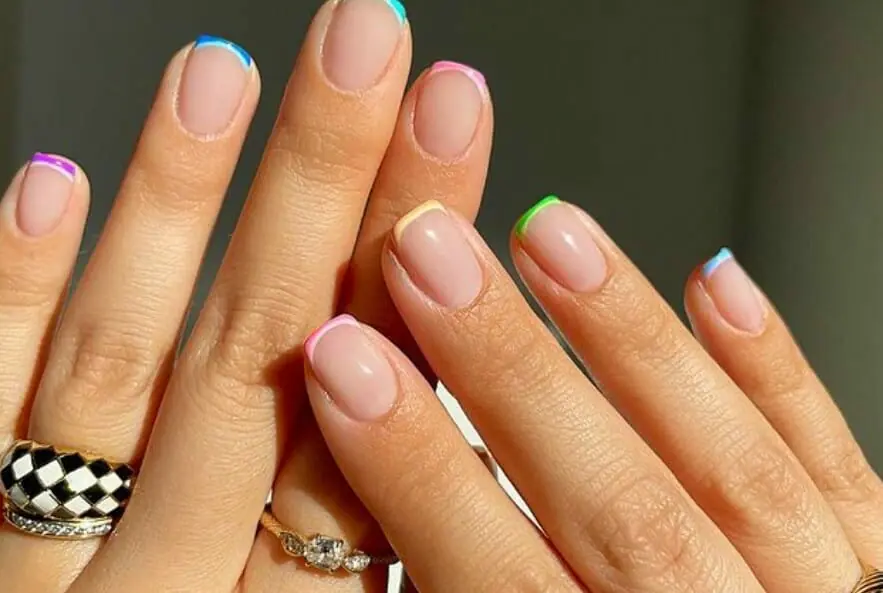 Square nails can exude sophistication even when maintained at shorter lengths. This neat and concise square nail design, highlighted by colourful tips, is a prime example.
Long Square Nail Designs 2023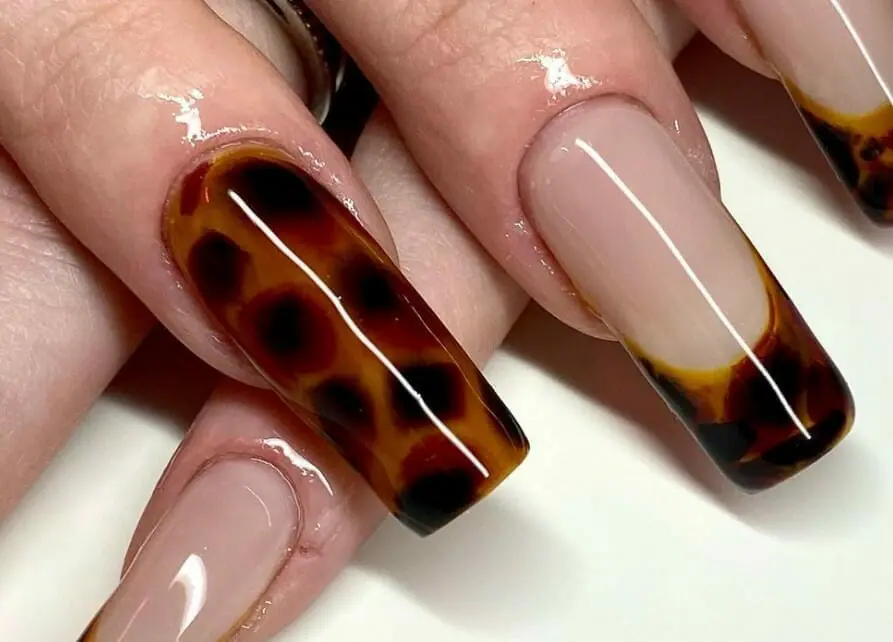 For enthusiasts of longer nails, an array of captivating designs is at your disposal. Take, for instance, this tortoiseshell square nail set featuring accent nails.
Coffin Nail Designs 2023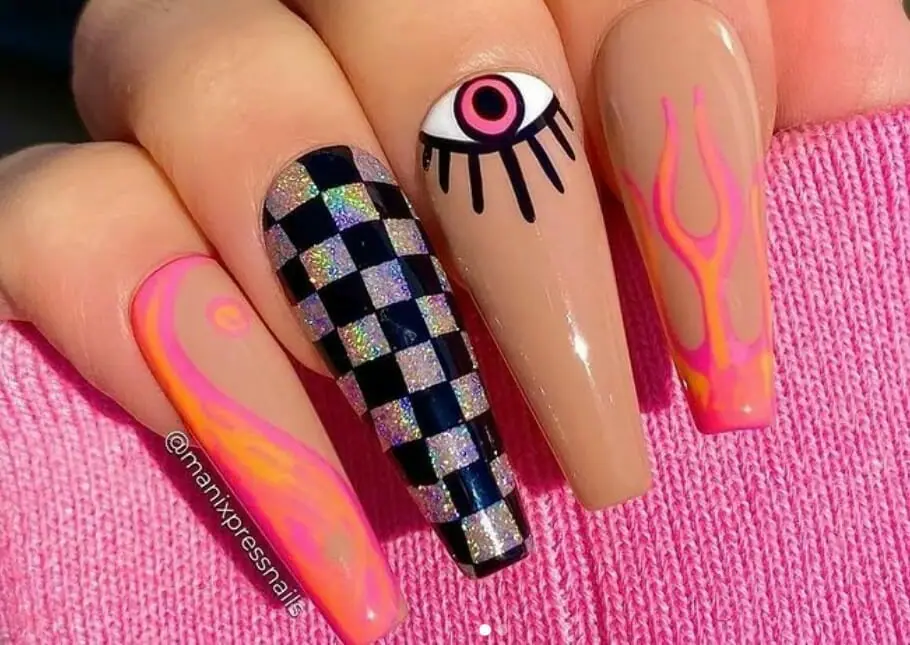 With their elongated form, coffin-shaped nails offer ample space for creative designs. These nails are ideal for making a bold impression, especially at summer festivals.
Marble Coffin Nail Designs 2023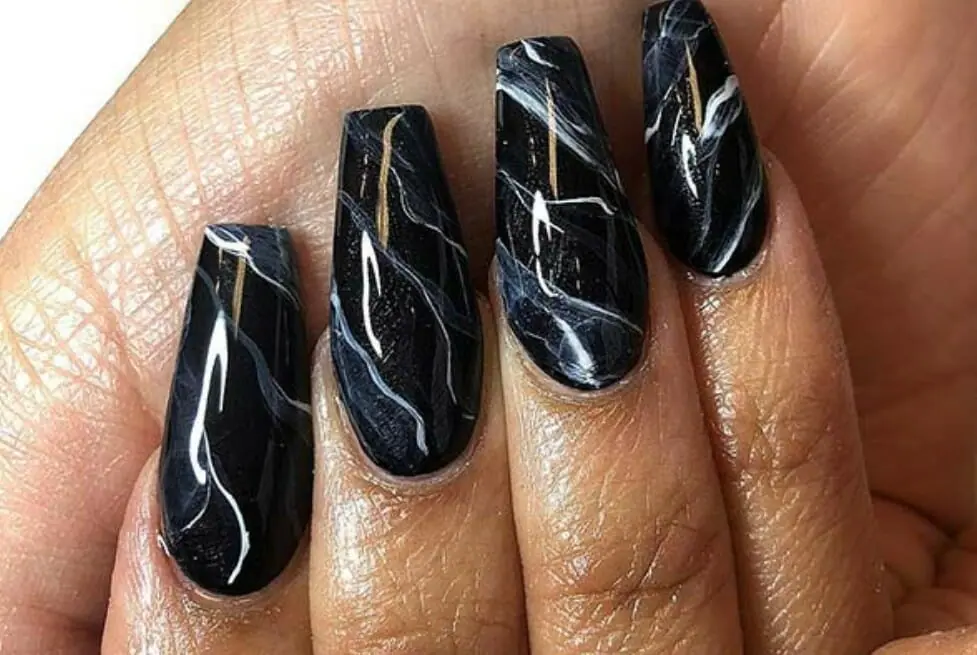 Marble-themed nail designs are currently in vogue, particularly when applied to long coffin nails. Keep it minimalistic, as demonstrated by the matte grey set below, or infuse personality with gold or silver embellishments.
Recommendation
17 Most Gorgeous Black Glitter Nails Ideas
25 Red Coffin Nails to Try in 2023
Cute Birthday Nail Designs For Your Special Day Glam
How to Stop Nail Biting- Reasons and Prevention of Nail Biting
50+ ELEGANT 3D NAILS DESIGNS TO INSPIRE YOUR NEXT MANICURE
70+ Summer Flower Nails Designs and Simple Nails Designs
FAQs
Q: What are the hottest nail shape trends for 2023?
A: In 2023, the short stiletto nail shape is taking the lead. Stiletto nails, known for their bold and pointed tips, are the go-to choice for making a statement.
Q: What is the trendy nail colour for 2023?
A: Digital lavender, a cool-toned lilac pastel, has been named the colour of the year for 2023 by WGSN. It complements the digitally inspired textures seen in nail art, including colour-shifting shimmers and iridescent finishes.
Q: Are square or round nails in fashion for 2023?
A: In 2023, square and square shapes are expected to be popular choices for shorter nails, closely followed by oval or almond shapes for longer nails. The key is to choose the shape that suits your preferences and complements your nail cuticle lines.
Q: Which nail shape, round or square, is more flattering?
A: The most flattering nail shape often mirrors your cuticle line. If your cuticle lines are round, round or squoval nails may suit you better. If your cuticle lines are square, square or squoval nails tend to be more flattering. Ultimately, it depends on your individual nail and hand shape.
Conclusion
In conclusion, the trending nail design 2023 offer diverse choices, catering to various styles, occasions, and preferences.
Whether you favour the timeless appeal of classic colours like white and black, the understated charm of nudes, or the vibrant excitement of bold hues, your nails serve as a personal canvas for self-expression.
Nail art is a unique way to showcase creativity and style, enhancing your daily life with a touch of beauty. So, whether you're preparing for a special event or simply brightening an ordinary day, your nails can be your artistic statement, adding a burst of positivity to your world.
More Nail Design Ideas for 2023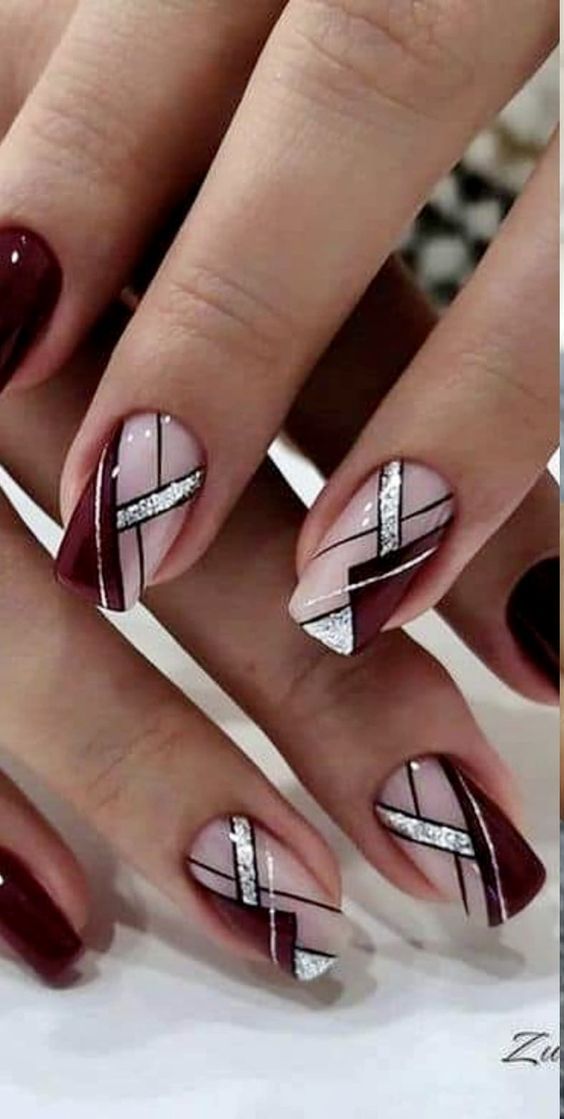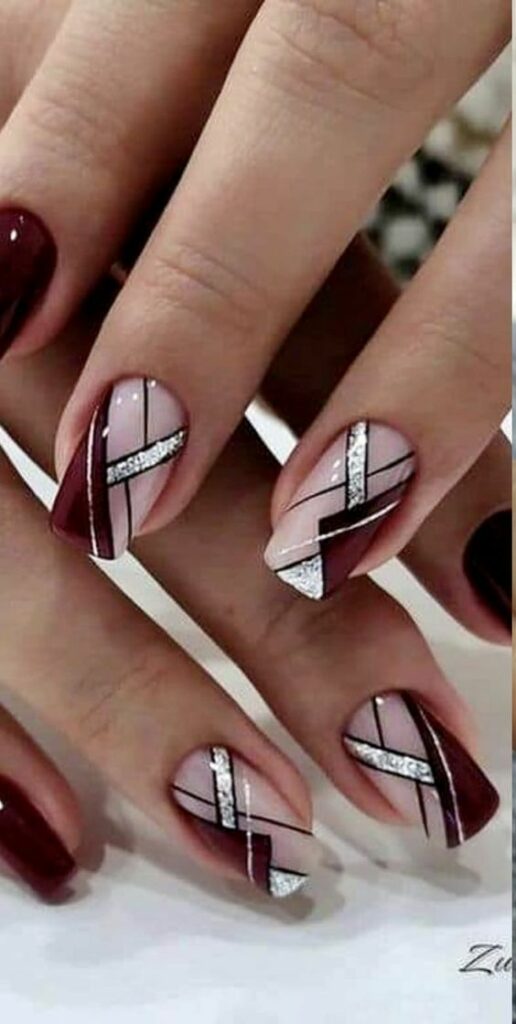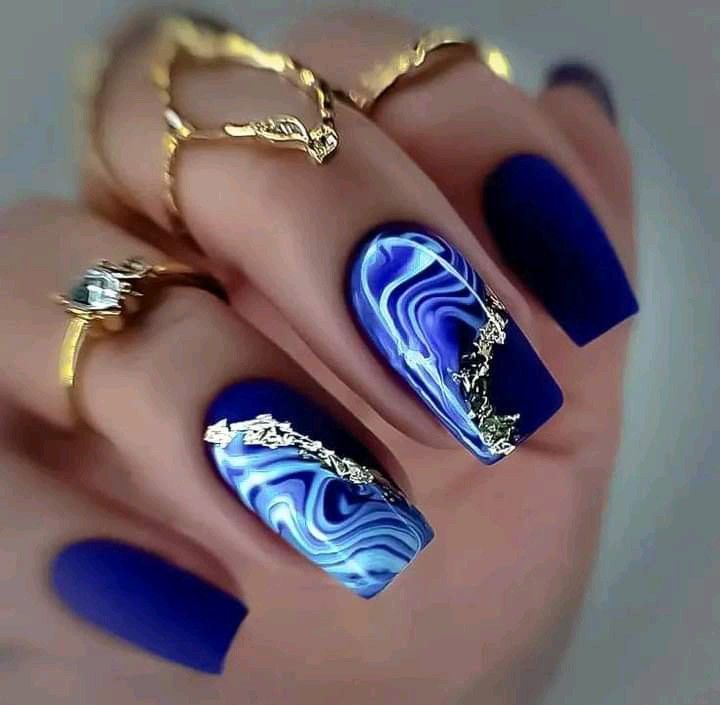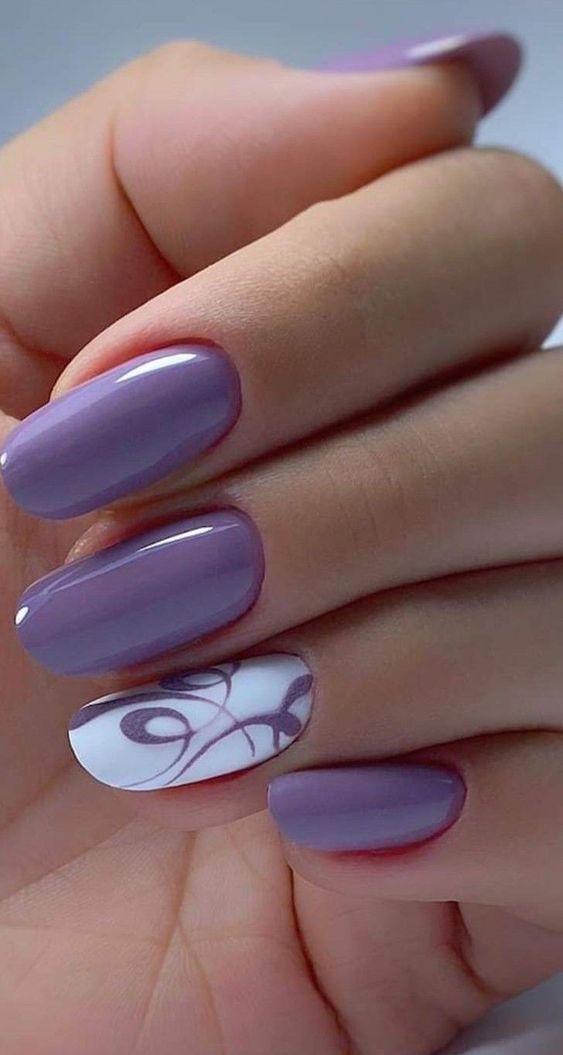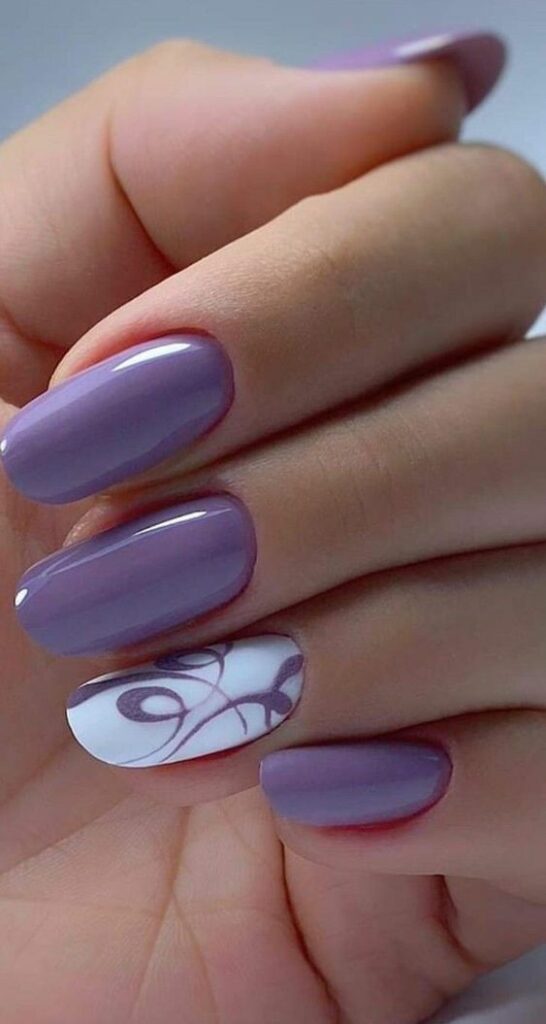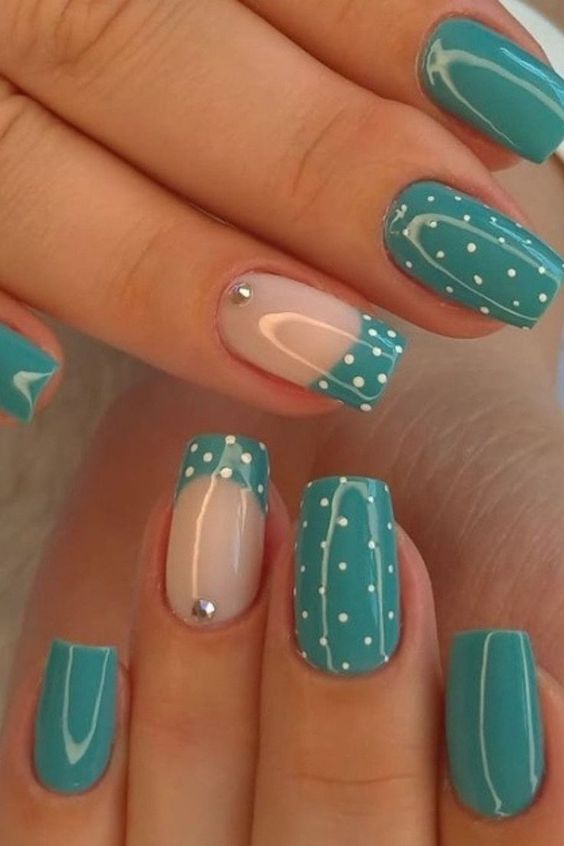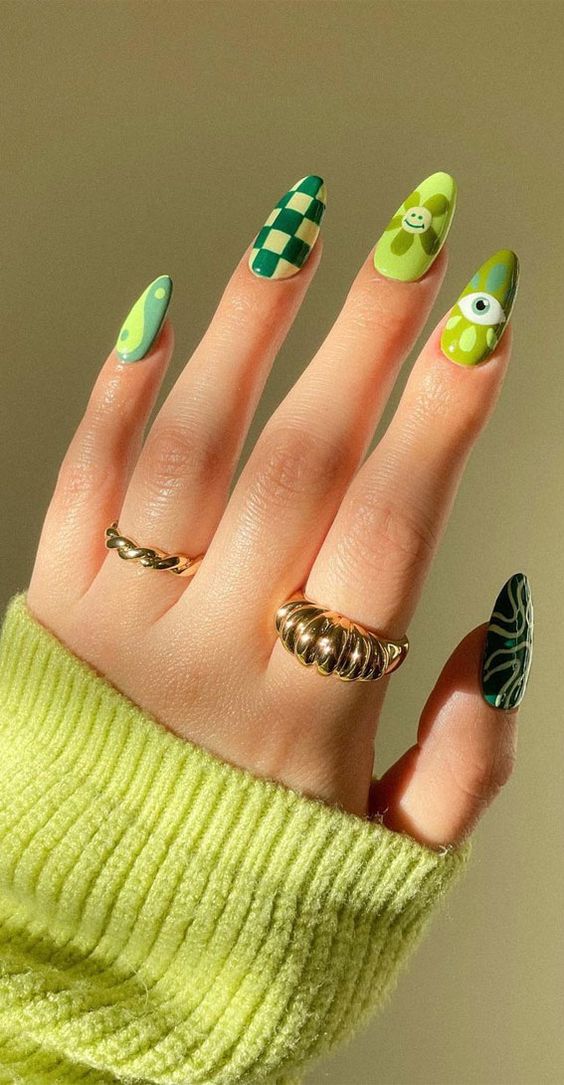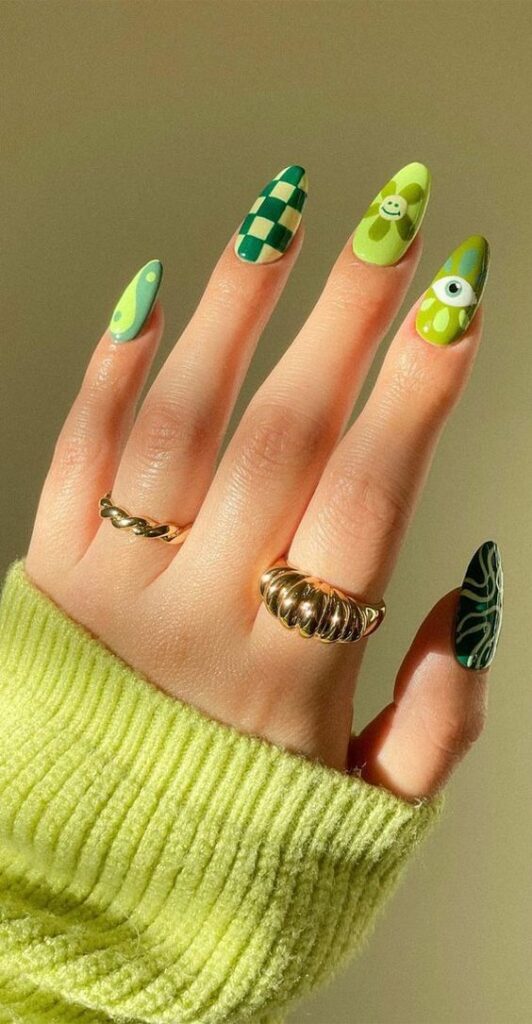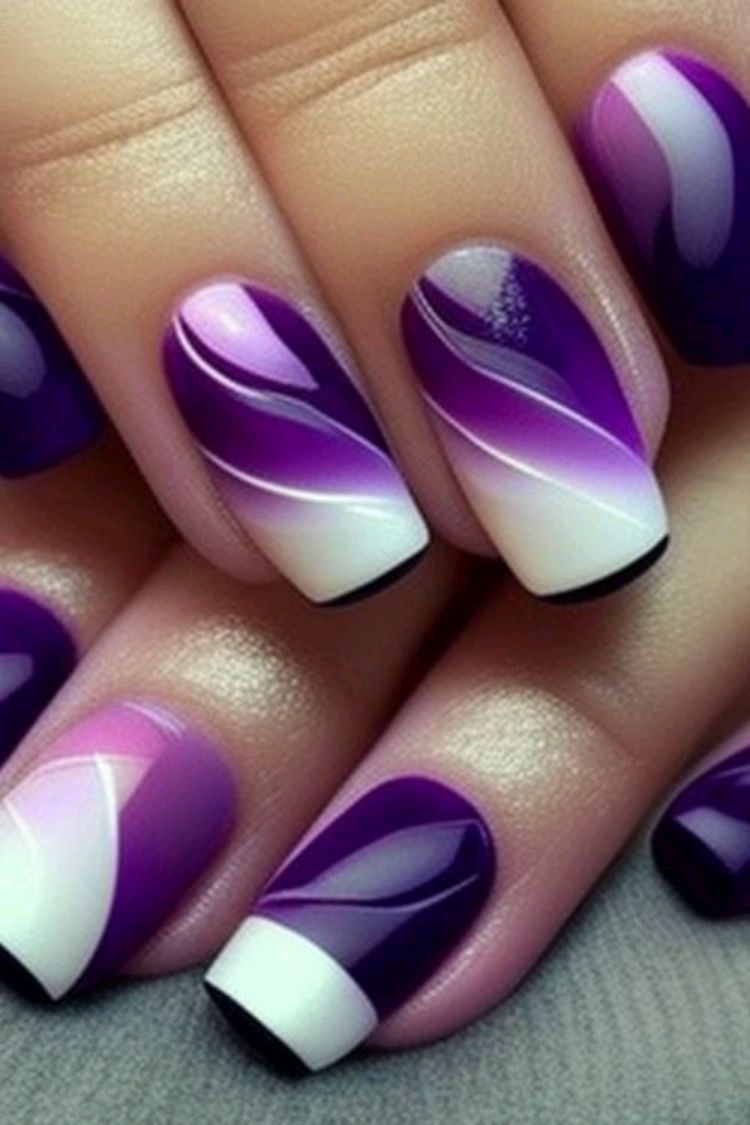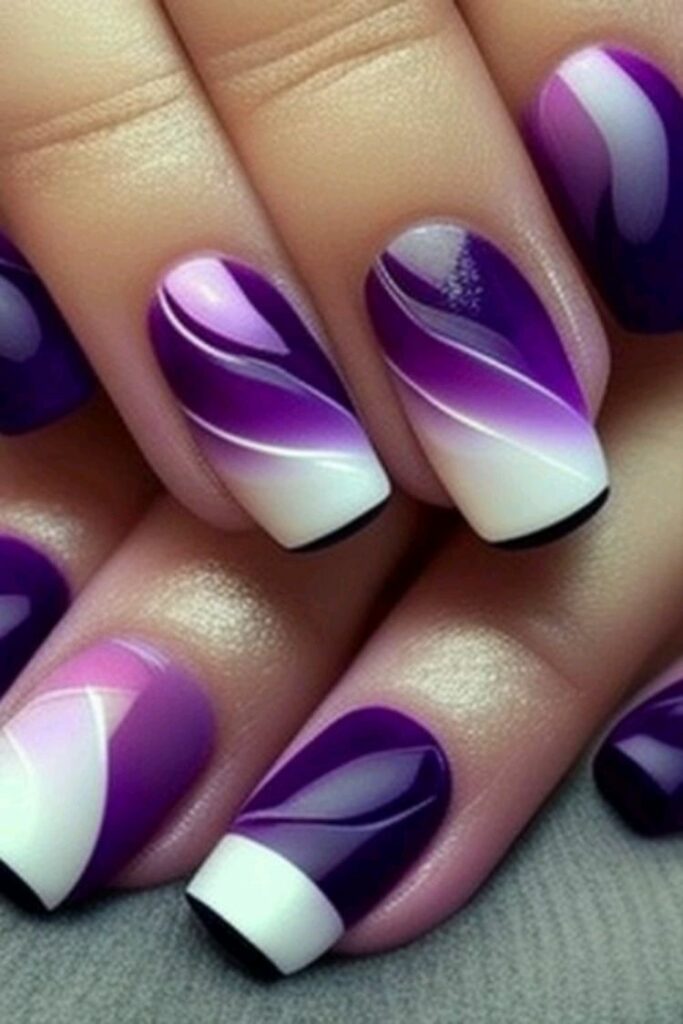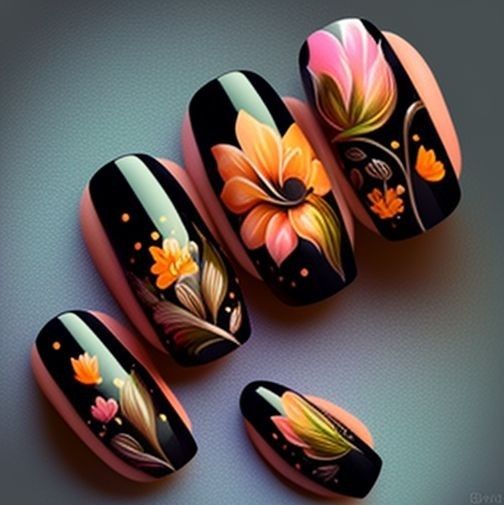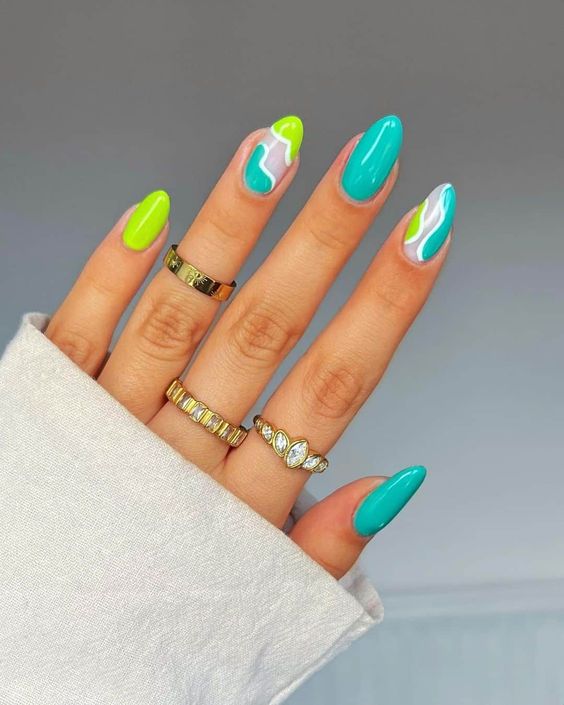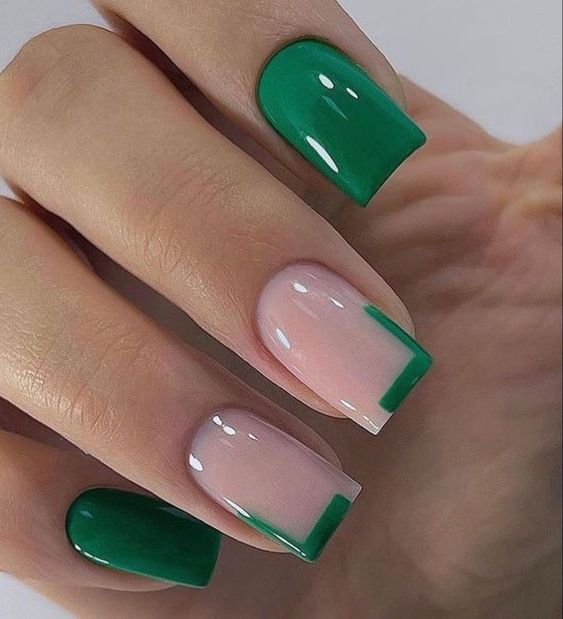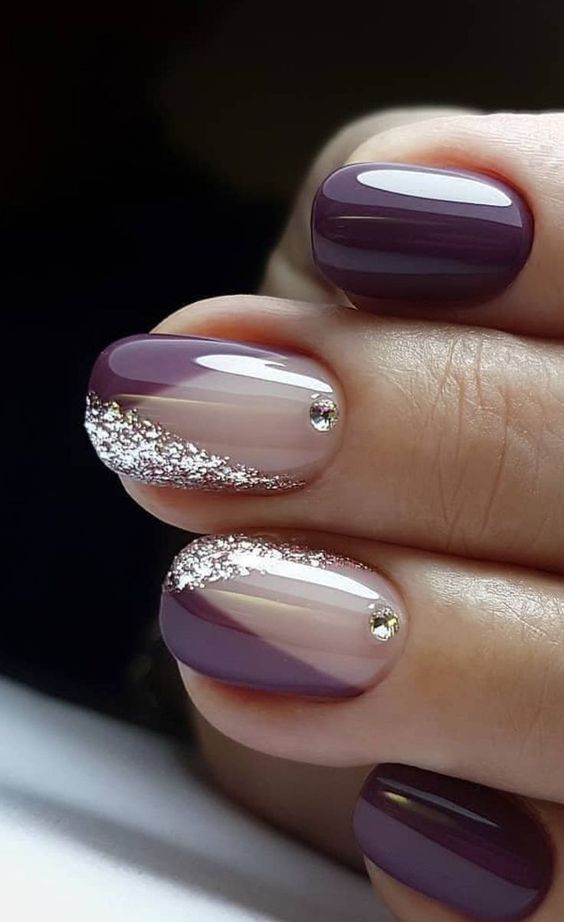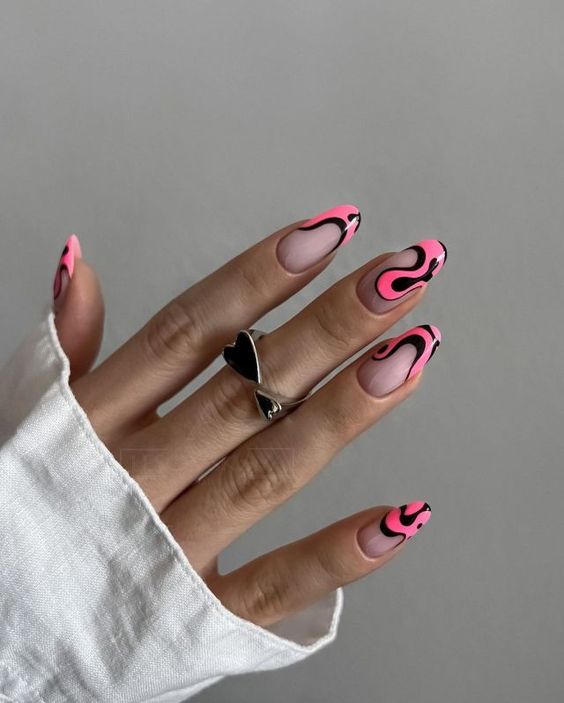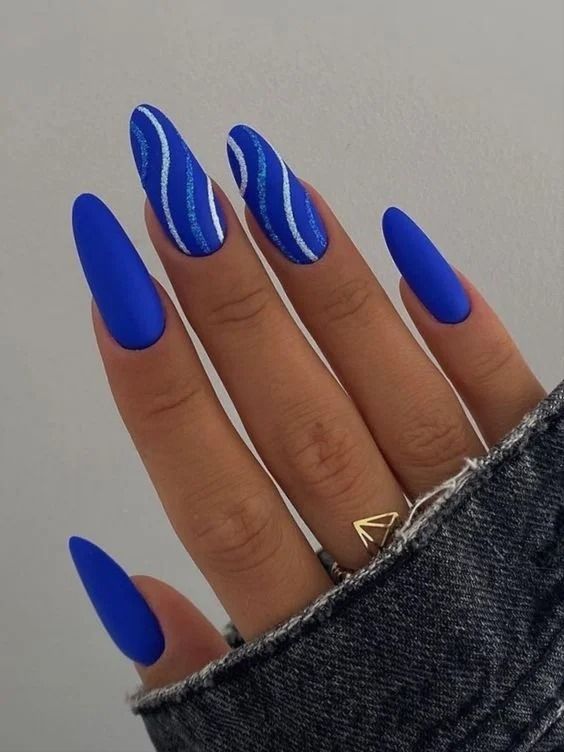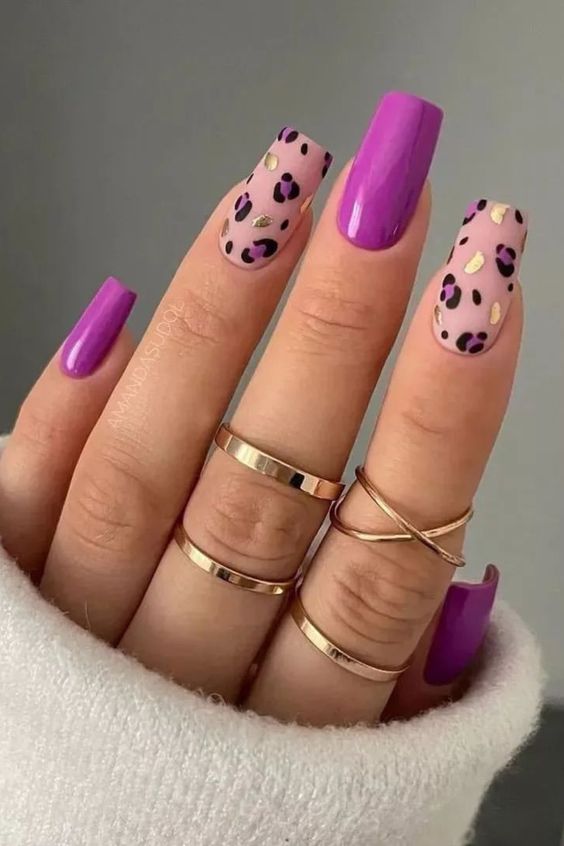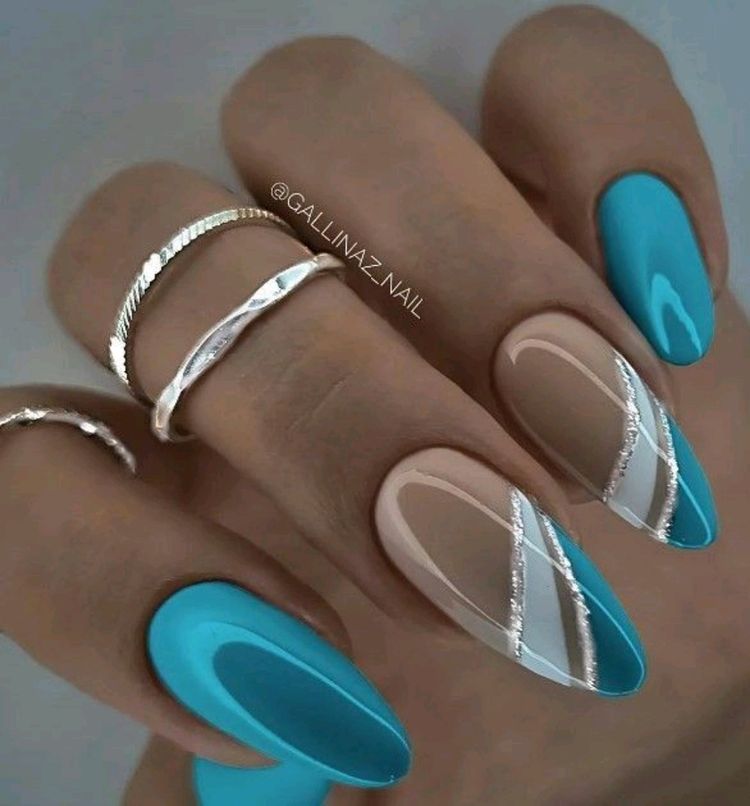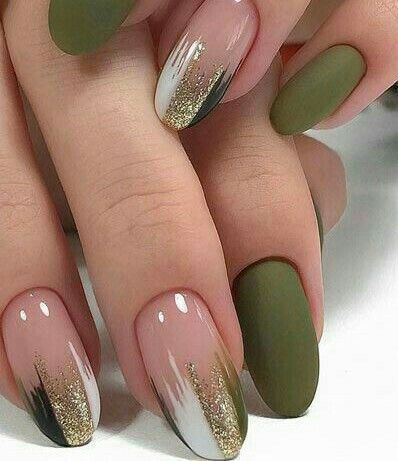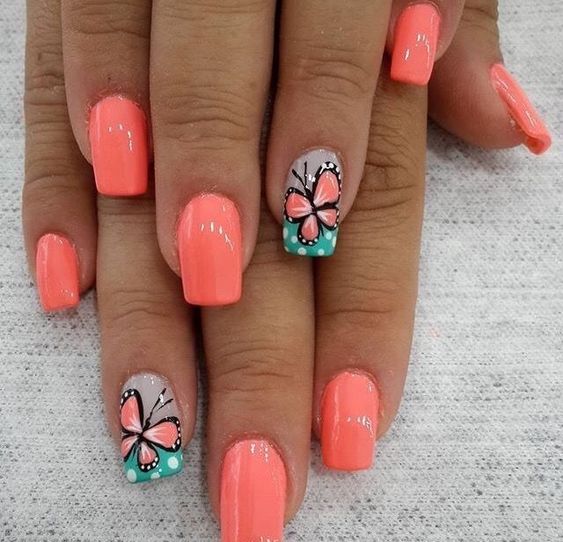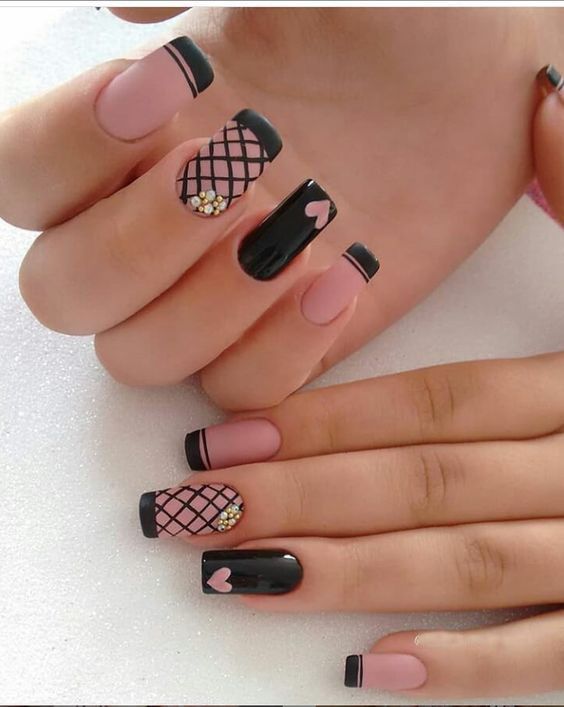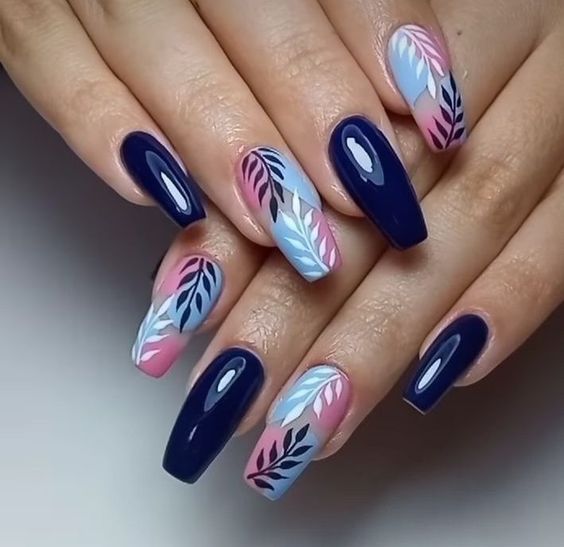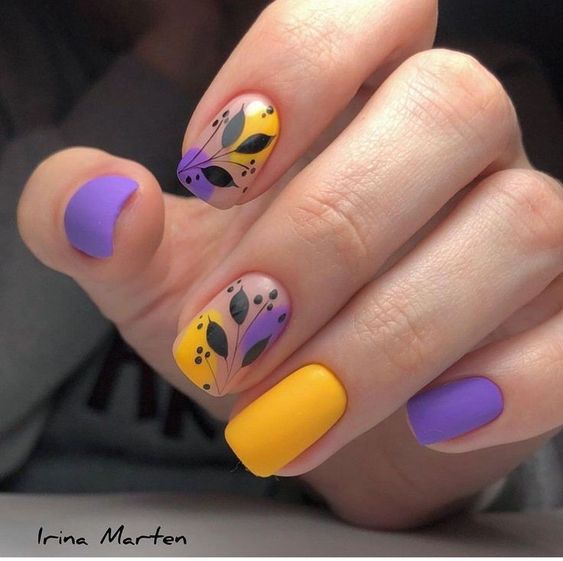 I hope you like these amazing nail designs, stay tunes for more updated pics in the article.