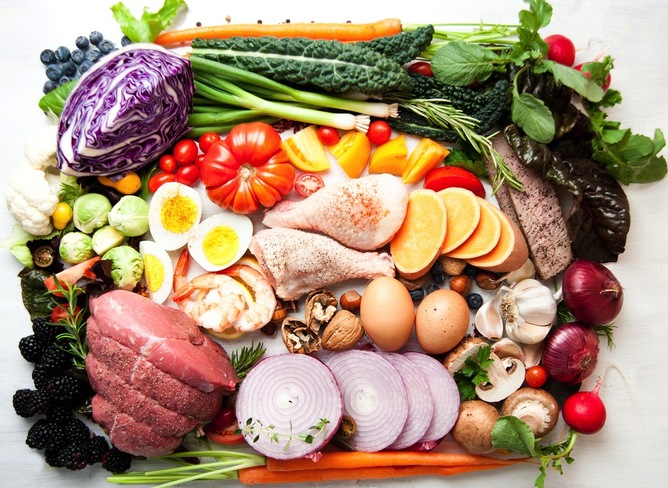 The Primal Diet is a specially designed diet that includes high fat and protein foods and low in carbs. For the primal health, you must follow the primal diet food list that will help you improve inflammation, weight, brain fog, sleep, and heart and skin health.
It includes high whole and unprocessed foods such as meat, vegetables, meat, fruits, fish, and poultry. Apart from food, it suggests mental stimulation, physical exercise, sound sleep, exposure to sunlight, and nature.
Here we have listed significant guidelines and foods that you must follow for a healthy primal diet.
How to Follow a Primal Diet 
The primal diet is a special diet that focuses on weight loss and overall mental or physical health. All you need to do is follow these two simple steps to maintain a long-lasting healthy lifestyle. It includes-
Guidelines of the diet 
The first and foremost guideline of the primal diet is to focus on food quality rather than counting the calories points. 
You must follow the diet seriously if you wish to achieve a healthy lifestyle. It promotes unprocessed and whole foods and discourages processed foods and grains.
The primal diet majorly focuses on high protein or healthy fats but low in carbs.
Some experts suggest that you must combine the keto diet with a primal diet for better results. If you follow both the diet simultaneously, it will help you reduce your weight at a high pace.
Additionally, it will help if you avoid or limit your intake of foods that consist of pesticides, hydrogenated oils, herbicides, and added sugars. Basically, you need to take less processed foods that are organic or natural. 
READ MORE: Popular Weight Loss Diets to Lose Weight Quickly
Lifestyle change 
If you want to follow a proper primal diet, you need to change your current lifestyle if you do not follow the below-mentioned points.
The perfect lifestyle promotes sunlight, plenty of sleep, an active mind, or body. You must avoid sedentary time and get yourself highly engaged In mindful of activities.
Follow the below-mentioned steps for a healthy and active lifestyle-
You must do low-intensity aerobic exercise for at least 2 hours of low such as swimming, walking, yoga, hiking, or dancing
All you can do is lift weights for 2 to 3 time per week for 30–45 minutes
You can also start cycling or intense sprint burst per week 
Primal Diet Guide- Food Inclusion and Exclusion 
The Primal Diet limits processed foods, grains, and sweets. It promotes healthy and whole foods such as meats, seeds, fruits, and vegetables.
Foods that you can eat-
You must consume unprocessed, healthy and whole foods such as-
Meat: pork, bison, venison, elk, grass-fed beef, lamb, etc.
Shellfish and Fish: trout, salmon, halibut, tilapia, scallops, shrimp, lobster, etc.
Poultry: organic turkey and chicken
Vegetables: avocado, zucchini, cabbage, kale, broccoli, etc.
Eggs: organic egg whites and whole eggs
Fruits: all organic fruits
Spices and herbs: cinnamon, basil, cumin, rosemary, cilantro, black pepper, sage, etc.
Healthy fats: coconut oil, extra virgin olive oil, lard, avocado oil, grass-fed butter, walnut oil, ghee, and
Seeds and Nuts: walnuts, pine nuts, almonds, pecans, hazelnuts, natural nut or seed butter, macadamias, pistachios, pumpkin seeds, flax seeds, chia seeds, hemp seeds, and sunflower seeds
Other milk alternatives: coconut, unsweetened almond, hemp, flax milk, and cashew
Additionally, you can also eat specific packaged foods, which include primal included ingredients like salad dressings. 
READ MORE: Gluten Free Snacks You Can Eat
Foods that you can consume in moderate amount 
The bulk food must be full of organic and unprocessed ingredients, but you can have other foods in an average amount. These foods must be consumed as long as they don't affect your daily carb intake. It includes-
Natural and organic sweeteners: real maple syrup and honey
Tea or coffee: tea or coffee without added sugar. You can consume it plain or by adding creamer or whole fat milk.
Dairy: yogurt without sugar, organic or raw full-fat dairy including healthy foods such as milk and full-fat cream
Starchy vegetables: sweet potatoes, winter squash, potatoes
Legumes: edamame, fermented whole soy foods, dry roasted peanuts, soaked or sprouted lentils, peanut butter,
Occasional treats 
The Primal Diet also offers sensible indulgence, a common word for occasional treats.
Dark chocolate: high and organic dark chocolates that consist of 70% cocoa content. 
Cheese: raw or grass-fed cheddar, blue cheese, feta, sheep's or goat's milk cheeses, Gouda, etc. 
Alcohol: red or white wine, whiskey, cognac, light beer, scotch, brandy 
Foods that you must avoid during the primal diet 
The Primal Diet restricts the intake of ingredients and foods such as- 
Artificial sweeteners: sucralose, aspartame, acesulfame potassium, saccharin, cyclamates, etc.
High fructose and Sugar corn syrup: table sugar, soda, fruit juice, candy, cookies, pastries, ice cream, cake, milk chocolate, etc.
Organic vegetable oils: grapeseed oil, canola oil, soybean oil, safflower oil, cottonseed oil, etc.
Grains: bread, whole grains, spelt, refined grains, rye, pasta, cereal, muffins, barley, pancakes, etc.
Hydrogenated and trans fats: shortening, margarine, or foods containing hydrogenated oils
Processed foods: crackers, chips, pretzels, fast food, granola bars, frozen dinners, convenience meals, etc.
There are many natural sweeteners that you can substitute with high carb sugar.
Natural sugar such as monk fruit and stevia can be the best option to satisfy sugar cravings!
Follow the 3-Day Menu
To help you with your primal diet, here we have listed a sample 3-day meal plan- 
Diet for Day 1 
Breakfast: peppers, eggs, spinach cooked in coconut oil, plus a splash of cream
Lunch: mixed fruits, lettuce wraps, chicken salad
Dinner: salad mixed with baked salmon especially topped with pesto
Diet for Day 2
Breakfast:  you can make oatmeal made from pecans, whole raw milk, topped with blueberries and cinnamon, blended coconut flakes, almonds, — plus you can drink green tea 
Lunch: a bison burger patty, drizzled with a homemade vinaigrette and a green salad mixed with avocado, tomatoes, cucumber, pine nuts
Dinner: roasted Brussels sprouts and roasted pork tenderloin, baked sweet potato 
RELATED: Low Calorie Potato Recipes
Diet for day 3
Breakfast: coffee with a splash of cream, veggies fried in a skillet with coconut oil, two poached eggs
Lunch: grilled grass-fed steak, roasted peppers, and a burrito bowl with cauliflower rice, onions topped with salsa and guacamole
Dinner: Roasted vegetables and a lettuce wrap and a bison burger
The Primal Diet approves fruits, nuts, and vegetables are all easy options.
Final Words 
For the primal health, you must eliminate the processed foods and engage in regular physical exercises that reduce your stress levels. You must follow the above mentioned primal diet food list to maintain the overall physical and mental health.
Comment down below if you found this article helpful.