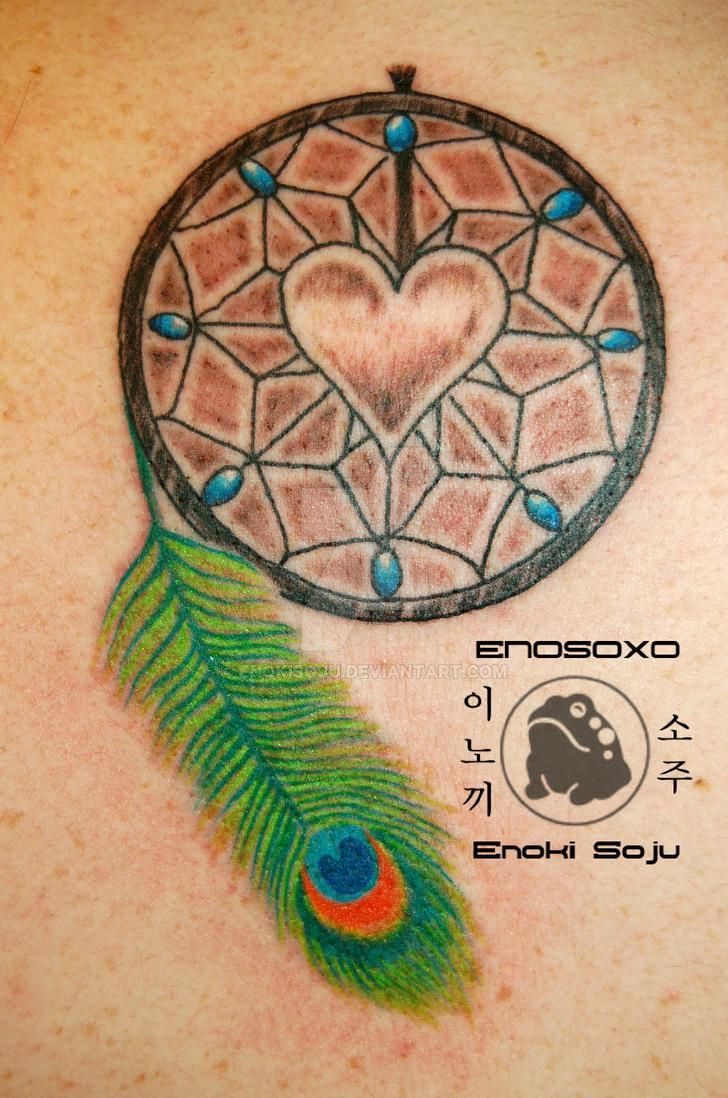 Dreamcatcher tattoos have been a trending and popular tattoo idea for its cultural belief, symbolic meaning, and delicate and fashionable appearance. The dreamcatcher tattoos are more prevalent among females due to there feminine design patterns like beads, web, and feathers, and more.
In this article, we will tell you about what a dreamcatcher tattoo is, its designs for different areas, people, and what belief is related to a particular tattoo design.
What is a DreamCatcher tattoo?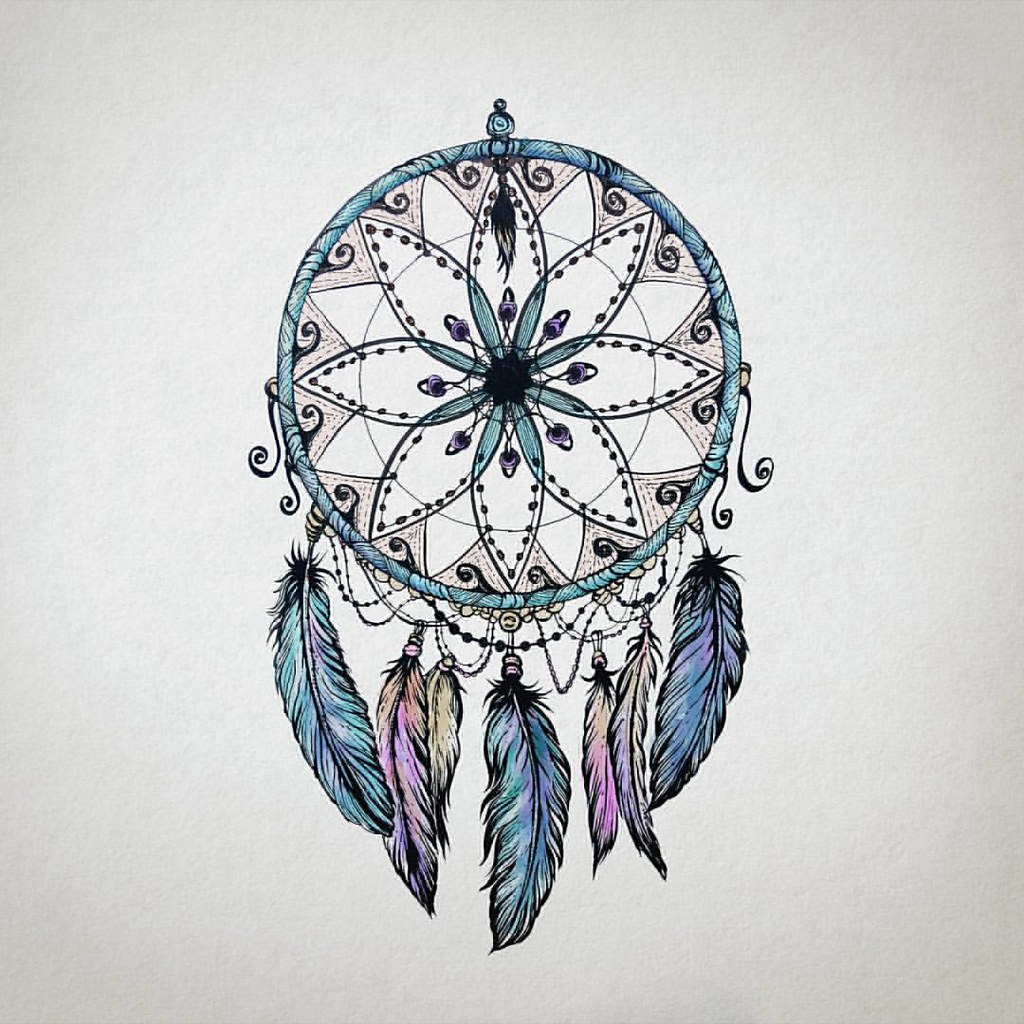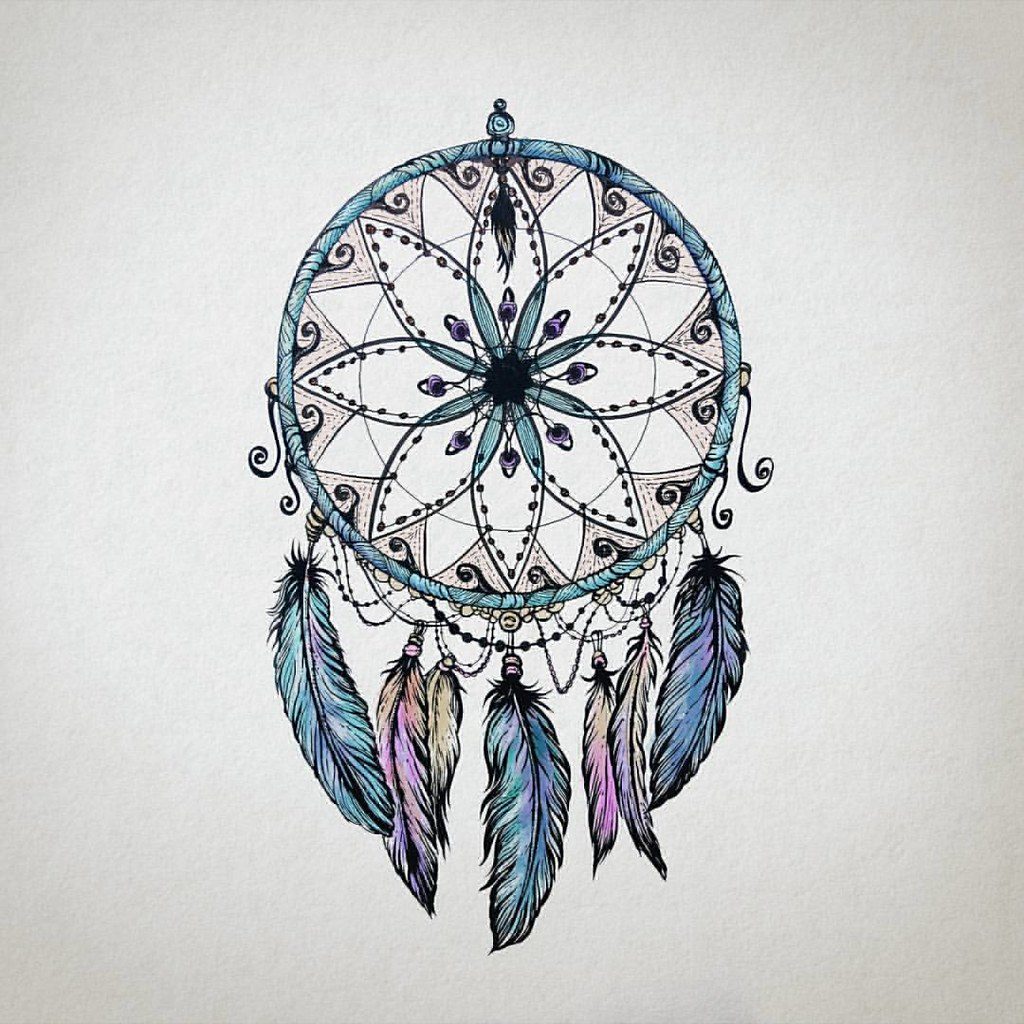 A dreamcatcher tattoo is a willow hoop that contains a net or web, beads, and feather hanging from it. This tattoo is thought to help a person get rid of any bad dreams, letting the good spirits and dreams go through the holes in the web, bringing them to its owner.
These tattoos are common among the Native American population. They exist in different patterns and colors.
Design Ideas For Dreamcatcher Tattoos
There are various designs popular among people for the dreamcatcher tattoo. Some of the designs are
The Decorative DreamCatcher Tattoo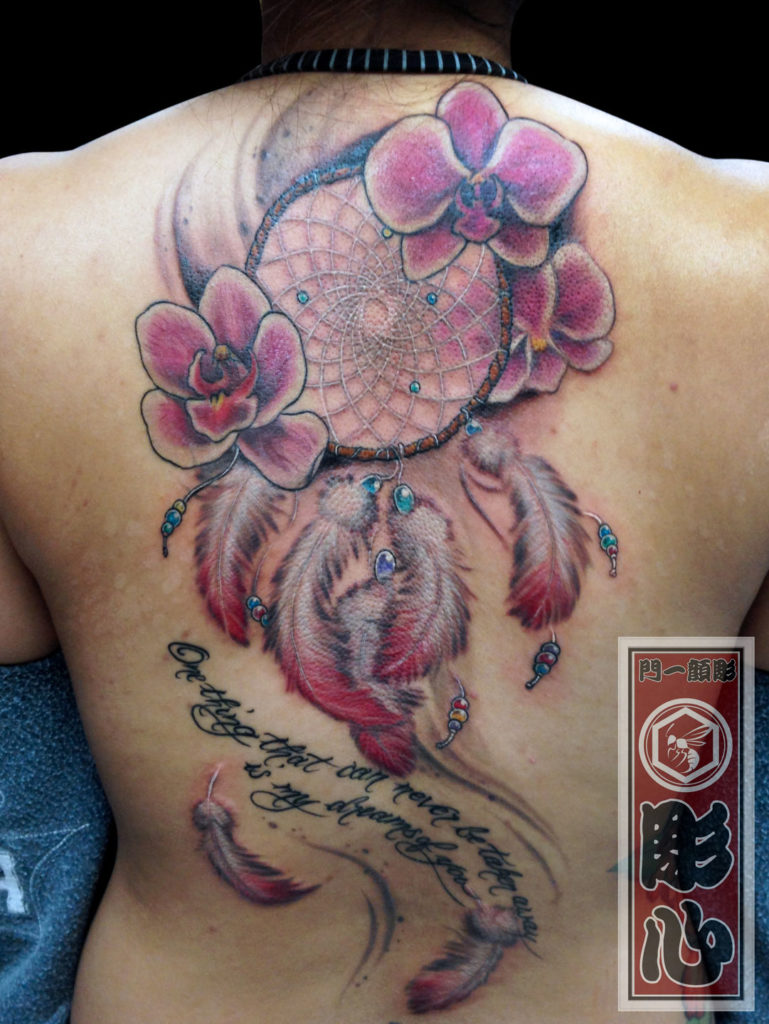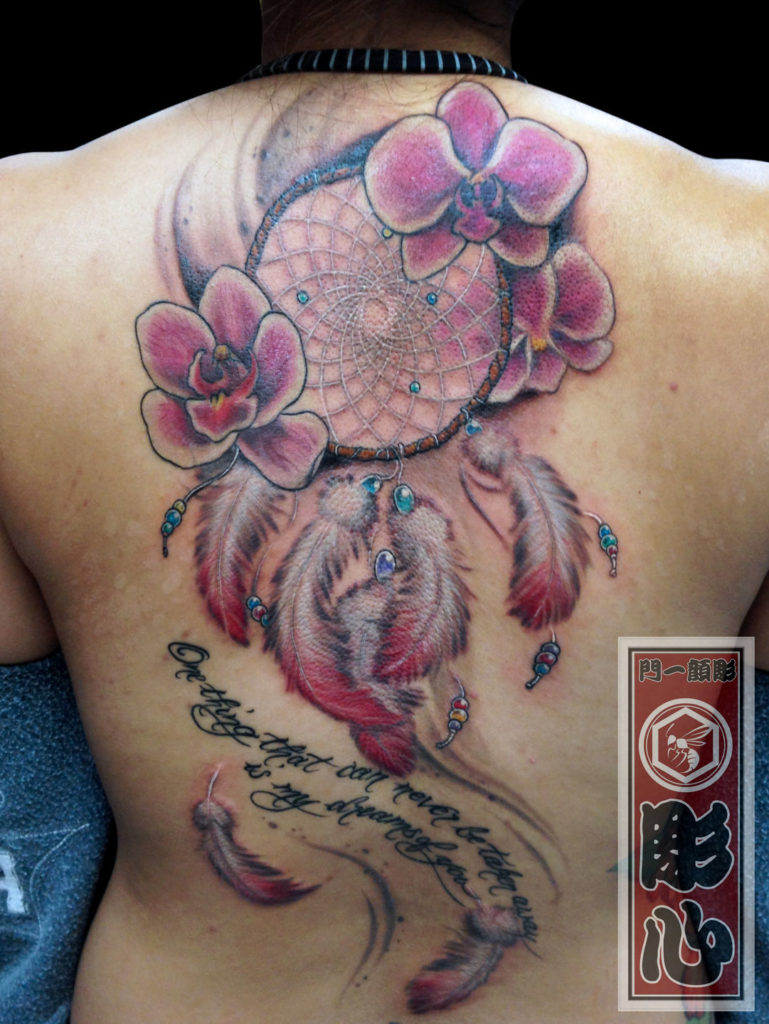 The decorative dreamcatcher tattoo fits well on females and catches viewers' attention as it is colorful with artistic beads hanging from the woven net and feather designs.
It has an aesthetic design that fits nicely on the shoulder or back. This tattoo also has an additional feather on top, making it look unique and adding to its radiance.
The Sunflower Dreamcatcher Tattoo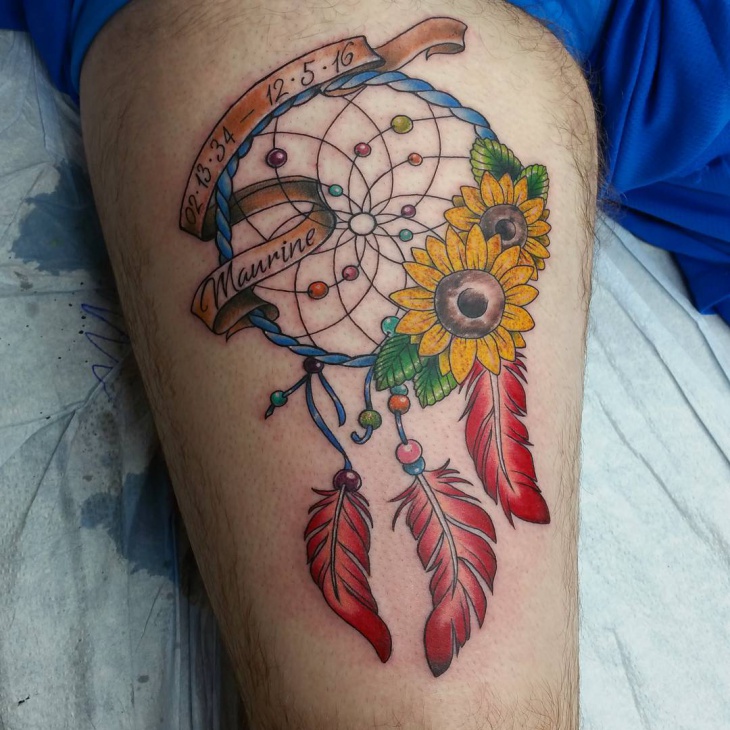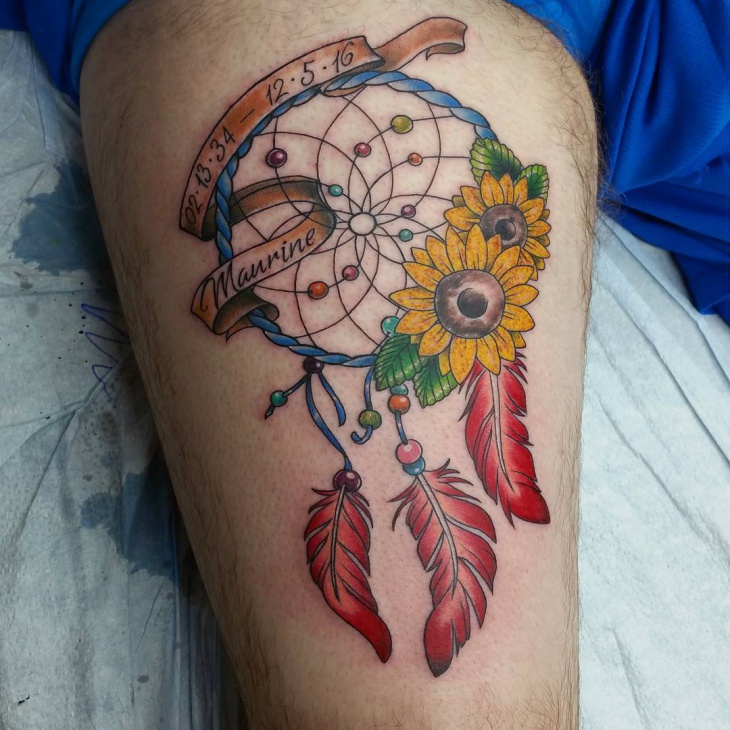 Adorned with a moon and sunflower around its woven web. This tattoo has more artwork and symbols, which make it stand out from most common dream catcher tattoos and alluring to the eyes.
If nature and sunflowers amuse you, then getting yourself this tattoo will be one of the most vibrant ideas that will make people and yourself fall in love with your personality.
Color Of Dreams
This tattoo will likely be the one for you if you are not a fan of too much artistic work or colors. This tattoo looks electrifying and handsome in its view with its basic black woven net and blue feathers design.
If you want to stand out from the crowd, you can get this tattoo. This tattoo is more suitable for women, and they can get it on the side of their ribs or belly.
The Black Beauty Dreamcatcher Tattoo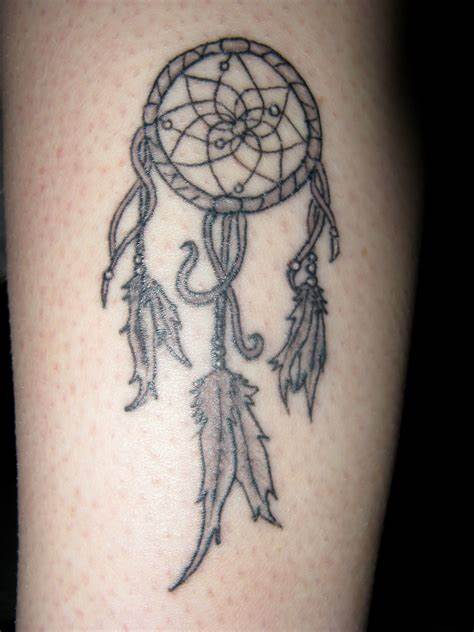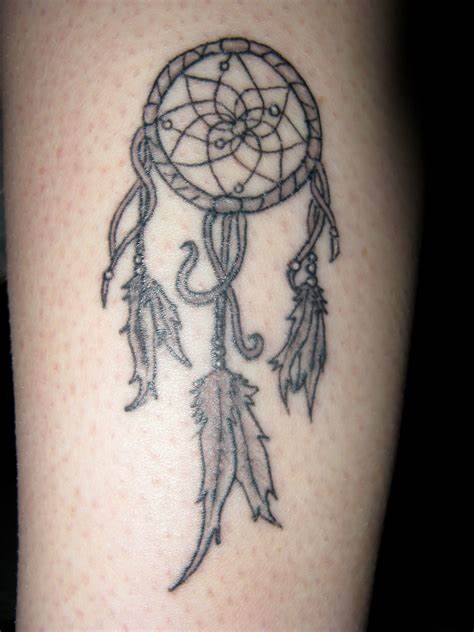 This dreamcatcher tattoo is a simple but elegant tattoo one can get. It is the best artwork if one wants to decorate their arms and shoulders. This tattoo is done naturally and doesn't contain many ornaments and colors that make it more intricate and reflective than the traditional tattoo designs. This tattoo is also a perfect piece of art suitable for both women and men.
The Floral Dreamcatcher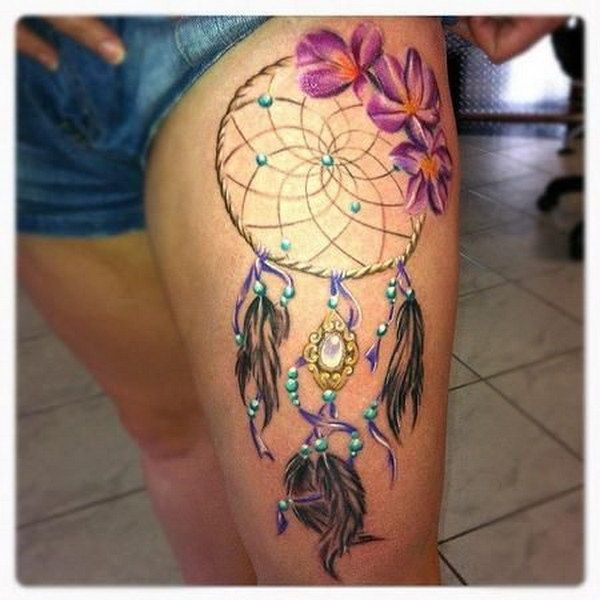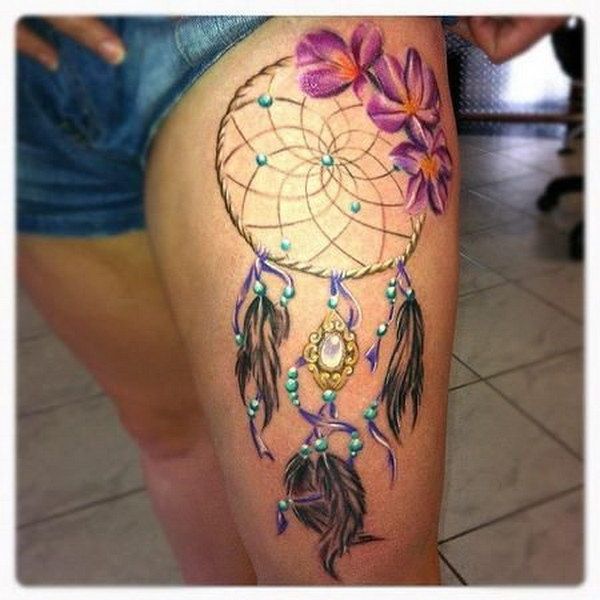 This tattoo can perfectly blend with your skin as it is a mixture of themes, accompanied by fancy flowers and a strong outline. People love this dreamcatcher tattoo as its fashionable piece of art as well as simple.
This dim and dark tattoo with popping blossoms on top can mesmerize people around you.
Also Read: Tattoos on Dark Skin
Wolf Of Dreamcatcher Tattoo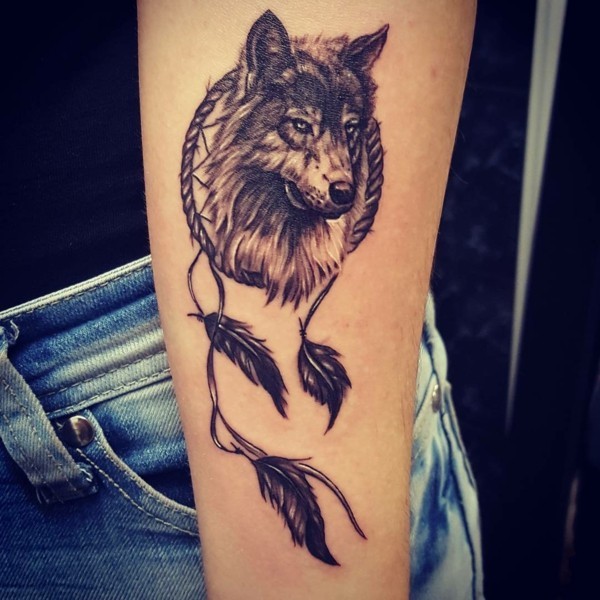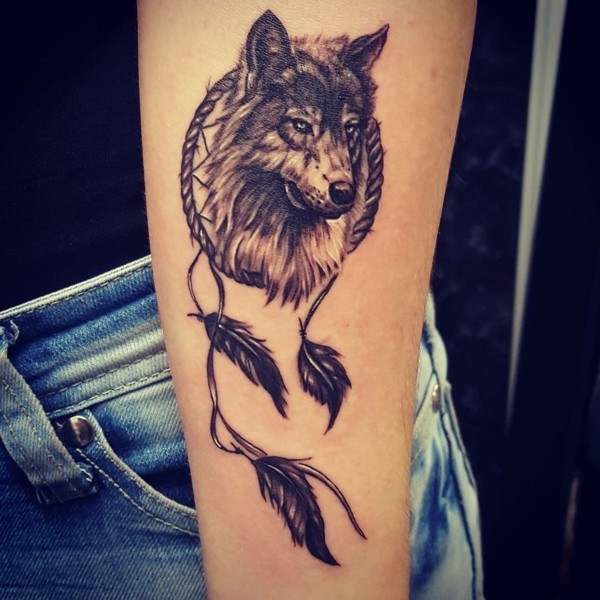 You should get yourself inked with this tattoo if you want to symbolize many meanings in a single tattoo. This tattoo is a perfect artwork for men with a fine and fair skin tone. In this tattoo dream catcher and the wolf come together to provide the tattoo with a more superior and consolidating look compared to other tattoos above.
It's a great tattoo as it has a wolf over a hanging feather which reinforces the traditions of Native Americans and gives a message of unity which will be a perfect fit.
The Wanderers Dream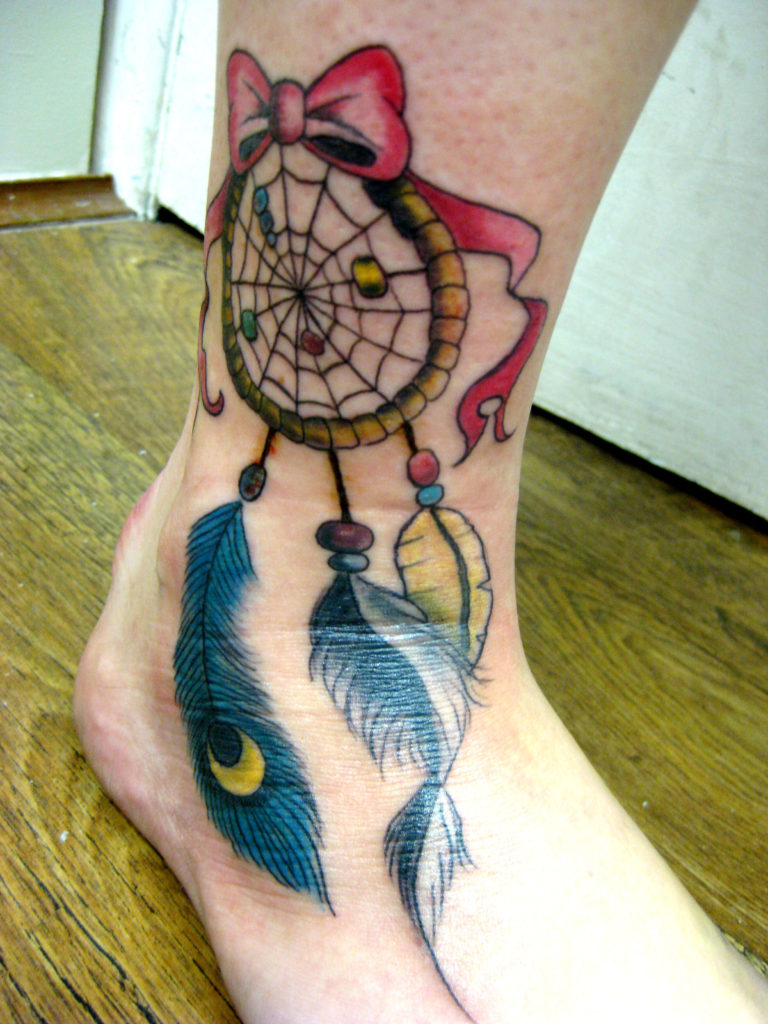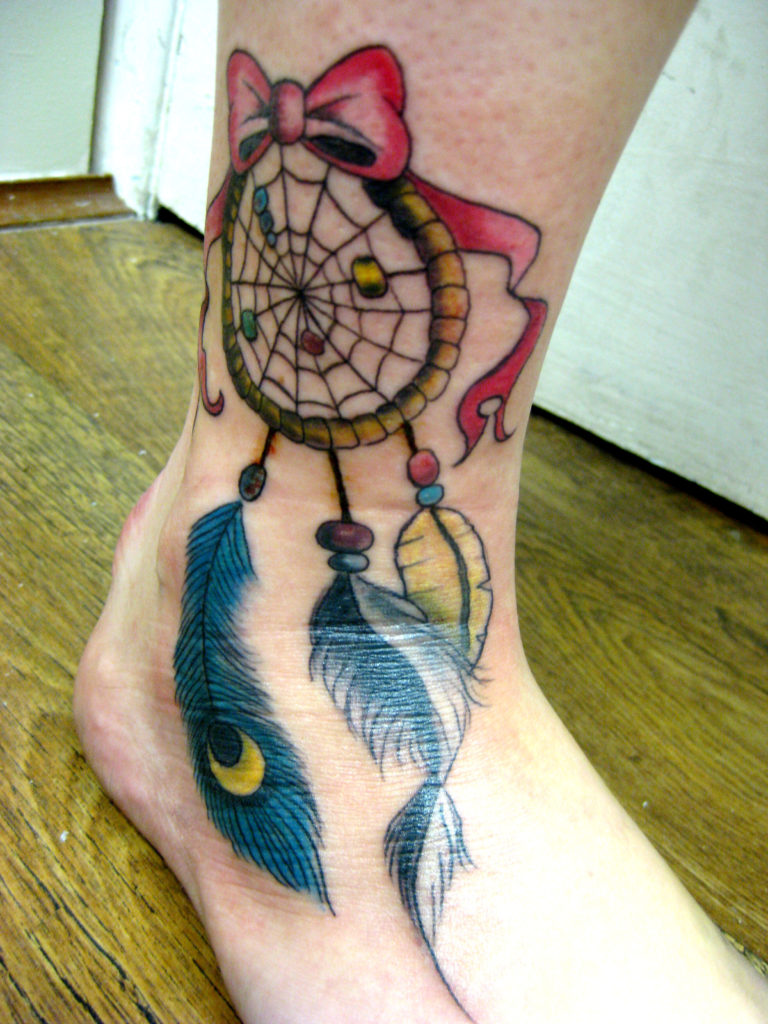 This tattoo is famous among people from many countries. It is renowned as it's simple and small and doesn't add too much of mixture to its design, which can render its appeal. This tattoo can be embossed on any part you want of the body, including your nape and calf, as it has a straightforward design with a feather hanging on the bottom.
The Changing Dream
How about making a change in the pattern instead of getting a traditional dreamcatcher tattoo with woven nets? This design of changing dream tattoo adds a floral mandala design pattern in the traditional woven web pattern.
When interlaced with a dreamcatcher tattoo, this design makes it look more stylish. Besides, the reflective and smooth artwork with loosely hanging feathers with floral adds to an outlook for the viewer that is intensive.
Spread The Love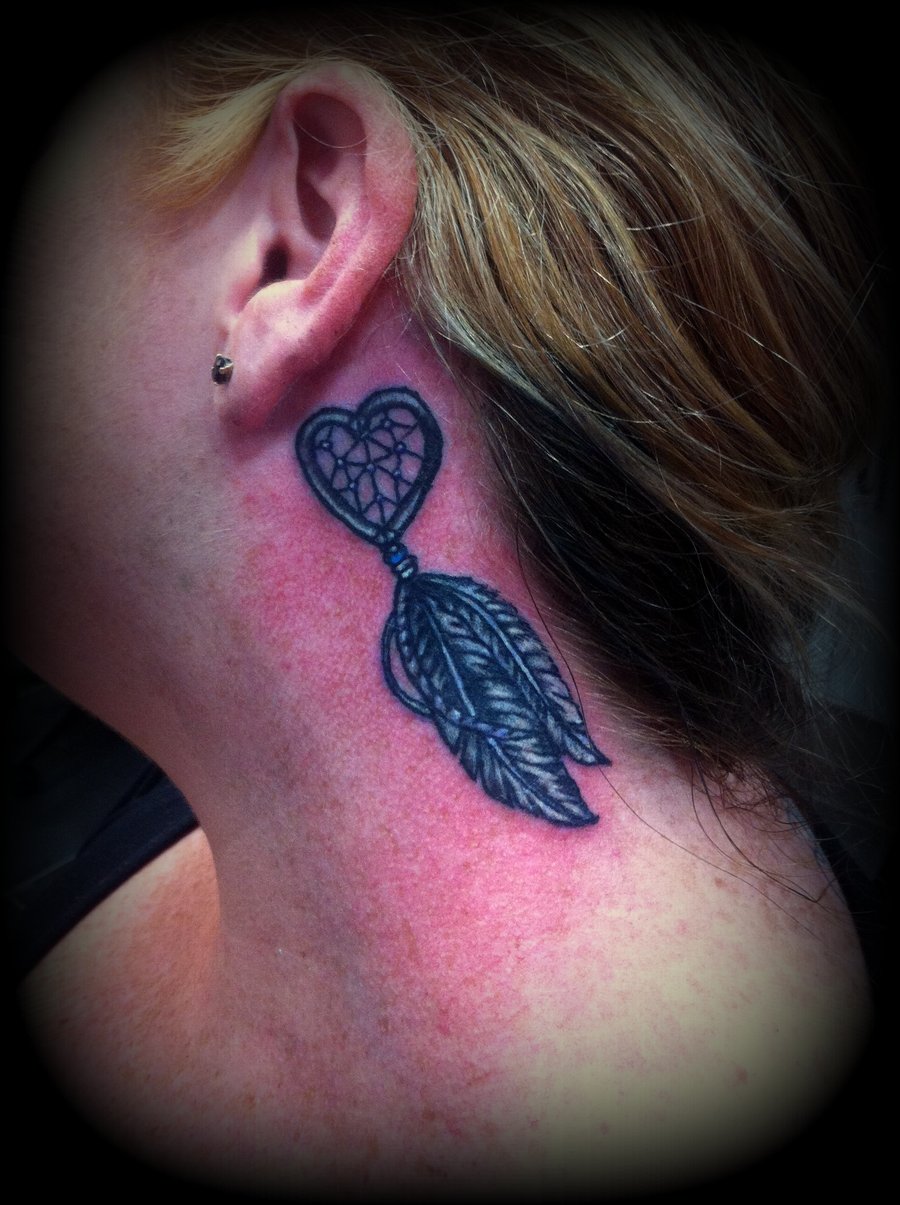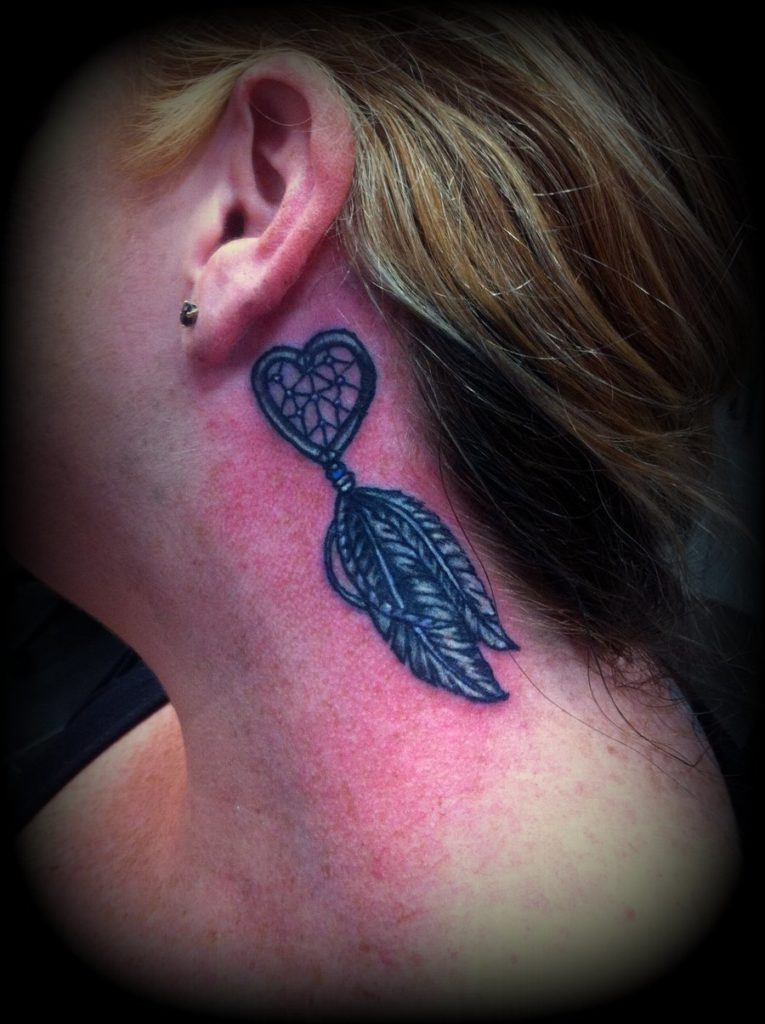 If you want to change the usual round shapes in the dreamcatcher tattoo, you can replace it with a heart, which will make it look fascinating to the eyes. You can also change or modify the entire theme by adding small strips and swords to the heart. People will like it if you keep it simple and meaningful, reflecting the traditional theme, as affection comes with adoration.
You can also add a bolt piercing the heart along with some red shade and bloodstains that will enhance its art. This tattoo looks good on people with brown to fair skin tone and can be inked on the shoulder or foot due to it's small size.
The Raven's Dream
This dark black and brilliant art piece give a more vibrant viewpoint to dreamcatcher's traditional style. This tattoo is radiant and perfect enough to hold one's eyesight for a while to admire its beauty. This design strengthens the dreamcatcher tattoo meaning and adds gusty winds and a raven that highlights the importance of hoop in Native Americans.
The American Dreamcatcher Tattoo
This tattoo expresses the American ideas of independence and freedom, making it an extraordinary and better design than any other dreamcatcher tattoo design popular among folks. This tattoo signifies the American image of coexistence among the different communities as there are several races and languages in America living together peacefully.
In America, there are Arabs, Indians, and European societies that coexist living peacefully together. This tattoo also demonstrates a sense of peace and solidarity in people. It's colorful, small in size, and looks great.
The Small Dream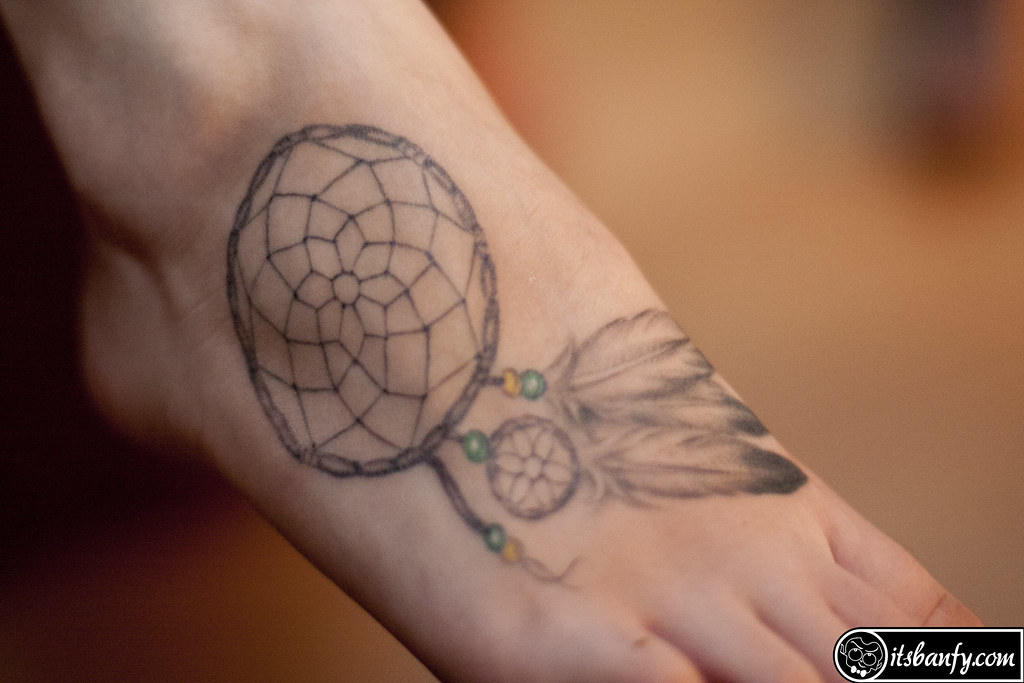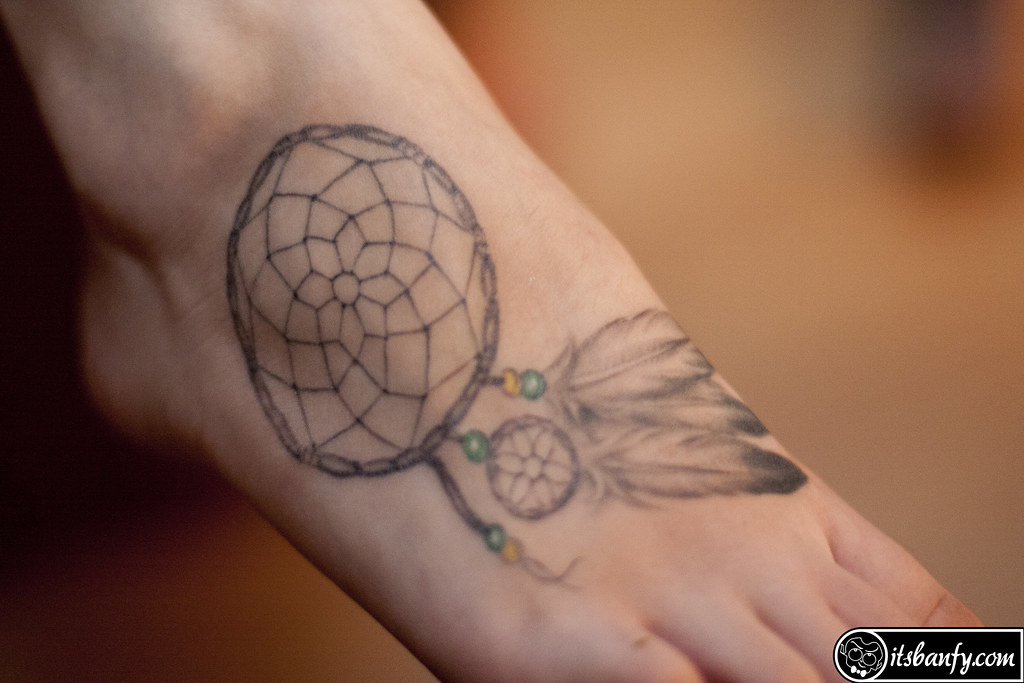 This simple black ink dreamcatcher tattoo will be perfect for you if bright and large artwork is not your cup of tea. you can place this tattoo anywhere on your body due to its small size.
It is advised to keep it small for a better reflection, although if you want its size can be enhanced by your tattoo artist. With two hanging feathers at the bottom and a flower ring, this tattoo is perfect if you want to stand out of the crowd.
Dreams on Hand
At first glance, this tattoo will likely surprise your companion with its small butterflies and loosely hanging feathers. This tattoo comes with a beautiful color scheme and elegant design.
This tattoo is lightweight and will look great on your hand.
Space Dream
If you want to take your dreams to the next level, mixing tradition with bits of science will be a great combination. This space dreamcatcher tattoo signifies the sun and not the woven net. The art has a color combination featuring red and yellow to highlight the energy source on our planet.
But another special feature of this tattoo is that it takes help from various planets in our solar system and not the usual feathers hanging from a circle. This art includes Saturn, Jupiter, Earth, and Mars. If you love space or dream about working at NASA, then you will love this tattoo.
Coexist Dreamcatcher Tattoo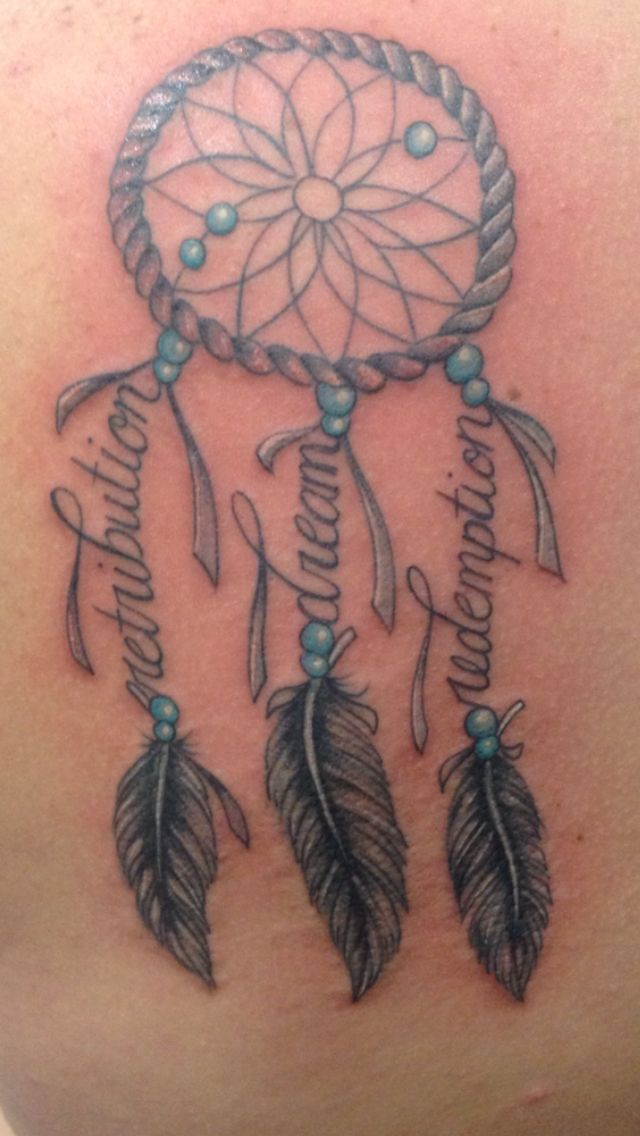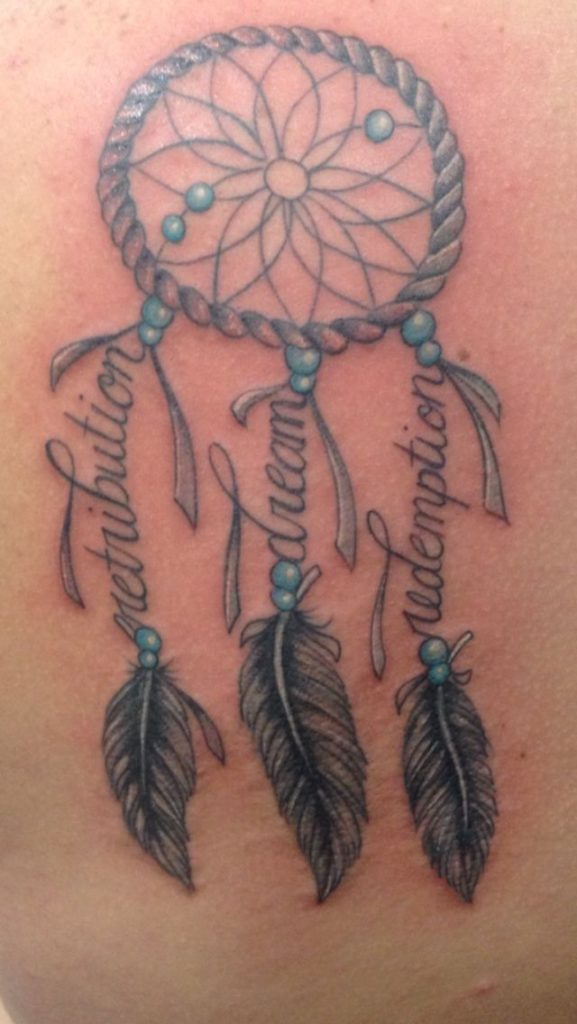 This tattoo design is classified as modern-day dreamcatcher designs. In this design, the woven net has its edges wrapped in the American Flag. This tattoo is an indicator of upright and respect for Native Brethren by Americans. To reinforce the American Dream, the beads around the tattoo in this design are adorned with red and blue.
The tattoo evokes the individuals' patriotism with its white and black contrasting feathers that hang below the web.
Loft Dream
If you want to glorify your back, then this tattoo is for you. This lofty dreamcatcher tattoo is the extension to the idea of the original tattoo. It encompasses the art on all of your back and has multiple hoops that enrich the tattoo's texture.
This tattoo seems perfect for a back with dangling feathers around the web. You can also add texture to this dreamcatcher tattoo's sides if you want to decorate your other body parts too, but remember to keep it relevant and simple.
Black Fantasy Dreamcatcher Tattoo
If you have fair skin and want to enhance its reflection, then decorating it with black fantasy dreamcatcher tattoos will be perfect for you. This tattoo is almost all black, as its name suggests. It mirrors the traditional design and structure of the dreamcatcher and doesn't have any additional artwork or design in it. It's an excellent tattoo for women with fair or brown skin to get a highlight tattoo.
The Flying Dream
This dreamcatcher tattoo is another option for men and women who want to get a black inked tattoo on their neck backs. The tattoo design is to reflect a flying dreamcatcher alone in lonely space. With its feathers and beads loosely breezing, this tattoo is clearly visible to people.
If you want to make your dream catcher tattoo more unique, then you can combine it with yin yang tattoo. It will render a deep meaning to the design and will make it more creative.
A Girl's Dream
This admiring dreamcatcher tattoo is for you if you are not a fan of black ink. You can have this tattoo on your thighs, but it can easily fit on your shoulder. This tattoo illuminates artwork as it contains many decorative designs.
The tattoo includes multiple flowers on the bottom and colorful butterflies on top. The texture of this tattoo suits women who like traditional values of America and Nature. This dreamcatcher tattoo can be one of the best tattoos you can get with hanging feathers under the flowers.
Tattoo Lace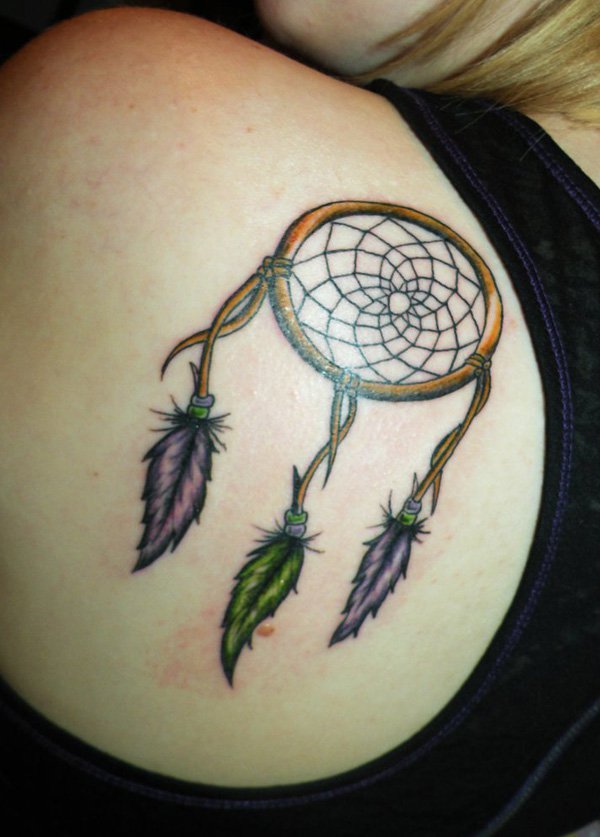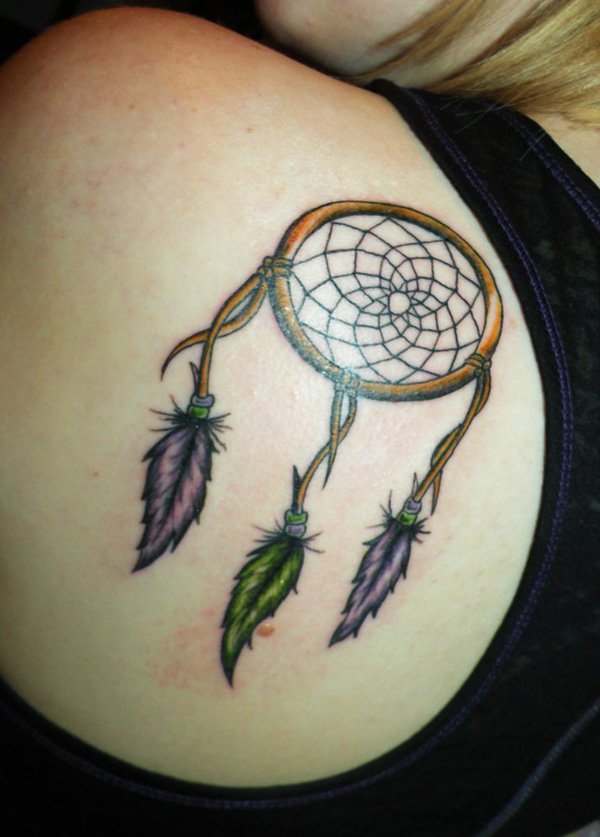 This is an elegant and simple leg tattoo for women. The black color is a good choice for this tattoo, but you can also go for different colors according to your interest. It will be a great tattoo art around the foot that can outperform various foot lace styles from your wardrobe.
Owl Dreamcatcher Tattoo
Owls are important in many cultures and thought to be spirit animals representing prophecy, the afterlife, and wisdom. Owls are thought to be protectors of departed souls. This dreamcatcher tattoo symbolizes a person's desire for their loved one's spirit to be watched over and safely guided to the afterlife or heaven.
Butterfly Dreamcatcher Tattoo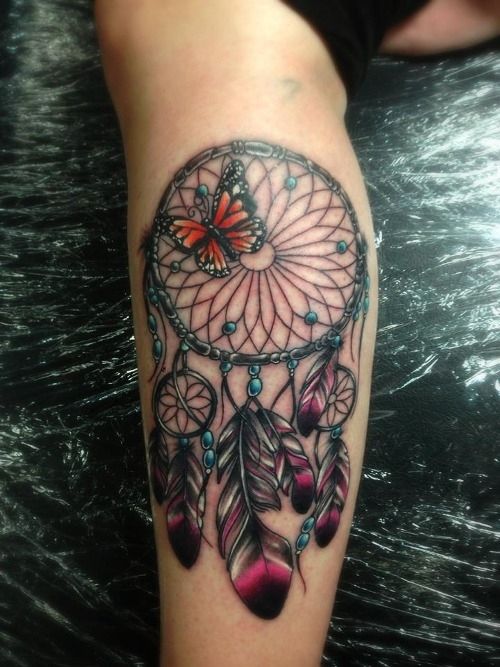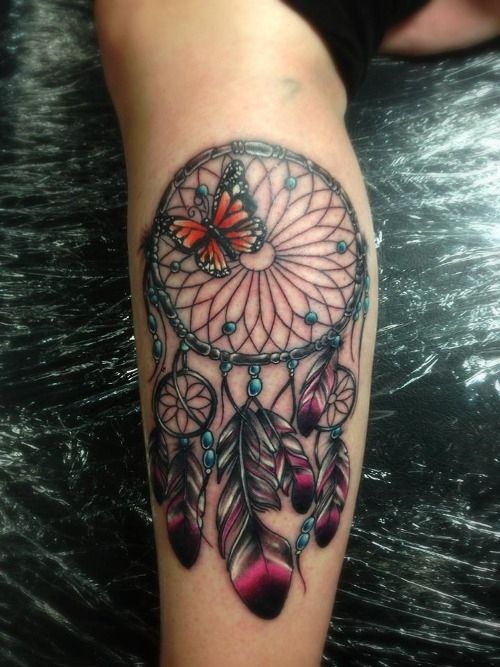 This dreamcatcher tattoo with butterflies in it symbolizes an old story where when a person sleeps, butterflies gather all the negative dreams, thoughts, and energy of that person and carry them far on its wings from that person and drops them off.
A New Dream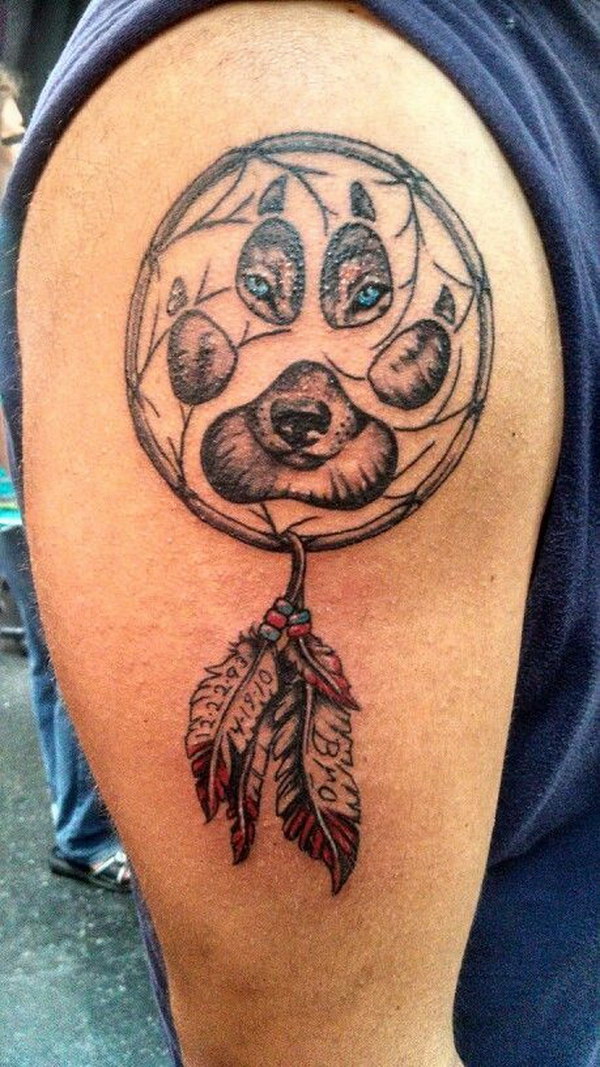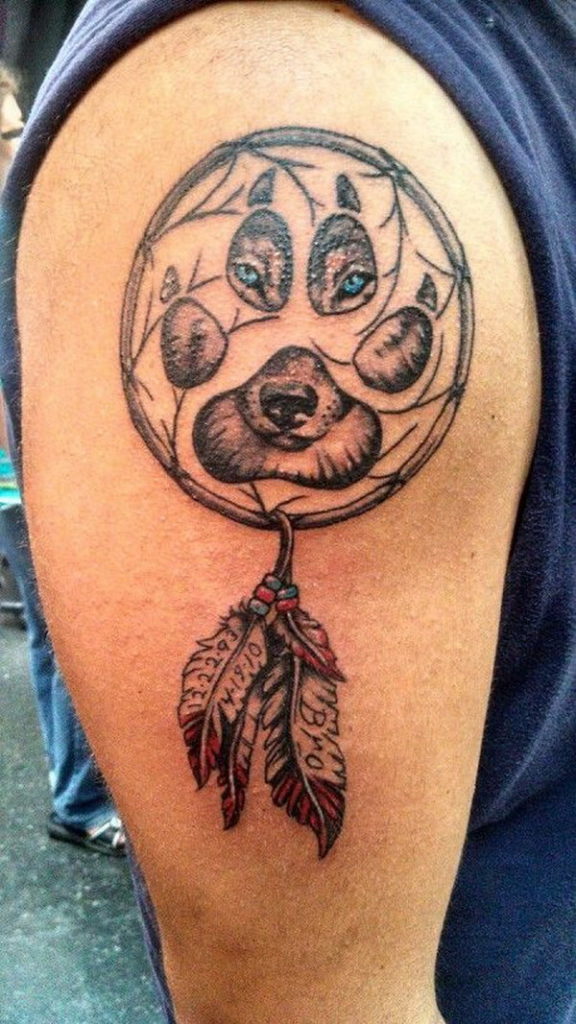 A new dream tattoo is one of the modern forms of dreamcatcher tattoos that you will love. This dreamcatcher tattoo is heavily modified so that it suits current trends and resembles the appearance and shape of traditional hoops.
The new dream tattoo is adorned with a hoop on the American flag. Other than these, the tattoo also replaces the traditional woven web with dog paw and wood in its core. This tattoo will be perfect for you if you want to show love for your dog. This tattoo is ideal for both men and women.
The Friends Of Wild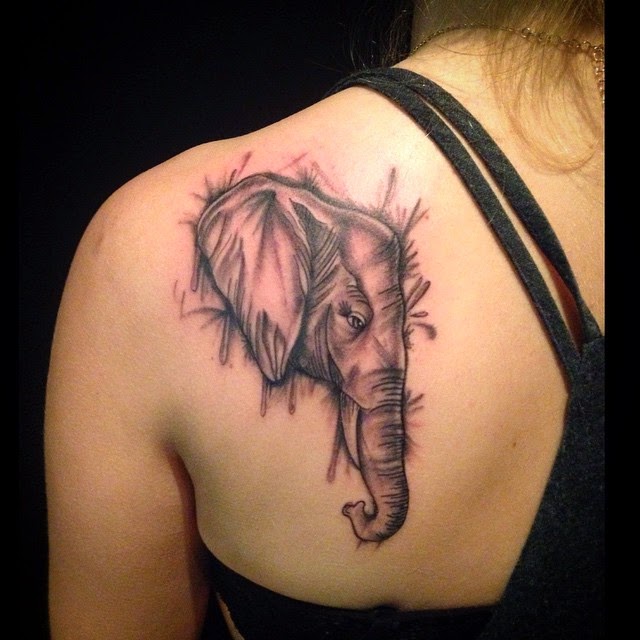 Worried about growing plastic on the planet? Feel love for wildlife? If yes, then this is the perfect dreamcatcher tattoo for you. This tattoo can suit both genders and contains an elephant in a circle which conveys a message of cruel elephant poaching in the modern times. This tattoo is perfect if you want to convey your love for wildlife through body art.
Conclusion
Choosing between dreamcatcher tattoos is as tough as your selection of color and design is vital in most cases. Your cause for getting a tattoo will impact your choice and the body part you want to get inked.
We have told you about various dreamcatcher tattoos and their meanings that will help you make a choice.
If you like the article, please do let us know in the comment box.