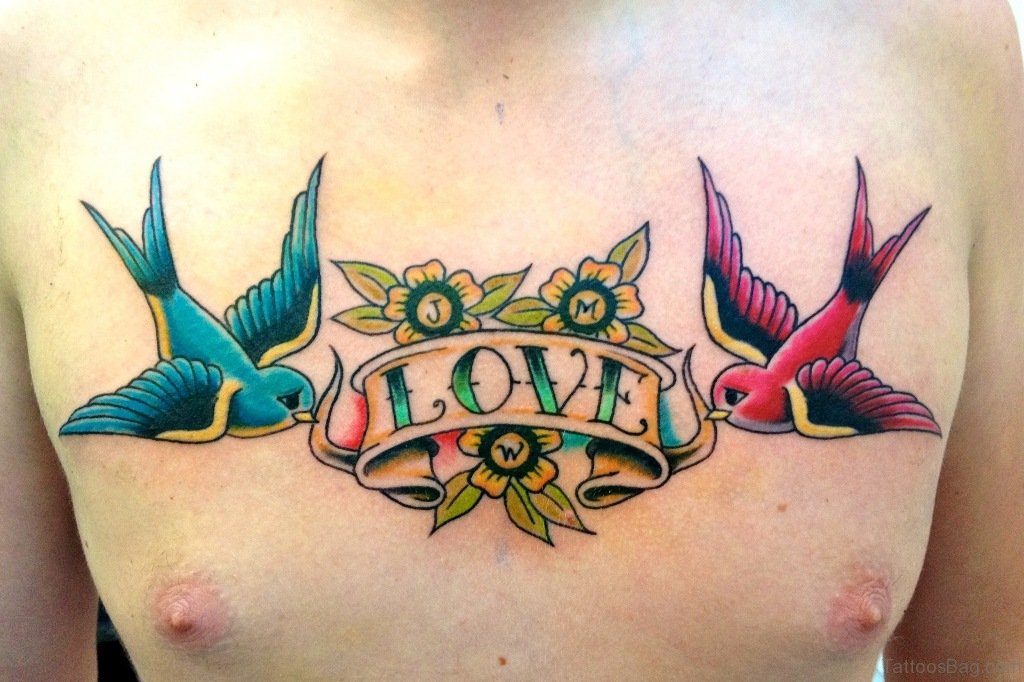 If you are looking for traditional swallow tattoo designs with deep meaning, then look no further; you are at the right place. Swallow tattoos are not only beautiful but also have a rich history and symbolism. Though it might look like a little bird tattoo, it is associated with wealth, loyalty, and commitment.
It is one of the trendy tattoos to get these days and is a favorite choice among youngsters. A swallow tattoo reveals about your personality and has a deep symbolic meaning. Below mentioned are some amazing swallow tattoo ideas that you can choose for your next tattoo.
Micro Swallow Tattoo
The trend of micro tattoos is continuously increasing among people. You do not need to have a big swallow tattoo to make a remarkable impact; a micro swallow tattoo can do it all for you. A micro tattoo makes a great style statement.
Keep it simple and small as it perfectly epitomizes style and makes an amazing impact. A small beautiful swallow tattoo symbolizes freedom and looks amazing on the wrist.
Colored Swallow Tattoo
A colored swallow tattoo looks cute and is popular for trendy conceptualization and perfect use of colors. It is perfect to represent freedom and loyalty. You can get this beautiful piece of art inked on any part of your body like belly, forearms, or back. If you want to stand out in the crowd, a colored swallow tattoo is a perfect choice for you.
Dual Swallow Tattoo
This tattoo includes two swallows, and it symbolizes lifelong companionship and love. If you are in search of joy and love in life, this tattoo is a perfect choice for you. Moreover, if you are looking for a couple of tattoos, you can opt for this one.
You can get this tattoo as a reminder to treasure your loved ones who always will be a part of your life. Moreover, you can get a dual swallow tattoo on the chest to make a strong impression.
Ornate Swallow Tattoo
If you love tattoo designs with deep meanings and impressive detailing, then ornate swallow tattoos are a perfect choice for you. This tattoo includes a delicate designing which accentuates the overall look of this simple but beautiful tattoo.
Keep in mind to get this tattoo inked by an experienced and skilled tattoo artist; otherwise, you might end up having a mess on your hand.
Bright Orange Swallow Tattoo
Orange color stands out for its amazing brightness and is perfect for grabbing attention. The bright orange swallow tattoo on hand is eye-catching, and it makes a remarkable statement. In order to make it look more attractive, you can opt to get it shaded with black.
If you want something that is attractive and symbolizes freedom of mind and spirit, then this one is just for you.
Shaded Swallow Tattoo
If you love shaded tattoos and planning to get one, then nothing could be better than a shaded swallow tattoo on hand. However, if you want to stand out in the crowd, then get a swallow tattoo behind the ear. It is perfect to represent your love for adventure and uninterrupted exploration.
Coral Blue Swallow Tattoo
Blue is the color of the sky and ocean. It symbolizes wisdom, inspiration, and reliability. Blue is a calming color. Therefore, it is a good idea to get a coral blue swallow tattoo inked on your body. It looks pretty and has a fantastic appeal. If you love colors, then it is a perfect choice for you.
Sailor Jerry Swallow Tattoo
Sailor Jerry is the creator of swallow tattoos. He used elegant and simple designs to make colorful swallow tattoos in an amazingly expressive manner. The traditional jerry swallow tattoo looks fantastic on the chest.
Flying Swallow Tattoo
The flying swallow tattoo looks amazing and has a deep meaning. The tattoo represents freedom of the mind and soul. It shows that there should be no restrictions in the self, vitality, and optimism.
Geometric Design Swallow Tattoo
Geometric designs look unique and cool. Swallow tattoos in geometric designs are perfect for making a strong impression. You are never going to regret this one if you love unique designs and tattoos.
Swallow Tattoo on Chest
If you are looking for a fantastic design to get your chest inked, then this one's for you. A swallow tattoo on the chest is a splendid choice.
Tiny Swallow Tattoo
The tiny swallow tattoo can fit anywhere like the wrist or the foot. Get a group of flying swallows inked on your foot to stand out.
Swallow with Flower Tattoo
A swallow tattoo with flowers looks perfect on the chest. It has a feminine touch and adds beauty to your look.
Darker Swallow Tattoo
Some people like simple designs, whereas others love shaded and darker designs. If you are one of the people who are in love with darker tattoos, then opt for a darker swallow tattoo. Make sure to get this tattoo inked by an experienced tattoo artist as it requires precision.
Shadow Swallow Tattoo
Sometimes a shadow speaks louder. Swallow stands for loyalty, love, and commitment. This tattoo represents the beauty of shadows. You can get this inked on your back, neck, forearm, or chest. Size does not matter, but it would look better in a small design.
Final Words
If you are looking for a unique tattoo design with deep meaning, then nothing can be better than a swallow tattoo. It represents freedom of mind and soul. It symbolizes love for growth and freedom.
The swallow tattoo designs listed above are some of our favorites. Which one of these swallow tattoos caught your attention? Do let us know by dropping a comment.