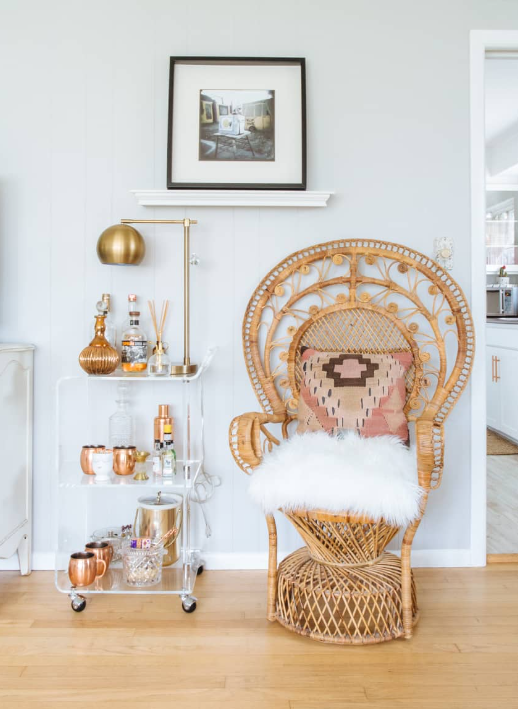 Chic Elevate the style of your bohemian decor with a stunning peacock chair. These intriguing pieces provide an exotic, handmade look that adds texture to any interior. With intricate weaving, rattan, or wicker materials in one-of-a-kind designs, these peacock chairs make it easy to create a personalized statement in any space.
Peacock chairs add a subtle touch of grandeur to any space with their wide, round back and armrests. They are larger than the person sitting in them but not overwhelming – showcasing traditional natural wood tones for an elegant presence.
What is A Peacock Chair and From Where it Came?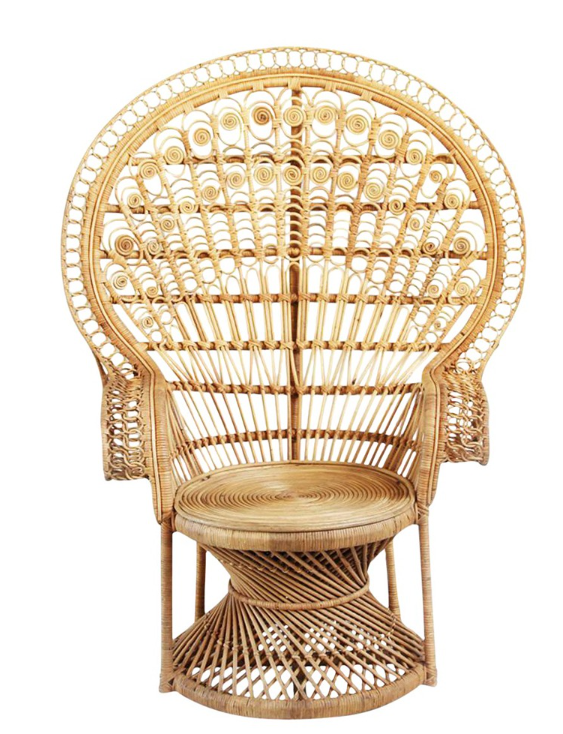 Drawing from a mix of styles, the Peacock Chair has been celebrated for its elegance and functionality. Its hourglass base, sloped armrests, and regal fan-shaped back have made it an ideal addition to any home – or portrait.
Originally crafted in former US territories like Manila or The Philippines, this timeless piece is perfect for adding style and grace to almost any space.
Spanning centuries and continents, the mystery of the iconic peacock chair's origins is still debated.
Its designation as 'Manila' or 'Philippine Chair' has fueled speculation that it began life in an Asian country – none other than The Philippines.
Yet, with no definitive answers to peacock chairs' designer or origin story, this antique masterpiece will remain steeped in intrigue for years.
ALSO READ: HOW TO USE SEALERS ON PAVERS: STEP BY STEP
History and Long Journey of The Peacock Chairs
The Peacock chair, distinguished by its elaborate and striking flared back reminiscent of a peacock's fan-shaped display feathers, has an origin story shrouded in mystery.
Debate persists over the exact birthplace of this iconic piece, but many reports point to Asia as the likely source.
Specifically, Phaidon surmises it is from The Philippines, further evidenced by the first photograph taken in 1914 that captures someone sitting on such a chair at Bilibid Prison in Manila – where inmates reportedly manufactured these signature wicker seats and sold them locally.
The Peacock chair was a true symbol of the 1960s, popularized by iconic celebrities such as Dolly Parton, Al Green, and Donna Summer, who used it to make stunning appearances.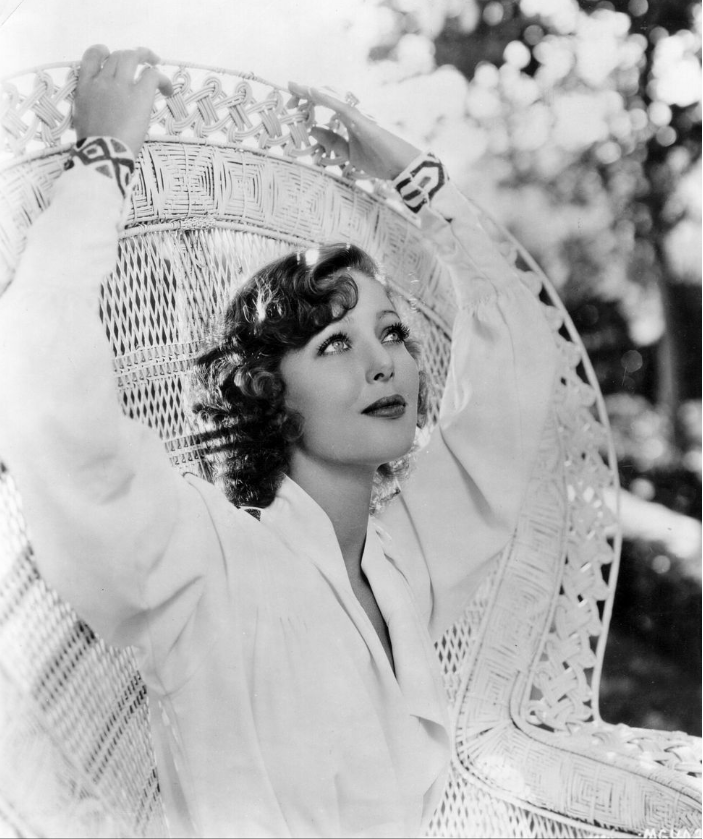 Its distinct style resonated with film-goers around America when it made its cinematic debut in classic movies from that decade.
Fans of The Addams Family may also fondly remember Morticia Addam's regal throne – you guessed correctly: It's none other than the graceful Peacock Chair.
In 1974, the iconic Peacock chair skyrocketed to fame when featured in the French erotic film Emmanuelle.
Starring famed actress Sylvia Kristel and baring her topless form, this unexpected turn gave way to a newfound appreciation of its beauty – making it an emblem of liberation that continues to inspire debaucherous behavior today.
Now you must be feeling like getting your bohemian peacock chair. The Peacock chair swiftly cemented its place in the luxurious homes of wealthy Americans and Europeans.
Capturing the attention of photographers, film stars were often captured sitting upon these majestic chairs – with Elizabeth Taylor, Diana Ross, and Truman Capote being just some examples.
The regal image left behind by this piece has endured to the present day as an intrinsic part of classic decorum throughout history.
Investing in a Wegner Peacock chair is no small commitment. At an auction held by Phillips back in 2018, one of the early iterations sold for a whopping $68,750.
However, if you're looking to purchase yours at more budget-friendly prices—you can still find classic wooden sets on 1stDibs starting from just $3,900 – making it quite accessible to all sorts of buyers.
ALSO READ: WHY YOU MUST SEAL THE PAVERS TO PROTECT YOUR PEACOCK CHAIR?
How Peacock Chairs Made it on The Top Of Many Album Covers?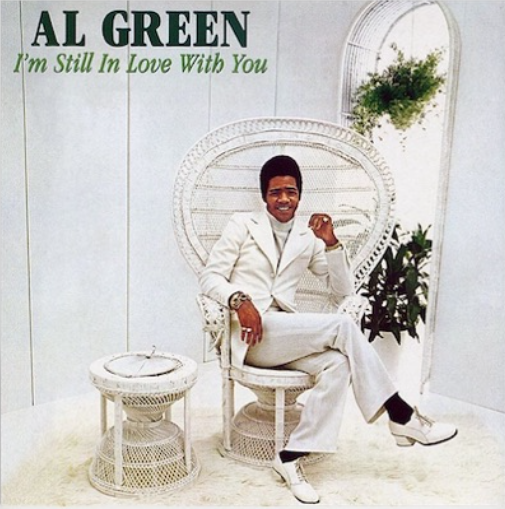 As modern art museums proudly display works from this era, the late 1960s to 1970s is widely regarded as a golden age for album cover design.
This extraordinary period dazzled us with its psychedelic rock and glistening airbrush covers – revealing how brilliantly colors can be used in artistic expression.
Despite the ever-changing landscape of album cover art, one genre appears to reign supreme.
From rap and pop stars alike, a luxurious throne made of woven wicker has become an iconic symbol for some of music's most successful albums – The peacock chair.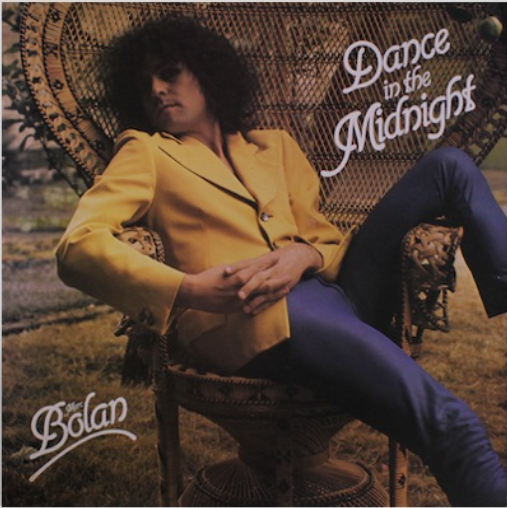 With an invitingly casual atmosphere often accompanied by stylish props nearby, this distinctive image is becoming increasingly sought after in a visually saturated industry.
The humble wicker chair has been held in high regard for at least a century-long enough to inspire an entire artistic tradition of capturing them on film.
It achieved nationwide popularity for just a few short years in the 1970s; beneath this fleeting trend lies something much more permanent and meaningful.
These eye-catching giant peacock wicker chair pieces can make you fall in love with them, don't waste any single day and make them a part of your patio.
How to Make Peacock Chairs?
Checkout this video to know how the process takes place:
Can I Buy Peacock Chairs From Amazon?
With their exquisite design and luxurious look, these peacock chairs on Amazon are a sight to behold. Be sure to take advantage of limited availability – discover the perfect piece today.
Kouboo Grand White Peacock Chair in Rattan With Soft Seat Cushion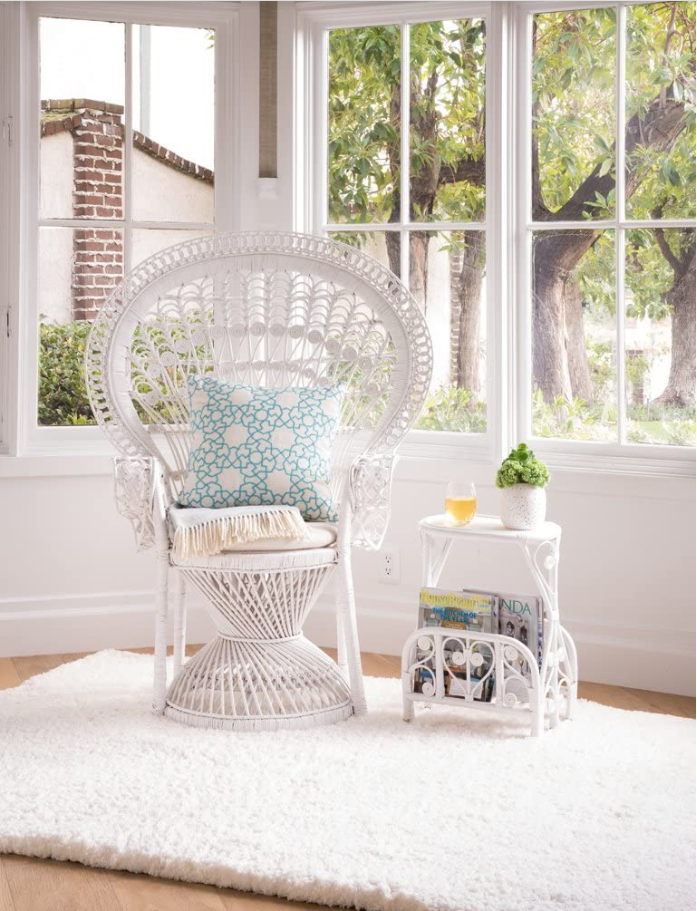 This intricately-crafted peacock chair features a beautiful white design, handwoven using naturally grown rattan.
Boasting dimensions of 40 inches wide x 32 inches deep and reaching an impressive 55-inch height with armrests at 28 inches – this majestic seating solution is perfect for any indoor space.
Kouboo Rattan Peacock Style Chair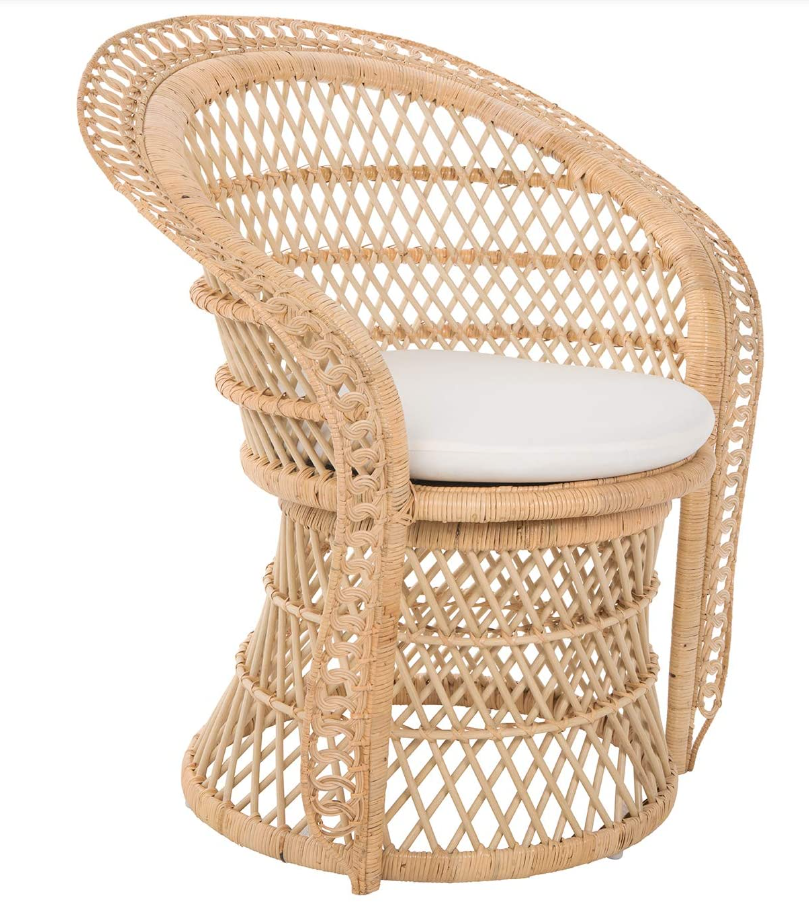 Enhance your home decor with a statement piece of natural beauty. This light brown peacock chair is crafted from rattan and measures 35″ wide x 29″ deep x 38″ in height.
Enjoy extra comfort with the removable seat cushion – perfect for lounging or dinner hosting.
Kouboo Natural Rattan Peacock Chair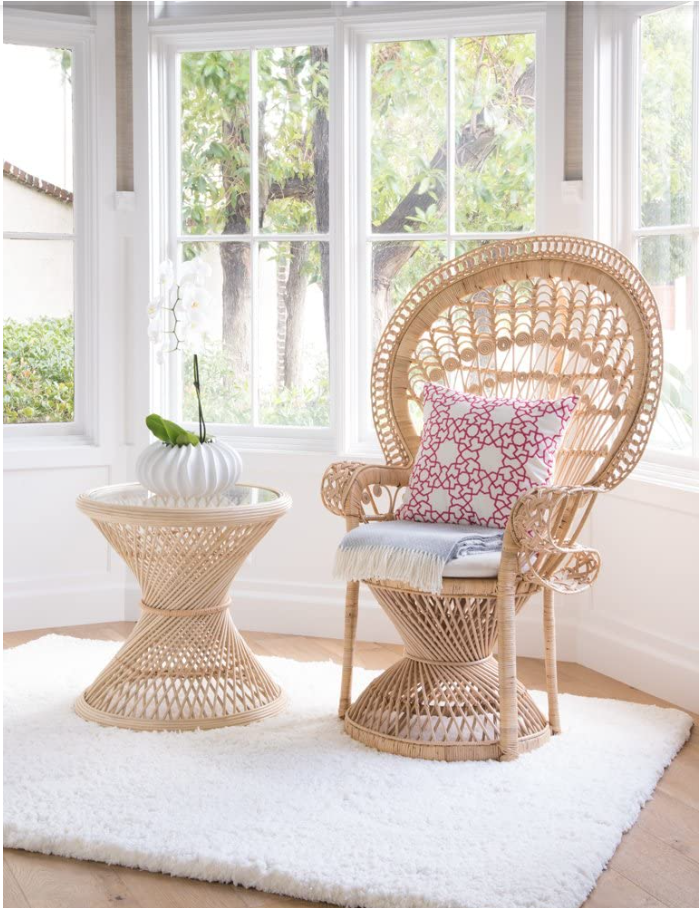 This tall rattan peacock chair makes a stylish and sophisticated statement in any space. A perfect indoor addition, it stands 55 inches high by 40 inches wide x 32 deep – making an eye-catching decor piece that's sure to impress.
Kouboo Retro Peacock Chair in Rattan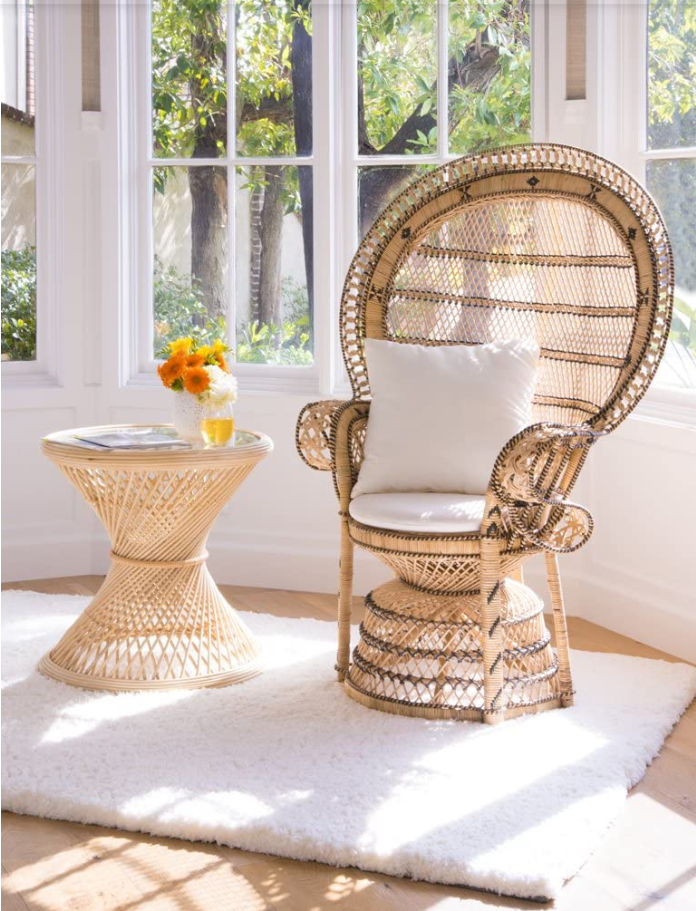 This stylish peacock chair is the perfect addition to a room with timeless flair. Its dimensions perfectly fit any interior, measuring 40″ x 32″ x 55″.
Etsy Peacock Chairs
Eager to find a one-of-a-kind piece? If you're searching for an authentic used peacock chair, then Etsy is your best bet.
Vintage furniture stores on the platform routinely stock these chairs – perfect as collector's items or conversation starters in any home.
Plus, plenty of styles and colors available right now can instantly transform a room. Get browsing today to discover which peacock chairs suits you the most.
Princess Peacock Chair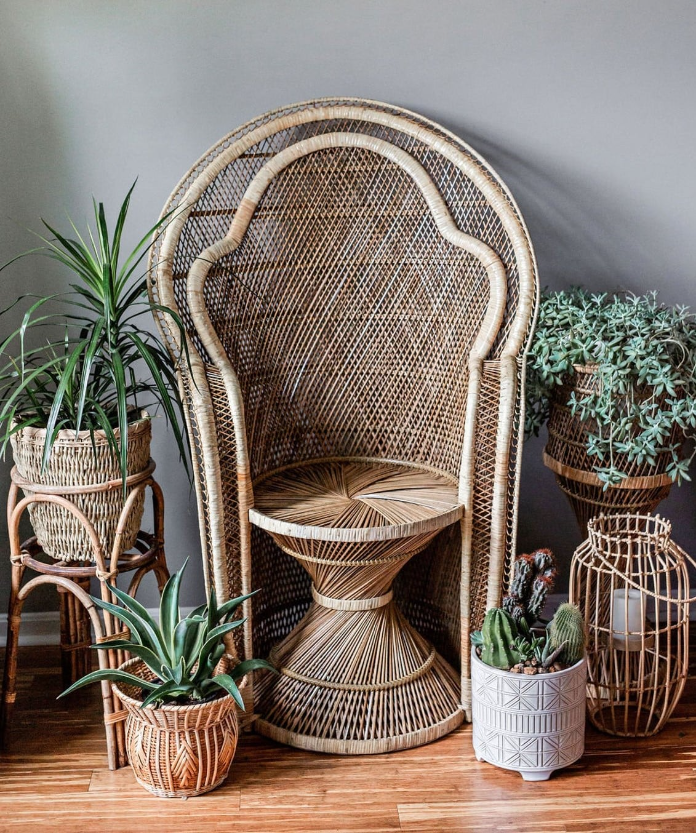 This one-of-a-kind peacock chair was carefully crafted to bring an elevated touch of style into your home. Intricately designed with wicker, rattan, and buri elements, it stands 52″ tall and 33 inch wide – creating the perfect statement piece for any room.
Classic Peacock Chair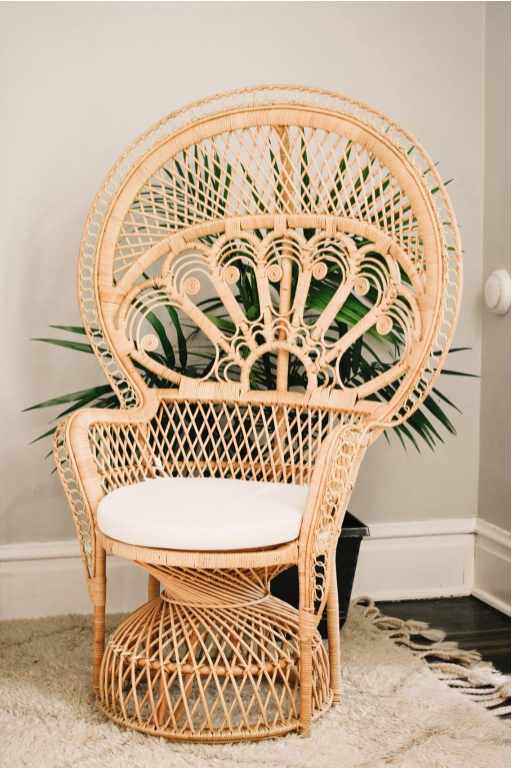 Olivannah Co's Etsy shop offers a unique, luxurious peacock chair from West Java.
Handwoven by experienced artisans with intricate patterning and careful attention to detail, this natural rattan peacock chair is made in small batches for an upscale feel. Be sure to check it out today.
Vintage Emmanuella 70s Wicker & Rattan Peacock Chair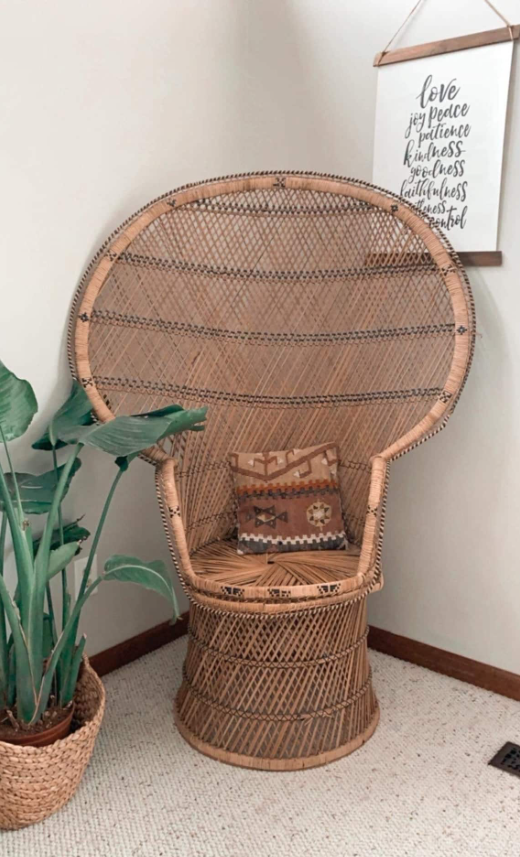 Add a unique, vintage touch to your space with this magnificent wicker and rattan peacock chair from the 1970s. This breathtaking piece stands an impressive 62 inches tall and 45 inches wide. It is one of a kind royal peacock chair.
High Fan Back Emmanuelle Peacock Chair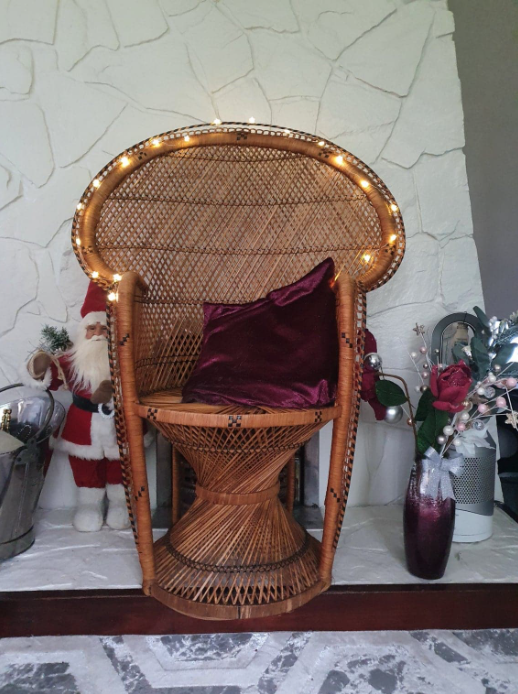 Deborah, of the Vintage Chic Etsy shop fame, has crafted an extraordinary work of art with her high fan-backed boho-chic chair.
Meticulously fashioned from rattan, wicker, and bamboo for a timelessly elegant look inspired by 1960s design sensibilities, this peacock chair truly stands out in style and sophistication.
Vintage Wicker Peacock Chair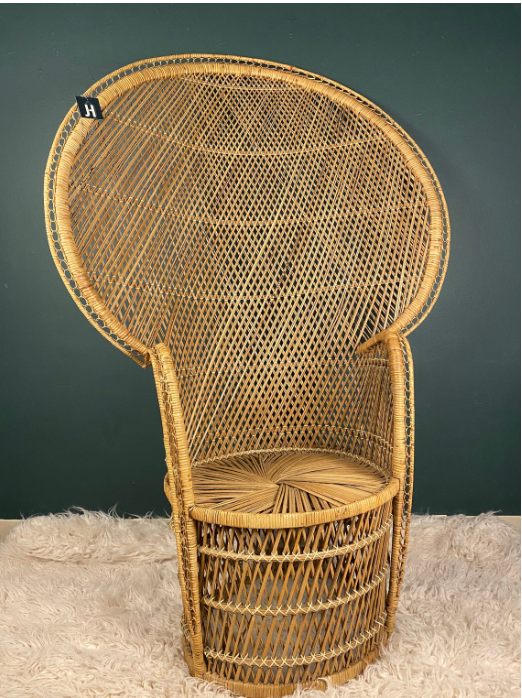 Step back to the funky 70s with this classic wicker peacock chair from Jones Home Decor Store. Handcrafted using traditional materials such as rattan, bamboo, and wicker for a unique look you can't find anywhere else.
Vintage Peacock Armchair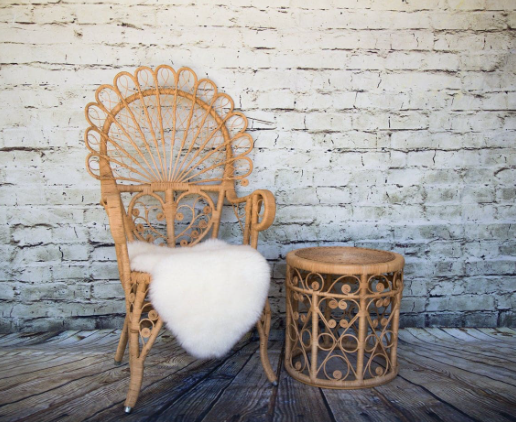 Add a touch of retro style to your living space with this one-of-a-kind peacock chair.
Exquisitely handcrafted in the 1970s from premium rattan and wicker, it stands 48 inches high and 27 inches wide – perfect for adding that extra special 'wow factor. Explore "World of Wicker's" exclusive selection today.
What to Consider While Shopping for a Peacock Chair?
Make a grand statement in any room with the perfect peacock chair – start by considering the size of your space.
Its impressive stature requires an open, airy ceiling to shine and stand out against its surroundings; consider using an entryway alcove or larger rooms like bedrooms or living spaces as ideal spots.
Maintain your stylish chairs with care – protect them from the elements by placing them under an outdoor covering, just like our ancestors.
This is especially recommended for wicker and rattan furniture, which can be difficult to clean when wet.
How Can I Style My Peacock Chairs
Bring a touch of charm and lively energy to your living space with the classic peacock chair. Remember some essential tips when decorating for an iconic bohemian look – or daringly veer off into eclectic territory.
The Bohemian style has qualities that are mentioned below:
Diferent style patterns, textures and colors
 Lots of plants
 Layer rugs
Laidback
Mirrors
 Metallic
How can You Style Your Boho-Chic Peacock Chairs – EXAMPLES WITH PICS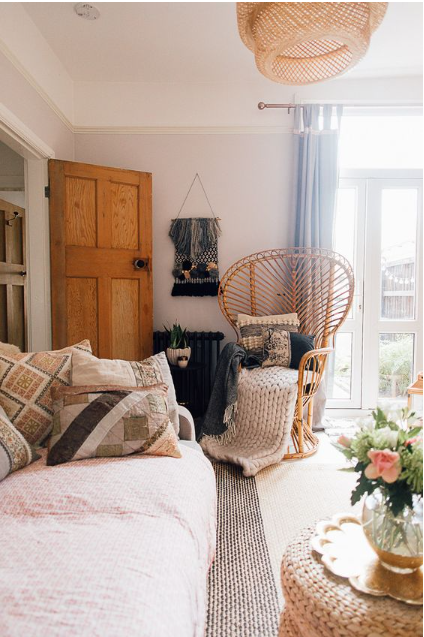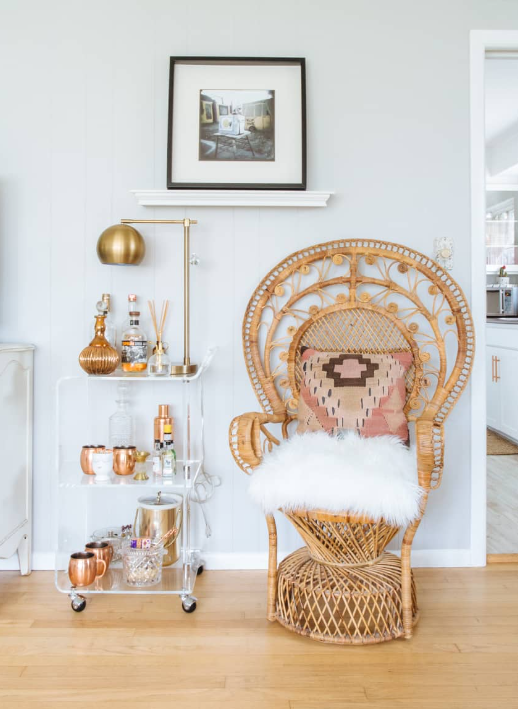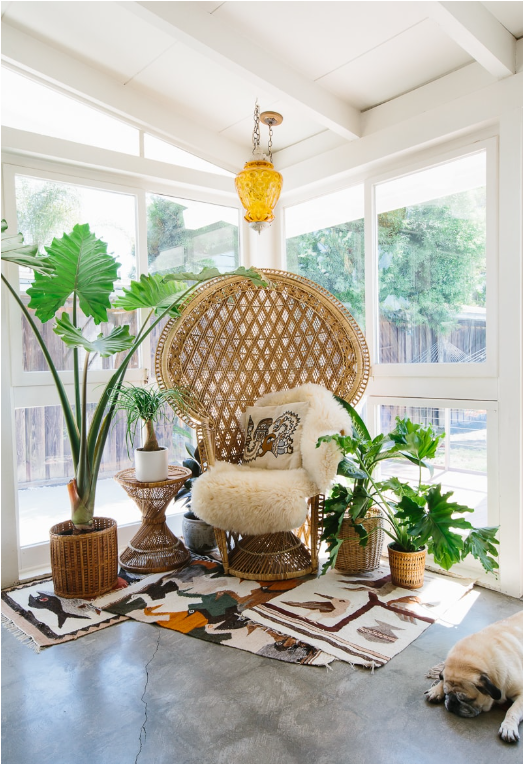 Frequently Asked Questions
Why peacock chairs are so expensive?
Peacock chairs are renowned for their exquisite design and intricate craftsmanship.
While the eye-catching pieces tend to come with a hefty price tag, ranging from $700 -$1200 USD, it is easy to understand why this type of chair commands such value in the furniture market.
Craftsmanship isn't just a trade; it's an art. When you purchase a peacock chair, that sentiment rings true – these pieces are lovingly handmade with expertise and skill to give each one its unique charm.
Creating such masterpieces may take time, but the quality is worth every penny invested. Not only do they have great curb appeal, but their sturdy construction also ensures many years of use.
How Can I rent a peacock chair?
Add a hint of royalty to your event with A La Crate's exquisite peacock chairs. These beautiful pieces showcase vintage wicker rattan, woven black accents, and classic mid-century modern style – perfect for any occasion.
Sources:
Classic Chair Design By Hans Wegner
Hnas J. Wegner's Peacock Easy Chair
PP Møbler launches Hans J Wegner chairs to celebrate 100-year anniversary