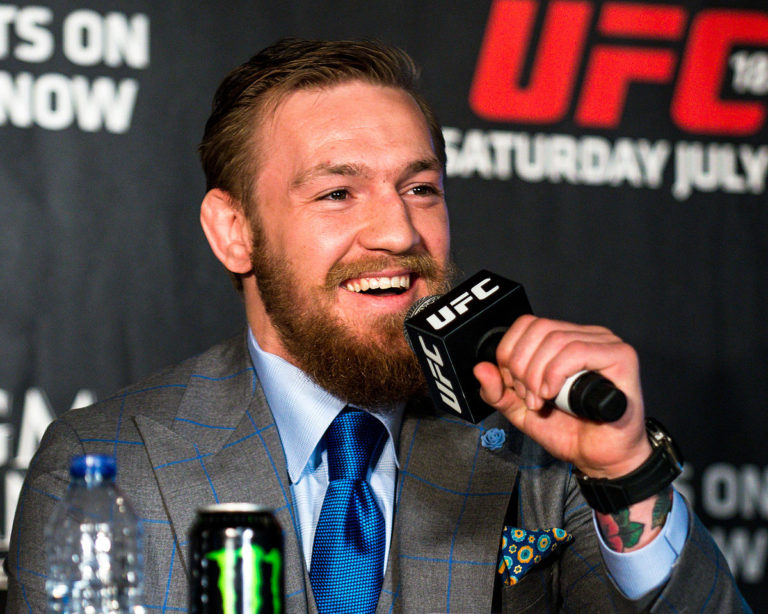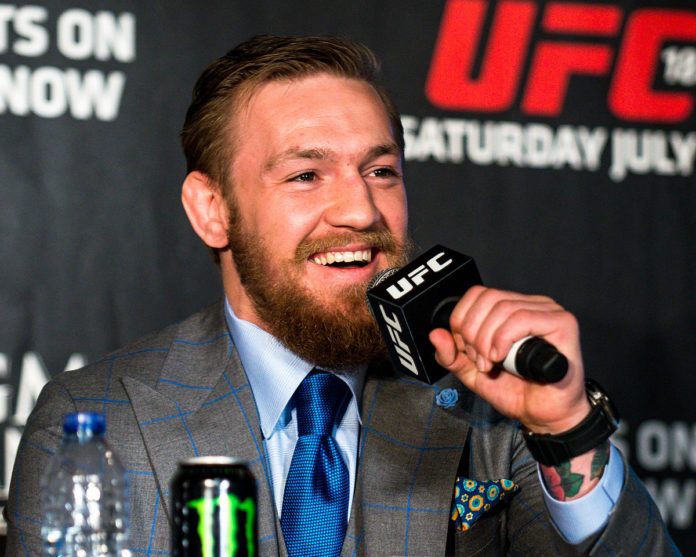 Conor McGregor is an Irish professional fighter and is one of the most famous UFC fighters, but he is also someone who grew to be synonymous with mixed martial arts and UFC. Conor McGregor net worth is $120 million, and the net worth includes roughly $100 million paydays. He earned from his August 2017 match against Floyd Mayweather, and in October 2018 match against Khabib, he earned $50 million from this match. However, both these numbers are pre-tax numbers.
Conor McGregor is also known as The Notorious, has been the former UFC Featherweight and Lightweight Champion, making him the only fighter in history to hold both the titles of two different UFC weight classes together.
Conor's record also has the fastest knockout in the UFC title. He owns a 13-second knockout win over Jose Aldo for the UFC Featherweight Championship.
Conor McGregor Net Worth – The Biggest UFC Player
McGregor earned $5 million when he won the match against Chad Mendes at UFC in July 2015. In December 2015, he earned $12 million by defeating Jose Aldo in a 13-seconds knockout win. In March 2016, McGregor earned $15 million when he fought against Nate Diaz at UFC. He also earned $25 million when he fought with Nate Diaz at UFC. In November 2016, he earned $7 million fighting with Eddie Alvarez. Conor earned $50 million fighting with Khabib Nurmagomedov in October 2018.
Total McGregor net worth is roughly $120 million that includes $50 million Khabib payday.
Also, in January 2020, Conor McGregor won the match against Donald "Cowboy" Cerrone, and he earned $80 million, according to Forbes.
ALSO READ: Is Mike Tyson Rich?
Conor McGregor Endorsements and Salary
While $100 million of his net worth comes from his salary winnings, Conor also made $14 million from the endorsements. He signed the huge deal with Beats by Dre, Burger King, Reebok, and Monster energy drink.
READ MORE: What is the Net Worth of Rap God (Eminem)?
Conor McGregor's Early Life
Conor Anthony McGregor was born on 14 July 1988 in Crumlin, Ireland. At a young age, he was good at sports, particularly soccer. However, at the age of 12, he started his training at a boxing club.
At the age of 17, McGregor began a plumbing apprenticeship. Through this job, he was introduced to the UFC fighter Tom Egan. Conor and Egan soon began training together.
Conor was originally trained in boxing; after that, he went on to train under John Kavanagh.
He is the first person to achieve the black belt in Brazilian Jiu-Jitsu and his team at the SGB Ireland. Moreover, Conor also trained in karate, tae kwon do, kickboxing, and capoeira prior to competing in professional MMA.
READ MORE: Know More About Ryan Reynolds Income
Highest Selling McGregor PPVs
Conor McGregor The Notorious made it to the headlines of every media for his professional boxing appearance against Floyd Mayweather Jr. in 2017. Conor $100 million payout from the huge event of 2017. He lost the fight in the 10th round, but Conor earned $30 million as his base payment.
After that, he returned to the UFC in 2018, but he lost the UFC lightweight fight to Khabib Nurmagomedov at UFC 229.
List of Highest Selling Pay-Per-View Event of Conor McGregor:
| | | | | |
| --- | --- | --- | --- | --- |
| Rankings | Date | Event | Buy Rate | Revenue |
| 1 | 10/06/2018 | UFC 229: Khabib vs. McGregor | 2,400,000 | $180 million |
| 2 | 08/20/2016 | UFC 202: Diaz vs. McGregor 2 | 1,650,000 | $90 million |
| 3 | 03/05/2016 | UFC 196: McGregor vs. Diaz | 1,500,000 | $80 million |
| 4 | 12/12/2015 | UFC 194: Aldo vs. McGregor | 1,400,000 | $80 million |
| 5 | 11/12/2016 | UFC 205: Alvarez vs. McGregor | 1,300,000 | $83 million |
Conor McGregor Whiskey
UFC former champion McGregor introduced the Proper No. Twelve Irish whiskey brand in September 2018 and sold out in the US in just ten days. Conor has also shipped about 200,000 cases since the launch. Now it is also available in Australia and the United Kingdom.
Conor McGregor Family
The Conor McGregor family is Margaret and Tony McGregor, and his sister Erin and Aoife. Since 2008, Cono has been in a relationship with Dee Devlin, and this couple has a son, Conor Jack McGregor Jr., who was born in May 2017.
Conor is known for giving lucrative gifts to his family members. Conor also has an extensive collection of exclusive cars and million-dollar mansions.
| | |
| --- | --- |
| Age | 30 |
| Net Worth | $110 Million |
| Salary | $3 million |
| Source of Wealth | MMA, Boxing, Endorsements |
| Endorsements | $15 million |
| Sponsors | Burger King, Beats by Dre, Monster Energy, Reebok. |
| Residence | Las Vegas |
| Charity | Children's Medical Research Foundation, Simon Community Homeless, Focus Ireland |
| Marital Status | Unmarried |