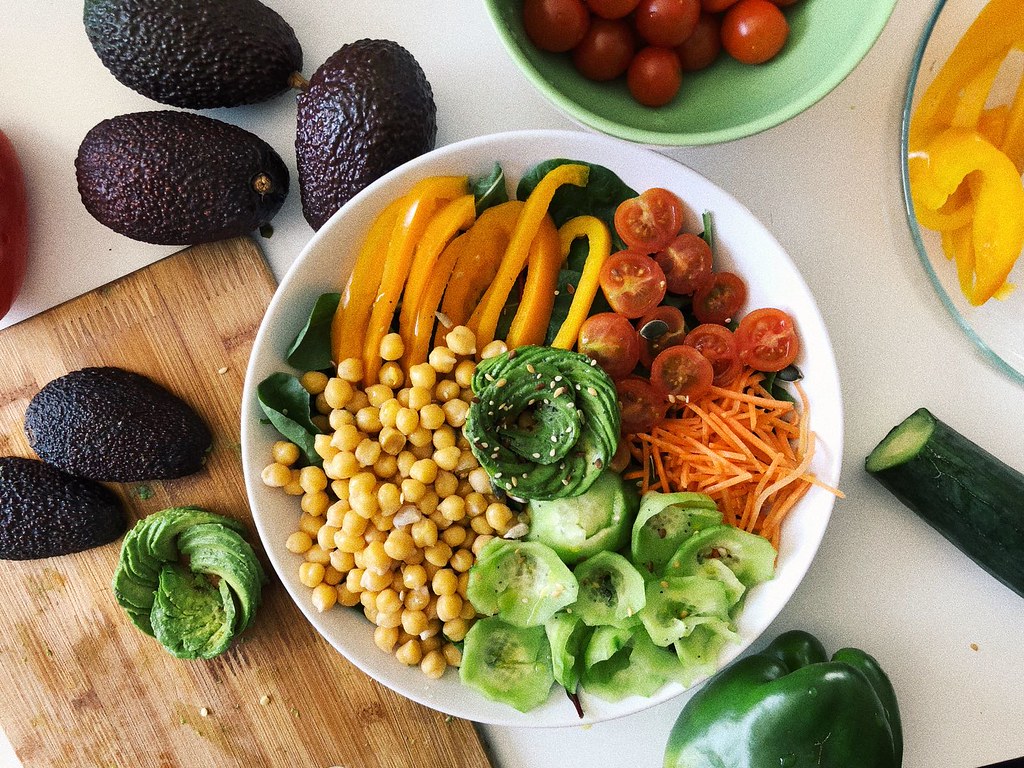 Are you looking for easy lunchbox recipes for work? These lunch recipes are easy and super quick to make and are super delicious too. From upgraded salads and sandwiches to soups that can be made ahead of time, we have mentioned it all.
Let's check out the easy and healthy lunch recipes for work.
Buddha Bowls
The good thing about grain bowls is that these are super adaptable. You can take any veggie to roast, and it will taste amazing with this recipe. Or you can even replace the chicken with beef. However, when you make this Buddha Bowl recipe, do not skip the peanut butter dressing; it is the main sauce of this lunchbox recipe.
INGREDIENTS
One large sweet potato, peeled and cut into cubes.
Freshly ground black pepper.
3 tbsp. extra-virgin olive oil
One large red diced onion
Kosher salt
1/2 tsp. garlic powder
1 lb. boneless, skinless chicken breasts
2 tbsp. creamy peanut butter
1 tbsp. honey
1/2 tsp. ground ginger
One small clove garlic, minced
2 c. baby spinach
1 tbsp. low-sodium soy sauce
4 c. cooked brown rice
1 tbsp. toasted sesame oil
1/4 c. Juice of 1 lime
One avocado, thinly sliced
1 tsp. Toasted sesame seeds
1 tbsp. Freshly chopped cilantro, for garnish.
DIRECTIONS
Set the oven to preheat at 425 degrees. Take a large baking sheet, toss onions and sweet potatoes with 1 tbsp oil and then sprinkle some salt and pepper. Bake for about 20 minutes until they become tender.
At the same time, take a large skillet over medium heat and heat 1 tbsp. Oil. Season chicken nicely with ginger, garlic powder, pepper, and salt. Cook, until it becomes golden, is not pink from any side. Cook for at least 8 minutes on each side. Keep it aside to rest for 10 minutes and then slice.
Take a small bowl to make the dressing, whisk together peanut butter, garlic, soy sauce, lime juice, and honey. Whisk sesame oil and 1 tbsp olive oil to make the mixture smooth.
Divide rice among four different bowls and top with baked sweet potato mixture and then layer, avocado, chicken, and baby spinach—season with sesame seeds, cilantro, and drizzle peanut butter dressing when serving.
Best-Ever Farro Salad
INGREDIENTS
1 c. whole-grain farro
1 Bay leaf
2 c. low-sodium vegetable broth
1/3 c. extra virgin olive oil
1 Large shallot, very thinly sliced
2 tsp. honey
3 tbsp. apple cider vinegar
1 tbsp. dijon mustard
2 c. lightly packed arugula
Freshly ground black pepper
1/4 c. freshly chopped basil
1 Green apple, chopped
1/4 c. toasted pecans, roughly chopped
1/8 c. freshly chopped parsley
1/2 c. shaved parmesan cheese
DIRECTIONS
Take a saucepan on medium flame and combine vegetable broth, farro, bay leaf, and salt. Bring the mixture to boil and then reduce heat to simmer and cook. Keep occasionally stirring until there is no broth and farro becomes tender—Cook for about 30 minutes. When the farro is cooked properly, transfer it to a bowl and let it cool down.
Meanwhile, make some fried shallots. Take a small saucepan, combine shallots and oil over medium heat. When the shallots start to bubble cook it over a low flame and stir occasionally. Let them cook for about 15-20 minutes until they are crisp and golden.
Remove the shallots from flame and put them on a plate lined with a paper towel and sprinkle a bit of salt. Let it cool.
To make dressing take a medium-sized bowl and combine vinegar with olive oil, honey, and mustard and season with pepper and salt.
Assemble the salad properly: combine farro, arugula, crispy shallots, parmesan, apple, parsley, basil, and pecans. Drizzle dressing and toss gently to coat.
Greatest Ham Sandwich
Yes, you might know how to make a ham sandwich and do not feel the need to see the recipe, but this sandwich lunchbox recipe is worth following for. After eating one you will crave this easy lunch recipe every time at work.
INGREDIENTS
FOR THE HERB MAYO
1 c. mayonnaise
2 cloves garlic, minced
2 tsp. freshly chopped thyme
2 tbsp. freshly chopped parsley
1 tbsp. extra-virgin olive oil
FOR THE SANDWICH
1/2 c. herb mayo
8 slices crusty bread,
12 slices deli ham
8 slices provolone
1 tomato, thinly sliced
1 arugula
1/4 c. Dijon mustard
1/2 red onion, thinly sliced
DIRECTIONS
Take a medium-sized bowl and whisk parsley, mayonnaise, oil, thyme, and garlic.
Spread herb mayo (2tbsp) on 4 bread slices. Spread mustard (1tbsp) mustard on the other sides of the 4 read slices.
Top the mayo slice bread with 3 ham slices, 2 slices of arugula, provolone, a few tomatoes, and red onion slices.
Top with remaining bread slices, mustard side down.
Mediterranean Grilled Chicken Salad
Try this tasty and easy lunchbox recipe for your work lunch.
INGREDIENTS
2 boneless skinless chicken breasts
Kosher salt
1 tsp. dried oregano
1 tsp. ground coriander
5 tbsp. extra-virgin olive oil
Freshly ground black pepper.
1 tbsp. freshly chopped parsley
4 tbsp. red wine vinegar
3 Persian cucumbers, thinly sliced
4 romaine hearts, chopped
2 avocados, sliced
1 c. grape or cherry tomatoes halved
1/2 c. pitted kalamata olives halved
4 oz. feta, crumbled
DIRECTIONS
Heat the grill on medium flame. Season chicken with oregano, coriander pepper, and salt. Grill until the chicken is golden and is not oink anymore, keep turning and grilling for about 18 to 22 minutes. Once done let it rest for 5 minutes and slice.
Make the dressing meanwhile. Whisk red wine vinegar, olive oil, and parsley in small bowls and sprinkle pepper and salt.
Divide cucumbers, lettuce, avocado, tomatoes, olives, and feta among 4 different serving bowls.
Top the bowl with sliced chicken and drizzle with dressing all over.
Best-Ever Tuna Melt
Hey, all the tuna lovers! This is your ultimate lunch sandwich recipe. With the right amount of melty cheddar cheese, tomato slices, you might even make a tuna hater love this sandwich.
INGREDIENTS
1/3 c. mayonnaise
2 (6-oz.) cans tuna
1/2 tsp. crushed red pepper flakes
Juice of 1/2 lemon
1/4 c. finely chopped red onion
1 ribs celery, finely chopped
2 dill pickles, finely chopped
Kosher salt
2 tbsp. freshly chopped parsley
2 tbsp. butter
Freshly ground black pepper
8 slices bread, such as sourdough
8 slices cheddar
1 tomato, sliced
DIRECTIONS
Preheat oven to 400 degrees. Take a bowl and wish lemon juice, mayonnaise, and chili flakes.
Drain Tuna and place it in the mayonnaise mixture. Break the tuna into flakes using a fork. Add pickles, parsley, celery, and red onion and toss properly to combine. Season it with pepper and salt.
Butter one side of bread slices, top the unbuttered bread slice with ½ cup tuna salad, place 2 tomato slices, and 2 cheese slices. Top it with bread slice, facing the buttered side up. Repeat the same with the remaining bread slices and ingredients and place the sandwiches on the baking sheet.
Bake the sandwiches for 5-8 minutes.
Chinese Chicken Mandarin Salad
This Chinese chicken salad for the lunchbox is a fresh recipe full of sweet mandarins, crunchy ramen, and crisp cabbage. This is our favorite thanksgiving potluck recipe and also is perfect for easy lunch ideas for work.
This tops our list of all Chicken Salad recipes.
INGREDIENTS
FOR THE SALAD
1/2 c. jarred mandarin oranges, drained
2 c. shredded red cabbage
3 c. shredded lettuce
2 c. shredded chicken
1/2 c. shredded carrot
1 instant ramen packet, crushed
1/4 c. sliced almonds
1/3 c. sliced green onions
FOR THE DRESSING
1 tbsp. sesame oil
2 tbsp. Honey
3 tbsp. rice wine vinegar
1 tbsp. sesame oil
1 tbsp. hoisin sauce
1 clove garlic, minced
1 tsp. minced ginger
2 tbsp. soy sauce
1/4 c. vegetable oil
DIRECTIONS
To make the salad: take a large mixing bowl and toss red cabbage, lettuce, mandarin oranges, chicken, carrots, crushed ramen noodles, green onions, and sliced almonds.
To make the dressing: take a small bowl and whisk honey, vinegar, hoisin sauce, sesame oil, garlic, ginger and soy sauce. Slowly keep drizzling vegetable oil while whisking continuously.
When serving drizzle dressing generously over the salads and toss properly to combine.
Avocado Chicken Salad
You will love this Avocado chicken salad recipe idea for your lunch at work.
INGREDIENTS
2 boneless skinless chicken breasts, (poached and bite-size pieces)
1 c. grape tomatoes, quartered
1 small mango, cubed
2 avocados, cubed
1/4 red onion, thinly sliced
1/2 c. fresh or frozen corn
FOR DRESSING
1/4 c. lime juice
1 tbsp. minced jalapenño
2 tbsp. freshly chopped cilantro
3 tbsp. extra-virgin olive oil
Kosher salt
2 tsp. honey
Freshly ground black pepper
DIRECTIONS
To make the dressing: take a medium-sized bowl- whisk and combine all the dressing ingredients and season with pepper and salt.
Take a large bowl, combine all the salad ingredients, and pour the dressing. Toss the salad gently to coat properly in dressing—season with pepper and salt to taste.