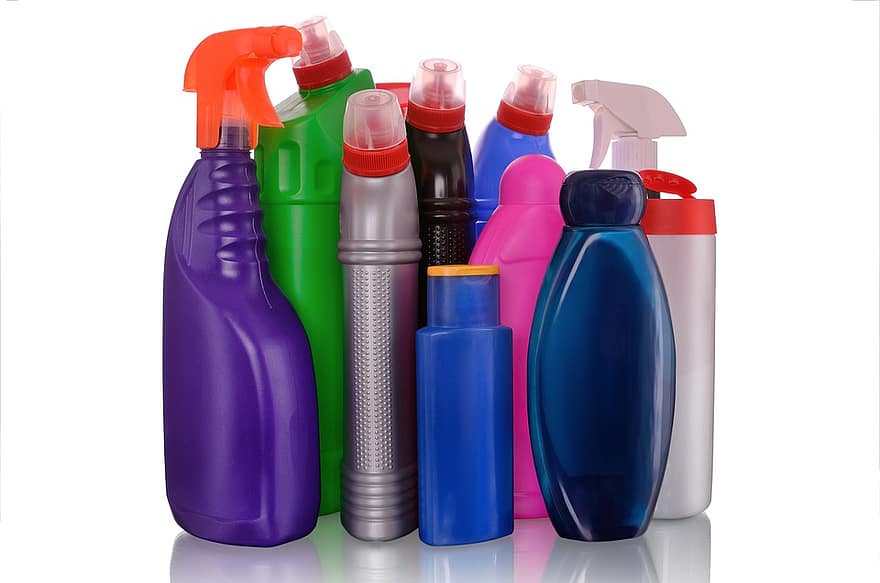 There is nothing better than using organic, eco-friendly, and natural products, whether it is detergent or any cleaning product.
Many people use white vinegar for household cleaning but it cannot clean the everything properly. Thus, some companies design the organic products using the combination of different powerful ingredients that clean the hard stains easily.
However, it is very confusing to know about what are the real certified organic products. These products are safer alternatives for traditional cleaners.
In this article, we will tell you the most organic and natural cleaning products available in the market. You can use it instead of toxic cleaning agents.
We have taken 10 best organic cleaning products available in the market. As there are very few companies, who provide USDA certified natural and organic supplies of home cleaning products, these products price range on the higher side.
You will also find some non-certified organic cleaning products that are of low-price range as well as a safer option to consider than toxic cleaning agents.
You will learn about organic cleaners for glass windows, pet stain cleaner, odor remover, kitchen dish cleaner, bathroom cleaner, floor cleaner, carpet stain cleaner, to all-purpose organic cleaner in this article.
Keep reading and learn about some healthy products for your home as well as for the environment.
10 Best Organic Cleaning Products Available In The Store Or Online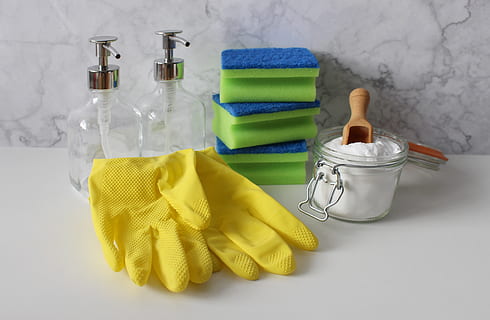 So many products claim on their label that they are fully organic, all-natural, and contain zero toxic products.
Unless they are not USDA certified, they are not considered as organic and eco-friendly products.
Here below are USDA certified organic products listed that are safest and genuine options available in the market.
Best Organic Odor And Pet Stain Cleaner
FIT Pet Stain And Odor Remover
If you are looking for the all-natural and organic pet stain cleaner, FIT will provide you with a USDA certified organic pet stain and odor cleaning product.
This is a completely safe product that does not contain any artificial fragrance, dyes, enzymes, phosphates, and GMOs.
You just need to spray this product on the pet stain area and blot it using a paper towel until the stain is lifted from the stained area.
For getting the best result, you have to spray the solution on the fresh stains. It is an expensive product as compared to other pet stain and odor remover products.
Best Organic Kitchen Dish Cleaner
Eco-Me Kitchen Dish Soap
Eco-Me has designed an all-natural and plant-based kitchen dish soap that is free from sulfate, hard preservatives, and does not contain hard preservatives.
This dish soap is gentle and softer on your skin, safe to clean dishes, glasses, silverware, as well as baby bottles.
However, this product is not USDA certified for an organic product. But the Green Seal website rated this product as the greener, healthier, and safer option for dish cleaning.
Better Life Kitchen Dish Soap
This is all organic grease removing dish soap with the ability to remove heavy grease from the dish by giving your body a gentle touch.
This is an inexpensive organic dish soap containing benefits of Aloe vera and vitamin E that is helpful in protecting your skin.
This product is rated by the EWG with an A rating, which means this product does not contain any ingredient that is hazardous to the environment.
You will find all the ingredients clearly mentioned on the product label, which make it one of the best alternatives for kitchen dish soap.
Best Organic Bathroom Cleaner
Go By Greenshield Organic Toilet Cleaner
It is one of the best and favorite organic toilet cleaners that is an expert cleaning agent. This is free from all harsh chemicals such as phosphate and bleach.
This is a pine fragrance toilet cleaning product that can effectively clean mineral deposits and limescale from the toilet bowl.
It is also a USDA certified natural and organic product, which is also a safe septic tank. You need to do extra scrubs to get your toilet perfectly clean.
Better Life Bathroom Tile and Tub Cleaner
Better Life offers all-natural and organic plant-based bathroom cleaners that clean all the grime and mold from your bathroom.
It is a foaming organic cleaner that is a perfect choice for those who are looking for a greener and natural bathroom cleaner.
It is an effective bathroom cleaner that easily dissolves hard stains of water, soap scum, molds, and rust from the bathroom surface as well as from grout, tile, fixtures, and porcelain.
However, it is not a USDA certified product, but it clearly mentioned all its ingredients on the label.
It is made from all-natural ingredients and does not contain any toxic products. Some people experience that the scent of this product is a little strong.
Also, you can't use it on the marble, and it is a perfect cleaning product for tiles and any other material.
Best Organic Carpet Cleaner
FIT Organic Carpet Stain Cleaner
It is an all-natural and organic carpet cleaner that can effectively clean stains from upholstery, curtains, carpets, and any other fabric.
It is a USDA certified all-natural and organic carpet cleaning product that is free from dyes, GMOs, phosphate, artificial fragrance, and any toxic product.
This is not a product that you can use to clean all over the carpet. But it is best for cleaning the small areas of the carpet.
Best Organic and All-Natural Floor Cleaner
Better Life Natural Dirt Floor Cleaner
It is a natural plant-based ingredient containing floor cleaning products that are highly safe to clean tile, marble, hardwood, bamboo, laminate, and vinyl flooring surface.
It is ready to use floor cleaner with citrus and mint fragrance, which makes your home smell pleasant.
This formula does not include petroleum solvents, dyes, sodium lauryl sulfates, parabens, and synthetic fragrance.
This is not a USDA certified product. It may have a problem that it deposits on the floor if you use it in too much quantity.
Best All-Purpose Organic Cleaning Product
Greenerways Organic All-Purpose Cleaning Product
This is an excellent organic all-purpose cleaning agent that can be used for bathroom, kitchen, and any other area cleaning.
You can use it to clean any surface with extra scrub to perfectly clean the surface. It is a USDA certified cleaning product with non-GMO and toxic products.
Greenerways Organic can easily clean the soap scum, grease, and dirt deposit on any surface. It can quickly dry up and do not leave any sticky residue.
However, it has a strong fragrance, and sometimes the bottle can malfunction.
Go By Greenshield Organic All-Purpose Cleaning Product
It is the best organic cleaning product that is highly recommended for tiles, sealed countertops, stainless steel, plastic surface, and painted surface.
You can get the hard cleaning job done within a few minutes as well as at the affordable rates. It has essential oils, natural ingredients, and USDA certified all-natural products designed for cleaning all types of surfaces.
Best Organic Glass Window Cleaner
Go By Greenshield Organic Window And Glass Cleaner
It is made from four natural ingredients, namely acetic acid, water, organic fragrance, and ethyl alcohol. Greenshield contains mild scent which comes from the organic mint and natural ingredients.
It has USDA organic certification, which is completely safe and does not contain any product that is life-threatening to your pet or kids of your house.
However, you need to do multiple strokes to clean the window properly.
Final Words
These are the best all-natural and organic cleaning products that you can use in your home. Organic products are not only safe for your skin, but these are also beneficial in improving the health of the environment.
If you love nature and want to keep it healthy, then you surely love these organic products. Ingredients used in these products are easily decomposable and do not pose any harm to the environment.