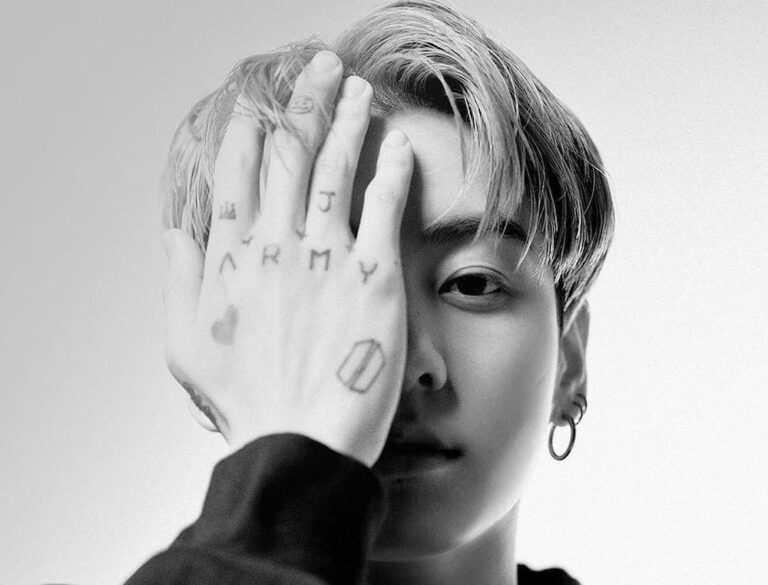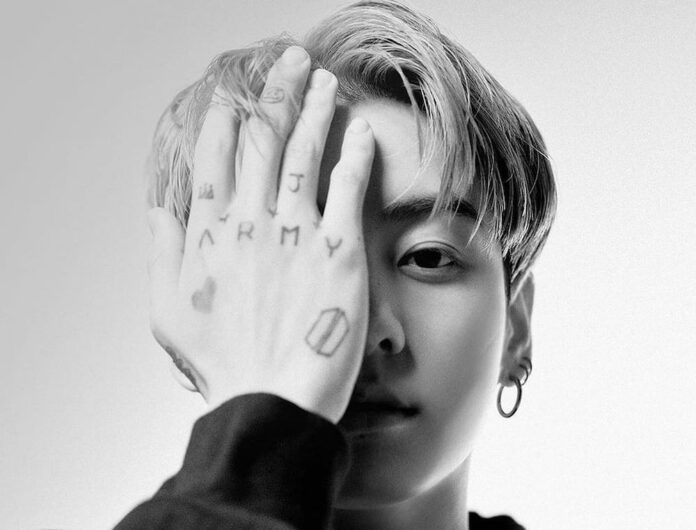 Jungkook tattoos are famous not only among BTS A.R.M.Y. but also among people all around the world. Jeon Jung-kook, widely known as Jungkook, is a highly popular South Korean singer and member of the boy band BTS. His immense fame has led fans from around the world to be curious about various aspects of his life, including his tattoos. 
In this article, we delve into the meanings behind Jungkook's tattoos, providing insights into their significance and sharing high-quality photos of his recently renewed designs.
Meaning Behind Jungkook Tattoos
Jungkook currently sports at least 14 tattoos, with most of their meanings deciphered by his dedicated fanbase.
However, there are a few designs that remain mysterious due to their intricate placement.
Generally, it can be observed that Jungkook hand tattoos possess more readily understandable meanings, such as the "ARMY" tattoo and the three "+" symbols representing BTS and their devoted fans. These tattoo designs aim to symbolise Jungkook's priorities in a simple and clear manner.
Exploring the Jungkook Sleeve Tattoos:
Jungkook's sleeve tattoos exhibit a higher level of complexity, leaving some interpretations open to speculation.
These Jungkook Tattoo designs likely carry more personal and private meanings for him. Among the visible tattoos on his sleeve, we provide explanations for six of them.
Eye:
This Jungkook tattoo located on his forearm portrays a red eye, often associated with someone dear to him, such as his mother or girlfriend. It represents protection and the ability to make sound decisions.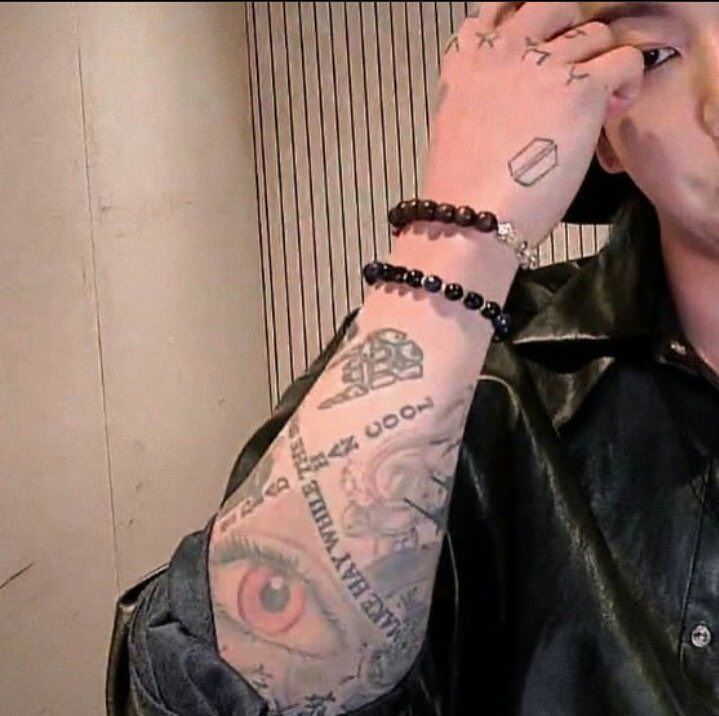 Tiger Lily:
A highly detailed tattoo, the tiger lily, corresponds to Jungkook's birth flower (September 1). Like all floral tattoos, this Jungkook tattoo carries symbolic significance, reflecting qualities such as simplicity, confidence, and cheerfulness.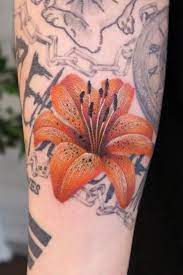 Quotes:
Jungkook has two quote tattoos on his forearm. "Make hay while the sun shines" suggests seizing opportunities under favourable conditions, while "Rather be dead than cool" serves as his life motto, borrowed from the lyrics of the song "Stay Away" by Nirvana and the name of a song by Forever Came Calling.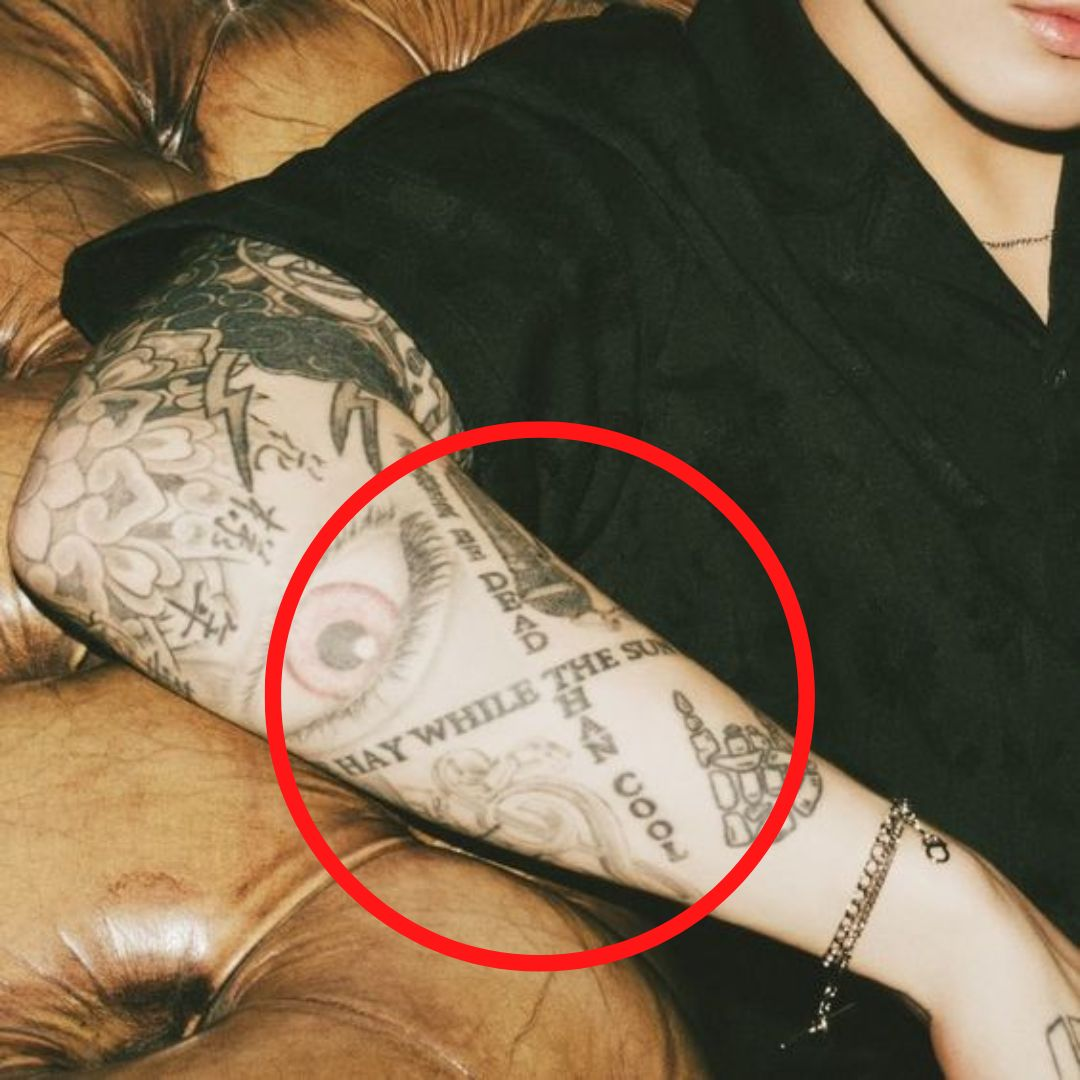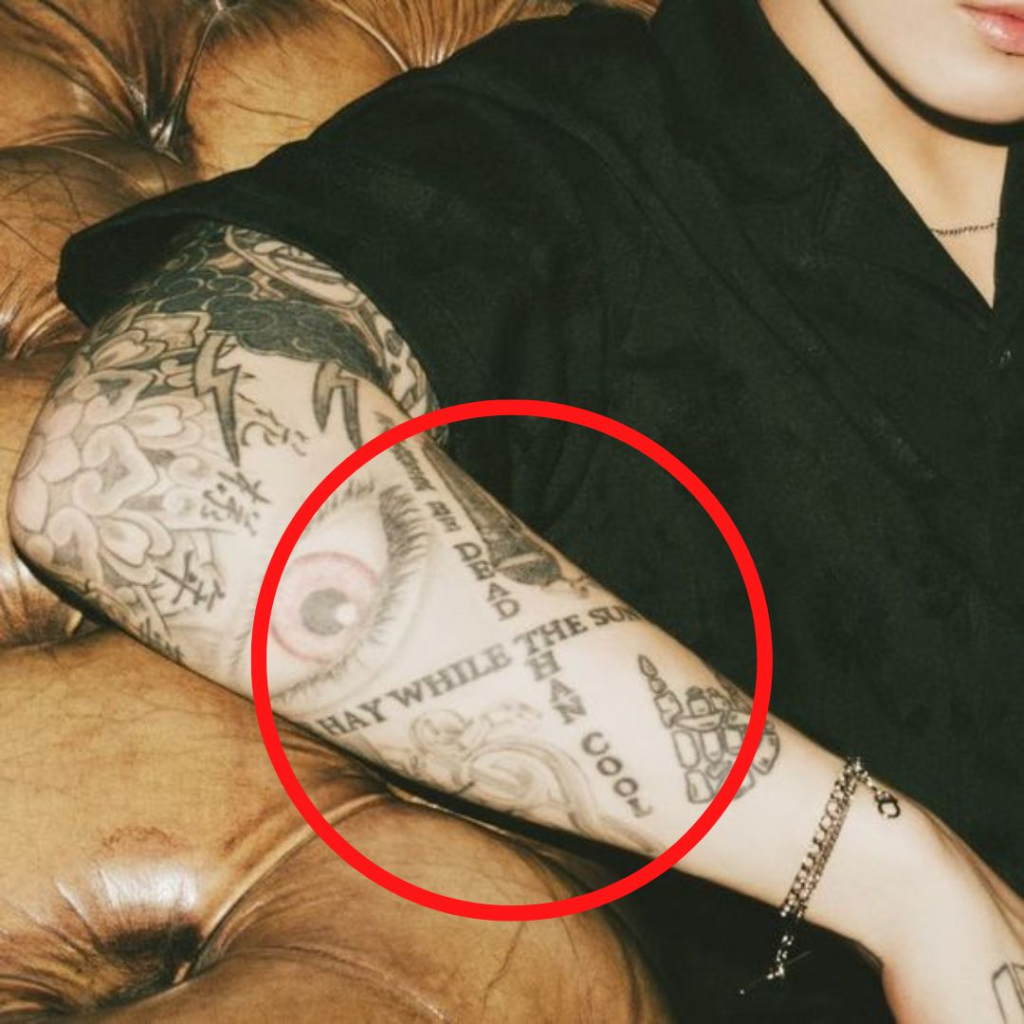 Three Stripes:
Symbolizing the Korean national flag, the "Taegeuk flag," the three stripes represent the East, the Sky, and the Spring.
They embody harmony, balance, and movement as fundamental principles of life, reflecting Jungkook's respect and devotion to his homeland's traditional heritage.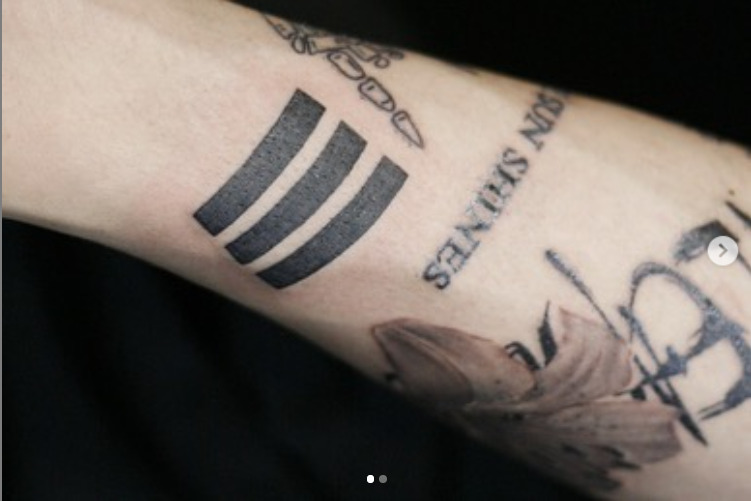 Skeleton Hand:
The meaning of this Jungkook tattoo remains somewhat elusive.
It features a minimalistic fine-line depiction of a skeleton hand making a rock sign, signifying Jungkook's admiration for rock music and possibly representing his unwavering willpower and dedication to his beliefs.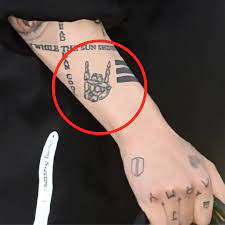 ALSO READ: How to Get a Hand Tattoo.
Microphone:
As an accomplished singer and producer, Jungkook's passion for music is evident in the microphone tattoo, which serves as a symbol of his artistic pursuit.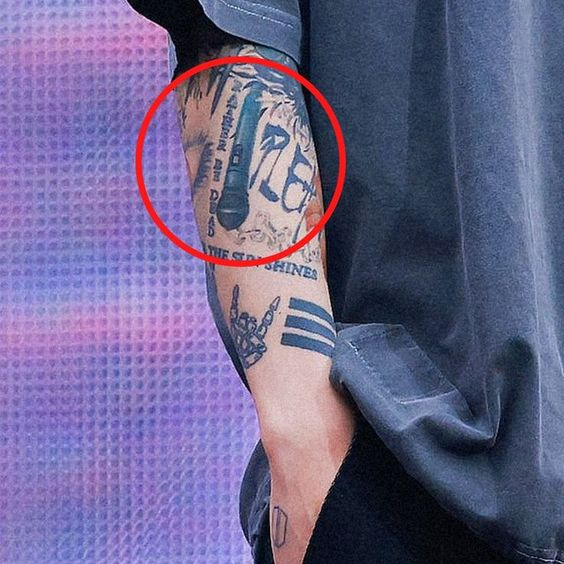 ALSO READ: Best Tattoo Numbing Creams for Individuals with Sensitive Tattoos
Discovering the Jungkook Hand Tattoos:
Jungkook's hand tattoos carry relatively obvious meanings that are easily discernible to both fans and non-fans alike. However, some of these tattoos benefit from additional explanation.
Here are the meanings behind a few of Jungkook's hand tattoos:
ARMY:
Among his most prominent tattoos, the word "ARMY" on his knuckles holds a dual meaning.
This Jungkook tattoo represents both the name of BTS's fandom and the initials of each BTS member, further solidifying Jungkook's appreciation and love for his dedicated fanbase.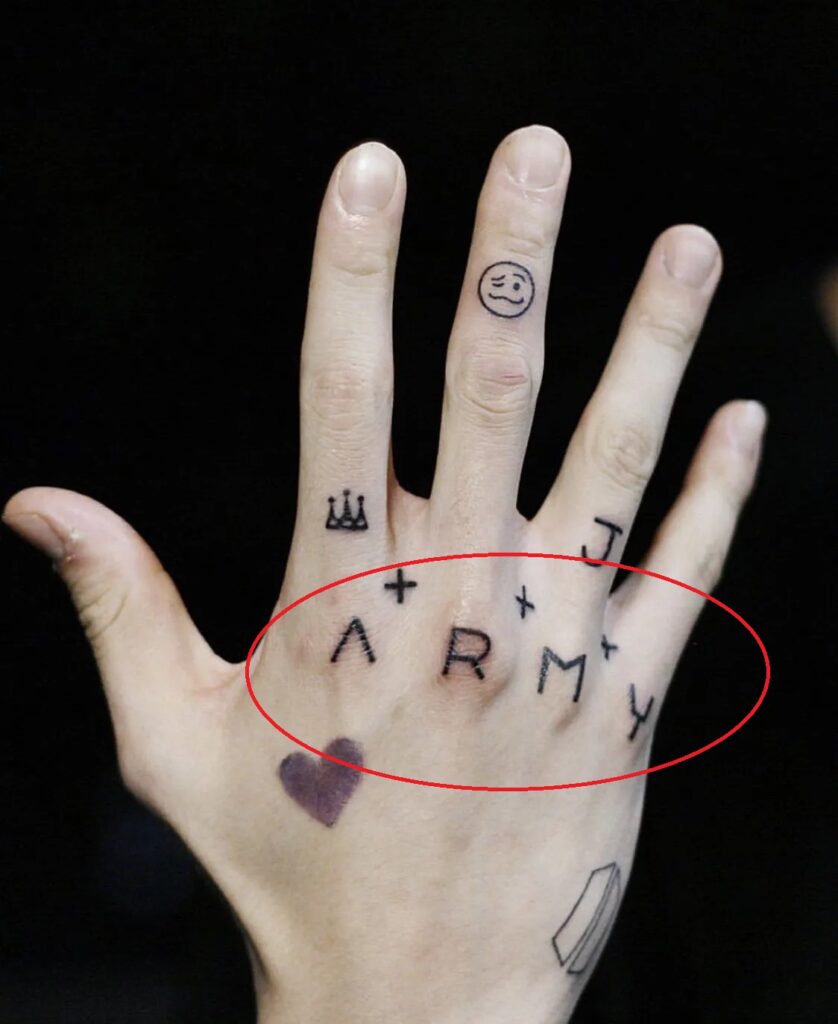 Door:
Often referred to as the "closed door," this Jungkook tattoo symbolises both a door and the BTS logo.
It signifies a mix of Jungkook's professional and personal life, representing his need for personal space, the ability to keep secrets, and his deep and creative nature.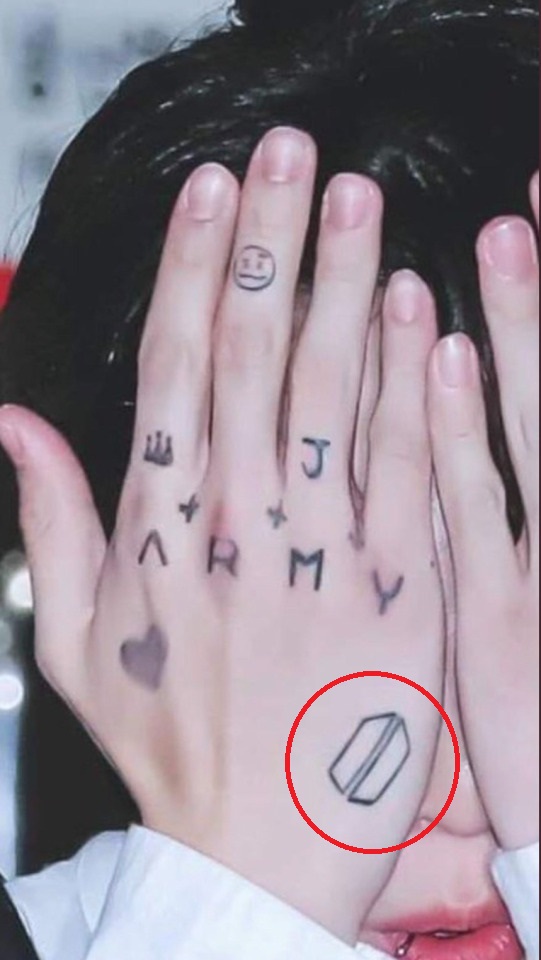 0613:
This Jungkook tattoo design holds particular significance to devoted fans. The numbers "0613" correspond to June 13, the date when BTS made their debut.
This word tattoo serves as a meaningful reminder of the joyous and momentous occasion for both Jungkook and his fans.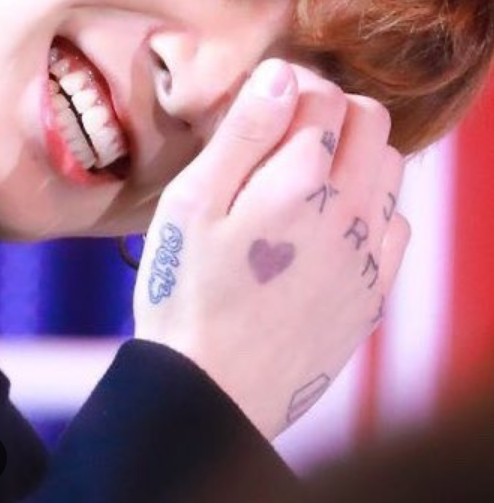 Jungkook Tattoo Heart Design:
The heart tattoo evokes multiple interpretations, with fans associating it primarily with love and affection.
However, within a broader context, it could also symbolise themes such as unhappy love, betrayal, and fear of deception.
Nevertheless, the prevailing hope is that this tattoo carries positive connotations and signifies something joyful for Jungkook.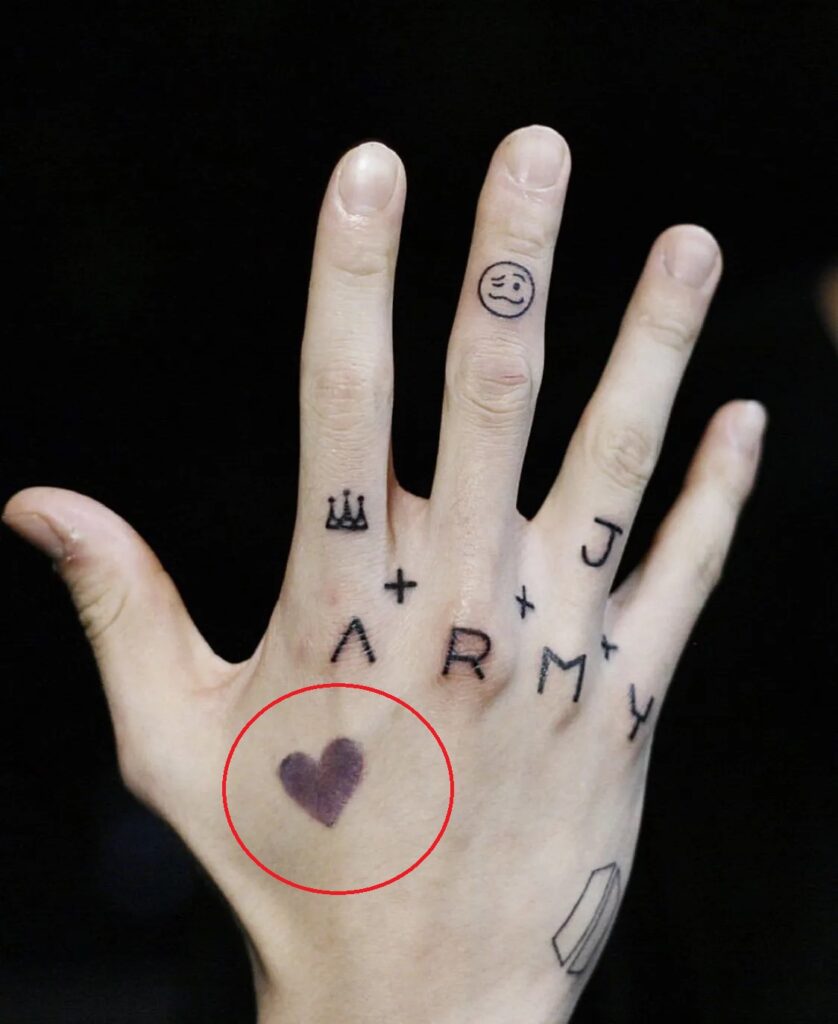 Three "+":
Among Jungkook's hand tattoos, the three "+" symbols have been present since September 19, 2019.
They are believed to symbolise the everlasting bond between BTS and their loyal fanbase, complementing the overall composition of Jungkook tattoos.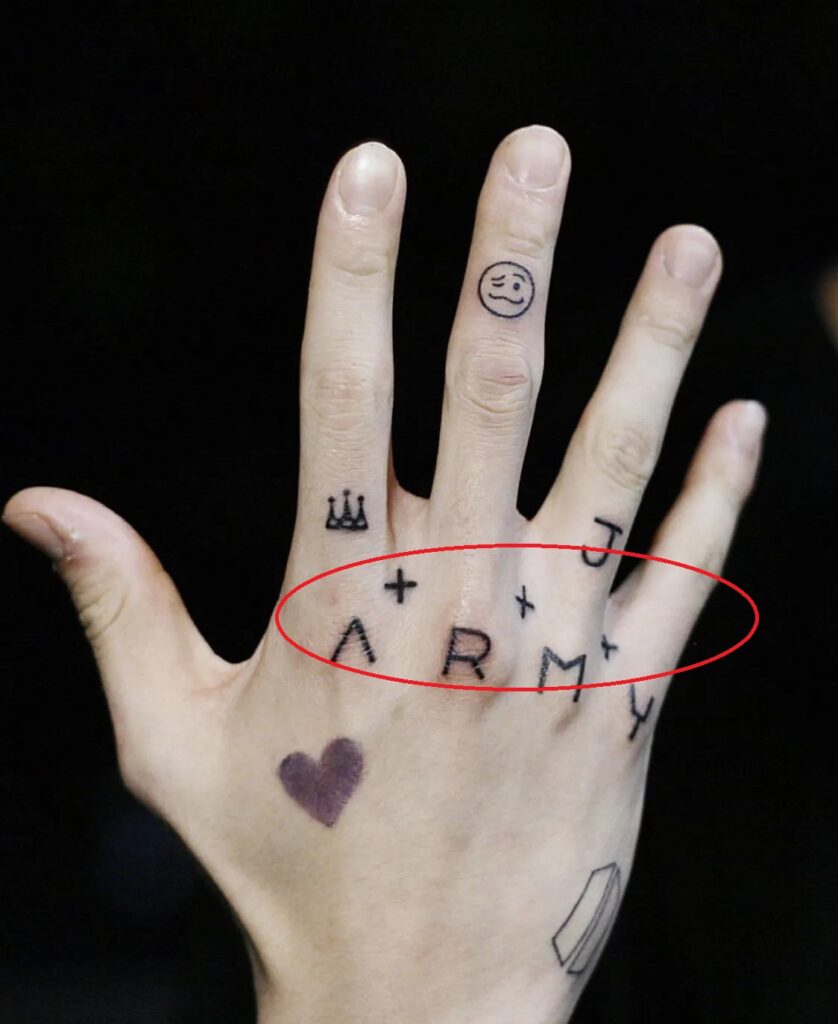 Woozy Face Emoji Jungkook Tattoo
This enigmatic tattoo on his middle finger portrays a woozy face emoji.
Fans perceive it as a fun tattoo without any deep underlying meanings, serving primarily to enhance the visual balance and appeal of Jungkook's tattoo collection.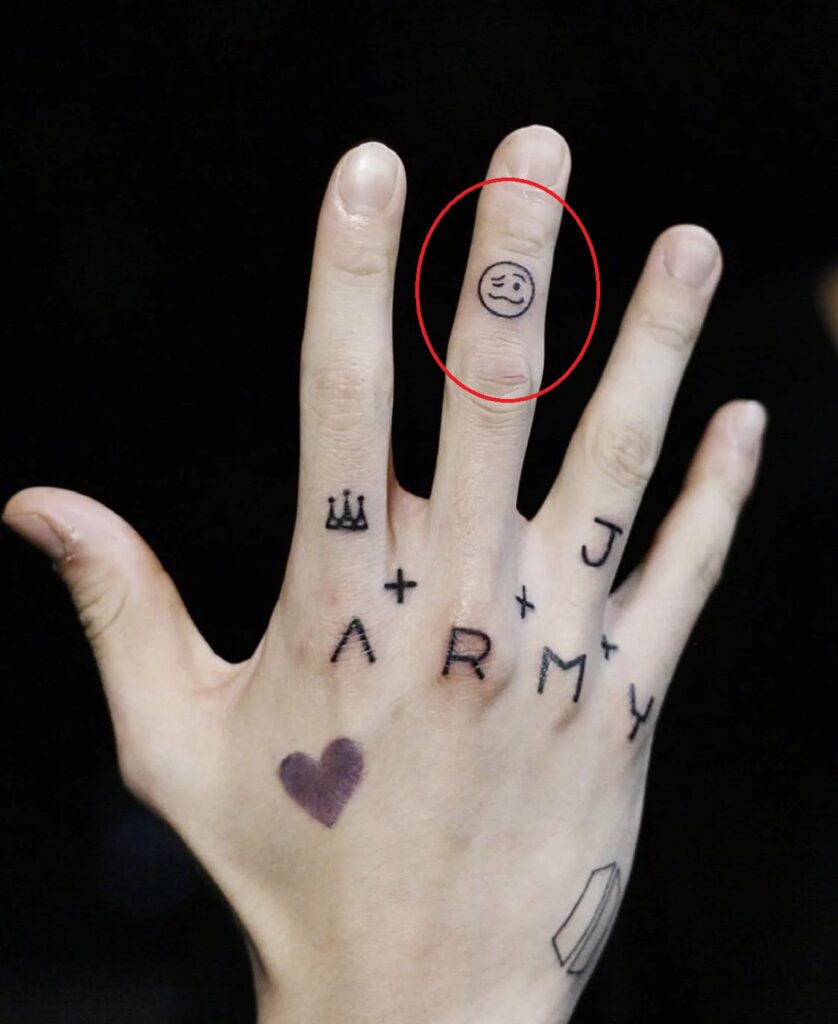 Jungkook Crown Tattoo:
This Jungkook crown tattoo represents the significance of ARMY to BTS, signifying their elevated status and mutual respect.
Crowns often symbolize royalty, self-respect, balanced decision-making, and justice. This tattoo demonstrates Jungkook's love for ARMY while incorporating deeper meanings.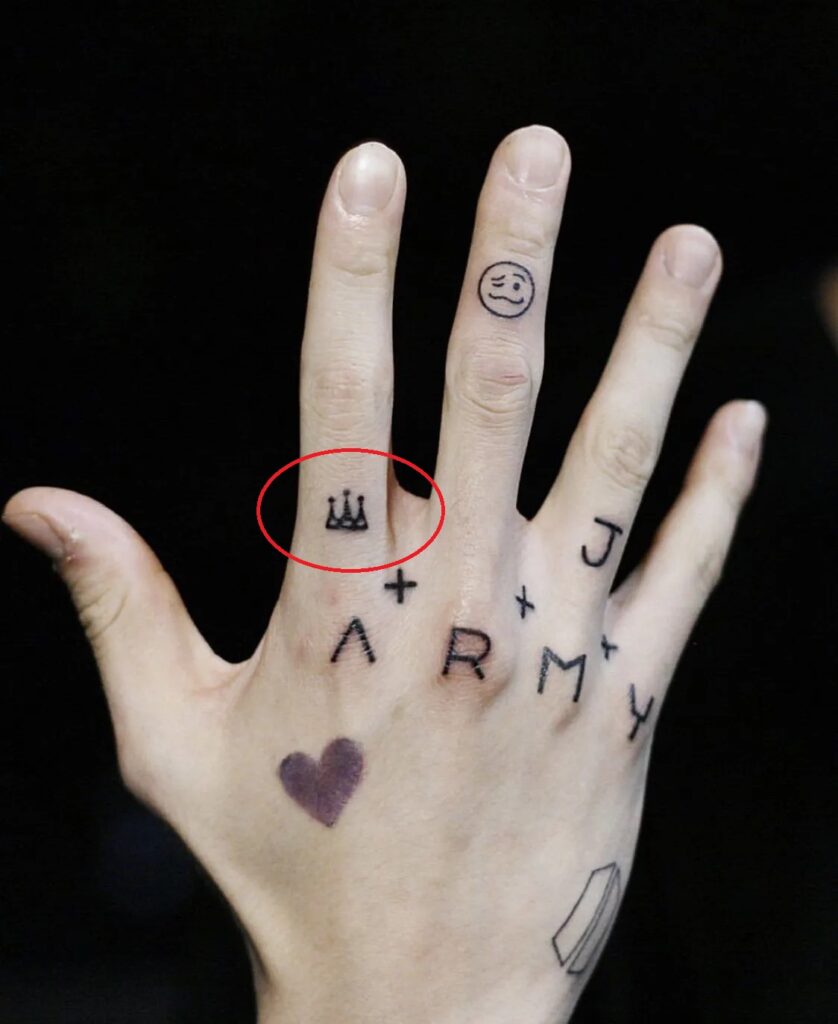 Update on Jungkook Tattoos:
In June 2022, Jungkook renewed some of his tattoos, making certain designs more vibrant and adding new ones.
Notably, he obtained a "7" tattoo behind his ear, representing all seven members of BTS. Each member has a similar tattoo in different locations, strengthening their unity as a group.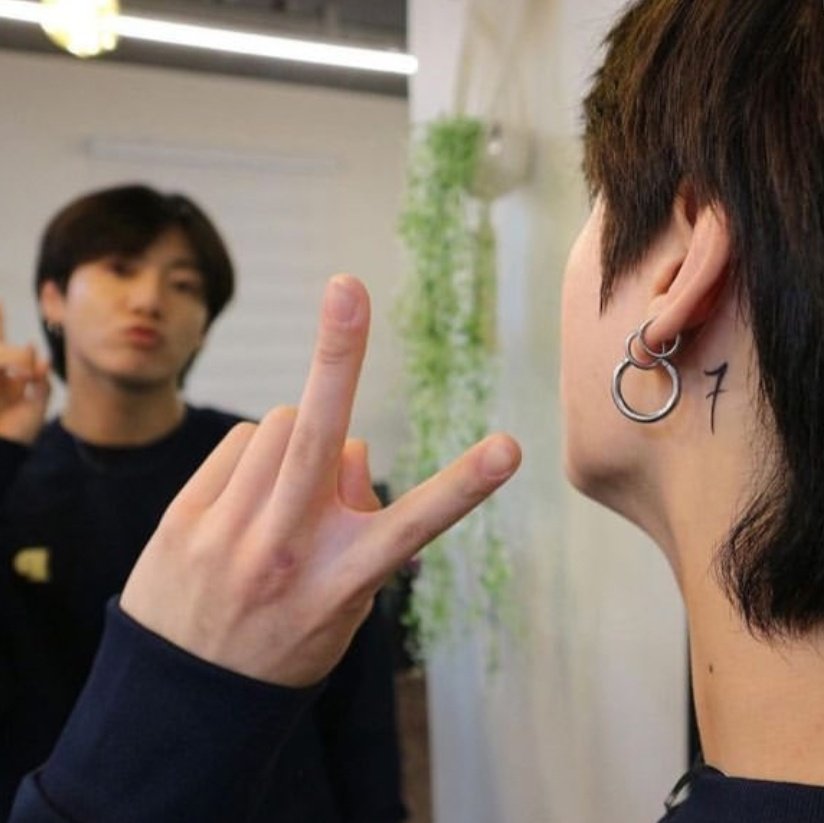 Conclusion:
Jungkook, a celebrated singer, songwriter, and producer, captivates audiences globally as a member of BTS. As his popularity soars, fans eagerly seek information about various aspects of his life, including his tattoos. This comprehensive article provides insights into the meanings behind Jungkook tattoos, shedding light on their significance. Additionally, it offers a glimpse of his recently updated designs through high-quality photographs. By delving into the world of Jungkook's tattoos, fans can gain a deeper understanding of this talented celebrity.
Note: Tattooing of minors is against the law according to Section 260.21 of New York State Penal Law
FAQ:
How many tattoos does Jungkook have?
Jungkook has around 14 visible tattoos, while the exact total number remains a mystery.
Are Jungkook's tattoos permanent?
Yes, all of Jungkook's tattoos are permanent.
Are tattoos banned in Korea?
Tattoos were previously considered illegal in Korea, with penalties including hefty fines or even imprisonment. However, the perception towards tattoos has been gradually changing in recent years.
Does Jungkook have tattoos on his arm?
Yes, Jungkook has approximately six tattoos on his sleeve and seven on his hand.
ALSO READ:
Discover the Top 30 Santa Muerte Tattoo Ideas