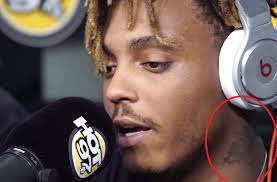 Juice Wrld, whose real name was Jarad Anthony Higgins, was a talented American rapper, singer, and songwriter. Despite his young age, he profoundly impacted the music industry. He rose to fame with his highly successful singles "All Girls Are the Same" and "Lucid Dreams." Juice Wrld also had his merchandise store called JUICE WRLD OFFICIAL MERCHANDISE STORE – 999 Club. Tragically, on December 8, 2019, Juice Wrld experienced a seizure at Chicago's Midway International Airport, which led to his untimely death. The exact cause of the seizure remains unknown. Below is a compilation of Juice Wrld Tattoo Ideas with which Juice Wrld adorned his body, accompanied by their respective meanings.
According to Interscope Records, Juice Wrld significantly impacted the world despite his youth. The statement describes him as a compassionate individual with boundless creativity, an exceptional person, and an artist who profoundly values and prioritizes his fans.
HAND TATTOOS
1. 'LIVE LIFE' Tattoo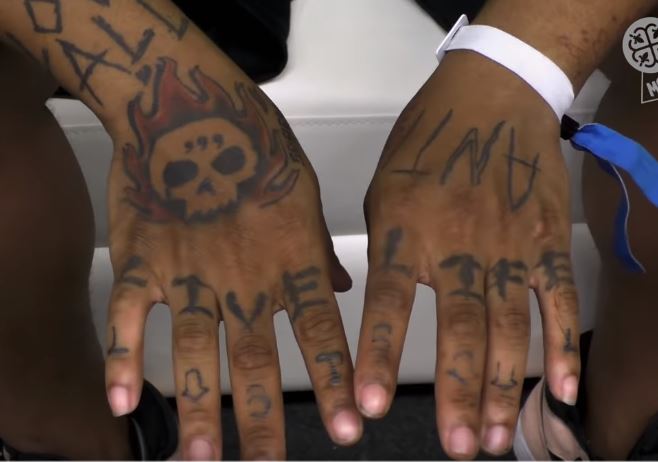 Juice Wrld had unique tattoos on both hands, positioned just below the knuckles. On his right hand, he chose to ink the phrase 'LIVE LIFE,' On his left hand, he also had the exact words permanently tattooed.
2. 'LOST SOUL' Tattoo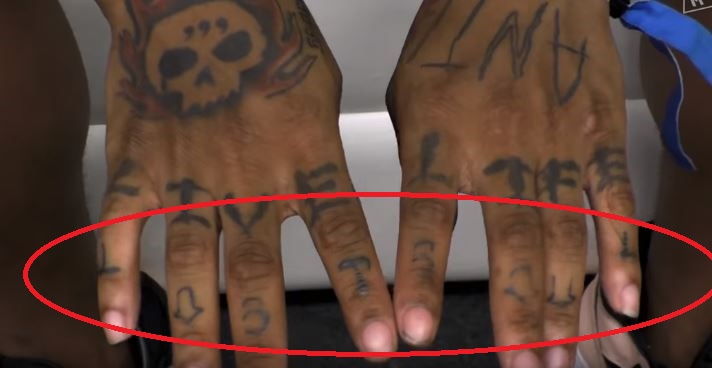 Juice Wrld adorned his fingers with tattoos too. Delicately shaded letters came together to spell out the words' LOST SOUL.' However, these tattoos stood out because each letter was crafted using various shaped icons. Consequently, 'LOST' was inked on his right hand, while 'SOUL' found its place on his left hand.
RIGHT-HAND Tattoos
3. 'SELFLESS and a Cross' Tattoo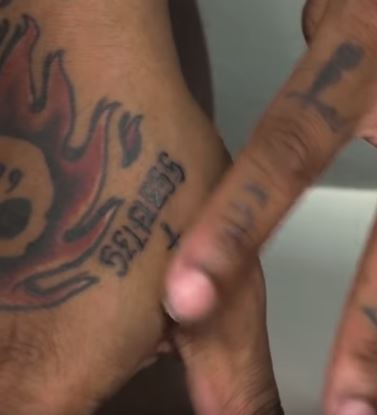 On the lower side of Jarad's right hand, near his thumbs, he had a tiny tattoo. It displayed the word "SELFLESS" inked onto his skin. Right below the word, there was also a cross tattooed.
4. 'Burning Skull' Tattoo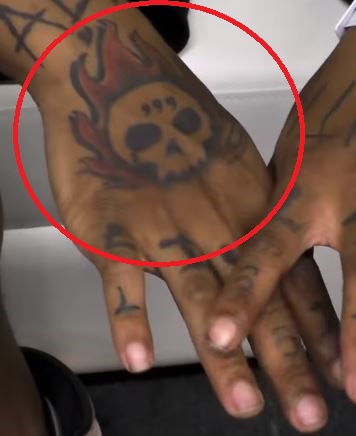 Juice Wrld had a complete skull tattoo on the outer side of his right hand. The skull was adorned with fiery flames at the top, inked in bold red. Right in the centre of the skull's top, he had the number "999" tattooed. In an interview, Juice Wrld explained that the number 999 held a special meaning for him. It represented his ability to conquer challenges and navigate through tough times. For him, it symbolized strength, helping him overcome difficulties and confront any negativity that crossed his path.
LEFT-HAND Tattoos
5. 'ANTI' Tattoo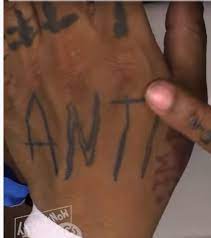 On Juice's left hand, he had the word 'ANTI' tattooed.
6. 'I AM SORRY' Tattoo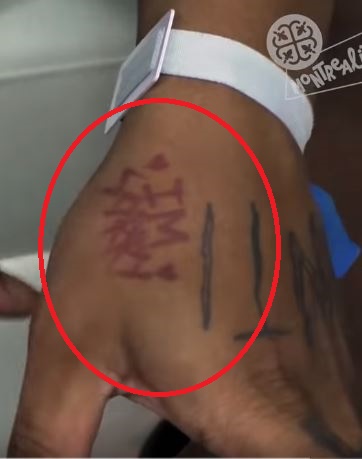 On the underside of Juice's left hand's thumb, he had a tattoo in red ink that said, "I AM SORRY." To add a touch of sentiment, two tiny hearts were inked at each end of the tattoo.
ARM TATTOOS
LEFT ARM Tattoos
7. 'ABYSS' Tattoo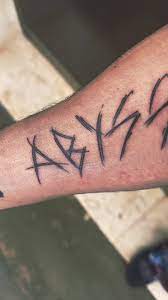 Juice had the tattoo of the word "ABYSS" inked on the inner side of his left forearm.
Meaning: To Juice Wrld, "ABYSS" had a personal and essential purpose. It was one of his favourite songs and a track he had passionately contributed to as a rapper.
8. '999' Tattoo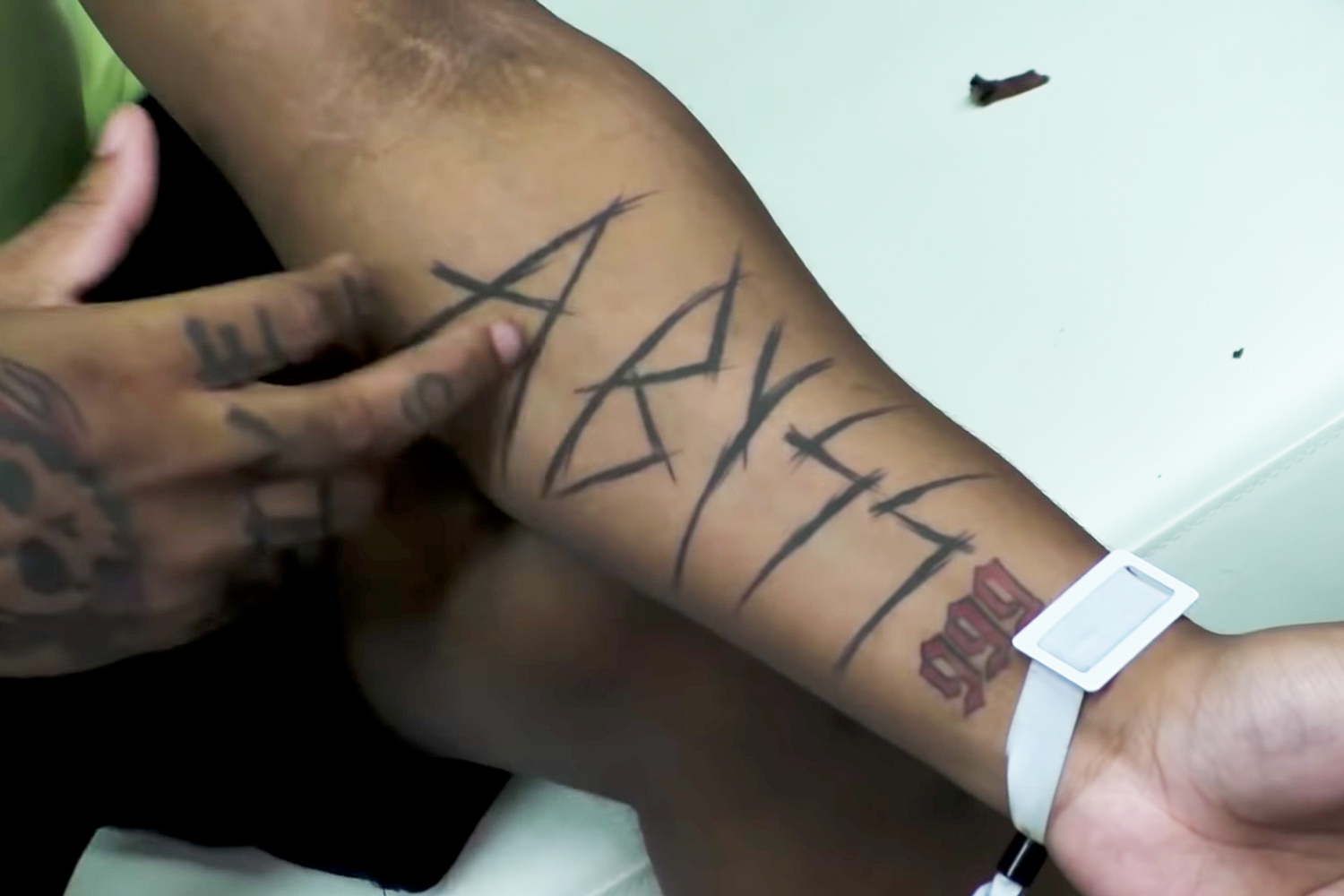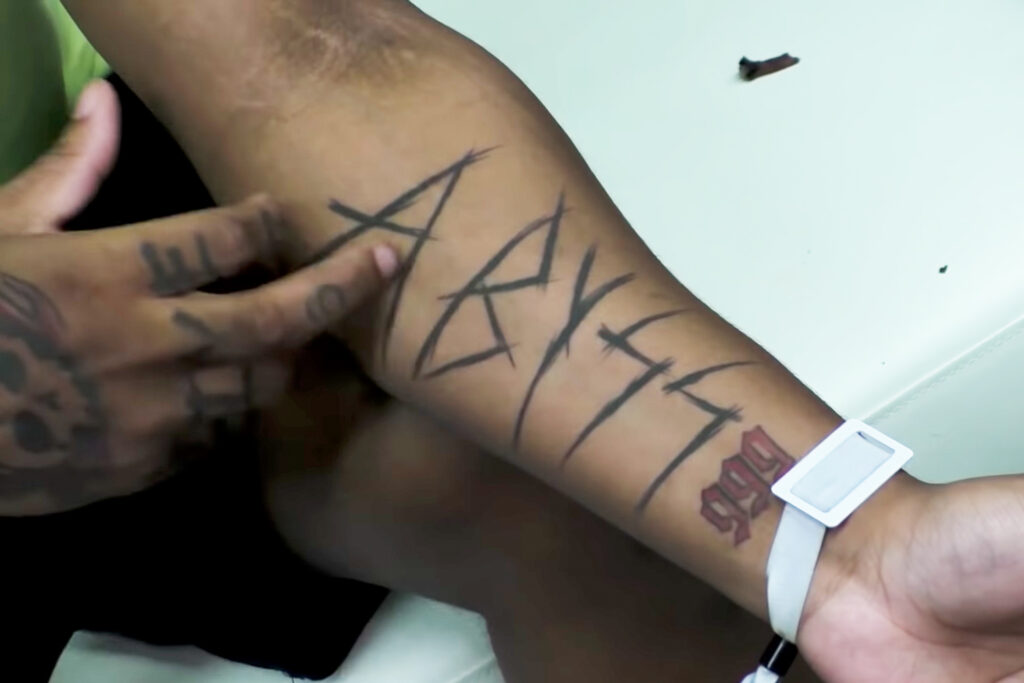 Juice had the number 999 inked on his left wrist as a tattoo. This number represents the official merchandise store of Juice Wrld. Furthermore, Juice believed that 999 was a symbol of good luck, providing him with the strength, courage, and hope to overcome obstacles and face challenges in life.
9. 'HELLPROOF' Tattoo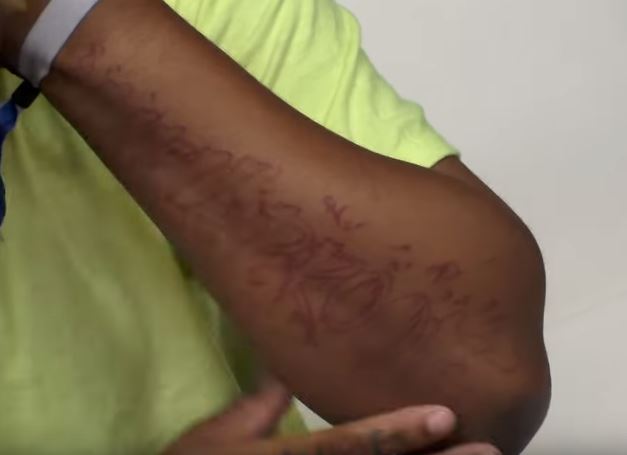 Juice had a tattoo on the outer side of his left forearm. The tattoo showcased the word "HELLPROOF" in a stylish italic font and was inked using vibrant red ink.
RIGHT ARM Tattoos
10. Girlfriend's Name Tattoo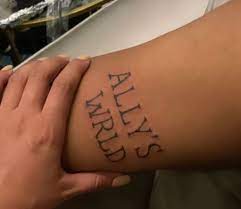 Juice made a lasting tribute to his girlfriend, Alexia, by tattooing her name on the inner side of his right bicep. At that time, they were residing together in Los Angeles. Juice had a deep love and commitment to his girlfriend, which led him also to have her nickname, "ALLY'S WRLD," inked on his bicep. This tattoo represented his intense affection and the special bond they shared.
In an interview, Juice revealed that he had chosen to get this tattoo to demonstrate his loyalty to his girlfriend and to display it openly for everyone to see.
11. 'Family' Tattoo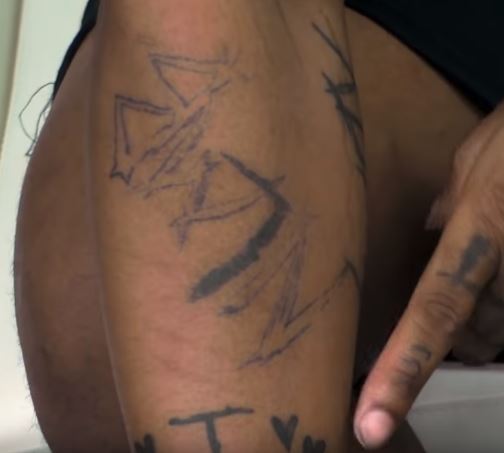 Juice had a faded tattoo on the upper side of his right arm, which he regarded as his family tattoo.
12. 'NO VANITY' Tattoo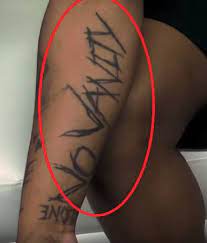 Juice had a tattoo on his left forearm that said "NO VANITY" inked into his skin.
13. 'VLONE' Tattoo
During a television interview, Juice WRLD proudly displayed a tattoo located on his right hand's wrist.
Meaning: VLONE is a streetwear clothing brand that was founded in 2011. Juice's merchandise store includes a selection of VLONE brand clothing in its collection.
14. 'I LOVE ALL' Tattoo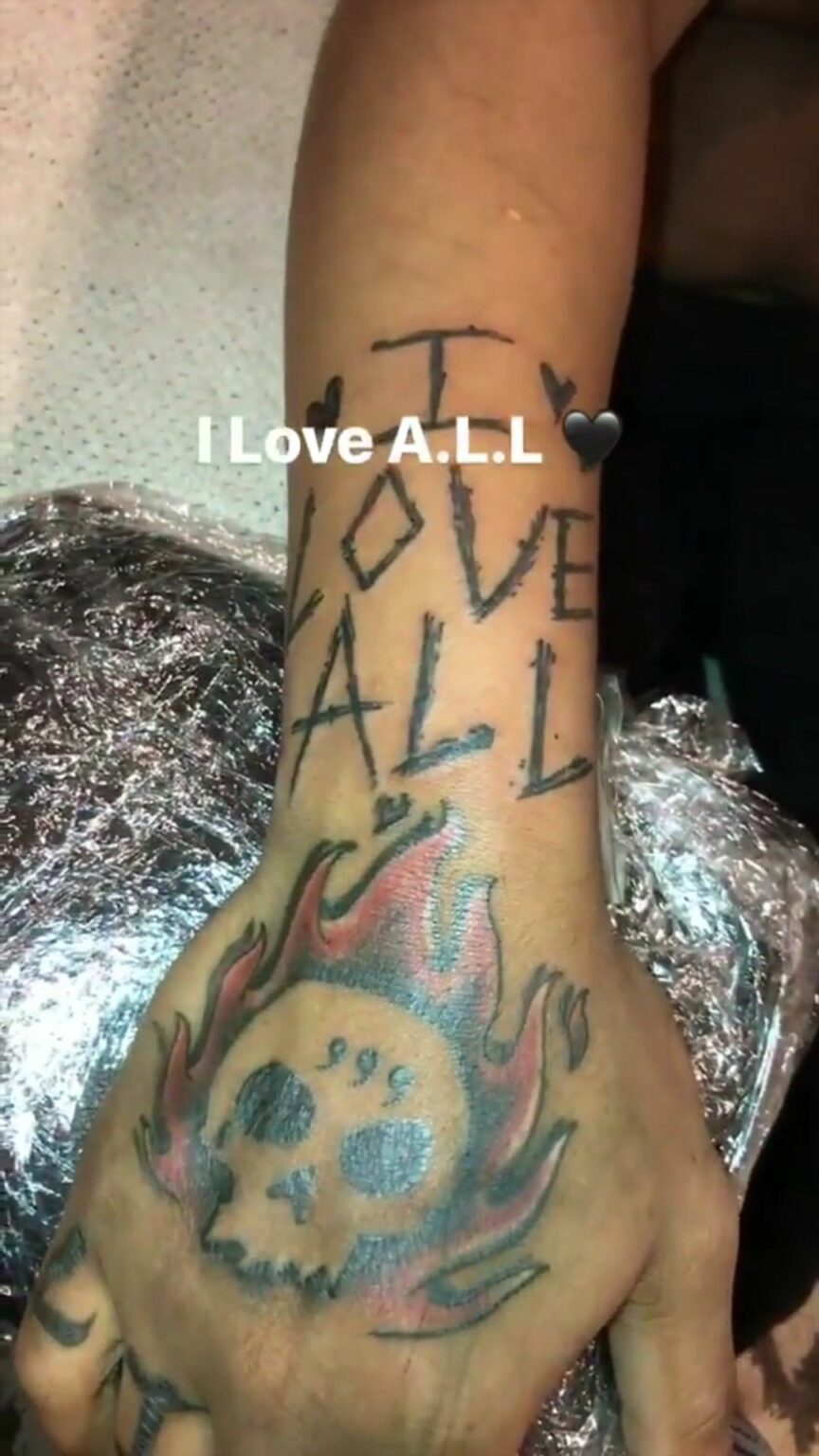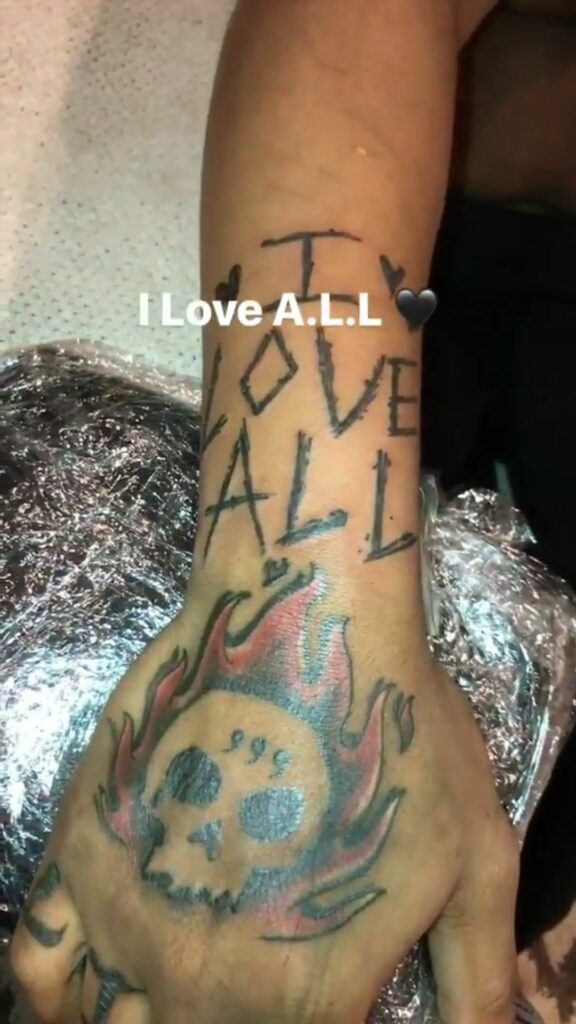 Juice took to his Twitter account on December 21, 2018, to reveal a picture of his recent tattoo. The tattoo on the inner side of his right forearm featured the words "I LOVE ALL." A unique detail of the tattoo was the presence of tiny hearts inked around the letter "I," adding an extra touch of affection to the design.
15. 'Chained Heart' Tattoo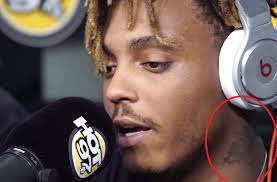 Note: Tattooing of minors is against the law according to Section 260.21 of New York State Penal Law
Juice had a tattoo of a chained heart on the left side of his neck.
Final Words
Juice Wrld's tattoos were a meaningful expression of his beliefs, emotions, and personal experiences. From inspiring messages like "LIVE LIFE" and "I AM SORRY" to symbolic designs like the skull with flames and the chained heart, his tattoos represented his unique personality and artistic expression. They left a lasting impact on his fans worldwide, showcasing his individuality and leaving behind a powerful legacy.
Read More: Life-Changing Death Moth Tattoos, You Need