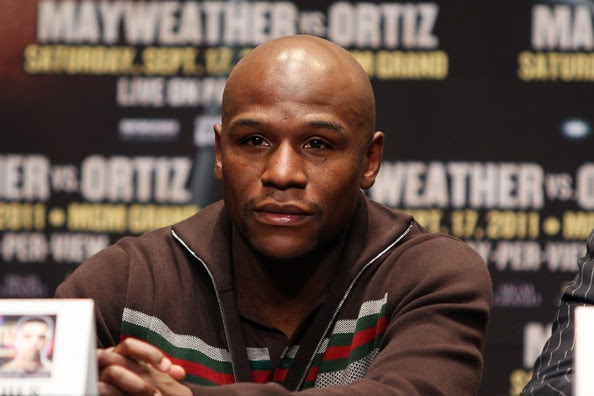 Floyd Mayweather is a world-renowned American boxing champion and promoter. He is one of the most popular, successful boxers in the sport. Floyd Mayweather's net worth is currently $450 million, and his salary was $300 million per fight.
He is the fifth highest-paid fighter of all time and one of the six athletes whose incomes have over $1 billion. The other five athletes are Jack Nicklaus ($1.15 billion), Michael Schumacher ($1 billion), Tiger Woods ($1.15 billion), Michael Jordan ($1.9 billion), and Arnold Palmer ($1.35 billion).
The most impressive thing about Mayweather's earning stats is that he managed to become the 5th highest-paid athlete ever with almost limited endorsement.
He earned more than half a billion dollars from two matches. Floyd earned $250 million in 2015 after winning the match with Manny Pacquiao. After that, Floyd earned $300 million in 2017, fighting with Conor McGregor.
Floyd Mayweather's Net Worth
As of 2020, Floyd Mayweather's net worth is $450 million, according to Forbes. Boxing is one of the main sources of income. He also has plenty of endorsement and sponsor deals.
Moreover, his boxing promotion does not just promote him; but hold their own boxing events that do not feature his fights. Floyd Mayweather also has his own franchise of gyms.
Also, we estimate that Floyd is worth more than $450 million. His net worth, like most athletes, changes frequently. Even so, Floyd is still the highest-paid athlete in the world.
ALSO READ: All About Cristiano Ronaldo's Wealth
Early Life of Floyd Mayweather
Floyd was born in February 1977 in Grand Rapids, Michigan. His father, Floyd Mayweather Sr., was also the professional boxer who fought famous Sugar Ray Leonard. Mayweather Jr.'s uncles Roger and Jeff are also former professional boxers.
Floyd's father and Roger have has served many times as one of Floyd's trainers.
When Floyd was a kid, his mother was addicted to drugs, and Floyd Sr. was somewhat absent. When his father was sent to jail, Mayweather moved in with his grandmother. So during this time, Mayweather devoted himself to boxing.
Floyd Mayweather dropped out of high school and became an amateur.
After that, he won the national Golden Gloves championships in 1993–1994–1996. Floyd also won the bronze medal at the Atlanta Olympics; his record was 84-4.
His first professional match occurred on October 11, 1996. Floyd knocked out his opponent in the second round.
ALSO READ: All About Wealth of Lionel Messi
Career Earnings of Floyd Mayweather
Floyd Mayweather's total career earnings are $1.1 billion.
| | | |
| --- | --- | --- |
| Arturo Gatti | June 2005 | $3.2 million |
| Carlos Baldomir | November 2006 | $8 million |
| Oscar De La Hoya | May 2007 | $25 million |
| Ricky Hatton | February 2008 | $20 million |
| WWE Wrestle Mania | December 2008 | $25 million |
| Juan Manuel Márquez | September 2009 | $25 million |
| Sugar Shane Mosley | May 2010 | $30 million |
| Victor Ortiz | September 2011 | $40 million |
| Miguel Cotto | May 2012 | $40 million |
| Robert Guerrero | May 2013 | $50 million |
| Saul Alvarez | September 2013 | $75 million |
| Marcos Maidana I | May 2014 | $40 million |
| Marcos Maidana II | September 2014 | $32 million |
| Manny Pacquiao | May 2015 | $250 million |
| Andre Berto | September 2015 | $35 million |
| Conor McGregor | August 2017 | $300 million |
| Tenshin Nasukawa | December 2018 | $9 million |
| | Total | $987.2 million |
Floyd also earned around $2 million from his first fifteen matches that proceeded with the 2005 match against Arturo Gatti. He also earned around $25 million outside the ring by selling merchandise and from small endorsement deals.
Other Appearances
Floyd Mayweather was a contestant on Dancing with the Stars. They finished in ninth place in 2007. He also earned $20 million to appear at WWE's WrestleMania XXIV in 2008.
Real Estate
Floyd Mayweather's primary residence is an 11-bedroom custom-built mansion in Las Vegas. He bought the house for $10 million. Floyd also owns a 13,000 square-foot mansion in Las Vegas; it was his primary residence from 2010 to 2018.
He also spent $25.5 million on the Beverly Hills mansion. Floyd also bought home furnishing for $500,000. This house also has a candy shop, a 12-seat movie theater, and a 300-bottle wine room.
Car Collection
Floyd Mayweather owns plenty of supercars. He has more than 100 cars from Towbin Motorcars.
He also has Koenigsess CCXR Trevita $5 million, Bugatti Chiron $3.5 million, Pagani Huayara $1.4 million, and many more. This is just a sample of Floyd's incredible collection. He also owns Ferraris, Bentleys, Lamborghinis, Mercedes, Rolls Royces, and more.
Private Jets
He owns the $60 million Gulfstream G650, and he also bought the jet for himself for his 41st birthday in 2018 for $30 million. Floyd posted a picture of himself in front of his seven cars and main jet.
READ MORE: What is the Net Worth of Rap God (Eminem)?
Jewelry Collection
Floyd Mayweather has not been shy about showing off the jewelry collection. He also owns 40 high-end watches. Floyd also has $3 million worth of jewelry.
Mayweather also bought an amazing $18 million watch made by Jacob The Jeweler. It has 239 emerald-cut baguette diamonds, and they all are three carats each.
ALSO READ: Is Mike Tyson Rich?
Summary
Floyd Mayweather's net worth is $450 million. However, he has earned more than $1 billion in his career. In May 2015, he earned $250 million fighting with Manny Pacquiao. In August 2017, he earned $300 million fighting Conor McGregor.