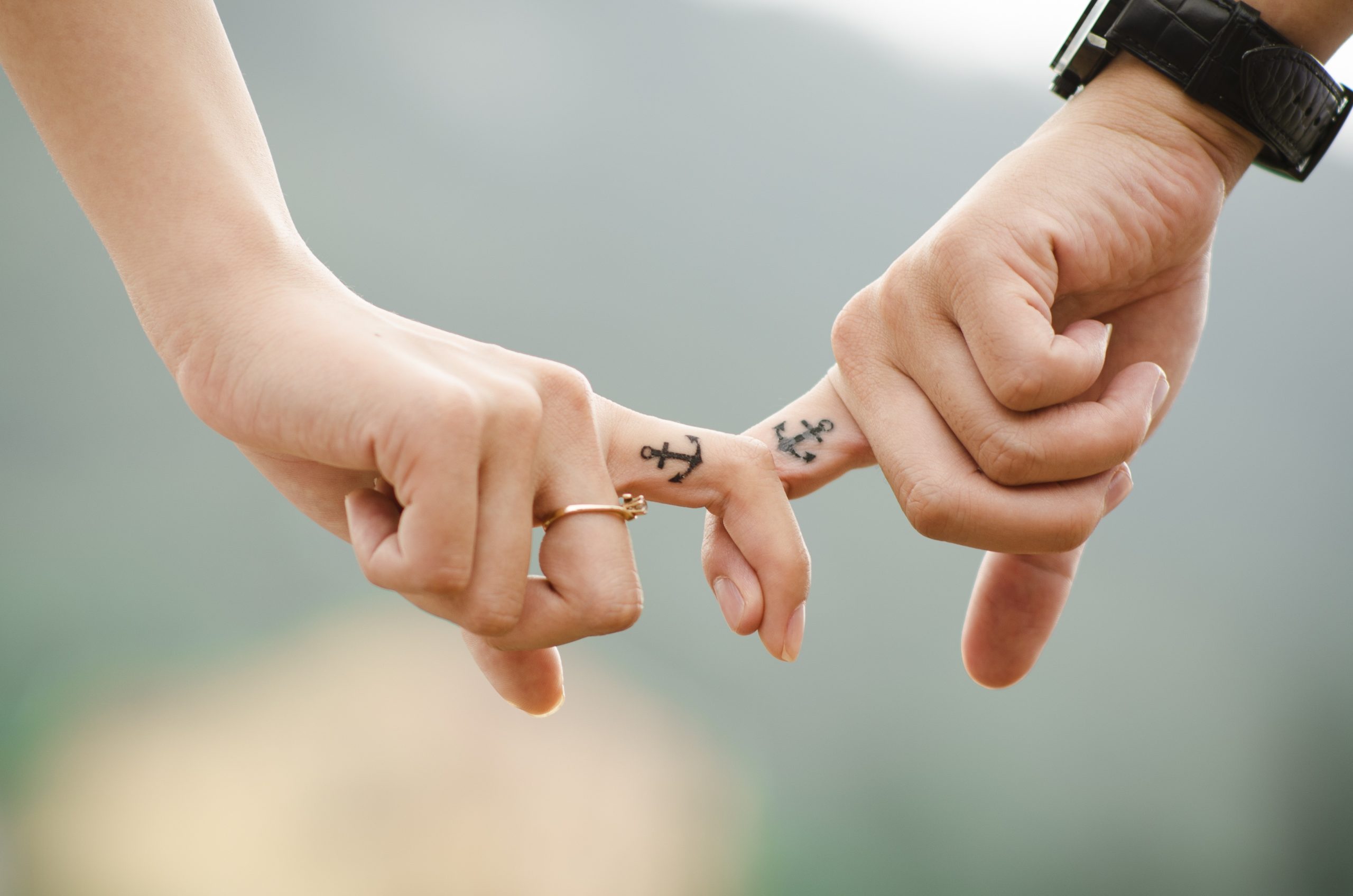 In recent years, finger tattoos have gained remarkable popularity. These tattoos are smaller than most ones, but they are no less meaningful.
They can be easily adapted to suit different types of styles and almost any style. 
From tiny and delicate to a bold statement, there is a finger tattoo that suits everyone. A finger tattoo for men and women makes a strong, strong statement and all thanks to its visibility.
Whether the impact of a finger tattoo is major or minor, it is dependent on your designs, including pigment, size, placement, and the style it is inked in. 
Finger tattoos are amazing and perfect to make a bold statement. Here is an article with some of the best finger tattoo ideas to help you so that you end up getting the right one.
Finger Tattoo Placements
Finger tattoos are versatile, and they provide you with the choice regarding where you want the tattoo to appear.
If you plan to have a subtle ring tattoo like a simple cross or double lines, you can have it on the middle finger.
In case you want to have wordings or trails of designs, then a side finger could be the best option.
If you are planning to have an over the top tattoo like a floral design, then it will cover your complete finger, and it is better to choose a middle finger for such a tattoo.
There are some tattoos that appear on all your fingers like witch tattoo designs or astrology tattoos. In this type of finger tattoos, each finger has a number or sign on them.
Ring tattoos are one of the most common finger tattoos. These tattoos are usually made on the middle finger and are a symbol of commitment. You can also have ring tattoos on your index finger. 
Finger tattoos always look good, no matter what finger you choose. Just make sure to opt for a finger that provides you with a decent look.
Different Types of Finger Tattoos
Finger tattoos are highly versatile, and they fall into different categories. Here are different types of common finger tattoos.
Tribal finger tattoos
Letter finger tattoos
Couples finger tattoos
Cartoon finger tattoos
Arrow finger tattoos
Dot finger tattoos
Geometric finger tattoos
Wording finger tattoos
Floral finger tattoos
Animal finger tattoos
Heart finger tattoos
Zodiac finger tattoos
Finger Tattoo Ideas
If you love getting inked, then you must have finger tattoos. They are perfect to create a bold and stylish look. Now you must be thinking which are the best finger tattoos.
Rose Finger Tattoo
Rose tattoos are one of the most popular designs of all time, and they look even better when they are made on your finger.
The design of rose tattoos includes petals and thorns, which represent both pain and beauty of life.
Rose tattoos are also associated with passion and love, so that are also symbolized as a tribute to loved ones. 
Snake Finger Tattoo
Snake finger tattoos not only give a bold and cool look, but also they are highly versatile, and they can be easily adapted to fit any placement on your body. Therefore, it is not difficult to see why they are never out of trend.
Snakes represent knowledge, fertility, creativity, and transformation, which makes them perfect finger tattoos for men and women. They also have an amazing Gothic appeal and are the best choice for a unique finger tattoo choice.
Crown Finger Tattoo
If you want to have a royal and decent tattoo, then trust me, nothing is better than crown tattoos. If you have ever dreamt of being a queen or king, then a crown finger tattoo is the best choice for you.
Crown tattoos have a striking visual appearance and are very symbolic. Generally, crowns are worn by members of the royal family, that is why the crown tattoos are associated with authority and leadership. The tattoos also signify self-control and capability to rule you your own ideas, actions, and emotions.
Butterfly Finger Tattoo
Butterflies are associated with freedom, beauty, and transformation. They are famous tattoo designs among both men and women. You can adopt the butterfly tattoos design according to your style.
In order to get a masculine impact, you can opt for a black butterfly in a static pose. For a feminine touch, you can have a colorfully inked butterfly wrapped around your finger. If you are a nature lover, then a butterfly tattoo is a perfect choice for you.
Mustache Finger Tattoo
If you can grow a mustache on your face, then no worries; you can have one inked on your finger.
Mustache finger tattoos include a black inked mustache that is placed on your index finger.
The black ink used in finger tattoos provide a perfect touch to the design and makes it look real.
The color also gives a masculine vibe, and it is a perfect finger tattoo for men out there.
So, if you want to be funny and creative at the same time, a mustache tattoo is a perfect choice for you.  
Dot Finger Tattoo
One of the most popular and simplest tattoo designs for fingers is dots. Though dot tattoos are understated, they carry significance and a lot of meaning.
A single dot signifies a full stop, which means the end of one phase and the beginning of the other one. 
A raw of three dots is one of the most popular versions of dot tattoos. These designs were once inked by gang members.
At the present time, it is associated with living life on your terms. It is also considered to represent the Holy Trinity. 
Flower Finger Tattoo
Flower tattoos have different meanings, from the spiritual harmony of beautiful lotus to the optimism of sunflower.
If you are planning to get a flower tattoo on your finger, then it is a good idea to do proper research before getting inked. 
The design of the tattoo and its meaning should suit your style. Long-stemmed tattoos like roses and daisies are perfect when placed on the finger. As flowers reach towards the sky, they make amazing finger tattoos.
Finger Bone Tattoo
If you seek a unique finger tattoo, nothing can be better than a finger bone tattoo. The tattoo comprises the anatomy of the finger, which is inked in black, and it appears on the top of the index finger. It goes halfway to the hand.
It is one of the most realistic tattoos that you will see; therefore, you will have to find a skilled and experienced tattoo artist in order to execute the exact tattoo design with precision. So boost up your tattoo game with this finger bone tattoo.
Rosary Finger Tattoo
If you want something religious, then a rosary tattoo is a perfect choice for you. It has a remarkable impact on your life.
The tattoo comprises a subtle gray and black inked rosary chain, which is made of tiny dots that are shaped like diamonds with a white and black inked cross hanging from the rosary. 
The tattoo is made in the middle of your index finger. It gives the visual appearance like a rosary is hanging from the finger.
The tattoo shows faith in God and reminds you that prayers are an essential part of life.
Read More: How To Take Care Of A Tattoo – According To A Pro Tattoo Artist
Zodiac Finger Tattoo
If you like zodiac tattoos, then a zodiac tattoo is a perfect choice for you. This tattoo is made of a zodiac sign that is inked with jet black color.
It includes different symbols like arrow, feather, pyramid, and crescent. You can either get all the signs inked at one finger or choose anyone. 
Zodiac signs have remarkable meanings, and they motivate each person in a different manner.
In case you are looking for different ways to motivate yourself, the specific finger tattoo, according to your zodiac, will do the job. Now spice up your tattoo game by getting a zodiac finger tattoo. 
Music Lovers Finger Tattoo
If you are a music lover, and music is a big part of your life, then a musical finger tattoo is a perfect choice for you. You can give a try to different tattoo designs like a violin tattoo or music notes.
On one finger, you can get a violin, and on the other, you can get the bow. You can also get music notes inked on different fingers.
Or you can headphones inked on one of your fingers. These tattoos reflect your interest in music. 
Also Read: The Complete Guide To Getting A Hand Tattoo
Frequently Asked Questions
Do finger tattoos hurt?
The finger is one of the most painful places to get a tattoo due to the lack of fat and muscle between the skin and bone.
Unlike other tattoos, pain is not a one time experience in finger tattoos as you need to get a regular touch up as these tattoos get easily faded. 
How long do finger tattoos last?
Finger tattoos do not last longer. They fade easily and it is due to constant movement in our hands.
It is also caused due to frequent contact as we wash our hands many times a day. In order to maintain your finger tattoo, you will have to get regular touch ups.
How much do finger tattoos cost?
The cost of finger tattoos is between $50 to $100, which is not at all bad. However, other factors like the expertise of the tattoo artist and design also impact the cost of finger tattoos. 
Read More: Coolest Arm Tattoos For Women – Best Arm Tattoo Ideas
Final Words
Finger tattoos are quite painful, but don't let the pain stop you from getting this beautiful art inked on your fingers.
Finger tattoos are one of the most trendy tattoos and are perfect for making a statement.
Now, what are you waiting for? Hurry up and get a trendy tattoo on your finger right away.