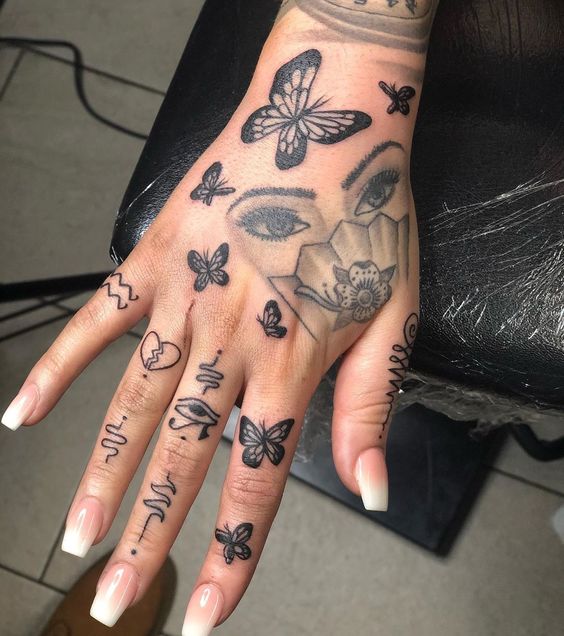 Getting a hand tattoo is a big decision. Our hands easily catch the eyes of people around us.
When preparing to get a hand tattoo, many questions might cross your mind. Which tattoo artists to choose? What design should I get tattooed? Does getting a hand tattoo hurts? How much does a hand tattoo cost? We have answers to all your questions in this article.
Hand tattoo and food tattooing is a fine art. It is so fine that some tattoo artists refuse to do a hand or foot tattoo.
These spots are very challenging and are used frequently, which makes the healing process difficult.
Our hands have an uneven surface with bone structure and delicate skin. This makes tattooing more difficult than other body parts for even the most experienced tattoo artists.
Despite all the difficulties, hand tattoos are a major trend. If you are one of those people who are looking forward to getting a hand tattoo, this guide is for you.
We have listed some amazing hand tattoo designs for both men and women, aftercare, precautions, and everything you should know before getting a hand tattoo.
Things to Know Before Getting a Hand Tattoo:
The first and most important thing is to never get a tattoo in a hurry. Put thoughts, preparations, look for good designs, and skilled tattoo artists before getting a tattoo on your hands.
Many workplaces frown upon employees who have a tattoo on their hands. Make sure to think of the long term before getting inked.
Once you have decided a design, don't stop at the first tattoo parlor you see. You need to first plan how you will manage for a few days with limited hand capabilities.
Taking a few days off from college or work will give your hand time to heal properly and minimize pain and infections.
After the hand tattoo heals, you may need to get it retouched again. Artists usually won't do retouching for free or take any responsibility for early wear and tear, especially for hands.
Over a lifetime, be ready to get several retouches done to maintain the design. So before you plan on getting a hand tattoo, factor in teh maintenance cost as well.
Hand Tattoo Design Ideas
There are endless designs for hand tattoos. Some people opt for old-school and traditional designs like sparrows while some like more organic and fluid tattoos like waves or dots. These simple hand tattoo designs look artful and have a spiritual theme attached to them.
Some people also prefer simple finger tattoos. Phrases, words, and wedding bands are very small and intricate but have significance to the wearer. Finger tattoos are one of the most trendy hand tattoo designs for women.
Here we have mentioned some of the most loved and amazing hand tattoo designs to choose from:
Flower Hand Tattoo
Delicate flower hand tattoo is the perfect choice for women. this design looks so elegant, and you can even add some colors if you like.
Wolf Hand Tattoo
Wolf hand tattoos are quite popular. this tattoo design signifies family and also represent spiritual guidance.
In Gods Hands Tattoo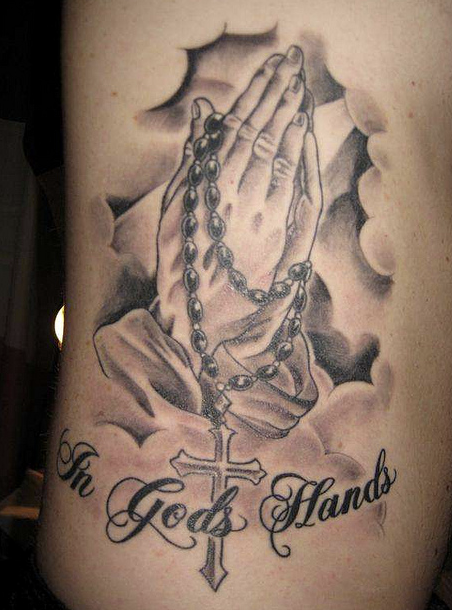 Elephant Hand Tattoo
Elephant is a universal symbol of loyalty, strength, good luck and divinity. if planned and placed carefully this hand tattoo design will look unforgetable.
Snake Hand Tattoo
Snake tattoo design has different meaning across different cultures. snake hand tattoos look stunning. you can choose from various designs, small, big or baby snake on finger.
Skeleton Hand Tattoo
Skeleton not only represent death but also sacrifice, fearlessness, protection, afterlife and chance.
Skull Hand Tattoo
Small Hand Tattoos
Small hand tattoo design are perfect for people who want something simple and classy at the same time.
Butterfly Hand Tattoo
A butterfly tattoo is an epitome of feminine tattoos. if you are looking for a fun and elegant design then this hand tattoo is perfect for women.
Cross Tattoo on Hand
Cross is the holy symbol of Christians. it represents faith and sacrifice of Jesus Christ.
Lion Hand Tattoo
A lion tattoo symbolizes bravery, nobility, majesty and pride. A lion hand tattoo signifies that the man is ready to take control of his life.
Rose Hand tattoo
This rose hand tattoo design is very famous for men. the back of the hand is the most preferred place to get a Rose Tattoo design.
Praying Hands Tattoo
If you are looking for some side hand tattoo designs for men, then this praying hand design will be perfect. Praying hand are for men to provide them a constant reminder of their spiritual bonds.
joker hand tattoo
The Joker has been described a a witty, super intelligent and very well aware of their own shortcomings and trauma. This Joker Hand Tattoo is so astounding that you will want to get it inked too.
Read More: How To Take Care Of A Tattoo – According To A Pro Tattoo Artist
Do Hand Tattoos Hurt?
Getting a tattoo on your hands and fingers is going to hurt. There are various reasons why it is painful: the skin on our hands is thin and sensitive.
Many bones and ligaments structures, which is why the ink doesnt sick properly, and the artists will have to go over the design a few times.
Do Hand Tattoos Fade?
Compared to tattoos in other areas of the body, finger, and hand tattoos fade faster and also do not age well. The main reason is the number of tasks we perform using our hands. Sweeping floors or Washing hands can cause a lot of wear and tear to your hand's skin, making the tattoo fade faster.
How Much Does a Hand Tattoo Cost?
The cost of getting a tattoo depends on various factors. Some artists charge on the basis of the complexity of the design, colors used, while others charge on an hourly basis.
The math of charging on an hourly basis is pretty simple: the longer it takes to make a tattoo, the more it costs.
The average cost of simple hand tattoos ranges from $50 to $100 per hour. If the design is complicated, the cost can be as high as $300, considered the popularity and skills of a tattoo artist.
Read More: Pretty Finger Tattoos To Try This Year
Final Words:
After the neck and face, hands are the second body part that is the most eye-catching place to get tattooed. Therefore choosing the right tattoo design and artist is very crucial.
The tattoo artist needs to have a lot o experience, knowledge, and confidence in making hand tattoos.
You need to consider the healing process, maintenance, and pain before going to a tattoo parlor.
Ask friends and family for recommendations and check the artists' reviews and social media profiles before booking a date with the artist.
Your hands serve as greeting to the world, so be sure what you want your hands to display. And also, check out the gallery mentioned above for some inspiration.
Also Read: Coolest Arm Tattoos For Women – Best Arm Tattoo Ideas