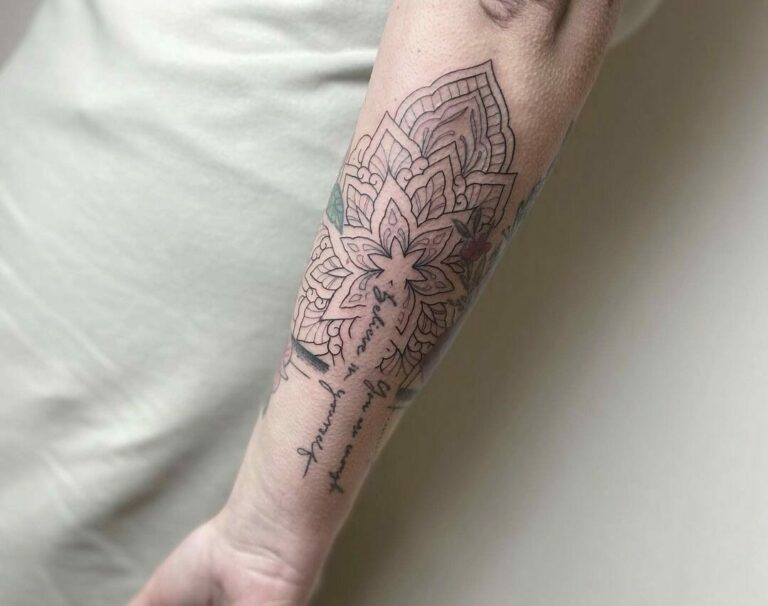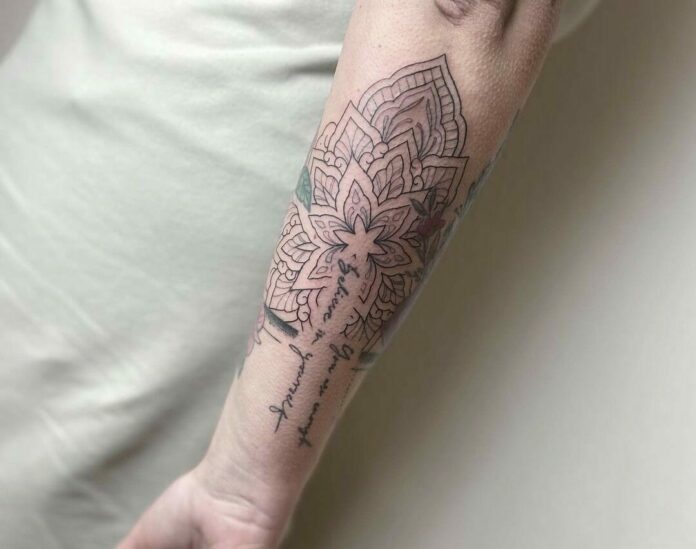 If you're in search of the perfect filler tattoos to complement and enhance your existing body art, you've come to the right place. Our carefully curated selection presents 30+ exquisite filler tattoo designs that will capture your attention.
Imagine filler tattoos as delicate threads that seamlessly weave larger tattoos together. Their purpose? To create smooth transitions, add depth, and fill those empty spaces that could benefit from a touch of artistic flair.
Just as distractions divert attention from mistakes, filler tattoos can gracefully conceal perceived imperfections or gaps in a tattoo design. They have the power to turn potential flaws into unique strengths, adding layers of intrigue and beauty to your inked canvas.
Filler tattoos come in various forms – from subtle dots and flowers to intricate geometric patterns. The choice depends on the available space and your desired aesthetic.
Feminine styles might incorporate delicate butterflies and floral motifs, while nature-inspired designs could feature symbols like roses or suns.
Join us on this exciting journey as we delve into the world of creative and visually captivating filler tattoo designs. These artworks have the potential to transform your tattoo narrative into a fully realized masterpiece.
Tattoo sleeve fillers provide an excellent solution for those empty spaces on your initial tattoo sleeve.
If you're a fan of bold and attention-grabbing tattoos, getting tattoo sleeves for your arms can make a powerful statement.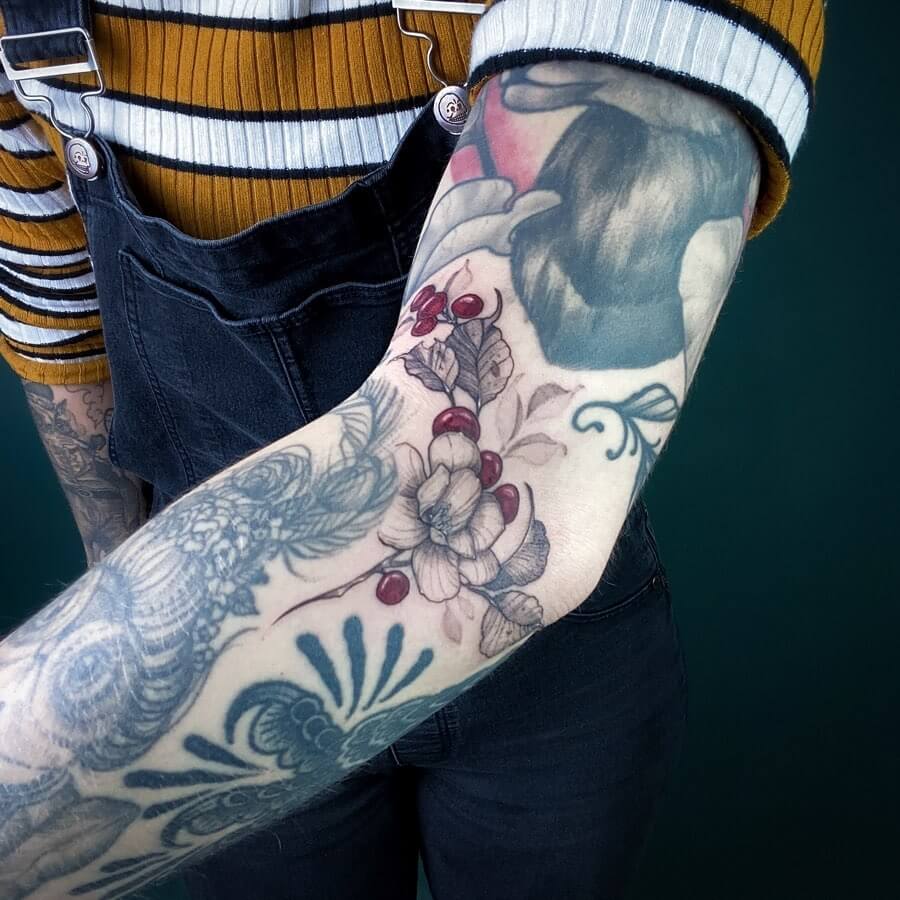 When you're getting your first few tattoos, it's natural not to have a clear idea of what you want to add to your tattoo sleeve. That's perfectly okay, as your desired tattoo collection will evolve over time based on your preferences.
However, as you continue adding new elements to your tattoo sleeves, filling the remaining empty spaces on your arms can become more complex.
This is where strategic placement and thoughtful combinations of your tattoos come into play for your desired sleeve. You'll also need to consider factors like the overall style, colour scheme, and tattoo sizes.
For those beginning their tattoo sleeve journey, you'll likely prioritize larger and more prominent tattoos for your initial inking. Yet, filling smaller blank areas on your skin with just any tattoo design can be challenging.
Fortunately, the solution lies in traditional tattoo fillers. A well-chosen traditional tattoo sleeve filler can work wonders, giving your sleeve a cohesive and polished appearance.
The chosen traditional tattoo filler should align with your sleeve's overall theme. You needn't worry about finding suitable fillers, as there are numerous options to mix and match with your existing tattoos.
For instance, if you have a traditional tattoo sleeve or two, you'll find a variety of traditional American tattoo sleeve filler designs to complete the empty spaces on your skin.
If you're uncertain about how to address awkward gaps on your tattoo sleeves, explore these 30+ traditional tattoo sleeve filler ideas that can seamlessly integrate with your current tattoos.
Let's explore the world of filler tattoos and discover how they can elevate your tattoo journey.
Funky Teeth Filler Tattoo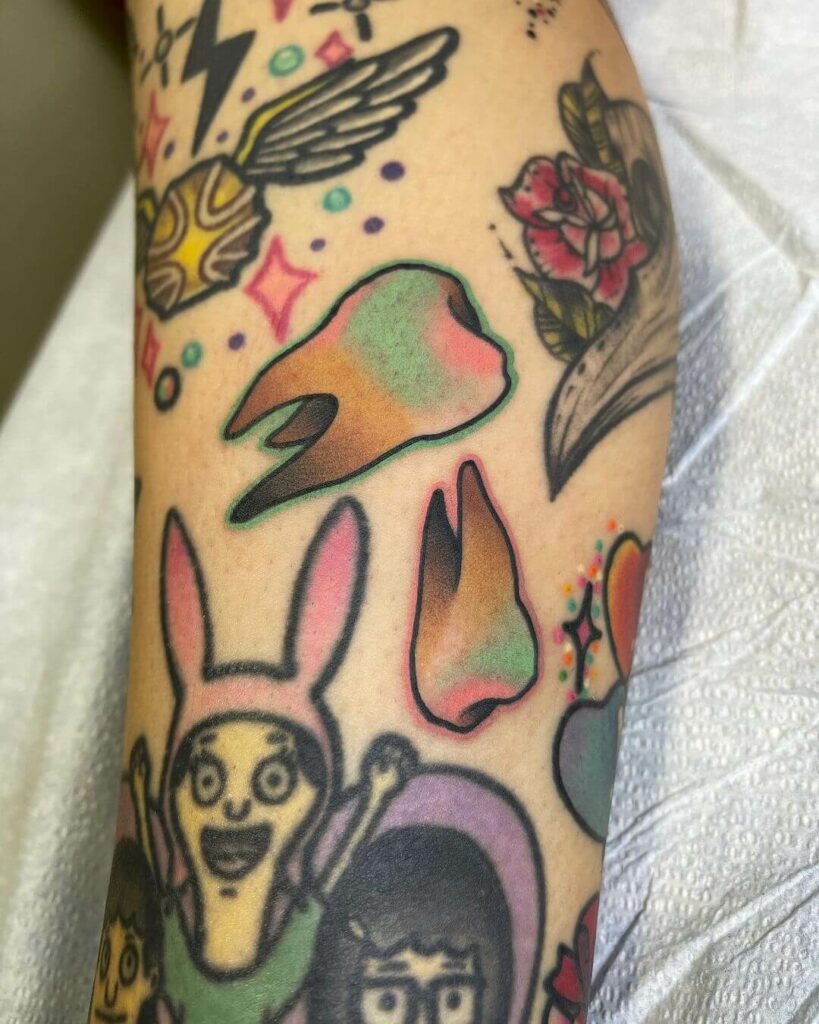 Ever considered teeth as tattoo fillers? It might sound unusual, but these distinct fill-in tattoos can infuse a funky edge into any tattoo design.
Crafted with a mix of pink, green, and brown shades, outlined boldly in black ink, these creative designs are a canvas for tattoo artists to flaunt their imaginative prowess.
When executed skillfully, these teeth fillers can inject a burst of colour and texture into your sleeve tattoo.
Gap Filler Tattoo With Hammerhead Shark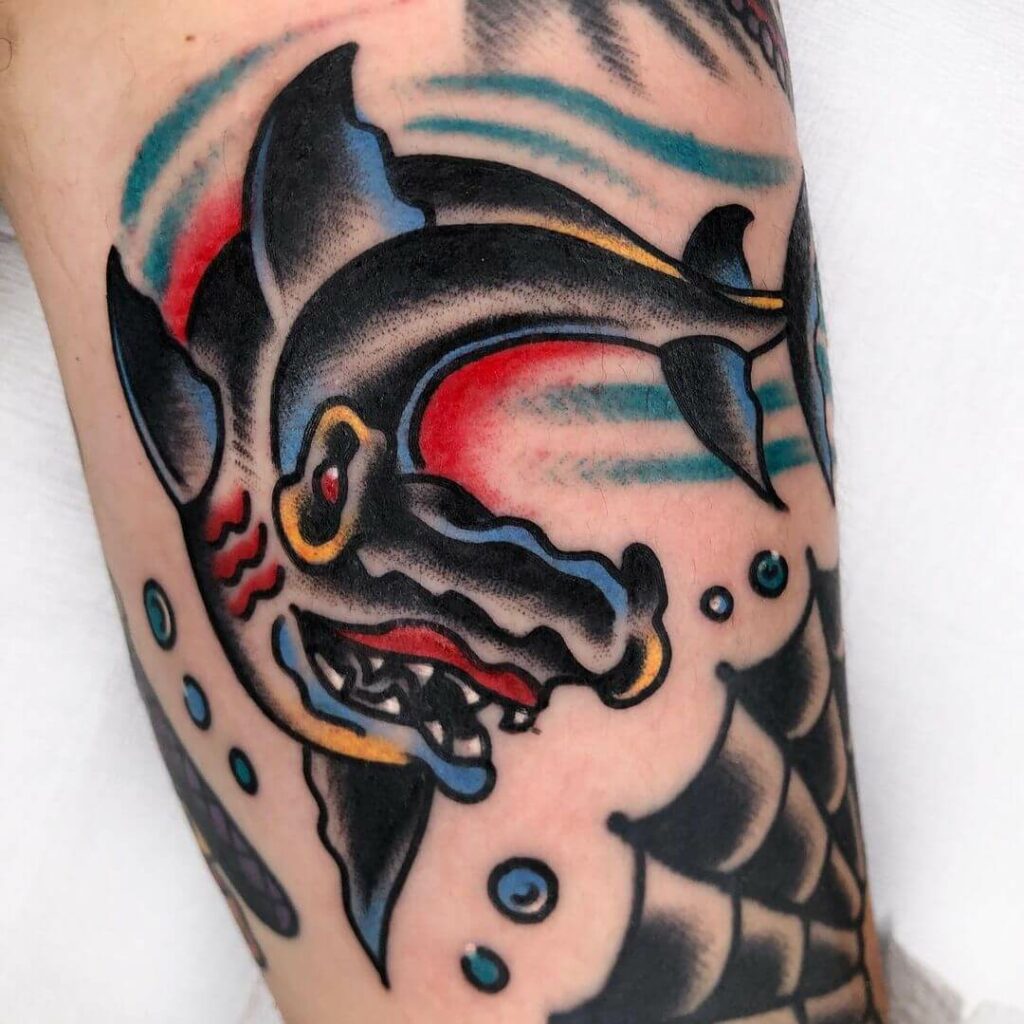 Dive into the world of tattoos with this captivating Hammerhead Shark gap filler design. While whales have long been favoured for ink art, this hammerhead whale tattoo stands out.
Intricately detailed, it captures the essence of these majestic creatures in their natural realm. The whale's solid black ink body comes to life with striking yellow and red accents.
Meticulously crafted white ink teeth and intricate blue outlines on the body add depth and character. Searching for an exceptional tattoo sleeve filler? Look no further than this remarkable hammerhead whale tattoo.
Abstract Freehand Filler Tattoo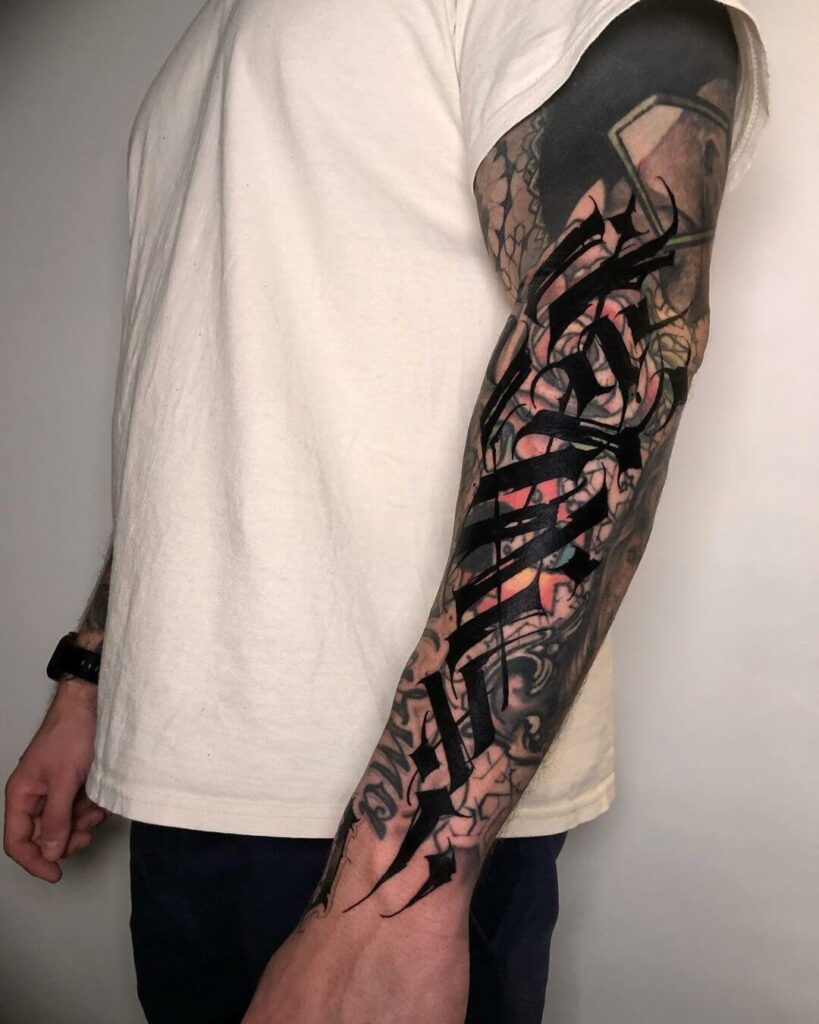 Explore the world of tattoo artistry with the Abstract Freehand Filler design. If you're seeking to complete a full-arm tattoo, incorporating fill-in tattoos is a popular choice.
This sleeve filler presents a striking option, featuring bold ink calligraphy patterns. The intricate design adds a distinctive flair to your tattoo sleeve, making it a standout choice.
This pattern can also harmoniously blend with other designs, allowing you to craft a personalized and stunning arm tattoo. With countless sleeve tattoo ideas at your fingertips, selecting a design that mirrors your style and personality is paramount.
Neo-Traditional Gap Filler Tattoo Ideas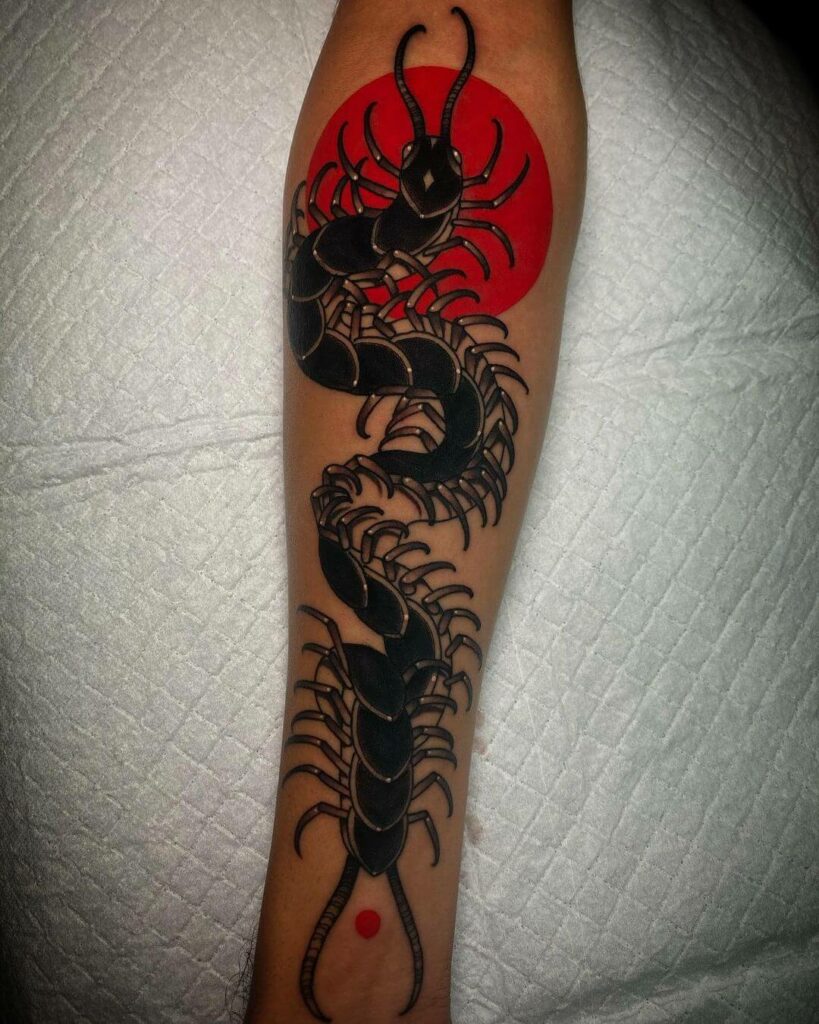 Dive into the world of Neo-Traditional Gap Filler Tattoo Ideas with this stunning Japanese-style centipede design. A true masterpiece that flaunts the artist's ingenuity and expertise.
Despite centipedes' eerie nature, their allure captivates many, making them a sought-after ink choice. Unlike typical gap fillers, this artwork commands attention with its sizable presence.
The vibrant interplay of bold black and red ink creates an arresting visual impact. If you're searching for a one-of-a-kind and captivating tattoo, this centipede design offers a remarkable choice that will leave a lasting impression.
Balloon Dog Tattoo Filler Patterns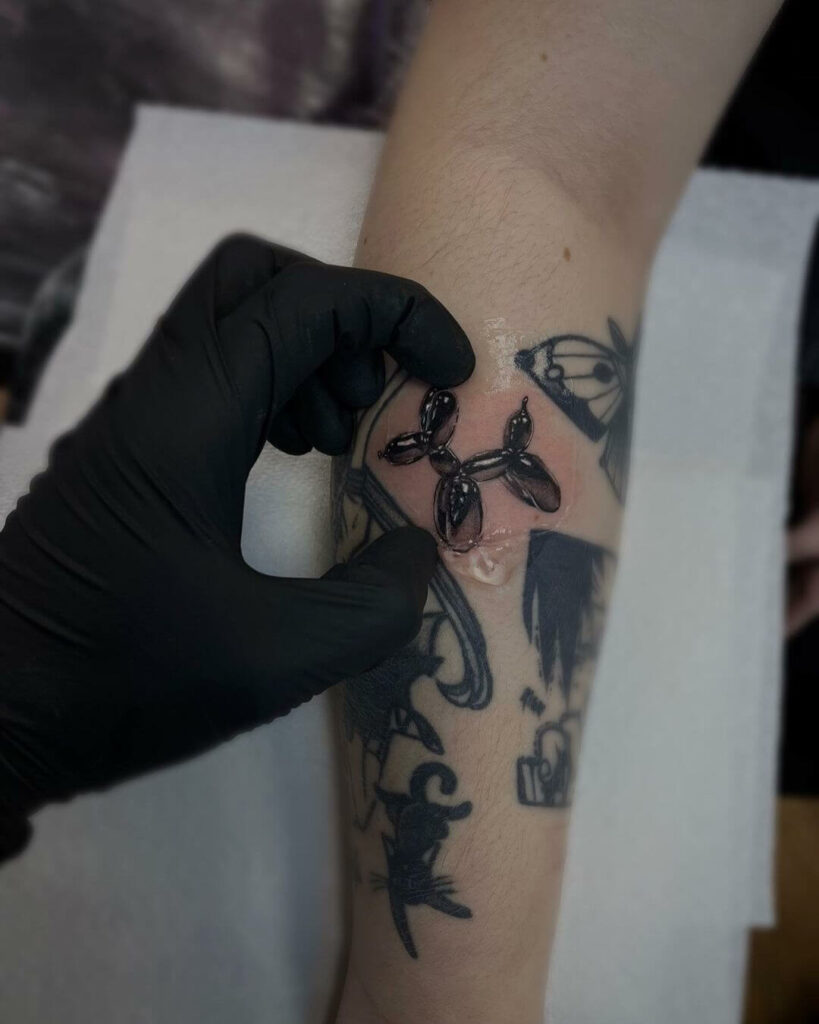 Balloon Dog Tattoo Filler Patterns with this charming, offbeat design that will capture attention.
Drawing inspiration from the whimsical balloon animals found at carnivals and magic performances, this tattoo adds a playful twist to your ink collection.
It's not only a delightful choice for animal enthusiasts and dog lovers, but it also brings a touch of joy and lightheartedness to your skin art.
Despite its unconventional nature, the tattoo artist has meticulously crafted intricate details that lend a lifelike quality to the balloon dog.
This unique filler design is ideal for filling small gaps or infusing a dash of enchantment into larger tattoo compositions.
Blueberry Branch Tattoo Sleeve Filler Ideas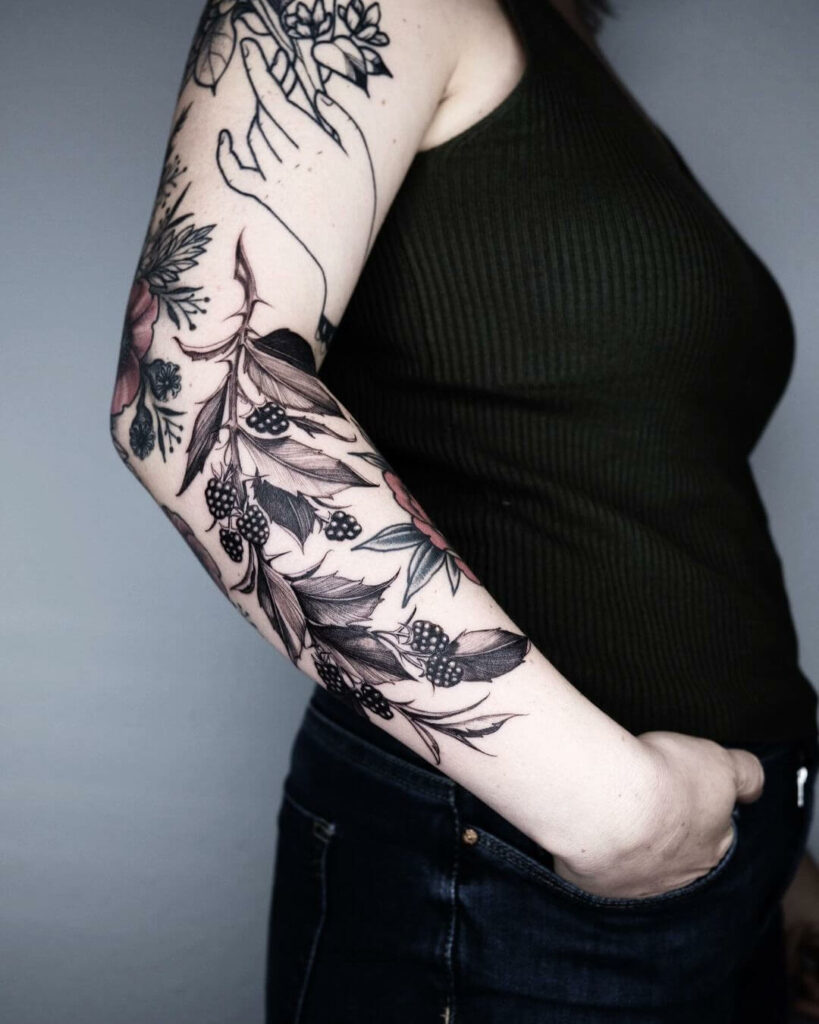 Delve into the realm of creativity with Blueberry Branch Tattoo Sleeve Filler Ideas.
The blueberry branch design offers a unique and captivating solution for those seeking an inventive way to bridge tattoo gaps.
This traditional sleeve filler artfully covers the expanse of your arm and shoulder, leaving no space unadorned.
From the shoulder down to the palms, these flourishing blueberry branches bring a touch of nature's beauty to your inked canvas.
These designs showcase the tattoo artist's skill and highlight their artistic flair.
If you're yearning to infuse a delectable essence into your body art, opting for blueberry branch tattoo gap, fillers promises to be a delectable and visually pleasing choice.
Plague Doctor Old School Tattoos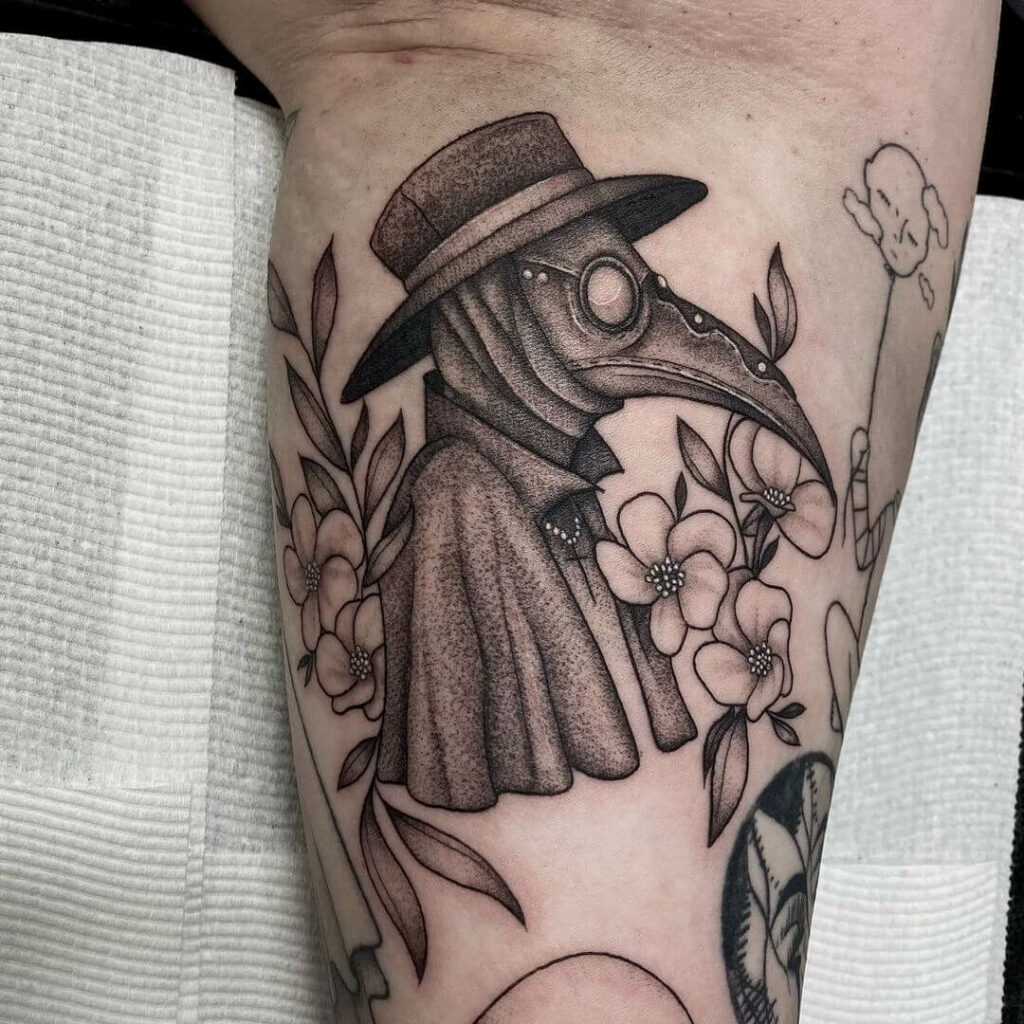 Witness the evolution of gap filler tattoos through the captivating Plague Doctor Old School Tattoos. In the realm of inked artistry, possibilities know no bounds.
Rather than settling for diminutive designs to bridge gaps, why not embrace the allure of a medium-sized tattoo that elevates your sleeve's intrigue? This crow skull tattoo exemplifies a unique, rugged gap filler that captivates attention.
The tattoo artist's touch of whimsy shines through as the skull dons round glasses, a coat, and a cross-chain necklace – a testament to their craftsmanship and imagination.
For those seeking a distinctive gap filler tattoo that defies convention, this choice stands as an exceptional option that dares to set itself apart.
Japanese Traditional Gap Filler Tattoos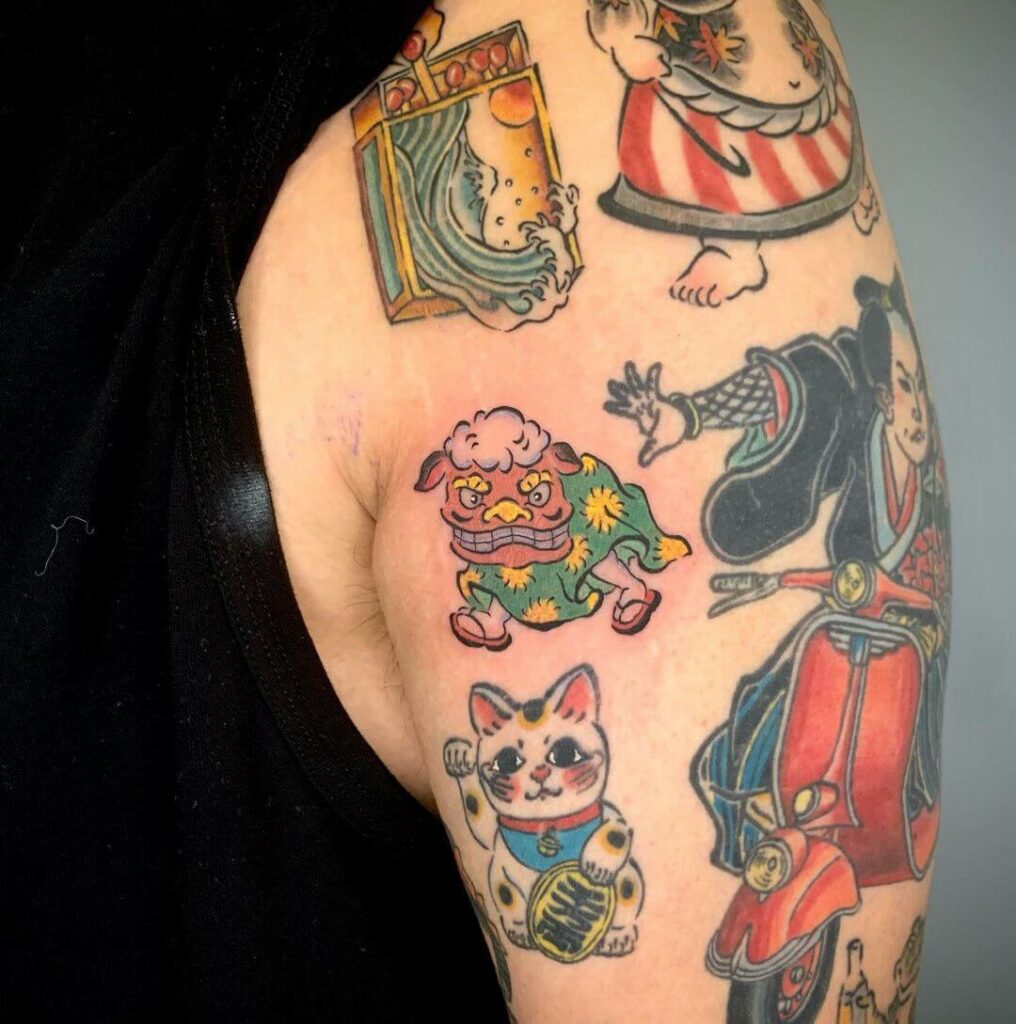 Embark on a journey into the world of Japanese Traditional Gap Filler Tattoos – where a seamless blend of adorable and fierce coalesces into inked artistry.
This arm filler tattoo intertwines the realms of sweetness and strength, uniting a charming cat with a formidable buffalo.
The tattoo artist's mastery of colour shines through in the captivating fusion of green and yellow hues that compose the buffalo's costume – a visual delight for the senses.
Every detail of the buffalo is meticulously captured, from its unassuming slippers to the intricate nuances of its remarkable hair, amplifying its innate cuteness.
These petite yet impactful tattoos harmonize seamlessly with the arm's traditional and cultural theme, bestowing an added layer of allure upon the entire design.
Butterfly Smoke Filler Tattoo Design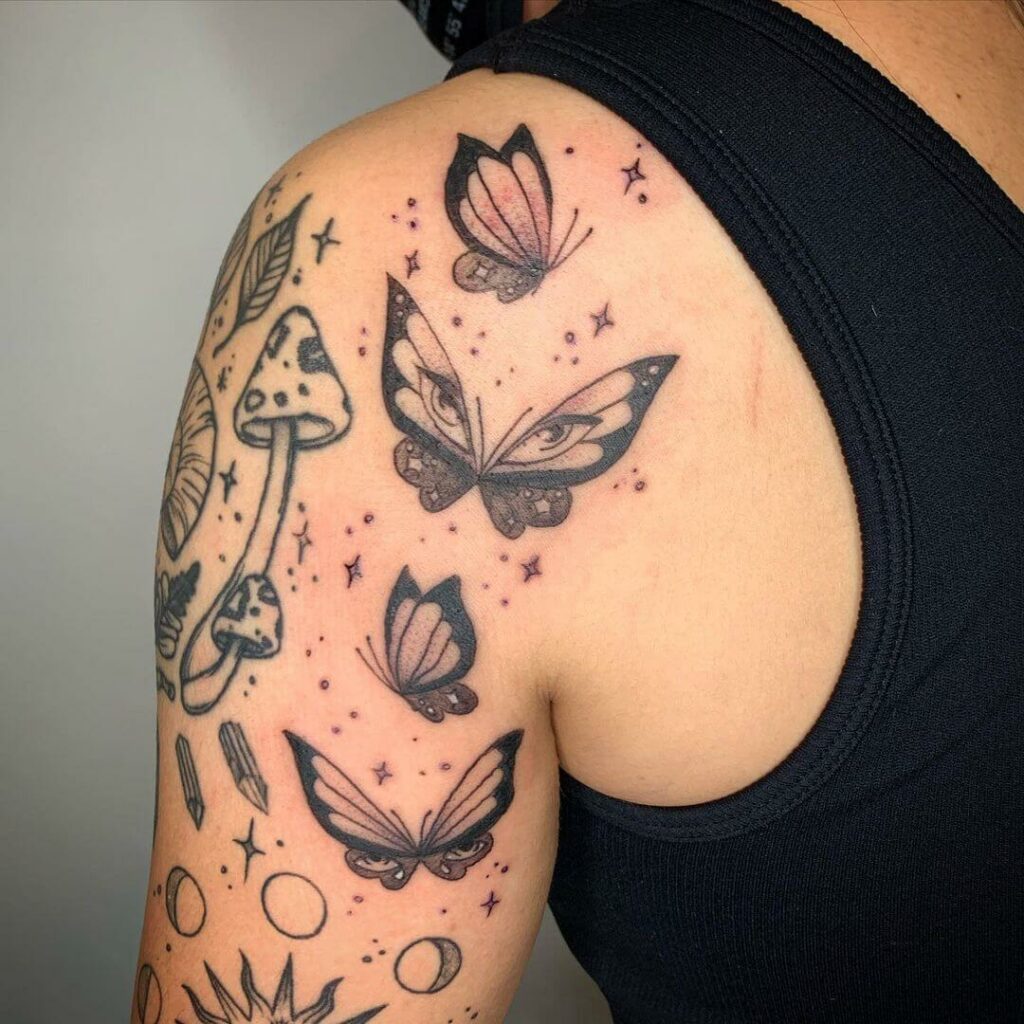 Indulge in the enchantment of the Butterfly Smoke Filler Tattoo Design, where delicate butterflies flutter amidst the cosmos of a tattoo sleeve's vacant expanse.
The tattoo artist's finesse has birthed a truly imaginative and artistic spectacle, transforming the arm's gap filler into a captivating masterpiece.
The allure of gap fillers lies in their versatility, and this design exemplifies that. Stars and gaps intermingle, conjuring an otherworldly ambience that whisks us away to realms of fantasy.
The smoke tattoo filler adds another layer of allure, its intricate dotwork weaving a spellbinding tapestry that captivates the eye. Through this design, the cosmos and creativity unite to grace the skin with a mesmerizing ode to both nature and art.
Classic Axe Gap Filler Tattoos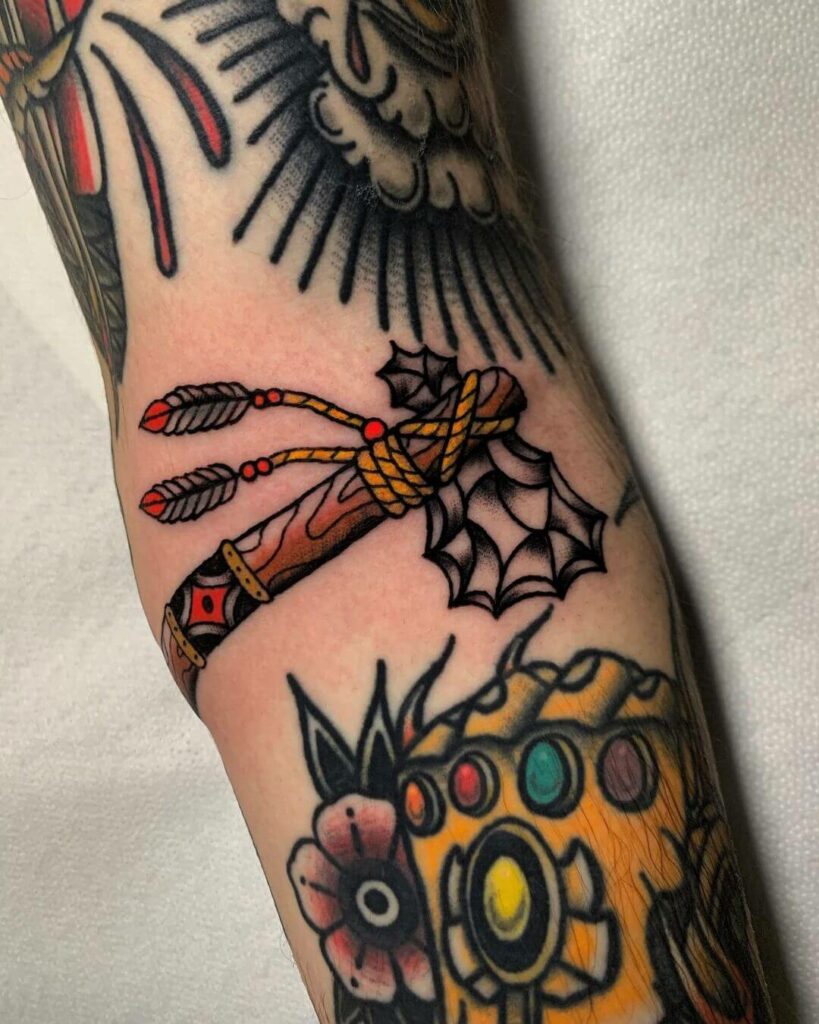 The charm of Classic Axe Gap Filler Tattoos is a clever solution to bridging the gaps between larger tattoo artworks.
With gap fillers, you wield the power to enhance the synergy of your inked canvas, whether by embracing a harmonious motif or embracing the extraordinary.
The inclusion of an axe design as a gap filler proves a masterful choice, seamlessly joining the ranks of surrounding classic tattoos while amplifying the theme of intensity and fear.
Executed in a vivid, traditional old-school style, these gap fillers breathe life into every space they occupy.
A symphony of bold colours dances against the backdrop of black outlines, delivering a dynamic contrast that ensures their prominence within your tapestry of body art.
Traditional Star-Speckled Tattoo Fillers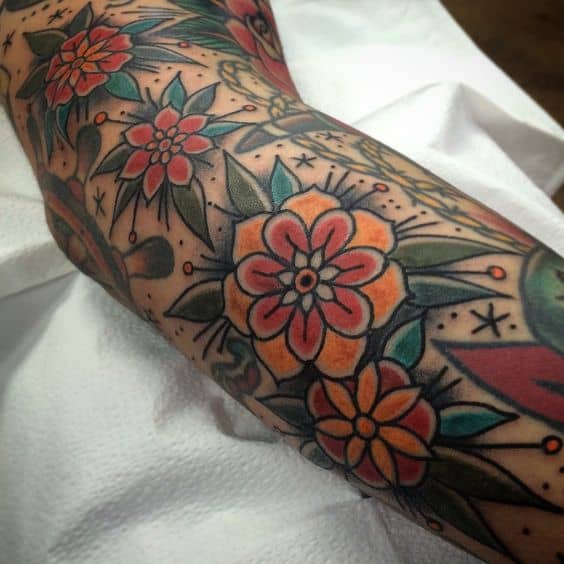 Navigating the art of harmonizing your collection of classic tattoos can sometimes be a puzzle of bold linework and negative spaces.
The challenge lies in seamlessly integrating complementary elements that soften the pronounced outlines of your traditional ink. Enter star-speckled tattoo fillers, your artistic solution.
With their understated elegance and subtle charm, these designs elegantly grace the vacant spaces, gently bridging the gaps without disrupting the cohesive narrative of your tattoo ensemble.
The beauty of star-speckled fillers lies in their simplicity—a constellation of stars and delicate dots that adorn your canvas, creating a harmonious backdrop that allows your standout pieces to shine even brighter.
These designs serve as artful anchors, ensuring your collection remains polished and poised, with every element playing its part in the symphony of your inked journey.
Traditional Flower Tattoo Sleeve Fillers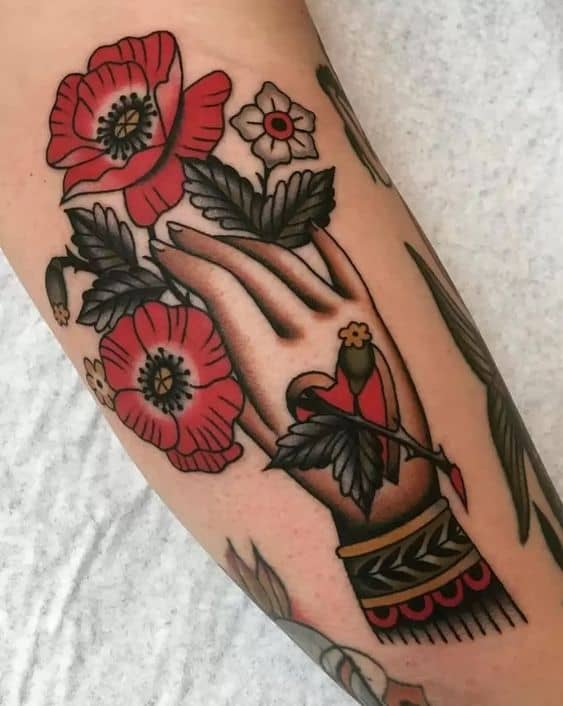 Embracing the timeless charm of traditional tattoos, floral patterns bloom as exquisite sleeve fillers, gracefully enhancing your inked narrative.
Within the rich tapestry of traditional tattoo sleeves, these botanical accents find their rightful place, weaving nature's grace into the canvas of your skin.
Flower tattoos have long been cherished icons in the realm of traditional American designs. Their elegant simplicity, intricate linework, and vividly saturated colours make them instantly recognizable and deeply cherished.
These floral motifs bring visual splendour and profound symbolism to your tapestry of ink.
Each flower holds its unique significance, a language whispered through petals and leaves. A rose, for instance, speaks of devotion, love, and beauty.
The language of these traditional flower tattoos is universal, inviting you to curate a collection that resonates with aesthetics and heartfelt stories.
As you navigate the array of options, remember that these floral sleeve fillers are more than art; they're eloquent expressions of your journey.
Traditional Arrow Sleeve Fillers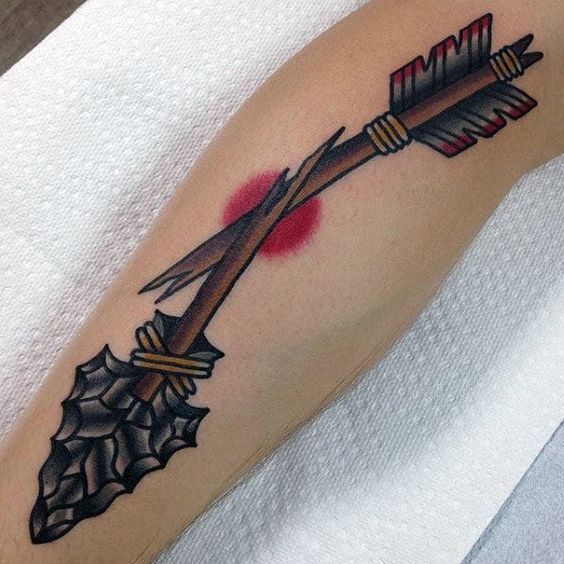 The arrow design stands tall among the classic traditional tattoos. While its roots trace back to the heart of the American tattoo tradition, the simplicity of arrow tattoos also lends itself beautifully to those who embrace minimalistic art.
This very quality makes them a fitting choice as timeless fillers within the realm of traditional tattoos.
An arrow's orientation, position, and angle carry profound significance, crafting a silent language of symbolism. Further enriched by its companions like bows and other intricate elements, the arrow's message is amplified.
An arrow pointing left or right signifies protective energies, while a downward arrow represents a yearning for tranquillity. In this elegant and meaningful interplay of ink, arrow tattoos both adorn and articulate.
Traditional Bestial Tattoo Fillers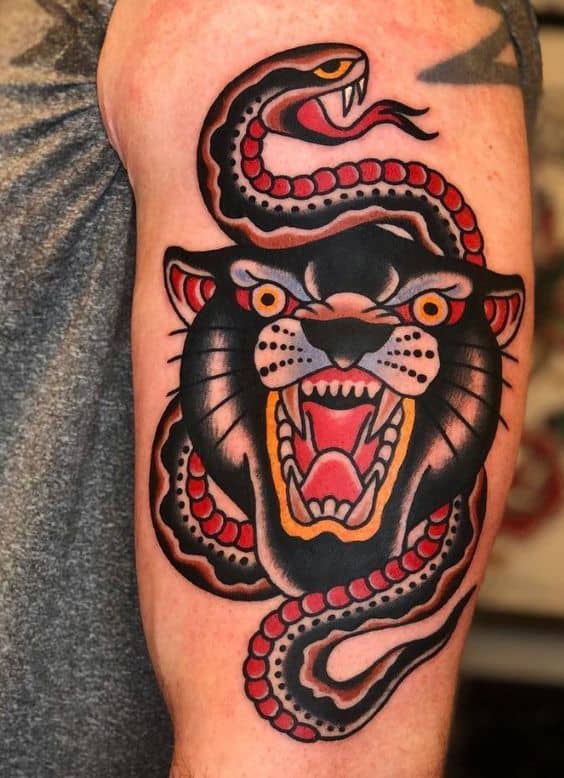 Incorporating traditional animal tattoos into your repertoire can provide the perfect final flourishes for your diverse ink collection.
From majestic lions to formidable bears, enigmatic spiders to fierce wolves, the array of bestial options adds a captivating dimension to your body art.
Much like other traditional designs, these animal tattoos possess multifaceted meanings. Rooted in folklore, mythology, and cultural significance, they hold a magnetic appeal for those seeking to imbue their skin with storytelling.
With a monochromatic palette, these tattoos create an aura of depth and intrigue, lending your collection a darker undertone that resonates with the primal forces of nature.
Traditional Skull Tattoo Fillers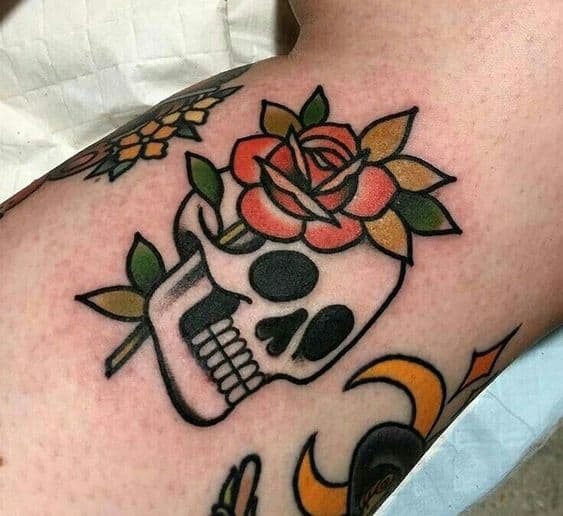 A skull tattoo, steeped in time-honoured tradition, adds a touch of darkness and intrigue to your tattoo collection.
Whether you desire a prominent centrepiece or seek to fill vacant spaces with a gothic aura, the classic skull design fits seamlessly within the realm of traditional American tattoos.
Reflecting back to bygone eras, sailors adorned their skin with skull tattoos as an acknowledgement of life's inevitable end—a reminder that mortality is an intrinsic part of existence's tapestry.
With their rich history, these tattoos offer more than just aesthetics; they embody the essence of the human experience.
Embrace the allure of traditional skull tattoo fillers as the final brushstrokes on your canvas of ink.
Whether they stand as a focal point or meld into a larger narrative, they epitomize the enigmatic beauty of life's intricate dance with mortality.
Traditional Dagger Tattoo Fillers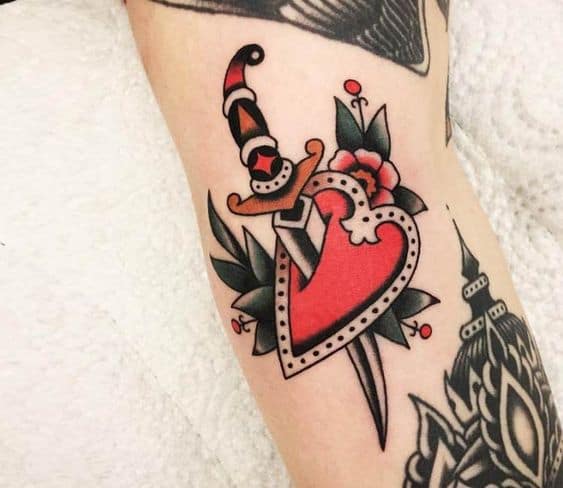 Dagger Tattoo Fillers wield a striking narrative of power and resilience, etching a tale of unwavering strength onto the canvas of your skin.
With a history entwined in battles and courage, these tattoos embody the spirit of the fighter, a reminder of one's unyielding resolve to champion what's just and right.
The versatility of a dagger tattoo knows no bounds. When interwoven with other imagery, it unveils a realm of interpretations.
The fusion of a dagger and heart design paints a portrait of heartbreak, where the blade pierces through the core. Likewise, a dagger driven through an animal's visage speaks to conquest and dominance.
This artistry of layering meanings lends dagger tattoos their allure. An emblem of fortitude, they merge seamlessly with other images to craft a narrative unique to the bearer.
They intertwine strength and symbolism as a traditional tattoo sleeve filler, carving an indelible mark on the tapestry of tradition and individuality.
Traditional Anchor Sleeve Fillers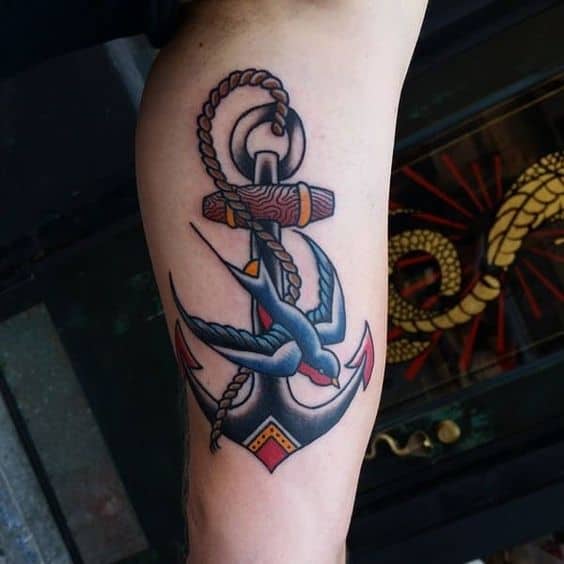 Discover the timeless significance of Anchor Sleeve Fillers, a traditional tattoo design that unfurls its meaning with unwavering clarity.
An anchor, synonymous with stability, serves as a vessel's steadfast anchor against the tumultuous seas.
Beyond the waves, this emblem finds a resonant symbolism – a testament to resilience amidst life's adversities and the ability to stand firm through uncertainty.
Yet, the allure of the traditional anchor goes beyond its simplicity. It metamorphoses with other designs, embodying diverse contrasts of meaning or serving as a canvas for personal interpretation.
As a tribute, an anchor tattoo can harbour a loved one's name, etching a heartfelt homage into the tapestry of skin.
In its simplicity, the anchor tattoo reveals a profound narrative of steadfastness, an unyielding anchor tethering the soul in the voyage of life.
Traditional Heart Tattoo Fillers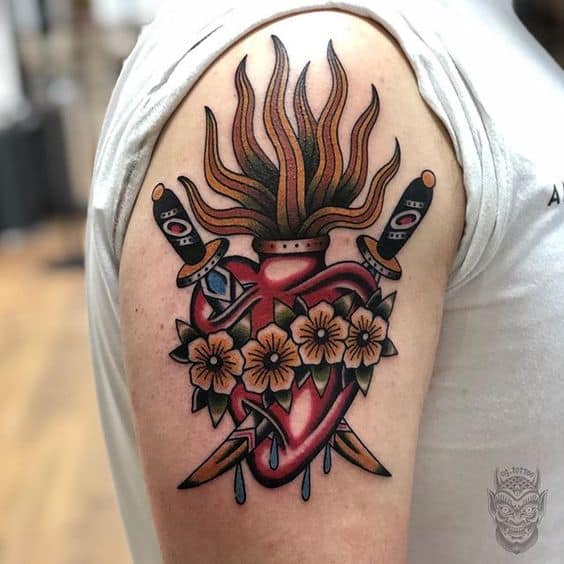 Heart Tattoo Fillers is a timeless emblem rooted in the annals of traditional American ink. This design, intertwined with the narratives of sailors of yore, carries a poignant tale.
Sailors, forging paths across distant horizons, etched these hearts to tether their affections close. A symbol of devotion and connectivity, this ink embodies the sentiment of "wearing your heart on your sleeve."
Yet, the allure of traditional heart tattoos transcends nostalgia. These motifs intermingle seamlessly with other designs, birthing novel meanings.
Stories of heartache unfold within the weeping hearts and hearts entwined with daggers. Still, the imagery stretches further – an ode to resilience against life's tempests, a testament to emerging unbroken.
The traditional heart tattoo, more than ink on skin, mirrors the eternally beating core of the human experience.
Traditional Hourglass Sleeve Fillers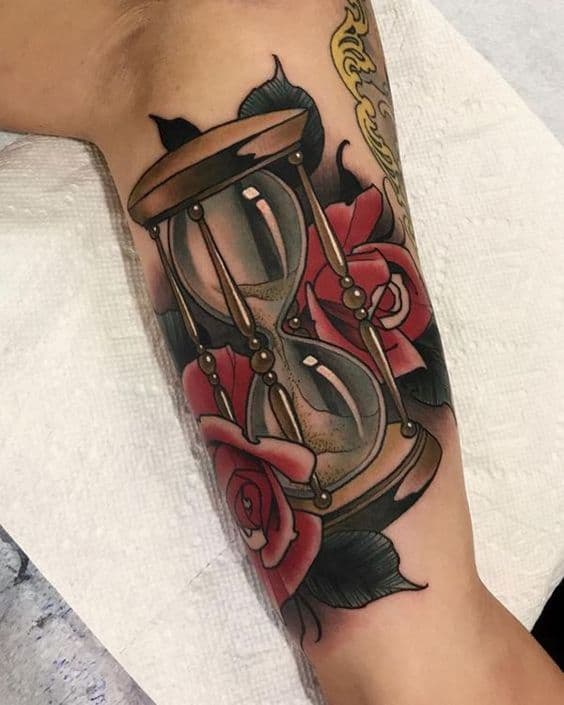 Explore the allure of Hourglass Sleeve Fillers, a canvas ripe for personal storytelling and symbolism.
Traditional hourglass tattoos hold the key if you seek a tattoo filler that becomes a vessel for your narrative and significance. Beneath their seemingly straightforward design lies a profound depth that can intertwine with your own narrative.
While the conventional interpretation revolves around the relentless march of time, these hourglass tattoos are a blank canvas for a spectrum of meanings, tailor-made for each individual.
Like other traditional tattoos, these hourglass designs are significant, serving as a centrepiece in your collection or harmoniously blending as a sleeve filler. Embrace the hourglass, and let its sands tell the tale of your journey.
More Filler Tattoo Ideas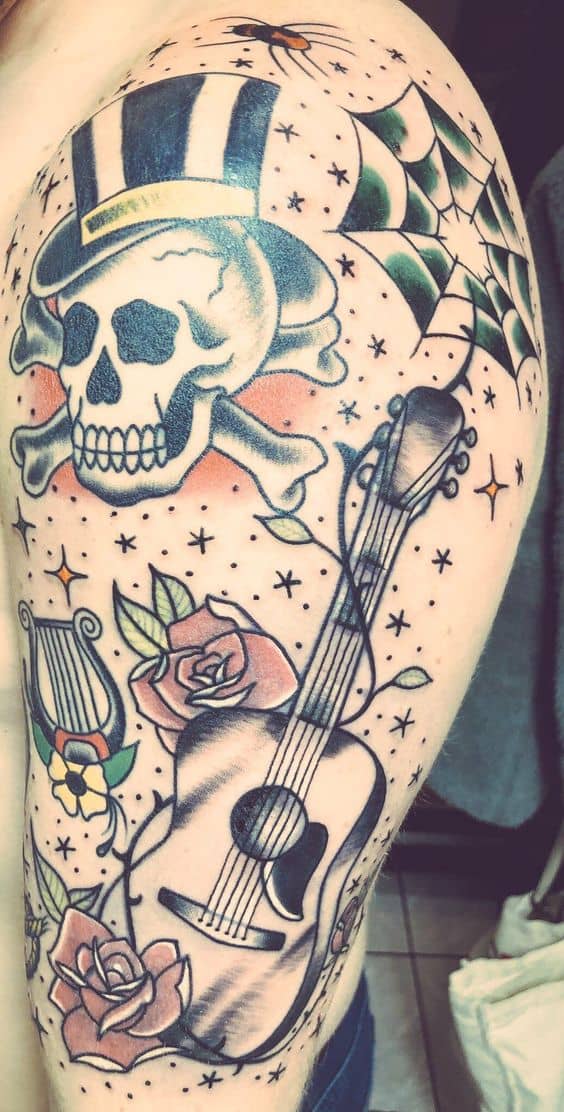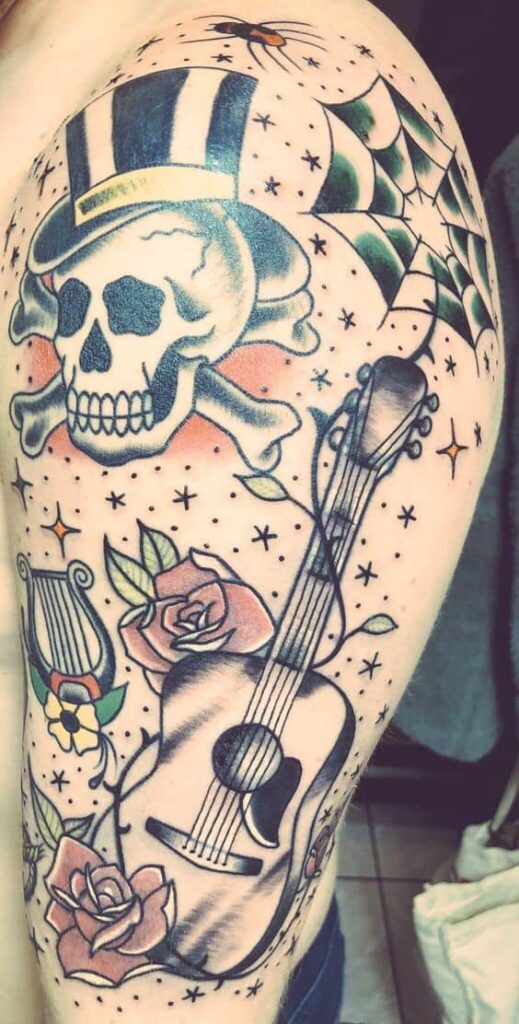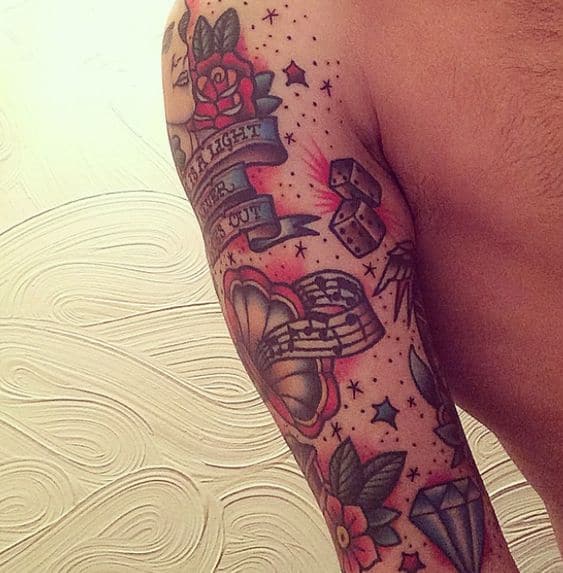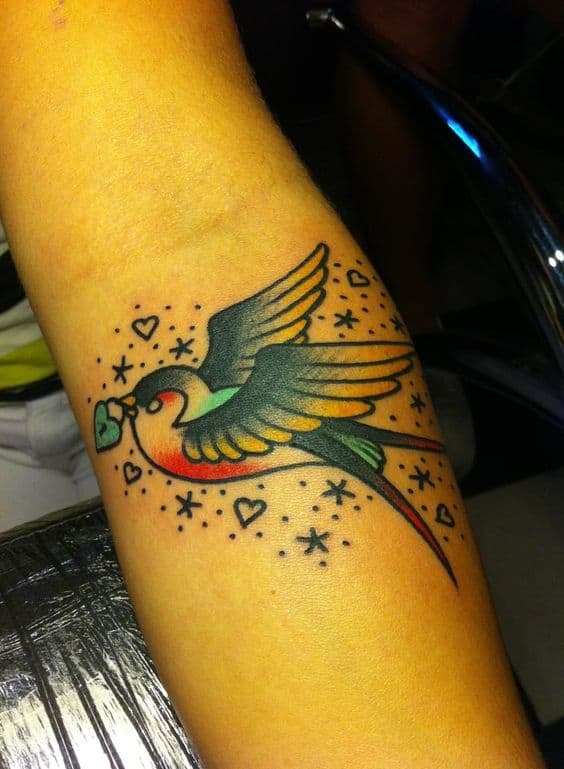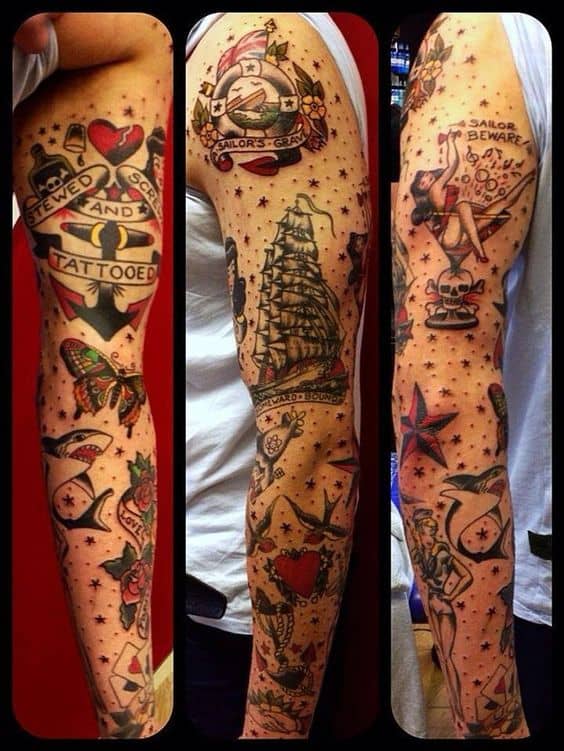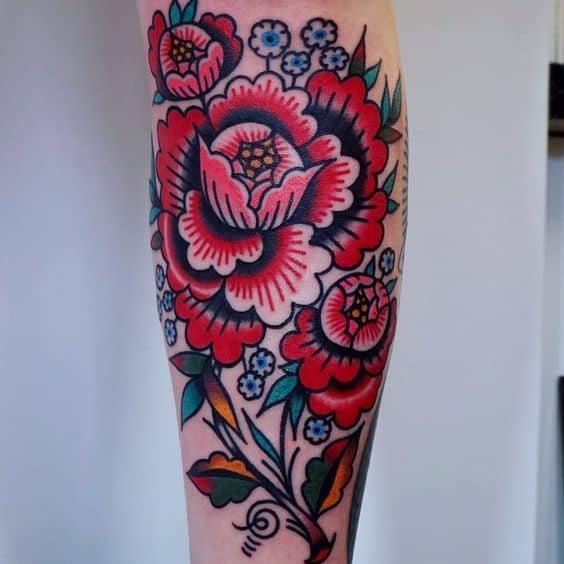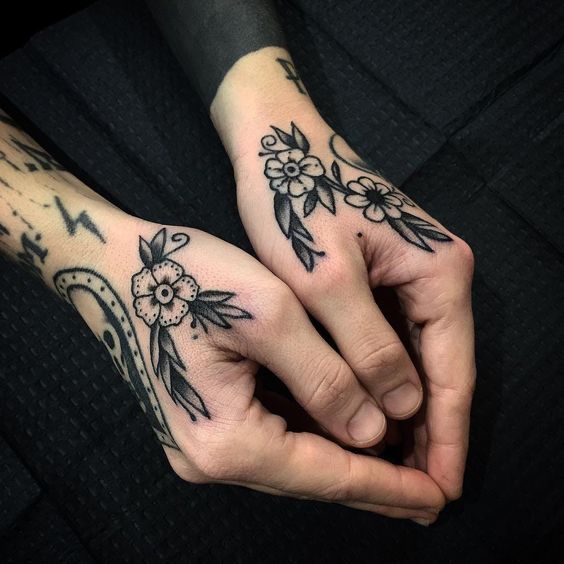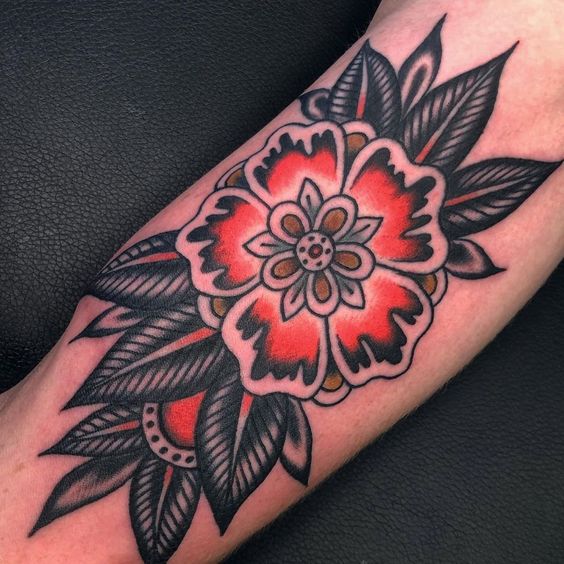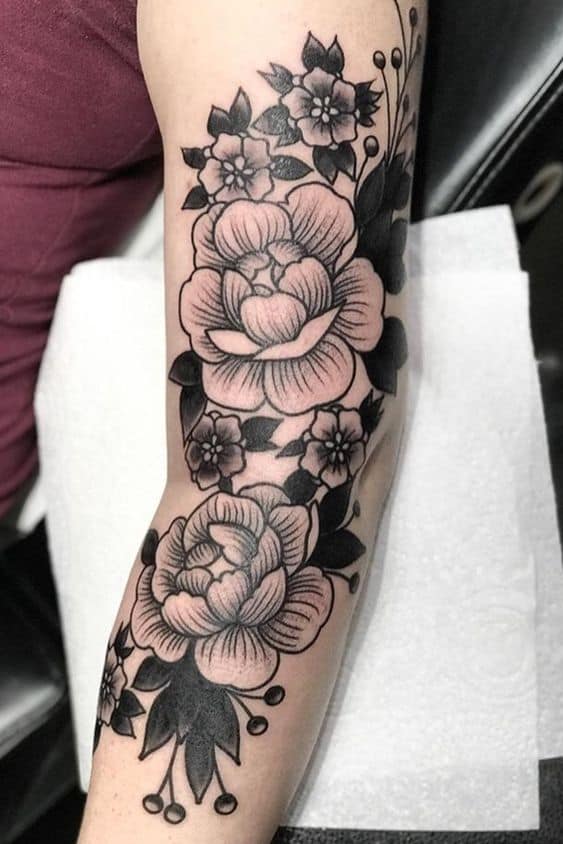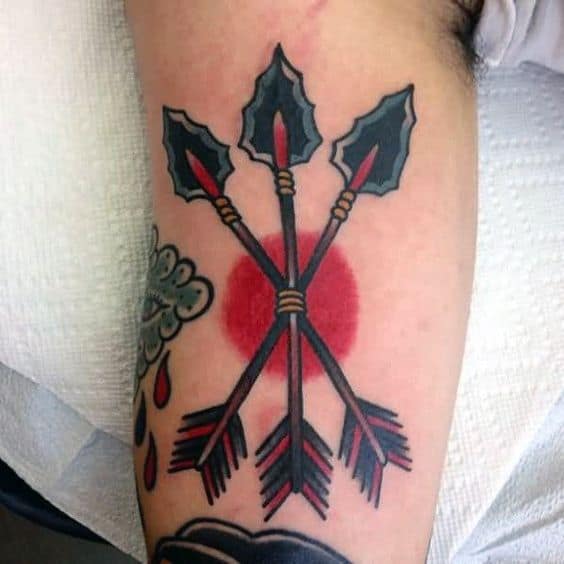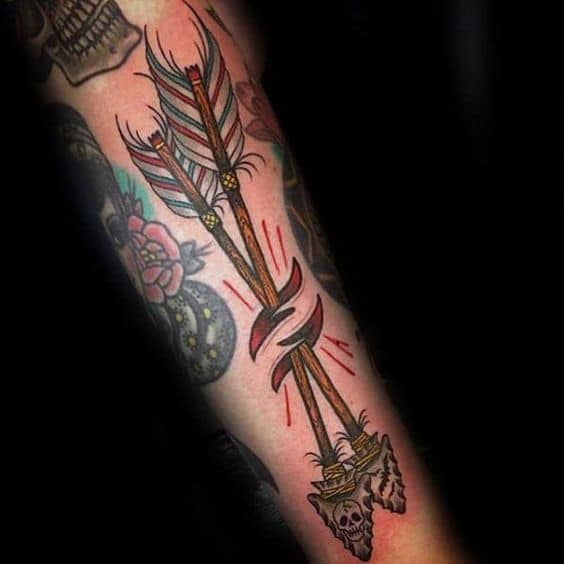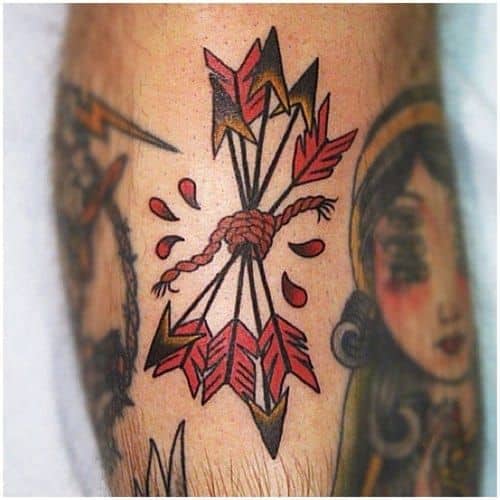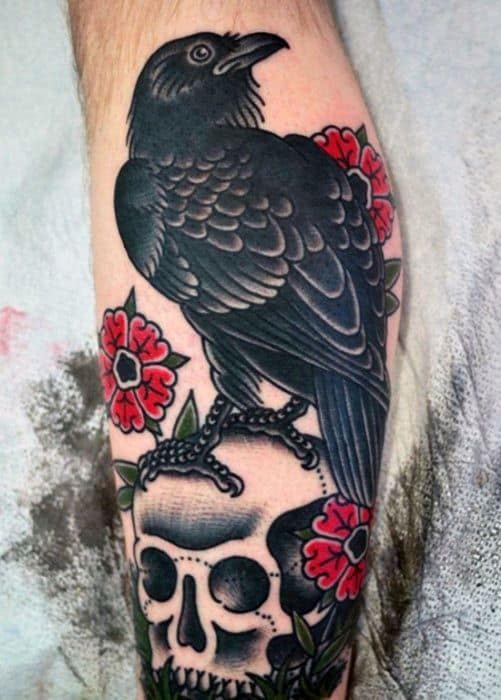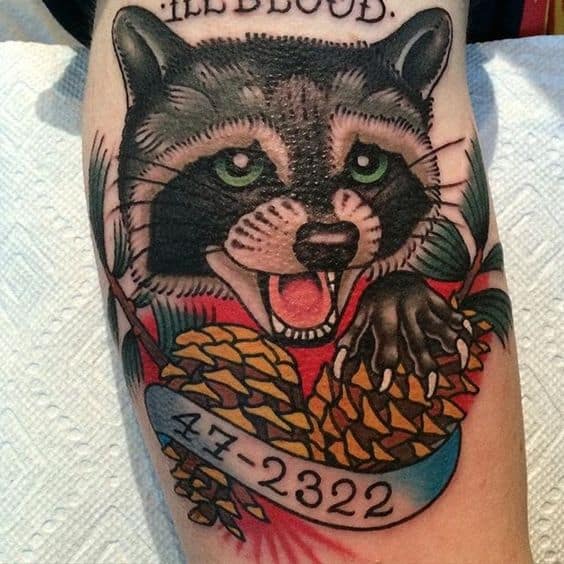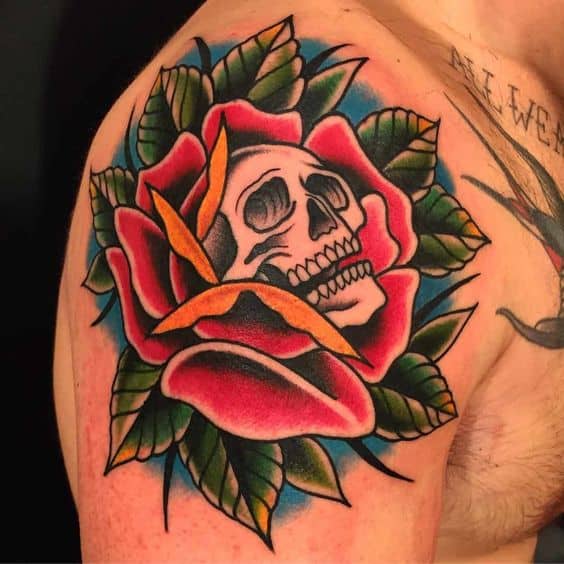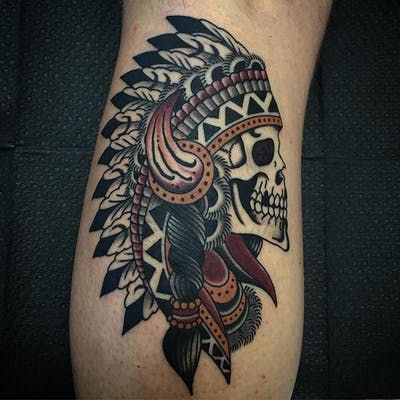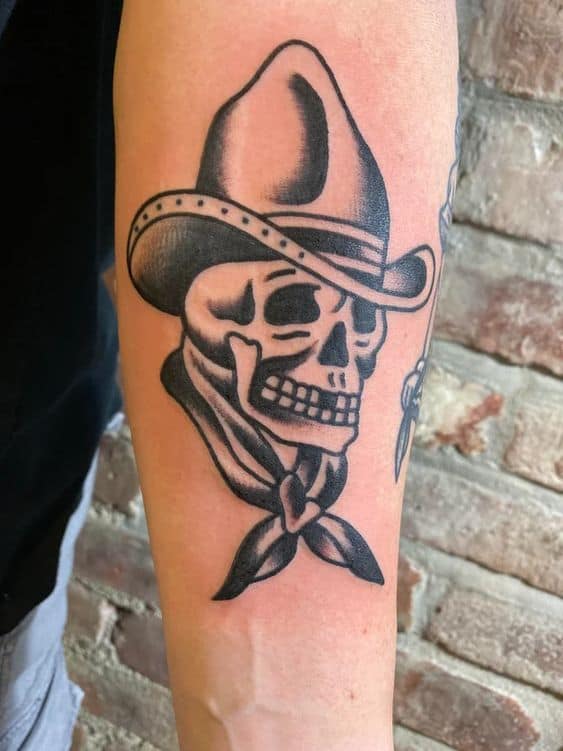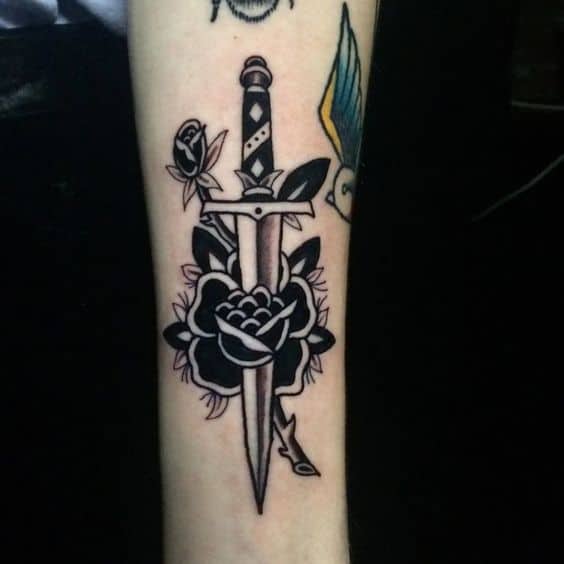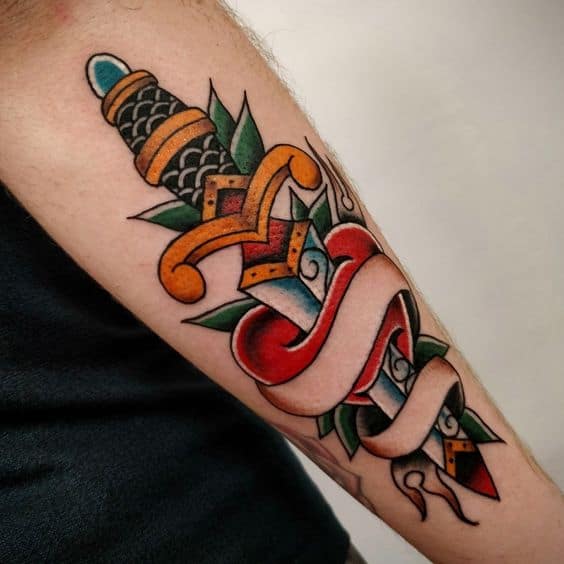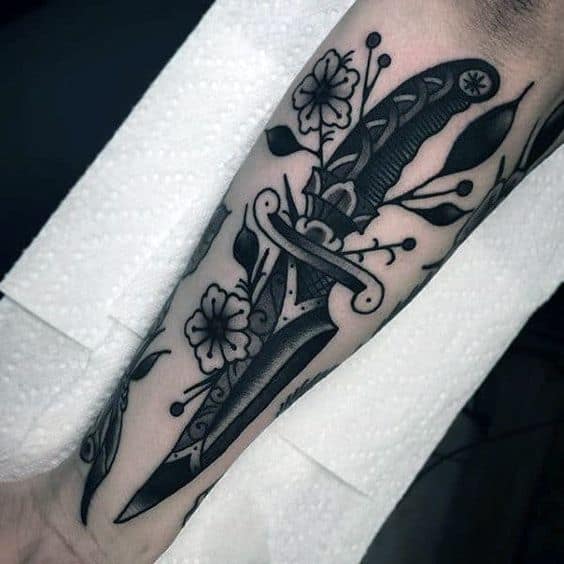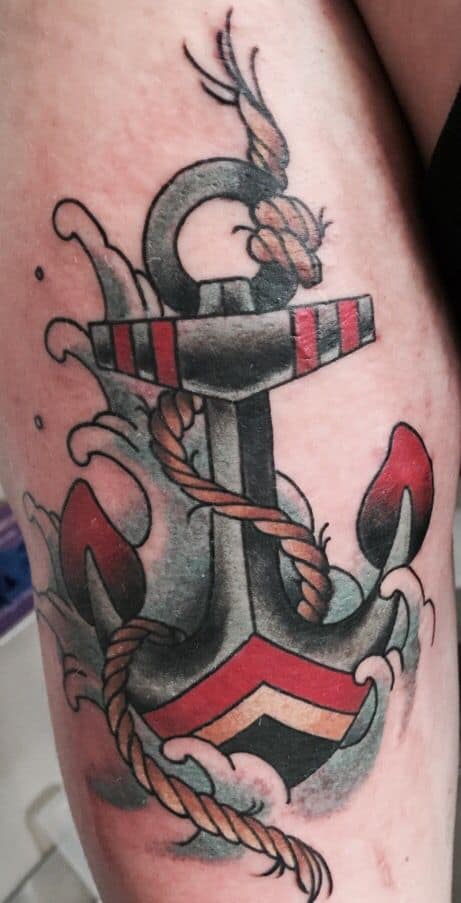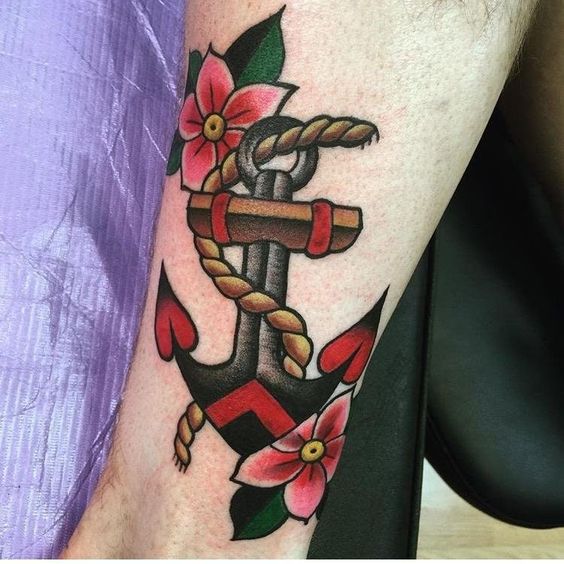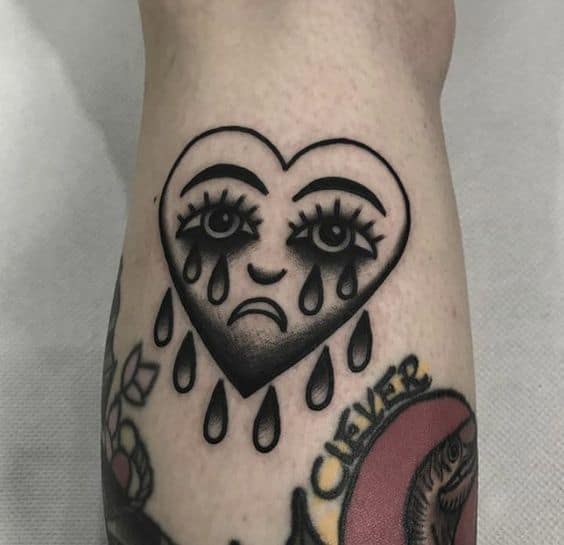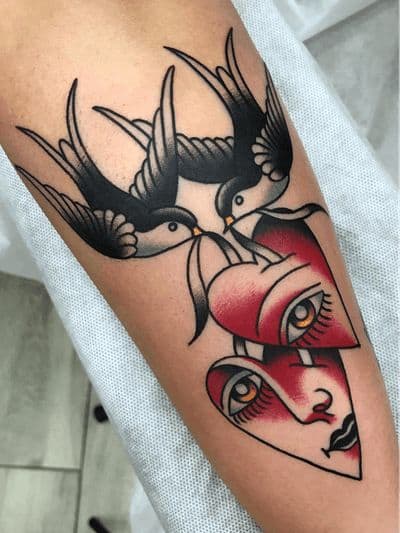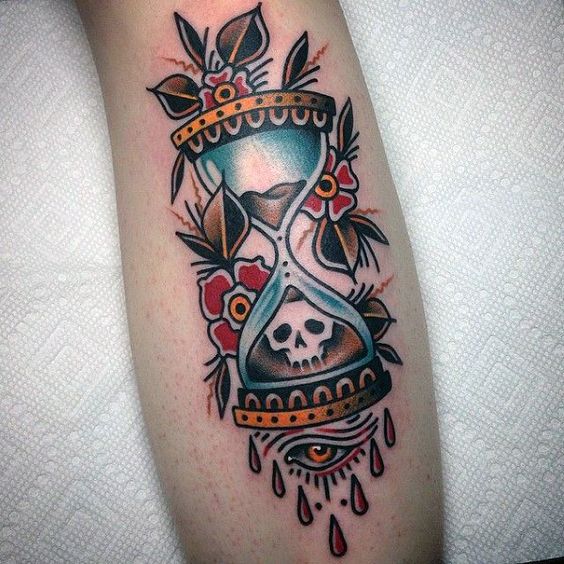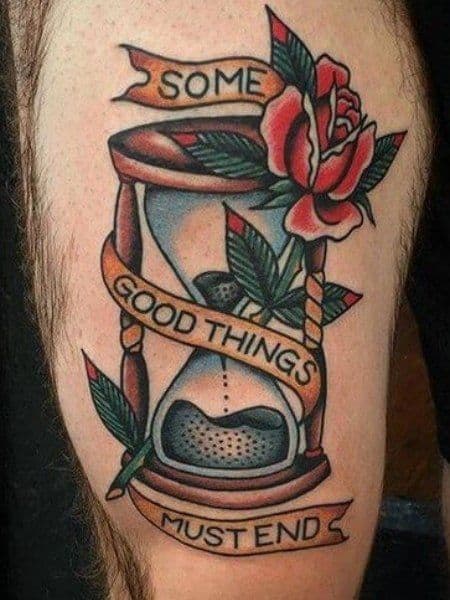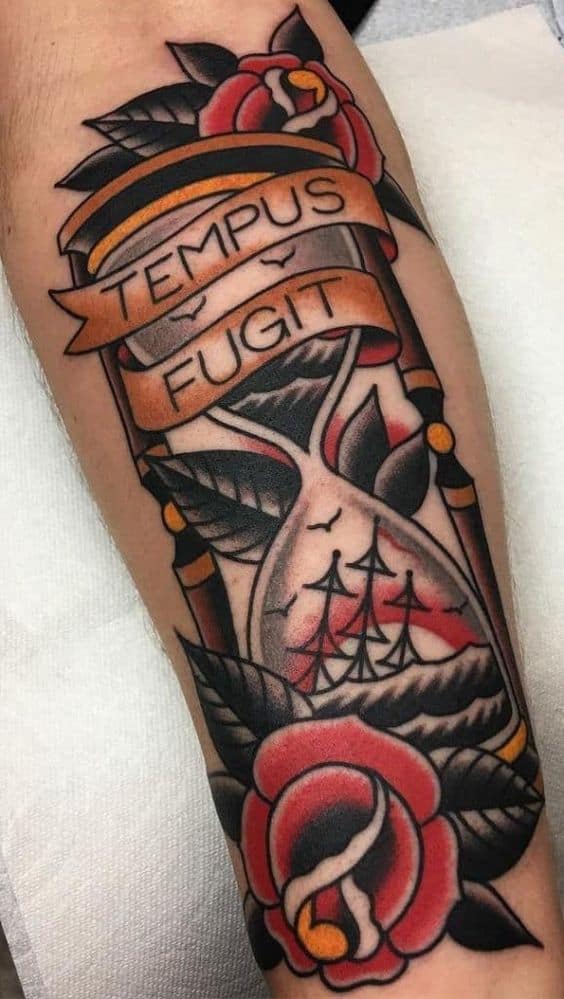 Conclusion
Dive into the world of perfect filler tattoos that enhance your body art. Our curated selection of 30+ designs seamlessly blends larger tattoos, adding depth and style to your canvas.
Filler tattoos are threads that weave unity, concealing gaps with artistic flair. Choose from funky teeth, captivating sharks, abstract patterns, and more to complete your ink story.
Embrace the journey as we explore creative fillers that transform your tattoo narrative into a masterpiece.
FAQs
Q: What is a filler tattoo?
A: A filler tattoo helps create smooth transitions between different parts of a tattoo sleeve and serves as a background that makes the main design stand out. It also adds texture and detail to enhance shading and depth in the overall composition.
Q: How do tattoo artists fill in tattoos?
A: Tattoo artists use dip pens and tracing paper to create a "tattoo stencil," ensuring clients get their desired ink design. After applying the traced outline, artists use their skills to follow the lines and complete the missing parts for a perfect tattoo.
Q: Which is better, a lip liner tattoo or filler?
A: Opting for a lip tattoo results in longer-lasting effects. Dermal fillers are great for adding volume and prominence to the lips, while lip tattooing offers a more subtle look, creating the appearance of fuller, well-defined lips without changing their natural shape.
Q: How long does it take for filled-in tattoos to heal?
A: Healing times for tattoos vary. The outer layers of the skin generally heal within two to four weeks, while the deeper layers where the ink is placed may take around four months to fully heal.