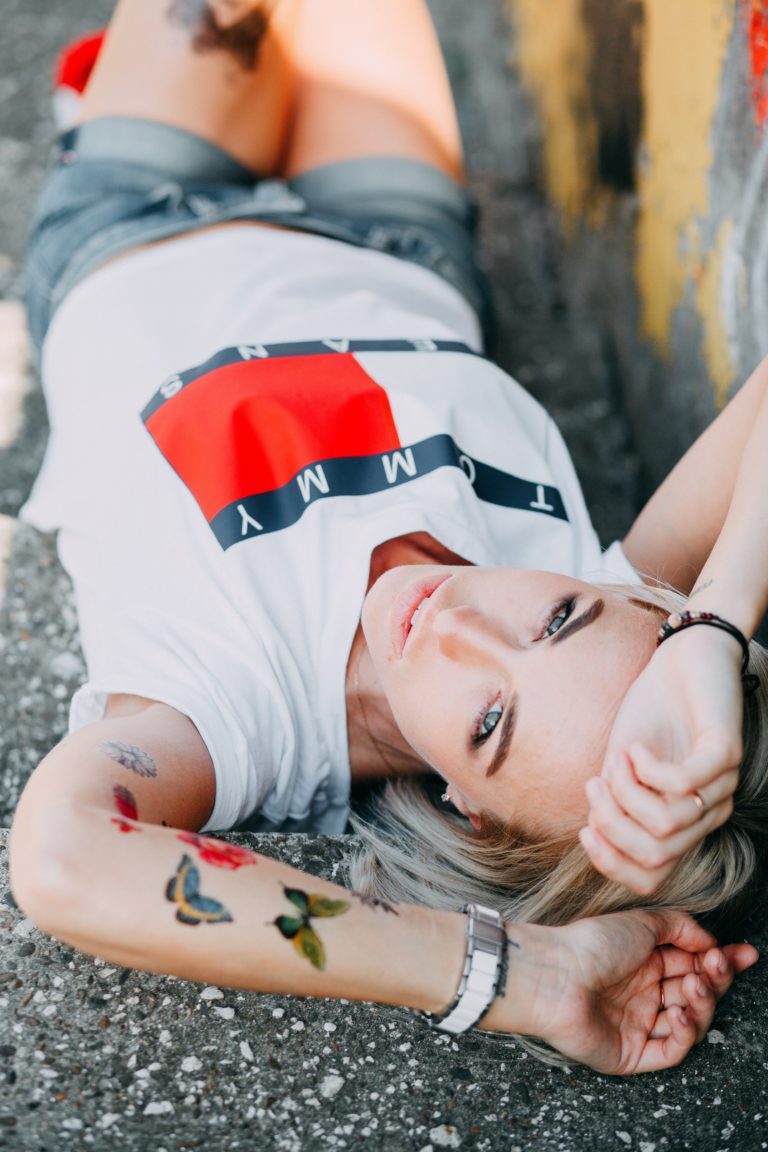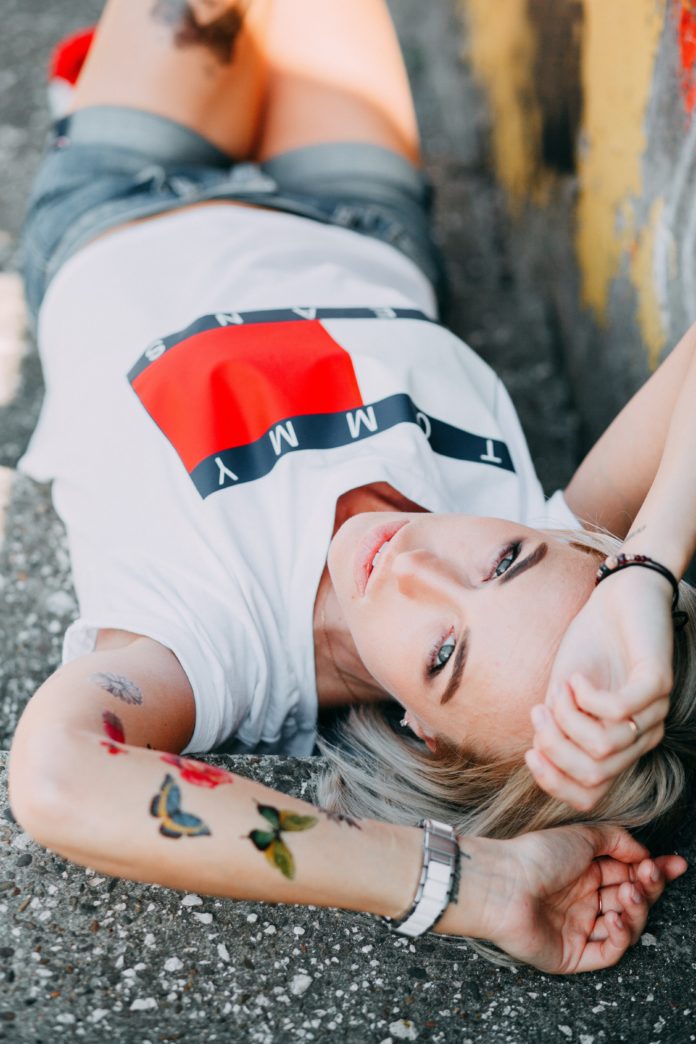 Delicate, colorful, and bold are the terms if we want to describe the butterflies. They are one of the most beautiful creations of nature, representing free spirit and uniqueness. The dazzling beauty of these creatures has inspired many, and so do the tattoo lovers. Thus, a butterfly tattoo has been in trend for a long time and is like an immortal sign of expressing a person's carefree nature.
There is a meaning behind a butterfly tattoo, and the concept behind the impressive art will also inspire you to get it. In general, it symbolizes is that a person is bohemian and has earned it; thus wears it with pride.
A simple butterfly tattoo can be an astounding addition to your looks if you're thinking of getting yourself inked. 
In the article below, we will tell you about some of the most bewitching butterfly tattoo designs that will make you stand out from the crowd.
The pulchritudinous butterfly tattoo designs that we have put together in the article include small butterfly tattoo, 3D butterfly tattoos, butterfly hand tattoos, and more, which you will love.  
READ MORE: Buddha Tattoos: What Does They Signify?
So, now let's begin our journey of some most prepossessing butterfly tattoos:
Butterfly Tattoo Meaning
Butterfly tattoos have been a popular choice for women. The ink can be done in many sizes and forms and have a traditional meaning for the wearer.
It represents the love and femininity for the wearer, although they can also be representative of endurance, change, hope, and resilience. 
READ MORE: This Tattoo Can Make You Look Powerful.
Small Butterfly Tattoo
Small butterfly tattoos are a perfect piece of art if you want something for your first tattoo or want a sleeve tattoo.
These small butterfly tattoo designs are something that looks delicate, subtle, and beguiling, which you can get anywhere on the body according to your preference. 
If you want to put it somewhere that can be easily hidden; then the small butterfly tattoo can be inked on the wrist or ankle. The small butterfly tattoo is perfect for people who want something petite and elegant.
This butterfly tattoo is designed as something which makes it perfect for all types of people. 
READ MORE: Skull Tattoos: What Does They Mean?
Tiny Butterfly Tattoo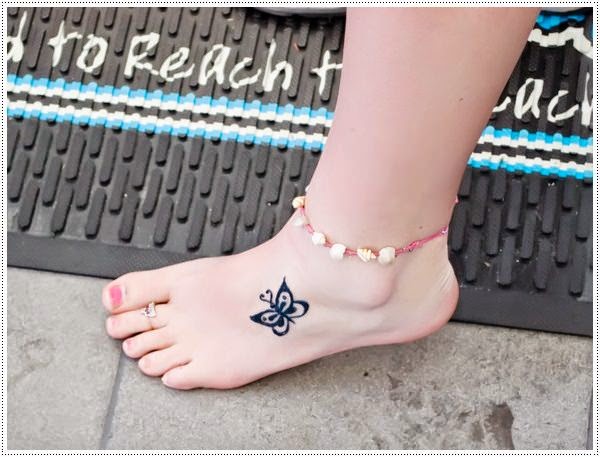 Want something in trend? The answer is a tiny tattoo. These teeny tiny butterfly tattoos are one of the most sought after and trending tattoo designs you can get for yourself.
What makes them even more amazing is that they are elegant and subtle with being trendy, and thus you can get them anywhere on the body.
You can get yourself with these tattoos literally anywhere from your lower arm to behind your ear or wherever you like. They are something that will be a beauteous addition to your style statement. 
READ MORE: Symbol of Strength Tattoos
Simple Butterfly Tattoo
A simple and elegant style is something that can stand the test of time and resonates with all tastes. The simple butterfly tattoo design just fits perfectly in this description of an elegant yet simple tattoo.
This butterfly tattoo's meaning is something that will also motivate you to get it ASAP. It represents freedom and alluring beauty, which is something that is perfect as who doesn't love freedom?
To bring out the ravishing beauty of this tattoo, let the ink talk as the black ink in it is very expressive. Other than this, the design of this tattoo can be large or small according to your choice, and you can also use color if you want something different. 
READ MORE: What Magic do Tribal Tattoos Have?
Monarch Butterfly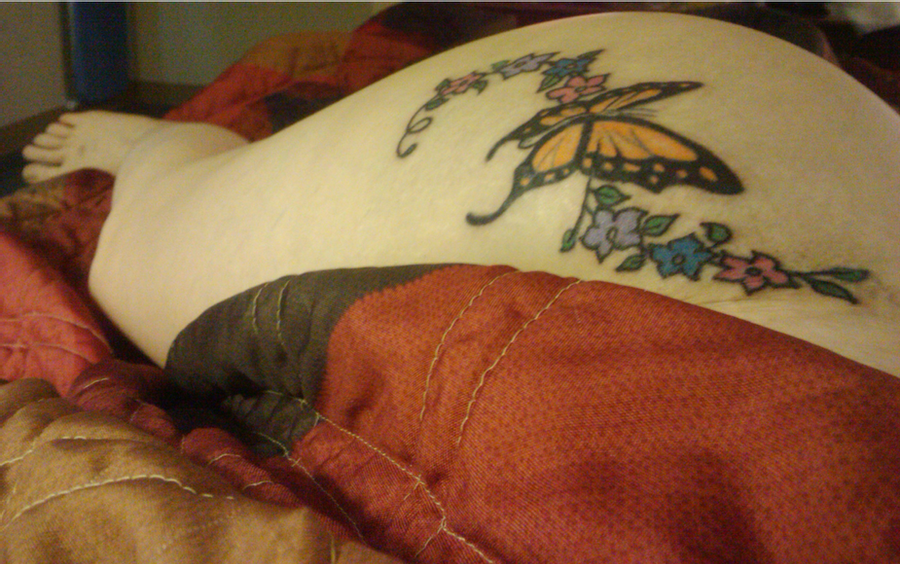 The monarch butterfly tattoo is the quintessential symbol of royalty and beauty. The monarch tattoo design is timeless and classic, which will surely get you a lot of praise and compliments.
In it, you have the option of choosing between the traditional and modern styles, wherein traditional; you can go for a butterfly tattoo design with gold wings. On the other hand, in modern times, you can replace the wings with a bouquet. 
One thing to be careful about when going for this tattoo is always to choose an artist with good experience in the field. A good artist is essential as every detail in this butterfly tattoo matters.
READ MORE: Symbol Tattoos That Can Protect You From Evil 
Blue Butterfly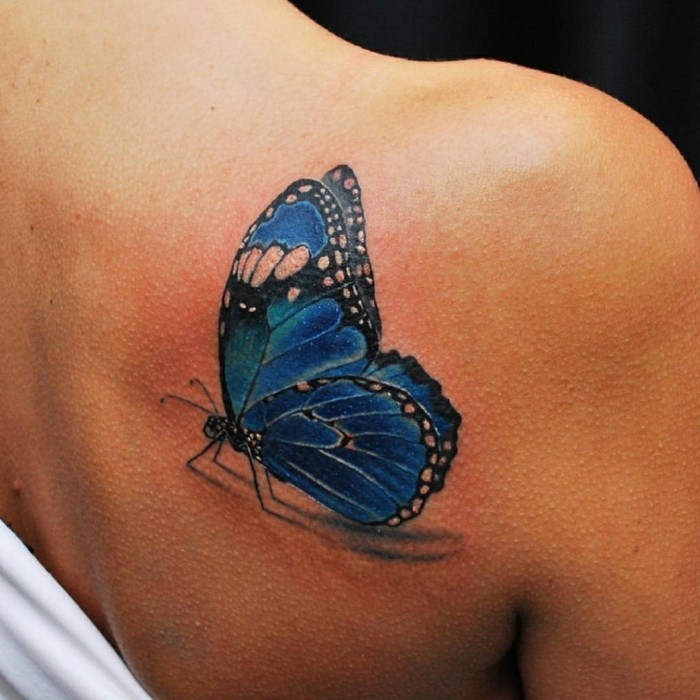 The blue butterfly is a representation of luck and joy and thus a vibrant option for those looking for something expressive. These tattoos are something that is immortal and never goes out of trend; thus will last a lifetime.
The pigment of the blue shade lasts longer in comparison to others, so you can be sure that its stunning colors and hue will stay with you till the end. 
In this design of butterfly tattoo, you can go for single or multiple insects to represent your love and style. 
READ MORE: Popular Swallow/Sparrow Tattoo Designs
Butterfly Flower Tattoo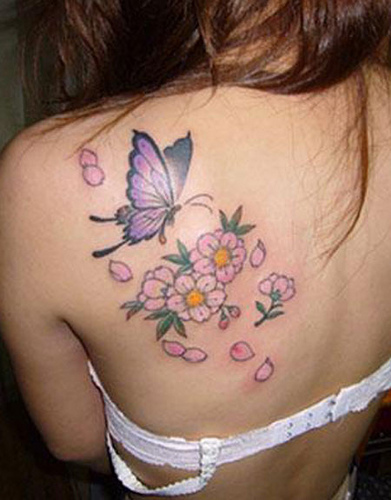 This butterfly tattoo's meaning depends on the type of flower you choose. Like a butterfly and rise betoken the love, transformation, and passion. Thus it is perfect for people who can transform for their passion or love.
What makes it different from others is that it represents feminine power in a stunning way. It tells how females can transform themselves for passion and love, thus showing women empowerment.
In Greek, the term for the butterfly is Psyche, which is the name of the Greek goddess of love, so if you go for this butterfly tattoo, it will represent gentleness and adoration.
Skull Butterfly Tattoo
A butterfly and a skull symbolize the exordium of a new life and mortality, and together, these two represent the life cycle.
This butterfly tattoo meaning is something that is enough to get yourself inked with it. Although if you want something more than it is also a representation of a person's love for nature. 
This butterfly tattoo design is large, so it's best suited for thighs, rib cage, arms, or back. You can also add some roses to the design if you want something more expressive that tells a story of its own.
Anyway, it will be a mesmerizing piece of art to get yourself inked with. 
3D Butterfly Tattoo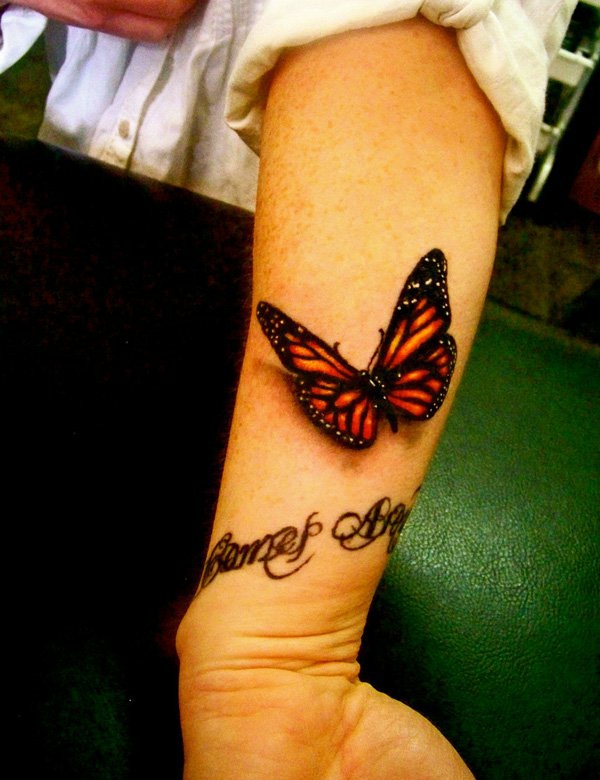 If you want something that ignites the imagination of the viewer, then the 3D butterfly tattoos are for you. The winsome colors and shadows in the 3D tattoos bring the butterfly to life while giving it a dazzling characteristic look of its own.
The 3D butterfly tattoo designs capture the true beauty of the butterfly style and grace. What makes them stand out from the regular tattoos is that they feel very much realistic and airy, thus making them alluring.
If done with the right shades and a combination of colors in accordance with skin tone, the 3D butterfly tattoo will make the butterfly look very natural and pop like it's going to take a flight. 
Butterfly Tattoos With A Women
The butterfly tattoos with a woman are a double dose of female power. These tattoos are radiant and sexy, giving a sense of paramount female pride. They show the ultimate distinctiveness of butterflies and women being one and free.
What makes this butterfly tattoo stand out from the others is that it combines women freedom, mystery, and beauty in itself. They are also like a double dose of feminine power with a touch of delightful and sexy outlook. 
Whatever style you choose, this tattoo will look engaging and breathtaking that will get you some admiration from people around you. This combination increases the attractiveness and sex appeal if placed anywhere on the human anatomy. 
READ MORE: 100+ Beautiful Floral Tattoo Designs
Neck Butterfly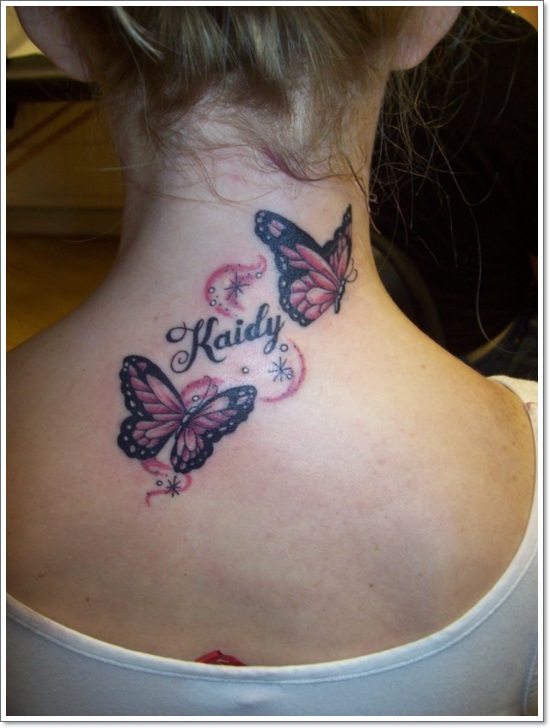 The neck tattoos have become increasingly popular among the new generation of tattoo lovers. It is a representation of bravery, but it is also a good idea for people who love being bold and risks.
One thing to remember before getting a neck butterfly tattoo is that this area is not easy to hide, so think seriously before getting yourself inked. 
Another thing about this place of tattoo is that it is more sensitive to the other body, so more painful. However, it will also give you a beautiful drooling outcome once you get it done.
For a more mesmerizing look, go for some soft colors with a black outline with some small insects. This tattoo is one of the sassiest choices for tattoos to showcase strength. 
Chest Tattoos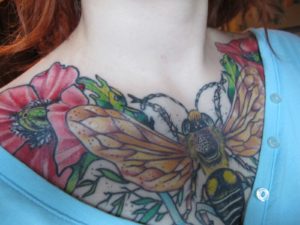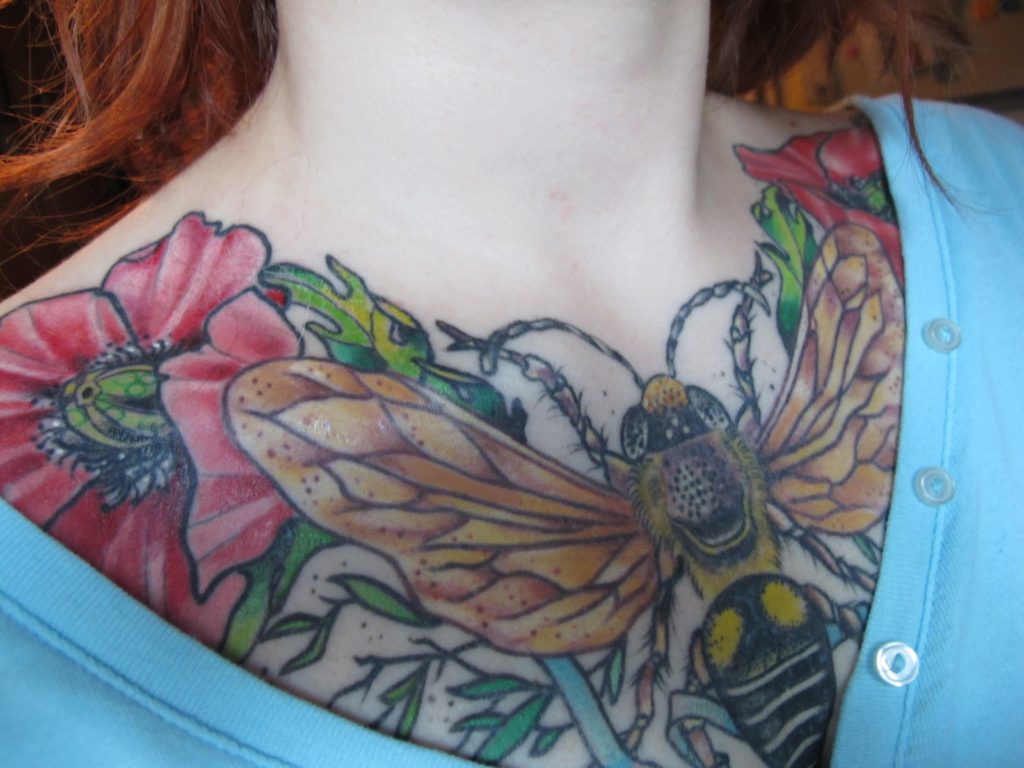 This tattoo is a popular and bold choice for both women and men alike. Popularized in the 2010s by the singing sensation Rihana this tattoo has become one of the trendiest butterfly tattoo designs for those who are in love with ink.
The butterflies represent the prolegomenon of new life, so what can be a more perfect place for this tattoo than the chest near the heart?
One thing to know is that the skin in this area is sensitive in both men and women, so it will hurt more to get this tattoo. However, once you get this stunning piece of art, it will all be worth it; remember, No Pain No Gain. 
Final Words
Call them cliche or cheesy, but there are some tattoo designs that never go out of trend, and a butterfly tattoo is one of them. These tattoos are not just bewitchingly beautiful but also symbolize many things like love, freedom, and endurance.
So, now when you know about some of the most stunning butterfly tattoos, when are you getting yourself one?