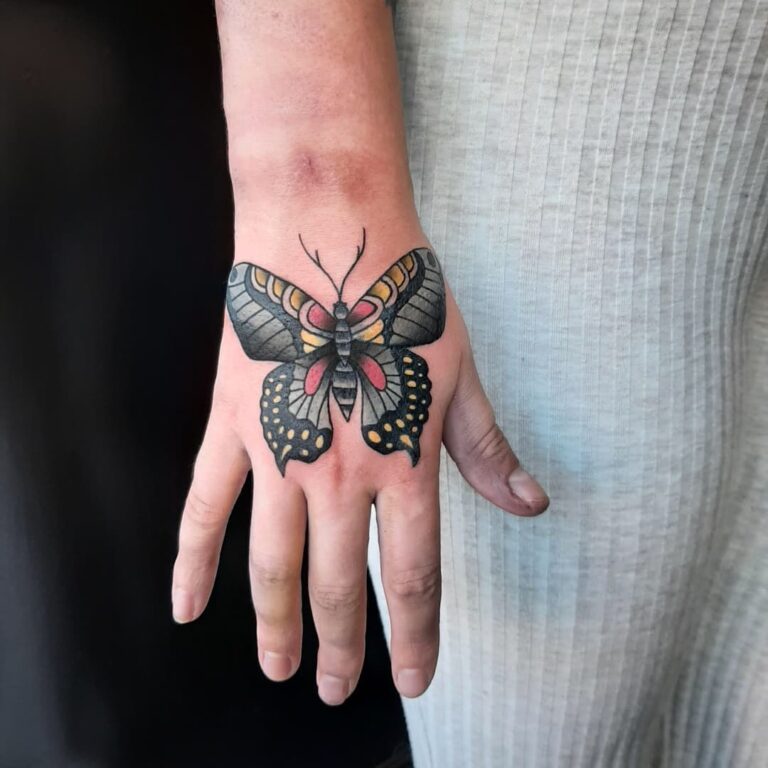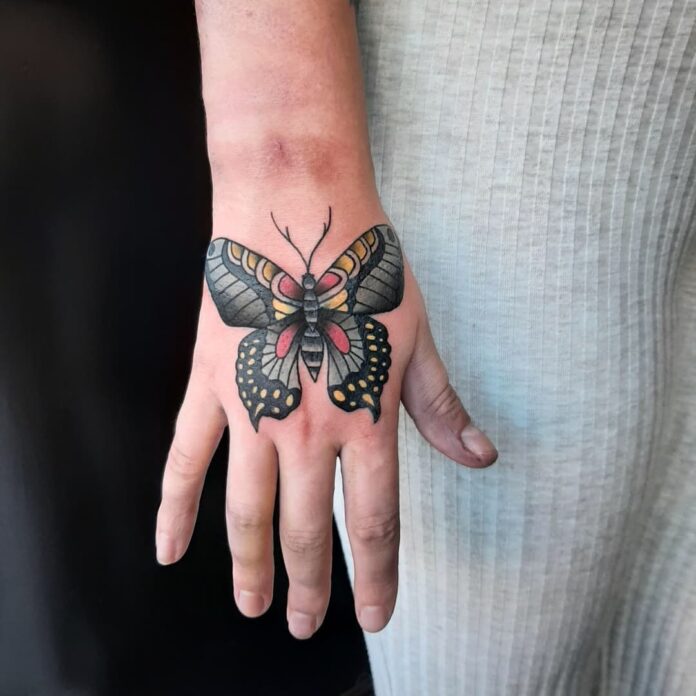 Are you in search of captivating butterfly and flowers tattoos ? You've landed in the perfect spot, Butterflies are mesmerizing creatures, and when combined with flowers in a tattoo, the outcome is truly enchanting.
The butterfly and flowers tattoo is a preferred choice among females due to its elegant and feminine appeal. Moreover, these tattoos carry a romantic symbolism.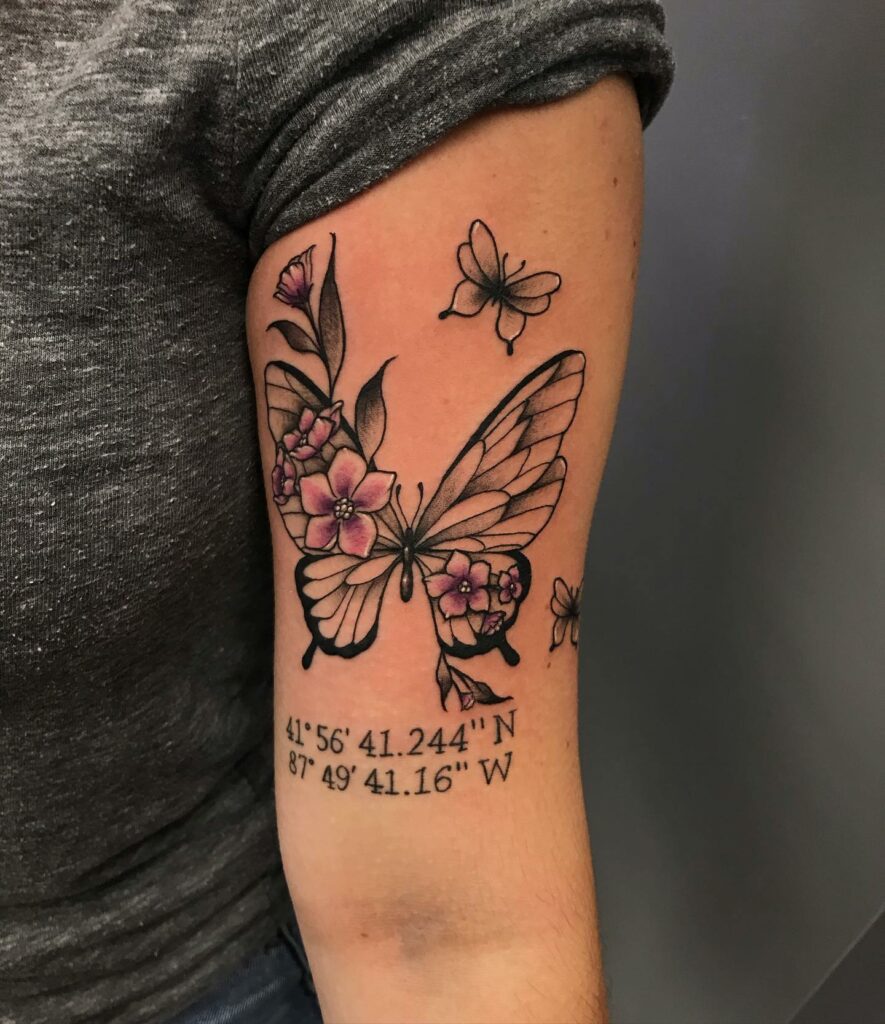 Butterflies signify grace, joy, and youthful love, while flowers represent love and the bond between two individuals.
In our store, we've curated a selection of splendid butterfly and flowers tattoo ideas to ignite your tattoo inspiration. Let's embark on this creative journey.
Butterfly Wings X Flowers Tattoo Design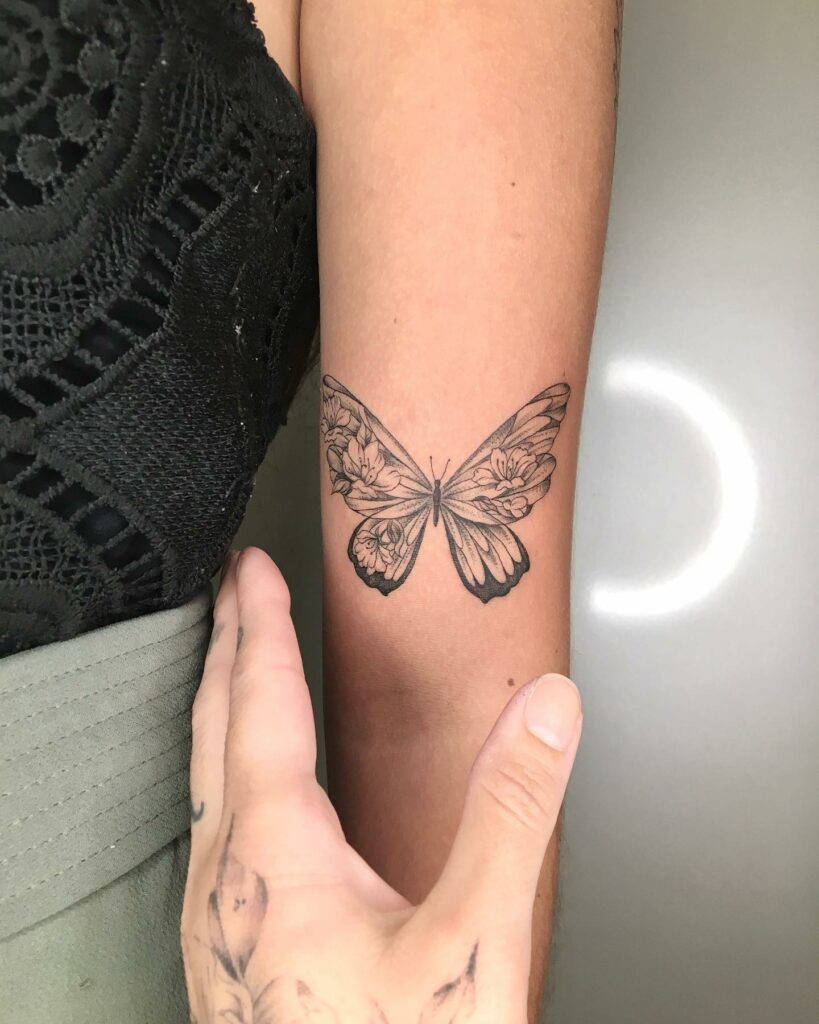 Are you seeking inspiration for your next tattoo? Look no further because we have a captivating butterfly and flowers tattoo concept to share with you.
This exquisite design is rendered in black ink and showcases a dainty butterfly adorned with delicate flowers on its wings. The attention to detail is exceptional, as each wing is meticulously crafted to resemble a lifelike appearance.
The addition of flowers at the center of the butterfly infuses the tattoo with beauty and elegance.
What makes this butterfly and flowers tattoo design even more appealing is its versatility in placement – whether it graces your shoulder, leg, or chest.
You can even consider adding a splash of color to enhance its visual impact. The understated allure of the black ink ensures it complements any outfit effortlessly.
If you're in search of a striking and timeless tattoo that commands attention, this butterfly and flowers design is an excellent option.
Blue Butterfly With Flowers Tattoo Drawing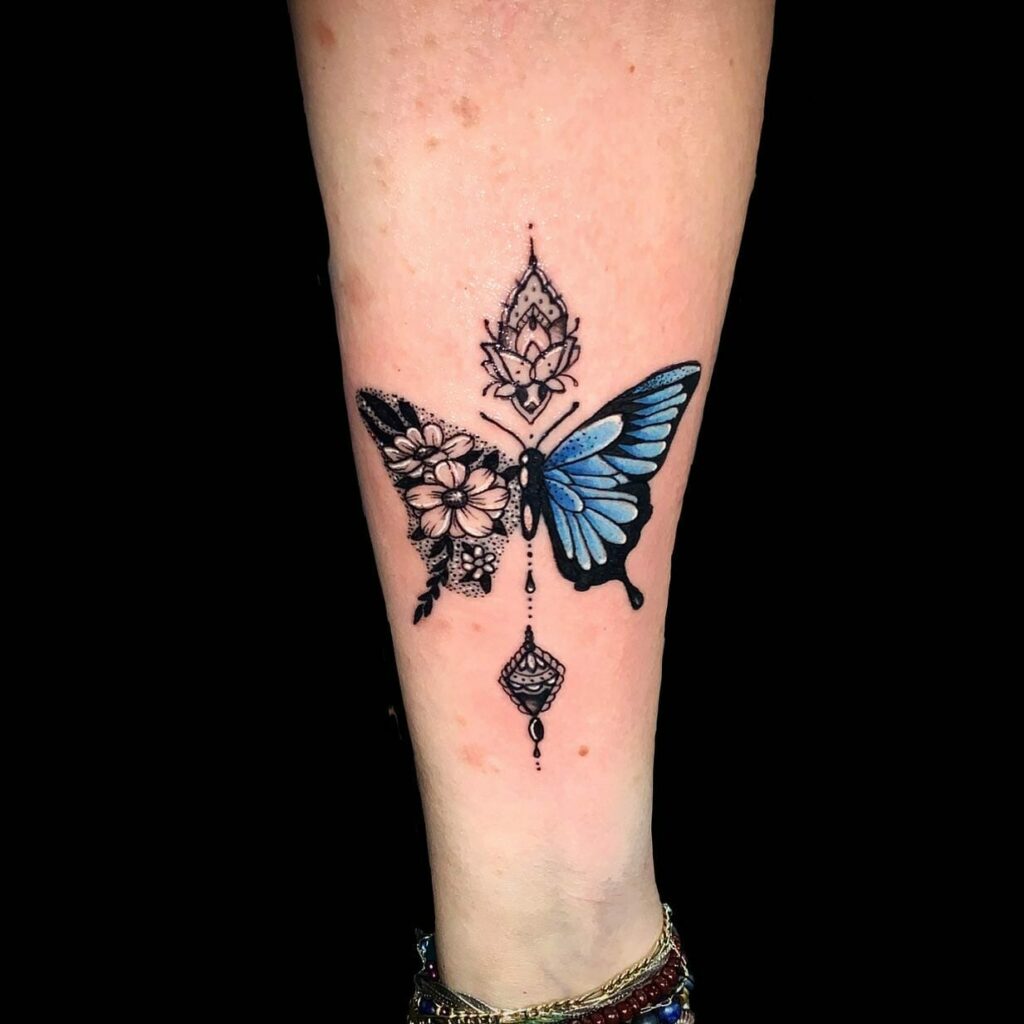 If you're in search of a vibrant and attention-grabbing tattoo, take a look at this captivating half butterfly and half flowers design.
What makes this tattoo particularly intriguing is its division into two halves – one showcasing a serene blue hue on the butterfly wing, while the other half is adorned with intricate floral patterns created using the dot work technique.
This method gives the flowers a distinct and textured appearance, adding to their visual appeal.
The standout feature of this tattoo lies in its balanced yet striking half-and-half design. The skillful shading of the blue wing lends depth and dimension to the overall artwork.
Adding to its charm is the inclusion of a trinket within the body of the tattoo, infusing it with additional character.
This tattoo serves as a genuine masterpiece and a wellspring of inspiration for your own creative ideas.
Its adaptability ensures it complements any attire, making it an ideal choice for individuals seeking a distinctive and captivating tattoo.
If you're drawn to vibrant and captivating designs, this half butterfly and half flowers tattoo could be the perfect fit for you.
Realistic Butterfly With Flower Tattoo Idea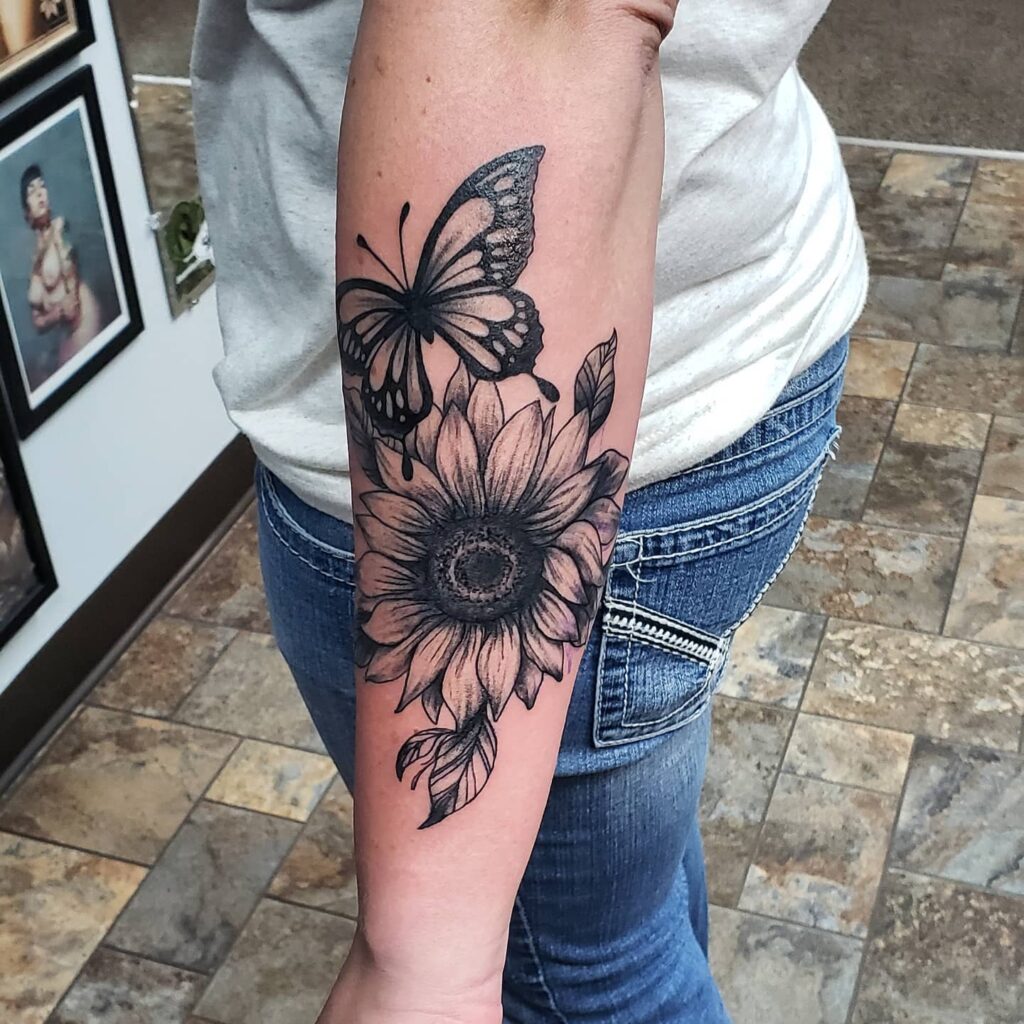 If you're seeking a captivating butterfly tattoo, the one we have here is sure to catch your eye. This sleeve tattoo showcases a striking flower at its center, adorned by a beautiful butterfly resting atop.
The meticulous attention to detail and precision in crafting this design is undeniably remarkable. The flower's petals and center exhibit breathtaking beauty, while the vines and surrounding flowers enhance the tattoo's majestic allure.
What truly distinguishes this tattoo is the remarkably lifelike strokes on the petals – their realism is astonishing. The use of black ink by the tattoo artist imparts a subtle yet elegant quality to the design.
However, if you wish to infuse your personal touch, consider incorporating smaller butterflies to further enhance its appeal.
In essence, this butterfly tattoo, coupled with vines and flowers, is an authentic masterpiece that complements anyone who adorns it. Its versatility ensures it harmonizes with various outfits and styles.
If you're in search of a remarkable and distinctive tattoo that's bound to capture attention, this should certainly be a top contender on your list.
Delicate Beautiful Butterfly x Flowers Tattoo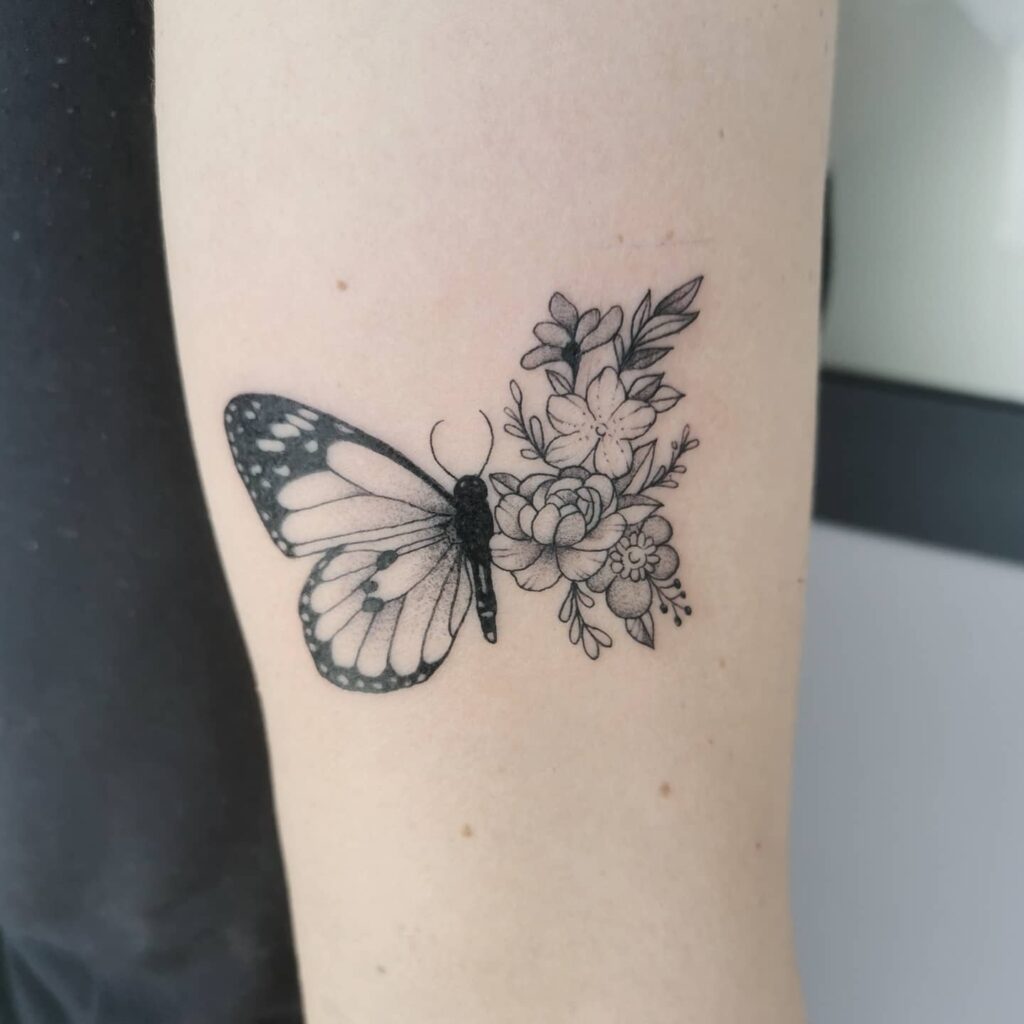 To infuse your tattoo with additional natural elements, consider the inclusion of a dandelion motif. Dandelions are often associated with wishes and dreams, imparting a whimsical touch to any tattoo.
Integrating a dandelion into your butterfly and flowers tattoo design can result in a delicate and profound artwork that symbolizes growth, transformation, and change.
Whether placed above the butterfly or nestled among the flowers, this addition lends a unique and meaningful aspect to your tattoo. This half-and-half design is versatile and captivating, easily tailored to match your personal style.
With intricate details and an elegant composition, this butterfly, flowers, and dandelion tattoo promises to captivate attention and evoke admiration wherever you showcase it.
Butterfly With Flowers On Branch Tattoo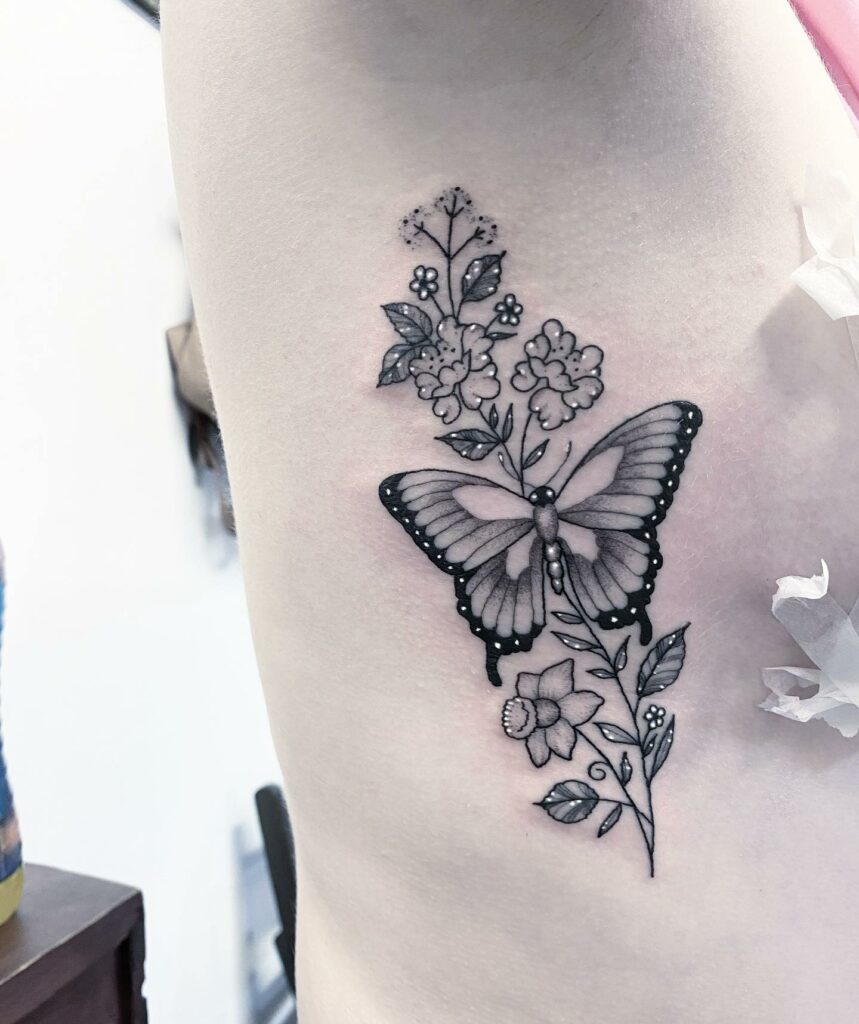 For those seeking a harmonious fusion of butterflies and flowers, these captivating butterfly and flowers on a branch tattoos are an ideal choice.
This exquisite design showcases a classic monarch butterfly gracefully perched on a branch adorned with delicate outline-style flowers and leaves.
Crafted entirely with black ink, the addition of subtle white dots lends a captivating and visually appealing touch.
To achieve the utmost precision and detail in this tattoo, entrusting it to a skilled tattoo artist is crucial.
What's more, this tattoo isn't limited to any particular gender – men can confidently embrace this design and even personalize it with their own creative elements.
This tattoo evokes the essence of innocent and timeless love that resonates with us all. If you're in search of a tattoo that beautifully encapsulates meaning and aesthetics, the butterfly and flowers on a branch design is a remarkable choice.
However, it's important to be prepared for the potential discomfort of getting a tattoo.
Unique Floral Butterfly Tattoo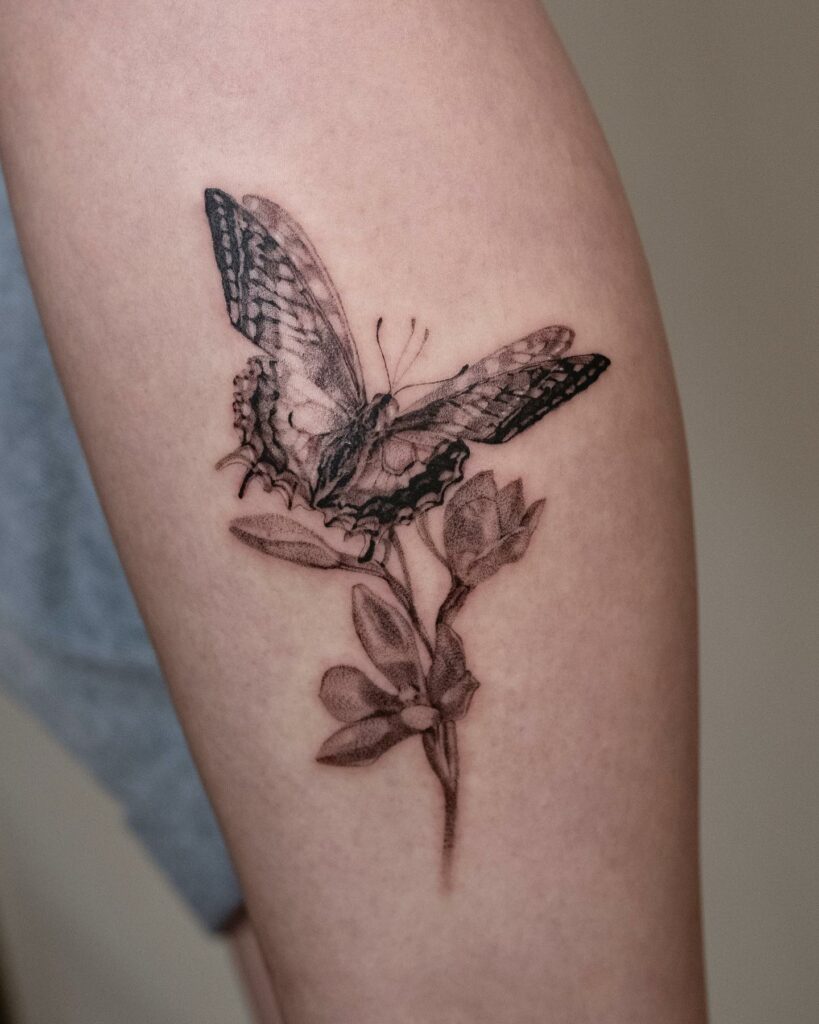 If you're after a standout butterfly tattoo design that's both realistic and captivating, we have a creative suggestion that might catch your eye.
This sophisticated tattoo is a true masterpiece, boasting intricate details that transform it into a work of art. The focal point of the design is a butterfly gracefully perched on a meticulously crafted flower, brought to life through stunning dot and body art.
The expert play of light and shadow, along with the skillful shading of the flowers, adds an enchanting dimension to the tattoo.
What truly distinguishes this tattoo is the dynamic portrayal of the butterfly. Its seemingly airborne position captures the essence of flight, expertly capturing the fluttering of its wings.
The interplay between darker and lighter shades contributes to the illusion of motion, creating an animated effect that's truly remarkable. This charming tattoo makes a bold statement that complements any ensemble effortlessly.
If you're seeking an unparalleled and attention-grabbing tattoo, this combination of a butterfly and flower design is an exceptional choice.
And to showcase the tattoo's captivating movement, consider capturing a video to share its mesmerizing appeal with your friends.
Cute Butterfly With Two Flowers Tattoo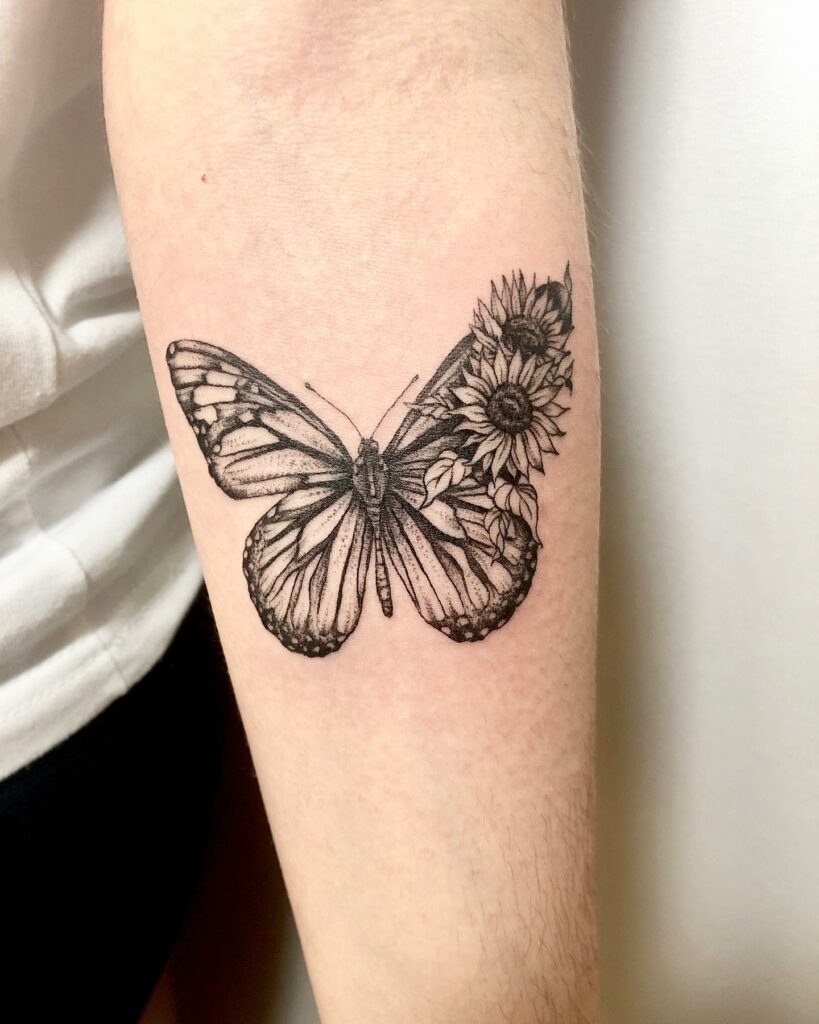 If you're on the hunt for a timeless tattoo design, this butterfly and flowers combination could be the perfect fit. The intricate detailing on the butterfly's wings adds a touch of delicacy and femininity to the overall look.
The right wing features beautifully rendered flowers and leaves, contributing to the tattoo's charm and completeness.
What makes this design particularly appealing is its versatility. It's open to customization based on your personal style preferences. Adding a splash of color, such as a vibrant pink or blue, can enhance the tattoo's visual impact.
You have the freedom to choose the placement of this tattoo – whether it graces your foot, arm, thigh, or any other location. The design's beauty shines on all skin tones, making it universally stunning.
For a more classic aesthetic, consider a traditional rose tattoo. The strong lines and vivid hues of a traditional rose design ensure it remains a timeless choice that never goes out of fashion.
You can opt for a single rose on your wrist or go all out with a full sleeve featuring roses and other traditional motifs. Regardless of your choice, a traditional rose tattoo is a beautiful avenue to showcase your appreciation for classic tattoo art.
Half Butterfly x Half Flowers Tattoo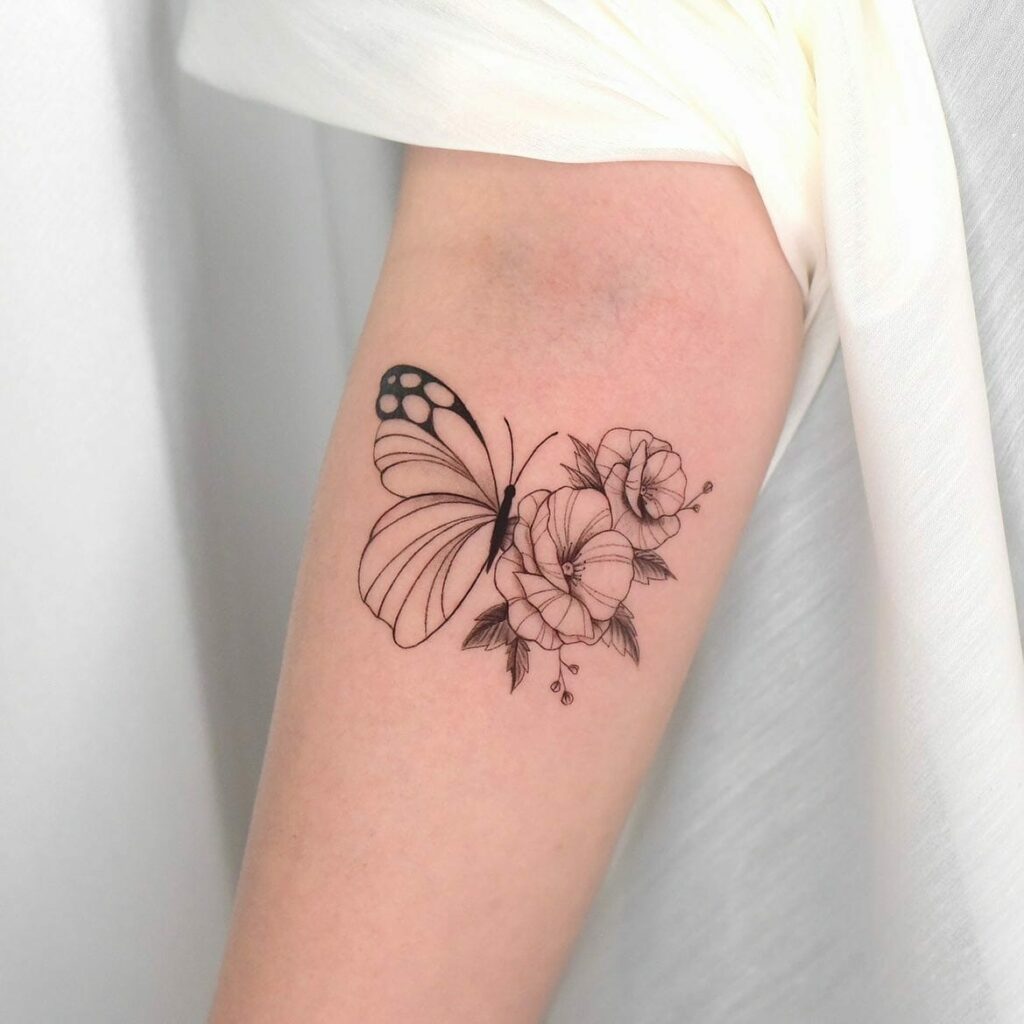 Allow me to introduce you to an eye-catching concept – the outline butterfly and flowers tattoo. This design embodies simplicity and elegance, featuring beautiful lines that create a captivating half-and-half effect.
The butterfly's wing is delicately crafted, while the other half showcases a cluster of charming flowers and leaves that exude sheer beauty.
This floral butterfly tattoo is tailor-made for those who appreciate the charm of simplicity and elegance. To infuse vibrancy, you can introduce bold shades like pink, red, or orange.
Versatile in placement, you can choose to ink it on your shoulder, foot, arm, or thigh, and it effortlessly complements various outfit choices, be it casual or formal.
If you're curious about how different color combinations might appear, virtual tattoo apps are a great tool for visualizing the final result on your skin.
For more floral tattoo ideas, consider exploring options like a full sleeve of flowers and leaves, or a petite flower tattoo on your wrist or ankle.
Adding diverse styles such as watercolor or dot work can infuse depth and texture into your floral design. The realm of floral tattoos is boundless, so take your time to discover the ideal design that resonates with your personal style and sentiments.
Sunflowers x Butterflies Tattoo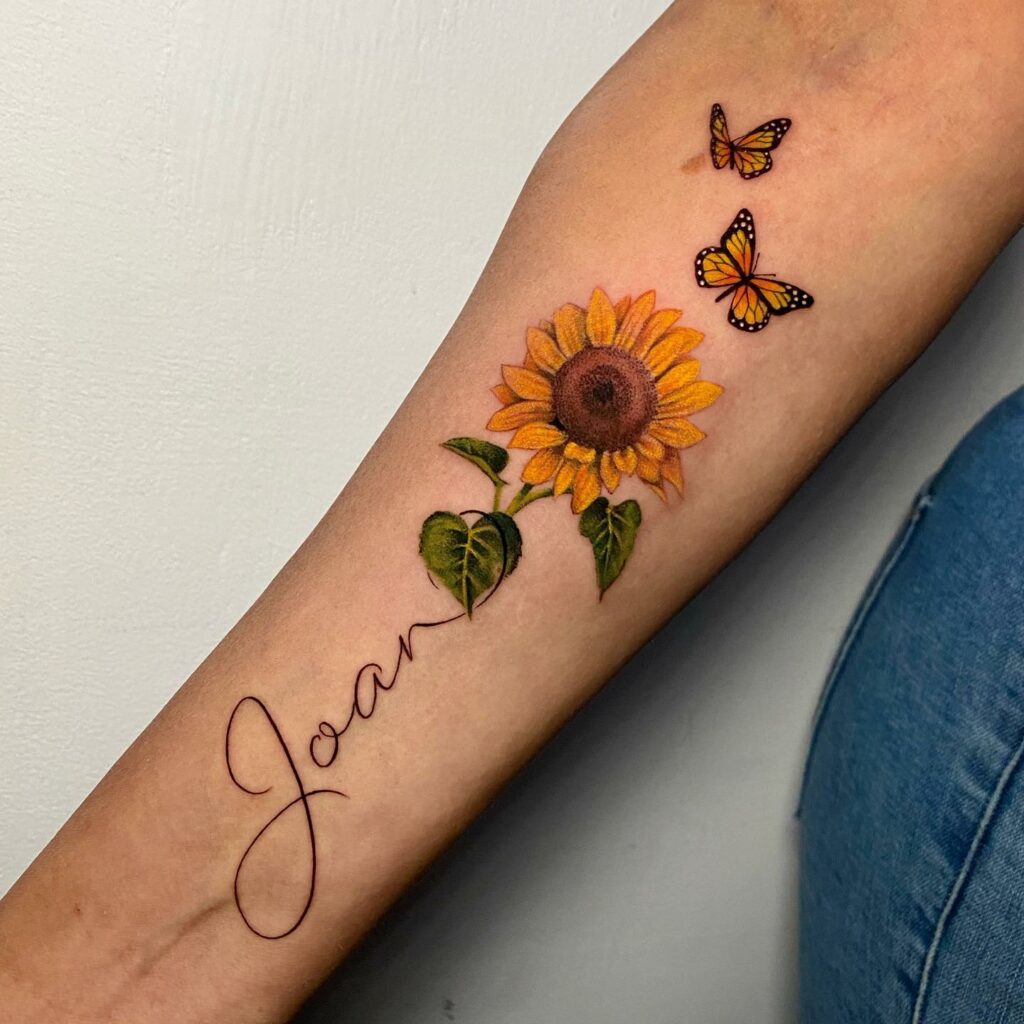 Step into the world of enchanting realism with this butterfly and sunflower tattoo design. The intricate details of the two butterflies are captivating, blending shades of yellow, orange, and black to achieve a lifelike appearance.
Equally stunning, the sunflower comes to life with a palette of yellow, orange, and green, capturing its natural beauty in exquisite detail.
The harmonious fusion of colors in this tattoo is a testament to its artistic brilliance. Sunflowers and butterflies hold profound symbolic meanings, and this tattoo beautifully encapsulates their significance.
Whether placed on your shoulder, arm, or back, you have the option to choose an outline design that aligns with your personal style. This tattoo is certain to make a powerful statement and leave a lasting impression.
If you're seeking more choices, consider incorporating other flowers with name tattoos. For instance, a bouquet of roses, each representing a loved one's name, can serve as a heartfelt tribute.
Alternatively, embrace a minimalist approach by delicately tattooing a single flower with a special name on your wrist or ankle.
The realm of flower and name tattoos offers endless possibilities, encouraging you to explore your creativity and make the design uniquely yours.
Colorful Flowers With Butterfly Tattoo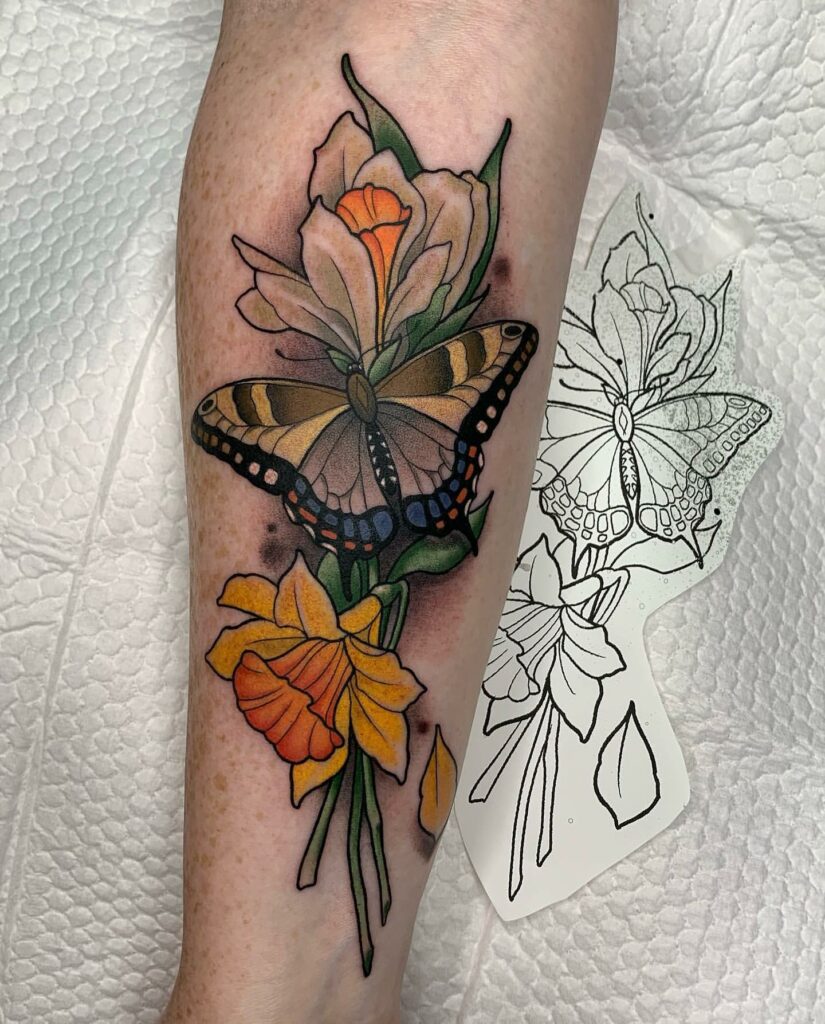 Embrace a touch of boldness with this butterfly and flowers tattoo design that exudes an edgier vibe. The incorporation of darker shades lends an element of daring sophistication to the tattoo.
The stunning flowers, adorned in shades of yellow and orange, are meticulously shaded to achieve a sense of artistic perfection.
A watercolor butterfly adds a captivating dimension, skillfully crafted with a blend of brown and blues. Feel free to infuse brighter hues for a personalized touch.
The timeless allure of butterfly and flowers tattoos ensures their everlasting popularity. A beloved classic, these designs hold profound meanings that resonate with many.
This tattoo offers a darker interpretation of a traditional motif, making it an exceptional choice for those seeking a unique take.
Its versatility allows it to harmonize effortlessly with any attire. For a personal touch, consider adding details that hold special significance to you.
FAQs
Q: What does a butterfly and flowers tattoo mean?
A: The combination of a butterfly and flower in a tattoo often symbolizes the pursuit of beauty and perfection. It can represent sweet love and a happy marriage, reflecting human aspirations for beauty and harmony.
Q: What does the half butterfly half flower tattoo mean?
A: When butterflies and cherry blossoms are combined in a tattoo, they are often seen as a symbol of rebirth and transformation. This pairing signifies embracing change and personal growth.
Q: What does a butterfly with a flower mean?
A: When a butterfly and a flower are combined in a tattoo, it carries profound symbolism. Butterflies represent transformation and growth, while flowers symbolize beauty and new beginnings. This blend creates a powerful metaphor for personal renewal and evolution.
Q: What does a small butterfly and rose tattoo mean?
A: A small tattoo featuring a butterfly and roses holds various meanings, including life, freedom, love, new beginnings, and destiny. The intricate shading of this design captures the essence of these significant concepts.
Q: What does a butterfly tattoo mean for a girl?
A: Among women, a butterfly tattoo holds deep meaning. Butterflies are timeless symbols of faith, transformation, and freedom. Additionally, they are traditionally connected to femininity and romantic love. This makes butterfly tattoos a popular choice for girls to express their inner beauty and aspirations.
Conclusion
In your quest for enchanting butterfly tattoos accompanied by floral motifs, you've arrived at the perfect destination. The allure of butterflies is magnificently magnified when coupled with flowers in a tattoo, creating a captivating synergy.
Adored by females for its elegance and femininity, the butterfly and flowers tattoo carries romantic symbolism. While butterflies symbolize grace, joy, and youthful love, flowers embody love and the connection between two souls.
Our store presents a curated collection of breathtaking butterfly with flower tattoo ideas to ignite your creative spark. Let's embark on this journey of artistic exploration.
MORE BUTTERFLY TATTOO WITH FLOWERS IDEAS