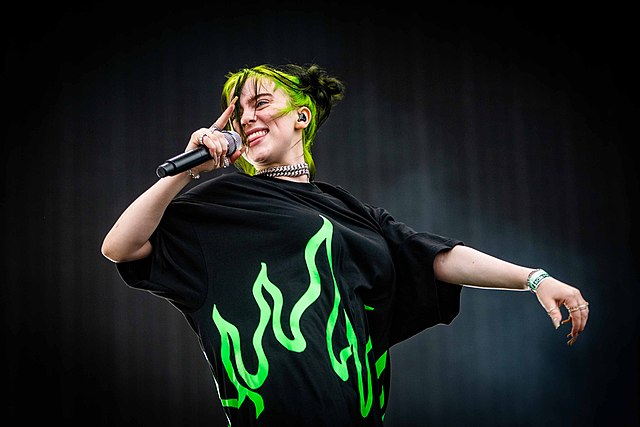 The music sensation Billie Eilish is an American singer and songwriter. She is the most famous pop superstar currently due to her distinctive music and fashion sense. Billie has inspired many people by her early life and amazing songs like the bad guy, therefore I am, ocean, etc.
Billie Eilish was a teenager when her song "Ocean eyes" became very popular. She got the title of global sensation and multi-time Grammy winner. Billie Eilish is still a global sensation, and her songs have been ranked number one in the most trending list multiple times.
A few days back, she revealed about being body-shamed by many people. She stated that everyone deserves to be treated with respect irrespective of their body shape or style and said, "this is what I am, and this is the Billie Eilish body."
Let's read a little bit more about Billie Eilish.
Name- Billie Eilish
Full name- Billie Eilish Pirate Baird O'Connell
Date of birth- December 18, 2001
Age- 19 years
Profession- singer and songwriter
Read more- Billie Eilish Net Worth: Highest-Paid Singer In The World
Billie's Journey
Billie was born on December 18, 2001, in Los Angeles, California. She found her interest in dance, gymnastics, horseback riding, and music in her childhood days. When she was six years old, she learned to play the Beatles "I Will" on the ukulele. After this, she joined the children's chorus in Los Angeles when she was eight years old, and when she turned 11 years old, she started writing songs. Her first song was "fingers crossed."
After this, she hired some producers, guitar artists, piano artists, videographers and released her first song, "ocean eyes," after which she got very popular and has released many songs.
Family
Mother name- Maggie Baird, an actress
Father name- Patrick O'Connell, an actor
Grandfather name- William
Older brother- Finneas, Billie's collaborator, co-writer, and producer
Billie was part of her parent's professional team. Her first name is in honor of her maternal grandfather, and the second was inspired by a conjoined twin her parents saw in a documentary, and the third came from the insistence of her older brother.
Popular Albums and songs
"Ocean Eyes"
It was Billie Eilish's first song produced by finneas' band. After this song, she became a viral sensation on Soundcloud in November 2015. In 2016 she released "six feet under" on SoundCloud produced by darkroom records. Both the songs were re-released as singles later in the year.
"Don't smile at me"
After becoming very popular, she released "don't smile at me" in august 2017 with other tracks like "Bellyache," "copycat," and "my boy".
This song peaked at an impressive no. 14 on the billboard 200 in January 2019, around which time Eilish became the youngest artist to top 1 billion streams on Spotify.
"When we all fall asleep, where do we go? And "bad guy"
In March 2019, Billie released "When we all fall asleep, where do we go" and simultaneously released "Bad guy". This song became the first megahit of her career.
In the same year, she released "bury a friend" and showed her theatrical sensibilities in the song's video.
"No time to die"
When she turned 18 years old in January 2020, she had become the youngest artist to write and record the title track for a James Bond movie.
Billie has also released soundtracks of other projects, "bored" and "lovely".
"Everything I wanted"
Billie released everything I wanted in 2021 and has earned a Grammy award for this song.
This song reached the best song category in march 2021.
Awards
Billie Eilish has won multiple awards. A few of them are:
Woman of the year on billboards
Read more- How Old Is Sofie Dossi? AKA The Bendy Girl
Clothes and style
Usually, Billie wears oversized clothes, but a few months back, she did shoot for Vogue and wore a short bikini-style dress. Many people body-shamed her and trolled her; she got tired of her haters and revealed being a victim of body shaming and cyberbullying.
In 2018 Billie launched her signature apparel on an online shop, blogs.
Eilish transitioned to a vegan diet in 2014.
Billie has been open about her struggles with mental health. The singer also revealed in November 2018 about being diagnosed with Tourette syndrome as a child. In 2020, in an interview with Gayle King, she mentioned having suicidal thoughts.
Outspoken in her concern for environmental issues, Eilish joined ctor woody Harrelson in 2019 for a video that highlighted the dangers of climate change.
She has also urged her fan base to become active voters, notably pairing with Los Angeles mayor Eric Garcetti on an initiative to register high school students in 2018.
Facts about Billie Eilish
She is naturally blonde
Her favorite film is Fruitvale Station starring Michael B. Jordan
She released "ocean eyes" for a dance company
Billie loves streetwear
She is a fan of Justin Bieber
Billie is obsessed with the office
She loves to collaborate with Khalid
The bad guy is her favorite song
Read more- Marvel Legend Thor- Everything About God Of Storm
Final words
Billie Eilish has her own style in clothing or music. Her unique style and talent have made her a worldwide sensation.
Upon being asked by the New York Times about the type of songs she wants to release in the future, Billie replied bluntly: "Billie Eilish Music ". You can listen to Billie Eilish's songs on youtube, Spotify, gaana, and wink music.