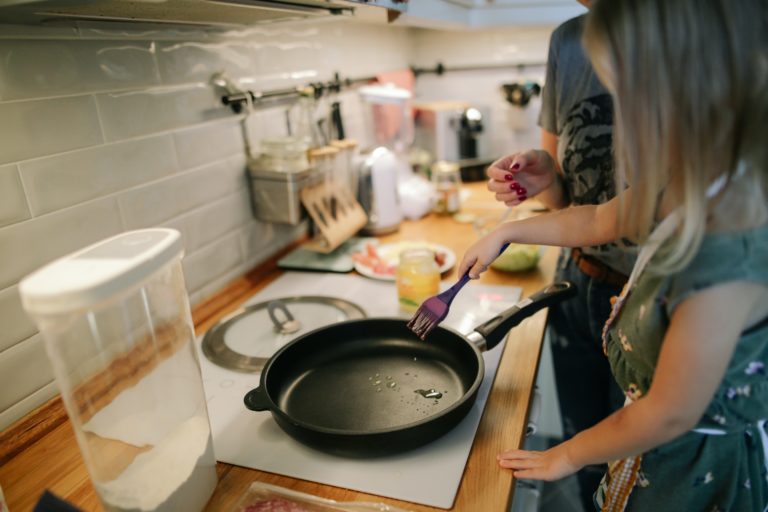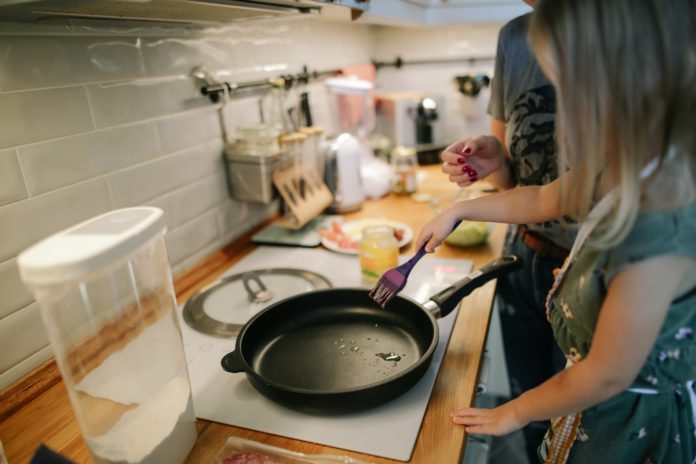 Despite being hugely popular among chefs, not many people are aware of carbon steel pans. We feel that you all should know about this amazing cookware. In case you already know what carbon steel cookwares are, then here is a complete list of the best carbon steel pan in the market.
Before we jump onto the list, let's first understand what carbon steel cookware is.
What Is Carbon Steel?
Carbon steel is made of iron and less than 2% carbon. It was developed alongside stainless steel, aluminum in 18 and 19 centuries. Carbon steel can be easily stamped, rolled, and molded into shape and can be compared with cast iron. The material is less brittle as compared to iron; it has a smooth surface and is light in weight. The best thing about carbon steel is that they heat up very quickly.
Carbon steel is used mostly in a wok, but it can now be seen in knives and other kitchenware. When you buy a premium quality carbon steel skillet, it can be used for searing, broiling, frying, stir-frying, campfire cooking, and sauteing (almost everything).
Now that you know what carbon steel is let's check out some of the best carbon steel frying pans, skillets, and wok available in the market.
Best Carbon Steel Pan Options In The Market:
Here is a list of the best carbon steel cookware options which you need to try.
Best Overall
Lodge Seasoned Carbon Steel Skillet
The lodge is a popular brand known for cast iron cookware. Now they have ventured into carbon steel cookware featuring some of the best collections. This is the best carbon steel pan and comes pre-seasoned, which means you can start cooking right away. But keep doing more seasoning as it will make the pan more rust-resistant and nonstick.
The skilled is available in different sizes ranging from 8 to 15 inches. The pan heats up quickly and is responsive to heat turned up and down. The only issue is that the handle gets hot during an extended period of cooking.
Carbon steel pans become more nonstick over time without needing any special coating. When in use, carbon steel pans are lighter and thicker as compared to cast iron and can be used on all cooktops like a barbeque grill, induction, or campfire.
Runner Up, Best Overall
Matfer Bourgeat Round Fry Pan
Another best carbon steel pan is from Matfer Bourgeat, a french company that designs cookware for home and commercial use. This pan is made of black carbon steel, which needs to be seasoned by you. It has a steel handle that is securely welded to the pan body. Also, it is easier to clean as it does not have rivets to hide residue.
The angled sides of this carbon steel frying pan make it suitable for many different uses like sauteing, frying, etc. It can be used on any cooking surface, including induction.
Make sure to wash the pan thoroughly using a mild dishwasher and bristle brush to remove the protective coating before using it the first time.
Best Budget
BK Cookware 12-Inch Carbon Steel Skillet
If you are new to carbon steel cookware and don't know if you would like it or not, then a 12-inch BK skillet is the best pick. This pan comes pre-seasoned so that it can be used right away after a quick wash.
The handle of this pan is coated with cast iron and is shaped for a comfortable hold. This carbon steel frying pan is well-balanced and makes food flip a lot easier while cooking. For the price you pay, this is the best carbon steel pan you can ever find.
Best with High Sides
De Buyer Mineral "B" Steel Fry Pan
If you are looking for a high side Bes carbon steel pan, then look no more. This De Buyer Mineral frying pan is made in France and comes with a beeswax coating to protect the metal.
This pan features a long and ergonomic handle that is securely joined to the pan body making food tossing easier while you cook and hang when not in use. One con associated with this pan is that it cannot be used in the Oven for more than 20 minutes at 400 degrees max.
If you are looking to buy an ovenproof version, then you will love the Buyer Mineral B. It is equipped with a stainless steel cast handle for longer stints in Oven.
Best Crepe Pan
deBuyer Mineral' B' Carbon Steel Crepe Pan
This is the best carbon steel frying pan from a France-based premium cookware company. The crepe pan comes coated with a protective beeswax layering which is to be removed before seasoning the pan. Once the pan is seasoned, it works like a nonstick surface and can be used to make pancakes, crepes, and omelets in minimal oil.
This pan heats quickly, so remember to use it at a lower flame than usual. It has low sides, which makes it easy to access and flip crepes. You can use the carbon steel pan to make or heat tortillas, searing proteins, or cook any kind of food which does not require the high side of a frying pan or skillet.
Best Frying Pan
Made In Carbon Steel Frying Pan
If you are looking for the best carbon steel frying pan, then Made In should be your first choice. The brand is making a name in premium kitchen gear quite impressively.
This blue pan darkens with every use and has sloped sides for easy food flip. The arched handle offers a firm grip and has a hanging hole, making it easier to hang the pan.
Initially, the seasoning of the pan can be spotty, but it keeps improving with every use. The pan is available in three different sizes and can be personalized with 24 letters, which makes it a great gift. This is the best pan to add a personalized touch to your kitchen.
Best Sauté Pan
Northwest Skillet Sauté Pans
Saute pans are very much similar to frying pans, with one major difference that the sides of saute pans are more vertical. This makes it easy to get under the food to flip or mix. All the Northwest pans are made with hands in Oregon, so each piece you get is unique.
These pans are available in three artistic handle designs, which makes them even more special. Each pan has triple-rivets for extra security and a hanging hole to display in the kitchen proudly. You can get these saute pans in two sizes, 8 and 10 inches.
.
Best Roaster
Smithey Carbon Steel Round Roaster
This Smithey carbon steel roaster is the lightweight alternative to a hefty multi-clad stainless roaster weighing only five pounds. It is made of pre-seasoned carbon steel and can be used right out of the box. The best part is you can use it on the stove, oven, induction, or wherever and however you like.
This roast is 12 inches in diameter and 2 inches deep, which makes it suitable for roasting a whole chicken on top of a vegetable bed. This roaster is more on the expensive side and is built to last with proper care and maintenance.
Best Wok
Joyce Chen Wok Set
Joyce has some of the best carbon steel pans and woks. Carbon steel has been traditionally used for making wok. If you take a peek into the Chinese kitchen, you will find a wok with more seasoning on the bottom and less seasoning on the top part.
This wok is perfect to use at home and has a flat-bottom which makes it suitable for all types of the cooktop. The long handles make it easy to hang, and the helper handle makes it easy to carry.
What to Look For When Buying Carbon Steel Cookware?
Cast iron and carbon steel are always compared side to side because of their multitude of similarities in terms of versatility and durability. Both of these are made with an alloy containing iron, but the amount of carbon is varied. Cast iron has 2 to 3 percent iron, whereas carbon steel contains only 2 percent carbon.
These differences make carbon steel easy to mold, hammered, and stretch. The carbon steel content is compatible with be used on induction cooktops because they have a smooth surface. Over time with regular use, they build a patina that makes it nonstick.
Below we have discussed some of the factors in detail so that you have complete knowledge before you go to the market to buy a pan.
Weight
Carbon steel pans have comparatively less weight as compared to cast irons. The same size carbon steel pan will weigh five pounds, whereas the cast iron pan weighs 12 pounds.
If storing heavy cast iron cookware is a problem you frequently face, carbon steel makes a great alternative.
Construction
Carbon steel cookware is made using a metal sheet that is heated, pressed, and then shaped in the desired design. These pans usually range in 2mm to 3 mm thickness, 3mm being the heavier version similar to cast iron.
Unlike single-piece construction of iron cookware, these have handles that are separately forged and attached to rivets. Check if the handles are easy to grab and are not too short, or else they get hot quickly.
Heating Capacity
Carbon steel has high heat tolerance and can be used on various cooktops, including open flame and induction. Most carbon steel pans can be used on upto 800 degrees, while some brands can withstand upto 1200 degrees.
Although you do not cook at such high temperatures at home, certain cooking techniques sometimes require powerful fires. Carbon steel is highly responsive to heat and becomes hot faster and cools down equally fast when the heat is lowered.
Versatility
Carbon steel is all-purpose cookware. It works best on dry cooking, high heat methods like sauteing, searing and stir-frying. These are usually Oven safe and allow you to easily bake in a pan or cook under a broiler. You can even use the best carbon steel pan to make sauces.
Price
Carbon steel pans are available at different price ranges. Some are available at a higher price than a cast iron, while some are in a more affordable range, cheaper than copper and stainless steel. For instance, a 12-inch carbon steel pan can be found at $20 to as high as $200, depending on different brands.
Warranty
Most of the manufacturers offer limited guarantees on carbon steel cookware from when they are purchased from an authorized dealer. Having a guarantee will protect you against any material, construction, or workmanship defects but can exclude any damage caused due to improper usage and normal wear & tear.
Before buying, be sure to check the terms of warranty and coverage provided by the manufacturer.
Read More- How to Use and Care for Nonstick Cookware?
Maintenance Tips:
If you know how to clean and care for your cast iron cookware, you will have no trouble maintaining carbon steel pans. It has a tough finish that can resist scratches and is compatible with metal utensils as well. The best part about carbon steel cookware is that they are easy to maintain.
Like a cast iron cookware, avoid washing carbon steel pans using dish detergent or placed in the dishwasher. Scrub away any residue or food particle and rinse clean with water, then wipe using a tissue or clean, soft cloth. Now heat some oil in the pan until it smokes; wipe the oil using a paper towel and store the pan.
Final Words:
Every person has a different definition of the best carbon steel pan, depending on their purpose of usage. We have mentioned some of the best picks of carbon steel skillet frying pan in this post meant for different uses. You are definitely going to find something that you like.