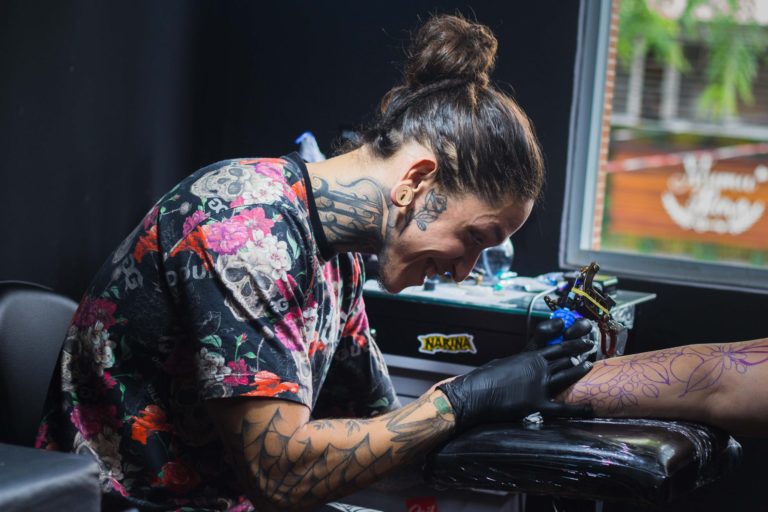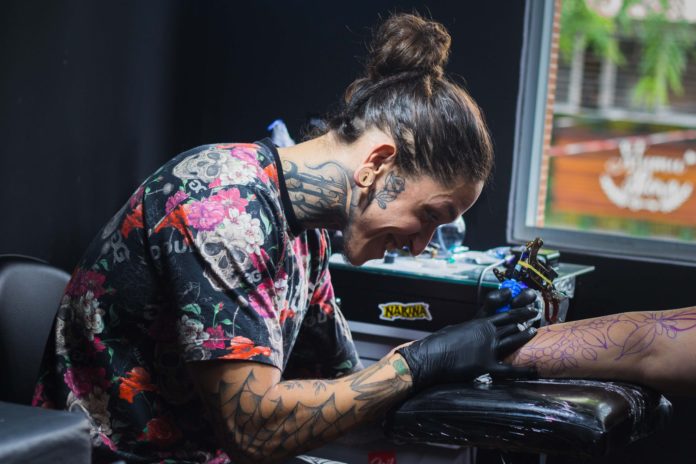 So this is your first time getting a tattoo? After going through all the struggles of the hunt for design, tattoo studio, and artists, now it all comes down to how much it's going to hurt. While you are preparing yourself for the procedure, you might have read about different types of ink, needles, and healing ointments, and anxiety must have roared when researching pain levels. Don't worry; we have come up with a list of the best tattoo numbing spray brands available in the market. These numbing sprays and creams will put all your worries to rest.
Best Tattoo Numbing Spray:
Below we have listed some of the best tattoo numbing creams and sprays containing different lidocaine levels. This list also included some aftercare sprays and creams to reduce infection, inflammation, itching, and soreness.
Vasocaine
Unlike any tattoo numbing gel or cream, Vasocaine has invented an easy-to-use tattoo numbing spray to keep your fingers and hands clean. It is manufactured by US-based Dermal Source and is FDA approved. This numbing spray is based on 5% lidocaine and contains an active vascular constrictor, reducing swelling and bleeding.
As per the manufacturer's guideline, this product is intended to use on broken skin once the tattoo outline is created. After spraying, leave it on for 90 seconds and wipe off the excess. It will start numbing the skin after 5 minutes and can be reused as many times as required.
Vasocaine is the best tattoo numbing spray in comparison to many other numbing gel brands. This fast-acting spray can make the skin entirely numb for even the longest tattoo sessions.
Numb Master
Even though this is not a tattoo numbing spray, it is the best FDA-approved topical tattoo numbing cream. Manufactured in California by Clinical Resolution and distributed by Hansderma. The product contains 5% lidocaine and works best when applied to the tattoo site. After applying the cream, wrap the area and leave for 25 minutes to let it do its magic.
This numbing cream goes deep down the epidermal and dermis skin layers where tattoo ink will go, and it will prevent the pain. However, it works effectively for small-medium-sized tattoos. The numbing feeling will last for upto 1 hour without leaving any buildup residue. You can remove it using any mild facial cleanser.
We have good news for sensitive skin people- this cream is gentle on the skin and will not irritate sensitive skin types. However, the only drawback is that it takes longer in comparison to other tattoo numbing spray/cream. It does not make a good numbing companion for long tattoo sessions. Unless you are planning to get a tiny tattoo, find another numbing gel.
Read More- Amazing Couple Tattoos And Their Meanings to Strengthen Your Bond
HUSH anesthetic
If you don't want to use chemical-based skin numbing cream, then try Hush tattoo numbing spray. This product focuses on herbal agents and contains chamomile, aloe, and menthol to soothe irritated skin. This numbing tattoo spray is free of parabens and epinephrine. Formulated with 4% lidocaine, this brand is FDA approved and does not do animal testing.
The best thing about Hush is that the anesthetic products can be used on both broken and unbroken skin. The spray is specially designed to use before and after getting a tattoo resulting in a clean and healed tattoo. You will be surprised to know that this product is even approved for use during a tattoo removal session.
The effectiveness of Hush tattoo numbing spray can last upto four hours and helps in reducing skin inflammation during the process. Hush helps to speed up the tattoo healing process by upto 2-3 days. You just have to keep the sprayed area covered in saran wrap for some time to experience full effects.
Derma Numb
Derma Numb is an anti-inflammatory product that helps to decrease pain by upto 90%. This brand relies on natural herbs like yarrow, menthol, yucca root, and aloe. These mild ingredients will not affect the tattoo's shading or color; instead, they will work to enliven and sterilize the skin cells.
This numbing tattoo spray contains 4% lidocaine and is used like any other topical skin numbing cream. Apply it directly on the skin and cover with plastic wrap for upto an hour before getting inked.
Derma Numb is meant to be used on broken skin, and you can reapply as many times you want as per the requirement during the complete tattoo process. The numbness lasts for upto two hours, so if you are going in for a long tattoo session, you will have to keep reapplying it. 
​Ebanel 5% Lidocaine Spray
One of the most recommended tattoos numbing spray by tattoo artists itself is Ebanel. It contains the maximum concentration of lidocaine that is eligible to buy over the counter. Also, it is fortified with 0.25% phenylephrine that helps to enhance the anesthetic effects. The spray is hypoallergenic and manufactured in the USA.
After applying, it waits for 2-3 minutes, and once it starts working, the effects will last for upto an hour after application. This spray can help to control pain, soreness, and itching after 10 minutes of its application. It can also help to reduce swelling because it contains arginine and allantoin to soothe skin irritation.
GiGi Anesthetic Numbing Spray for Sensitive Skin
This Aesthetic numbing spray was originally created to relieve waxing pain in sensitive areas. However, it takes the anesthetic game up as it effectively numbs piercing tattoo pain.
This spray contains 4% lidocaine to desensitize skin and block nerves. You can either spray on the area directly or spray on a cotton ball and dab onto the skin. It will activate within 3 minutes and will reach its full strength in 10 minutes.
However, this spray is not fragrance-free; it contains a perfume-like scent.
Base Labs Numbing Spray | 4% Lidocaine
You might feel tempted to buy a tattoo numbing cream, gel, or spray that contains 5% lidocaine instead of 4%. But do you really think the number displayed on the product is the actual indicator of its effectiveness? No, there are so many ingredients that make the product really effective.
For instance, this BASE Labs spray contains 4% lidocaine, but it is strong enough to soothe the skin. It contains menthol, which provides an extra cooling sensation, allantoin, and arginine to minimize swelling, irritation, and redness.
This is the best tattoo numbing spray and is more effective than other cream or gels. The best part about this product is that it claims a 100% satisfaction guarantee.
PreTAT Numbing Spray by TAT Balm
This tattoo numbing spray is the creation of experts in the tattoo industry. It contains 4% lidocaine along with many other natural ingredients. This spray is free of any synthetic fillers or ingredients.
As per the directions, apply two layers of spray generously, keeping a 5 minutes gap.
Dermoplast First Aid Spray
If you want something to treat post-tattoo soreness, then Dermoplast is the right pick. This spray is suitable for use even in sensitive areas, cuts, burns, and bites. With this spray, you will not have to worry about infection, germs, and relieving pain. Dermoplasr provides good moisturization to the tattooed area as it contains aloe and vitamin E.
This product may not be the best choice for when you are getting a tattoo or piercing; it is an effective aftercare spray.
Read More:- Consider these tips by the PRO Tattoo Artists For Getting A Sleeve Tattoo
Some Other Best Tattoo Numbing Cream and Gel.
Uber Numb 5% Lidocaine Pain Relief Cream
This topical skin numbing cream is capable of keeping the skin area numb for upto an hour. However, it takes about 20 minutes to reach its full potency. Be careful when you apply this numbing cream and wear gloves to prevent your hands from absorbing the product.
Uber Numb is manufactured in the U.S and will not make the skin sticky or greasy, which makes getting a tattoo easier. It can help to calm itching and inflammation during the healing process. It also contains Vitamin E and allantoin to boost the overall healing process.
Ebanel 5% Lidocaine Numbing Cream
Similar to Ebanel spray, this skin numbing cream helps to block the pain within 2 minutes. It reaches full potential within 20 minutes, and the effects can last for upto 2 hours.
The brand claims that the product is formulated using a patented technology which makes it quick-absorbing and long-lasting. The best part is that it is a non-greasy and odor-free formula that comes with a child-resistant cap.
H2Ocean Nothing Tattoo Glide and Soothing Balm
Always say yes to H2Ocean Nothing numbing gel when getting a tattoo. This topical anesthetic gel or balm contains 4% lidocaine. If you are getting a tattoo in a sensitive area like feet or rib cage, this balm will make the whole process less painful and more fun.
The product is formulated to act as a lubricant for tattoo artists. This will not disturb the stencil as it is non-greasy. Another best thing is that it's organic and petroleum-free.
SCALPA NUMB 5% Lidocaine Numbing Cream
Another best topical tattoo numbing cream is from SCALPA NUMB Cream. This cream will prepare you for vaccinations, piercings, micro-needling, and tattooing. It has moisturizing agents like Shea butter, aloe, and glycerin that keeps the skin comfortable and healthy.
Apply it 20 minutes prior to your tattoo appointment and cover the area with plastic to let the skin absorb. Never use it on broken skin like after getting a piercing or tattoo.
Does Numbing Spray/Cream Work For Tattoos?
For people who are getting a tattoo for the first time, the fear of the unknown can be a big anxiety trigger. But your research for numbing tattoo spray, cream, and gel has not gone into vain. These pre-treating numbing gels, sprays, and creams are really effective in numbing the pain and soreness you feel when getting a tattoo. The best part is that these are easily available, inexpensive, and easy to use.
Read More:- Attractive Elbow Tattoos To Adorn Your Elbows
Final Words:
Now you have an idea about some of the best tattoo numbing spray and cream products available on the market. All of the effective and come with their set of advantages and disadvantages.
Suppose we have so many options available, why go through unbearable pain sessions when we can numb it. Numbing treatment helps to relieve anxiety along with the pain that a person feels when getting a tattoo. These skin-numbing tattoo spray and cream will enhance your overall experience.
Before using any anesthetic product, check with your tattoo artist for the best results. We wish you a pain-free tattoo experience!