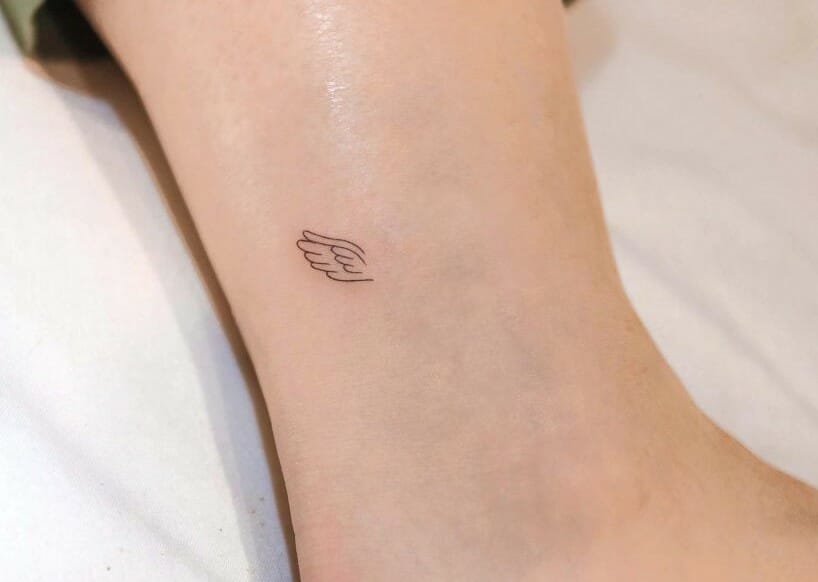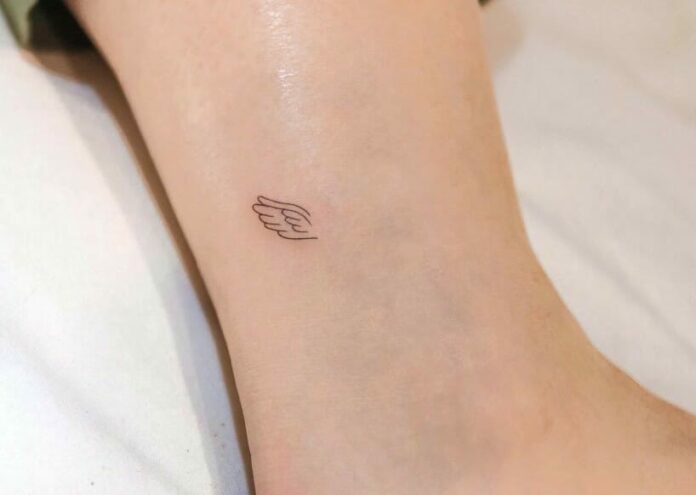 Are you in search of a tattoo that's both delicate and meaningful? Well, you might want to consider angel wing tattoo as an option. These small yet impactful tattoos hold a wealth of symbolism and personal significance.
Small Angel wing tattoo are often associated with freedom, hope, faith, and protection. They can also serve as memorials for loved ones who have passed away.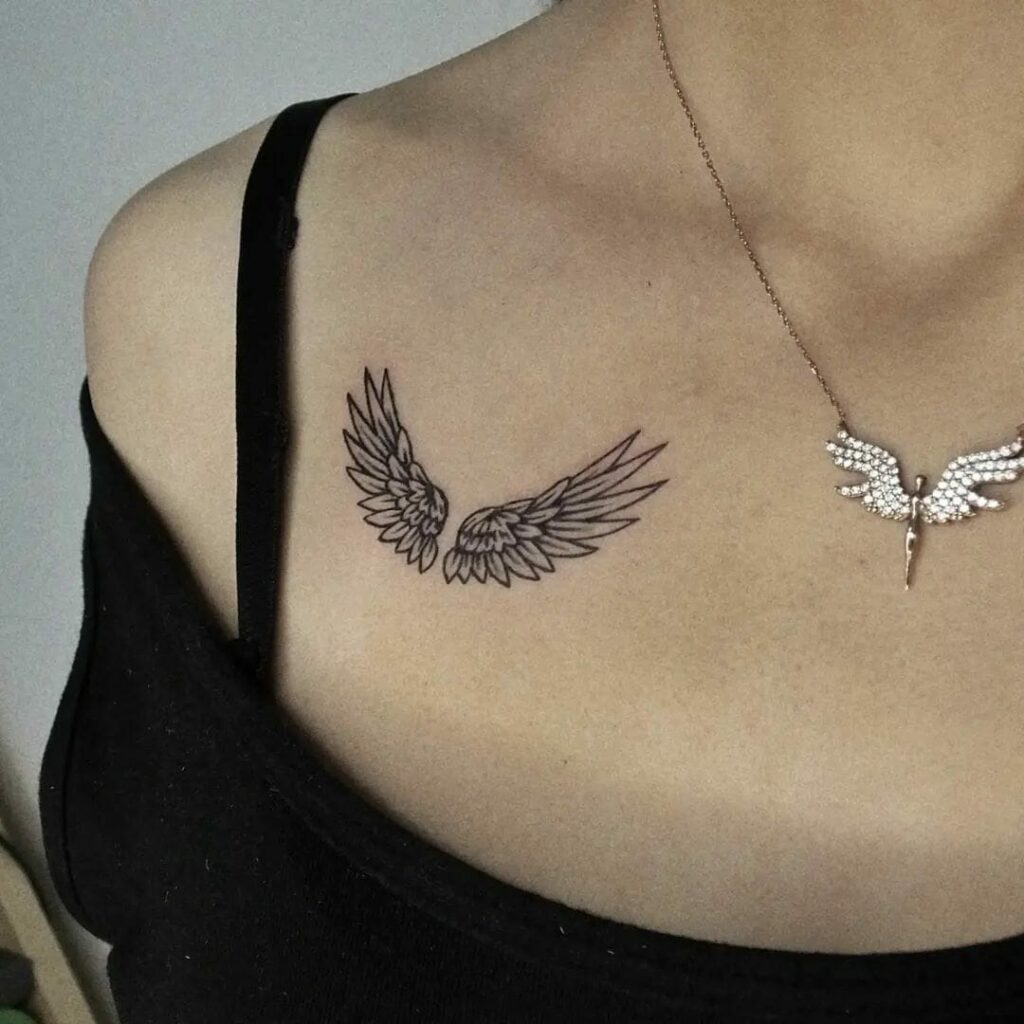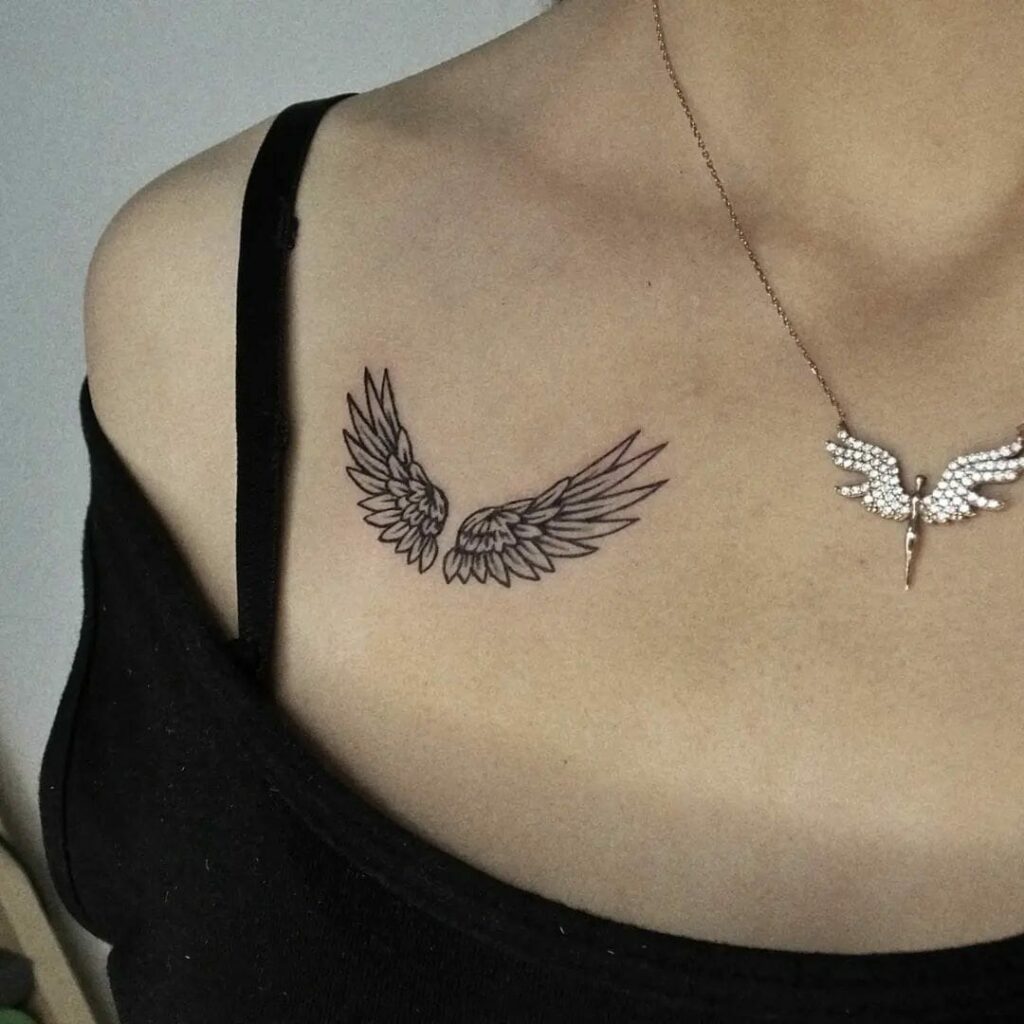 With their growing popularity, there's no shortage of trendy and unique designs. Whether your preference is for simple or intricate styles, angel wing tattoos are an excellent choice, especially if you're drawn to subtle and delicate ink.
So, let's dive in and explore some of the top Small angel wing tattoo designs we've curated just for you.
Wrist Angel Wings Tattoo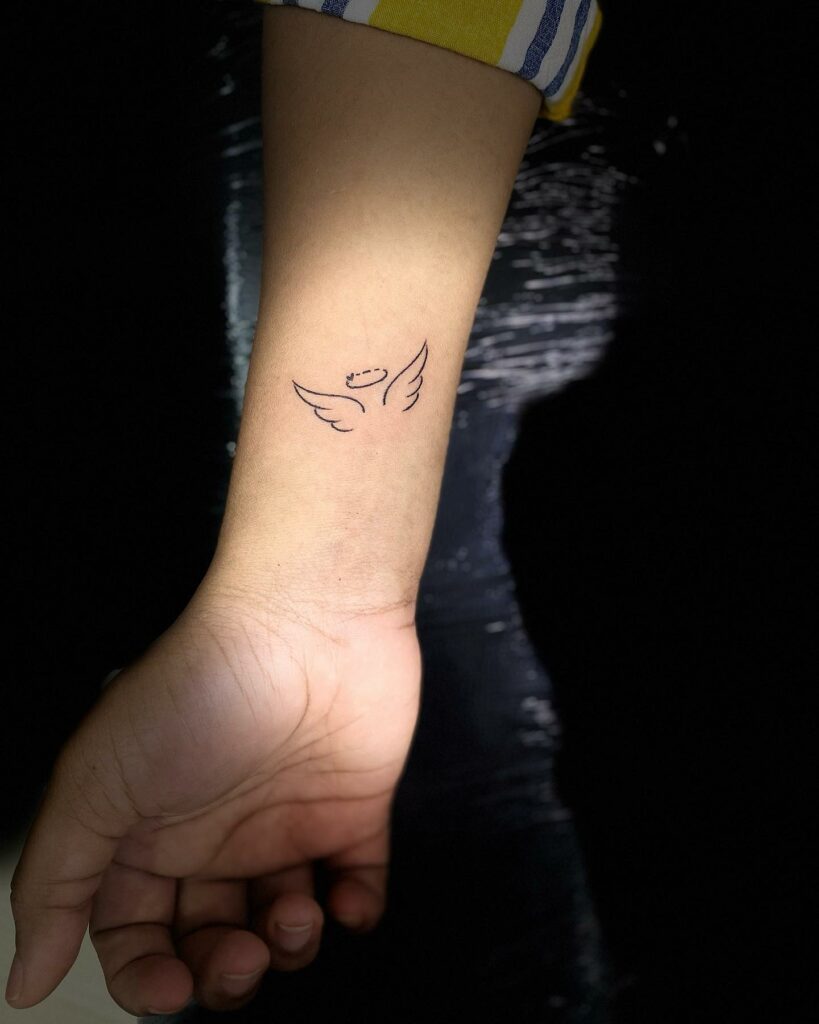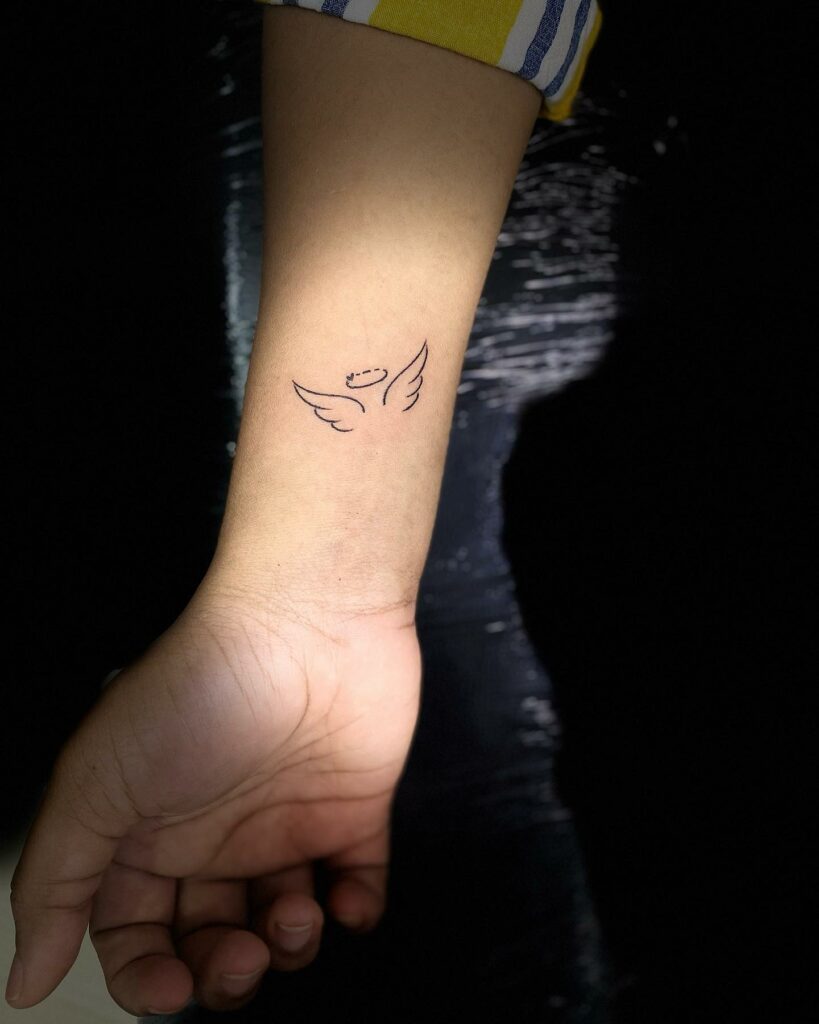 Are you exploring the realm of wrist tattoos? Angel wings might be just the chic and delicate option you're seeking. Particularly popular among young women, these tattoos infuse a touch of elegance onto the wrist canvas.
The allure of angel wings lies in their ability to captivate even in a small wrist-sized design. And if you're on the hunt for a dainty angel wing tattoo, we have a perfect recommendation.
This design showcases two exquisitely detailed wings, created with graceful black lines that craftily mimic the appearance of feathers.
A charming halo takes form above the wings – a delicate black line with intricate dotwork and a tiny heart nestled within.
This wrist tattoo isn't only visually appealing; it also carries profound symbolism. Angel wings embody concepts of freedom, hope, faith, and protection, making it an ideal choice for those who wish to embody these values through ink.
Angel Wing Tattoos On Leg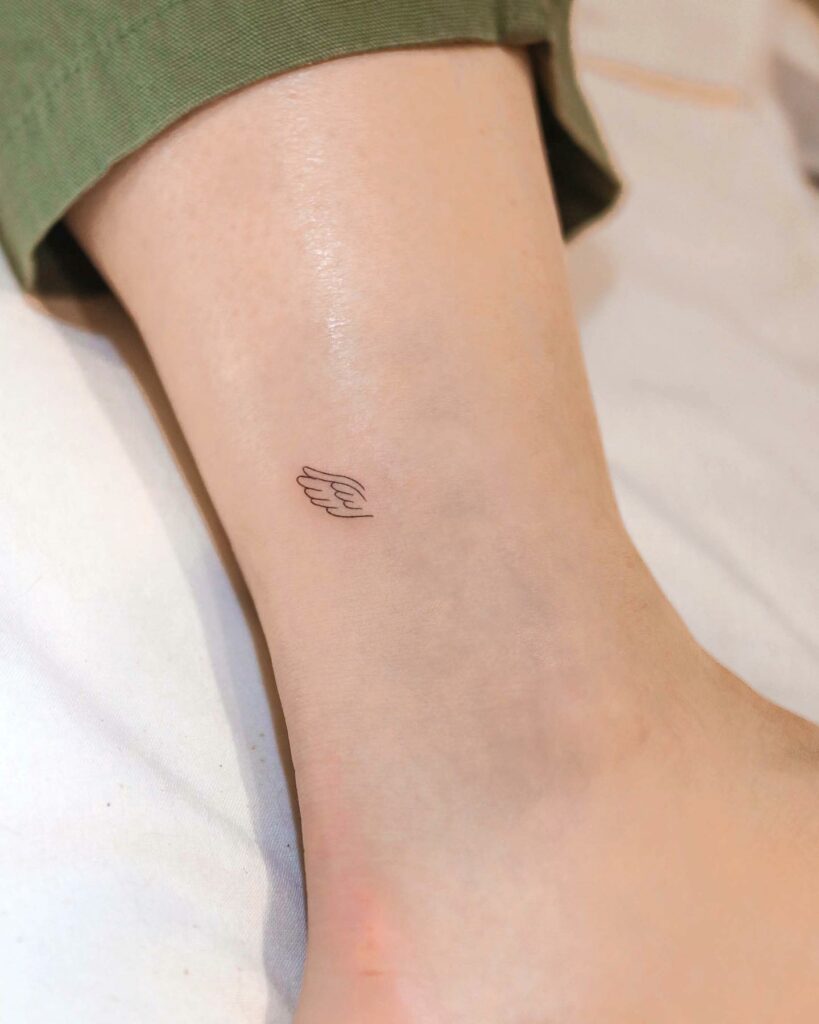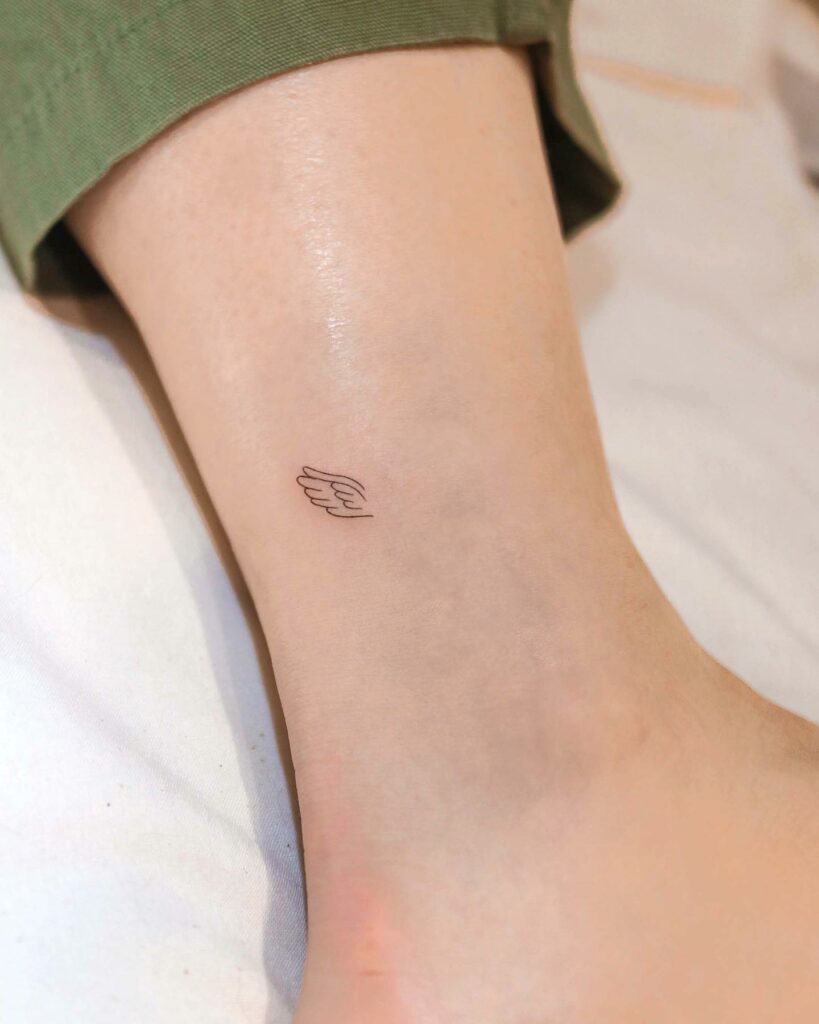 Are they exploring the possibility of leg tattoos? An angel wings design might be a meaningful and stylish choice to consider.
This design holds a significant symbol, often associated with speed, making it particularly appealing for athletes keen on showcasing their swiftness. The inspiration for this design traces back to Hermes, the Greek God of quickness.
In this rendition of the angel wings tattoo, the artist masterfully crafted a small yet stunningly realistic design. One wing is prominently displayed with intricate curves, while the second partially peeks from behind the first.
The artwork is expertly etched in fine black lines, presenting a classic and timeless aesthetic. Moreover, if privacy matters to you, this leg spot is perfect – easily concealable yet ready to be revealed whenever you choose.
Angel Wing Tattoo On Back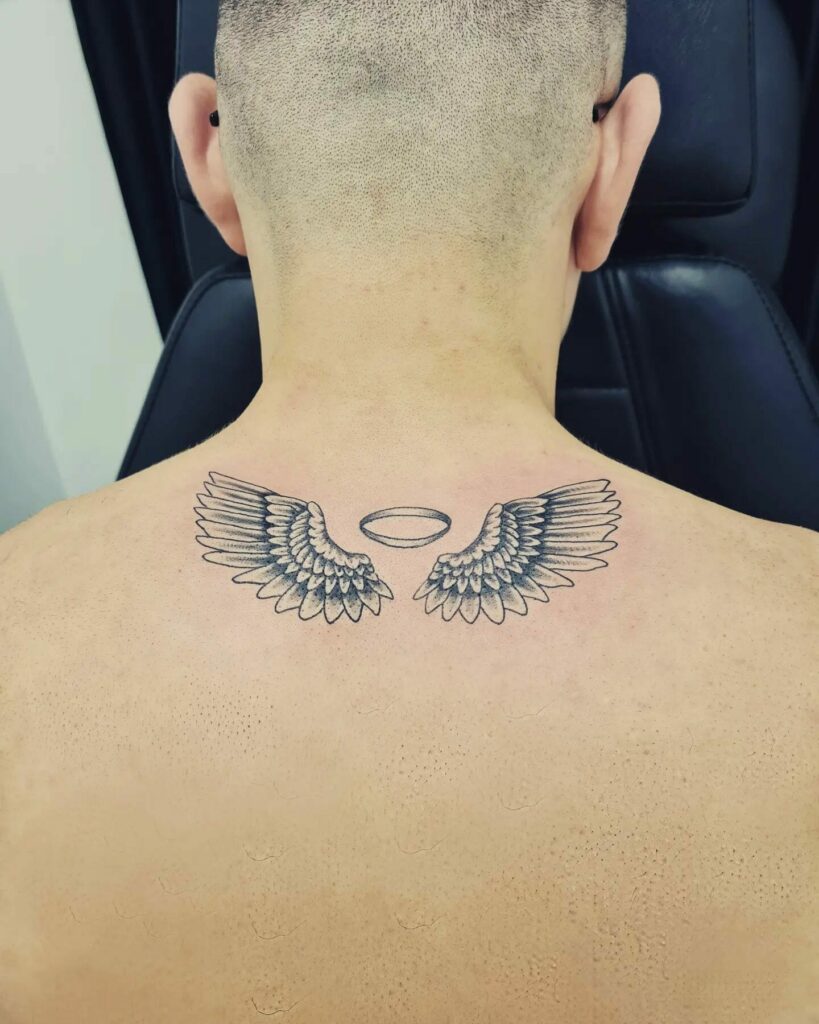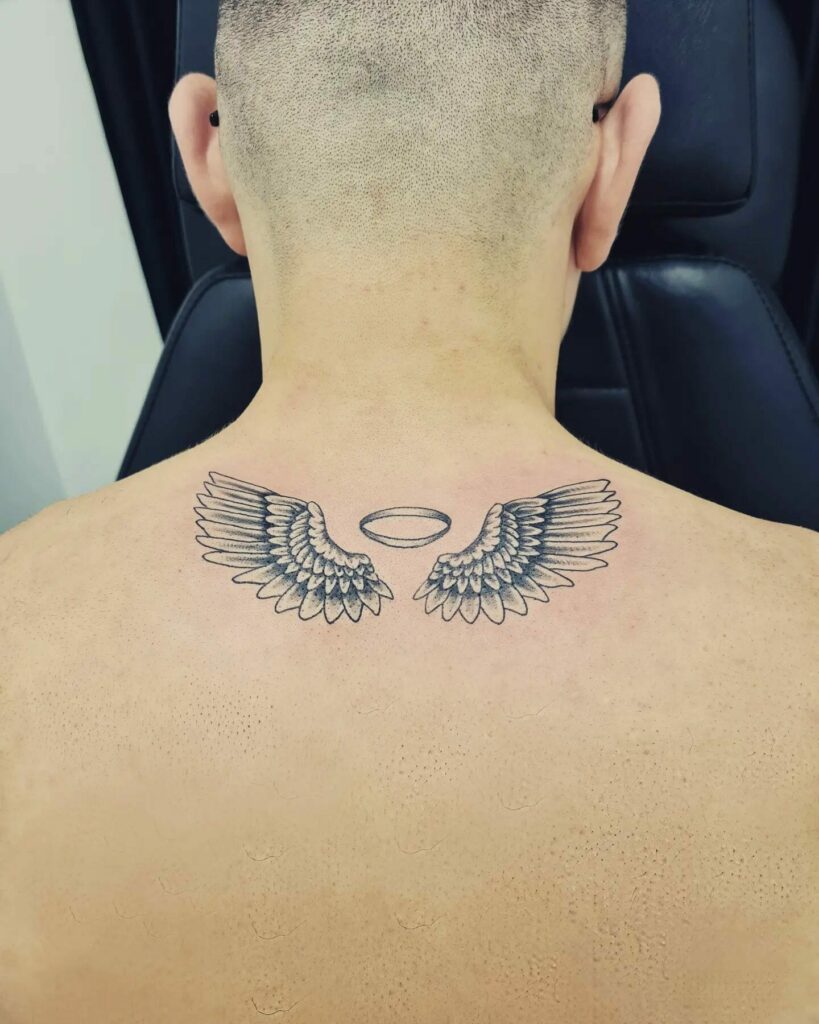 On the hunt for a striking back tattoo? An angel wings design might just be the perfect fit. This tattoo style is incredibly popular and versatile, suitable for individuals of all genders.
In this specific design, the tattoo artist skillfully crafted two exquisite angel wings adorned with layers of feathers in various sizes.
The wings' structure is beautifully dynamic, with the smallest feathers positioned at the top and the largest feathers gracing the bottom.
The shading technique adds depth and dimension, employing a skilful mix of light and dark black tones. A halo rests just above the wings to add an extra touch of angelic elegance.
Whether you're aiming to make a bold statement or simply express your fondness for tattoos, this angel wings design is bound to leave an impressive mark.
Finger Angel Wings Tattoos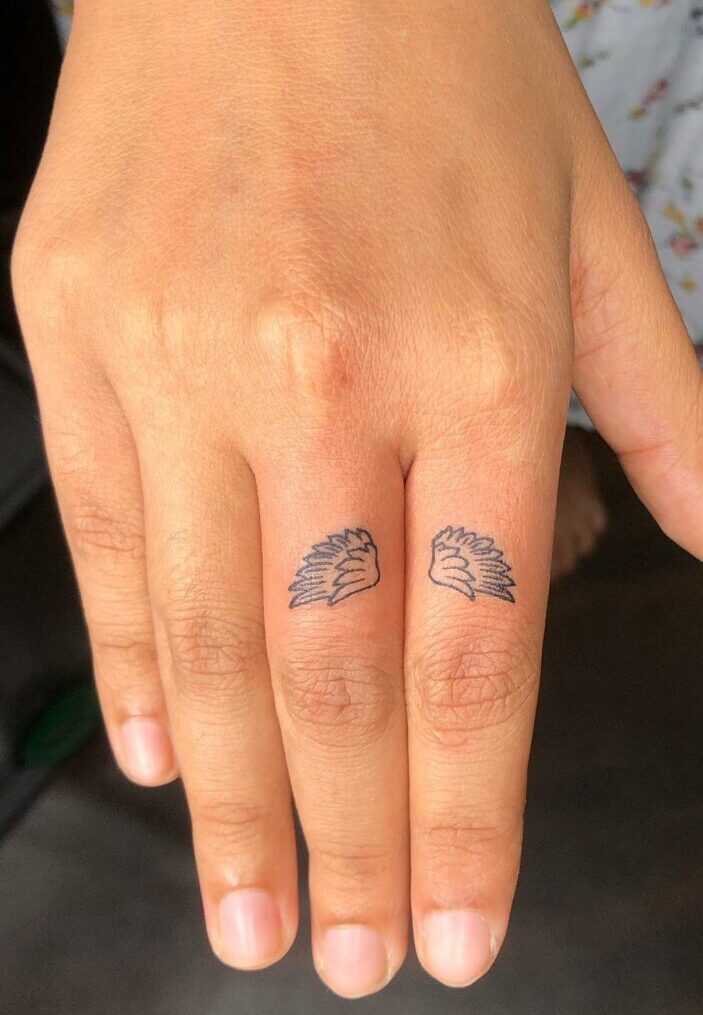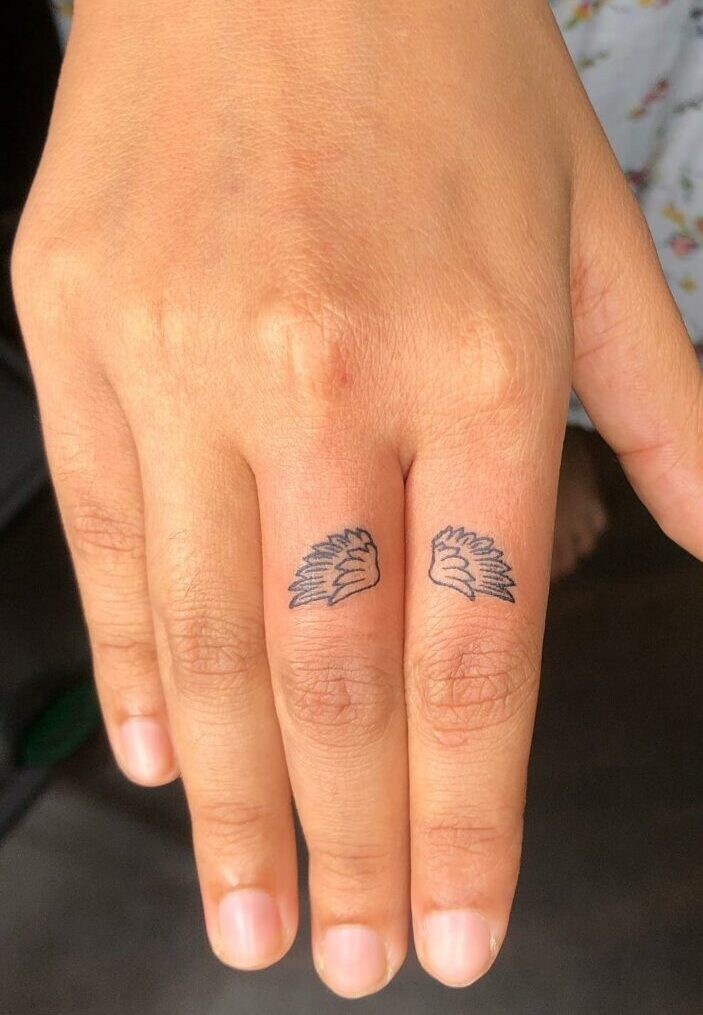 Finger tattoos are gaining immense popularity, especially among teens and young women. The angel wings tattoo is ideal for those seeking a dainty and elegant design.
The artist skillfully etched two distinct angel wings on the middle and index fingers in this specific finger tattoo. The outer wing boasts larger, while the inner wing appears smaller, adorned with gracefully curved feathers.
The use of sleek black ink lends a simple yet captivating allure to the entire design. With its understated details and subtle charm, this finger angel wings tattoo is guaranteed to catch your attention.
It's a superb choice if you're after a distinctive and meaningful finger tattoo. If you're contemplating finger ink, this design is worth exploring.
Single Wing Tattoo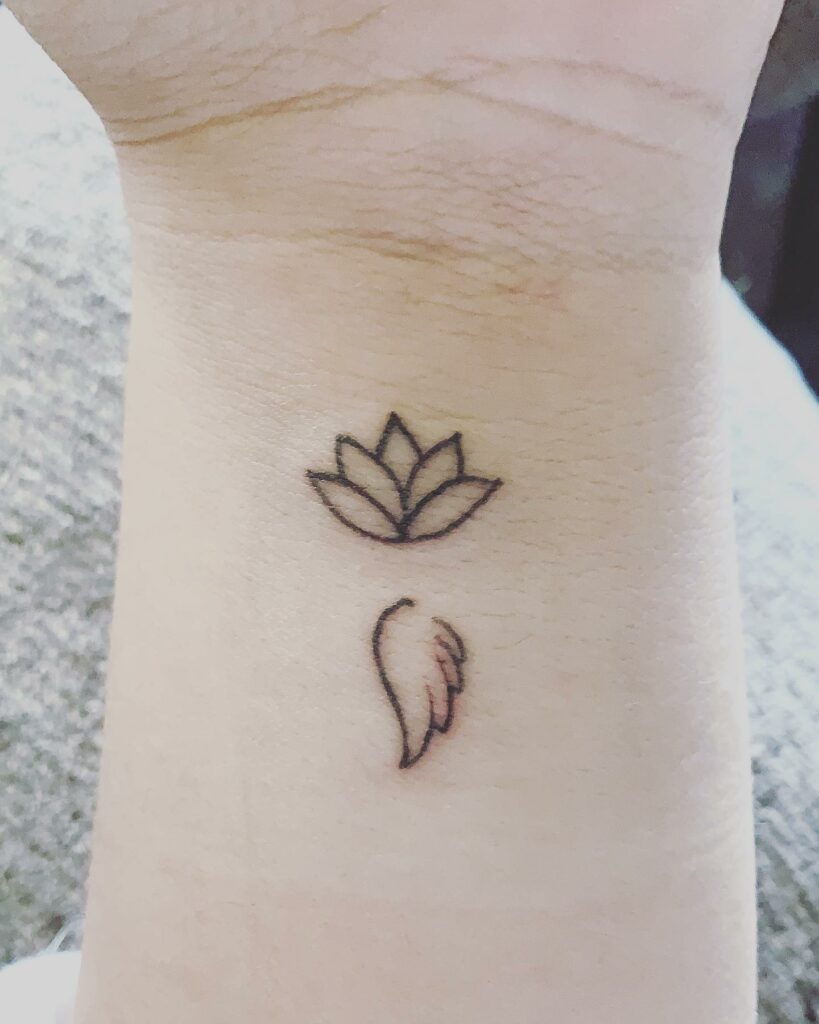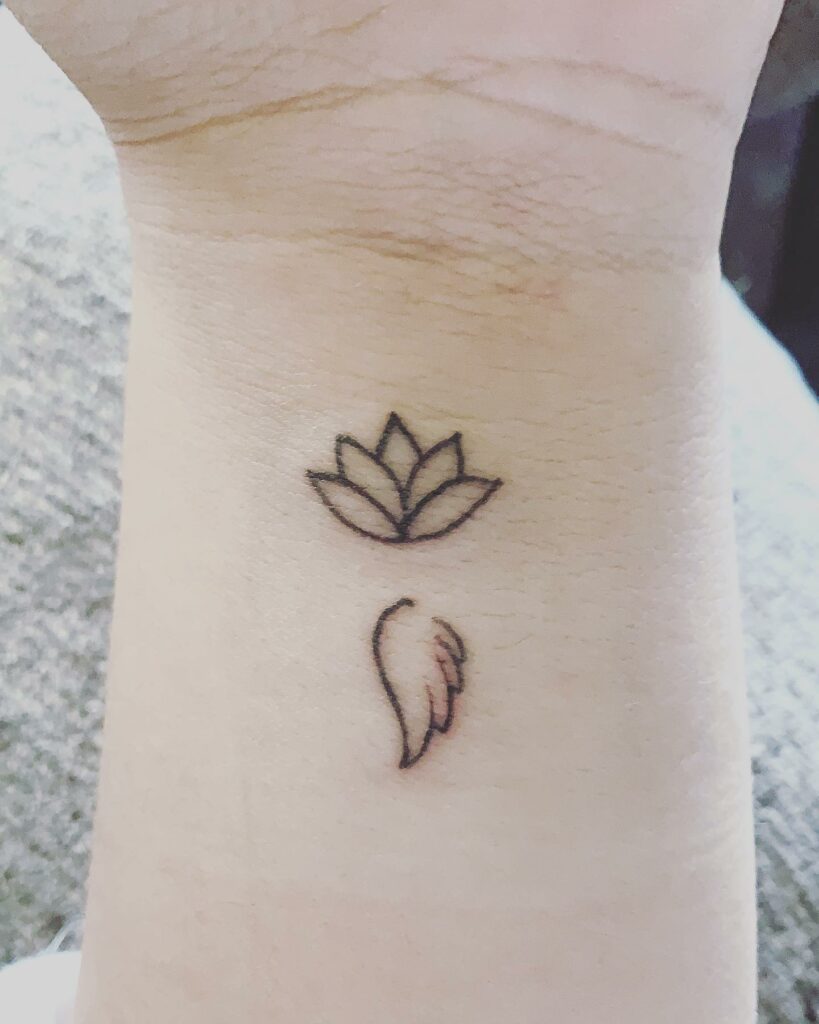 Searching for a distinctive and profound tattoo design? Your quest ends here as we present the perfect choice for you.
In this unique design, the artist has ingeniously merged a single angel wing with a lotus flower, crafting a semicolon tattoo.
The semicolon symbolizes mental health advocacy, standing strong against suicide and addiction.
Departing from the conventional dot, the lotus flower adds a touch of symbolism, while the angel wing substitutes the comma, infusing added depth into the artwork.
The tattoo is executed in sleek black ink, ensuring visual allure and profound significance.
If you're in pursuit of an extraordinary and meaningful tattoo, this single angel wing design featuring a lotus flower semicolon is tailor-made for you. It's bound to captivate attention and spark conversations wherever you go.
Colourful Angel Wing Tattoos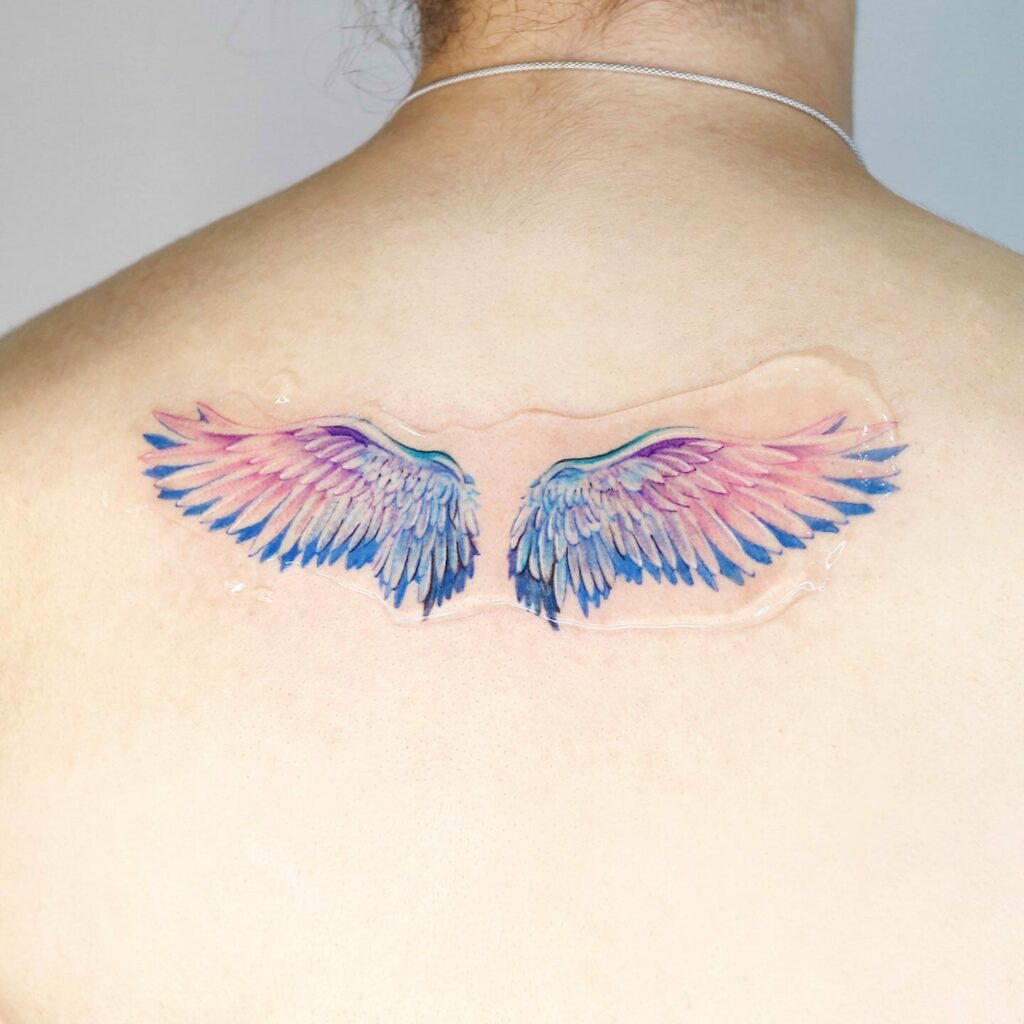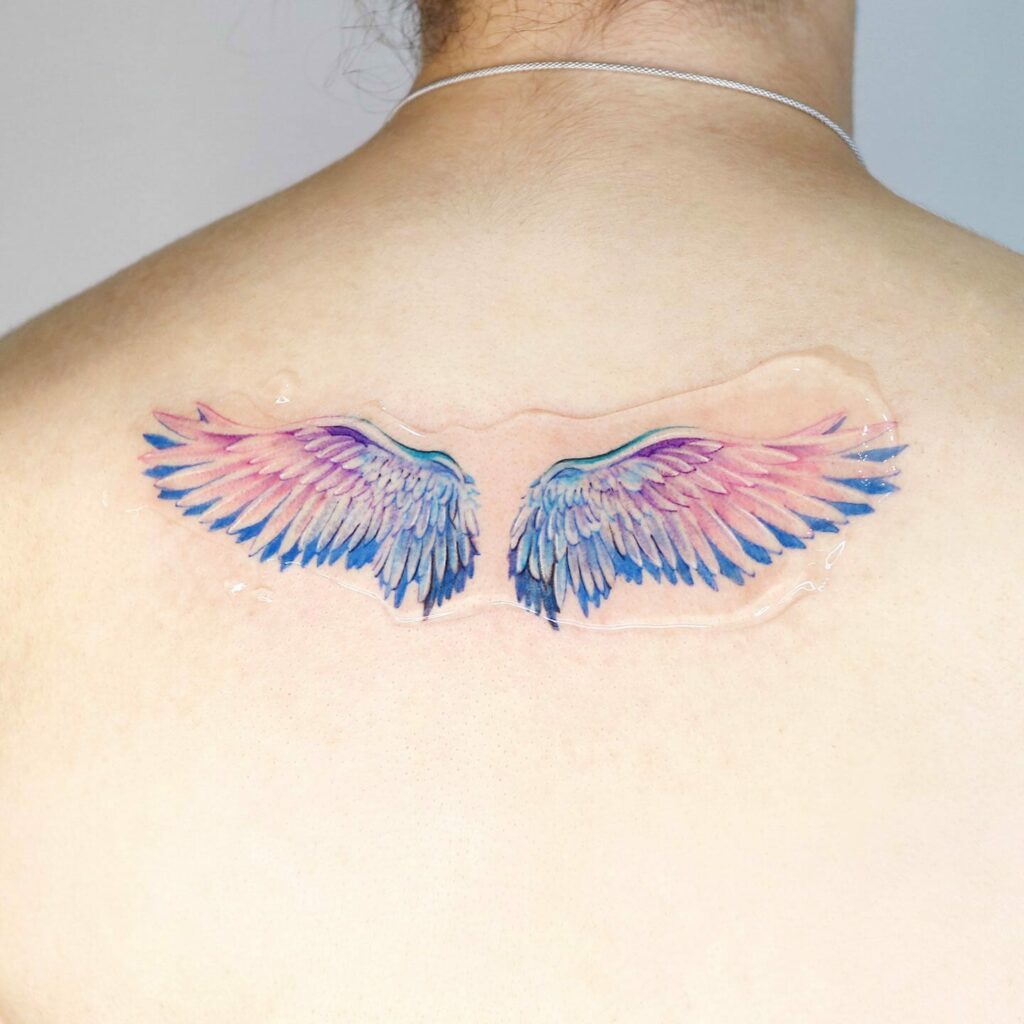 If you're on the hunt for an exceptional and deeply meaningful tattoo, look no further than this vibrant single-wing angel tattoo design.
This masterpiece captures the gaze and stands as a rare gem in the realm of tattoos. With its striking black outlines and intricate intricacies, this design guarantees that all eyes will be on you.
The tattoo artist has brilliantly merged the classic semicolon tattoo with a solitary wing and an elegant lotus, resulting in something extraordinary.
The semicolon tattoo embodies mental health awareness, symbolizing the fight against suicide and addiction. In this design, the wing takes the place of the comma, and the lotus replaces the dot, further enriching the symbolism.
This single-wing angel design is ideal for those seeking a distinctive, exceptional tattoo art piece. Its individuality and profound significance make it an extraordinary addition to your body art collection.
Hand Angel Wing Tattoos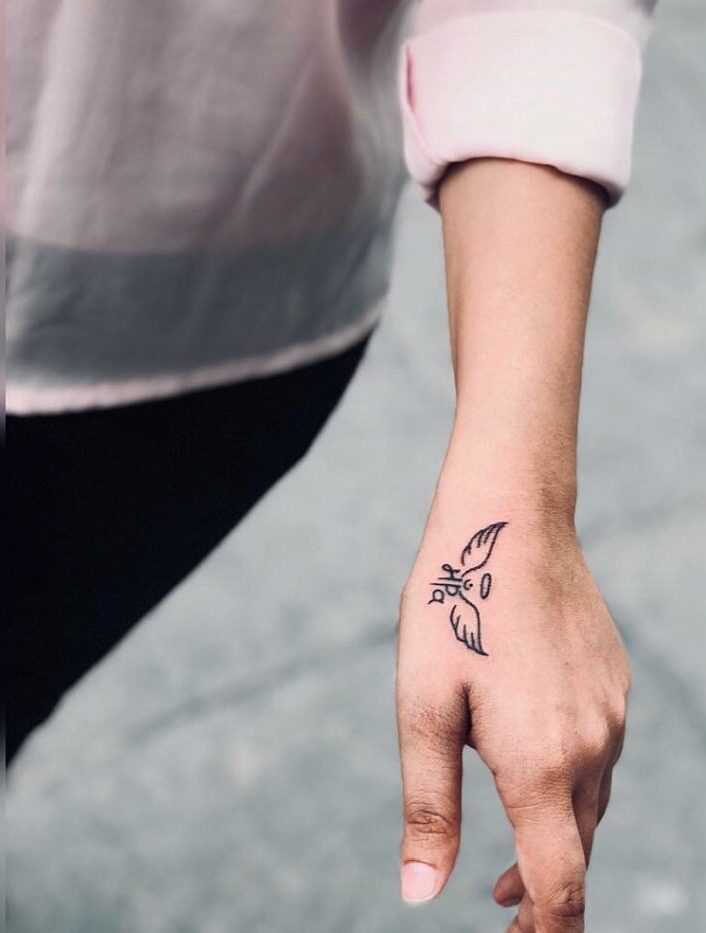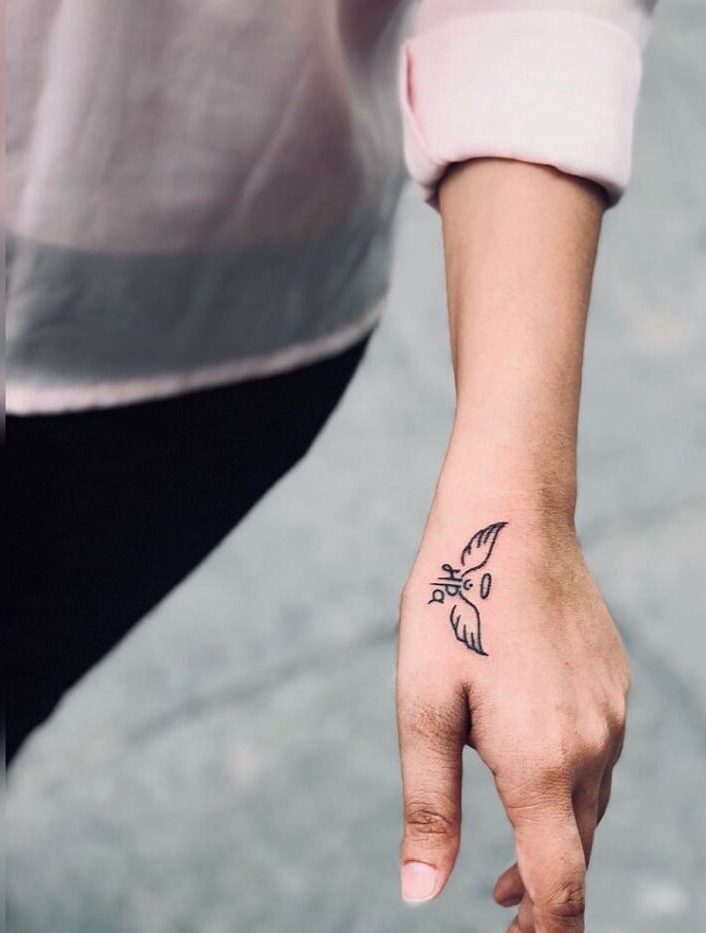 If you're seeking a design that marries simplicity and elegance, the hand angel wing tattoo is captivating. Crowned with a floating halo, the intricate yet delicate wings create a harmonious visual.
However, what truly makes this design extraordinary is the inclusion of the words "maa" and "pa" in the Devanagari script, signifying "mother" and "father."
This tattoo goes beyond aesthetics; it's a heartfelt homage to our guardian angels—our parents. If you're yearning for a poignant and artistic way to honour them, this tattoo perfectly embodies that sentiment.
Angel Wing Tattoo On The Back Arm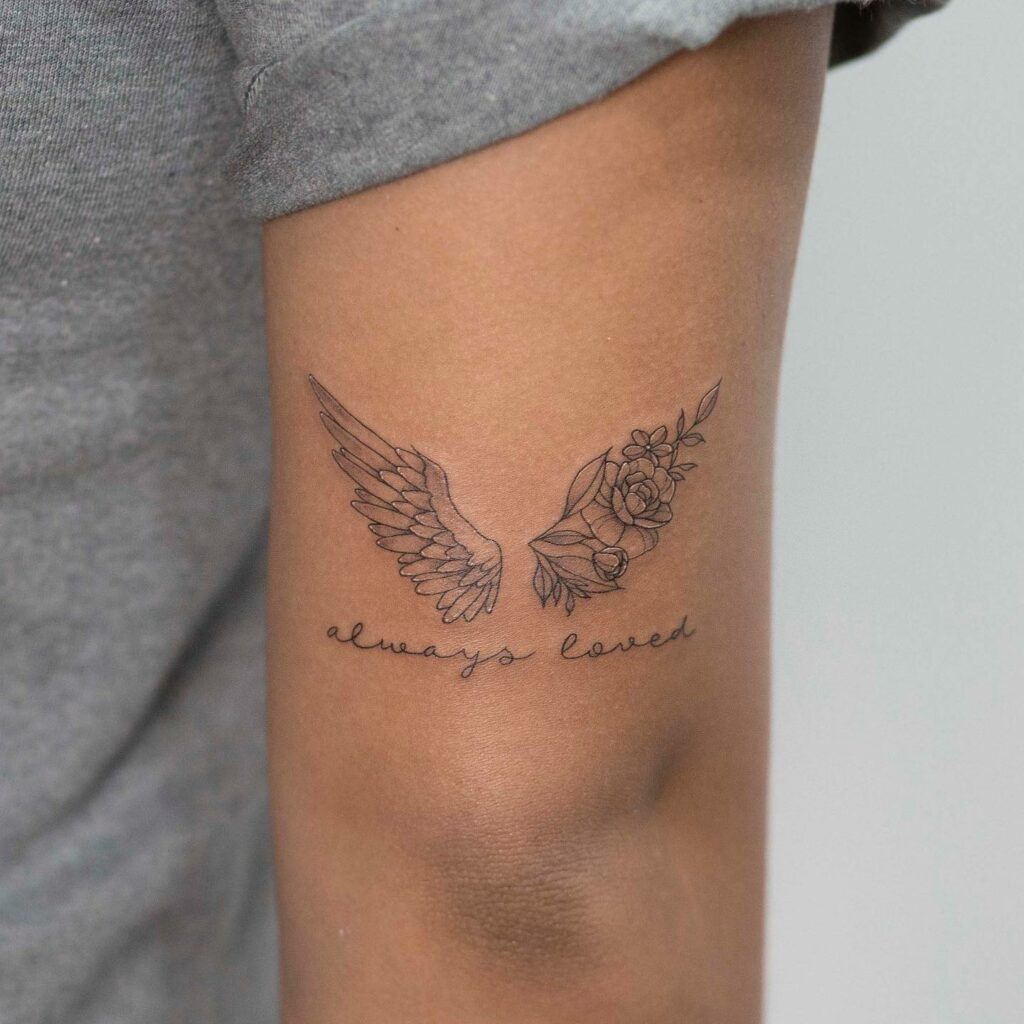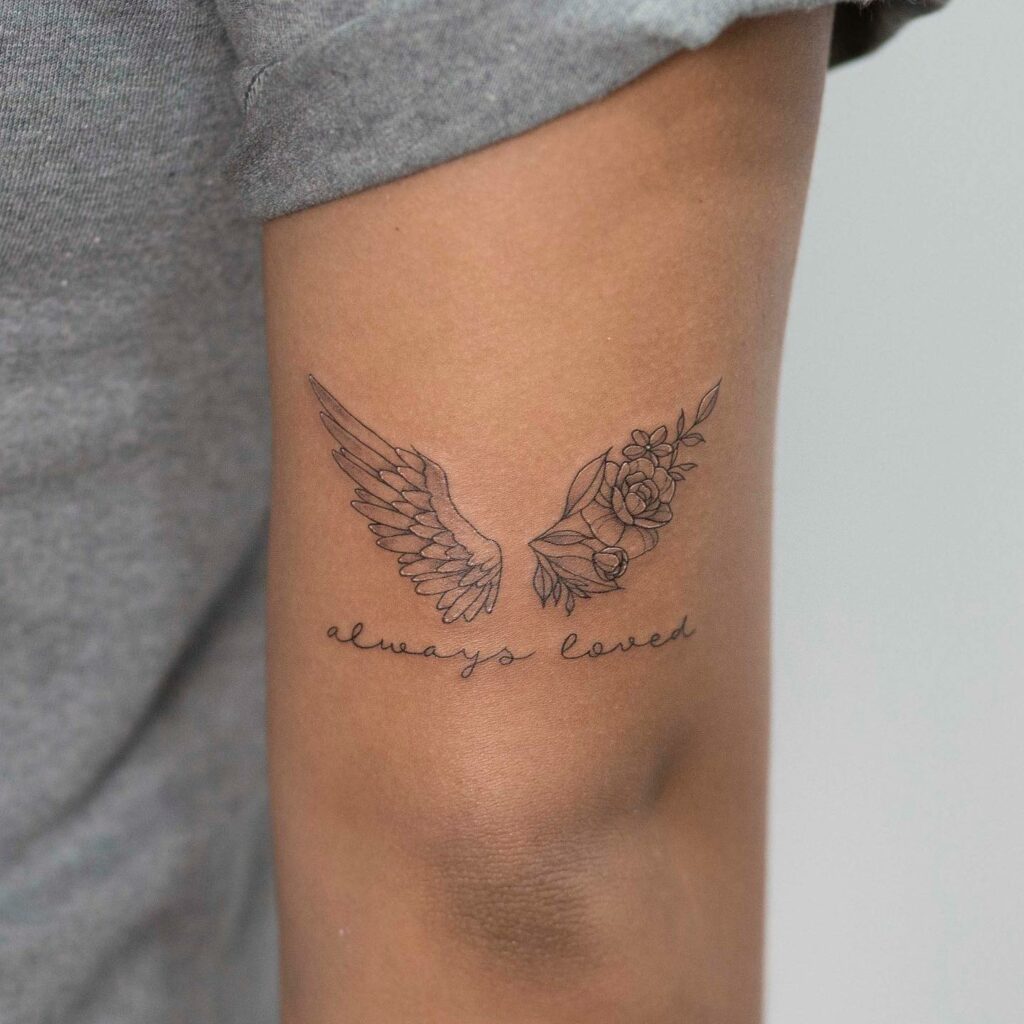 If you're in search of an attention-grabbing tattoo to proudly display, consider adorning the back of your upper arm. And I've got just the design that will captivate eyes – an angel tattoo that exudes allure.
Within this creation, the artist has masterfully crafted one wing with a mesmerizing blend of feathers, ranging from grand to delicate.
On the opposite wing, an intricate arrangement of flowers and leaves takes form, culminating in an utterly unique design.
Yet, this tattoo holds significance beyond its visual appeal. Beneath the wings, the words "Always loved" are inscribed, transforming it into a memorial tattoo dedicated to someone dearly departed.
Angel wing tattoos offer a poignant means of honouring and cherishing the memories of our beloved individuals who've left this world.
Angel's Wing And Devil's Wing Tattoo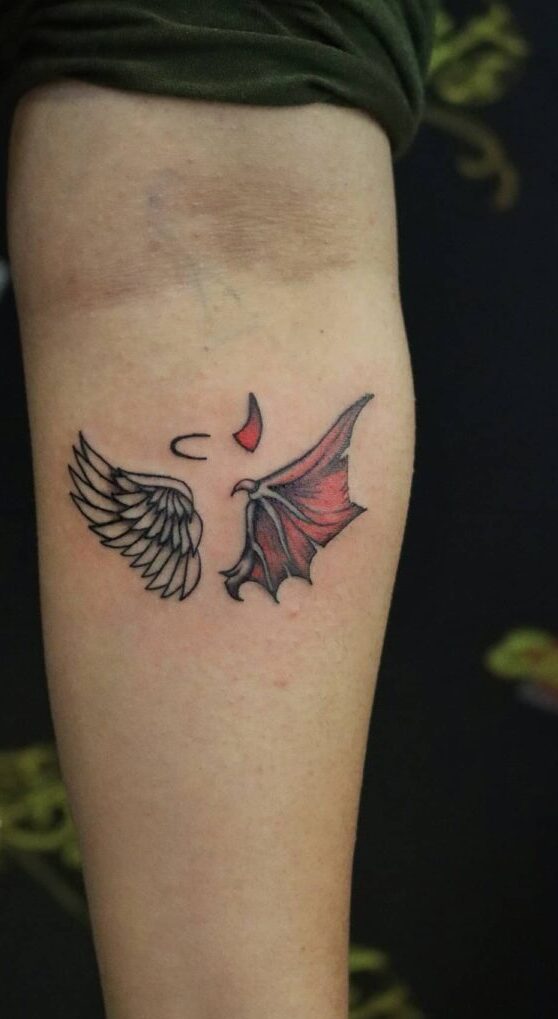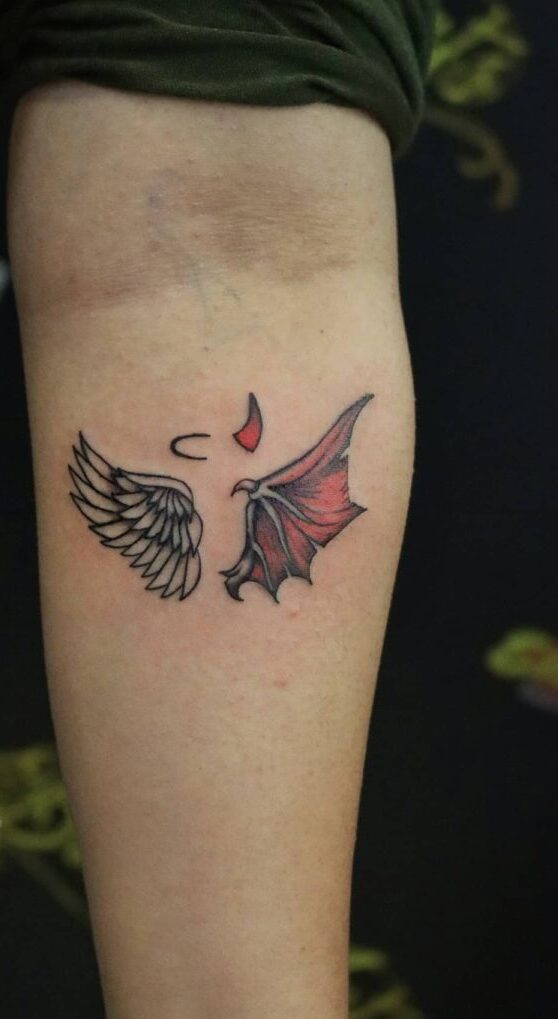 If you're in pursuit of a profound tattoo that conveys a significant message, the fusion of angel and devil wings could be your ideal choice.
This design represents the equilibrium between goodness and malevolence in our existence, reflecting the perpetual internal battle we confront.
The left side of the tattoo showcases an exquisite angel wing adorned with intricate feathers and a halo, while the right displays a devil wing with a striking, bat-like form and a fiery crimson horn.
This design serves as a constant reminder that life is a blend of positive and negative encounters, and it's through navigating both that we mature and transform.
Angel Wings Tattoo Ideas On Neck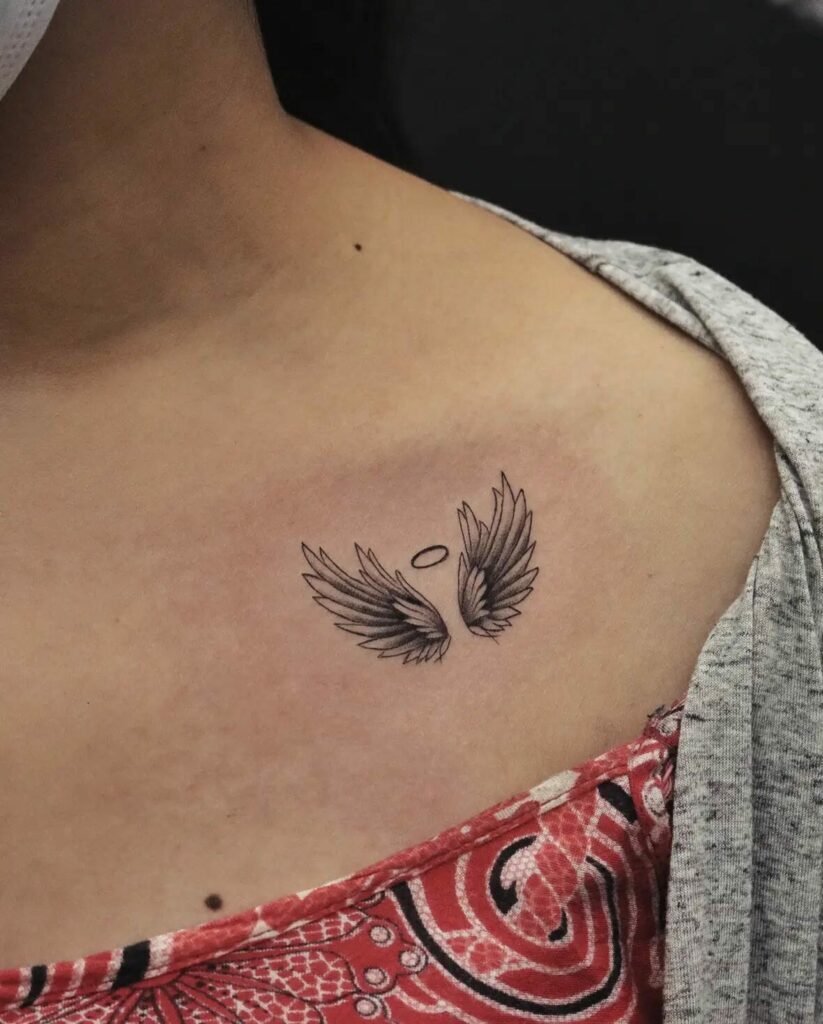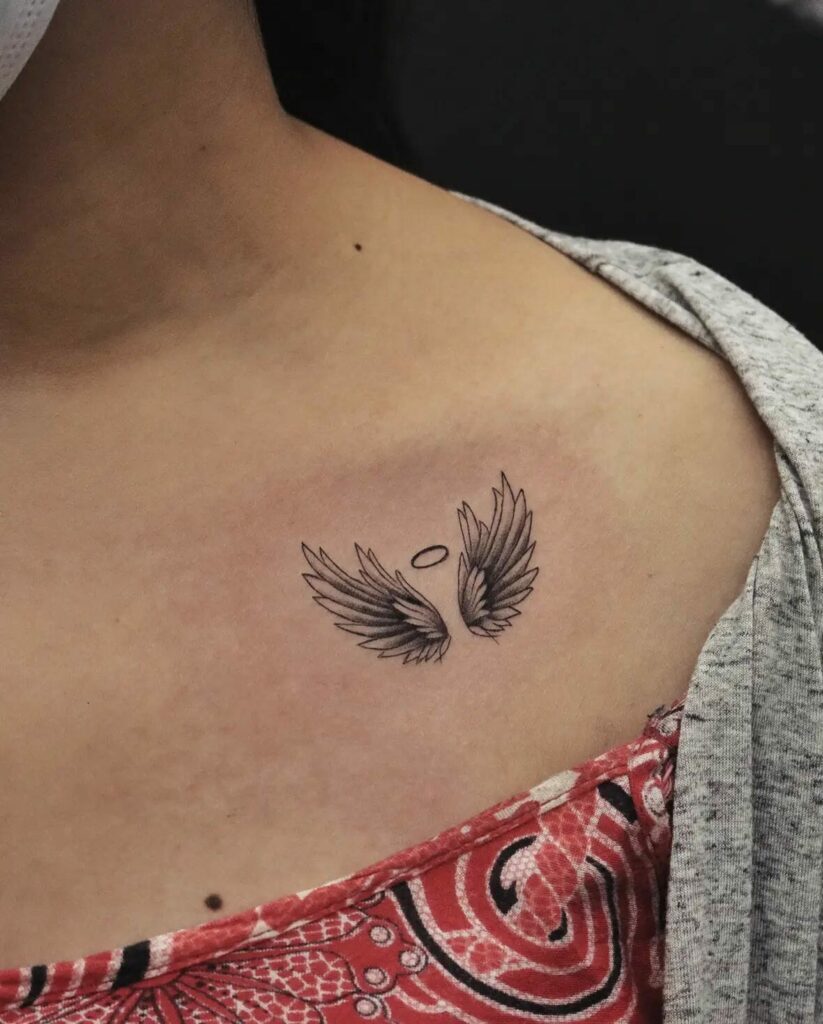 If you're on the hunt for a small yet impactful tattoo design, the neck provides an ideal canvas to showcase your ink. A delicate angel wings tattoo is a fantastic choice to achieve that.
This design boasts two wings crafted from a combination of long and short feathers, resulting in a distinct and captivating appearance. Enhancing the symbolism of your guardian angel, a bold black halo hovers above the wings.
Whether you intend to dedicate this tattoo to a special person or keep it as a reminder of your guardian, this small yet potent design is bound to elevate your style and make a statement.
Angel Wings Tattoo on Chest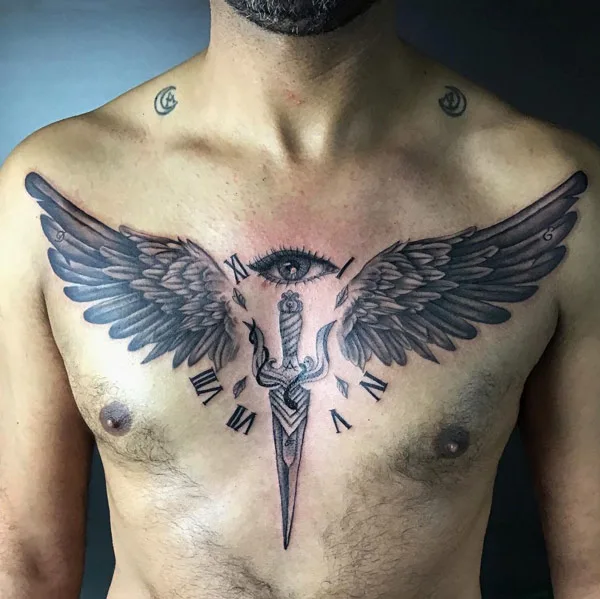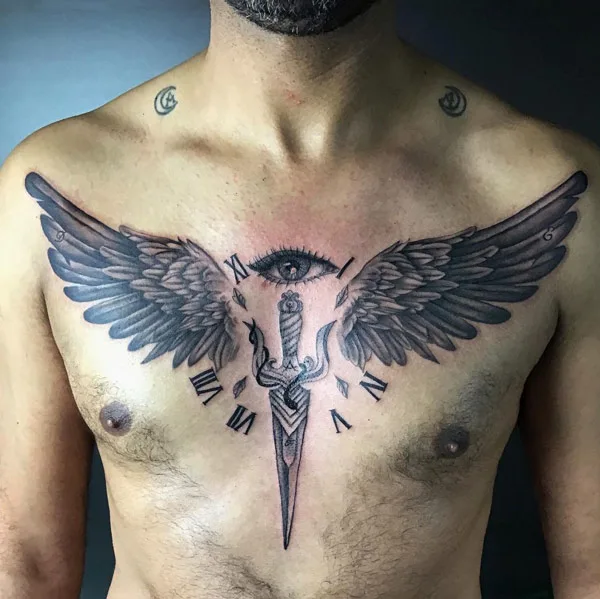 For those who have a preference for larger tattoos and want to make a bold statement, the chest can be an ideal canvas for an angel wings tattoo. This location allows for various design possibilities that cater to different preferences.
You can opt for a prominent design with expansive wings stretching across your chest, creating a visually striking effect.
Alternatively, you might choose a subtler approach by choosing smaller wings offering a more understated vibe. Adding a touch of uniqueness, you can incorporate quotes or text with diverse fonts to enhance the visual impact of the tattoo.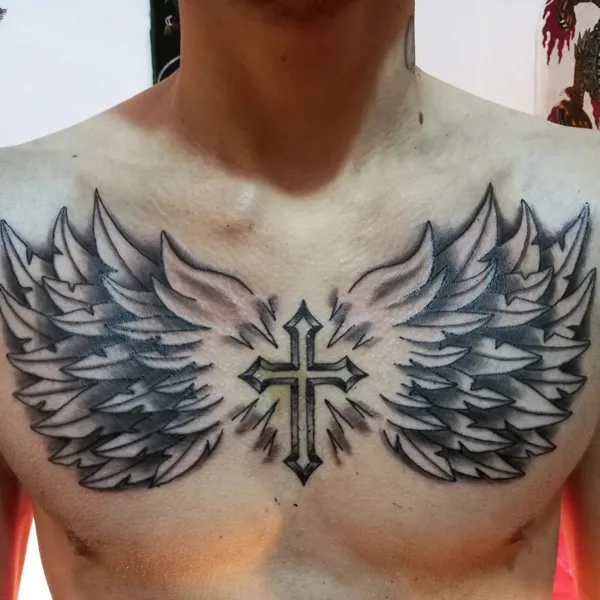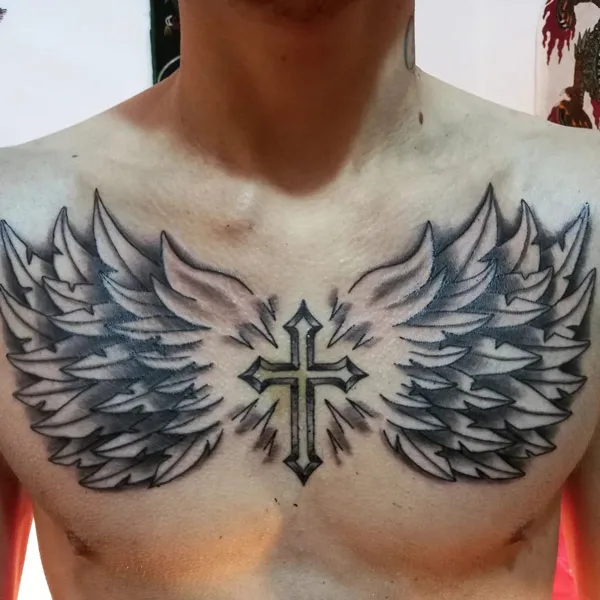 The chest provides a comfortable space to explore diverse designs due to its relatively low pain sensitivity. This allows for intricate and multifaceted designs that can encompass various symbolic elements such as swords, crosses, and more.
The larger canvas also allows you to experiment with vibrant colours and intricate detailing, creating a captivating and meaningful tattoo.
It's worth noting that the chest tattoo offers versatility in terms of visibility. You can proudly display it with low-cut attire or conceal it under formal wear.
To make your chest tattoo stand out, consider opting for a design with vivid and realistic colours that add a touch of vibrancy and life to the artistry.
Angel Wing Tattoos For Females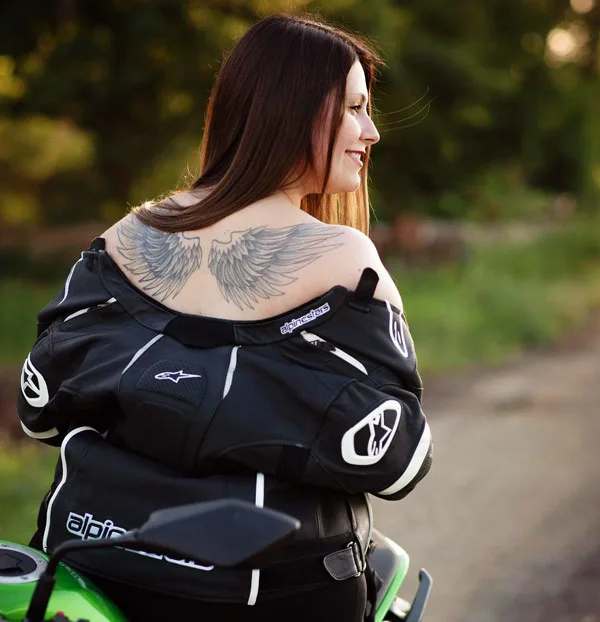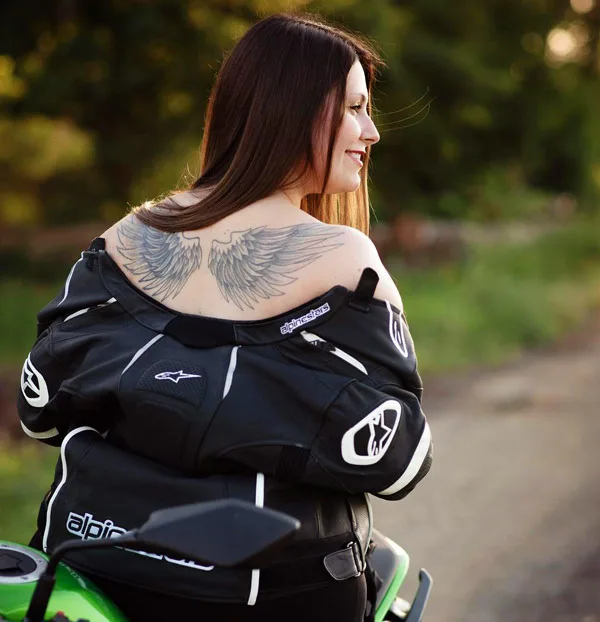 Within tattoo artistry, angel wing designs have etched a distinctive presence. Drawing from our substantial experience, it's evident that women often gravitate towards angelic wing tattoos that embody simplicity and elegance.
These tattoos frequently resonate with women who encompass a fusion of fortitude, adaptability, and nurturing attributes – akin to the embodiment of an angel's essence.
The spectrum of design options is vast, from delicate and feminine motifs to more audacious renditions featuring richer hues and dynamic visuals.
Similar to the aforementioned designs, these tattoos can be situated across various body areas, presenting a canvas for diverse self-expression.
We recommend contemplating spots like the shoulders, arms, or wrists for our female audience for these designs. These regions amplify the visual resonance and provide an avenue to showcase individual style and identity.
Heart and Angel Wings Tattoo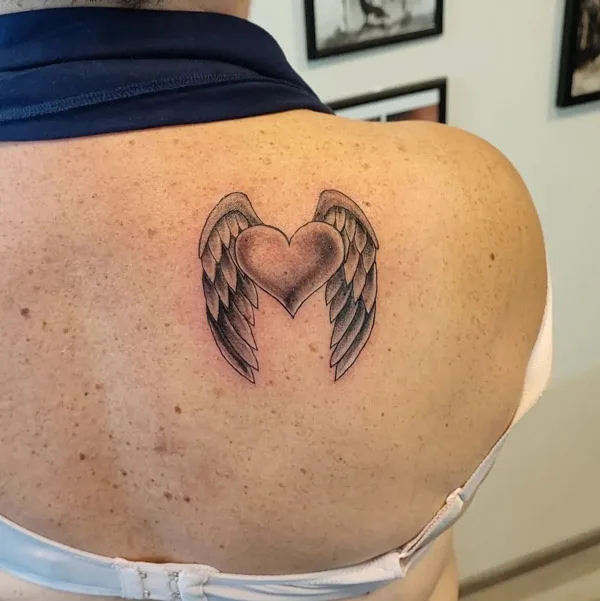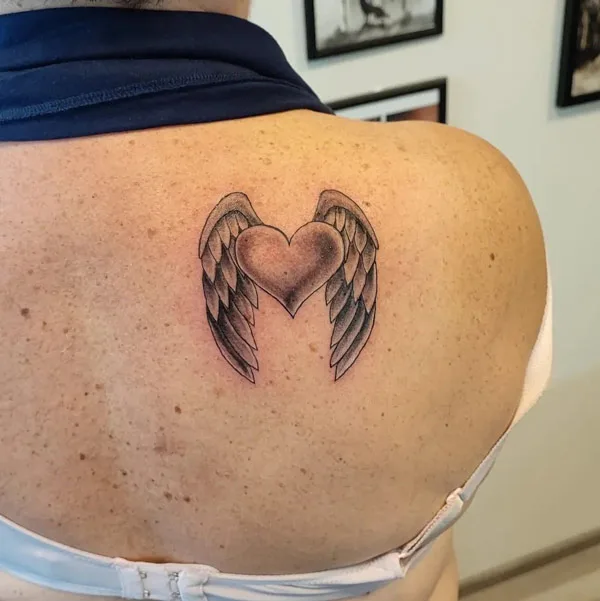 A distinctive approach to the angel wings tattoo involves incorporating a heart into the design.
Given the popularity of heart tattoos, there's ample room for creativity with this combination. By blending various heart designs with the angel wings motif, you can create a tattoo that truly mirrors your individual style.
The symbolism behind this tattoo is profound and heartfelt. The heart signifies love and positivity, while the angel wings symbolize protection and guidance.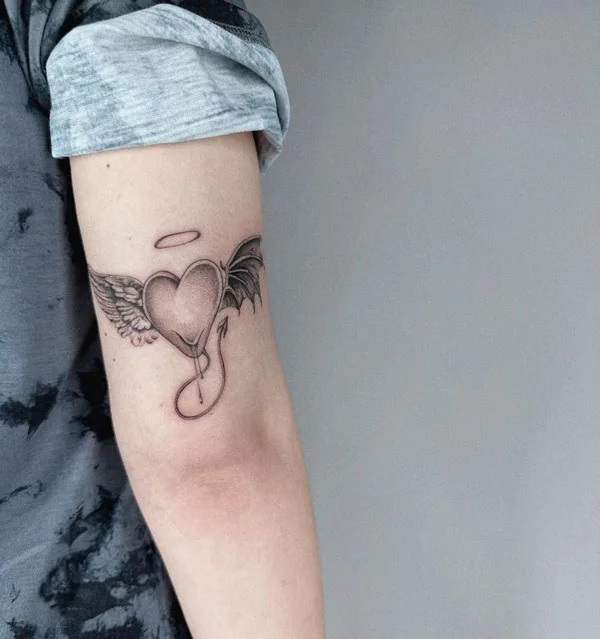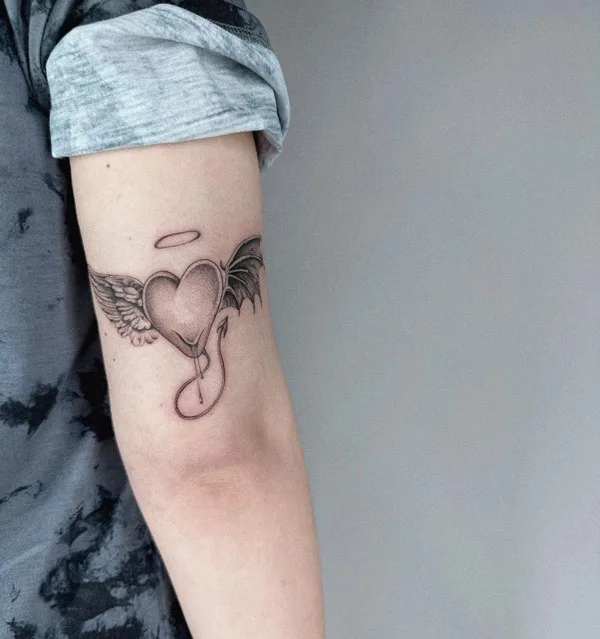 Merging these two symbols adds layers of significance, making the tattoo a potent expression of affection and concern for someone special or a poignant tribute to a cherished memory.
When deciding where to place this tattoo, you have numerous options. You could opt for a larger rendition on your chest, with vivid red or pink shades accentuating the heart element.
Alternatively, you might choose a more understated design on your arm or back. You could even contemplate getting matching tattoos with a partner, incorporating meaningful numbers like "1776" to personalize the design further.
Red Angel Wings Tattoo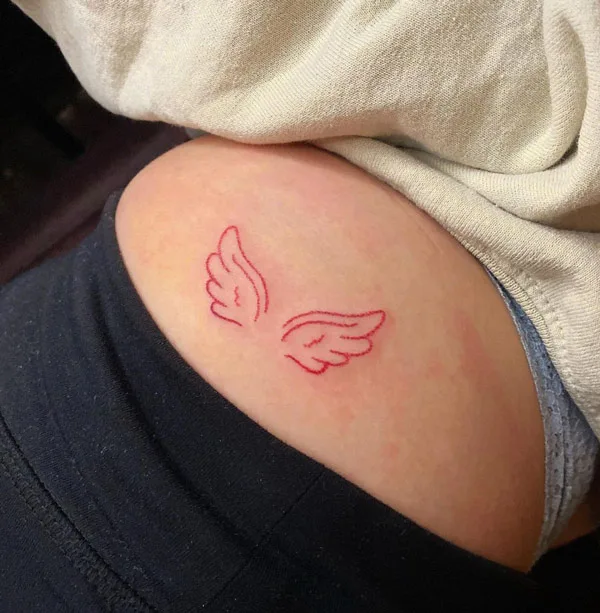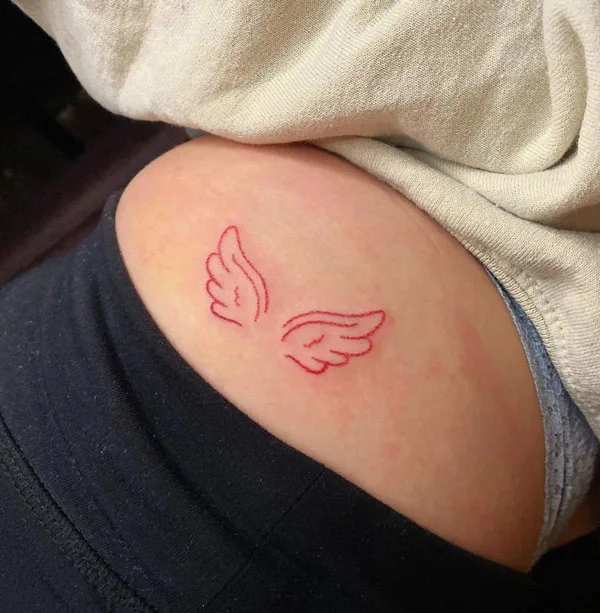 The red angel wings tattoo presents a vibrant and playful design, offering a unique take on the traditional angel wings concept.
These tattoos hold deep emotional significance as reminders of personal feelings and spiritual guidance. You can incorporate elements like intertwining vines and delicate flowers into the design to enhance their appeal.
Traditional Angel Wings Tattoo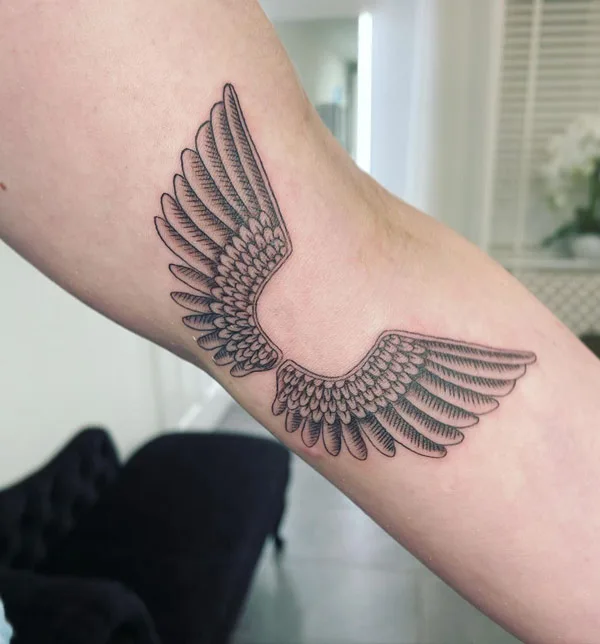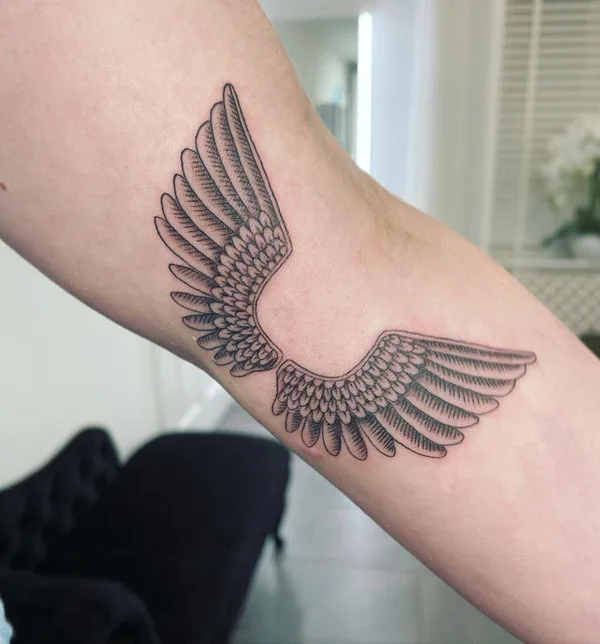 Classic angel wing tattoos bring a fresh perspective to the well-known angel wings motif. These designs feature bold patterns and vivid colours, making them timeless.
To add extra interest, consider integrating traditional elements, such as the iconic violet flower design, to infuse more character.
Wolf Embracing Angel Wings Tattoo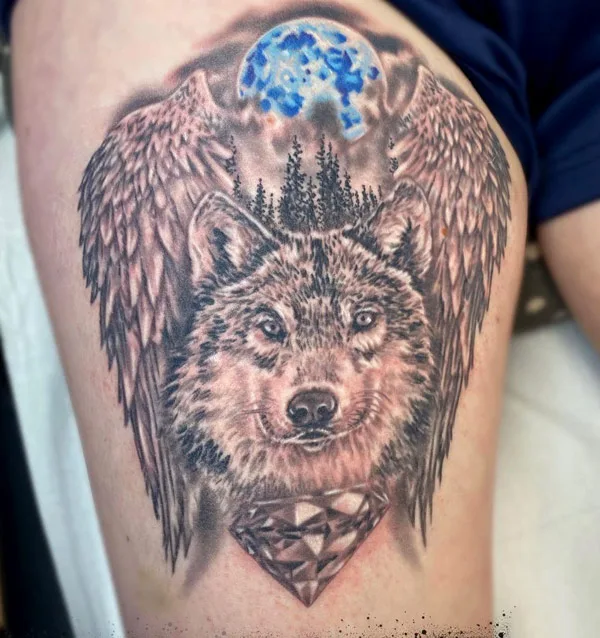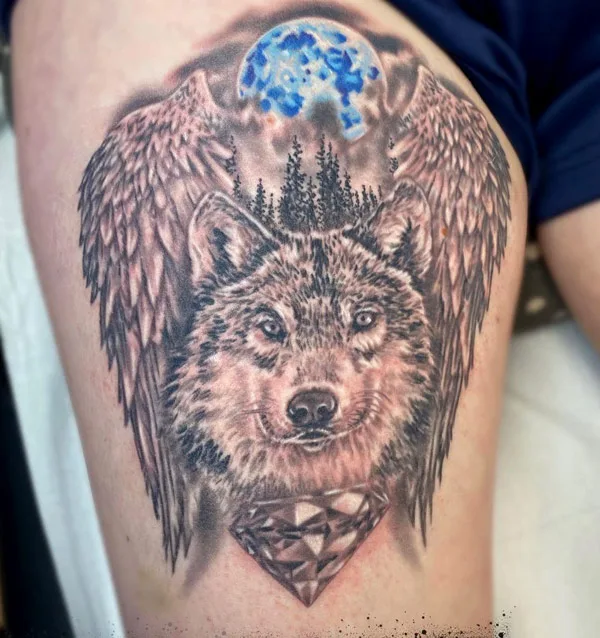 The angel wing with wolf tattoo symbolizes strength, loyalty, protection, and guidance by merging the wolf's attributes with the elegance of angel wings.
This design carries special meaning, particularly during challenges, serving as a reminder of resilience in the face of adversity.
Angel Wings Hand Tattoo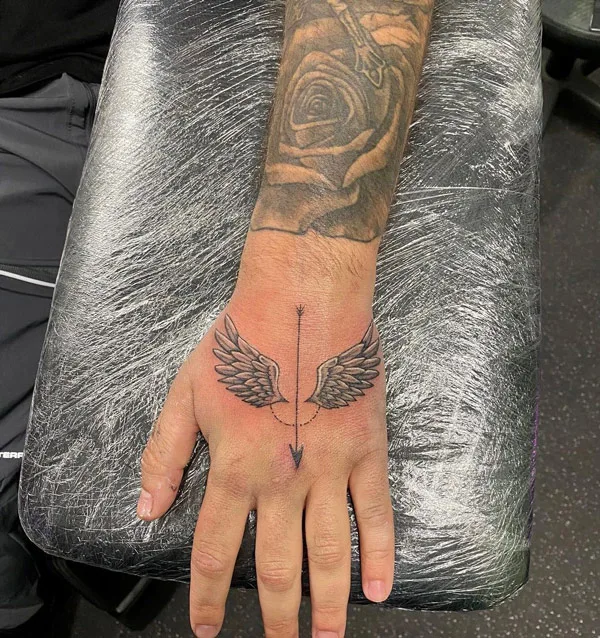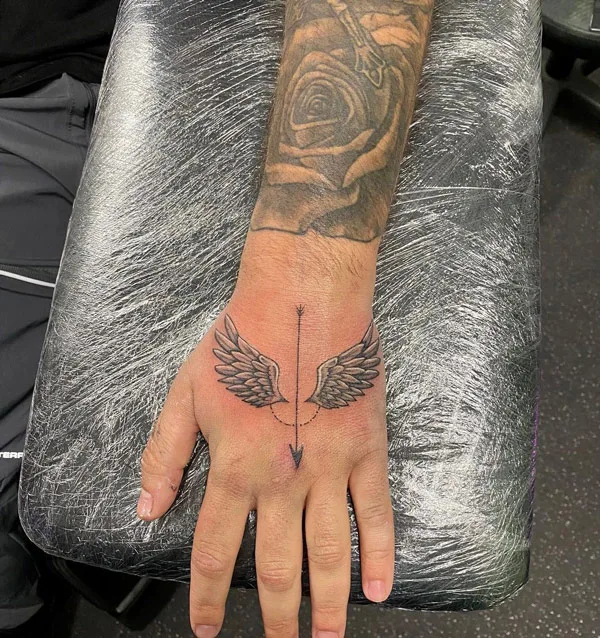 Placing angel wings tattoos on hands is a compelling choice. Since hands are consistently visible, they provide an ideal canvas for intricate designs.
To add complexity, introduce details like twinkling stars, enriching the intricacy and allure of the tattoo.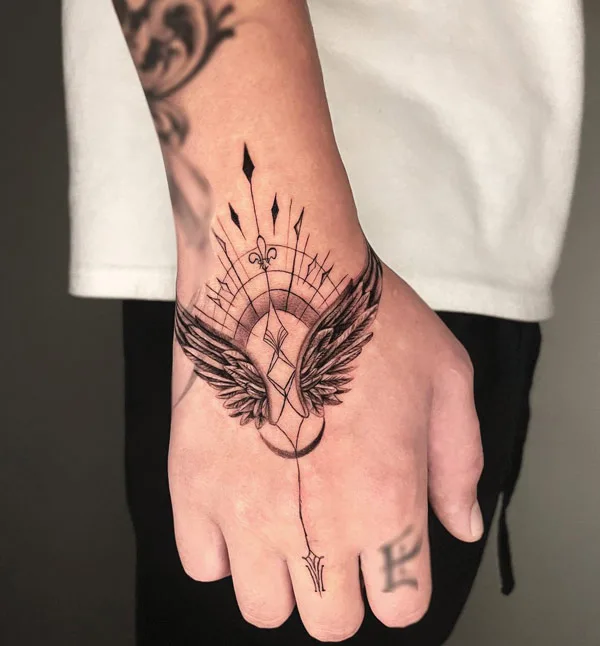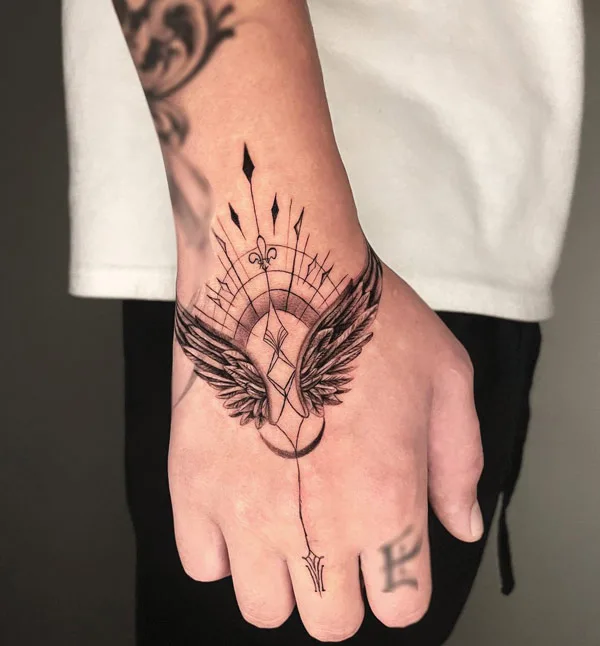 Angel Wings Infinity Tattoo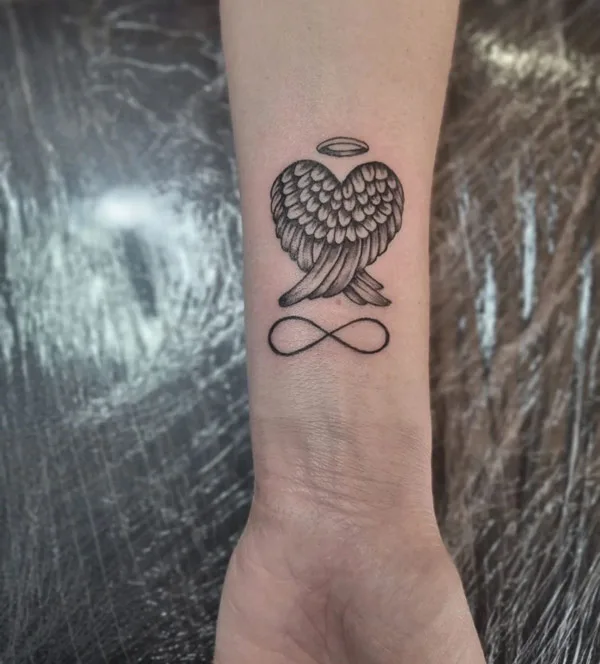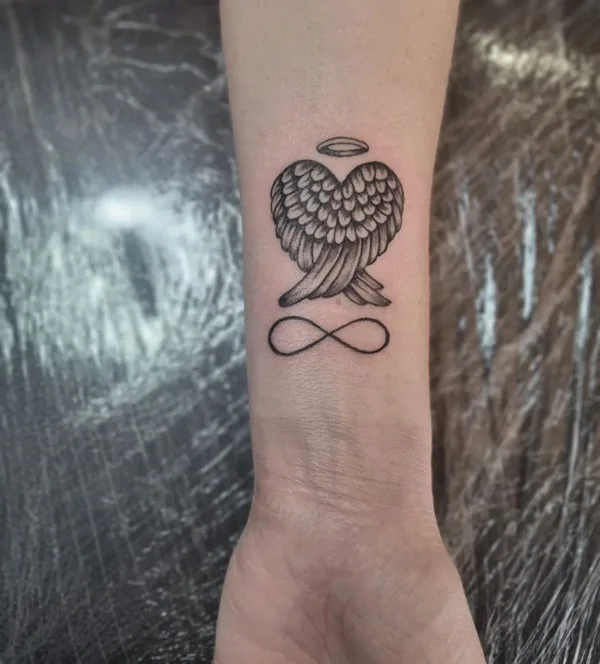 The angel wings infinity tattoo merges the enduring infinity symbol with classic angel wings imagery.
This design embodies eternal guidance and protection, reflecting boundless support. Moreover, it can symbolize infinite love for your beloved ones.
Realistic Angel Wings Tattoo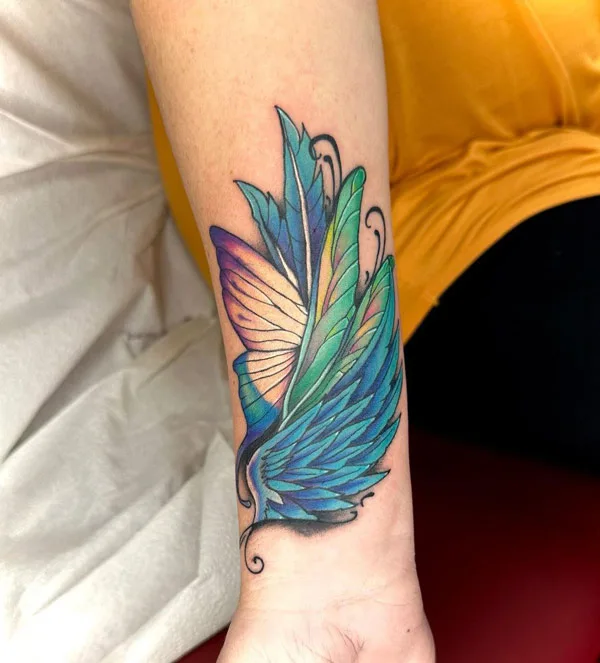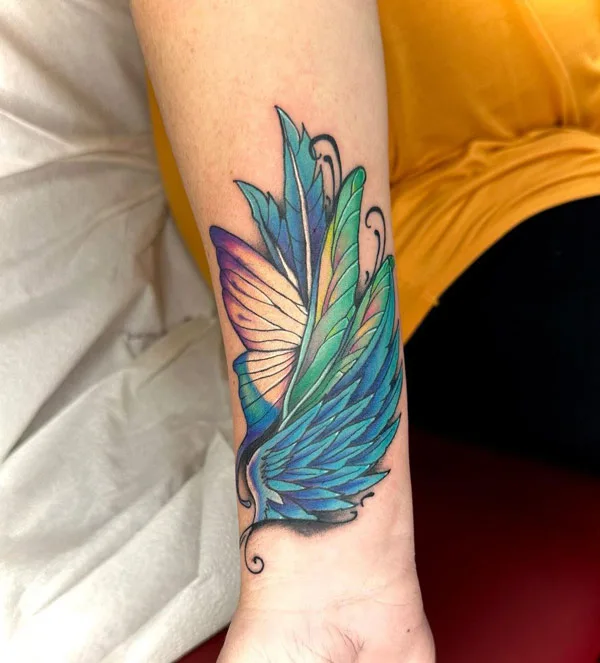 If you're an enthusiast of lifelike artwork, the realistic angel wings tattoo might be your ideal selection. These tattoos employ vibrant hues and strong contrasts to replicate the appearance of actual angel wings.
They often boast intricate detailing and can truly make a powerful impression. Opting for a skilled tattoo artist is important to ensure this design is executed flawlessly.
Baby Feet Angel Wings Tattoo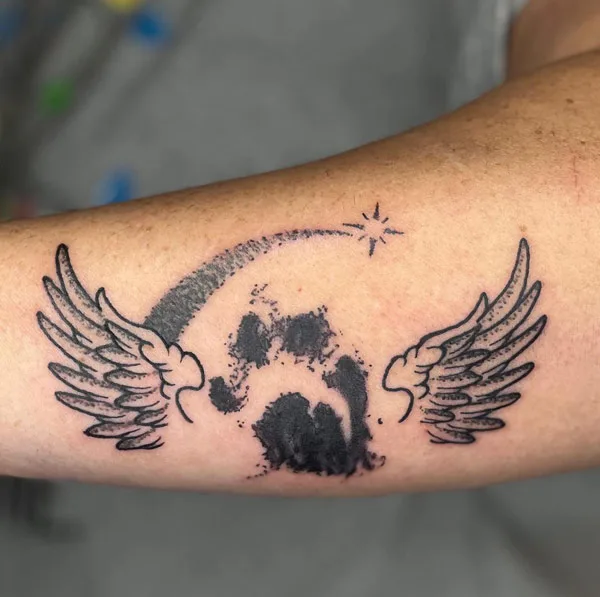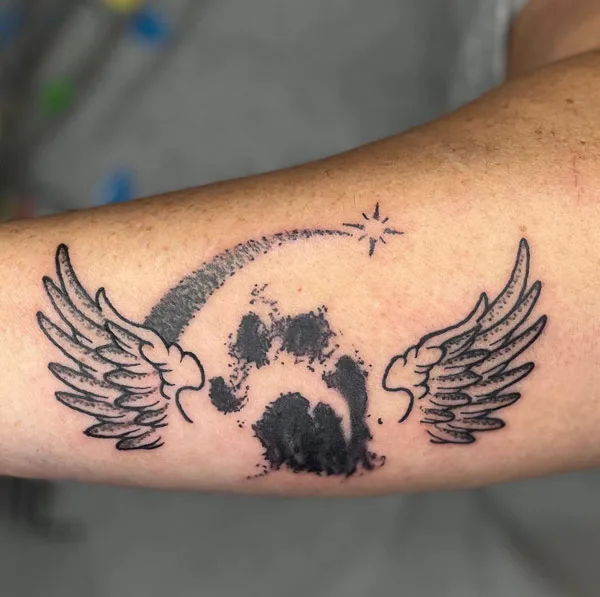 For a more uncomplicated choice, consider the baby feet angel wings tattoo. This design is elegantly straightforward, typically featuring a pair of wings enveloping an image of your baby's feet.
It's a symbol of safeguarding your child, often rendered with just the outlines. For a personal touch, you can also personalize it by incorporating the paw prints of your cherished pets.
Thigh Angel Wings Tattoo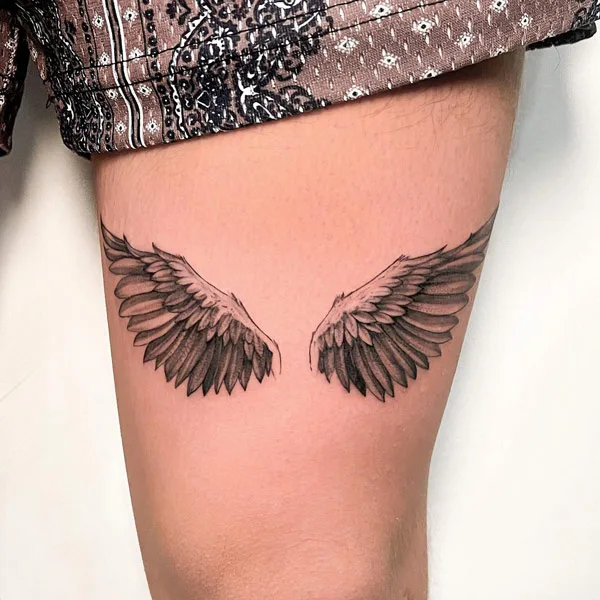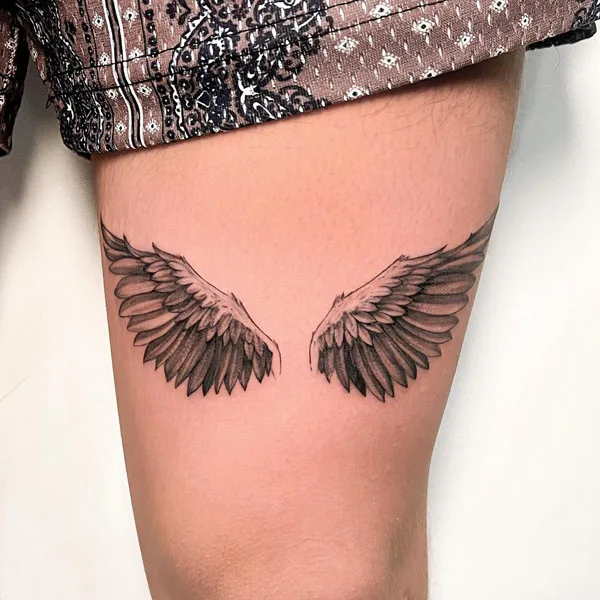 Utilizing the thigh as your canvas permits more elaborate designs. You can get imaginative with intricate and delicate angel wing designs that align with your individual style.
Whether you lean toward a realistic or abstract interpretation, the thigh offers ample area. This allows you to proudly showcase your tattoo or conveniently conceal it with clothing as needed.
Tribal Angel Wings Tattoo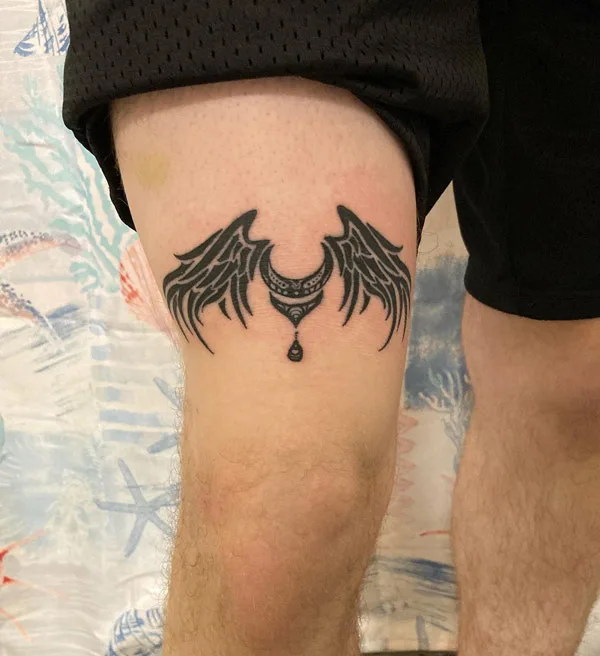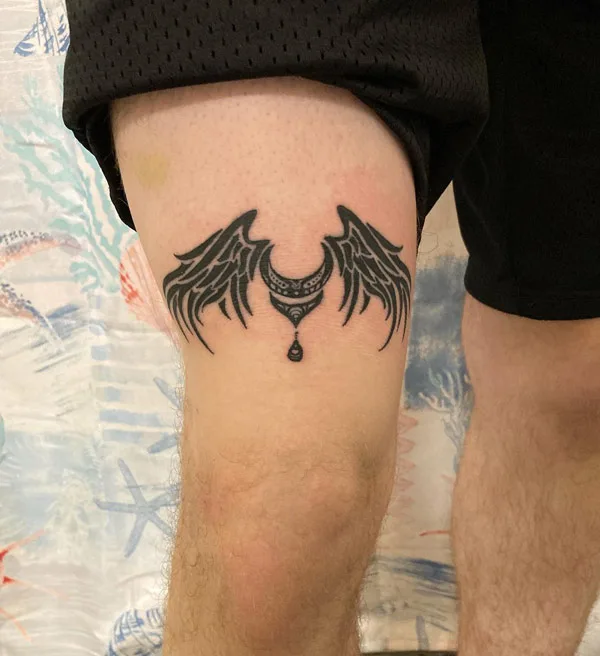 For an innovative twist, contemplate the tribal angel wings tattoo.
This style diverges from conventional designs by integrating bold elements like geometric patterns and an array of colours. These tattoos make a statement, displaying your uniqueness and style captivatingly.
Baby Angel Wings Tattoo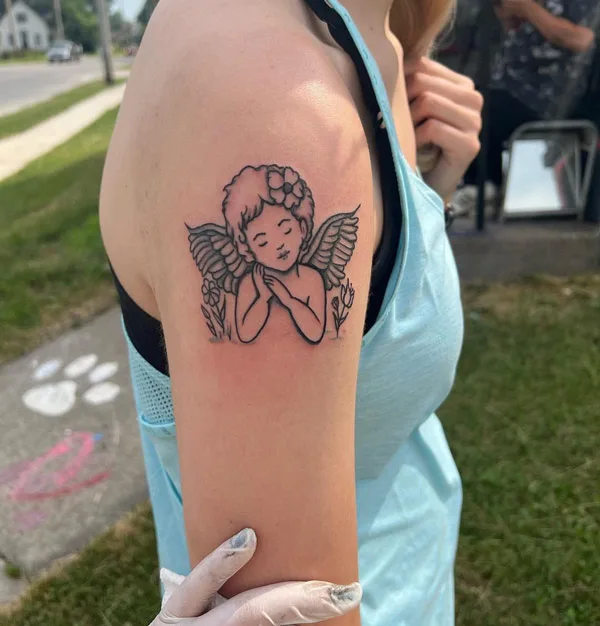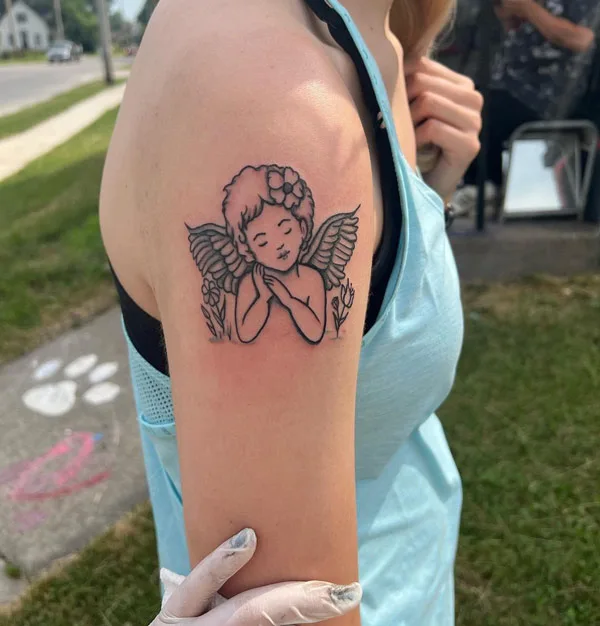 Embrace the current trend with a baby angel wings tattoo, a design that beautifully marries the innocence of infancy with the protective aura of angelic guidance.
Whether it's a heartfelt tribute to a cherished lost child or a personal emblem of your own purity, this tattoo carries a profound significance.
Typically featuring a petite portrayal of an infant cradled by delicate wings, this design also allows for incorporating personal touches like names or dates.
While the choice of placement is diverse, opting for visible areas such as the neck, wrists, or arms can amplify the sentimental impact of this ink.
Angel Wings Tattoo Behind The Ear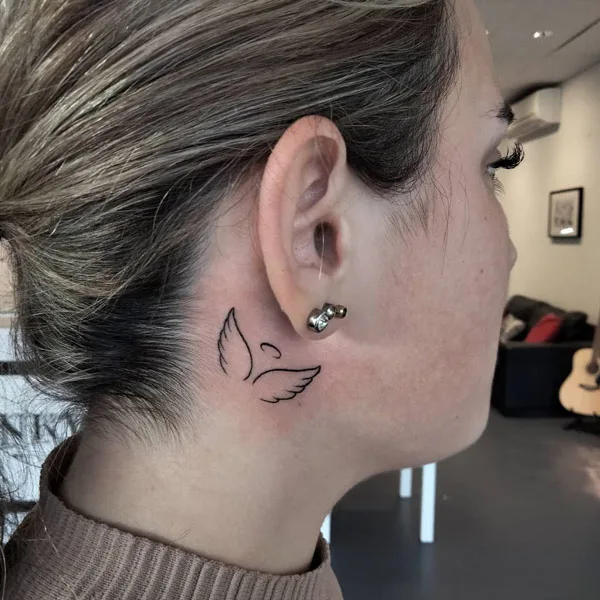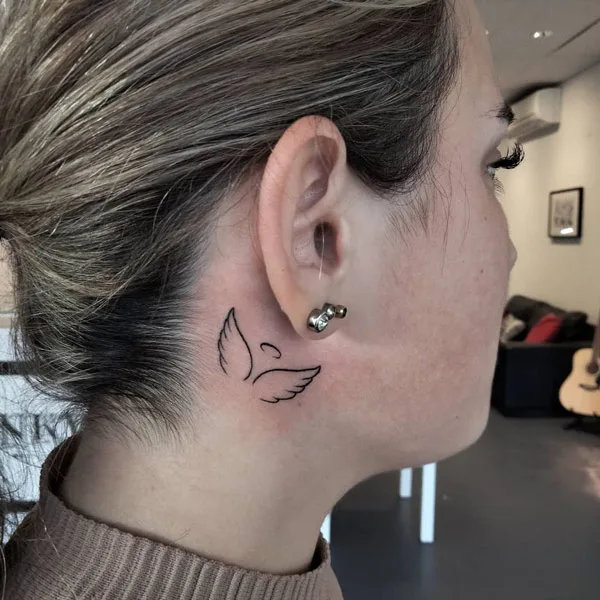 Join the burgeoning popularity of behind-the-ear tattoos with an angel wings design that embodies subtlety and refined elegance.
Renowned for their minimalist charm, these tattoos often employ fine lines to achieve a gentle yet meaningful effect.
Built around a subtle outline of angel wings, this design provides room for customization by introducing complementary elements of your preference.
Prioritizing simplicity, the design generally focuses on outlines to maintain an air of graceful sophistication. While expansion is feasible, it's crucial to strike a balance that preserves the innate delicacy of this distinctive placement.
Angel Wings Sleeve Tattoo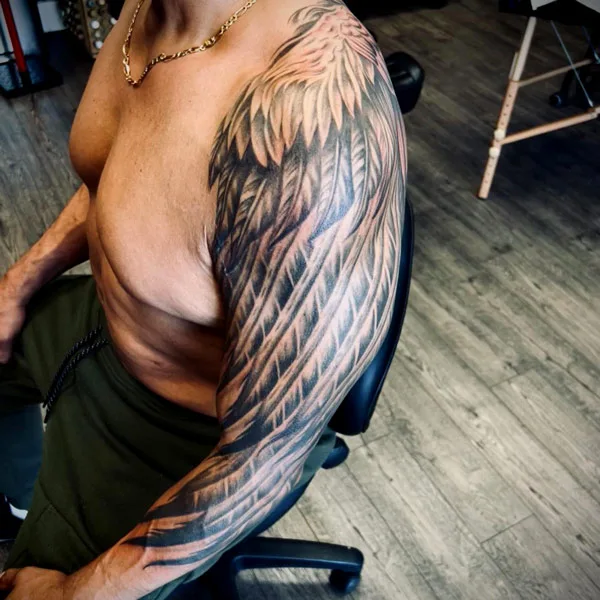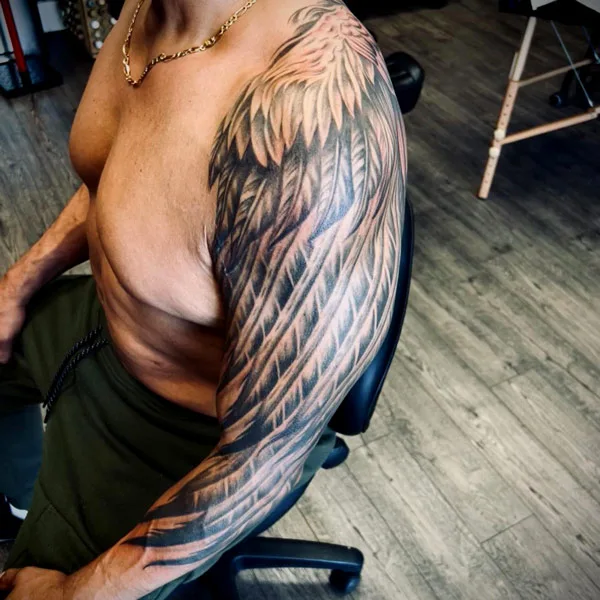 For those searching for an elaborate and captivating tattoo, the angel wings sleeve design offers an expansive canvas stretching from the arm to the back.
This expansive area permits intricate detailing and the infusion of vibrant colour palettes.
However, committing to such an extensive tattoo demands thoughtful consideration due to the scale and complexity involved.
If you're prepared for a visually arresting and remarkable piece of body art that commands attention, the angel wings sleeve tattoo stands as a formidable choice.
Justin Bieber Angel Wings Tattoo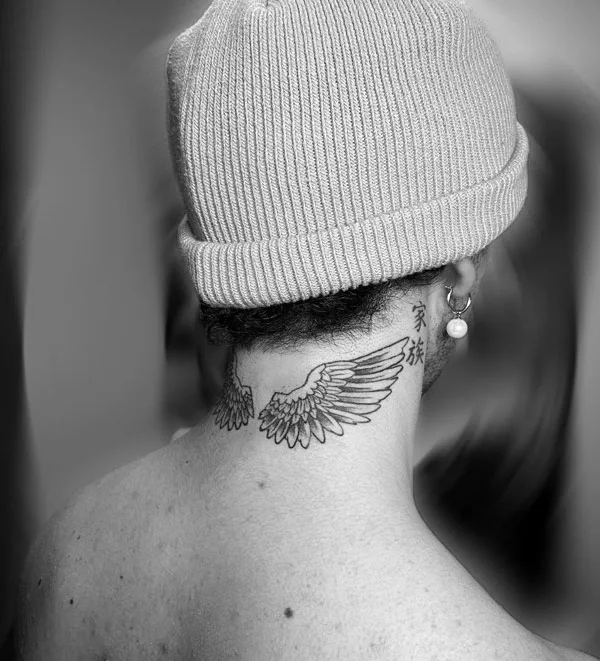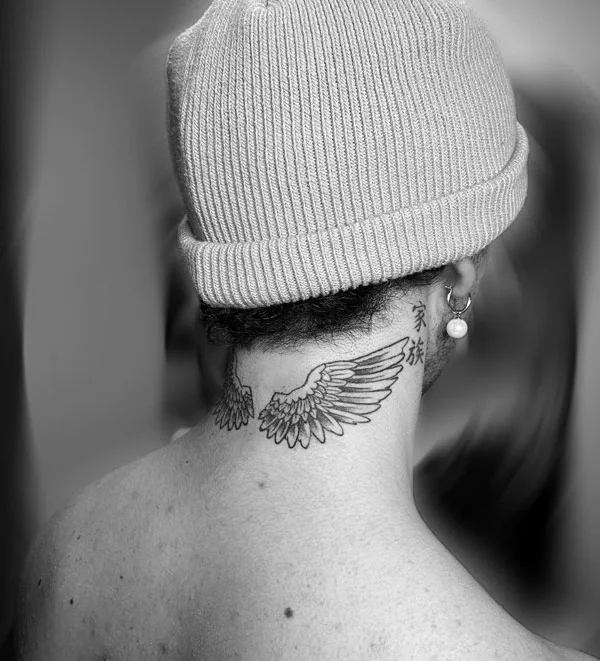 One of the most renowned tattoos globally, Justin Bieber's neck bears an angel wings design that symbolizes the sheltering embrace of a guardian angel.
This selection resonates deeply with an iconic and poignant tattoo that conveys guidance and protection.
Rose With Angel Wings Tattoo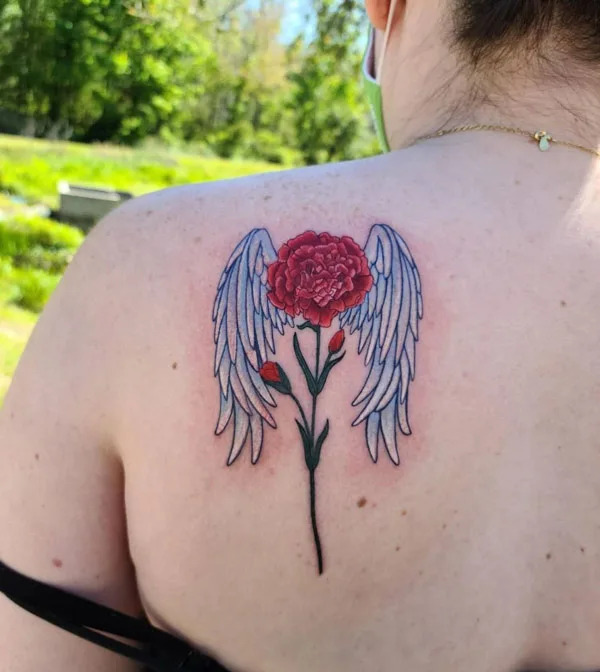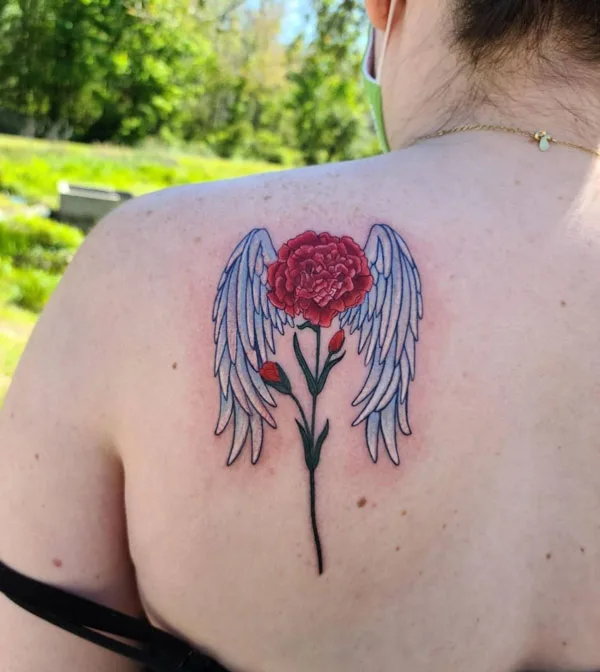 Melding the symbolism of love, hope, and guidance, the rose with angel wings tattoo crafts a harmonious fusion of sentiments.
This design allows for various interpretations, whether favouring a traditional aesthetic or incorporating watercolour techniques for a distinctive twist.
Irrespective of the level of detail or the choice of outlining, the tattoo remains a testament to profound symbolism.
Angel Wings Tattoo With Name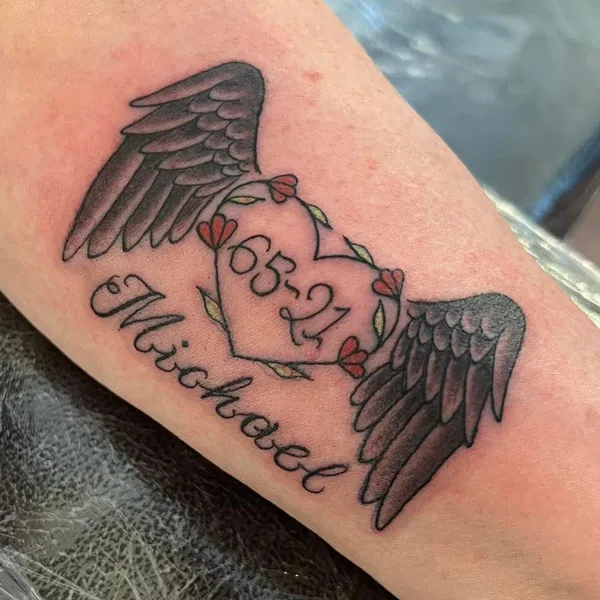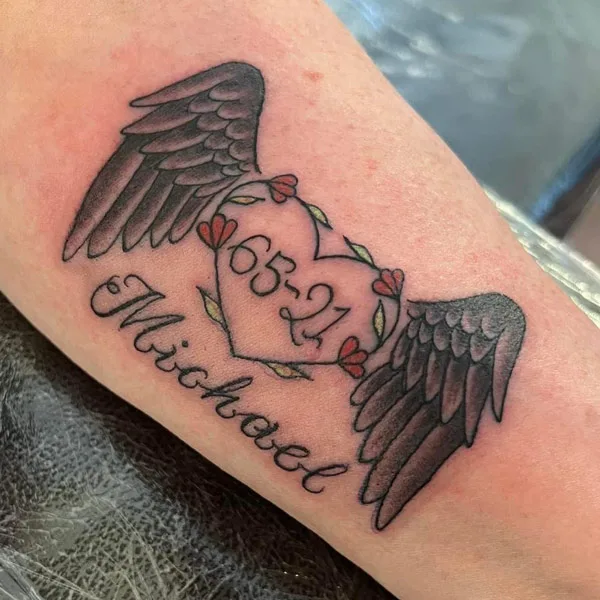 Inject a touch of individuality into your angel wings tattoo by incorporating a name of personal significance.
This version adds a special twist by allowing you to honour a loved one or commemorate their memory. Placing the name within the wings serves to emphasize their protective presence, acting as a heartfelt reminder.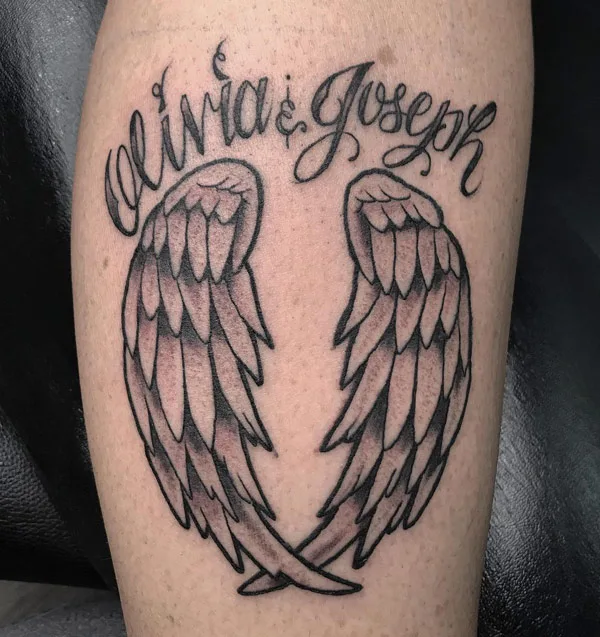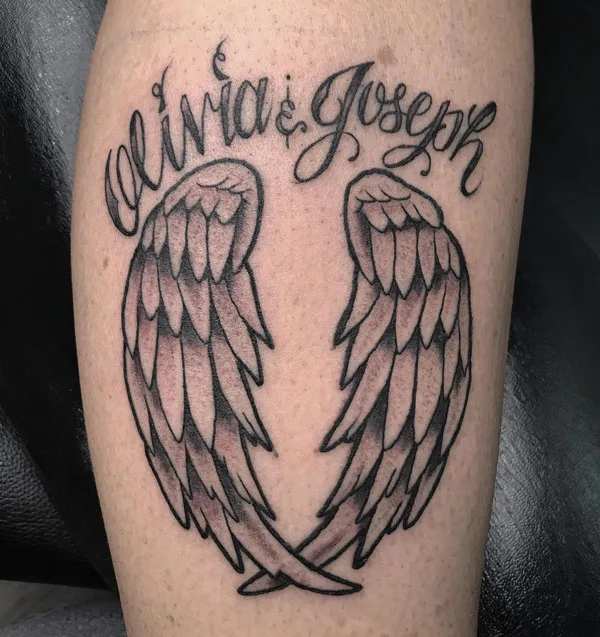 Feel at liberty to experiment with modifications to make the design uniquely yours. Perhaps consider integrating a heart element to amplify the theme of love and protection.
The placement of the name can also be played around with, and you can explore various colour palettes to align with your preferences.
Angel With Butterfly Wings Tattoo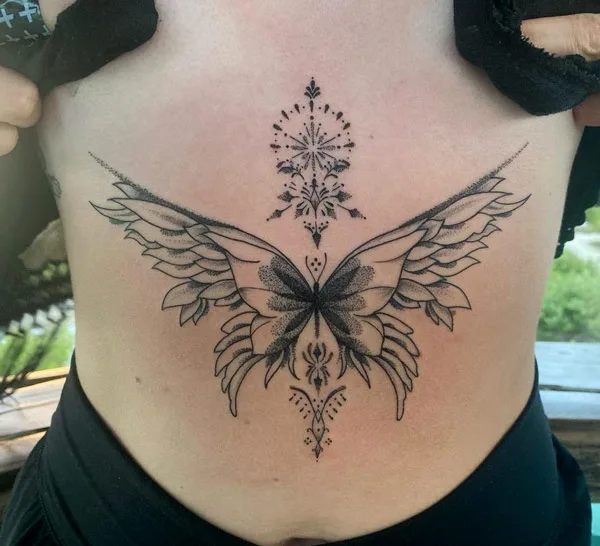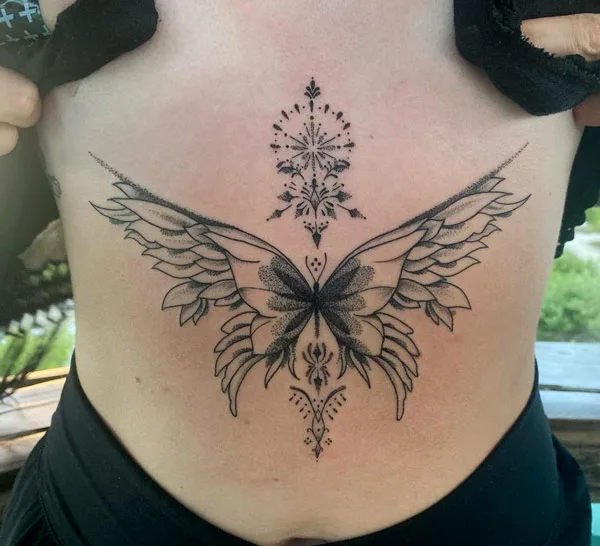 Unleash your creativity by merging angel and butterfly wings into your tattoo concept. Intertwining delicate butterfly wings with the contours of angel wings introduces an air of elegance and originality.
Alternatively, you might explore a design where one wing embodies angelic features, and the other showcases the delicate intricacies of butterfly wings, enabling a fusion of vibrant hues.
The symbolism is profound; butterfly wings signify transformation, while angel wings embody guidance and protection. By leveraging this layered meaning, your tattoo can acquire a profound depth.
Angel Wings Tattoo On The Shoulder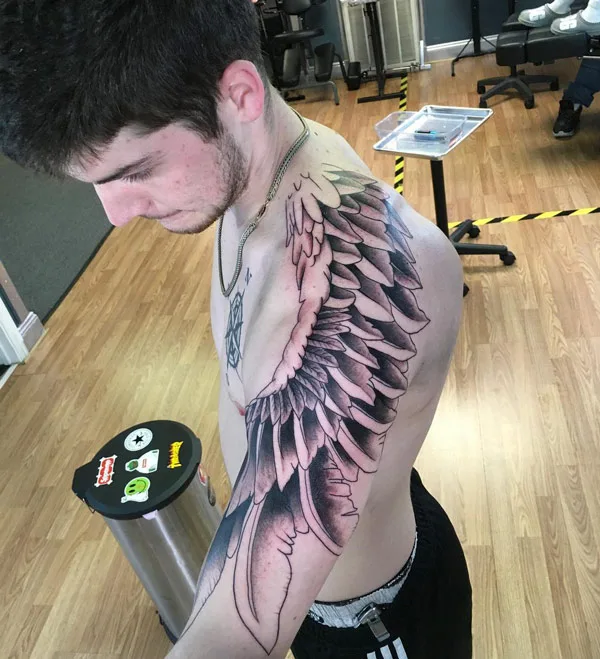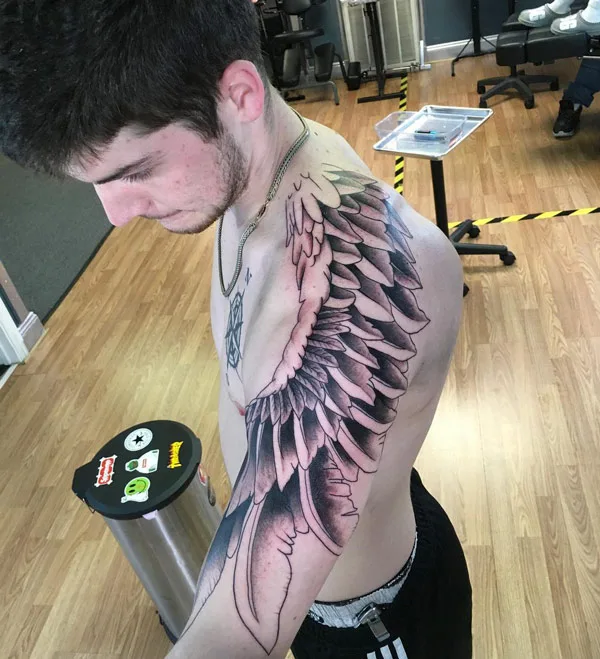 Elevate your style with an arresting angel wings tattoo gracing your shoulder. Extending the design down your arm creates an elongated and graceful aesthetic.
You can extend the artwork across your chest or back for a striking visual impact.
Tailor the tattoo to your liking by infusing it with personalized elements and a palette of colours that reflect your unique identity.
Whether you choose vivid hues or classic black-and-white tones hinges on your preferences. Depending on your intent, the tattoo's visibility can be regulated by your choice of attire.
Memorial Angel Wings Tattoo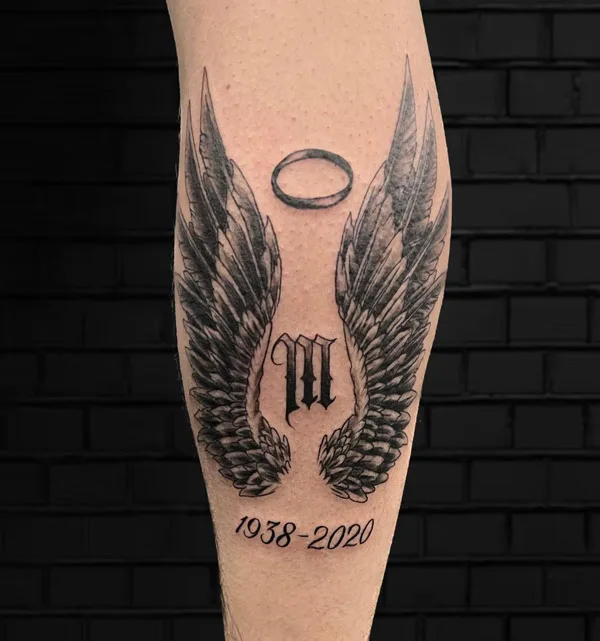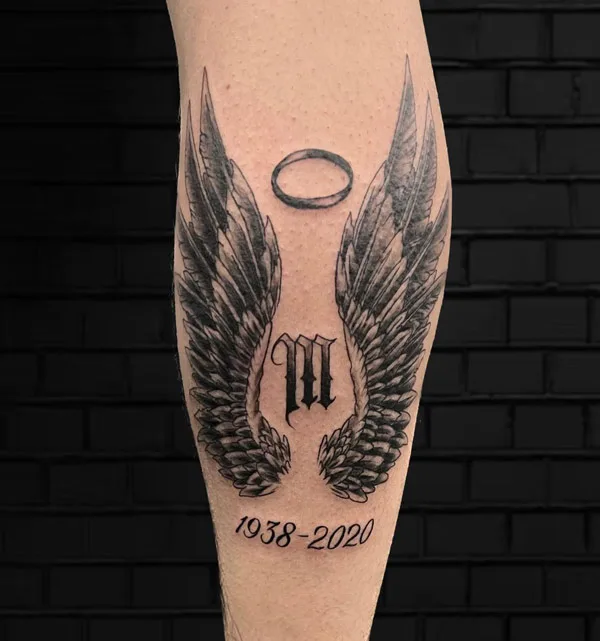 Craft a heartfelt tribute through a commemorative angel wings tattoo. This design offers a tender way to honour the memory of departed loved ones.
The familiar angel wings motif, coupled with poignant dates or cherished quotes, transforms the tattoo into a spiritual tether and an enduring homage.
Broken Angel Wings Tattoo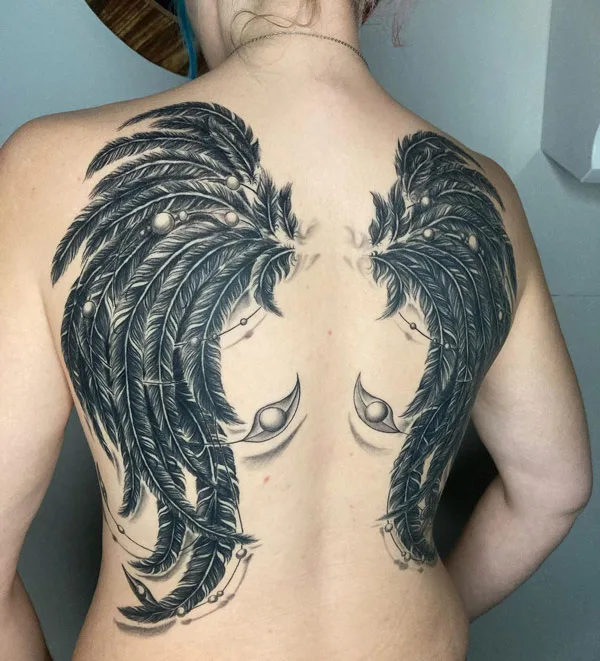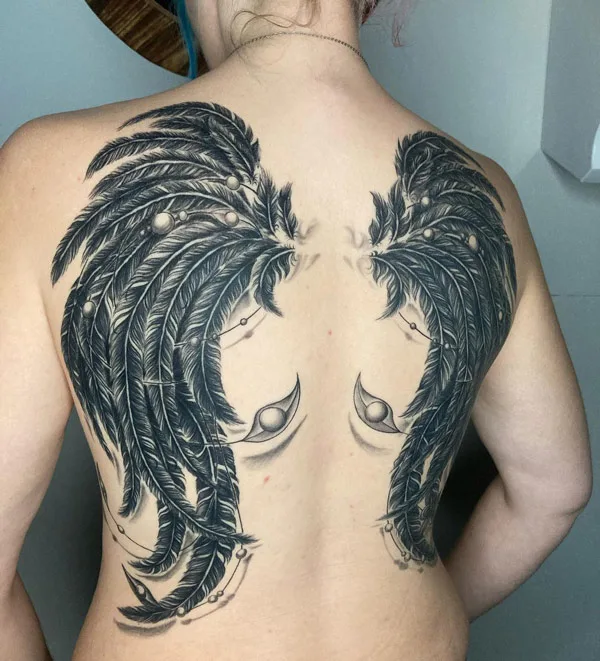 Articulate life's challenges with a fragmented angel wings tattoo. This rendition, featuring fractured or feather-scattered wings, resonates with those who've grappled with adversity or heartache.
Adorning your chest or back, this tattoo stands as a tangible emblem of resilience and evolution.
Angel Wings and Halo Tattoo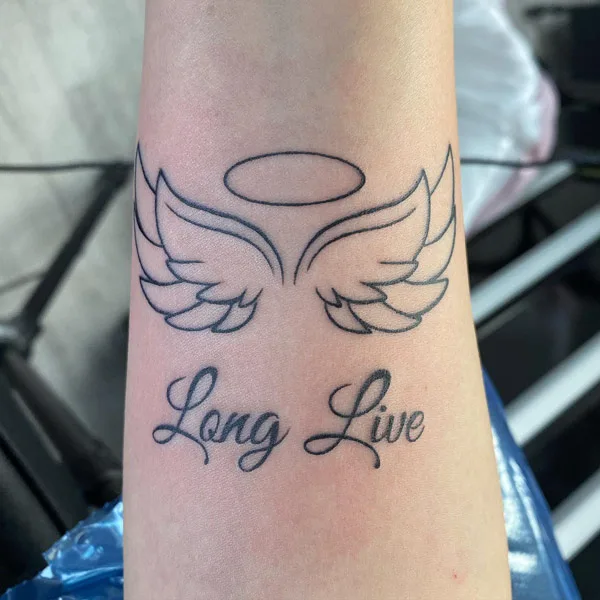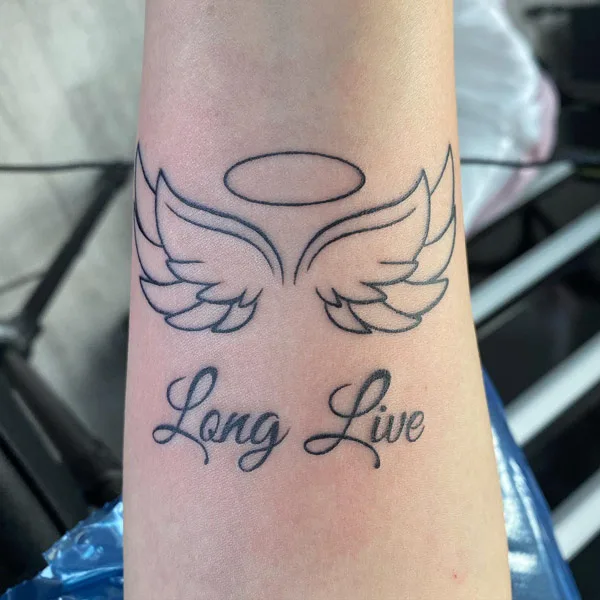 Elegance and symbolism converge in the angel wings and halo tattoo. This timeless emblem encapsulates safeguarding, love, and divine guidance.
Its placement across various body areas offers versatility, and a minimalist approach—using subtle outlines—bestows an understated yet refined aura.
How to Do a Perfect Angel Wing Tattoo With Video
Presented here is an angel tattoo design featuring a single wing motif placed on the arm.
Once you've had the chance to explore these various tattoo concepts, you can also take a look at the accompanying video to witness the tattoo creation process and its final appearance.
To begin, the design is hand-sketched, and then the tattoo artist commences by outlining the wing's intricate features using a fine-line needle.
As the procedure advances, you'll observe the artist transitioning to a slightly broader needle to accentuate the tattoo's focal points.
If you're considering an angel wings tattoo on your arm, this offers a comprehensive insight into the sequential stages of execution.
FAQs
Q: What is the symbolism behind angel wings tattoos?
A: Angel wings tattoos are a prevalent choice in tattoo design with a range of meanings. Generally, they symbolize protection, guidance, and love, offering spiritual connection and reassurance.
Q: Are angel tattoos exclusively tied to religious meanings?
A: No, angel tattoos have evolved beyond religious contexts. Guardian angel tattoos, popular among men, convey protection, devotion, hope, and trust. While rooted in spirituality, these tattoos also reflect personal values and aspirations.
Q: What does a single angel wing symbolize?
A: The concept of "angels with one wing" reflects human aspirations, struggles, and the need for connection. It signifies the duality of human existence—both the pursuit of divinity and the challenges of loneliness in life.
Q: What is the significance of black angel wings?
A: Black angel wings are associated with beings considered malevolent. Often representing danger, these angels are characterized by their dark wings and the aura of sadness they bring.
Transforming into animals, such as ravens, is a common trait among them. A notable example includes Samjeeza.
Q: What significance do Angel wings tattoos hold for girls?
A: Angel wings tattoos often hold a special significance for girls, representing a connection to protection and love from a higher spiritual force.
These tattoos symbolize being guided and watched by a divine presence, adding a sense of reassurance and comfort.
Q: Are angel wing tattoos a popular choice?
A: Angel wing tattoos have gained significant popularity among tattoo enthusiasts.
They appeal to newcomers and experienced individuals in the tattoo community, making them a favourable choice due to their timeless symbolism and versatile designs.
Q: Where is the recommended placement for an angel wings tattoo?
A: From our perspective, the optimal placement for an angel wings tattoo would be on the back, as it provides a natural canvas for realistic wing designs.
However, the choice of placement depends on factors like design size and intricacy. You can also explore options such as the chest or other body areas, tailoring the location to enhance the impact of your chosen design.
Conclusion
In tattoos, few choices are as delicately profound as angel wing designs. These modest yet deeply symbolic tattoos encapsulate freedom, hope, faith, and protection themes.
As their popularity soars, they bring a plethora of stylish options for self-expression. From wrists to sleeves, each design tells a unique story.
The colour palette, placement, and additional elements ensure personalization that mirrors individual beliefs and experiences.
Beyond their aesthetic allure, angel wing tattoos embody personal narratives and emotions, making them a compelling canvas for self-expression and remembrance.
These tattoos fuse art and sentiment into a powerful testament to one's journey.
MORE ANGEL WINGS TATTOO IDEAS