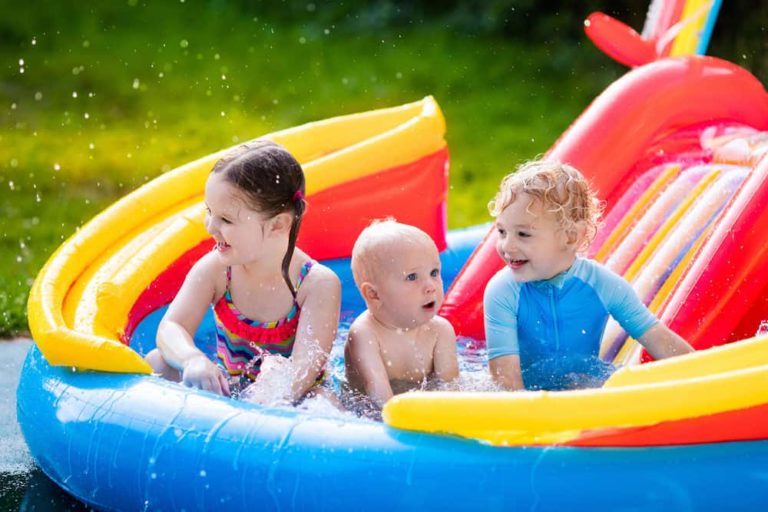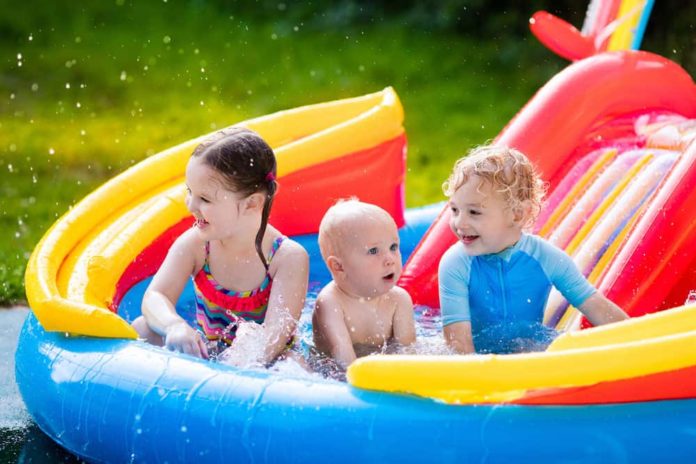 Want to draw the kids outside for some physical activity? Then check out some of the best inflatable water slides we have come up with. Well, it's a trick to get the little ones to enjoy the water sport. We stay at home most of the time nowadays. Kids avoid playing outdoor games which is making them physically inactive and lazy. Therefore, to avert the kids from becoming video game addicts, it is a good idea to pull them out from the virtual world.
Check out: Natural kids Hair Products For Healthy Scalp and Hair
Best Inflatable Water Slide Your Kids Can Find Pleasure In
In the time of Netflix, Disney plus, and Amazon Prime, it cannot be easy to get the kids outside their living room. Well, think about it! It can get pretty tiresome to lure them to outdoor fun games. However, you can offer more fun than a binge watch on Netflix with these inflatable water slides. These slides prove to be of great help if you want to keep your kids busy playing in the backyard while doing your office work with peace. Various studies present the evidence that slides in water parks may not be safer for your kids (Source). Therefore it is safe to go for the option of water inflatable slides for kids.
Little Tikes Rocky Mountain River Race Inflatable Slide Bouncer
As the name suggests, it is an inflatable water slide like that of a mountain. This giant slide is 8.5 feet tall, with a climbing wall, splash pool, and two slides at the edges. Its design is such that the children can race upto the top and slide down straight into the splash pool. It is equipped with a heavy-duty blower, repair kit, stakes, and storage bag.
What makes it the best inflatable water slide? With all these things, you can easily set the apparatus almost anywhere. This inflatable water slide can give the pleasure of a mini water park in your backyard. However, it does have the size and weight limits as it has been designed in a way that it can only handle the weight of 4-5 year olds. Therefore, it might be uncomfortable for 10-year kids. The Little Tykes Slide is best suited for children aged between 5-10. So, what are you waiting for? Bring this piece of joy to home before summers knock the doors of your house.
Blast Zone Crocodile Isle
If your kids like wildlife and pretend to be Tarzan, then this one for you. The kids can climb up to the back ramp and win the battle over evil crocs! Sounds cool? Well, it sure is amazing. The inflatable slide is made up of durable x-woven commercial grade vinyl and can accommodate eight fun seekers all at once.
Whether it is an after-party or playdate, all you have to do is find some Doritos and your kid's favorite playlist and bingo! It is all set for your little ones to splash water from one section to another and climb the ramp, slide back down without a break.
The slide comes with a robust blower ensuring quick inflation and consistent airflow. What's more? The blower is so quiet that you won't notice it. Moreover, the climbing wall is adjoined with two commercial spray tunnels, and there are water sprayers so that the slide is slippery throughout the day. However, it may require a longer time to clean due to its big size, so it is wise to make sure that you have enough space.
Benzai Pipeline Twist Inflatable Water Park Pool
Are you looking for something which gives a vibe of a real swimming pool? The Benzai Pipeline Twist Inflatable Water Park Pool is the way to go for. Although it's a big-budget slide, it has its own plus points. This outdoor inflatable slide is accommodated with a larger playing surface area and more features.
It has one large, cured slide and a small but straight plunge slide. Moreover, the slide is recommended for children of 3 years and above. The slide has the capacity to hold a weight of about 350 lbs. With the extraordinarily large surface, Benzai will definitely make your kids feel like they are in a water park.
With two slides, a tunnel, and two cannons, your little one can have all the fun on this best water inflated slide. However, you know what they say, the more supreme the quality, the higher the price. Its large size not only makes it expensive to buy but is also laborious to maintain. Therefore, for carrying and positioning it, you will need the help of at least two adults. Also, you have to keep the constant power blower plugged in throughout the day.
BounceLand Jump and Splash
Do you want to mingle the features of a pool and a trampoline? Then this is the best-inflated slide for your trampoline kid. To increase the joy, you can use it both wet and dry. Well, how comforting is that? Of Course, it is because not all water slides have that feature.
Children of age between 3-10 years can easily enjoy the slide. Additionally, it has a maximum occupancy of 3 kids, and the duration of inflation is less than one minute.
As the name suggests, it is all bouncy and jumpy so that your kid can enjoy it all day. Accompanied by the pool feature, the kids can do all of the swashing and splash at the same time making it one of the best water inflatable slides for kids.
What's more? You need not purchase an extra repair kit for this slide. In case there is leakage or puncture, you can use the repair kit pre-assembled with the apparatus. Due to its strong UL power, you can easily set it and position it in your backyard. Really, it's no sweat at all.
Hurricane Tunnel Blast Inflatable Water Park
If you prioritize durability above all, then Hurricane Tunnel Blast is the best inflatable water slide for your kids. Not only is it made up of good quality material, but it is also easy to set up. With premium quality and quick setup, it is one of the sturdiest products in the industry.
It has a rock-climbing wall, the kids can race upto the fort at the top and hide in tunnels to push those coming up. Isn't it super exciting and fun? You bet it is. All these features make it the best water inflatable slide for kids.
These games are more fun than you can imagine. The towers are connected with a tunnel leading to a large slide into a splash pool. Yeah, I know, this is amazing. Now you must be thinking how your kid will climb upto to the fort of magic? Relax. The climbing wall has footholds and grips using which your kiddie wink can easily climb.
The material of the slide is made up of heavy-duty, colorful PVC polyester that safeguards it from punctures and hardens it for rough play. The top tower peak surrounded by a secure fence ensures the stability of players. The waterpark is best suited for children aged between 5-10 years and has a capacity of 7 members. However, the slide is pretty heavy; therefore, storing and moving it can be bothersome.
Sunny and Fun Deluxe Water Park
Looking for something elegant and fun? In that case, Sunny and Fun Deluxe Water Park is the right choice for you. Not only does it have a sophisticated look, but it also offers versatile features. Yes, you can use it as both wet and dry, as you find suitable.
The company has used an out-of-the-box approach to make this extraordinary piece of fun. If your little is into climbing, then you should definitely consider this one. With its broad climbing walls, the kids will enjoy climbing to get back to the slides.
Being made up of heavy-duty nylon, not only is it durable but is designed in such a manner that it is puncture-proof and can last for years. What happens if you are not along with kids? Don't worry. The Sunny and Fun Deluxe Water Park is always prepared for such accidents in advance. The rig has pre-assembled four patches so that your kids can continue the fun games without any trouble.
Now, you can also enjoy quality time with your kids, thanks to the sturdy material of the kids' water slide. It also has a waterfall and water gun that gives surprise showers, making it one of the best inflatable kid's water slides. With an inflation time of fewer than 2 minutes, this backyard water slide gives you more than enough. Apparently, the best water inflated slide is suited for kids 3-16 years of age. Exclusive style, sturdy material are some of the features which make it the perfect backyard water inflated slide for your kids.
Benzai Pipeline Sidewinder Slide
Are you out of ideas for this weekend's kid party? Then surprise the kids with this inflatable water slide for the pool. All the hiding and splashing will make them the happiest. It has been designed in such a manner that it has dual slides and a secret clubhouse.
The clubhouse at the top of the slide allows the little ones to whoosh into the pool after their exclusive "agents meeting." When crossing the tunnel, the sprinklers inside double the fun, meeting up all of your expectations from a best water inflated slide. Cool, huh? Sure it is. In addition to that, it has cannons to play hide and splash and what not.
Benzai Pipeline Sidewinder Slider comes with a beautiful combination of yellow, blue, and orange, which makes it appealing and superfun. Moreover, the slide guarantees the safety of your kids by virtue of its cushioned and comfortable surface.
With a capacity of 200 pounds, it can host upto 5 to 6 kids at once. The only downside associated with its being a large size, it may not be suitable if you have a small backyard. However, with its durable rubber, it is quite long-lasting.
Intex Rainbow Ring
Looking for a backyard water slide suitable for toddlers? Then Intex Rainbow Ring is the one of the best water inflatable slide to go for. From beautiful colors of the rainbow to a bunch of fun games, this is one of the best toddler water slides. With the high-quality games closely connected with end equipment, the slide also has in-built security points ensuring the safety of your little one.
There are several accessories for the kids, like inflatable rubber hoops and colorful balls of plastic for endless fun. The toddler water slide also comes with games such as a water sprayer, toss ball, and ball roller to keep the fun ongoing. Moreover, kids can incorporate the unique feature of two separate pools into their games, doubling the pleasure of splash and swash.
The kids' water slide is also easy to drain. To make the deflating process simple and quick, it has individual drain plugs associated with it. Although it can be inflated in less than 2 minutes, it doesn't come with a blower, which is the only demerit of this toddler water slide.
Intex Rainbow Ring has a capacity of 178lbs and is recommended for children between 2-7 years of age. So, other than a separate blower requirement, it is one of the best inflatable water slides for kids.
Blast Zone Pirate Bay
This backyard water slide has a setting of a pirate ship and can be enjoyed throughout the year. How so? Because it can be used even when it is dry. Oh boy, the load of awesomeness? Well, certainly. It is convenient for thrill-seekers aged between 3-12 and has the capacity to hold five children at once.
The sturdy climbing wall reaches to the top of the slide, and surprise canons in the vast pool area will take the enjoyment of splash and hide to the next level. Easy to deflate and set up, the outdoor water slide also comes with a blower. Being made up of commercial-grade vinyl, it can bear all the jumping and bounce for the years to come.
Moreover, your little ones and their friends will have ample of space to pretend as if they are roaming in open seas. Thanks to the safety netting and footholes, climbing the wall will be a piece of cake for the kids. Besides, you can prevent it from cracking under the sun with the help of built-in spray nozzles, which also keep the slides wet and slippery throughout the day.
Well, what more can you expect from the best water inflated slide? Yeah, its list of merits doesn't end here. The slide is easy to position and has an inflation time of fewer than 2 minutes. However, being a large product, it is pretty hard to clean.
Final Words
Whether you are looking for a toddler water slide, or backyard water slide, or inflatable water slide for a pool, it is essential to know features of these items.Although buying slides is a bulky investment, it would save you a lump sum considering the high prices of water parks and long lines.
Most importantly, think about the invaluable smiles and laughter your little fun-seekers will be having. Now that you have a knowledge of various best inflatable water slides, pick one adequate for your kids. Feel free to share your experiences in the comments section below.