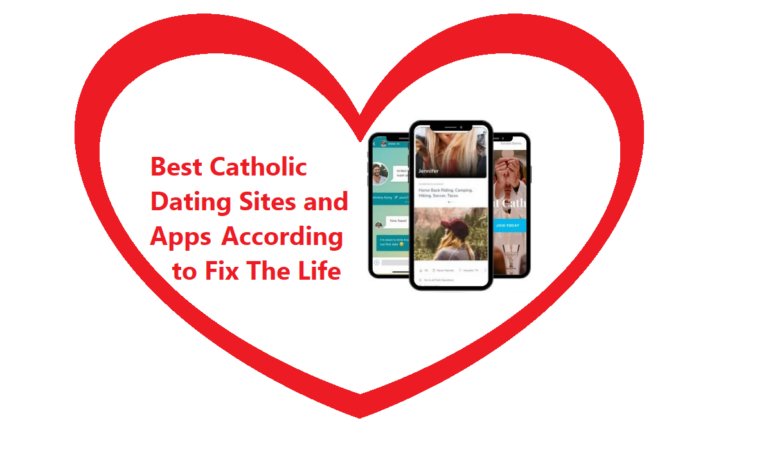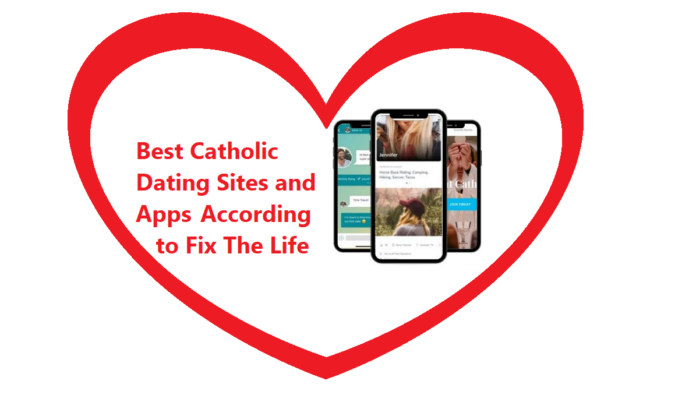 Today we discover the best Catholic dating sites, connecting you with like-minded individuals who share your faith and values. In today's increasingly complex and confusing dating landscape, it can be challenging for individuals of faith, particularly Catholics, to find like-minded partners. Many mainstream dating apps and websites are geared towards casual encounters rather than fostering deep, meaningful relationships. As a result, an increasing number of Catholics are turning to specific Catholic dating sites to meet potential partners who share their religious beliefs and values.
This article aims to explore the world of Catholic dating sites, providing insights into how they work, highlighting the best options available, and offering tips for success. By the end, readers will be equipped with the knowledge to navigate these platforms confidently and find true, godly love within the Catholic community.
How We Rated The Best Catholic Dating Apps and Sites
In the realm of online dating, there is a wide variety of dating sites and apps catering to different audiences. While some are inclusive and cater to the general public, others are tailored to specific groups.
However, regardless of their target audience, these platforms are expected to provide active engagement, user-friendly interfaces, safety measures, and cost-effectiveness, even if they are free.
When evaluating the best dating sites for Catholics, we emphasise assessing the quality of female users. It is important to note that simply claiming to be a faith-based platform does not guarantee thorough user screening.
Many of these sites also encounter issues with non-believers and spam accounts.
To provide accurate recommendations, our approach involves creating accounts on all the popular dating sites that meet our criteria. We thoroughly explore the platforms and invest in memberships to access all the features we intend to evaluate.
Our team then engages in setting up dates with female users on these sites to gain firsthand experience. Based on our findings, we generate recommendations to help you determine which sites are worth exploring and which ones should be avoided.
Best Catholic Dating Sites:
Understanding the Complexities of Modern Dating
The Evolving Dating Scene
In recent times, dating has changed a lot because of online dating and dating apps.
It can be hard to make real connections in today's dating scene because people are more focused on looks, others suddenly stop communication without explanation, and the many choices available. This makes it tougher to find relationships that are meaningful and long-lasting.
Challenges Faced by People of Faith
Dating can be particularly challenging for people of faith, including Catholics, who strongly emphasise their religious beliefs and values when seeking a partner.
They often encounter difficulties in finding someone who shares their faith, understands and respects diverse religious practices, and ensures compatibility in fundamental values.
These challenges require thoughtful consideration and a commitment to maintaining one's faith while pursuing a meaningful and fulfilling relationship.
The Need for Dedicated Catholic Dating Sites
Dedicated Catholic dating sites play a vital role in meeting Catholic singles' unique needs and desires.
These platforms provide a welcoming space for individuals who prioritize their faith, allowing them to connect with like-minded individuals who share their values and beliefs.
By creating a sense of community and offering targeted features, Catholic dating sites enhance the chances of finding a compatible partner who understands and respects the importance of Catholicism in their lives.
Unveiling the Best Catholic Dating Apps
Criteria for Ranking Catholic Dating Apps
When assessing and ranking Catholic dating apps, several key criteria are considered. User activity is crucial, as it reflects the engagement and popularity of the app among Catholic singles.
User-friendliness is another important factor, ensuring the app is intuitive and easy to navigate for a seamless dating experience. Safety measures are prioritised to protect users' privacy and foster a secure online environment.
Lastly, cost-effectiveness plays a role, considering the value provided by the app in relation to its pricing structure.
By evaluating these aspects, a comprehensive ranking can be determined, guiding individuals to the most suitable Catholic dating app for their needs and preferences.
The Importance of User Quality and Safety
User quality and safety are of utmost importance on Catholic dating apps. These platforms aim to create a secure and genuine community centred around shared faith and values.
They employ various measures such as user verification, reporting systems, and dedicated moderation teams to ensure authenticity and promote meaningful connections in a safe environment.
The Role of Site Testing and User Experience
In order to provide accurate assessments and recommendations for Catholic dating sites, a thorough testing methodology is followed.
This involves creating user accounts on the platforms, exploring their features and functionalities, and even arranging dates to evaluate the overall effectiveness and user experience.
By conducting such rigorous testing, users can trust the authenticity of the recommendations and make informed decisions about the best platforms to meet their dating needs.
Top Catholic Dating Apps and Sites
Catholic Match and eHarmony are two contrasting dating sites that cater to different audiences. Catholic Match focuses exclusively on individuals of the Catholic faith, while eHarmony is a popular platform with a diverse user base.
However, both sites boast many quality female users, providing users with the potential to find meaningful connections and enjoyable dating experiences.
Catholic Match: Faith-Focused Dating for Practicing Catholics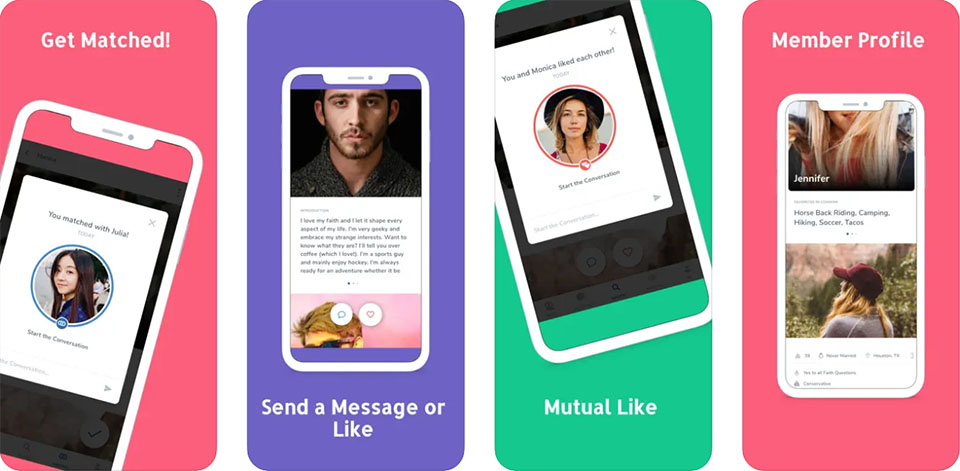 Catholic Match truly shines as an impressive dating site that places a particular emphasis on "faith-focused dating." What sets it apart is its longevity of over a decade and its extensive user base, surpassing that of any other Catholic dating platform.
For these reasons and many more, we confidently declare Catholic Match as our top choice for Catholic singles.
When evaluating dating sites catering to people of faith, one crucial factor we prioritize is the quality of users. And this is where Catholic Match excels.
They have devised a unique feature called "Match Portrait" that goes above and beyond to ensure that the women you connect with are genuinely compatible in terms of their faith perspectives and personalities.
It comes as no surprise that Catholic Match has become a trusted platform where countless individuals have found their life partners.
eHarmony: A Vast User Base with a Focus on Compatibility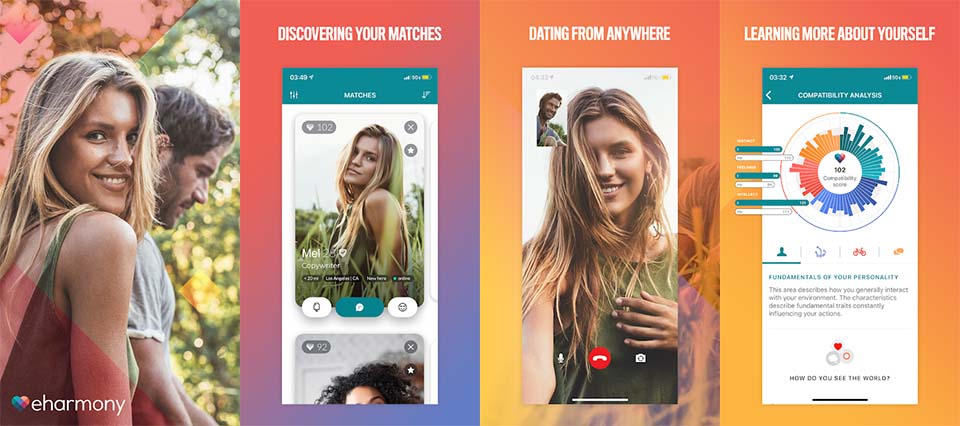 If you've dabbled in the world of online dating, chances are you've come across eHarmony.
It's not specifically tailored for Catholics or people of faith, but it's a powerhouse in the online dating scene with a staggering user base of nearly 35 million worldwide.
And that's precisely what makes it an attractive option for Catholics and individuals from all walks of life.
What really sets eHarmony apart from the crowd is its unwavering focus on genuine compatibility.
It's been reported that more than half of all online marriages began on eHarmony, which speaks volumes about the site's commitment to fostering meaningful connections.
With such a massive user base, it's highly likely that many members are Catholic or follow other Christian faiths, adding to the appeal for those seeking like-minded partners.
Other Top Dating Sites for Catholics
Catholic Singles: A Growing Platform with Free Messaging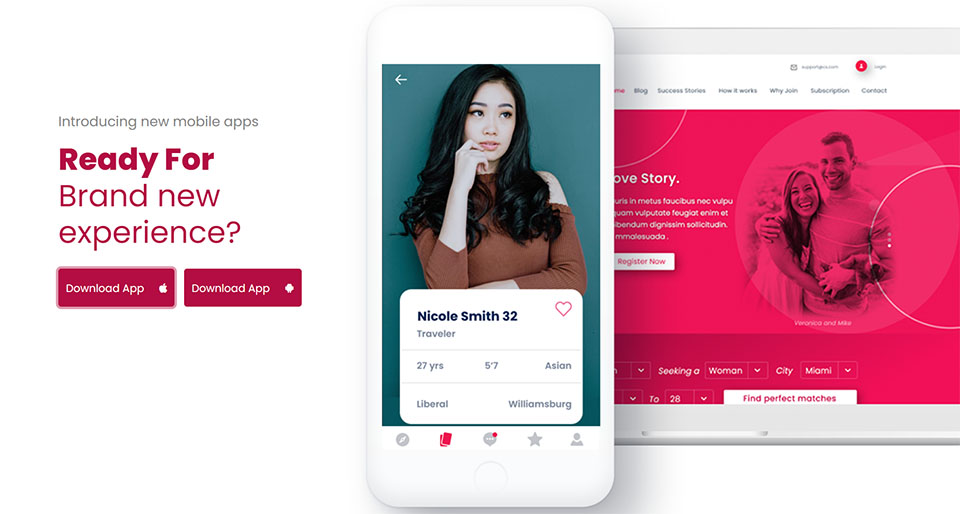 Catholic Singles may not have the same extensive user base or long-standing reputation as Catholic Match, but it is making strides in both areas.
One standout feature is its free messaging capability, which distinguishes it from other platforms that require paid memberships for communication.
However, there's a catch with the free messaging option—it only works when both users have "favorited" each other, and there's a limit to the number of daily "favorites."
For active users, subscribing to a paid membership might be necessary to enjoy the site's features fully. While this is a common approach for many dating sites, it slightly affects Catholic Singles' ranking among other top Catholic dating sites.
Ave Maria Singles: A Platform for Devout Catholics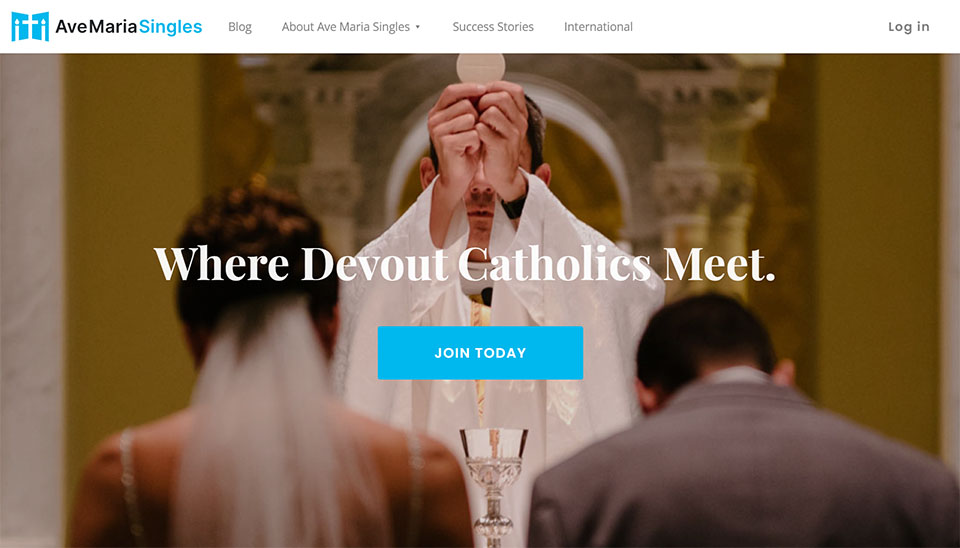 Let's be clear: Ave Maria Singles is not designed for everyone. It caters specifically to individuals who are deeply committed to their faith.
In other words, it's not a suitable platform for those who only engage with their faith on occasions like Christmas or Easter.
If you don't regularly read the Bible or lack strong faith convictions, Ave Maria may not be the right choice. However, if you align with these criteria, there's a promising possibility of finding a life partner on this site.
Christian Mingle: Exploring Interfaith Dating Possibilities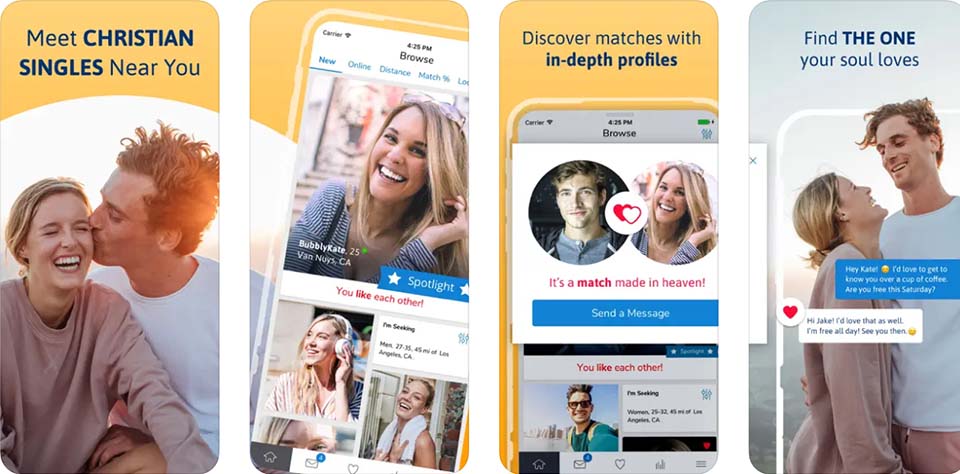 Taking a different approach, Christian Mingle is a faith-based dating site that welcomes individuals from various Christian backgrounds. Christian Mingle offers a compelling option if you're open to considering partners beyond the Catholic faith.
It's widely recognized as one of the top faith-based dating platforms available. However, if you prefer to concentrate exclusively on Catholic dating, it's recommended to explore other dedicated Catholic dating sites and apps.
Key Considerations for Choosing a Catholic Dating App
The Significance of Faith in Your Relationship
If you're taking the time to read an article about the best Catholic dating sites and apps, it's clear that your faith holds great importance to you.
However, it's essential to remember that while faith is significant, it shouldn't be the only factor guiding your dating decisions.
Before embarking on your search, take a moment to consider what level of faith compatibility you desire in a partner. This thoughtful approach will save you and others from wasting valuable time and energy.
Addressing Political Differences
Finding a partner who shares your faith is valuable, but it's essential to recognize that religious compatibility doesn't guarantee political alignment.
While some people prioritize faith above politics, others consider political beliefs just as significant as religious beliefs.
Determining your own stance on this issue will help you make an informed decision when choosing a Catholic dating site that resonates with your values.
Relationship Goals: Casual or Committed?
Not all Catholics are ready to take the leap into marriage. Some devoted individuals prefer to date casually until they feel prepared for a lifelong commitment.
A larger platform like eHarmony might be a better fit if you fall into that category. However, if you have your sights set on finding a Catholic life partner, then exploring dedicated Catholic dating sites is recommended.
Testimonials: Insights from Other Users
In the current dating scene, it feels like an abundance of dating sites and apps are popping up all the time. While it can be overwhelming, testimonials play a significant role, especially on Catholic dating apps.
Before investing in a membership, take the time to read testimonials and gain insights into the user base, ensuring a more informed decision.
Evaluating the Cost of Membership
When it comes to choosing a dating site, one practical aspect to consider is the cost. Are you willing to invest in a higher-priced site that offers guaranteed results? Or are you more inclined to try a free platform to get a sense of the dating pool?
Remember, in life, you often get what you pay for. If you're genuinely serious about finding lasting love, it's wise not to skimp on the membership and prioritize quality over cost.
Tips for Success on Catholic Dating Apps
Breaking the Ice: Initiating Conversations
After matching with someone, initiating a conversation can be a challenge, especially for guys. Avoid common mistakes like sending generic greetings and expecting the other person to carry the conversation.
Whether it's in person or through a dating app, make an effort to engage and show genuine interest. Remember, meaningful conversations require active participation from both sides to keep the connection alive.
Taking the Leap: Asking for Dates
Many guys often make the mistake of hesitating after matching with someone, failing to take the initiative. It's crucial to step up and ask her out or request her phone number. If she's been enjoying the conversation and showing interest, she's likely to say yes and continue the connection.
Making a Memorable First Impression
Making a good first impression is often considered vital, and this holds true in the realm of dating. If you fail to impress on the first date, it's unlikely that women will give you another chance.
It's important to exude confidence while also being respectful. If you feel a spark, you can even try using conversational tactics to gauge her level of interest.
Planning Creative and Enjoyable Outings
It's not simply about presenting yourself well; that alone won't cut it if you're hoping for a second date. To increase your chances of success, the first date needs to be more than just looking good or being attractive.
It's important to brainstorm original and fun ideas for the first date. Moreover, don't rush through it—give the date ample time.
If you're aiming for a genuine connection, the goal should always be to spend a substantial amount of time together.
Nurturing Relationships for Long-Term Commitment
Once you've moved past the first date, you should have an understanding of whether the woman has the potential for a long-term connection.
If that's the case, it's important to ensure that she enjoys your company. For example, if your initial date was mostly focused on serious conversations, use the next date as an opportunity to showcase your more playful side.
Don't be afraid to let loose and be silly; women appreciate that quality in a partner.
Conclusion
In conclusion, Catholic dating sites have become essential for individuals seeking meaningful relationships within the Catholic community. In today's complex dating landscape, these platforms offer a valuable space for like-minded individuals to connect, share their faith, and build long-lasting partnerships. By prioritizing user quality, safety measures, and compatibility, top Catholic dating apps such as Catholic Match, eHarmony, Catholic Singles, Ave Maria Singles, and Christian Mingle provide options for individuals to find love while staying true to their religious beliefs.
Catholic Dating Apps – Frequently Asked Questions
While we have discussed the main points of importance, you may still have some lingering questions. Therefore, we have taken the initiative to address the most frequently asked questions about Catholic dating apps, providing you with comprehensive information on the subject.
What are Catholic Dating Sites?
Catholic dating sites are dedicated online platforms that cater to individuals who identify with the Catholic faith.
These sites allow Catholic singles to meet and connect with others who share their religious beliefs and values, fostering potential relationships based on common ground.
Are Catholic dating sites legit?
Catholic dating sites are legitimate platforms for individuals looking to connect with fellow Catholics. These sites provide a dedicated space for people of the Catholic faith to meet and form meaningful relationships based on shared values and beliefs.
However, as with any online platform, users must exercise caution, conduct thorough research, and choose reputable sites that prioritize safety, user verification, and genuine connections.
By being vigilant and making informed choices, individuals can have a positive and authentic experience on Catholic dating sites.
Are Catholic dating sites safe?
The safety of Catholic dating sites varies, so it's crucial to select reputable platforms that prioritize user security.
Look for sites with features like profile verification, privacy settings, and responsive customer support to ensure a safer and more secure online dating experience within the Catholic community.
What are some Catholic dating site alternatives?
Apart from Catholic dating sites, individuals can explore general dating apps and websites catering to a broader user base.
Additionally, niche platforms are available specifically for Christian dating, which can provide a wider range of potential matches with similar values and beliefs.
How do Catholic dating sites work?
Catholic dating sites function as online platforms providing a dedicated space for individuals to create personal profiles, search for compatible matches, and communicate with other Catholic singles. These sites cater specifically to Catholics seeking meaningful relationships within their faith.
ALSO READ:
How to find a Sugar Daddy That Doesn't Want to Meet? 
Free Sugar Daddy Apps That Send Money Without Meeting
Dating a Single Mom: Understanding the Challenges and Benefits