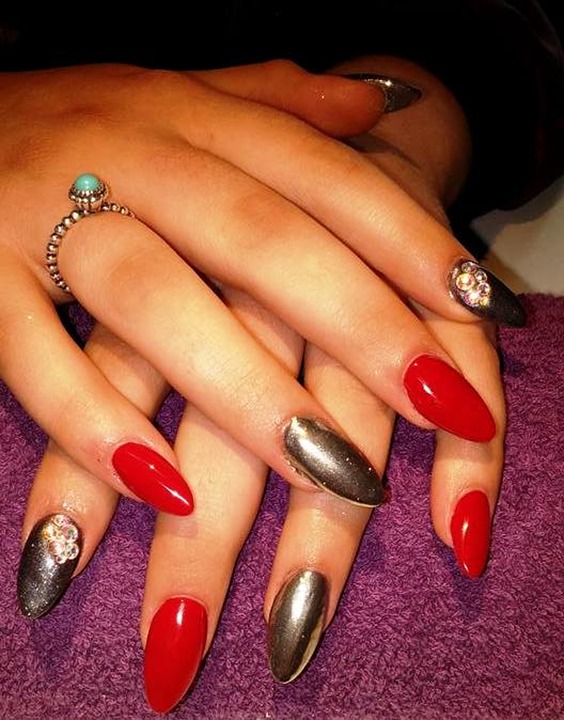 When your hands become rough and dirty, what will you do? Yes, a manicure! But are you aware of the different types of manicures?
If not, here, we have listed different types of manicure and manicure styles to pamper your hands.
Manicure is an essential thing to do to keep your hands alive. You must manicure at home to keep your hands nourished and hydrated.
Here we have listed the best types of manicures that you should do at least once every weekend.
List of 9 Best Types of Manicures
You must pamper your hands to make them happy healthy. Grab all your essentials and start with these types of manicures to restore your hand's natural look. It includes-
Regular Manicure
The regular manicure is also known as a standard manicure. It is one of the best types of manicure where you begin with soaking your hands in warm water.
You must add soap into the water to make dead skin cells soft. The softening will help you remove dead skin cells, clean up the pores, and cuticle. After well wash, you must moisturize your hand with cream.
Gently massage the cream on your hand to keep the skin hydrated. A basic manicure doesn't require much time; just need half an hour to complete the procedure.
It can also last up to seven days, which means you don't need anything extra for the upcoming weekend.
A basic manicure will help you maintain your nails by keeping them hydrated and good looking every day.
Gel Manicure
A gel manicure is one of the exquisite manicures. It involves the same procedure as the basic manicure process but with the addition of gel polish.
The gel layer is applied under UV light twice to cure the blackness and dullness of nails and palms. Gel manicure is easy to use but takes time that is around 45 minutes per gel layer. It may last for two to three weeks.
A gel manicure can only be removed under guidance; it may cause bleeding or inflammation if not taken care of. It must not affect the health of your nails. The gel must be removed properly to avoid any skin damage.
Acrylic Overlay
An acrylic overlay is the mixture of 2 ingredients: a powder polymer and liquid monomer that forms a strong protective layer over your natural nail. This manicure can take up to around 30 minutes.
Acrylic manicure has the procedure followed in a gel manicure. Here we use the mixture of liquid monomer and powder polymer instead of gel.
An acrylic overlay is the most versatile manicure that can last up to 2-3 weeks. It must be removed under guidance to avoid any skin problem.
Shellac Manicure
Shellac manicure is the creative manicure of half nail polish and half gel applied on natural nails. It is cured through UV lighting.
A shellac manicure can take up to 45 minutes. It can last up to three weeks.
French Manicure
The French manicure is the most exciting manicure that creates a beige or sheer pink tone or a polish tip on each nail.
A French manicure can take up to 45 minutes or more.
A French manicure can last up to two to three weeks. It can be long-lasting when done with gel use; otherwise, with regular polish, it can only for seven days.
It must not affect the health of your nail. It should be removed under professional guidance.
American Manicure
The American manicure is an easy nail design that restores your natural nails using a cream or flesh-colored base.
An American manicure can take up around an hour or less. It can last up to two weeks. It is performed by step by step procedure where nails are filed, buffed, and cleaned. Generally, a flesh or cream color is applied, and nail tips are painted with white polish.
Paraffin Manicure
A paraffin manicure is a hydrating treatment of the skin. It is the best remedy for dehydrated skin. A paraffin treatment is also beneficial for alleviating the sore muscles and joints. It takes about 50 minutes.
All you need to do is heat up the wax, dip the hands, and relax for about 20-30 minutes. After relaxation, peel off the wax and massage cream onto the hands. It can last for about one to two weeks.
Hot Stone Manicure 
A hot stone manicure is a professional manicure that works as skincare therapy. It requires a hot stone during the procedure of a basic manicure and relaxing massage with nourishing oils.
A hot stonewith a basic manicure service takes around 50 minutes.
Dip Powder Manicure 
Dip powder manicure is one of the best types of manicure that lies between regular and acrylic nails.
You must use pigmented powder to bring colors, instead of using UV rays to fix in polish on nails. It can take around 40 minutes to complete the whole procedure of dip powder manicure.
It is easy to use where you just need to apply a coat and then dipped the nail into a powder. After a dip, you need to wait for the results. It lasts for about three weeks.
Final Words
Try these different types of manicure to pamper and nourish your skin. Collect all the tools and ingredients necessary for the manicure.
Relax and try different manicure styles to make your nails happy and sound.
You can also do manicure at home; all you need to do is grab all the essentials and follow the step by step procedure.
Do it regularly to see better results.
Comment down below if you found this article helpful.