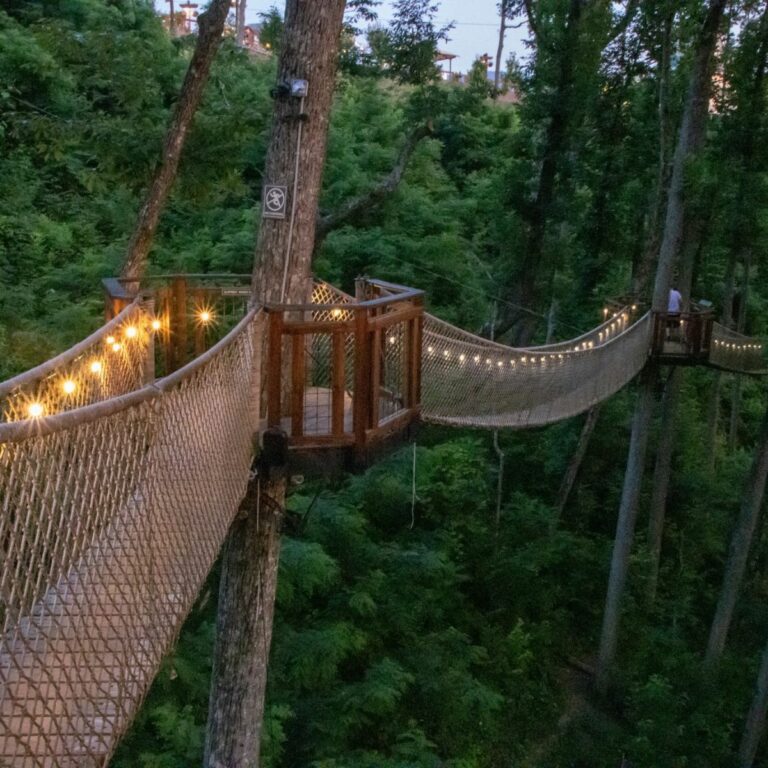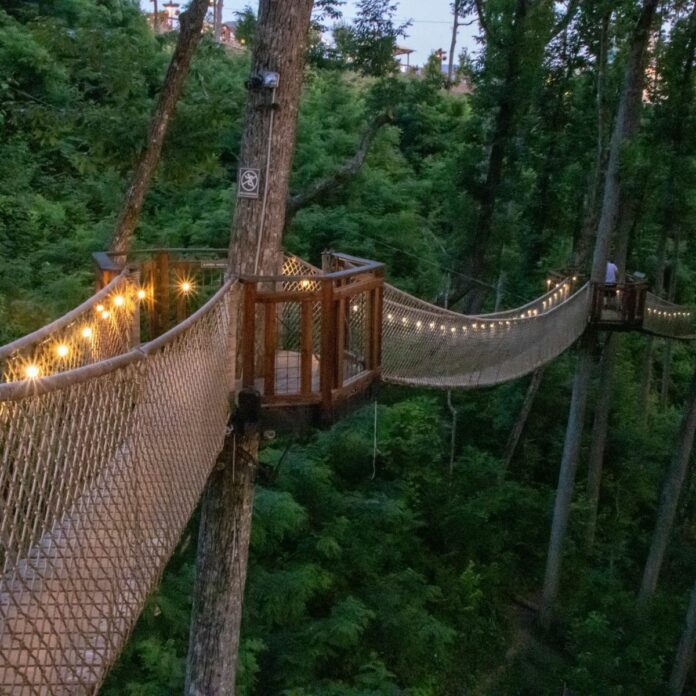 Anakeesta's tree walk in Gatlinburg, Tennessee, reminds me of a moment from "The Hobbit" by J.R.R. Tolkien. In the book, Bilbo and his companions are lost in a dark forest, feeling trapped and sad. To gain a new perspective, Bilbo climbs through the canopy, experiencing the sunlight and breeze, lifting the weight off his shoulders.
This connection emphasizes the importance of perspective, a lesson found in various forms of popular culture. Anakeesta's Treetop SkyWalk offers a breathtaking experience of walking among trees in the beautiful Great Smoky Mountains, fulfilling childhood dreams of soaring in the treetops. The attraction promises a mesmerizing adventure, providing a different viewpoint of nature and the world.
Let's discover more about tree walk in Gatlinburg, where you can walk between the trees.
Key Points Covered in The Article
Anakeesta's tree walk in Gatlinburg, Tennessee, offers a special way to experience nature.
The Treetop Skywalk allows visitors to walk among the trees in the beautiful Great Smoky Mountains.
At night, the illuminated bridges create a magical and romantic atmosphere during the walk.
The experience provides amazing views from suspended bridges, about 50 to 60 feet above the ground.
Both kids and adults can enjoy this safe and fun activity.
Spring and fall are the best times to visit, as the surroundings are vibrant with foliage and colorful leaves.
The Treetop Skywalk is not accessible for wheelchairs, but other parts of Anakeesta are.
Follow safety guidelines, like holding onto railings and avoiding running or swaying on the bridges.
Anakeesta offers various attractions, including the "Moonshine" mountain coaster, zipline tours, and river rafting.
This tree walk in Gatlinburg provides flexibility to explore different attractions throughout the day.
The Treetop Skywalk at Anakeesta in Gatlinburg, Tennessee, offers an enchanting experience as visitors walk between trees, surrounded by the beauty of the Great Smoky Mountains.
During the night walk between trees in Tennessee, the illuminated rope bridges create a magical ambiance, making it a romantic and unforgettable adventure.
Families can enjoy the walk between trees in Tennessee together, as the Treetop Skywalk is designed to be safe and enjoyable for both kids and adults.
Spring and fall are the most popular seasons to visit the tree walk in Gatlinburg, as the area comes alive with lush green foliage in spring and vibrant colors of leaves in fall.
The Treetop Skywalk is just one of the many attractions at Anakeesta, offering visitors the chance to immerse themselves in nature, explore the observation tower, enjoy thrilling rides, and create lasting memories during their walk between trees in Tennessee.
What is the Gatlinburg Tree Canopy Night Walk?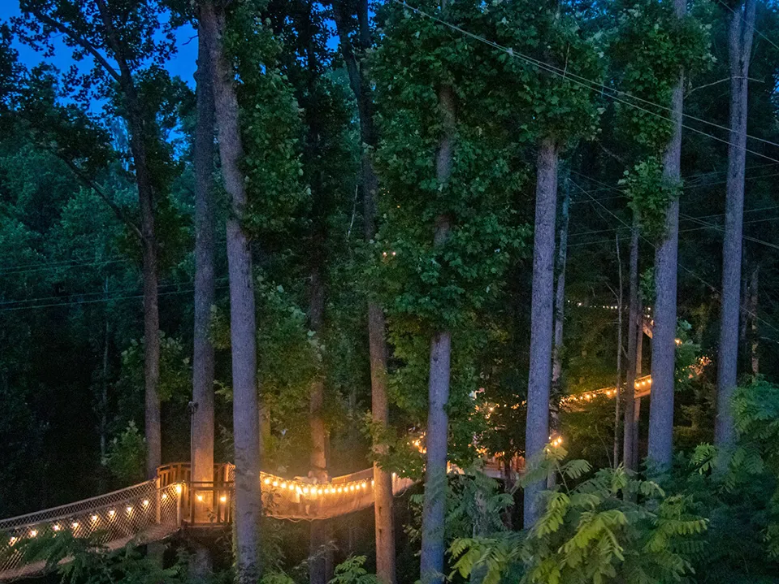 Imagine taking a night walk in the tree canopy – it's such an excellent outdoor activity that brings most people both fun and a sense of peace.
Even in the darkness, you get to soak in the beauty of the surrounding area from up above. And the best part? It's enjoyable for kids and adults so that everyone can have a great time.
The canopy adventure is designed to be safe and not too high up, ensuring a delightful experience.
And that's not all! Besides the canopy walk, there are likely many other exciting things to do in the area, making it an ideal spot for a truly memorable outdoor outing.
So, if you're looking for a unique and enchanting way to connect with nature, the night canopy experience is definitely worth considering.
What is the Treetop Skywalk – Tree Walk in Gatlinburg?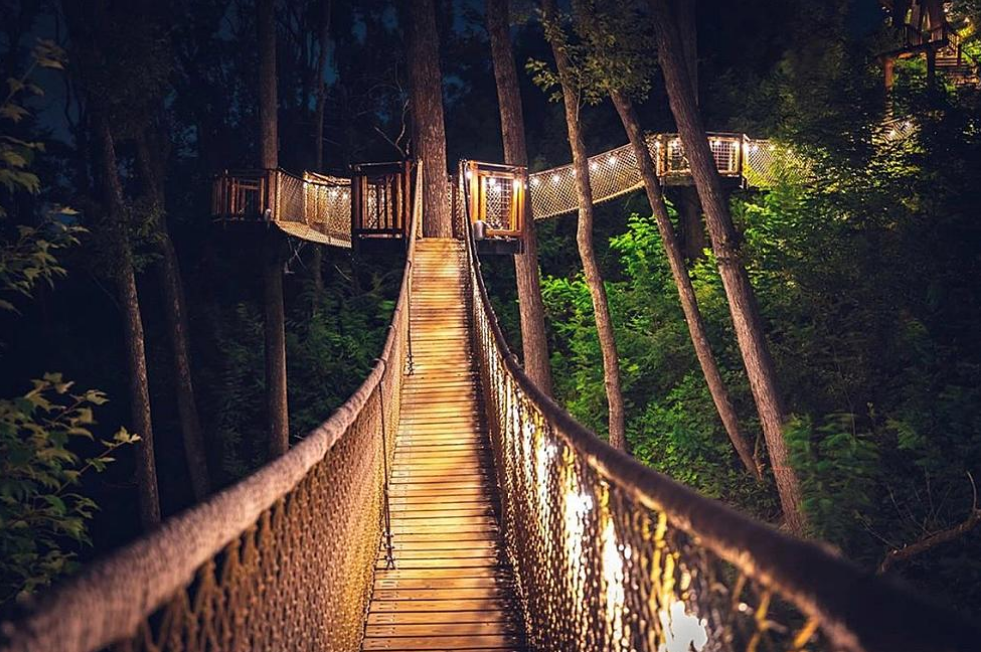 Anakeesta's Treetop Skywalk in Tennessee is an amazing outdoor adventure spot nestled amidst the stunning Great Smoky Mountains. Picture walking along 880 feet of suspended bridges, hovering 50 to 60 feet above the ground.
During the day, you get to soak in breathtaking views of the surrounding nature, and at night, the illuminated bridges create a magical ambiance.
Even though I'm scared of heights, I found the experience to be incredibly romantic and dreamy.
I wished for a moment of solitude to fully absorb the peaceful surroundings, but since it's such a popular attraction, you'll likely be sharing the walk with other visitors, which is totally okay.
The Skywalk offers a thrilling and adventurous journey, strolling from treetop to treetop on rope bridges and wooden planks, giving you a whole new perspective on nature.
Plus, it's the perfect opportunity to snap some awe-inspiring pictures for your social media.
A tree walk in Gatlinburg offers an enchanting and joyful experience, allowing you to immerse yourself in the beauty of the Great Smoky Mountains. It's a must-visit spot for nature lovers and adventure seekers alike.
What's Special About the Night Walk in the Tree Canopy?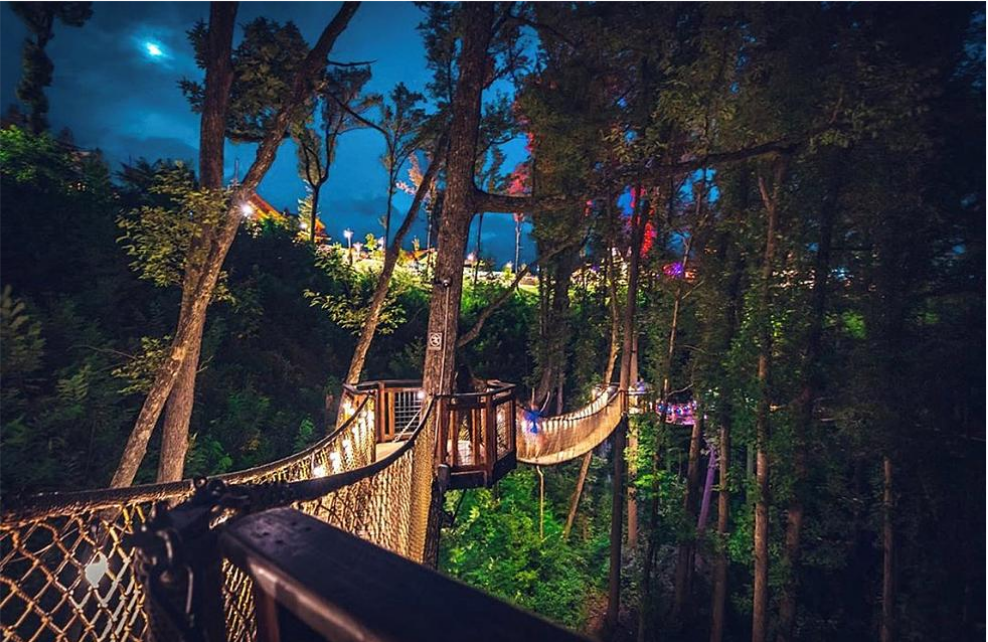 At night, the Treetop Skywalk transforms into something truly magical and romantic. They light up the bridge, offering a mesmerizing view of the area as you walk above the treetops on illuminated rope bridges.
It feels like stepping into a fantasy world, like scenes right out of "The Hobbit" movies.
The night walk is both enchanting and practical, providing enough light to see while still allowing you to enjoy the daytime views. It's a peaceful experience surrounded by lush vegetation that families will love.
You can stroll along the 16 bridges and 14 viewing platforms, capturing beautiful sights and taking plenty of pictures along the way.
Situated near Gatlinburg, the Skywalk perfectly balances natural beauty and tourist attractions. As you explore, you'll catch glimpses of both the city and the breathtaking landscape of the Great Smoky Mountains.
Keep your eyes peeled, as you might even spot some wildlife like birds and bears from up high. It's truly a must-visit spot for families exploring tree walk in Gatlinburg.
You can take the one-way loop of the Treetop Skywalk multiple times, as long as you don't hold up others behind you. This captivating journey offers a perfect blend of nature's wonders and a touch of enchantment, making it an unforgettable experience for all.
Start Planning a Walk Between the Trees in Tennessee
Is the Tennessee Treetop Skywalk something your family would enjoy? If it interests you, here are some important details to know before planning your trip.
Gatlinburg, Tennessee, has many fantastic attractions, and one of the best is the Anakeesta Treetop Skywalk. It's a unique experience you won't find anywhere else in the country.
Everyone, young and old, will have a great time, and kids can also have fun with other activities available at the park.
When is The Best Time of Year to Go to The Treetop Skywalk?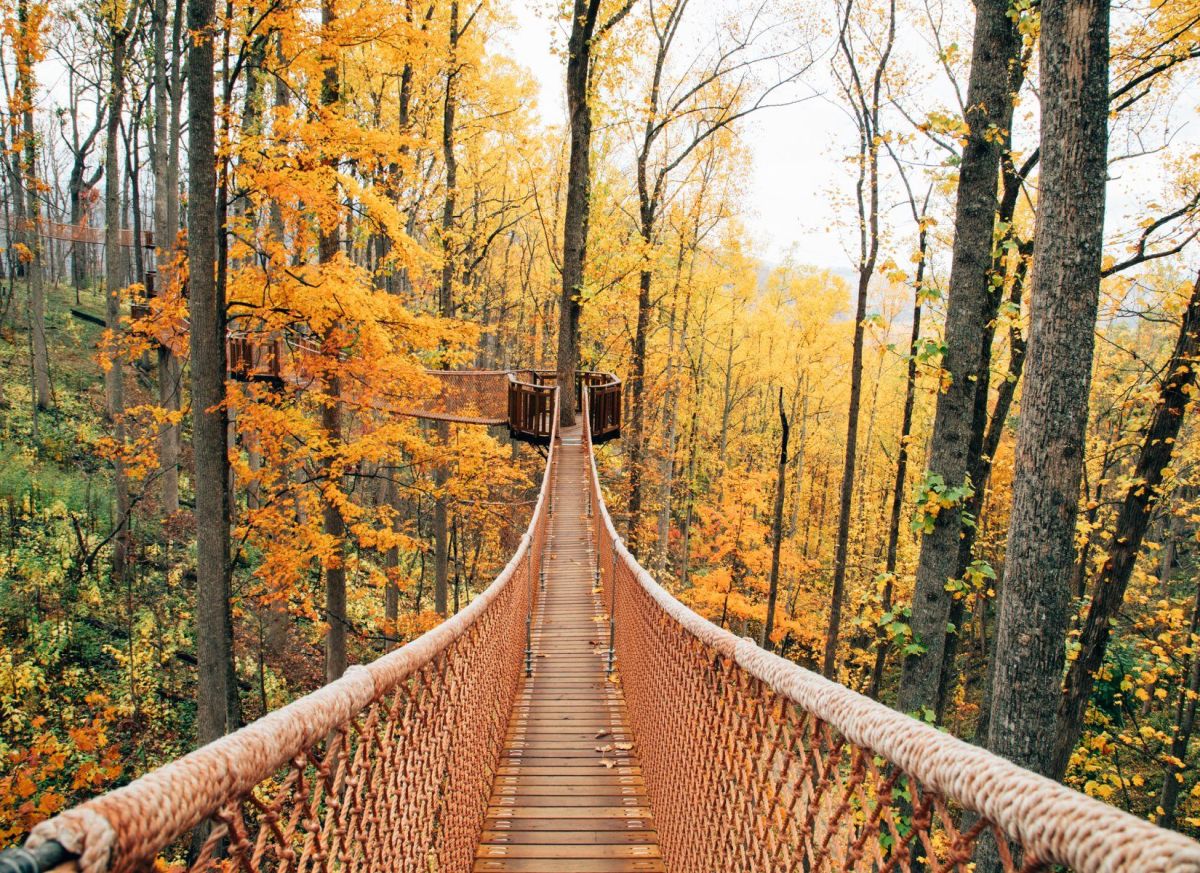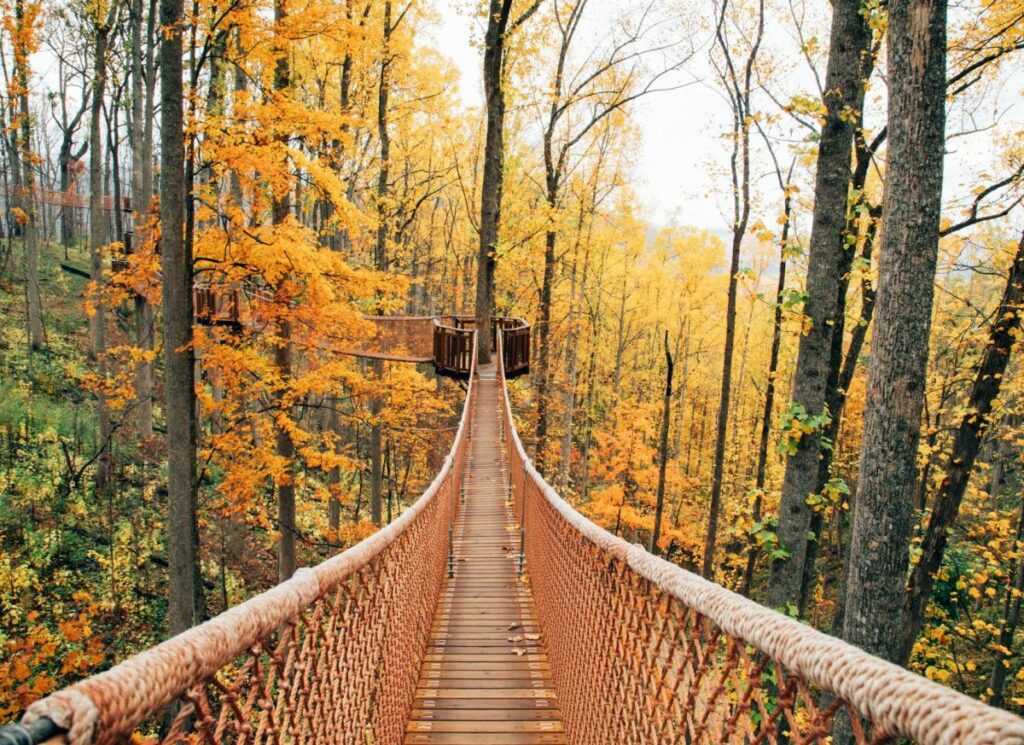 The best times to visit a tree walk in Gatlinburg are spring and fall, as they are the most popular seasons.
The area becomes vibrant in spring with lush green foliage, while fall offers a spectacular display of colorful leaves to walk through. It's a tough decision, but personally, I find fall to be the most special.
For a cooler experience in the summertime, consider visiting at night to escape the southern heat.
However, if you plan to go in late summer or fall, don't forget to bring a light jacket, as the temperatures can vary significantly between daytime and nightfall, and it might get chilly. Enjoy your visit.
Is the Treetop Skywalk open during the winter?
According to the park's website, the operating hours might change, and the park will be closed on Christmas Day. It's a good idea to wear a coat if you visit in winter.
In winter, you can enjoy a lovely view of trees covered in snow during your walk.
Where is Tree Walk in Gatlinburg Located?
The Treetop Skywalk is a thrilling attraction forming part of Anakeesta in Gatlinburg, Tennessee. It's located at 576 Parkway, TN 37738. This exciting experience allows visitors to immerse themselves in the beauty of nature.
Several hotels are conveniently situated nearby for those seeking an extended stay, making it easy to turn the visit into a memorable vacation.
As you stroll along the Skywalk, you'll also catch occasional glimpses of Gatlinburg's main strip, adding to the allure of the experience.
Orchid Forest, Indonesia pic.twitter.com/Q20wpzV7WH

— Amazing World (@amazingworldp) July 18, 2019
A Walk Between Trees in Tennessee Prices
As of the time of this writing, the admission prices to Anakeesta are as follows:
Adults (ages 12-59) pay $34.99, but if you book through Tripster, you can get it for $32.99.
Seniors (age 60 and above) pay $27.99.
Kids (ages 4-11) pay $22.99, but through Tripster, it's $19.99.
Children aged 3 and under get free admission.
So, if you have young children, they can enter for free. For everyone else, booking through Tripster can save you a few dollars per ticket compared to the regular prices in 2022.
Treetop Skywalk Hours
The Treetop Skywalk is open the same hours as the rest of the park, from 9 am to 8 pm every day. If you stay at the park after sunset, you can enjoy walking along the illuminated path.
Can You Get a Wheelchair for Tree Walk in Gatlinburg?
The Treetop Skywalk at Anakeesta is not wheelchair accessible. There are several flights of stairs to enter and exit the walkway, so there is no way for a wheelchair or stroller to be rolled to the top.
However, other areas of Anakeesta are wheelchair accessible. The stairs leading to the tree walk in Gatlinburg are manageable but can be more challenging during the exit, which is closer to the Anakeesta Chondola.
This is in contrast to the entry point located at the rear of the park. At the time of this writing, while many parts of Anakeesta are wheelchair accessible, the Treetop Skywalk is not.
Rules You Must Follow for the Treetop Skywalk
Before you step onto the tree walk in Gatlinburg, there are some important safety guidelines you should be aware of:
Make sure you are comfortable with stairs and walking on uneven surfaces because this attraction involves them.
While walking, always hold onto the railing for safety.
Please don't carry children on the Skywalk.
Avoid climbing, sitting, or leaning on the railings to prevent accidents.
Secure any loose items before starting the walk so you don't drop anything.
For safety reasons, leave food and beverages off the Skywalk.
Don't try to pass other guests on the path; go at a comfortable pace.
Running, jumping, or swaying on the bridges is not allowed to prevent any mishaps.
Show respect to the trees and avoid causing any harm to them.
Remember, smoking is strictly prohibited on the treetop path.
By following these rules, you can ensure a safe and enjoyable experience as you explore the Skywalk.
What Else Is There to Do in Gatlinburg and Anakeesta?
Anakeesta is an amazing outdoor theme park located in the Tennessee mountains, offering breathtaking views of the national park, Smoky Mountains, and downtown Gatlinburg.
The park provides a wide range of activities involving changes in elevation, such as the "Moonshine" mountain coaster, zipline tours, and delicious BBQ and seafood options.
One of the best things about Anakeesta is the unlimited ride policy included in the admission price, eliminating any confusing pay-as-you-go system.
Gatlinburg's haunted history tours are a must-try for history enthusiasts and those seeking a bit of spookiness, given the area's Civil War background that adds to the potential for haunting tales.
With the nearby Pigeon River, you can also enjoy river rafting, experiencing the rush of navigating through the Upper Pigeon River's rapids while taking in the stunning mountain scenery, guided by experts to ensure a safe and thrilling experience.
Moreover, Gatlinburg is home to numerous wineries, where you can indulge in tasting various Tennessee wines from different breweries located just a short distance apart.
Additionally, the area boasts plenty of horse farms, providing a wonderful opportunity for a horseback ride, perfect for both kids and adults.
Apart from the Skywalk, Anakeesta offers an array of attractions suitable for all ages, including the scenic Chondola, Anavista Observation Tower, Treeventure Challenge Course, Bearventure Challenge Course, Treehouse Village Play Area, and the Splash Pad, all ideal for young ones to enjoy and have a blast.
For the thrill-seekers, additional attractions are available for a separate fee, such as the ziplining course and the Rail Runner Mountain Coaster, adding to the excitement of your Anakeesta trip.
You can find all the details for each attraction on Anakeesta's website.
Is Tree Walk in Gatlinburg Safe?
The Tennessee treetop walk is known to be safe and secure all the way through, as per feedback from most visitors. However, it may not be the best choice for people who have an intense fear of heights.
The walkway itself is made up of narrow rope bridges suspended 50 to 60 feet above the ground, so there can be some swaying as you walk.
This could make it less appealing for those who feel uneasy in high places or on moving bridges. But if you decide to give it a try, be assured that the path is designed with safety in mind and is completely secure.
While the overall structure of the Skywalk is sturdy, the rope and netted bridges can sway and jostle, especially if there are rowdy groups of people around. But there's no need to worry, as running and jumping are not allowed to maintain safety.
So, it can be quite an adventure if you don't have an extreme fear of heights and want to experience the treetop walk. However, if you are genuinely afraid of heights, it might be best to consider other attractions.
SkyBridges in Anakeesta?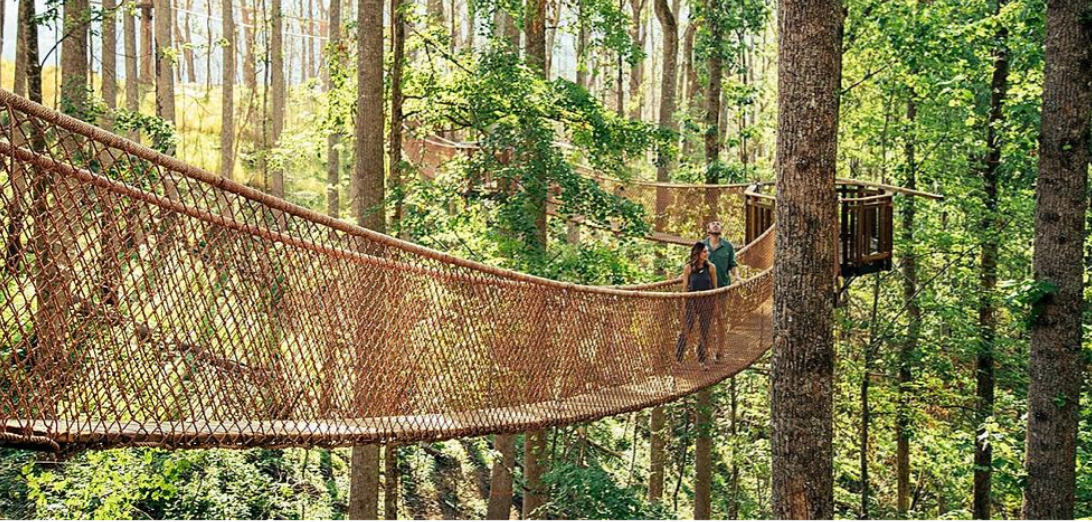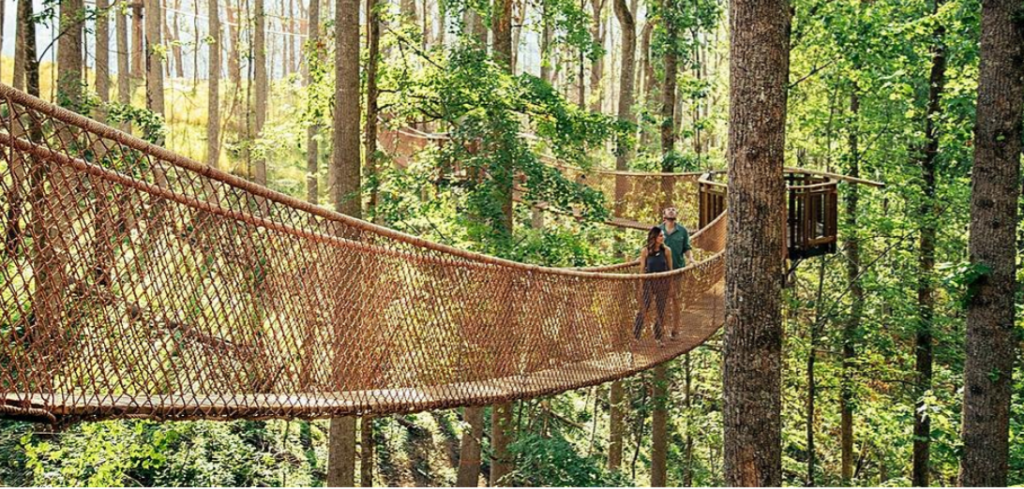 Sometimes, people get confused between Anakeesta's Skywalk and the SkyBridge at Gatlinburg SkyLift Park, but they are actually two different attractions.
Anakeesta's Skywalk is special because it's the longest tree-based Skywalk in North America. It's like a series of bridges that let you fully immerse yourself in the beauty of nature while walking among the trees.
On the other hand, the SkyBridge at Gatlinburg SkyLift Park is famous for being the longest pedestrian cable bridge in North America.
It's a single bridge that stands an impressive 500 feet above Gatlinburg, providing breathtaking panoramic views of the area.
Both attractions offer fantastic experiences, but they have their own unique designs and are located in different places. So, even though they may seem similar at first glance, they each have their own special qualities to enjoy.
Can you walk down Anakeesta?
Once you're on the mountain, you can use the Chondola to go up to the top of Anakeesta and come back down. Alternatively, there's also the Ridge Rambler adventure vehicle, like a big truck you can ride.
Do people like the Treetop Skywalk?
This activity has been highly rated on Google, with an impressive score of 4.7 out of 5. It's interesting to note that many of the reviews cover not just the activity itself but also talk about the entire area and park.
So, reading those reviews might give you some extra information about other things to do and experience in the surrounding area.
Best tree walk in Gatlinburg
Anakeesta offers an incredible experience with North America's longest tree-based Skywalk, perfect for guests of all ages to enjoy. The park is dedicated to creating unforgettable memories for families to cherish.
What's even better is that your admission ticket grants you the flexibility to come and go throughout the day, allowing you to explore the various attractions at your own pace.
You can climb AnaVista Tower to take in breathtaking 360-degree views during the day, and on Friday and Saturday nights in October, you can relax while watching movies and enjoying popcorn.
Don't miss the chance to witness the stunning fall foliage at this picturesque destination in Gatlinburg.
Where is the Longest Canopy Walk in the World?
The tree canopy walk in Gatlinburg is the longest in North America, but it's not the longest in the world. The longest one is in Laax, Switzerland, called Senda dil Dragun.
It has bridges that are almost a mile long and stands around 91 meters tall. Even though the Treetop Skywalk in the United States is shorter and not as tall, both places are worth visiting for their unique experiences.
Awesome Places to Visit
Driving in Paradise: Summer Safety Tips for Beach Towns
Pros And Cons of Living in Texas
Best Travel Backpack For Women
A Tale of two Cities: Exploring Switzerland and Paris
The Magic of Montreal: 10 of The Best Things to See and Do
Mysterious Haunted Places in California
The World's Best Black Sand Beaches
Treetop Skywalk – Tree Walk in Gatlinburg Video Tour