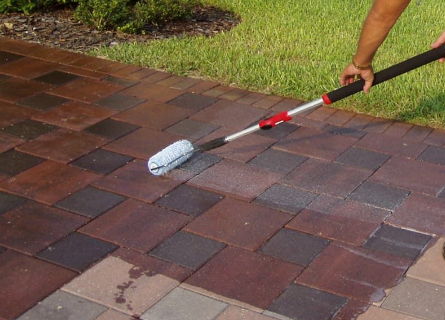 Applying sealer on pavers can enhance the life and beauty of your driveways and patio. Enhancing your concrete surfaces with a sealant is important in ensuring they look great and last for years. Various kinds of sealers are available, all offering unique benefits depending on the application. To get it right, here are what you'll need to do: 3 simple steps that will protect your driveway, walkway, or walls from damage.
From rustic to contemporary, patio pavers offer homeowners many hardscaping options for their outdoor space. With the right design style, you can create a backyard oasis that will please everyone in your household.
Without sealing your patio pavers, you may be more susceptible to dirt and grime buildup that can ruin the aesthetic of your outdoor space. Sealing can help maintain a pristine look while also making cleaning easier.
However, this optional maintenance step has drawbacks. We've outlined the pros and cons of sealer on pavers, so you can make an informed decision if it benefits your area.
The Pros and Cons of Sealing Pavers
There are many disadvantages and benefits of sealing the pavers.


PRO #1: Sealing Pavers Enhances the Look
Sealing your pavers with a sealant gives them an attractive, glossy finish that will not alter their color. Sealers can also help preserve the original hue by protecting it from harmful UV rays, which could cause fading over time.
PRO #2: Sealing Pavers Offers Protection to the Area
Invest in long-term beauty for your pavers. Protect them from fading, mildew, and rust with a sealant. Not only does it preserve their natural look, but it makes cleaning off dirt and grime quicker than ever before – without any trace of the mess left behind.
Sealing brick, stone, and concrete pavers create a protective barrier against the elements that can cause unsightly damage to your outdoor space.
By penetrating deep into the pores of these materials and filling in cracks between them, sealers prevent water from seeping through – protecting both beauty and durability for years to come.
PRO #3: Sealing Pavers Help Improve the Drainage around the Area
Installing pavers may seem like the perfect material for creating a pathway, patio, or porch.
However, be aware that their porous nature can trap moisture underneath, making it difficult to establish a strong foundation. Consider what kind of materials are best suited to your project in order to create an enduring structure.
By applying a sealer, you construct an effective barrier that prevents water from infiltrating the foundation and promotes efficient precipitation run-off.
Pavers can bring a lot of character and charm to any area, but the level of protection for areas that don't get much foot traffic is up to you.
Sealing your pavers offers some potential benefits, so it's worth considering before making your final decision.


CON #1: Sealing Pavers Require Maintenance
Your pavers are not forever sealed. And depending on the material and sealant used, you will likely need to reseal your pavers. This can be an easy task if properly monitored as it helps maintain your outdoor space both aesthetically pleasing and long-lasting.
CONS #2: Sealing Pavers are Expensive
Quality sealants are essential for long-lasting sealing results. Thick, durable products will outperform thin, low-cost varieties every time.
That said, it's important to factor in the ongoing costs of maintenance resurfacing, too – a necessary part of protecting your sealed surface over the years ahead.
CONS #3: The Sealant Can Harm the Nearby Plants
Protecting the environment is a priority when laying new pavers. On clear, still days with little wind, sealant and overspray can be applied without harming nearby plant life – provided extra measures are taken, such as covering plants in a plastic sheet for added protection in nearby areas.
Ensure that you are adequately protected for the sealing process by donning a mask, gloves, shoe covers, and garments covering your arms and legs.
Wear clothing that can be easily discarded, as sealant may not come out of the fabric even after washing.
Also, consider applying sealants only in properly ventilated areas while taking all precautions to avoid inhaling any of the fumes produced during this procedure.
Types of Sealers You Can Choose From
When it comes to protecting hardscaping surfaces, there's no one-size fits all solution.
To ensure you get the most out of your investment in a concrete sealer, familiarize yourself with the three main types: film-forming sealers that create a physical protective coating on site – each offering unique features and benefits for specific projects. Check them below:
Solvent Based Sealers
Enhance the natural beauty of your concrete project with a wet-look, high-gloss, or low-gloss finish.
Solvent-based sealers will help protect from water damage and other environmental elements such as stain absorption, abrasion, wear and tear, UV exposure & chemical exposures to ensure you have beautiful surfaces that last for years.
Water Based Sealers
Enhance your concrete project with a more natural look through water-based sealers. Their true-to-color finish is resistant to bubbling or streaking and comes in either matte or satin for extra durability.
Application is easy, clean up hassle-free, plus – you get added protection from UV rays without any yellowing stains.
With low VOC emissions and excellent waterproof qualities too; it's no wonder these sealers have become so popular amongst professionals everywhere.
Paver Sealers & Joint Stabilizers
Keep the natural beauty of your pavers intact with the paver sealers and joint stabilizers.
You must choose high-quality products designed to lock in the sand and minimize weed growth while resistant to water, harsh weather conditions, and abrasion from chemicals or UV rays. Choose between a matte or gloss finish for added protection.
How to Apply Sealer on Pavers – Step-by-Step
It's time to take the leap and give your pavers or concrete surface a fresh seal of protection. Experience no difference in preparation if this is your first coating, as you'll still follow each step with precision for maximum results. It all begins now.
Preparation
Before starting any project, it's important to do a visual check. If you see anything out of place – like cracks in the pavers or discolorations – fix them before applying sealer. A quick repair now can save you time and effort down the line.
Replace the damaged or cracked blocks.
Fill in the missing sand between the block joints, as it is a protective barrier for the pavers' sides.
Clean off the blocks properly with the help of a hard bristle broom, water, and soap. Make sure you get rid of any dirt, debris, and weeds.
Get rid of efflorescence from the area.
Before the process of sealing starts, you must let the blocks dry completely.
RELATED: Organic Cleaning Products that Helps Clean & Disinfect
Its time to Apply Sealer on Pavers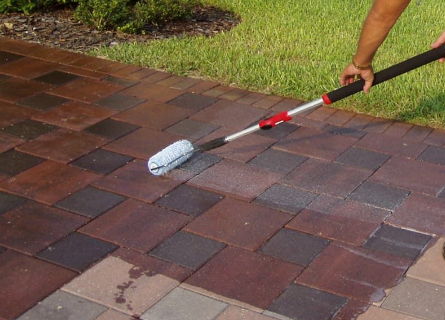 Have your pavers look perfect every time with a few easy steps. Before starting any project, consider the sealer's directions, weather conditions, and minimum temperature guidelines.
For optimal results, use an even coat of spray to saturate the surface, then roll over it for maximum absorption – this will keep away lines or drip marks.
For your project, start at the top and work your way down. That'll make it easy to fix any drips or runs with a roller, allowing you to evenly spread extra sealer over unsealed areas and onto the patio.
Let the Sealed Pavers Completely Dry Before Use
Quality sealer is essential for a perfect finish, and watching it settle properly is the only way to ensure top-notch results. Avoid foot traffic on the freshly sealed area until fully dry; you should also keep leaves, sprinklers, or grass clippings away during this period.
The more uninterrupted attention you give your sealer while setting – no matter how tedious -the better it will perform in the long run.
ALSO READ: How to Clean Rust Stains from Toilets
Conclusion
Thinking ahead pays off. With a few easy steps, you can protect your patio from the elements and save yourself some time down the line. Now that you know how to apply the sealer to your pavers, you can do it yourself every 3-5 years like a pro. Let's take this knowledge into action and bask in our naturally gorgeous outdoor space – worry-free for many seasons of enjoyment.
RELATED: Ensure Your Paver is of Superior Quality
ALSO READ: How to Clean Stainless Steel