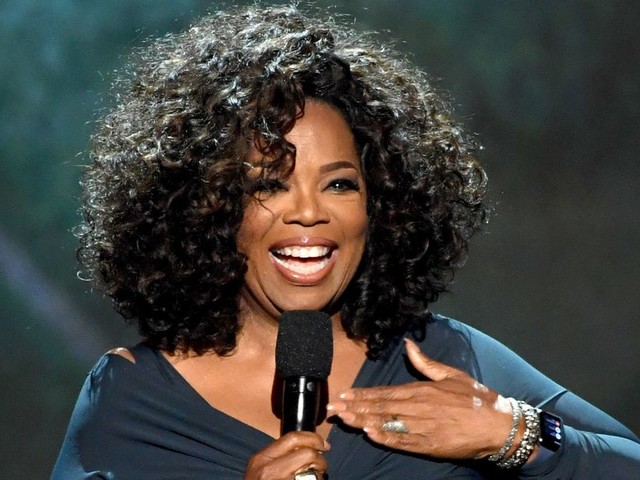 Oprah Winfrey Net Worth- $3.5 Billion
Gender- female
Date of Birth- January 29, 1954
Profession- Media proprietor, Journalist, Presenter, Actor, Voice Actor, Television producer, Businessperson, Film Producer, Philanthropist,
Nationality- United States of America
Oprah Winfrey is one of the biggest American media moguls, author, and television host. Oprah Winfrey net worth as of 2020 is $3.5 billion. Thanks to her lucrative and diversified media empire, she makes $315 million per year now. Oprah Winfrey is a self-made richest American Woman. If you want to take a look into her inspiring career life and early life story, keep scrolling down.
Early Life:
Oprah Winfrey came from an abusive, poverty-stricken background to become the most influential woman on the planet. She was born on January 29, 1954, as Orpah Gail Winfrey. Yes, you read it right, Orpah which was a reference to a biblical figure in the Book of Ruth. When she was a baby, people used to mispronounce her name as Oprah, and this is how it eventually stuck.
Winfrey was born in Mississippi to her mother, Vernita Lee, who was an unmarried teenage housemaid. Her father, Vernon Winfrey, was working in the Army when she was born. Eventually, he started working as a coal miner, barber, and city councilman. There are rumors that her real biological father is a man named "Noah Robinson."
Oprah moved in with her grandmother when she was a baby. The family lived in poor conditions, and she was forced to wear dresses made of potato sacks to school.
This is a lireal example of "Rags to Riches."
When Oprah turned six years old, she moved to Milwaukee with her mother, where her mother used to work as a maid. During this time, her mother gave birth to her second daughter, Patricia. In 2003 Patricia died due to cocaine abuse at the age of 43. Her other half-sibling Jeffrey died in 1989 from AIDS.
Oprah went to live with her father, Vernon when she was 12 in Nashville. At the age of 13, she ran away from her house to escape the abuse she was experiencing. When she was 14, she became pregnant and gave birth to a premature son who died right after birth.
Initially, she was attending Lincoln High School in Milwaukee, but after excelling in a special school program, she got a transfer to an affluent high school in a suburban area called Nicolet High School. After some time, she went back to Nashville to study at East Nashville High School, where she blossomed into another person. Oprah was 17 years old when she won a Miss Balck Beauty Tennessee pageant that eventually led to a part-time job as a news anchor in a local radio station called WVOL.
This got her a scholarship to Tennessee State University, where she got a degree in communication. Oprah left school at the age of 19 to pursue a full-time career in media.
Read More- How Much Is Hulk Hogan Net Worth?
Media Career
Oprah was the first black female news anchor of WLAC-TV in Nashville and the youngest news anchor in the channel's history. She was 22 years old when a station called WJZ in Baltimore hired her to co-anchor the six o'clock news, which was a coveted position.
In August 1978, Oprah started co-hosting a talk show, "People Are Talking," and by 1980, she was already ahead of Phil Donahue in the Baltimore market. By the end of this run, she was already making $220,000 per year, which is equal to $560,000 today.
In 1984 ABC gave Oprah her own 30 minute morning talk show in Chicago, which was produced by a company named King World Productions. This was the same production company behind Wheel of Fortune and Jeopardy. This job was worth a $1 million four-year contract. She was making $250 k per year at that time which equals to $600k today. This was the beginning of the astonishing career of Oprah Winfrey and its multi-billion net worth.
Syndication Empire of The Oprah Winfrey Show
Within the first few months of first AM Chicago's air on January 2, 1984, Oprah hiked the ratings from zero to the highest-rated talk show in Chicago, displacing the position of Phil Donahue. The show was renamed "The Oprah Winfrey Show" on September 8, 1986, and to be broadcasted nationally and expanded to a full hour.
Initially, the show revolved around targeting women's issues, but later it covered various topics like spirituality, health, charity, and social issues. Oprah began to gain suspicion of a $1 million contract and met Jeffrey Jacobs regarding this concern. Jeffrey was an agent to Roger Ebert, his co-host Gene Siskel, Bill Cosby.
Jacob quickly pointed out to Oprah that she is not getting any extra dollars from the show and also said that she has been hired to work as the highest paying slave of the country.
How Oprah Became A Billionaire
Oprah fired her agent and sent Jeffery Jacobs back to the King World/ABC to sign a new deal. Kind World refused their negotiation; instead, they opened a new door to Oprah and Jeffrey Jacobs to launch an Empire accidentally. Negotiations turned out to be cold, Oprah and Jeffrey established their own production house named HARPO.
By now, King World was in tough competition, and Oprah was breaking the record of viewer numbers in Chicago. National syndication was looking like a dunk. Had all of this not happened, we would not know of the Oprah we know now.
This time King World came back with an offer to give Oprah's cut back, which she rejected. King World was shocked to know that she was producing her show HERSELF through HARPO studios and HARPO production. Now HARPO would bear the show's production costs and pay King World to syndicate the show on national tv. This is how King World became the paid employee to HARPO.
Oprah owned 90% of HARPO, and Jeffery was the owner of the remaining 10%. Jeffrey and Oprah went to negotiate a larger deal with ABC that included magazines, books, movie production, and most importantly, the rights to launch other tv shows under HARPO productions. All these shows were to take place at the HAPRO campus, spread in 3.5 acres.
This is not the end.
Oprah and Jeffrey went on to negotiate for a stake in the King World Productions. Thanks to this deal, Oprah would make money with every show King World produced, including Wheel of Fortune and Jeopardy.
In 1999, CBS purchased King World for $2.5 billion stocks. Once the acquisition was over, Oprah was the owner of 1% stakes in CBS. Also made a significant sum of Disney Stock through a deal signed with ABC in the 1990s.
While her other talk show competitors like Phil Donahue, Sally Jesse Raphael, and Jerry were making tens of millions of dollars, Oprah was playing in multi Billion dollars. Oprah crossed the billionaire status in 1999/2000 for the first time and became the first black billionaire of America. This was when she was making $300 million every year by producing her own show as well as Rachael Ray's and Dr. Phill's show.
Today, Oprah is the third-richest celebrity on the planet. The only billionaire celebrities to beat her are George Lucas ($6.5 billion) and Steven Spielberg ($3.7 million). Now we know how Oprah Winfrey reached this awe-inspiring net worth.
Read More- How Much is Morgan Wallen Net Worth?
Endorsements and Other Projects
Winfrey has been a board member of Weight Watchers since 2015. She was awarded $43.5 million equity when she brought the company. Now the stake is worth more than $400 million. In 2019, Oprah signed a multi-million deal with Apple to produce various shows for the company. These endorsements and various other projects also play a major role in Oprah Winfrey net worth.
Oprah has also appeared in various major movies like "beloved," "The Color Purple," "Selma," and "The Butler." She has produced many documentaries, tv shows, and miniseries. Oprah is also nominated for 2 Academy Awards, producer for best picture "Selma" and best-supporting actress for "The Color Purple." She earned the Jean Hersholt Humanitarian Academy Award in 2011.
Winfrey has won 18 Daytime Emmy Awards, two Primetime Emmys, one Golden Globe, and a Tony Award.
Oprah Real Estate Portfolio
From 1985 to 2015, Oprah has been residing in her Chicago home spread in 9,625 square feet, which she sold for $4.62 million in 2015. She also owned a penthouse in Atlanta that she sold for $1.8 million in 2008.
Oprah purchased her first property in Maui in 2002, and over the next few years, she spent $60 million to make it 160+ acres of land in Maui. She spent $32 million alone in a single transaction to buy the property next door.
One of the most impressive real estate assets of Oprah Winfrey is a 23,000 square foot mansion in Montecito, California, which she purchased for $50 million in 2001. Today her house is worth $90 million. She also owns a 23-acre farm in Montecito which she purchased for $29 million. Later in 2019, Oprah bought a house next door for $6.85 million, which she expanded to her Montecito footprint by 4 acres. In total, Oprah has 67 acres of real estate in Montecito.
Winfrey also owns a 43-acres of property on Orcas Island of Washington State, which she bought for $8.275 million in the year 2018. She spent $14 million to buy a home in Telluride, Colorado, in 2014.
If we do a sum total of her property, she owns more than 1000 acres of real estate in the United States with a minimum valuation of $200 million.
With Oprah Winfrey's net worth, we can imagine her buying more and more real estate properties in the future.
Read More- How Much Is Lil Pump Net Worth?
Philanthropy
To date, Oprah has made charity of more than $400 million, focusing on educational causes. She has paid Atlanta Morehouse College for more than 400 scholarships. Winfrey launched an Oprah's Angel network in 1998, a charity that supports non-profit organizations worldwide. Her organization has raised more than $80 million for various other organizations to date. She pays 100% for the Network's administrative costs so that all 100% of the funds raised will go directly to the non-profits organizations.
In 2017 Winfrey established the Oprah Winfrey leadership Academy in South Africa for girls. She has given $40 million personally to fund the school. The school has enrollment plans for 322 girls and is planning to expand it to 450.
Oprah's Angel network successfully raised $11 million for Hurricane Katrina relief funds, with Oprah donating $10 million additional funds.
Oprah donated $12 million for the Smithsonian National Museum of African American History and Culture in 2013. The same year she received the Presidential Medal of Freedom from Barack Obama, the President.
Oprah Winfrey Quotes:
Born into poverty and grown up to become the richest African American woman, Oprah is an inspiration to many people. Best known for her talk show "The Oprah Winfrey Show" and philanthropist work.
Let's take a look at some of the best Oprah Winfrey quotes that will surely enlighten you and give you a quick boost of inspiration.
"When you undervalue what you do, the world will undervalue who you are."
Be thankful for what you have; you'll end up having more. If you concentrate on what you don't have, you will never, ever have enough."
"Turn your wounds into wisdom."
"Real integrity is doing the right thing, knowing that nobody's going to know whether you did it or not."
"One of the hardest things in life to learn are which bridges to cross and which bridges to burn."
"The thing you fear most has no power. Your fear of it is what has the power. Facing the truth really will set you free."
You don't become what you want, you become what you believe."
"The more you praise and celebrate your life, the more there is in life to celebrate."
If you find this article informative, do not forget to leave a comment down below!