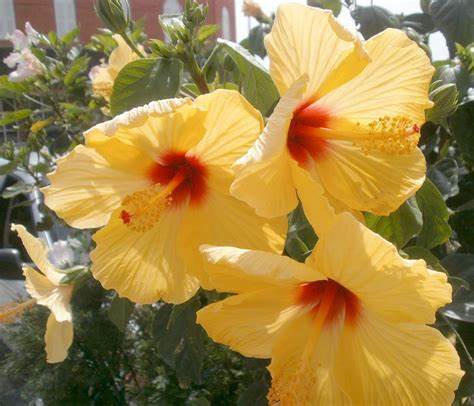 If you are looking to grow a beautiful flower plant, then choose the hibiscus flower. Planting a hibiscus plant will add a tropical flair to your garden.
Botanical name– Hibiscus moscheutos
Common name– Hardy hibiscus, rose mallow, swamp mallow.
Plant type– Herbaceous perennial
Mature Size– 3-7 ft. tall, 2-3 ft. wide
Soil type– Moist, wet
Bloom time– Summer
Hibiscus were used for making tea and healing purposes in ancient times, because it decreases the temperature of the body, cure heart diseases, clear choked throat and treat high blood pressure, etc.
Hibiscus is a large colorful flower used for decorations and medicinal purposes, its leaves are used for tea and for many more things.
Read more- Katsura Tree Plant Profile
To know more about the different colors of hibiscus, its look, and how to grow hibiscus flowers? Read the following post:
Hibiscus flower looks:
Hibiscus is a beautiful big flower. It gives a tropical look to the garden and is also beneficial for health.
There are different colors of hibiscus:
Red
Pink
Blue
Orange
Peach
yellow
Purple
Ten famous and beautiful varieties of hibiscus:
China rose
Its botanical name is "Hibiscus rosa-Sinensis.
China rose is also known as blackening plants. This Flower is used for shoe polishing, and it can produce in single red, orange, pink, yellow, and in double petaled blossoms as well.
Rock hibiscus
Rock hibiscus botanical name is hibiscus denudatus.
First, it was native to Mexico and its shrubs were found in rocks. Rock hibiscus grows in pink and purple color.
Flower of an hour
The botanical name of Flower for an hour is hibiscus tritium.
The Flower of an hour is 4-5 feet in height and grows in a cream-yellow color. The life of this Flower is for an hour only. That is why it is used for only decoration purposes.
Bluebird
Blue bird's botanical name is Hibiscus Syracuse blue bird'.
This Flower has a single blue shade, and it smells better than the other hibiscus varieties. It is the best type of hibiscus you can grow in your garden.
Rose of Sharon
Hibiscus syriacus is the botanical name of the rose of Sharon.
The Rose of Sharon is also known as a late summer flower. The color of rose sharon is light purple, white, and violet.
Abelmosk
Abelmosk is an edible flower, and it can be used as a vegetable. Botanical name of Abelmosk is Abelmoschus moschatus.
Abelmosk was first grown in India. It is the annual variety of hibiscus and blooms lime-yellow flower.
Giant rose mallow
The botanical name of giant rose mallow is "hibiscus giant Rosea mallow."
The color of the giant rose mallow is pink, and with shades of white, and bright red in center. This variety of hibiscus needs a good amount of moist soil to thrive.
Checkered hibiscus
Checkered hibiscus botanical name is hibiscus moscheutos.
It is the most common and wide variety of hibiscus. It can be grown in white, red, and cream-toned.
Black dragon
Black dragon's botanical name is hibiscus rosa- Sinensis black dragon.
this variety of hibiscus is dark burgundy in color. This variety of hibiscus flowers is awarded as "the hibiscus of the year."
Cherry cheesecake
Its botanical name is hibiscus cherry cheesecake.
Cherry cheesecake has smooth and creamy leaves with white petals. Its petals are thicker than the other varieties of hibiscus. It can also survive in the harsh wind.
After reading all the benefits of hibiscus and its varieties, you may be wondering how to grow hibiscus? How to take care of hibiscus?
Do not get stressed following points will help you to know how to grow hibiscus and tips to take care of hibiscus?
How to grow hibiscus?
Growing hibiscus gives an exotic and beautiful look to your garden.
Following are the steps to grow hibiscus in your garden:
Get a good flower pot
Choose a good variety of hibiscus
Plant the hibiscus in full sun or in summer
Add miracle-gro in the soil
Add water to the mixture
Feed the plant with fertilizers and water
Keep it inside of the house in winters
How to take care of hibiscus?
Below are some good tips to take care of hibiscus:
Grow in full sunlight
Summer is the best time to plant hibiscus. Hibiscus grows in full sunlight, and they can not thrive in cold temperatures.
Try to grow hibiscus in containers or in pots so that the roots can move easily. It takes around six months to grow in full Size,
Right temperature
To grow hibiscus, temperature matters a lot.
The temperature should be 60°F – 90°F or 16°C – 32°C to grow hibiscus. So, summer is the best time to plant hibiscus.
Proper water to hibiscus
The hibiscus requires a large amount of water in winters and summers.
It needs around 5-6 liters of water in a day. So, make sure to water your hibiscus plant regularly if you want a healthy blooming hibiscus.
Fertilizing
Just like the other plants, hibiscus also needs fertilizers to grow.
March to October are the crucial months for hibiscus. At this time, hibiscus needs a large amount of nutrition. provide a good amount of fertilizers to your hibiscus.
Pruning the hibiscus
From time to time, cut the large branches and dead leaves of the hibiscus plant.
For growing healthy and beautiful hibiscus, it is very important to prune hibiscus plants.
Tacking pests and diseases
It is a very important thing to grow hibiscus plants because the mosquitoes and the spiders destroy the Flower.
To avoid it, use pesticides.
These were some basic tips to take care of hibiscus flowers. So, make sure you follow all the tips to grow a beautiful hibiscus.
Final words:
Now, you have a good choice to enhance the look of your garden by growing hibiscus flowers, and there are different colors of hibiscus also available in the market.
We hope that the post helped you to get full knowledge about how to grow a hibiscus flower, what is the best time to plant hibiscus, and how to take care of a hibiscus flower.
So, go and grow hibiscus flowers to give a beautiful look to your garden. Also, comment on your favorite color of hibiscus.