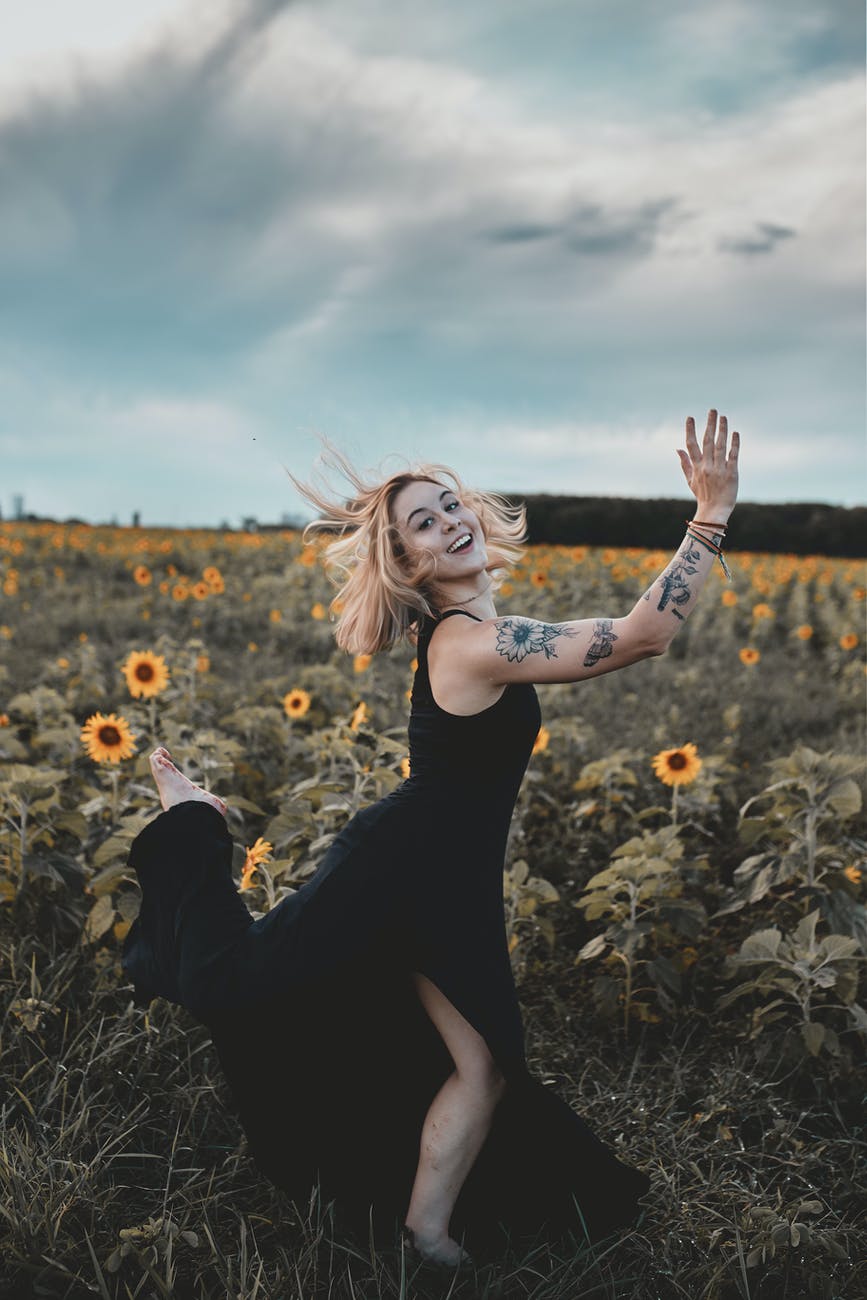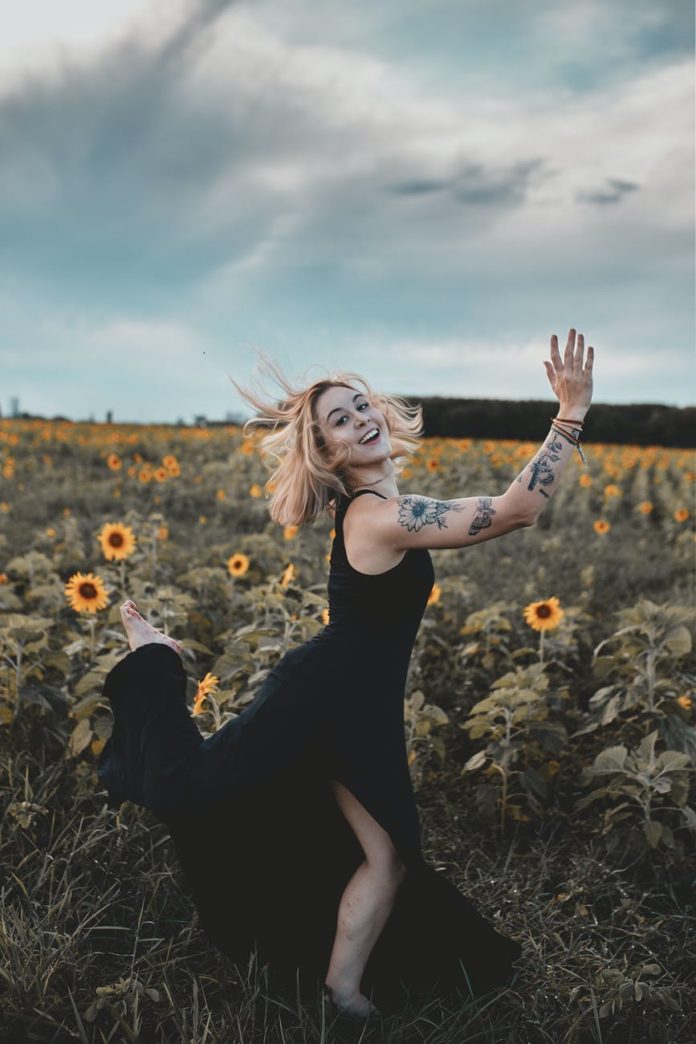 Flower tattoos are a very popular element in women's tattoos. These are not only beautiful but also meaningful at the same time. Flowers are a source of inspiration because of their fragrance and beauty. Starting from birth to marriage and death, flowers have an important role to play.
Whether you want to pay tribute to loved ones or express yourself, floral tattoos fit right in every category. Currently, minimal and delicate floral tattoo designs are in trend among women. These look supremely elegant and feminine and also have a symbolic side to them at the same time.
To inspire you, we have enlisted some amazing ideas for delicate flower tattoos for the next time you get inked.
Lotus Flower Tattoo Designs
Women who are looking for a spiritual flower tattoo with deep meaning should go for simple lotus flower tattoo designs. The Lotus flower tattoo has a different meaning in different cultures.
In Buddhism, blooming lotus petals are a symbol of opening hearts. This is the reason it is often associated with yoga, which is why lotus is the right tattoo design choice for yoga lovers. It is also a symbol of enlightenment, purity, regeneration, and rebirth, and is special because it grows into a beautiful flower from the mud.
Lily Flower Tattoo
This is one of the most feminine and minimalist flower tattoo designs. Lily is a traditional wedding flower in Chinese culture because they are known to bring good luck and love for a hundred years.
Whereas in green mythology, these cute flower tattoos are associated with the goddess of rebirth and motherhood, HERA. Different color lily flower tattoo has a different meaning. White stands for modesty and purity, yellow for joy, and pink represents admiration and compassion.
Jasmine Flower Tattoo
A Jasmine makes a very delicate and elegant flower, which is why it is a popular tattoo design. Jasmine means " gift from God," and white jasmine flowers are associated with innocence, purity, good luck, and respect. All these reasons combined make the Jasmine flower tattoo a sign of pure blessing in your life. 
Hibiscus Flower Tattoo
The vivid colors and magnificent petals of hibiscus bring immediate happiness and calmness to mind. Hibiscus floral tattoo has a much deeper meaning. It is a symbol of femininity, and love and women often adorn these on their hair. South Koreans consider the hibiscus as a symbol of immortality and eternity.
Daisy Flower Tattoo
Cute daisy flower tattoos are perfect if you are a new mother. Daisy flowers are composite flowers, which means two in one. In Norse Mythology, Daisy Flower is a symbol of love, fertility, and beauty and represents new beginnings and motherhood.
Iris Flower Tattoo
If you are looking for unique flower tattoos, then you must pick iris. This purple flower tattoo looks so regal and rich and is a symbol of courage and wisdom.
Iris was the rainbow goddess in Ancient Greece and is often planted on the grave of women to lead her to heaven. Iris Flower Tattoo is a delicate tribute to a female loved one who has passed away.
Magnolia Flower Tattoo
The delicate and soft hues of the magnolia flower tattoos look so beautiful. This is the oldest species that arrived before bees. Magnolias are associated with dignity, perseverance, long life, and feminine beauty. For women who want the tattoo to symbolize strength and beauty, magnolia is a perfect choice.
Poppy Flower Tattoo
Poppy is a very unique and symbolic flower tattoo. Poppies were offered to dead people in ancient times; now, they used to commemorate the dead soldiers in wars. Poppy flower tattoos serve as a tribute to relatives or friends who served in the army.
Rose Tattoo
Rose is a very intriguing flower, and so is the rose tattoo. Roses come in various colors, and each has its own meaning. The iconic red rose tattoo is a symbol of passionate love, romance while pink roses represent grace, gratitude, and extreme joy. Yellow roses stand for happiness and friendship, whereas white is known as the "Bridal rose" because they are associated with loyalty and purity.
No matter which color you choose, a rose flower tattoo ideas look extremely cute and beautiful.
Violet Flower Tattoo
Violets are perfect if you are looking for spiritual flower tattoo designs. These delicate purple flower tattoos are a symbol of the Virgin Mary and represent humility and modesty. This is the reason we use the phrase "shrinking violet" for a humble person. The color violet is also associated with devotion and wisdom.
Narcissus Flower Tattoo
Narcissus, also is known as the daffodil- is a very optimistic and joyful flower. The golden flowers bloom in spring, symbolizing the cold, long, and dark winter season. This is the reason daffodils are also associated with renewal and rebirth.
Delicate Flower tattoos
Minimalist and dainty flower tattoos are becoming very popular these days. These pretty and small designs are designed with black ink and fine outlines. Dainty and delicate flowers mostly represent nature's beauty and is a reminder to always look for the beauty around you.
Flower Bouquet Tattoo
Women who cannot decide on one flower tattoo design should consider getting a bouquet. Choose flowers in different sizes, shapes, and leaves and get your bouquet designed by a professional tattoo artist. Ask them to give pastel colors, shading, and watercolor effects.
Japanese Flower Tattoo
Traditional Japanese flower tattoos are also known as irezumi. The most popular Japanese flower is the sakura or cherry blossom, which is a symbol of transience, grace, feminity, and beauty of life.
Another Japanese flower is the chrysanthemum, also known as 'the king of flowers.' This is the most popularly used flower tattoo in designs.
Japanese flowers are a symbol of perfection, longevity, and royalty.
Hawaiian Flower Tattoo
The state flower of Hawaii, a yellow hibiscus, is a popular flower tattoo. This delicate and bright color flower is a symbol of respect, hospitality, luck, and happiness.
Traditional Flower Tattoo
Old School style tattoos or traditional style tattoos are made with more bold lines and saturated colors, giving a stylized look. However, different artists have different styles of drawing floral tattoos.
Bright flowers like roses, cherry blossoms, and yellow primrose are some popular options.
Watercolor Flower Tattoo
Watercolor is a technique of making tattoos with delicate floral patterns. It diffuses color and gives a very unique and feminine finish to the flower tattoo. This technique makes the floral tattoo very unique. Some common choices are roses, violets, and magnolias.
Butterfly and Flower Tattoo
Butterflies are a very popular tattoo idea among women. It looks so beautiful and holds such deep meanings. A butterfly is a symbol of freedom, rebirth, and resilience. Butterflies are a perfect addition to tour already cute flower tattoos. A butterfly with floral wings symbolizes the beauty of life and change.
Skull and Flower Tattoo
Many women find skull tattoos very intimidating and masculine, but it can be easily transformed into a feminine design when accompanied by flowers. The flower and skull design is a gentle reminder of the nature of life, life after death. Instead of bold lines, try it in fine and delicate designs.
Lion Flower Tattoo
Lions are also a very popular tattoo design choice like flowers when it comes to meaningful tattoos. This majestic animal is a symbol of confidence, royalty, and courage. However, it's the lioness who does the actual hunting in the jungle. Adding floral designs to the lion tattoo will add a feminine touch.
Tribal Flower Tattoo
Tribal tattoo art has been popular for many decades. It involves making the use of black ink and making smooth, curved lines to make fluid designs.
Tribal flower tattoos look amazing on curves like shoulder, hip, or thigh.
Geometric Flower Tattoo
Geometric designs are a very popular tattoo trend currently. Adding different shapes like squares, hexagon, dots, patterns, and lines not only makes your flower tattoo unique but also makes it look advanced.
Flowers and geometric designs go hand in hand because of the soft curves and angular shapes.
Flower heart Tattoo
A heart tattoo is a sign of love. Floral heart tattoos are a perfect way to give tribute to your loved ones.
Birth Flower Tattoos
People mostly know about birthstone, but only a few know about their birth flowers. In the US, carnation is the January birth flower tattoo, Primrose for February, march birth flower is daffodil, sweet pea flower tattoo for April, lily for may, Rose is the birth flower of June. Similarly, the water lily is a flower tattoo for July, Gladiolus for August, Morning glory is for September, Calendula is for October, November is Chrysanthemum, and Jonquil for December.
Flower Wrist Tattoo
If people wear hearts on their sleeves, why not get a tattoo? These small and cute flower tattoo designs look really fascinating on the wrist and can be easily hidden if you need them. For instance, a rose tattoo on the wrist is a match made in heaven.
Flower Spine Tattoo
A colorful flower spine tattoo looks so amazing and vibrant running along the spinal cord. Get your tattoo decorated with colorful flowers in blue, red, and yellow color.
Flower Ankle Tattoo
Get a beautiful ankle flower tattoo that consists of various flowers painted in various colors. The pink, purple flowers and pollen make teh tattoo design look even more attractive. Such designs look gorgeous on women who are looking for a tattoo design to define her personality.
Chrysanthemum Flower Tattoo
The chrysanthemum flower tattoo symbolizes longevity and happiness but is also a sign of perfection and deity. This flower symbolizes royalty, which gives a powerful message that a woman should be loved and respected.
Orchid Flower Tattoo
Orchid flowers come in various colors and types and make a very cute tattoo design. It holds different meanings depending upon the designs and colors. Some orchid tattoos represent strength and power, while others symbolize courage. Chinese orchid flower tattoo is a symbol of fertility and prosperity. Orchid
Gladiolus Flower Tattoo
A gladiolus flower is a symbol of integrity, honesty, sincerity, passion, and strength. This flower's name is derived from the Latin word " gladius," meaning 'sword' because it grows to become long and pointed. The Gladiolus flower tattoo is a perfect choice for women who are a believer in these characteristics and still want to address their feminine side with cute delicate flower tattoos. The design of this flower tattoo is such that it suits best the narrow and long parts of the body like arm, thigh, and leg.
Simple Flower Tattoo
Women who like modern yet minimalist aesthetics should go for simple and cute flower tattoo ideas. Simple tattoos are delicate and timeless; they never go out of style, like a black flower tattoo, which is such a unique design. It is so understated and elegant, which holds its significance in its simplicity.
Flower Vine Tattoo
Not a very mainstream tattoo but flower vine tattoos look very eye-catching and interesting. Vine tattoos are rich in symbolic history. Vine tattoos are originally done in brown and green colors, but there is no limitation to adding color. You can get the vine flower tattoo on the ear, foot, forearm, half-sleeve, wrist, finger, and leg.
Dogwood Flower Tattoo
The Dogwood is considered as a symbol of Christianity, as this was the tree that was chosen for the crucifixion of Christ. This flower represents rebirth, faith, stability, endurance, and remembrance. Dogwood flower tattoos look stunning with doves. 
Dahlia Flower Tattoo
You should not be much surprised that dahlia is a popular flower tattoo because of the lovely design and symbolism. Dalia is the most beautiful of all the flower tattoos.
Hummingbird Flower Tattoo
The hummingbird is a very graceful and unique bird. These are a symbol or love, joy, life, hope and charm, and also peace in various cultures. The hummingbird and flower tattoo represents overcoming difficult times with grace.
Mandala flower Tattoo
Mandala is a Sanskrit word, which means Circle. As a tattoo, the mandala is composed of many symbols and shapes radiating from the inside to the outside. Mandala reflects eternity, perfection, and balance. Mandala flower tattoo emulates a sense of harmony. This tattoo looks amazing on bigger body parts like the back.
Final Words:
Flower tattoos are a very popular choice among women. These are a symbol of harmony, love, peace, life, and growth. If you are looking for some floral tattoo designs that depict femininity and are symbolic simultaneously, this tattoo guide will be your best friend.