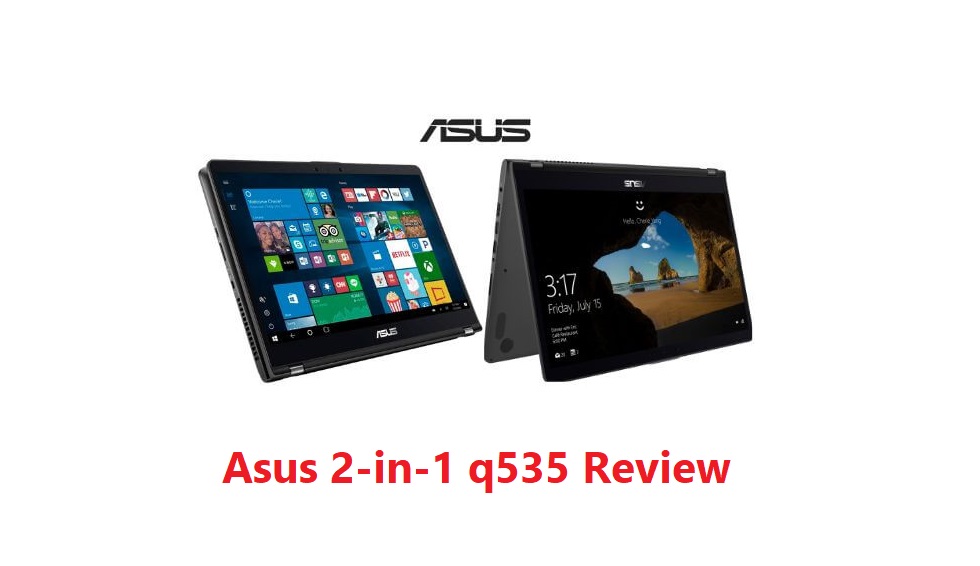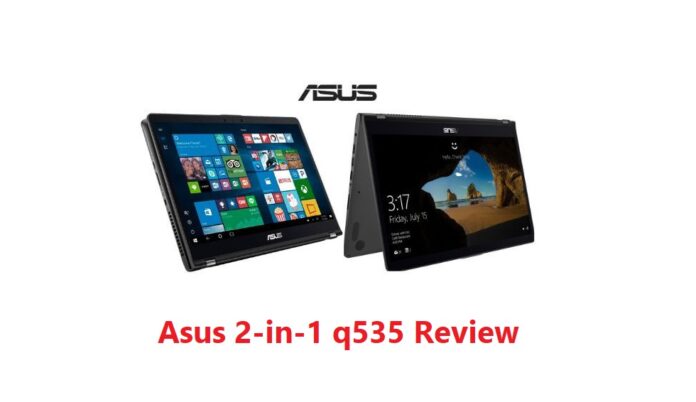 ASUS 2-in-1 Q535 is a versatile and powerful laptop that has the best features of a tablet and a laptop. If we take a brief look at the Asus 2-in-1 q535 then it reveals that it is a flexible laptop that has different features. It performs well with a touch-sensitive screen, and the battery lasts long. Gamers may have better choices, but it is excellent for work and regular activities. It is a reliable option for those who need a strong 2-in-1 device.
Asus 2-in-1 q535 Specifications
The ASUS 2-in-1 Q535 is a versatile and powerful laptop that has the best features of a tablet and a laptop. It has a 15.6-inch touchscreen display that you can rotate 360 degrees to use in different ways – as a laptop, tablet, or stand.
It has a spacious 1TB solid-state drive, a fast Intel Core i7 processor, and 16GB of memory, which ensures smooth performance for all your tasks.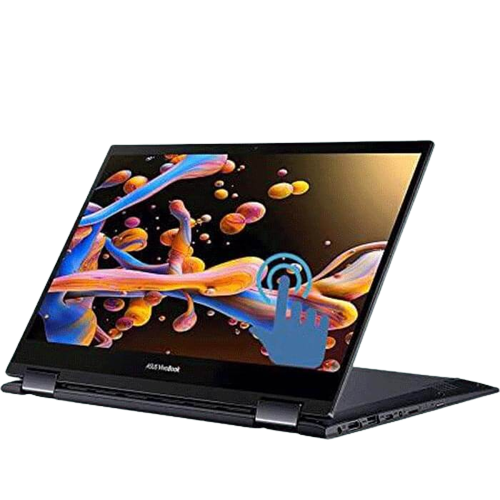 The Asus 2-in-1 q535 also comes with a pen that you can use on the touchscreen to write, draw, or have fun with doodles.
Whether you need it for work or play, the ASUS 2-in-1 Q535 is the best choice. It offers powerful performance, stylish design, and the flexibility to adapt to various needs.
Let's learn more about the laptop:
| | |
| --- | --- |
| Specifications | Details |
| Processor | Intel Core i7-8165U Processor (8th Gen, 8 threads, 4 cores, 12MB cache, up to 3GHz) |
| Display | Touchscreen 15.6-inch IPS display |
| Resolution | Full HD (1920 x 1080 pixels) |
| RAM | 16GB DDR4 (3200MHz) |
| Storage | 1TB HDD, 256GB SSD |
| Graphics | NVIDIA GeForce GTX 1050 |
| Operating System | Windows 10 Home (64-bit) |
| Connectivity | Bluetooth 5.0, Wi-Fi 6 (802.11ax) |
| Ports | 1 x HDMI 2.0b, 1 x 3.5mm audio combo jack, 3 x USB 3.1 Gen 2 Type-A ports, 1 x microSD card reader |
| Stylus Support | Active stylus support (ASUS Pen included) |
| Keyboard | Backlit chiclet keyboard with 1.4mm key travel |
| Audio | Harman Kardon-certified speakers |
| Webcam | 2MP HD webcam with IR camera for facial recognition |
| Biometric | Fingerprint sensor |
| Battery | 4-cell Lithium-ion battery Last up to 8 hours of battery life |
| Weight | About 4.4 lbs (2 kg) |
| Dimensions | 14.2″ x 9.5″ x 0.8″ (L x W x H) |
| Price | $599 |
Advantages:
The laptop has a thin and light body.
It features an amazing aluminium finish, which gives it a modern appearance.
The screen can rotate 360 degrees which allow for versatile usage.
The display is designed to reduce glow and to give a better viewing experience.
Disadvantages:
The laptop does not have a graphics card, which makes it unsuitable for gaming or editing media.
The storage capacity is limited, so it restricts the amount of data that can be stored.
Asus 2-in-1 q535 Price
The Asus 2-in-1 q535 range is within the mid-range category of laptops and is available for $599.
Note that the price of gadgets may vary, so check before you go to purchase.
Asus 2-in-1 q535 – Detailed Review
Do you need a device that can work both as a laptop and a tablet? Look no further than Asus 2-in-1 q535.
The Asus 2-in-1 q535 is a fantastic laptop that offers the best of both feels.
To see if this amazing device is the right choice for you, check out our complete review in this article. Have a look:
Performance
The Asus 2-in-1 q535 is designed to manage regular tasks like sending emails, browsing the internet, and using office programs. Its 8th gen Intel Core i7 processor, 16GB of RAM, and 256GB SSD storage make sure speedy performance.
However, go for other options if you need to do more challenging tasks like video editing.
This device features a 2MP front camera and dual speakers for video calls and chatting on Skype.
The sound quality is proper, so external speakers or headphones could improve the experience.
Design and Build Quality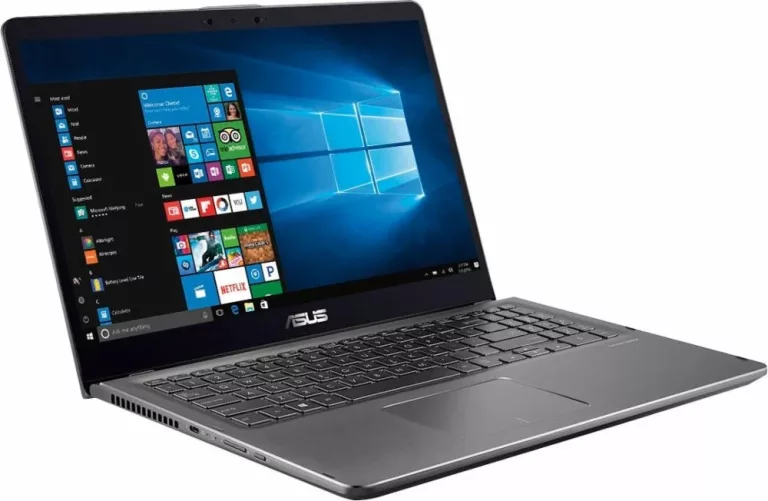 The Asus 2-in-1 q535 is thin and lightweight, which makes it convenient to take anywhere. It has a sleek and modern appearance with its attractive aluminium finish.
The keyboard is large and comfortable for typing, and the trackpad responds well and works correctly.
The screen has great viewing angles and accurate colours. It is designed to reduce glow and allows you to use it outdoors without reflections.
Display Quality
The Asus 2-in-1 q535 has a 15.6-inch screen with a resolution of 1920×1080 pixels. It uses IPS LED-backlit technology, which is soft on the eyes during long periods of screen time.
Also, the display has an anti-glare coating that reduces glow and reflections caused by external light sources.
Asus 2-in-1 q535 Graphics
The laptop is provided with the NVIDIA GeForce GTX 1050 card for basic graphics processing. Though it may not be suitable for gaming, it should be sufficient for everyday web browsing and light tasks.
The integrated graphics solution also helps keep the laptop's price affordable.
Keyboard and Touchpad
The Asus 2-in-1 q535 has a full-size keyboard with a numeric keypad. The keys are comfortable to press and have good travel, making sure accurate typing.
The touchpad is large and smooth, which makes it easy to navigate around the screen and web pages.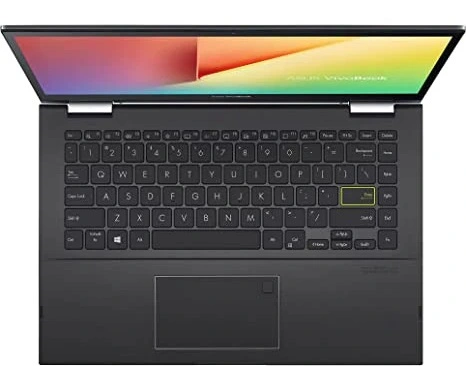 Battery Life
As it has a 4-cell lithium-ion battery, the Asus 2-in-1 q535 can last up to 8 hours on a single charge. This is proper battery life if we talk about its weight and size.
However, if you need even longer battery life, this laptop may not be the best choice for power users or gamers.
Ports & Connectivity Options
The Asus 2-in-1 q535 provides different connectivity options, like one HDMI port, two USB 3.1 ports, and one ethernet port. It also features an SD card reader for easy file transfer from cameras and other devices.
It supports the 802.11 b/g/n Wi-Fi standard for wireless connectivity, and Bluetooth 4.0 is available for connecting to compatible devices.
Asus 2-in-1 q535 Audio Quality
The Asus 2-in-1 q535 has built-in speakers certified by Harman Kardon, which offers the proper audio quality for regular use. However, if you want better sound, you may go for investing in external speakers or headphones.
TouchScreen
With a 15.6-inch touchscreen, interacting with the laptop becomes even easier. The display is bright and clear and provides good viewing angles.
360 Degree Rotating Screen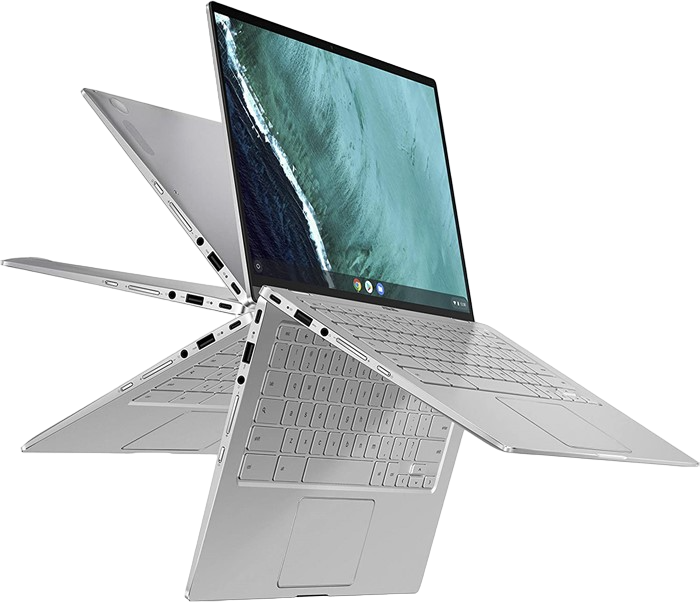 A unique feature of the q535 is its capacity to rotate the touchscreen display up to 360 degrees. This makes it more suitable to use the laptop in tight spaces or when sharing with others.
The hinge is strong and stable, which makes sure that there is no looseness.
The display panel can be changed in three different modes:
Stand Mode
Tent Mode
Tablet Mode
For more information on how to rotate the panel 360 degrees, then go to the e-manual provided by Asus.
Thermal and Performance
Now let's talk about the temperature and sound of the laptop. These are two important things to consider: they can impact the laptop's performance and user experience.
After thoroughly testing the Asus 2-in-1 Q535, we can confidently say that it has good thermal performance. It doesn't heat up too or experience unexpected freezes, which is a good advantage.
If we talk about noise, the laptop maintains a promising performance. It runs quietly without producing unbearable sounds. This means that you can experience an enjoyable experience.
In last, we can say that the Asus 2-in-1 Q535 offers temperature control and good sound quality making it a reliable choice.
Performance Test Results
The Asus 2-in-1 q535 performs well in our overall review. We conducted several tests, like Cinebench and 3DMark, which are commonly used to analyze the performance.
Based on our tests, the laptop achieved good scores in both single-core and multi-core performance, which indicates that its ability to handle demanding tasks is effective.
If we talk about multimedia and graphics tests, the laptop performed efficiently.
Asus 2-in-1 q535 User Reviews


Users have mostly positive feedback about this laptop. They describe it as fast, reliable, and easy to use. Many users especially appreciate the touchscreen display for being responsive and accurate.
On eBay, where it has received 229 customer reviews, this laptop has an impressive rating of 4.3 out of 5.
The laptop's battery life is also praised, lasting up to 8 hours on a single charge. Some users said the laptop could become noisy during challenging tasks. However, this is not a concern for most people.
In a review on eBay, a user compared this Asus machine to a Mac and praised its amazing keyboard and touchpad.
Final Words
In conclusion, the Asus 2-in-1 q535 is an excellent laptop suitable for work, school, or homework. It provides strong performance, amazing battery life, and a touchscreen display. The laptop's sleek design adds to its value, more like other Asus laptops.
Though, it's important to remember that the Asus 2-in-1 q535 is not specifically designed for high-level gamers. It performs well for everyday tasks and multimedia, but it may not meet the challenging needs of gaming.
If gaming is your main focus, finding other gaming laptops that offer amazing graphics and specialized gaming features would be important.
FAQs
Is Asus a good brand for laptops?
Asus is known for producing highly-rated, high-quality laptops for productivity and gaming. Acer is perfect for providing more affordable options, mainly with Chromebooks.
Is Asus VivoBook 15 good?
The ASUS VivoBook 15 is a good choice for work purposes. Its Intel 11th Gen CPU can handle medium workloads. However, its integrated graphics and entry-level NVIDIA are made for GPU that may need to be more powerful for challenging jobs like 3D animation or video editing.
Is Asus VivoBook 15 good?
Both laptops are excellent options. However, HP laptops are more suitable for experts who need powerful features. ASUS laptops, on the other hand, are a great choice for students or those looking for budget-friendly options.
Is Asus better than Acer?
ASUS is considered the better and more premium option. It offers a number of products which various users and budgets praise. ASUS laptops are known for their superior build quality and often offer more power.
Is Lenovo better than Asus?
ASUS laptops are generally thinner and lighter compared to Lenovo Laptops. If it is important to you, ASUS is a better choice. However, Lenovo laptops are generally more durable and better suited for heavy use. Lenovo may be the better option if you need a laptop that can tolerate rough handling.
How long can an Asus laptop last?
By keeping it good, you can expand the longevity of your laptop. On average, users can replace their laptops every few years, with a lifespan of around 3-5 years.
Is Asus a good laptop for students?
Asus laptops are considered for their reliability, durability, and a number of features. If you're a student needing a new laptop, Asus is worth considering.
Recommendation
Mac Finder Tutorial: Things You Ought To Know
How Do Chinese Keyboards Work? You'll Be Surprised to Know
Asus 2-in-1 q535