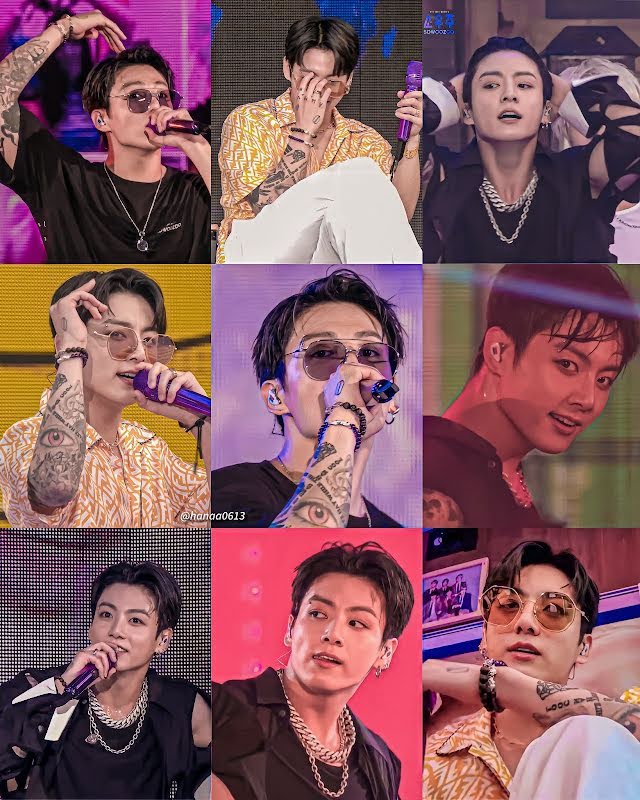 Jungkook Piercings – When there's a group of people, like siblings or a music band, the youngest member usually likes to rebel a bit, this is true for Jungkook from BTS, just like many others.
He has this rebellious side, and he shows it with tattoos and piercings. These are usually things that people who like to do their own thing have.
Even though he's been in the music world for about eight years, Jungkook, now 24, has gotten quite a few tattoos and piercings.
This is a bold choice because the rules about how people should look in K-pop are pretty strict. But his fans from all around the world really like these additions. They think they're special and cool.
Recently, he told everyone about his new digital song "SEVEN" on Weverse and through his music agency. He also talked with his fans, called the ARMY, on Weverse.
He shared how he exercises and answered questions from fans. He even said he got a new piercing on his lip next to his old lip ring. He was excited and said:
"Even though Jungkook is the youngest in BTS, he's not a kid anymore, especially now that he's grown up. In the last few years, he's changed his look by getting tattoos and piercings.
Jungkook tattoos – He has around twelve, He's proud to show them, which is cool because it's not what everyone does. And he's adding more piercings too.
So, let's see all the piercings he has now – the ones we know and the ones we're guessing about…"
Ear piercings
When BTS started in 2013, Jungkook had one earring hole in each ear. He was 15 years old then, and like his other BTS friends, he seemed to like earrings. But only J-Hope didn't have any earrings at the beginning.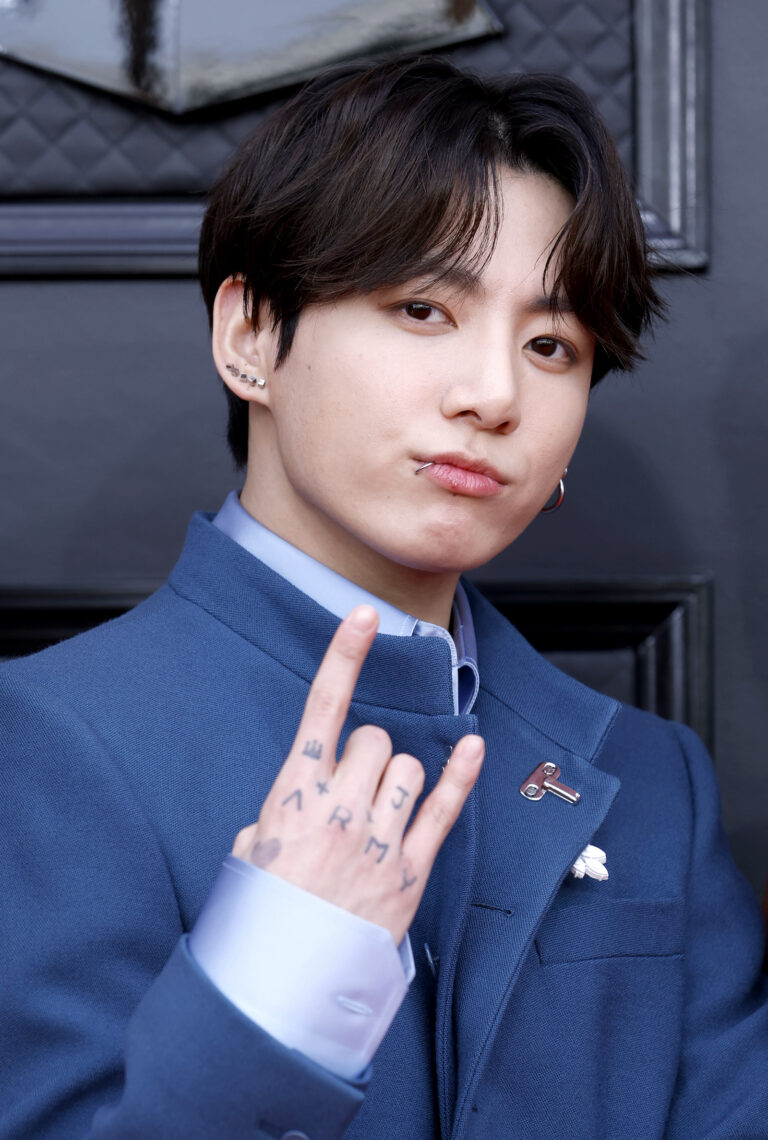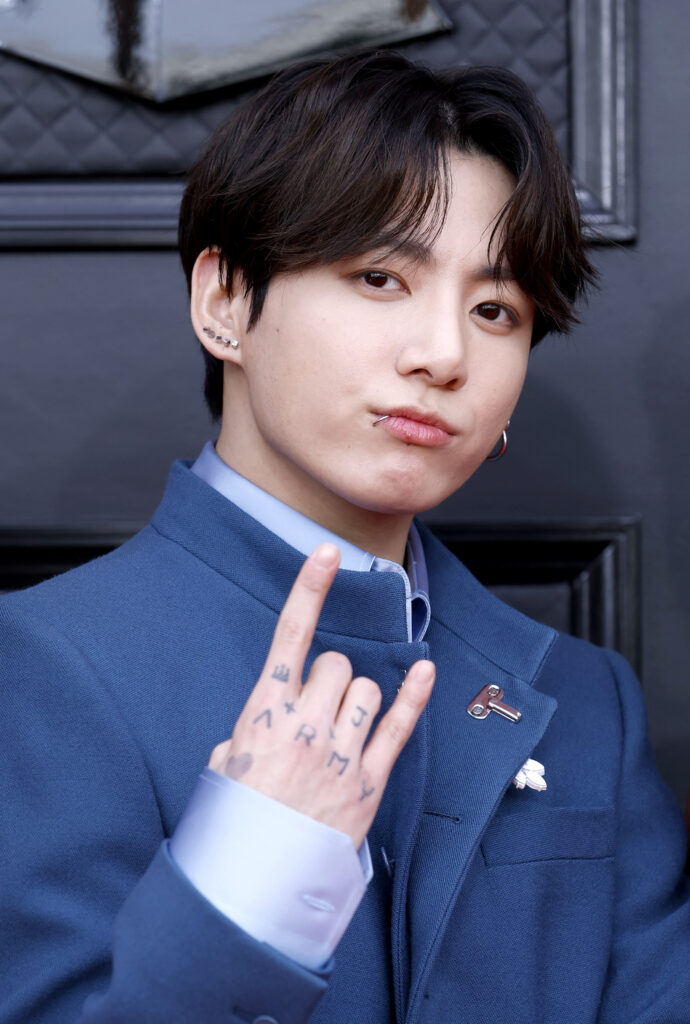 Around one year later, in 2014, Jungkook wore small plugs in his ears until the "Dope" era came. These plugs were not very wide, so they didn't stretch his earlobes much.
During the Wings and Youth times, Jungkook added more earrings for the next three years. Now he proudly has three holes in each earlobe and two in the upper part.
This made him look a bit like a "bad boy." But the upper earrings had closed by the time the Love Yourself era began and haven't returned, which fans didn't like.
Even when the pandemic happened, it seemed Jungkook paid more attention to his big arm tattoo. But he didn't forget his earrings. From 2021 till now, he has worn six earrings in his right ear's lower part and maybe 3 to 4 in his left ear's lower part.
During the same time, fans saw new earrings on Jungkook. So, he probably got these new ones when he got the lip piercing.
Now he might have around six earrings in his right ear and about 3 in his left, sometimes maybe 4.
He used to have double earrings in the upper part of his right ear, but it's been a long time since he wore earrings there. So, they are probably closed by now.
If we count all his earrings, lip piercing, and eyebrow piercing, it looks like he has about 11 earrings (that we know about). But there might be more we don't know yet.
Facial piercings
In 2021, Jungkook surprised everyone by getting a daring eyebrow piercing. But he didn't show it off until the "Butter" promotions started.
At that time, it seemed like he had an eyebrow piercing, and people started wondering if it was real or just a sticker.
And it turned out it was real when Jungkook took off the eyebrow sticker in May 2021 and even put it on BTS' V during a live stream on the Vlive app.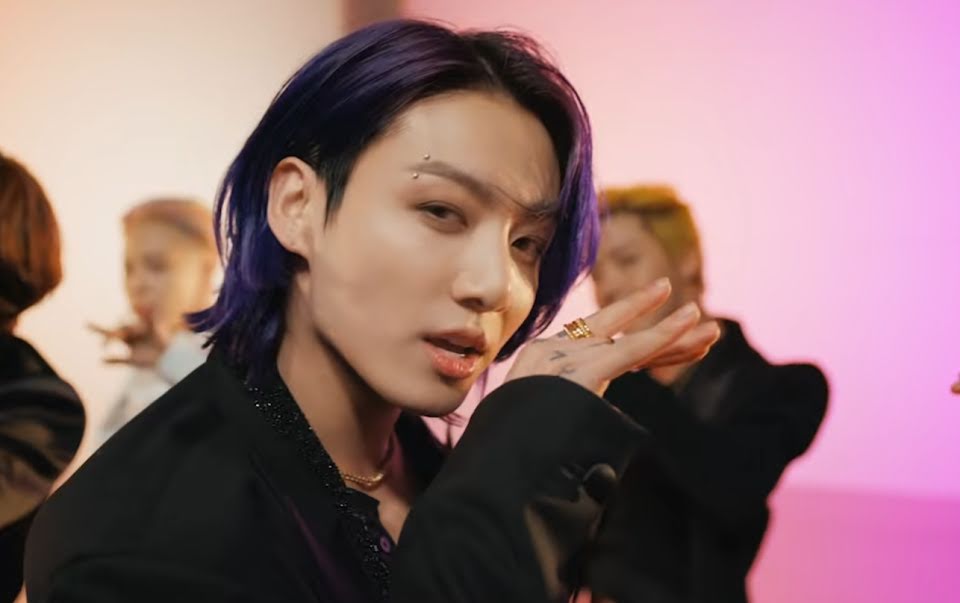 After some time, Jungkook confirmed that he got his eyebrow pierced. He told everyone about it during a live stream in his studio. But earlier this year, he decided to remove the eyebrow piercing, which made fans sad since they really liked it.
Then, in October 2021, Jungkook caused another stir online. He showed up with a lip piercing when BTS performed at The Fact Music Awards. While they were performing "Boy With Luv," Jungkook had a lip piercing on the side of his lip.
At that time, it was just a small piece of jewellery. This was a bold move because it's not very common in South Korea. And now, the lip piercing has turned into a lip ring on Jungkook's face.
For a while, fans (called ARMY) weren't sure if Jungkook eyebrow piercing was real. They first saw it during the "Butter" era, but Jungkook said it was just a sticker.
But then they started to wonder again. Finally, Jungkook told them the truth, saying he got his eyebrow pierced. He said he was tired of always putting on and taking off the sticker.
Speculation Piercings
After showcasing his more striking facial piercings, there's been a lot of speculation about the additional piercings that the Grammy-nominated artist could have.
Tongue Piercing
During the Muster 2021 event, where BTS and fans celebrated the group's anniversary, something interesting was noticed about Jungkook.
There seemed to be a shiny spot inside his mouth, which made fans wonder if it was a piercing or just some saliva. Not long after, during a Livestream for his birthday, Jungkook once again appeared to have a piercing on his tongue.
Lately, Jungkook has been getting more piercings, and some fans are curious if there might be even more piercings they don't know about.
One rumoured piercing is a tongue piercing. Some fans thought they saw a silver ball on his tongue during a live broadcast, but others thought it might be saliva.
A recent discussion is whether he has nipple piercings.
This idea came up because he's been wearing see-through shirts, and sometimes it looks like there could be something there – maybe a piercing. But it could also be something else, like a microphone. For now, there's no official answer about it.
Nipple Piercing
Something interesting was seen in an episode of the TV show "In the Soop," made by HYBE. Jungkook wore a see-through outfit with a shiny spot under his green shirt.
This made fans wonder if he got a nipple piercing. But during the 2022 Permission To Dance:
On Stage concerts in Las Vegas, when Jungkook performed in a revealing outfit for their song "Fake Love," it didn't seem like he had any piercings on his chest.
In total, the BTS singer has ten piercings on his body. Most are on his ears; he has added some on his face lately.
Despite all the talk about Jungkook's choices, one thing is sure: ARMY, the dedicated fan group, will always support BTS's main singer and dancer.
If you're part of the BTS ARMY or interested in their music, their new album, "Proof", will come out on June 10th. You can already order it on different platforms.
BTS' Jungkook's fans praise his new lip piercing amidst him expressing his apprehension on Weverse Live
BTS member Jungkook recently talked about his new lip piercing, which he called 'Spider Bites,' during a Weverse live session. This style means he has two small silver dots under his original lip piercing.
He seemed excited about it but also understood that some fans might not like that he got more piercings. He said sorry if it made anyone upset.
His fans, known as ARMY, supported him a lot. They not only said his Spider Bites piercing looked great, but they also told him he shouldn't apologize for his choices.
It's interesting to know that before, Jungkook got some criticism from some fans for things like getting tattoos and piercings.
Even though he said sorry a few times, his fans sent him nice messages. Some fans even joked that they can't remember how many piercings and tattoos he has now.
They playfully said he should make a list for them. They also told other fans not to say negative things about what he wears or chooses to do and to let him do what makes him happy.
BTS' Jungkook's SEVEN pre-order gets sold out within a couple of hours of its release
On June 29th, BIG HIT MUSIC announced that BTS' youngest member will release a new solo single called SEVEN. This is the start of his solo work. They describe the song as a lively summer track that will show his special qualities.
Like their past summer hits Dynamite, Butter, and Permission to Dance, BTS is keeping the tradition alive with SEVEN.
The song will come in two versions: Clean and Explicit—the pre-orders for the song sold out in less than 12 hours from BTS' US Store. Fans started a hashtag, #BIG HIT RESTOCK SEVEN, asking for more copies of the single.
Also, there's news from Sports Chosun that suggests BTS' Jungkook might go on a solo world tour and maybe even do a song with Canadian superstar Justin Bieber.
More Body Piercings
Double Nose Piercing: A Complete Guide
Nose Piercing 101: Everything You Need to Know
Getting Your Ears Pierced at Target (Through Rowan)
Ashley Piercing: Everything You Need to Know About Eye-Catching Lip Piercing
Ashley Piercing Scar: Every Thing you Need to know About Ashley Piercing Scarring
The Labret Piercing: Everything You Need To Know
Everything You Need to Know About Vertical Labret Piercing
Do You Want a Bottom Lip Piercing?: A Complete Guide
What Is Snake Bites Piercing: How to Care For It
Horizontal Lip Piercing – Ultimate Experience Guide
Conclusion
In the realm of group dynamics, like in BTS, the youngest often embraces rebellion, and Jungkook is no exception. Jungkook piercings and Jungkook tattoos express his unique individuality, challenging norms in the process.
Despite K-pop's strict appearance standards, his fans globally admire these additions. Recently, he shared his new lip piercing during a live session.
While some fans have criticized his choices in the past, his ARMY has steadfastly supported him. This audacious journey underscores his growth as an artist.
FAQs
Q: What piercings does Jungkook have?
A: Jungkook holds the title of the most pierced member among BTS. The exact count of his piercings remains a bit uncertain.
In the past, he sported an eyebrow piercing, though it's no longer visible, and he currently has a lip piercing. In terms of ear piercings, it's estimated that he has around six in his right ear and at least three in his left ear.
Q: Does Jungkook have 2 lip piercings?
A: Yes, Jungkook has two lip piercings. He recently revealed this in response to fan curiosity. Alongside his multiple ear piercings and a piercing on his left eyebrow, he's now adorned with two lip piercings.
Fans, known as ARMYs, often speculate that there might be more piercings that they aren't yet aware of.
Q: Did Jungkook remove his piercing?
A: Yes, he did. A recent video shared by Jungkook on Instagram revealed that he has taken out his eyebrow piercing. This development caught the attention of BTS ARMY, sparking excitement and discussions among fans.
Q: Did Jungkook get a nose piercing?
A: It seemed that way for a moment, but actually, no. Fans were uncertain when they saw Jungkook wearing a septum ring. However, it turns out he wasn't wearing a nose piercing at all.
Instead, he had an air purifier in his nose, which led to the confusion. This was likely a measure to address allergic rhinitis, where allergens cause inflammation in the nose.