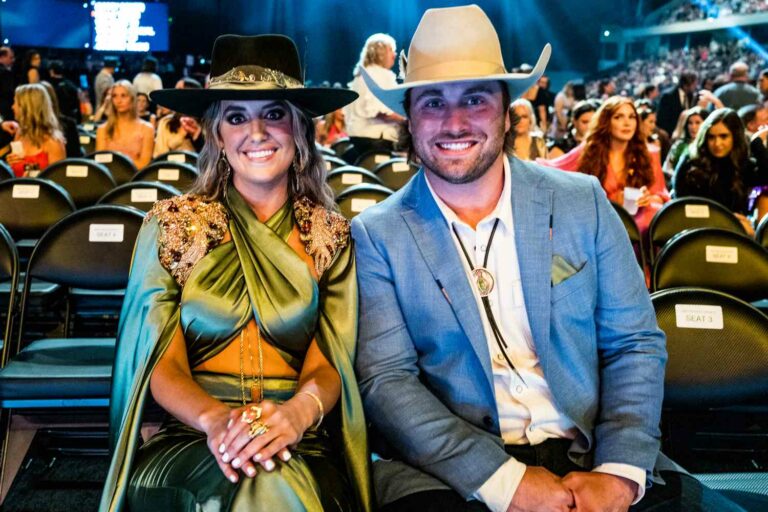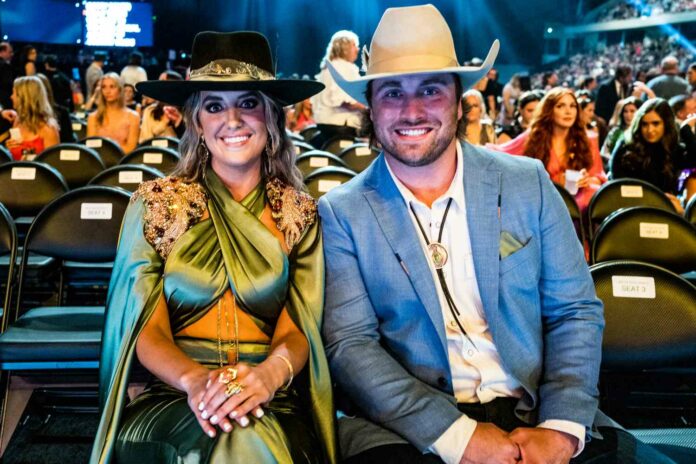 Hey, you won't believe it! Lainey Wilson is officially taken. She recently shared the news at the 2023 Academy of Country Music Awards, where she walked the red carpet. Things are getting pretty serious between her and Duck Hodges (Lainey Wilson's Boyfriend)
Red Carpet Debut At 2023 ACM Awards
Lainey Wilson had a special companion at the event in Frisco, Texas. She looked fantastic in a fashionable green silk jumpsuit, but what truly stood out was the guy who had won her heart.
"Yup, yup. I've got an awesome date tonight," Wilson excitedly told ET Online. "… absolutely, and he's looking quite impressive. And I jokingly told him, 'You can be my date, but don't outshine me!'"
Who Is Devlin "Duck" Hodges?
Who's the lucky guy? It's Devlin Hodges, a former NFL quarterback called "Duck." He's 27, from the South, specifically Alabama, and passionate about duck hunting.
Hodges has achieved some remarkable things in his career. He holds the NCAA FCS record for passing yards with 14,584 during his time at Samford College, a history that Steve McNair previously held. In 2019, he signed with the Pittsburgh Steelers, playing eight games as a rookie. He's also been part of the Los Angeles Rams and even played for the Canadian team, the Ottawa Redblacks.
Before Hodges appeared at the awards ceremony, Lainey Wilson, who's 30 years old, had kept her personal life private, not sharing details about her romantic involvement beyond her close circle. However, everything changed when she chatted on The Bobby Bones Show.
"Two And A Half Years"
Speaking to show host Bobby Bones, Wilson revealed that Hodges had been an essential part of her life for quite a while.
"I decided to take my time, about two and a half years," she explained. "He's a fantastic guy. He knows the struggle of chasing dreams because he's gone through that himself. He had a shot in the NFL, tried out for the Steelers, and made it, having a great run with them. Let me tell you, he's amazing," she enthusiastically said. "He's fully supportive and would never hinder anything I'm working towards. He's like, 'You go for it, girl.'"
As it turns out, Wilson is already considering her plans. She recently shared her thoughts on the possibility of getting married someday.
"I can see myself getting married," she shared during an interview with Audacy's Rob + Holly. "However, it'll take an extraordinary person who's okay with this lifestyle. Right now, music is my baby and my top priority. I've worked incredibly hard to get to where I am, and they'd have to be okay with that."
"I Plan On Having Kids… I Plan On Being Married…"
She mentioned, "I want to have kids and get married someday, but I admire how Dolly Parton handles things—she keeps certain aspects of her life private. Dolly once shared, 'I keep my husband private because I need something just for myself. I share a lot with everyone; having.
Where Lainey Wilson and her boyfriend went on their very first date!
Who needs fancy restaurants and expensive meals, right?
In an interview with PEOPLE, Lainey Wilson shared the spot where she and her boyfriend, Devlin "Duck" Hodges, went on their first date, earning him some relationship brownie points.
"We went to this older place called Silverados, and they had free beer and wine from 5 to 10 p.m.," she remembers. "I thought, 'This guy knows how to have fun without breaking the bank. This is a good sign.'"
Their first date has set the foundation for a successful relationship, as Lainey recently disclosed that she and the former NFL player had been together for two years.
"I wanted to see if he was in it for the right reasons. It turns out he is," she mentioned.
Wilson and Hodges made their relationship public just a few months ago, making their red-carpet debut at the ACM Awards.
While working on her upcoming album, Wilson explains that her main inspiration comes from her "healthy relationship" with Hodges, whom she affectionately calls "one of my biggest supporters and cheerleaders."
"I couldn't really write love songs before because I'm not sure I had truly felt it, but I'm writing some love songs now," she shares. "I'm thankful for him."
Read More: Hot Lainey Wilson Bikini Photos
FAQs
Who is Lainey Wilson's ex-husband?
To start, let's have a chat about Lainey Wilson's husband. You might have heard many people talking and sharing stories that hint she might have gotten married. But here's the real deal: Lainey Wilson has never tied the knot. She's still living a single life.
What is Lainey Wilson's age?
Lainey Wilson was born on May 19, 1992. Today, July 26, 2023, she has turned 31 years old.
Where is Lainey Wilson from?
Lainey Wilson was born in the small town of Baskin, Louisiana.
What is Lainey Wilson's height and weight?
Lainey Wilson stands 5 feet 6 inches, equivalent to approximately 167.5 centimetres. Her weight is about 61 kilograms, roughly translating to 134.5 pounds.
What is Lainey Wilson's net worth?
Lainey Wilson is known for singing and songwriting in the country music world. Based on what I've found on the internet, it's said that by 2023, she will have earned approximately $5 million from her music and songwriting, which is a sign of her significant success.
How much money does Lainey Wilson make annually?
Lainey Wilson earns approximately $500,000 annually, and this income comes from her music sales, touring, and endorsements.
What are some of Lainey Wilson's biggest hits?
Lainey Wilson's music has been an enormous success, with some of her most popular songs being "Redneck Woman," "Better than You Left Me," and "Things a Man Oughta Know." Due to their immense popularity, these songs have received gold or platinum certification from the Recording Industry Association of America (RIAA).
How old is Lainey Wilson?
Lainey Wilson was born on May 19, 1992; today, on July 26, 2023, she's celebrating her 31st birthday.