Get the scoop on Picuki, an Instagram viewer that offers a unique range of features. We'll look into whether this Picuki app is safe, anonymous, and legal to use and how you can utilize it for any social media needs.
Picuki's immense popularity is drawing in hordes of Instagram users, both experienced and novices. With its growing user base, it continues to be the must-have social media tool for staying connected daily.
Picuki is quickly becoming one of the most popular social media networks around. Its intricate combination of photo editing capabilities and cutting-edge technology has made it an enticing choice for users to explore, creating a truly unique user experience.
But what exactly is Picuki? Don't worry we have covered everything here.
Are you interested in learning more about Picuki, the Instagram viewer tool? Look no further. Here, we'll provide insightful answers to common questions such as 'how to use it, 'is it legal & secure' and 'can I remain anonymous? Uncover all your desired information now and explore what makes this Instagram viewer, Picuki, special.
What is Picuki?
With Picuki, you can easily view Instagram posts without the hassle of using a smartphone or tablet. Plus, its integration with an online image editor and video downloader allows users to edit pictures, videos, and more to boost their media content.
The undeniable success of Picuki stems from its groundbreaking ability to provide users with direct access to Instagram content without needing their account. This has revolutionized how we browse and interact with social media.
With this innovative solution, you can avoid the problem of inaccessible content. Unlike Instagram, users no longer have to log in to get a glimpse at something – they're free to explore without obstruction.
Get a glimpse of something irresistible.
what Picuki can and can't do on Instagram:
| | |
| --- | --- |
| WHAT PICUKI CAN DO | WHAT PICUKI CAN'T DO |
| Browse Instagram without logging in and without revealing your identity. | Browse Instagram in the carousel mode. |
| Offers photo editing features such as borders, cropping, stickers, filters, text and more. | Follow an Instagram account. |
| Sort popular Instagram posts by day & week. | Access or download from Instagram private accounts. |
| Explore trending Insta posts by hashtags | View live Instagram streams |
| Offers search Instagram posts by tags, locations and profile name and username | Comment or like on an Instagram post. |
| Can even access to verified celebrity Instagram accounts. | |
How Can I Use Picuki to View Instagram Profiles & Posts
With Picuki, you can easily view Instagram posts and profiles from around the world. Simply type in an Instagram username to gain access. Unlock a whole new universe of content just a few clicks away.
To best locate your desired individual, start by capturing their unique Instagram username for a 100% precise result. Alternatively, you can also use names and tags to find them.
Picuki's Official Website – https://www.picuki.com/
Let's take a peek into the incredible world of Daisy Keech, an international Instagram model, and fitness influencer. Follow along as we explore her profile views and posts to get an inside look at this social media sensation.
Make sure to save your Instagram stories for future viewing with our guide on the recording. Uncover the tips and tricks now.
Visit Picuki
Unleash your creativity with Picuki.com – launch a web browser app and navigate to their official site for endless photo editing possibilities.
Avoid the hassle of manually searching for Instagram profiles – copy and paste the username into Picuki's search box to browse through any profile easily.


Search any Instagram Username
Dive into your most creative endeavors with Picuki. Start your search now by pressing the Enter key – Picuki will present you with a list of usernames that could look similar. Make sure to select the exact match for an optimal experience.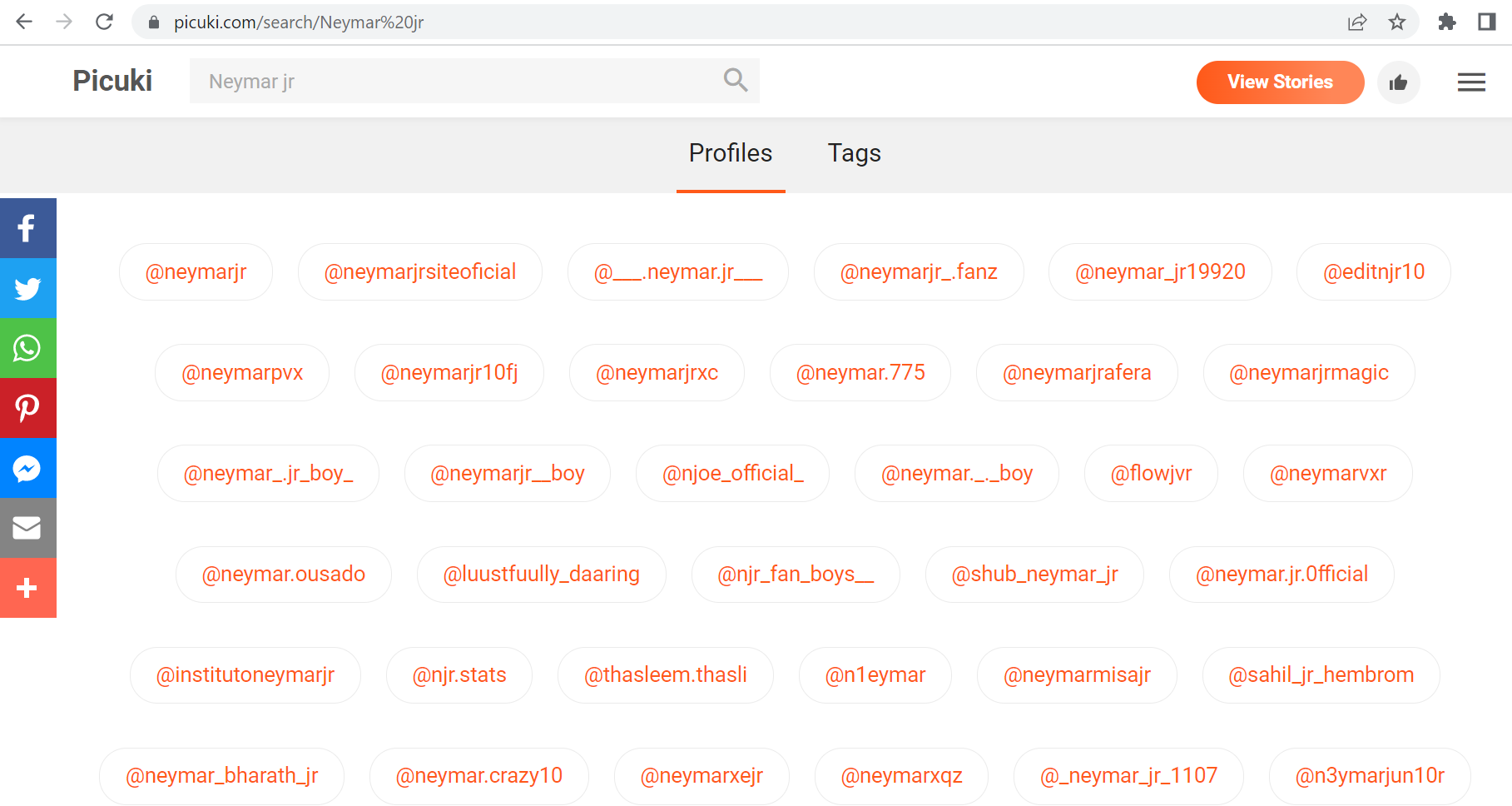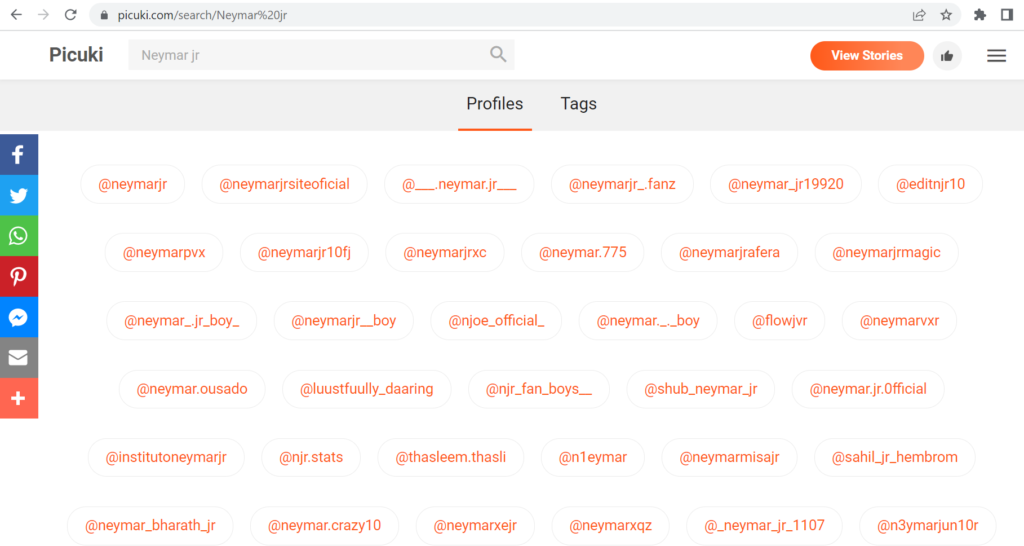 View Instagram Profile from Picuki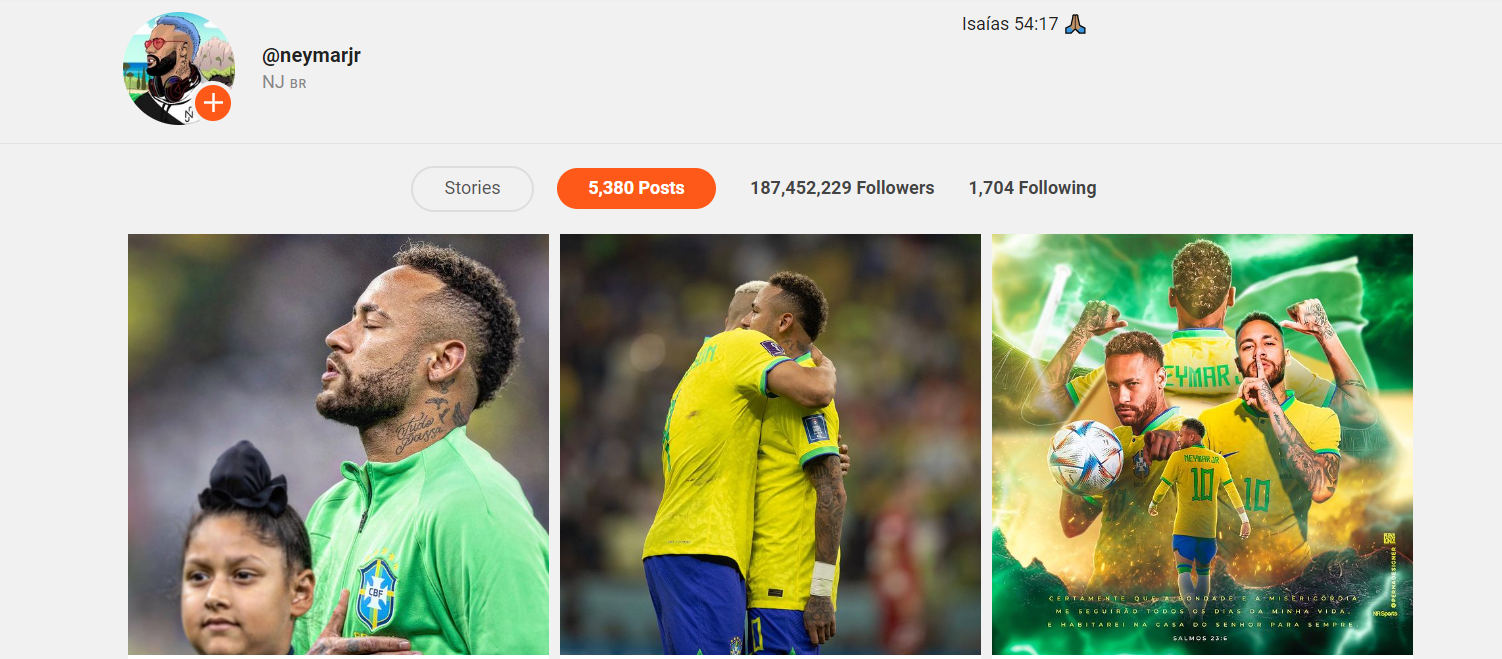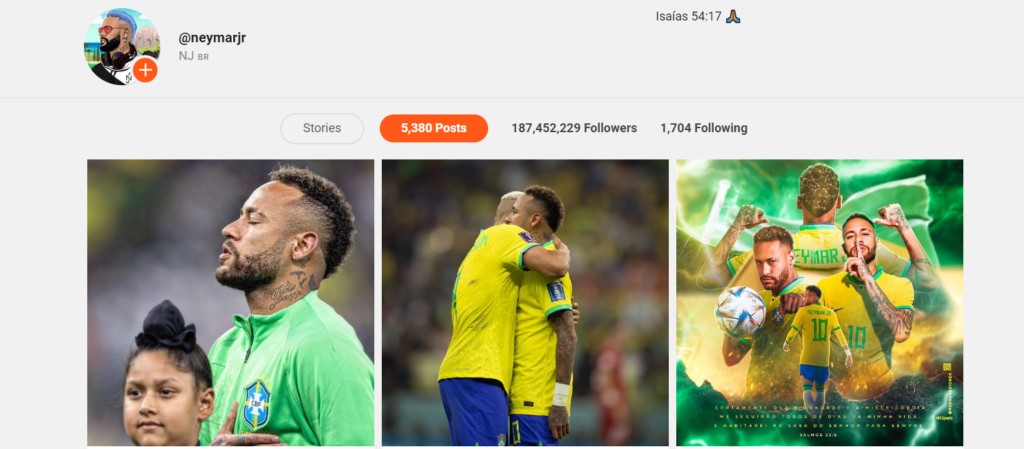 Get a sneak peek into Neymar jr world as his Instagram profile and posts are now available. Scroll to the bottom of the page, and hit Load More if you want more of Neymar's content.
Edit or Download an Instagram Post in Picuki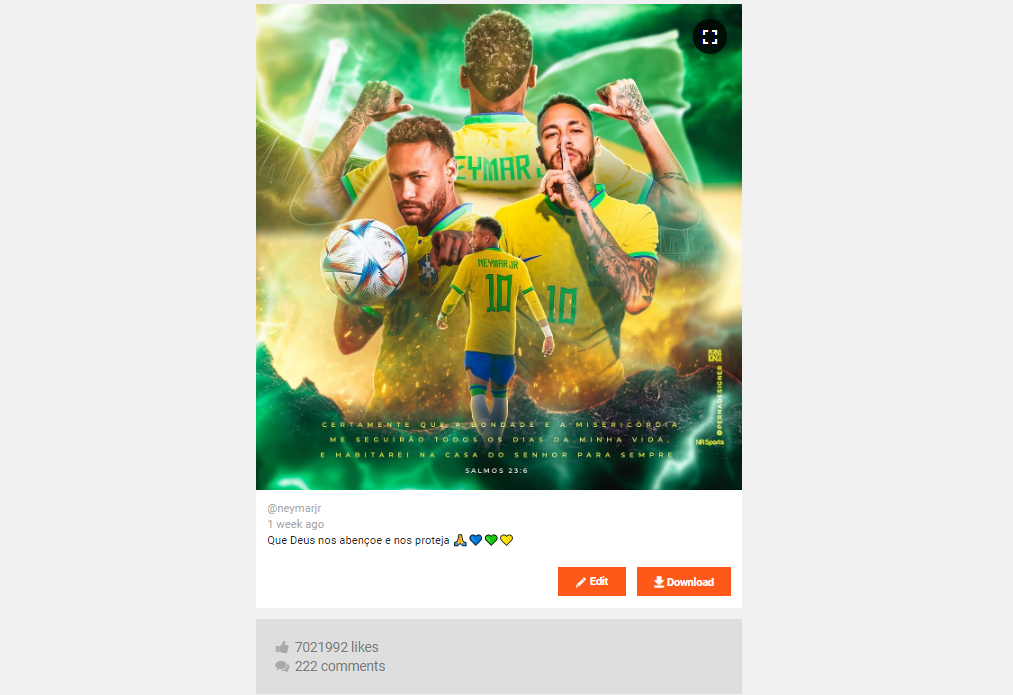 Unlock the power of Picuki's on the Instagram profile to customize and preserve your favorite images or videos. Click on any post, then choose the Edit or Download button for limitless potential.
ALSO CHECK: Best Instagram Video Downloader
What are the Benefits of Picuki?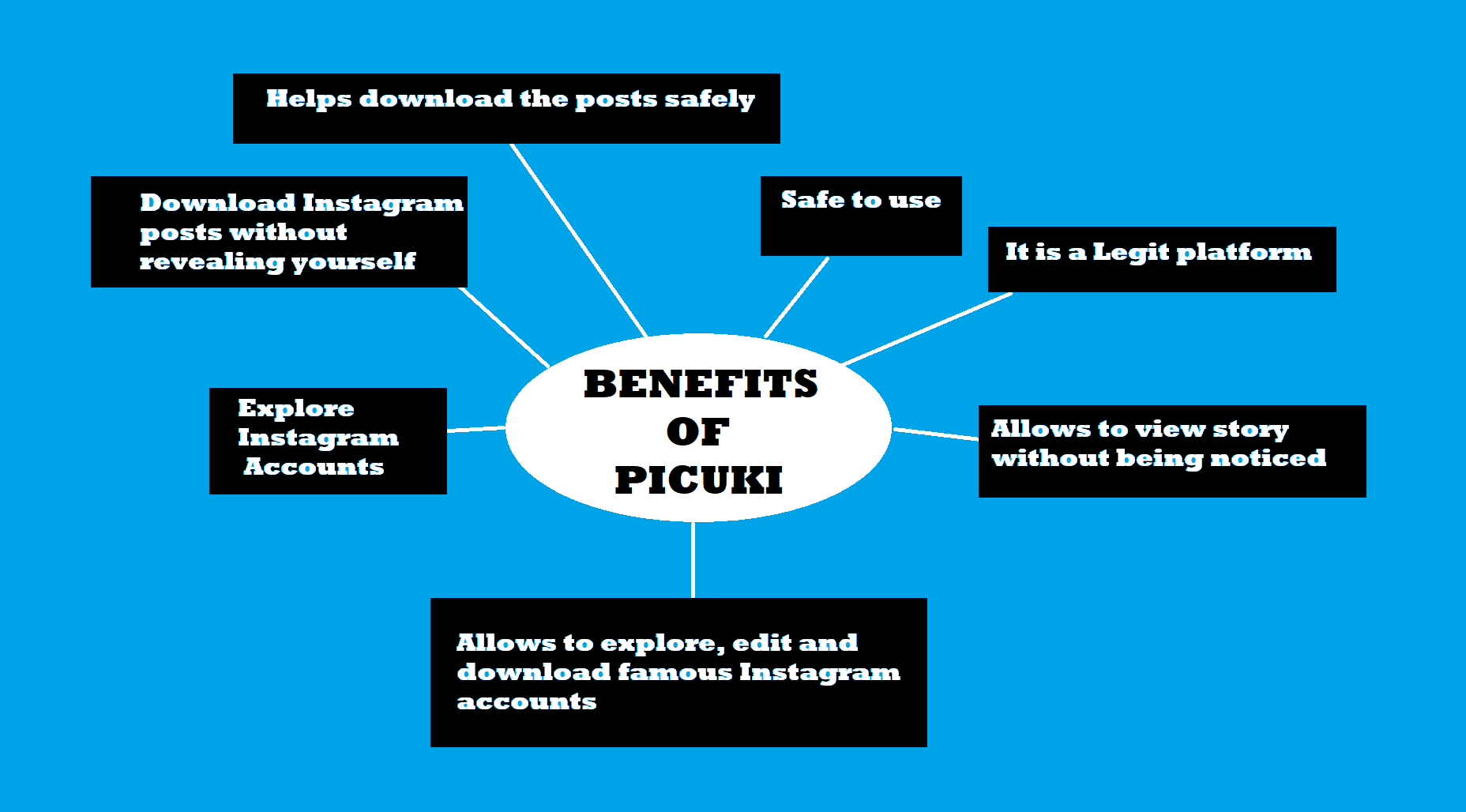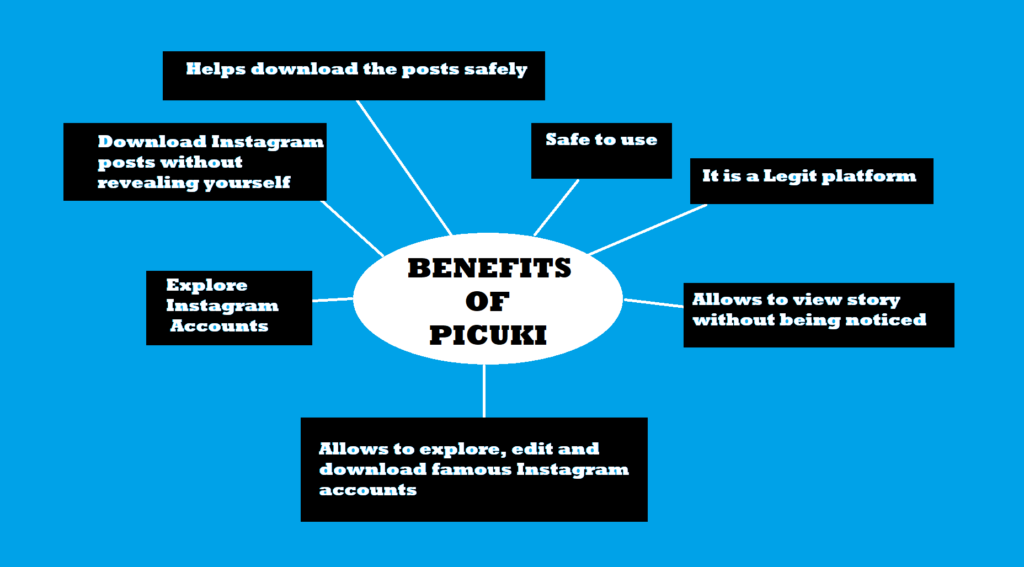 Allows you to download Instagram posts without revealing yourself.
You can check the user's history.
This allows you to save it on your mobile phone.
You can access the accounts without being revealed
Picuki helps download the posts safely.
You can use Picuki with Instagram that is a powerful and secure app that users can access for free, with no costs or fees.
It features an extensive selection of software, making it highly attractive to those looking for convenience and affordability when managing their accounts online.
Its simple setup also means that customers get up and running immediately, ensuring satisfaction all around.
Is Picuki Safe?
For those with an eye for safety, it is understandable to wonder whether it's possible to view Instagram profiles on a personal computer via Picuki. Fortunately, the answer is yes – your experience on Picuki will be secure and stress-free.
Our testing has revealed a reputable online presence for Picuki.com. Also the reviews on Scamadviser have earned Picuki an excellent rating of trustworthiness among users.
Picuki is a secure community, offering users peace of mind while they share and interact.
Is Picuki Legal?
Picuki guarantees unparalleled legitimacy and security when browsing the web. Picuki is fully compliant with laws and offers users full anonymity, ensuring their safety online without sacrificing convenience.
Instagram videos may not always be legally accessible for downloading. It's crucial to know whether you're abiding by local regulations when considering retrieving Instagram content via Picuki – copyright infringement could come into play if done without proper care and diligence.
ALSO READ: Best Instagram Marketing Tips to Grow Your Brand
Is it Anonymous If You View Instagram Using Picuki?
Top-level privacy is guaranteed when viewing Instagram profiles and posts with Picuki – ensuring complete anonymity.
Our results indicate that using Instagram in Picuki is a completely anonymous process. Users need not worry; their visits, and even the number of times they visit profiles, stories, posts, or hashtags, will remain undetected by profile owners – meaning no notification to alert them of any activity.
To maintain your browser data privacy, utilizing Picuki in Chrome's Incognito mode is an excellent choice. You can feel secure knowing your information won't be tracked or collected online.
How Can You View a Private Instagram Account Using Picuki
While Picuki is a great tool for exploring Instagram, it doesn't provide access to private accounts. So if that's your goal, you'll have to find an alternative solution to gain the necessary insight into these profiles. You will fail to view private Instagram accounts using Picuki.
ALSO READ: Best Social Media Marketing Tools For Successful Campaign
Picture Editing – A Complete Guide
With Picuki, you have the power to instantly and conveniently enhance your Instagram photos with a wide variety of editing features. Make the most out of every post on social media with this innovative tool.
With Picuki, transforming photos to perfection has never been easier. From cropping and adding filters to adjusting exposure and saturation, users can customize their images without downloading a program – the perfect tool for on-the-go photo touchups.
Plus, there are plenty of other Instagram downloaders that offer advantages as well.
You can view the story without logging in
You can now view Instagram stories on Picuki no matter where you are. All it takes is a few simple steps:
Visit the profile page of anyone whose story you'd like to view and tap "Stories" on your screen.
Access the story feature with a tap of your finger – hit the icon on the bottom screen.
Easy as that – enjoy Picuki without even needing to log in.
With the latest update, you don't need to sign in on Instagram to watch stories – it's as easy as tapping a button. If your story experience is interrupted by playback issues, fear not; download the video file, and voila – entertainment is ready at your fingertips. It doesn't get more simple than that.
Is There a Feature to See a Full Instagram Profile?
Take advantage of the benefits of Picuki, an often-overlooked platform. With it, you can gain access to a wide selection of images without membership. By browsing through profiles, you'll be able to view and download pictures from them – all while keeping your account off the social network radar.
With Instagram, you can dive into trending content anytime without creating an account – a great way to stay up on the digital pulse. Plus, since Picuki doesn't remember which sites you've visited or require registration in order to use it, nothing is standing between your exploration and discovering what's out there. All of this is free, whether using a desktop or mobile device.
Picuki offers users a convenient way to manage their Instagram accounts without needing to create an account. The platform allows individuals and companies alike, both onsite and online, access complimentary tools for viewing content associated with profiles, stories, and hashtags and observing followers' activity in real-time – all of which are made available at no cost.
If you're hoping to apply edits, be sure that your material is a photograph. Unfortunately, Picuki won't offer editing capabilities for Moments, Stories, or Videos – so bear this in mind before choosing content.
ALSO READ: Grow Your Brand With These Instagram Trends
How to find your favorite account?
Stay up-to-date with your favorite Instagram accounts even if you don't have an account yourself. Just head to the official website of Picuki. Enter the name of a profile in its search bar and start exploring its content – it's that easy.
With Picuki, you can customize your pictures in countless ways.
Choose from a selection of related accounts and explore the possibilities; crop it, adjust it or add stickers to make each photo unique.
Spice up your collection with funky filters and embellishments before downloading them directly to your phone's memory – let creativity be limitless.
Official Picuki Website Introduction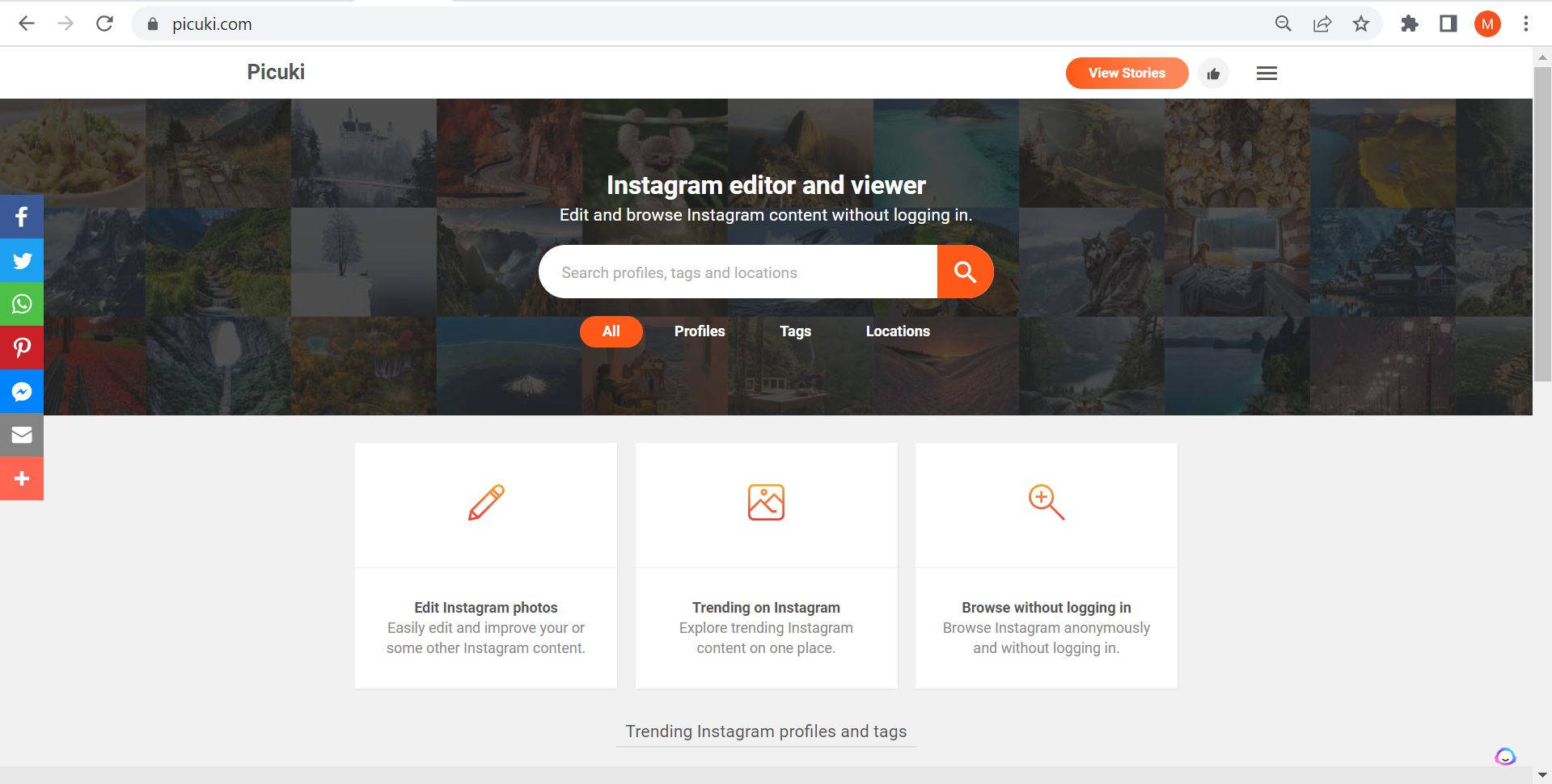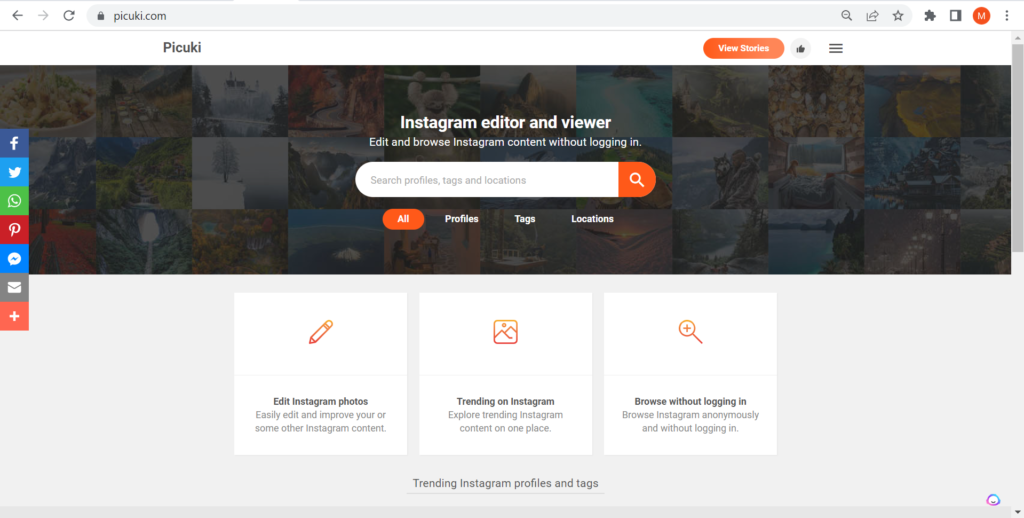 Open up Google Chrome on your phone or computer and head to Picuki.com, the renowned social media platform. Type https://www.Picuki.com into the address box before pressing enter – it's a quick route right to all that Picuki has in store for you.
Once open, explore what this popular destination holds via its easy-to-navigate menu bar at the top of the page.
Does Picuki Have a Mobile App
There is no dedicated app for Picuki. But Picuki can be a powerful program directly on your web browser without downloading an app. It's compatible with Apple iOS and other operating systems, so you have access wherever you are.
How Can You Boost Your Instagram Profile With Picuki?
With Picuki, you gain more than just followers. Use its features to discover people who share your interests and passions. And when it comes time to post that perfect snapshot of your furry friend or beloved bloom – edit away with the app's intuitive tools for professional-level results.
With the convenience of Picuki Instagram, you can easily stay up to date with what your friends and favorite Instagram users are sharing – all without needing a direct connection.
Whether you're looking for creative inspiration or want to keep track of conversation threads, downloading this easy-to-use app has covered it.
Keep up with your friends' lives by visiting and exploring their Instagram profiles in Picuki– there's so much you can do.
From simply viewing posts to enhancing them through cropping or adjusting brightness/saturation, it all adds a layer of interactivity when keeping in touch.
Is Your Personal Data Safe?
Picuki.com is a free, anonymous online app that allows users to access help without providing personal information like names and email addresses – making it completely secure.
If you choose to contact the Picuki site for assistance, they may ask for your details, such as name or phone number, to provide improved customer service experiences tailored just for you.
Picuki prides itself on ensuring the security and privacy of your information – users only need to submit details once, as regular virus scans safeguard all subsequent visits. Rest assured that your data is kept safe from any potential malicious intrusions.
What Are the Best Picuki Alternative Platforms
Looking to explore an Instagram account? Boost your viewing power with an alternative Instagram viewer app like Picuki that supports even the most secure accounts.
There are many Picuki alternative platforms that you can try to view Instagram Stories, posts, and profiles. Check out these best Picuki alternative Instagram viewer apps:
Inflact
SmiHub
StoriesDown
Gramhir
InstaXYZ
IGLookup
Watchinsta
InstaDP
4K Stogram
Dumpor
InStalker
Pixwox
StorySaver
Save Instagram
Glassagram
FastSave
Storiesgrams
Instasaved
Conclusion
We have endeavored to deliver Instagram users accurate and uncontested facts on Picuki -allowing editors and viewers alike to reach their valuable conclusions.
For those who want to explore the vibrant Instagram community without compromising their identity, Picuki is a must-try. With its impressively high-security ratings and use of discretion as priorities, this online service will give you the peek into other people's profiles you need with peace of mind that your privacy remains intact.
Picuki.com has stirred up a storm of debate due to its unique combination of being both fake and illegal – yet this hasn't stopped it from topping the charts as one of France's most popular sites.
We've done our best to unpack all the details for you, uncovering where Picuki is located, when it was created, how much traffic it draws in on average, and even estimating what we think it is worth financially. Get comfortable; join us as we delve into everything there is to know about such an intriguing site.
We're curious—have you explored Picuki yet? Let us know your thoughts.
FAQ
How Can I get Picuki?
Picuki makes it easy to edit photos on the go. Whether using their website or downloading the app, accessible exclusively through the Google Play store, your creativity will know no bounds.
Is Picuki Anonymous?
Picuki allows users to enjoy an anonymous experience while watching and downloading Instagram stories – no handle or trace can be linked back. Enjoy a safe, secure platform with discretion.
Can people see if I see their Instagram in Picuki?
With the ever-changing social media landscape, individuals are afforded unprecedented insight into who is perusing their profile. From photos and stories to videos, Instagram users can now get a glimpse of who stops by for a peek at what they post on this popular platform.
Julian Gutman, the product lead for Instagram Home, recently discussed how their platform is changing to keep up with social media trends.
He noted that many users now blend different platforms like Instagram and TikTok creatively. This has become a popular way of using multiple networks at once.
Is Picuki legal and safe to use?
Instagram anonymous browsing provides secure, easy access to all the great content that Instagram has to offer without any unintended consequences.
Help others by leaving your valuable review below and assist in keeping this site safe for everyone – or report suspected issues directly with the FTC. Your input could go a long way in helping protect innocent people from fraudsters.
How Can I see my following on Picuki?
Viewing official account profiles has never been easier – with Picuki.
Just enter the username of your desired profile and select preference criteria such as 'All' or 'Profiles,' and Picuki will navigate you to the exact profile page. Try it out today for an effortless experience.
What is this site used for?
Picuki gives users the power to engage with all their favorite Instagram content without needing to log in. Using Picuki, you can look deeper into stories, profiles, posts, and more.
Plus, use it as an incredible tool for keeping track of followers or monitoring changes your friends have made on their profiles – effortlessly.
Everywhere from Reddit threads to public reviews claim that using Picuki is easy-as-pie and even recommend it across social networks. Get ready; let's jump right in.
Can I block people on Picuki?
Block those unwanted users from ruining your picuki feed quickly and simply. All it takes is a few taps on their profile page – click the three-dot menu in the upper-right corner, then select "Block" to keep peace of mind.
When I View Other's Instagram on Picuki, Can they Notice its Me?
Looking for an Instagram story without leaving a trace? Let Picuki help.
View stories on the platform and remain anonymous – no more footprints or marks. Enjoy peace of mind while exploring social media with Picuki's safe, anonymous viewing experience.
Is it possible for me to see the Private Instagram Accounts on Picuki (personal account)?
Unlock the key to seeing private Instagram posts. You can use a few tricks that have already been demonstrated on YouTube. Get access to content from those exclusive "key red" accounts now.
Can you tell me if Picuki is a real person or not?
Enjoy the privacy of viewing photos and stories without being tracked – it's all part of our commitment to your security.
What is the cause of Picuki's failure?
With the demand for Picuki increasing rapidly, loading and functionality issues have arisen. Troubleshoot these problems quickly by clearing your browser cache or app associated with it – this should get you back on track in no time.