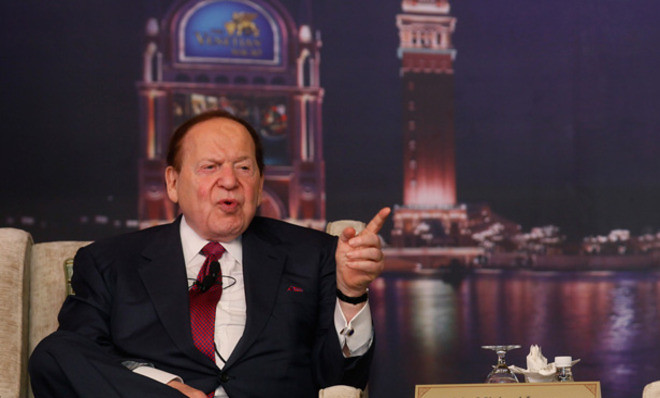 Sheldon Adelson Net Worth: $40 Billion
Date of Birth– August 4, 1933
Gender– Male
Profession– Entrepreneur, Real estate development, businessperson
Nationality– United States of America
Have you ever wondered who the king of the casino world is? That is Sheldon Adelson. Here in this post, we will discuss everything about Sheldon Adelson's life, net worth, career.
Sheldon Adelson Net Worth:
Sheldon Adelson was an American political power broker and businessman with a net worth of $40 billion at the time of his death in 2021. He earned this fortune as an owner of a casino company named Las Vegas Sands. However, he was 55 years old when he first entered this business. Prior to this, Sheldon has started 50 different businesses and finally struck his luck with co-founding COMDEX, which is a computer trade show. COMDEX was founded in 1979 by him and his four more partners.
After buying Las Vegas Sands in 2004 net worth of Sheldon Adelson grew up to $1 million per hour, including nights, weekends, and holidays.
Some of the most notable properties of Las Vegas Sands are The Palazzo in Las Vegas, The Venetian Macao, The Venetian in Las Vegas, Las Vegas Sands and Marina Bay Sands in Singapore.
Sheldon is famously called the "rags to riches" billionaire; however he has always had issues with that description of him. Outside the gambling business, Adelson is known for his involvement with Israeli and Jewish organizations and charities.
He was the owner of several American and Israeli newspapers. However, his support for Republican Politicians is what got him more attention outside of the gambling industry. Presidential hopefuls would always fly to Las Vegas to impress him.
In 2004 Adelson gave $92 million to Super PACs and campaigns that supported Republicans. Sheldon announced that he would spend $100 million in order to prevent Barack Obama from winning the second term in 2012.
During that, he, along with his wife, donated about $93 million to the Republicans. Miriam and Sheldon gave $82.52 million in 2016 and $123.25 million in 2018 to republicans. In the election cycle of 2020, Sheldon made a donation of $173 million to Republicans. This donation made him the largest political donor in the world.
Read More- How Much is Jerry Seinfeld' Net Worth?
Early Life
Adelson was born on August 4 of 1933, as Sheldon Gary Adelson in Boston, Massachusetts. He was raised in a Jewish family with Democrat leanings and immigrant roots on low-income with a flat of just two rooms.
Children's used to sleep on the floor, and parents slept on the mattress. Sheldon was 12 years old when he started his entrepreneurial career. After he borrowed $200 from one of his uncles, he started selling newspapers. He was 16 when he borrowed $10,000 to start his own vending machine business.
He dropped out of college and joined the army, after which he started doing numerous businesses and increased his net worth gradually to become a millionaire in his 60's. Unfortunately, he lost his fortune twice during this period but earned it back again. His early businesses included selling toiletries, mortgages, and magazine ads, etc.
Career:
Adelson's entrepreneurial success happened due to the computer trade show COMDEX, which he co-founded in 1979. The funding of the company was timed perfectly, and within a few years, the computer industry was about to go behemoth from non-existent.
Within ten years, the company was about to make fortunes for people like Steve Jobs and Bill Gates, who debuted their product using COMDEX.
Once it became the biggest ever computer trade show in the world, Adelson sold his business to SoftBank Corporation in 1995 for $862 million. He personally received a sum of $500 million.
Read More- What Is The Total Nas Net Worth?
Casino Tycoon:
Sheldon Adelson in 1989 purchased Sands Hotel and Casino with his partners in Las Vegas for $128 million. Their plan was to make their own convention space for COMDEX, so they do not have to rent space from others.
In 1995 after they sold COMDEX, with $500 million and $1.5 billion bank credit Adelson imploded the entire Sands hotel and spent $1.5 billion to build Venetian Resort Hotel Casino. He also made an all-suite Venice theme resort casino and hotel.
Venetian is said to have revolutionized the Las Vegas Hotel industry forever. Gone were the days of ratty motels and cramped rooms. After this hotel, plenty of grand hotels and resorts came into the picture with palatial palaces and casino floors that looked like stepping into luxury.
In 2007, Sheldon paid $265 million for a Casino in Macau, which was situated off coast in Hong Kong. He spent $2.4 billion on constructing a 39-story casino/hotel. This came to be the seventh-largest building in the world. The casino floors were equal to ten football fields.
Over the course of the next few years. Adelson created various convention centers and casino projects throughout the world. He eventually expanded into Macau, known as the gambling city of China and the world, and this led to many more projects in Singapore.
In 2020 Sheldon was controlling 54% of LVS. LVS is the largest casino operator in the world. This company controls numerous resorts, casinos, and convention centers in the US and Asia. It generated $14 billion annual revenue on average.
Adelson's wife wished to purchase 87.5 million common shares with totals of $525 million in 2012. In 2005 and 2006, Sheldon sold $3 billion worth shares, and next year, he had a $1 billion cash gift. Sheldon then purchased and destroyed the Las Vegas Sands by spending $1.5 billion to make the Venetian.
Losses incurred 2008:
The wealth of Sheldon Adelson was reduced to half in the 2008 financial crisis. As the economic recession hit, the shares also dropped for Las Vegas Sands Corp. In 2008 he lost $4 billion, which was the largest loss suffered by an American billionaire in this period. In 2009 Sheldon Adelson lost $28 billion
Read More-How Rich Is Tina Turner?
Relationships:
In 1970 Sheldon Adelson married Sandra, his first wife, and together they adopted three children from her previous marriage. In 1988 they got a divorce, and shortly after Sheldon met Miriam Farbstein, who was a doctor, they got married in 1991 and had two children.
Health Concerns:
Sheldon Adelson was diagnosed with peripheral neuropathy in 2001, which is a disease that affects the spinal column and peripheral nerves in the brain. This reduces his ability to walk or stand for a long time.
In 2019 he started getting treatment for non-Hodgkin's lymphoma, which is a blood cancer responsible for enlarging lymph nodes, tiredness, and fever. Despite facing so many health concerns, Andelson continued to be the CEO of Las Vegas Sands.
Real Estate:
Sheldon Adelson started establishing a considerable presence in the Malibu Colony. This colony is gated with private beaches and 120 houses of affluent individuals and various high-profile celebrities.
Adelson was happy initially by owning a property in the necklace, but in 2013 he started to purchase nearby houses. Starting with the purchase of two properties for $13.3 million, which belonged to Soap Opera creator Lee Philip Bell.
He continued with the purchase over the next few years and spent more than 490 million on nearby properties. By 2020 he acquired nine houses in Malibu Colony and the last one being for $16.9 million.
Sheldon Adelson also has a good real estate presence in Las Vegas. He is obsessed with his properties in Malibu, and his main residence is spread 44,000 square feet in Las Vegas. This property has its own water park in the backyard. This is one of the largest pirate residencies in Clark County, Nevada.
Read More- Fashion World of Tommy Hilfiger and His Net Worth
Death:
Sheldon Adelson died when he was 87 years old on January 11, 2021. The main cause of his death was complications due to non-Hodgkins lymphoma, a type of blood cancer.