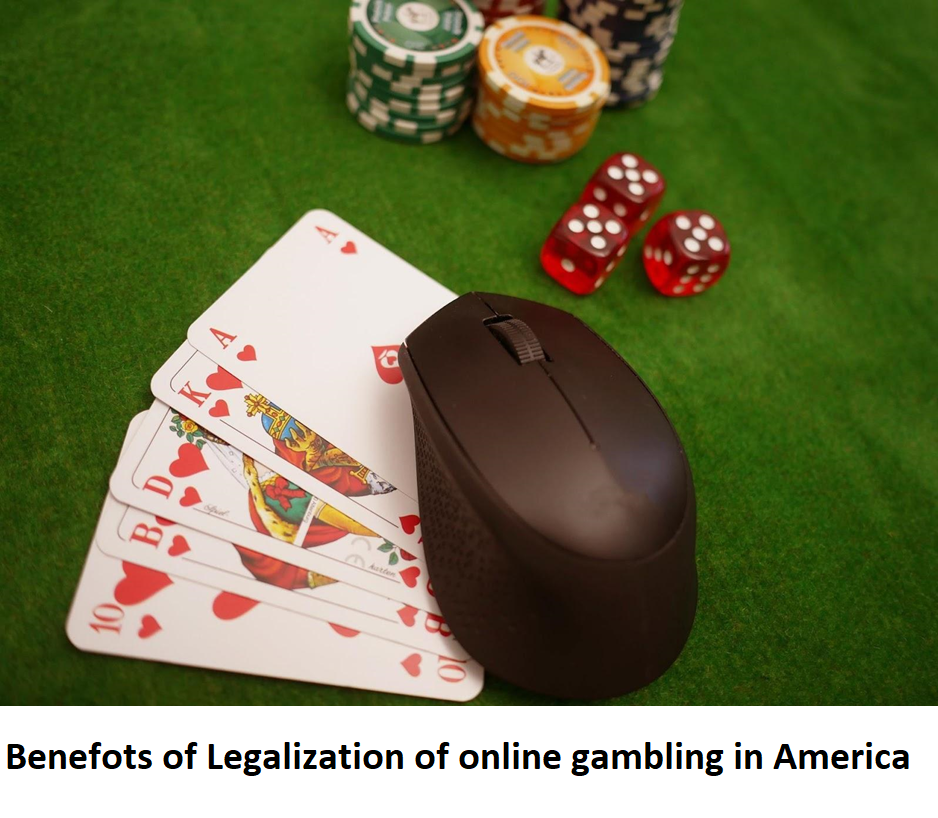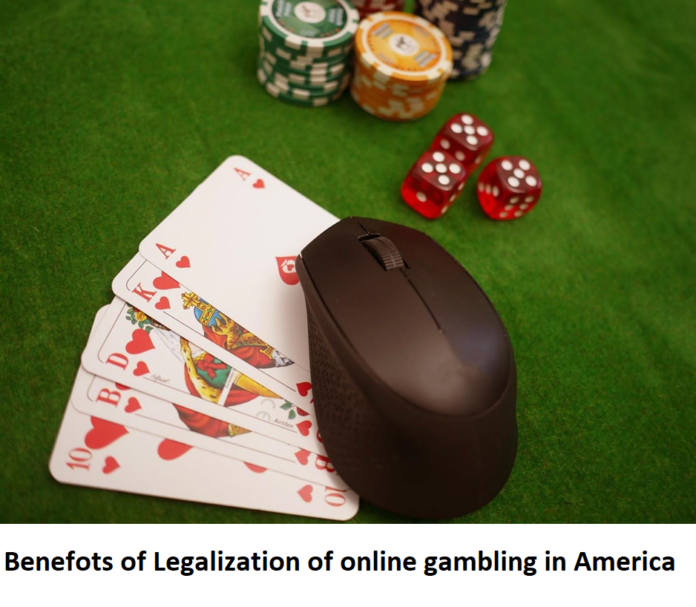 Legalizing online gambling in America has been debated for many years. However, in recent years, more and more states have begun to legalize online gambling, citing the potential economic benefits and new opportunities it can bring.
One factor that has contributed to the recent growth of online gambling is the COVID-19 pandemic. With many people stuck at home and looking for ways to pass the time, online casinos saw a surge in popularity. This increase in demand has only further highlighted the potential for online gambling to generate significant revenue and attract new players.
Because of this, several states are pushing to legalize online gambling to tap into this expanding industry. While the pandemic may have been a catalyst for this trend, the ongoing Legalization of online gambling is expected to continue driving growth in the industry for years to come.
Moreover, the Legalization of online casinos will also bring about several economic benefits for the people. From increased tax revenues to creating new jobs, the wagering industry promises to provide amazing economic benefits for every American. 
Benefits and Opportunities of Online Gambling Legalization in America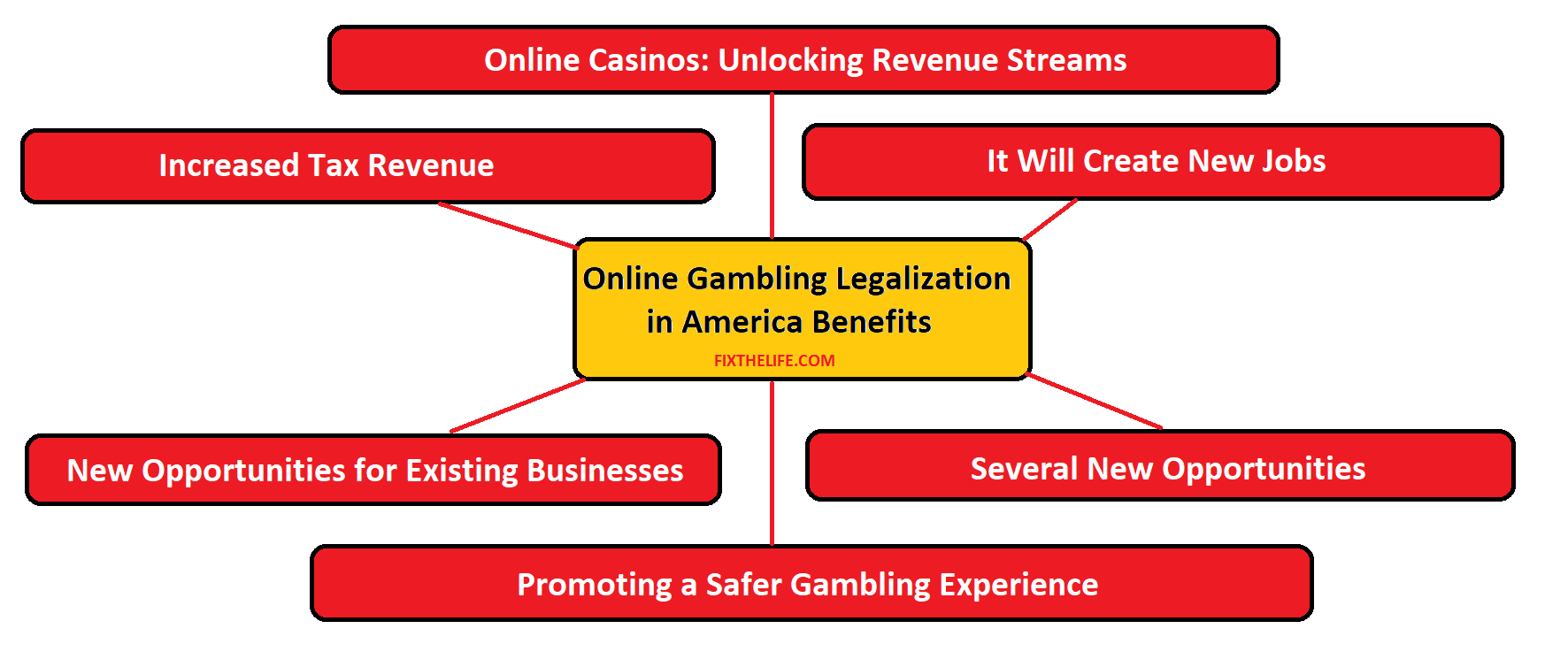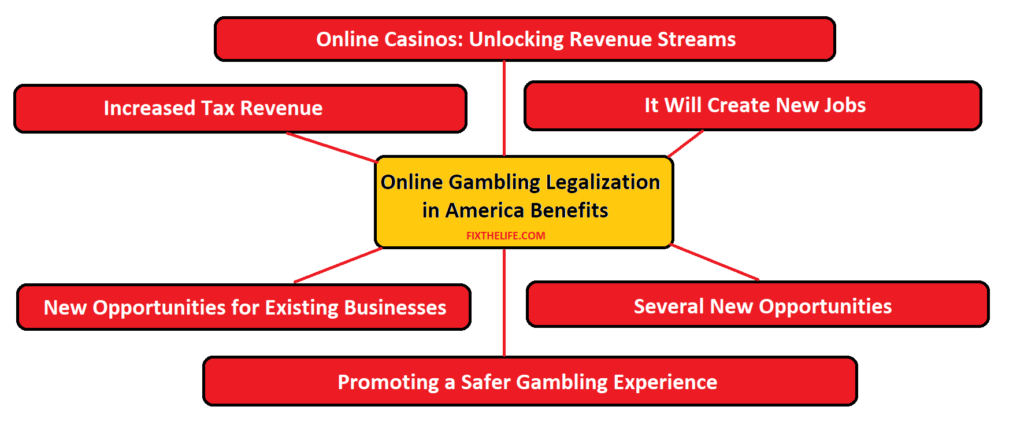 Increased Tax Revenue
One of the primary economic benefits of online gambling legalization is increased tax revenue.
The online gambling industry is estimated to be worth billions of dollars, and by legalizing it, states can collect tax revenue from online gambling operators. This revenue can fund public services such as education, healthcare, and infrastructure. 
In 2022, the gambling industry in the United States generated a gross gaming revenue of 60.42 billion U.S. dollars, which marks a rise of over seven billion U.S. dollars compared to the previous year.
Casino slots and table games were the top revenue-generating segments, per the U.S. breakdown of gross gambling revenue.
Creation of Jobs
Several new positions will also be generated in addition to this. Both physical and virtual casinos need a large workforce, ranging from dealers and pit managers to web developers and customer support agents.
By legalizing online gambling, states can create new job opportunities and stimulate economic growth.
According to a report from iDEA Growth, New Jersey's online gambling sector generated 1,851 jobs within the state and contributed $52.3 million in taxes in 2018.
New Opportunities for Existing Businesses
Online gambling legalization can provide new opportunities for existing businesses. For example, hotels and casinos can expand their offerings by offering online gambling options, providing customers with a more comprehensive gaming experience.
The market size, measured by revenue, of the Casino Hotels industry is $80.9bn in 2023 and is expected to increase by 2.7% by the end of this year.
Additionally, online gambling legalization can lead to new businesses specializing in online gambling operations.
However, people will always want the whole casino experience, and online gambling can help with that.
Furthermore, as more states legalize online gambling, there is a chance that new casinos will be available in previously off-limits areas.
Online Casinos: Unlocking Revenue Streams 
Online casinos can offer many games and betting options to attract customers. This means not just sticking to traditional casino games like blackjack and roulette but also offering sports betting and other forms of gambling.
The more options a casino has, the more likely it is to attract a diverse customer base and keep them returning for more.
As more states legalize online gambling, some of the biggest iGaming operators like BetMGM Casino and others will want to expand their reach.
It is likely that BetMGM online casino will probably launch in N.Y., one of the country's largest and most lucrative online gambling markets.
This is just one example of how the ongoing Legalization of online gambling creates new opportunities for businesses and investors.
As more companies enter the market, consumers will have more options, which could further increase demand and drive growth in the industry. 
Bonuses and promotions are just another way online casinos can appeal to a large customer base. These are a staple of the online gambling world, and they can help attract new customers and keep existing ones loyal.
Rewards can come in many forms, such as matching a customer's first deposit or offering free spins on a slot machine. Promotions can include things like prize draws and leaderboard competitions.
All these things can help keep customers engaged and loyal to the brand. Also, online casinos can look to expand into new markets. As mentioned earlier, the Legalization of online gambling in America is still in its early stages.
Many states have yet to legalize it, and there are even some countries outside of America where online gambling is illegal. By expanding into these new markets, online casinos can tap into new sources of revenue and continue to grow.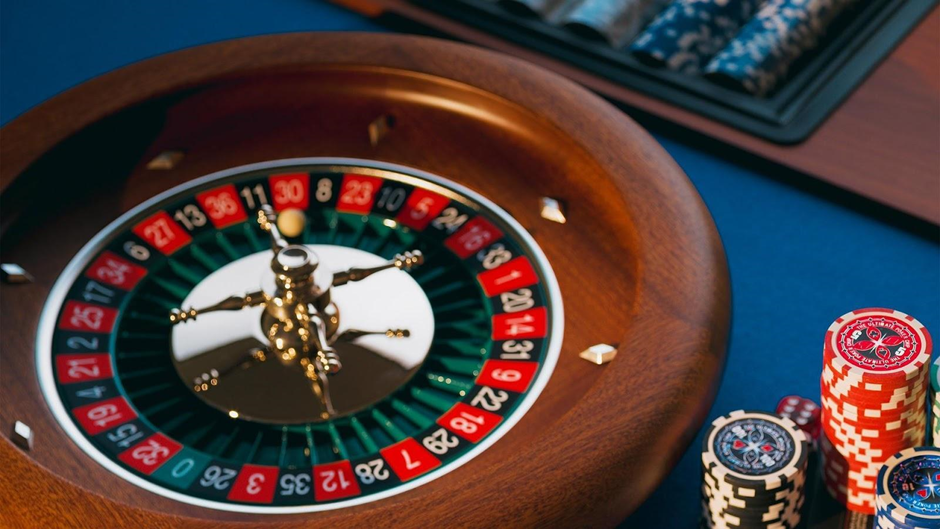 New Opportunities 
One of the most significant opportunities is its innovation potential. Online gambling might still be a newcomer, but it's already making serious waves.
The rise of virtual reality casinos provides a new dimension to the players. These immersive digital gambling worlds are revolutionizing the game and allowing players to get lost in a fully-realized casino environment without ever leaving their homes.
Recent reports indicate that the potential growth difference of the VR gambling market has increased by USD 1.74 billion.
The report also predicts that the market will experience an accelerated growth momentum with a compound annual growth rate (CAGR) of 53.13% during the forecast period.
ALSO READ: Online Casino V/S Offline Casino: Which is Better?
Promoting a Safer Gambling Experience
Regulated and legalized online casinos offer a safer and more secure gambling experience and employ responsible gambling practices at the center of their operations. With the legalization of online gambling, there's the potential for more regulation and oversight.
This can include setting deposit limits, offering self-exclusion options, and providing resources for people struggling with gambling addiction.
With legalized online gambling, some of the revenue generated can go towards promoting responsible gambling and providing resources for individuals who may be struggling with problem gambling.
Summary
Overall, the ongoing widespread legalization of online gambling in America will significantly impact the economy and the gambling industry. While there may be concerns about the potential adverse effects of gambling, many laws are being put in place to ensure that operators and states promote and enforce responsible gambling. If done right, online casinos have the potential to generate billions of dollars in revenue that can be used to invest in the creation of new jobs, funding education, supporting public services, and attracting more tourists.