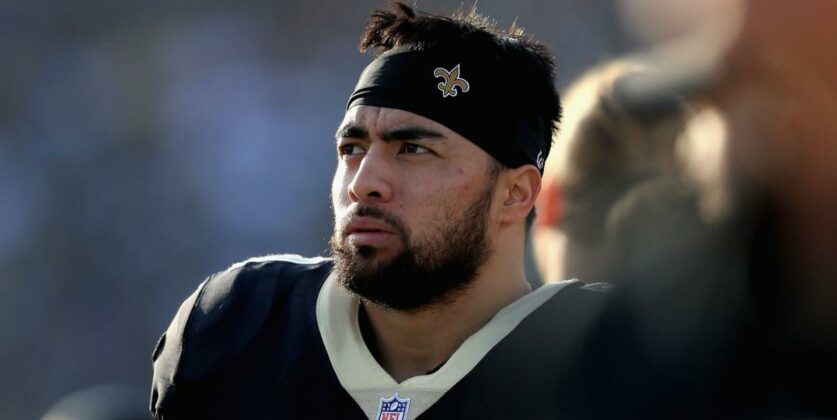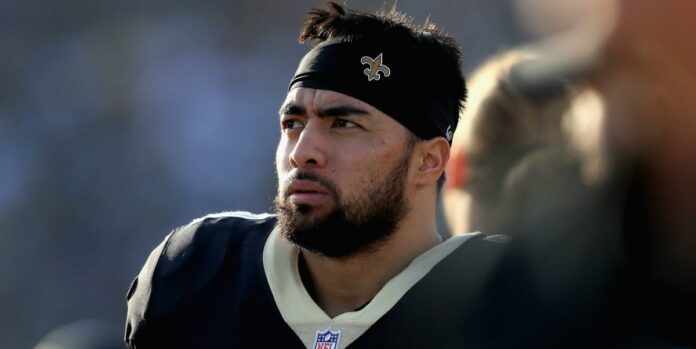 Manti Te'o, a former NFL linebacker, has a net worth of $3.5 million. Let's explore how he earned money through his career, endorsement deals, investments in startups, real estate, and the stock market.
Manti Te'o, a former American football player, was born on January 26, 1991, and stands 6 feet 1 inch tall (185 cm). He played as a linebacker and gained recognition as one of the top amateur players in the sport. During his college years, he was part of Notre Dame's football team and earned the prestigious title of consensus All-American.
Te'o's professional career spanned from 2013 to 2021, during which he played for the National Football League (NFL) teams, including the New Orleans Saints, Chicago Bears, and San Diego Chargers. Originally from Laie, Hawaii, Manti Te'o has Samoan heritage.
If you're interested in knowing Manti Te'o's net worth, we can examine his contracts and career earnings to understand his current financial situation.
Manti Te'o Net Worth
| Aspect | Details |
| --- | --- |
| Net Worth | $3.5 million |
| Born | January 26, 1991 |
| Nationality | American (born in Laie, Hawaii, USA) |
| Millionaire at Age | 22 |
| Occupations | American Football Linebacker |
| Sources of Wealth | NFL Earnings and Endorsements |
| Asset Classes | Startups, Real Estate, and Stocks |
Manti Te'o's NFL Earnings: How He Made His Money
Let's talk about Manti Te'o's exciting journey in the NFL. From 2013 to 2021, he played for the San Diego Chargers (later known as the Los Angeles Chargers), New Orleans Saints, and Chicago Bears, showcasing his talents.
Despite facing injuries and controversies, he made an impact with 400 career tackles and two interceptions.
It all started when the San Diego Chargers drafted Manti after the 2013 NFL Draft. He signed a four-year contract worth $5.2 million with a $2.14 million sign-up bonus.
However, his rookie season was challenging, with injuries and inconsistent form affecting his performance. Then, in 2016, an Achilles tendon rupture marked the end of his time with the Chargers.
Next, Manti joined the New Orleans Saints in 2017 on a two-year contract, earning around $5 million.
He impressed everyone with 62 tackles in his first season, but injuries limited him to only 18 tackles in five games in 2018. His earnings reached a peak of $1.7 million.
In 2020, Manti became part of the Chicago Bears practice squad. Despite playing only one playoff game before his contract ended in January 2021, he still earned a salary of $132,000.
After such an exciting journey in the NFL, Manti considered exploring new opportunities beyond football. Reflecting on his career, he had a successful run in professional football, leaving an impressive record during his time in the league.
Earnings breakdown
Manti Te'o's estimated net worth is approximately $3.5 million, mainly from his earnings as a football player and endorsement deals.
He made over $18 million from his salary and endorsement agreements throughout his career. He earned the most in 2017 when he played for the New Orleans Saints.
Let's delve deeper into how his earnings were split between his NFL salary and endorsement deals.
Manti Te'o NFL salary and endorsement deals
During his NFL career, Manti Te'o earned an impressive salary of over $10 million.
His best-earning year was in 2017 when he played for the New Orleans Saints, but he made his lowest salary during his short stint with the Chicago Bears, receiving $132,000.
Despite facing challenges and controversies in his career, Te'o's substantial NFL salary significantly built his net worth.
In addition to his salary contracts, Te'o also received extra earnings, including a signing bonus of $2.7 million, a roster bonus of $1.6 million, a workout bonus of $100,000, and an incentive of $80,789.
These earnings and his salary significantly contributed to his overall wealth, making him a subject of interest among his fans and followers.
Aside from his NFL salary, Manti Te'o earned money through endorsement deals with companies like Nike and Subway.
Although his endorsement earnings were not as high as some other NFL players, they still added to his overall net worth. In 2015, Te'o's endorsement earnings were approximately $150,000.
For those interested in following Te'o's path in real estate investments, Fund That Flip offers income-generating opportunities with an average annualized return of over 10.8%.
How Manti Te'o invests
During his NFL career, Manti Te'o diversified his investments by putting his money into different areas, like tech startups, real estate, and the stock market. Now, let's explore the various types of assets he has chosen to invest in.
Startups
Manti Te'o has invested his money in different tech startups, including a ride-sharing app, a food delivery app called GrubMarket, a virtual reality company called Jaunt, and a mobile gaming platform.
He has also invested in Banksy's artwork, which can be a profitable venture in the art world. These investments in new and exciting technologies have the potential to significantly increase his net worth if any of these ventures become successful.
Although investing in tech startups can be risky, Manti Te'o is confident that his investments will pay off in the long run. He has thoroughly researched each company he invested in and believes in their potential for success.
Real Estate
Manti Te'o has also invested his earnings in real estate. He owns a house in San Diego and a property in Hawaii, contributing to his overall net worth.
Investing in these properties can be smart because their value can increase over time, and Manti Te'o can earn a steady income from them. The best part is that you can invest in real estate with little money.
Stocks
Manti Te'o has added investments in the stock market, making his investment portfolio more diverse. By spreading his money across various assets, he increases the chances of keeping and growing his net worth.
Investing in Elevate FOHF can offer you diversification across different alternative asset classes, which may lower risks and potentially lead to higher returns.
Investing in the stock market is a wise decision to diversify your portfolio and increase the likelihood of maintaining and growing your net worth. However, learning how to protect yourself from a market crash is crucial when thinking about investing.
Manti Te'o Career
Manti Te'o's football career didn't reach its full potential. It took him a while to get drafted into the NFL, and finally, in 2013, he became the 38th overall pick for the San Diego Chargers.
They offered him a four-year contract worth $5 million. Unfortunately, he suffered an injury in the first preseason game, which affected his performance in several subsequent matches.
Despite the setback, he made his NFL debut against the Houston Texans and ended the year with 61 tackles. In the following years, he consistently scored around 60 tackles per season but faced another injury in 2016.
Later, Manti Te'o was traded to the New Orleans Saints after being placed on the injured reserve list.
He signed a two-year deal with the new team and eventually led the league in tackles for loss in 2017. In 2019, he briefly joined another team during the season.
In 2020, Te'o became part of the Chicago Bears practice squad. He moved to the team's active roster in 2021 and played against the New Orleans Saints that year.
However, his practice squad deals with the Bears ended in January 2021, which marked the conclusion of his NFL career.
Manti Te'o Wife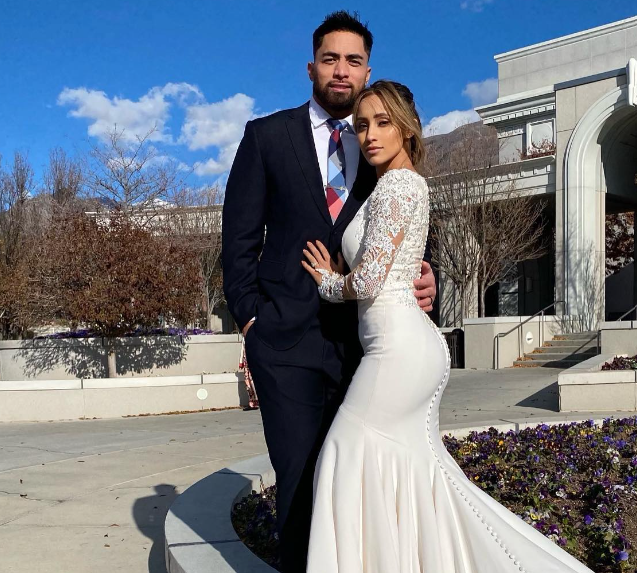 In 2016, Manti Te'o began dating his trainer, Jovi Nicole Engbino, who also works as a beauty consultant. They got engaged in February 2020 and married in San Diego, California, on August 29, 2020.
The couple welcomed their daughter, Hiro Te'o, on August 12, 2021, and they are excitedly awaiting their second child's arrival. Manti often shares pictures of their vacations together on his social media profile.
Manti Te'o first gained widespread attention due to a catfishing scandal in 2012. In September of that year, he publicly revealed that his girlfriend, Lennay Kekua, had tragically passed away in a car accident.
However, following an investigation by reporters, it was discovered that Lennay Kekua was not a natural person, and the one behind the messages was someone named Ronaiah Tuiasosopo, who was acquainted with Manti.
At first, there were suspicions that Manti might have been involved in the deception, but it later became evident that he was a victim of catfishing and was entirely innocent.
In August 2022, Netflix released a documentary titled 'Untold: The Girlfriend Who Didn't Exist,' centred around Manti Te'o's experience with the scandal and its consequences.
Netflix documentary
The Netflix documentary, "Untold: The Girlfriend Who Didn't Exist," looks into the 2013 catfishing scandal involving Manti Te'o.
The documentary highlights Te'o's bravery and how he handled the situation, showing the caring side of the former NFL player and his journey during the scandal.
Even though the scandal affected his public image, the documentary shows how strong and resilient Te'o is when facing challenges.
Despite facing setbacks like injuries and the well-known catfishing scandal, Te'o built a net worth of $3.5 million through his NFL salary, endorsement deals, and wise investments.
Manti Te'o Net Worth in 2023
FAQs
How to pronounce Manti Te'o?
You can pronounce his name as "Man Tie Tay Oh"
What was Manti's earnings in the NFL?
Manti Te'o had a successful NFL career, earning $10.4 million in salary over the years.
How much does Manti Te'o make a year?
Throughout Manti Te'o's NFL career, he earned an impressive $10.4 million, and his highest salary was in 2018 when he signed a two-year contract with the New Orleans Saints worth $5 million.
What is Manti Te'o's net worth?
According to Celebrity Net Worth Manti Te'o's estimated net worth is $3.5 million.
Read More: Bruce Willis' Net Worth: A Look at His Impressive Net Worth and Earnings from 'Die Hard' and Beyond