This MacBook 12in M7, model number a1534, is very similar to the MLHA2LL/A and MLHC2LL/A models. However, it has a different configuration with an upgraded processor compared to the base models of the 2016 MacBook. We have listed it separately to make it easier to categorize and understand.
The MacBook 12in M7 was the first one released in 2016. It has a 12-inch screen is powered by a 1.3 GHz Intel Core m7 Skylake processor (M7-6Y75).
The aluminium casing of this MacBook 12in M7 is available in many colours, like gold, space grey, and rose gold.
MacBook 12in M7's battery life has improved compared to the last models. It also has an upgraded graphics processor, the Intel HD Graphics 515. The MacBook 12in M7 comes with macOS 10.11.4 pre-installed but can be upgraded to macOS 12.
Specifications of MacBook 12in M7
Here are some specifications of the MacBook 12in M7 that you should consider before buying: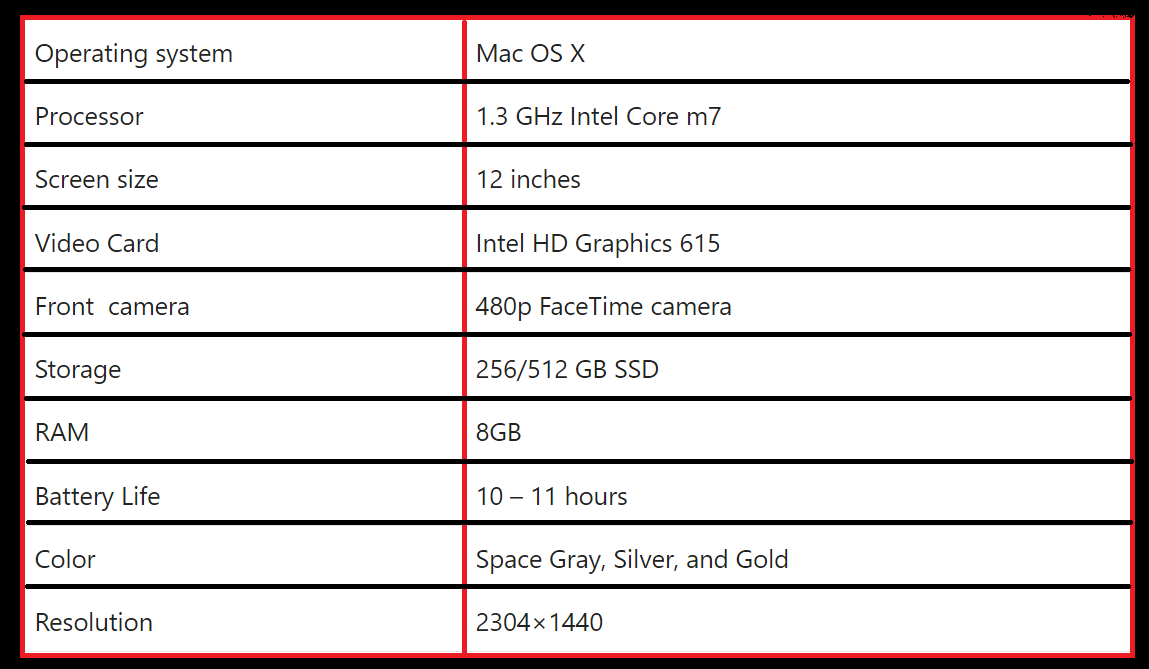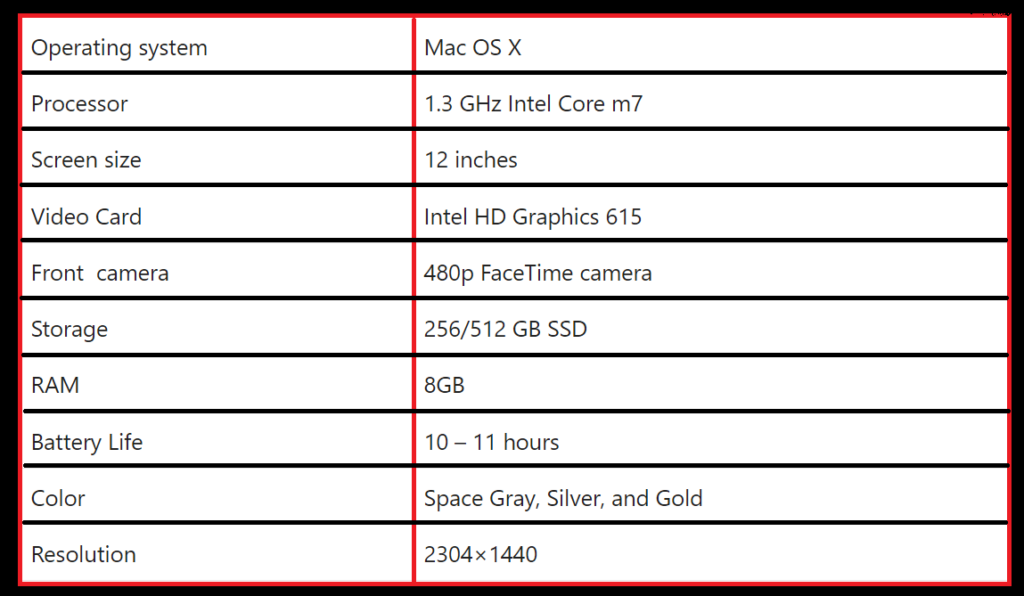 Storage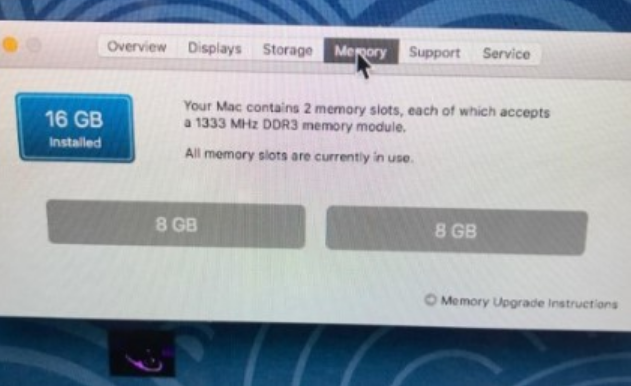 The storage capacity of this device is 256 or 512 GB, a type of storage called PCIe-based flash. It has a motherboard which means that it cannot be upgraded.
The speed at which data is read and written to the storage drive is estimated to be between 845 and 947 MB per second.
Screen Size and Resolution
The screen of this MacBook 12in M7 is 12 inches in size. It has a high resolution of 2304 x 1440 pixels and has a new type of display called TFT LED-Backlit active-matrix "Retina."
This display allows for clear and vibrant colours with a pixel density of 226 pixels per inch. This means pixels are not easily visible when viewing the screen from a normal distance.
The device also supports other screen resolutions, like 1280 x 800, 1440 x 900, and 1024 x 640. And it is possible due to IPS technology.
Things we liked about the MacBook 12-inch with m7 display:
The MacBook 12-inch features a stunning Retina display with a resolution of 2304 × 1440, delivering crisp visuals and sharp details.
One of the highlights of the MacBook 12-inch display is its commendable color accuracy, ensuring vibrant and lifelike color reproduction.
The wide viewing angles of the MacBook 12-inch display allow for an immersive visual experience, with clear and vivid images even from off-centre positions.
With its bright and vibrant screen, the MacBook 12-inch display remains easily readable and enjoyable under different lighting conditions.
Things we didn't like about the MacBook 12-inch with m7 display:
Unfortunately, the display on the MacBook 12-inch has a limited color gamut, which means it cannot showcase the full range of colors visible to the human eye.
The low contrast ratio of the MacBook 12-inch display may result in slightly dull or less impactful images, particularly in brightness and depth.
Compared to some other laptop displays, the MacBook 12-inch has slightly narrower viewing angles, leading to minor distortions or a washed-out appearance from specific perspectives.
Processor & Graphics Processing Unit (GPU)
The MacBook 12in M7 comes with a pre-installed operating system called MacOS X 10.11.4.
Apple has upgraded the graphics processor to Intel Integrated HD Graphics 515, which is better than the one used in the last model. This processor has the memory of 8 GB RAM, which is already installed in the device.
Things we liked about the MacBook 12-inch with M7 Processor:
The M7 processor delivers impressive speed and efficiency, ensuring smooth performance.
Its energy-efficient design helps extend the MacBook's battery life, an excellent advantage for on-the-go users.
Compared to other processors, it generates less heat, creating a cooler and more comfortable user experience.
The M7 chip's compact and lightweight nature adds to the overall portability and convenience of the MacBook.
It is widely recognized for its reliability and stability, making it a reliable choice for everyday tasks.
Things we didn't like about the MacBook 12-inch with M7 Processor:
One downside is that the M7 processor is relatively outdated and has been surpassed by newer and more powerful options.
Another drawback is that it is soldered to the MacBook's motherboard, making it challenging to upgrade or replace if needed.
Memory 
The device has a 4 MB Level 3 cache and an upgraded onboard RAM of 8 GB. The RAM type is LPDDR3 SDRAM which is faster than the last version.
The device runs on a 64-Bit architecture, which helps with efficiency and performance.
MacBook 12in M7 Battery Life
The MacBook 12in M7 has a 41.4 W h Li-Poly battery. It can last up to 11 hours of iTunes movie playback, 10 hours of wireless use, and has a standby time of 30 days. The package has a 29W USB-C power adapter for charging.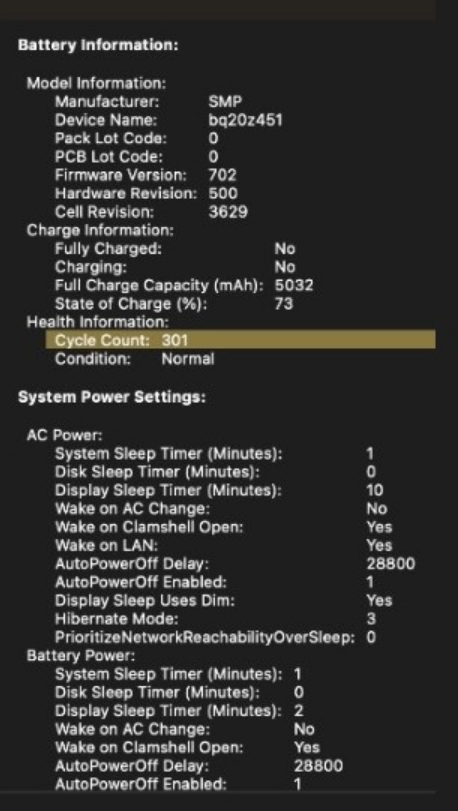 Things we liked about MacBook 12in M7 battery life
One of the standout features is the impressive battery life of the 12-inch MacBook, allowing you to work or enjoy multimedia for extended periods without the need for frequent charging.
Thanks to the energy-efficient M7 processor, the MacBook 12-inch optimizes power consumption, resulting in a longer battery lifespan.
The compact and lightweight design of the MacBook 12-inch makes it highly portable and contributes to a smaller battery size without compromising on performance.
Another great perk is the support for fast charging, enabling you to top up the battery in no time quickly.
Things we didn't like about MacBook 12in M7 battery life
Unfortunately, if the battery of the 12-inch MacBook encounters any issues or becomes less effective over time, it cannot be simply replaced, which can be pretty inconvenient.
Like all batteries, the one in the MacBook 12-inch has a finite lifespan and may experience decreased performance over prolonged usage, leading to reduced battery retention.
Additionally, the inability to upgrade the battery in the 12-inch MacBook makes it difficult to switch it out for a larger or more powerful option, limiting the potential for customization.
Available Upgrades
The RAM and external storage cannot be upgraded after purchase. When buying the device, You can upgrade the RAM to 8 GB and the storage to 256 or 512 GB.
The MacBook 12in M7 is very thin, from 0.14 to 0.52 inches, and the weight is 2.03 pounds, making it thinner and lighter than the MacBook Air series.
Keyboard and Trackpad
The MacBook 12in M7 has a convenient full-sized keyboard with a numeric row and a smooth trackpad.
These features make it great for writing and editing, which provides a comfortable typing experience. The keyboard is also perfect for computer gaming due to its fast processing power.
Though it takes up more space on the desk, it has a backlit feature that changes the light. The keyboard is pressure-sensitive and has a matte finish.
Also, if needed, you can use a wireless keyboard that is about 70% the size of a standard keyboard.
After all, the full-sized keyboard is adaptable and can be used for programming, photo editing, gaming, and writing.
The keys make typing easy, and the numeric row can be helpful for financial work and working with spreadsheets.
Operating System
The MacBook 12in M7 has a pre-installed operating system called macOS X 10.11.4 (15E2066).
However, you have the option to upgrade it to the latest version, macOS 12.
It also has a number of built-in apps like Siri, Pages, News, Safari, Mail, Maps, and more, which are sufficient for everyday tasks. Also, you can go to the Apple App Store to download third-party apps like Google Chrome and Spotify.
Other Features of the MacBook 12in M7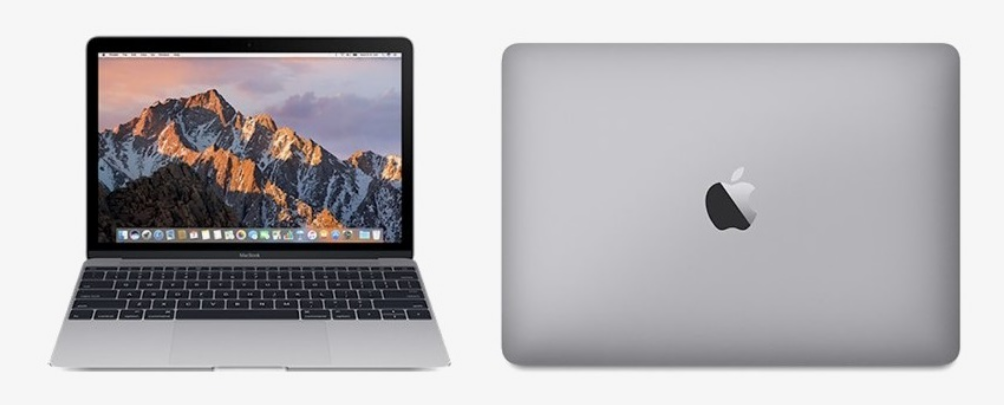 Camera 
The MacBook 12in M7 model has a 480p FaceTime Camera, which is good enough for chats and video calls.
Audio
It has stereo speakers on both sides of the keyboard, which give awesome sound quality. You can also connect high-quality recording devices using the 3.5 mm dual microphone jack.
Bluetooth/WiFi
The MacBook 12in M7 model supports Bluetooth 4.0 and has an AirPort (802.11ac) feature, which allows fast and energy-efficient WiFi connectivity.
Charging and Ports
The MacBook 12in M7 model supports fast charging, taking about 2 hours to charge using its 29w USB-C power adapter to the fullest.
Its port supports high-speed data transfer through Native DisplayPort 1.2 and USB 3.1 Gen 1 (up to 5 Gbps) and video output.
Also, you can connect VGA output using a USB-C VGA Multiport Adapter and HDMI video output using a USB-C Digital AV Multiport Adapter. These accessories are available for different purchases.
Things we liked on MacBook 12in M7 ports:
The compact and sleek design of the MacBook 12-inch is complemented by its modest USB-C connectors, contributing to the laptop's overall portability and size.
A convenient feature of the MacBook 12-inch USB-C ports is their reversible connectors, allowing for effortless plug-in without worrying about the connector's orientation.
The USB-C connectors on the MacBook 12-inch support high-speed data transfer, enabling smooth streaming of videos and seamless file transfers, even for large files.
Things we didn't like on MacBook 12in M7 ports:
While the MacBook 12-inch's two USB-C connections are sufficient for basic needs, they may fall short if you require multiple simultaneous connections for various accessories or devices.
Compatibility can be a concern with the MacBook 12-inch USB-C ports, as they are incompatible with earlier devices that utilize alternative connectors such as Thunderbolt 2 or USB-A.
The absence of a standard DC charging port on the MacBook 12-inch means you cannot charge it using a regular laptop charger, which can be inconvenient in certain situations.
If you frequently work with SD cards and rely on their data transfer for images or other files, the lack of an SD card reader on the MacBook 12-inch could prove to be inconvenient.
MacBook 12in M7 Price
The price range for the MacBook 12in M7 with a 1.3 GHz processor is between $300 and $400. If you have a limited budget, this can be a great option.
However, you should know that this model was discontinued in 2019 and is no longer available in Apple stores. You can find it in different online shops.
If you're unable to find this model or prefer a new laptop, then go for the options like the MacBook Pro, MacBook Air, or Microsoft Surface Pro 4.
What Happened to the MacBook 12-inch M7?
Apple discontinued the MacBook 12-inch M7 line on July 9, 2019. After June 7, 2021, the release of macOS Monterey no longer supported the Early 2015 model MacBook.
As of June 30, 2021, Apple classified the Early 2015 model MacBook as a "vintage product," which means it is suitable for limited product support.
Why is The MacBook So Expensive?
MacBooks are expensive because Apple uses technical parts and processes in their machines. This customization and attention to particular make up the manufacturing cost seen in the retail price.
Apple keeps its profit margins by accounting for the higher cost of sourcing and making these technical features.
What is The Most Expensive MacBook Ever?
The most expensive MacBook ever made is the Mac Pro, which starts at $5,999. However, if you want the most powerful and equipped version, it can cost up to $53,799.
This high price tag is explained by the performance and specifications that the Mac Pro offers.
Is it Good to Buy An Old MacBook?
Buying an old MacBook can be fine, but it's important to note that Apple thinks Macs to be "Vintage" after seven years and "Obsolete" after ten years from the date they stopped selling them.
Though Apple may provide limited parts and services for Vintage Macs, there is no guarantee of availability. So, it's important to check and consider the age and support status of an older MacBook before making a new purchase.
Conclusion
In conclusion, we have discussed all the features and characteristics of the MacBook 12in M7. Hope you have cleared all your doubts. Apple's products, like the iPhone, MacBook, and Apple Headset, continue to be popular and in demand even after their initial release. The MacBook 12in M7 come out with its creative and durable design.
Whereas other new MacBook models, like the MacBook Air with macOS Sierra, offer advanced features and capabilities, the MacBook 12in M7 is a reliable choice for the task related to work. Its design and features are well and give a computing experience.
It is also important to know that MacBook laptops are not mainly designed for gaming and may not have graphics processors. However, they can even run high-resolution games. Their gaming performance may be restricted and limited compared to laptops which are specifically made for gaming.
We hope you like the information given in the article. For more such updates, stay tuned with us.
Let's now discuss some FAQs;
FAQs
Can you still purchase a 12-inch MacBook?
Apple stopped producing the 12-inch MacBook in 2019, so it is no longer available for purchase. The smallest options in Apple's current laptop lineup are the 13-inch MacBook Pro and the MacBook Air.
Will Apple release a 12-inch MacBook again?
There are rumours that Apple might release a 12-inch MacBook in the future, possibly in 2024 or later. However, nothing has been confirmed yet.
Why was the MacBook 12in M7 discontinued?
The MacBook 12 was discontinued because it faced limitations with the thermal capabilities of Intel processors. The slim and lightweight design of the laptop was better for Apple's power-efficient chips, which are used in their newer models.
How much does a MacBook Retina 12-inch 2017 cost?
The price for a used MacBook Retina 12-inch from 2017 with 256GB storage is around $370. This is a good deal compared to the original price of $1299.
Is the MacBook 12-inch 2017 no longer available?
Yes, Apple discontinued the MacBook line, including the 12-inch model, on July 9, 2019.
What is the smallest MacBook Air?
The smallest MacBook currently available is the newly redesigned MacBook Air from 2022. It is a slim laptop, measuring only 0.44 inches in thickness and weighing just 2.7 pounds.
Macbook 12in M7 Review Video
Related Posts:
Macbroo: The Apple Macbook Ecosystem Communities in The East
Mac Finder Tutorial: Things You Ought To Know