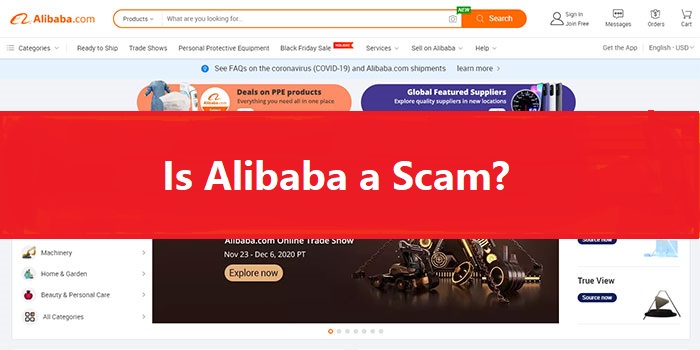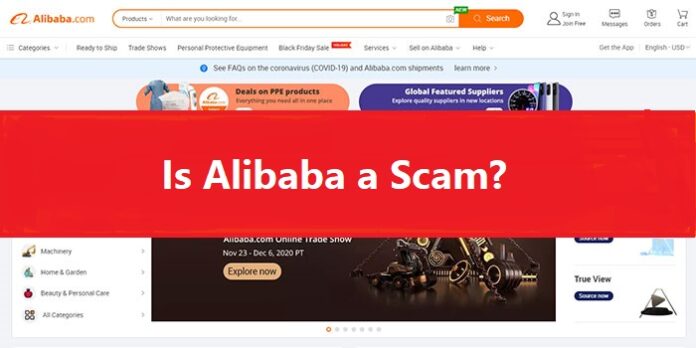 Is Alibaba A Scam, Legit, And Safe? Let's talk today on this topic. Are you looking for Chinese suppliers for your online business? Alibaba is the best platform to consider. But is Alibaba trustworthy and secure for purchasing?
Definitely! However, it's important to understand the right way to use Alibaba and take the required precautions to ensure you connect with reliable suppliers and avoid unpleasing experiences.
But randomly searching for suppliers on Alibaba won't guarantee good results.
This complete guide will take you through the process, allowing you to avoid scams, mediators, and fraudulent activities on Alibaba. Let's start our point of discussion "Is Alibaba A Scam"?
Key Points Covered on Is Alibaba A Scam
Alibaba is not a scam but a trusted platform for connecting buyers with suppliers.
It functions as a supplier directory, connecting buyers with factories rather than selling products.
Alibaba offers affordable prices due to lower labor and production costs in China.
Anyone can purchase from Alibaba without specific licenses or certifications.
Alibaba has a large user base of over 305 million active users and a consumer rating of 4.58 stars out of 5.
Trade Assurance is a safeguarding program offered by Alibaba, protecting every purchase.
It is important to use the resources offered by Alibaba and conduct transactions only through its official website to ensure a secure transaction.
Alibaba is a reputable and legitimate company hosting over 150,000 supplier listings on its platform.
Verified Suppliers and Trade Assurance provide a safe and trustworthy experience when sourcing products on Alibaba.
Four steps to discovering reliable Alibaba suppliers: filter out non-verified suppliers, review supplier ratings and feedback, use Alibaba Trade Assurance, and engage an inspection company.
Hiring an inspection company can help ensure product quality before shipment.
Working with multiple suppliers and not relying solely on one is advisable.
Document and save all communication and specifications with the supplier.
Use Trade Assurance and platforms like PayPal for payment security.
Conduct independent research and due diligence on certifications and product authenticity.
Having backup suppliers and trusting no one are entirely important precautions.
Following these steps can improve the safety and success of purchasing from Alibaba.
What Is Alibaba, And How Does It Work?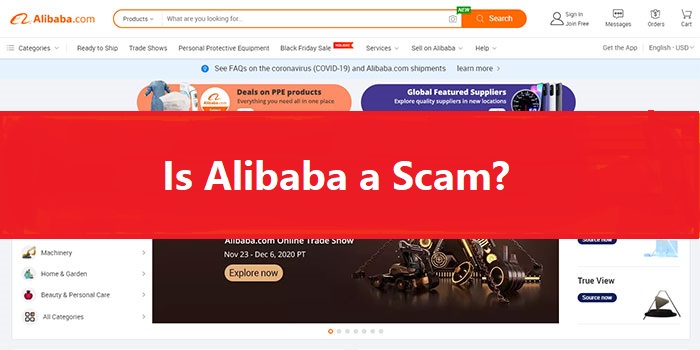 "Are you curious about Alibaba and its functionality?"
Alibaba offers a suitable platform for buyers to find suppliers effortlessly, with a comprehensive database of more than 150,000 sellers.
There needs to be a common understanding that Alibaba functions as an online store, selling products directly. However, that's not the case. Alibaba does not involve in selling any products itself.
Instead, it works as a vast supplier directory, connecting you with factories to bring your product ideas. In fact, think of Alibaba as a matchmaking service rather than an online marketplace.
In general, many business owners trust Alibaba to:
Find Factories: Working with manufacturers allows you to get the most competitive prices. You can participate in your product's production, collection, and shipping processes.
Establish a Private Label Brand: Most Alibaba suppliers offer the option to connect your own private label on the manufactured products.
Develop Custom-Designed Products: You can create unique products of your own design, bringing your creative design to an end.
Why Is Alibaba So Affordable?
The affordability of products on Alibaba can be attributed to a few key factors.
Firstly, China, where most Alibaba products are manufactured, benefits from lower labour and production costs, which results in lower prices.
Moreover, purchasing products in bulk is the way on Alibaba, which leads to improved pricing and cost savings through economies of scale.
Furthermore, it's important to note that many Alibaba sellers are factories, not direct-to-consumer retailers.
Therefore, they have fewer marketing, sales, and customer service expenses, allowing them to offer more competitive prices.
Can Anyone Purchase from Alibaba?
Definitely! Alibaba is open to everyone, and no specific licenses or certifications are required to make a purchase.
Most Alibaba merchants are willing to sell to people and businesses looking to import goods from China, whatever your location.
Is Alibaba A Scam?
Alibaba proves to be a secure online marketplace for purchasing, enhancing a user base of more than 305 million active users.
It holds a good consumer rating of 4.58 stars out of 5. Also, Alibaba provides a safeguarding program called Trade Assurance, providing complete protection for every purchase.
However, to guarantee a secure transaction, it is important to use the resources offered by Alibaba and conduct all transactions only through its official website.
Engaging in private transactions outside of Alibaba reveals possible risks, so it is advisable to avoid such techniques.
Keep in mind that Alibaba functions as an online directory of Chinese suppliers, and it becomes your responsibility to exercise due diligence in the process.
Is Alibaba a Trustworthy Platform?
Alibaba is a reputable and legitimate company, hosting a vast collection of over 150,000 supplier listings on its platform. For a reliable supplier, it is advisable to cooperate only with "Verified Suppliers."
Combining the use of "Verified Suppliers" and the protection of Trade Assurance provides a safe and seamless experience when sourcing products and working with suppliers on Alibaba.
Moreover, Alibaba provides a valuable service named Account Manager Service (AM Service), helping buyers by offering operational or technical support throughout their journey on the platform.
This helps in identifying legitimate suppliers and promoting a trustworthy environment for transactions.
4 Steps to Discover Reliable Alibaba Suppliers


When searching for legitimate suppliers on Alibaba, follow these four steps to make sure a secure and satisfactory experience.
By filtering non-verified suppliers, checking supplier feedback, using Alibaba Trade Assurance, and engaging an inspection company, you can protect yourself from scams and avoid financial losses.
Step 1: Filter Out Non-Verified Suppliers
It is important to filter out low-quality suppliers to avoid mediators and bad companies on Alibaba. As Alibaba's directory is vast, it is unavoidable to meet suppliers of different quality.
Some suppliers act as middlemen, offering marked-up products without adding actual value. Others may prioritize low-cost production, resulting in substandard products.
To refine your search, check the following three boxes after conducting an investigation on Alibaba:
Alibaba Verified Supplier:
Choosing verified suppliers guarantees a higher level of legitimacy. These suppliers have undergone a careful verification process by an independent third-party source.
Alibaba reviews the supplier's basic profile, company overview, R&D capabilities, production capabilities, and quality control processes.
Use Trade Assurance
Go for suppliers who carry the "trade assurance" designation. This signifies that Alibaba's Trade Assurance program protects your purchase from fraud.
If the delivered product quality or delivery date does not satisfy the agreed-upon terms, Alibaba mediates the dispute and aims to find a satisfactory resolution. If a resolution cannot be reached, Alibaba will refund your money.
Trade Assurance is important in ensuring the legitimacy and safety of transactions on Alibaba, with successful refund cases reported by students in many cases.
Review Supplier Feedback
Check the reviews and feedback provided by previous buyers. This information offers valuable proof of the supplier's reliability, product quality, and overall customer satisfaction.
View suppliers with positive feedback and high ratings to enhance your chances of a successful transaction.
Engage an Inspection Company
To further guarantee product quality, consider hiring an inspection company. These companies conduct thorough inspections of the products before shipment, ensuring they meet your specified requirements.
This extra step helps avoid any unpleasant issues upon product arrival and maintains the integrity of your business.
Quick Response Time: Less Than 1 Hour
This simple checkbox indicates the expected time of supplier responses when contacted. It is advised to go for suppliers who can respond within a suitable time frame.
When a factory responds within an hour, it shows its promise to customer support to handle any possible issues that may arise.
While a fast response does not guarantee the whole quality, it is a positive indicator.
By prioritizing suppliers who meet all three of these criteria, you increase the chance of finding suppliers who prioritize quality and are dedicated to providing excellent service.
Step 2: Review Supplier Ratings and Feedback
Once you have selected a supplier, checking their reviews and ratings is important. Suppose you did not beat the "verified supplier" checkbox.
In that case, it is recommended to at least look for the gold supplier badge on Alibaba when researching each manufacturer.
The gold supplier badge means the lowest-paid membership of Alibaba's suppliers.
Verified gold suppliers in China undergo a thorough on-site check and an address and verification review led by a trusted third party. These checks ensure that the gold supplier is a registered business legally.
However, it is important to note that the gold supplier badge alone does not guarantee a trustworthy supplier.
Some gold suppliers may provide bad service or deliver products of poor quality. Some may even have selected a trading company and rented office space.
However, the gold supplier badge is the first screening method to identify the most legitimate suppliers. Once you have verified their gold supplier status, the next step is to check Alibaba's "verified supplier" reports.
An Alibaba "verified supplier" undergoes a more vast inspection compared to a "gold supplier."
Each verified supplier has a vast company profile available on the Alibaba website. When going to a supplier, pay attention to the following factors:
● Year Established: Is the company involved in business for at least five years?
● Main Markets: Does the company have a product supply in your country?
● On-Time Delivery Rate: Does the company have previous timely delivery records?
● Number of Employees: What number of the workforce the company has?
● Facility Images: Are there legitimate images showing the company's manufacturing facility?
● Business Type: Is the supplier a trading company or a manufacturer? Manufacturers usually offer lower prices and demand higher minimum order quantities.
By working only with verified gold suppliers on Alibaba and thoroughly reviewing a supplier's company profile, you can evaluate the legitimacy of the factory.
Step 3: Use Alibaba Trade Assurance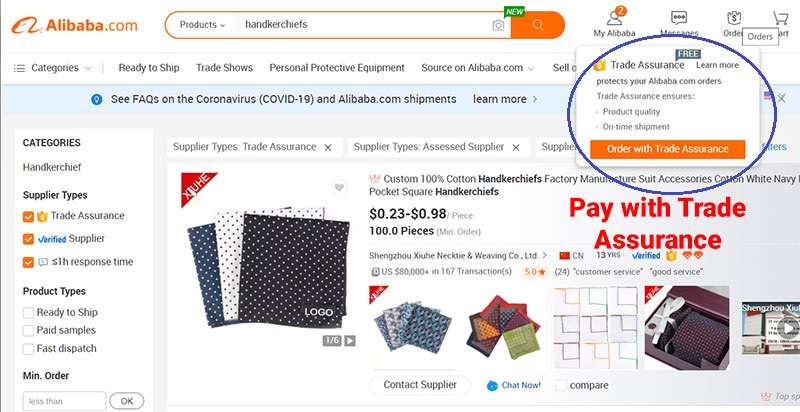 Once you have completed your first bulk order, it is important to inform your supplier that you would like to use Alibaba Trade Assurance for payment.
As mentioned before, Trade Assurance is a free and secure method to purchase products from Alibaba suppliers. It protects your order against fraudulent activities.
If you are unsatisfied with your order or the supplier fails to meet the agreed-upon terms, Alibaba guarantees a refund of your money.
Trade Assurance on Alibaba is highly effective. Many students received full refunds when their products needed to meet their specifications.
While the mediation process may take some time, it is totally worth it for its protection level.
Using Trade Assurance for payment requires selecting a supplier that supports this option. Therefore, checking the "Trade Assurance" box during your research step is important.
To pay using Trade Assurance, follow these steps:
● Click the "Orders" button and choose "Order With Trade Assurance."
● Fill out the form with detailed information about your order and the agreed-upon terms.
● Enter your payment details to place your order.
The Most Secure Payment Method for Alibaba
The most secure payment method for Alibaba is paying via Alibaba Trade Assurance on the Alibaba.com website.
Paying through Alibaba Trade Assurance ensures 100% protection for your order.
If you face issues like the non-delivery of products or a supplier not meeting their promises, Alibaba will initiate a dispute on your behalf.
Alibaba will mediate between you and your supplier to find a solution. You will receive a full refund if an agreement cannot be reached.
While Trade Assurance is a safe and reliable option, the mediation process may take some time. Your funds might be secured for several months until the achieved resolution.
Suppose you choose the ability to dispute a charge outside of Alibaba. In that case, paying for your Trade Assurance order using PayPal or a credit card is recommended.
Although paying through PayPal or a credit card is not compulsory when using Trade Assurance, it adds more protection to your payment.
Step 4: Engage an Inspection Company
Going for the services of an inspection company to consider your goods before shipping can result in time and cost savings.
Receiving poor-quality products can lead to delays as you use the manufacturing process again and wait for a new shipment.
While Trade Assurance safeguards your financial investment, manufacturing delays can negatively affect your e-commerce business, especially if you want to have your products ready for the holiday season.
To guarantee a successful shipment with high-quality products on your first attempt, it is advised to enlist the services of an inspection company.
These companies, such as QIMA, will dispatch a sample to your factory in China to conduct a thorough inspection of your products directly on the assembly line and at the completion of the manufacturing process.
The inspection cost will change based on the level of detail required. Generally, a standard inspection ranges between $200 and $300.
Investing just $200 to $300 makes you address any production issues.
By directly identifying manufacturing drawbacks on the assembly line, you can quickly make necessary adjustments without wasting valuable time.
For most bulk purchases made on Alibaba, the expense of an inspection represents only a small fraction of the total, making it a highly realistic decision to hire an inspector.
Supplier Increases the Price After Reaching an Agreement
A common tactic one often undergo is the "sudden price increase" strategy. The supplier first quotes you at a low price to attract your interest and convince you to place an order.
You may spend considerable time exchanging samples and refining the product to meet your requirements.
However, when you are ready to proceed with a bulk order, the supplier surprises you with a higher price. They might justify it by mentioning increased material costs or high labor expenses, asking you to pay more.
To tackle this situation, working with a number of suppliers simultaneously is advised. Having alternative options guarantees that you have a backup plan if one supplier tries to take benefit.
It's always wise to place only some of your eggs in one basket if you have the means to do so.
Supplier Tries To Sell You Branded Products
Some Alibaba suppliers may claim to be the real manufacturers of brands such as Disney or Nike.
However, with a high level of confidence (99.9999%), one can say that any branded products they claim to sell will be completely fake.
Suppliers working with reputable brands like Disney or Nike would avoid violating their agreements.
Large Quality Difference Between Samples and Final Products
When you request a sample from a supplier, they generally provide a high-quality product to win your business.
However, they might ship lower-quality products once you have secured your promise and placed a bulk order.
Engaging a third-party review service like QIMA and documenting every part of your product on the quality control checklist is important to combat this approach.
Trade Assurance can also be helpful in this situation, but only if your product specifications are well-documented and much detailed.
By having an inspector review your products during manufacturing, you can quickly identify any substandard items and take proper action while minimizing losses in time and money.
Supplier Claims to Have Certifications That Are Not Compliant
Certain products, such as toys and electronics, must adhere to your country's regulations and certifications.
However, some Chinese suppliers may claim that they have conducted independent testing to avoid extra expenses.
It is important to rely on something other than the certifications provided by a supplier. Working your own due diligence is important.
Consult with your customs agent to check your certification contact or documents in the testing laboratory to double-check their validity.
For maximum safety, consider doing laboratory testing and getting the necessary certifications.
Supplier Agrees to a Lower Price but Compromises on Quality
Once again, this situation can be entirely mitigated by employing an inspection service like QIMA.
Trade Assurance can also provide protection against financial loss, but only if the product quality you expected is clearly specified and documented.
For example, one made a 10% discount on a hankie order, thinking it was a great deal. However, they found that each handkerchief was too thin when the products arrived.
Since they had not engaged an inspector and failed to check the product's expected thickness, and found themselves in a difficult situation.
Alibaba Safety Checklist
When using Alibaba, it's important to guarantee your safety by following specific guidelines and performing thorough research.
Here are some best methods that one experienced customer recommends before placing an order on Alibaba:
Document and Save Everything: Take the time to clearly check your product specifications and keep a record of all contact with your supplier. This will come in use in case any disputes occur.
Use Trade Assurance: For your first order, it's best to use Trade Assurance and make payments through platforms like Paypal. This adds an extra layer of protection for your payment. Once you have made a trust with your supplier, you can consider avoiding Trade Assurance to save costs.
Hire an Inspector: Investing in a third-party inspection company, even if it costs around $200-300, is like getting an insurance policy. It ensures that your products meet the required quality standards. Also, the knowledge that an inspection will take place can inspire your supplier to manufacture better-quality goods.
Have a Backup: Having multiple suppliers for your goods is always wise. Trusting only one supplier defines your negotiation power and leaves you helpless.
Trust No One: Don't take a supplier's term for granted when it comes to certifications or product authenticity. Conduct your own research and due diligence. Working with gold suppliers is generally safer, but keep in mind that gold supplier status alone doesn't guarantee everything. It's important to confirm the information yourself.
Following these steps can improve your safety and minimize risks when using Alibaba for your business needs.
Is Alibaba A Scam? – Conclusion
In conclusion, Alibaba is a legitimate and trustworthy platform for purchasing products and connecting with suppliers in China. While it is not without risks, taking the necessary precautions can help ensure a safe and successful experience. Using Alibaba's resources, such as verified suppliers and the Trade Assurance program, is important to protect yourself from scams and fraudulent activities.
Additionally, engaging an inspection company and thoroughly researching suppliers can help you find reliable partners and avoid potential issues. By following these steps and exercising due diligence, Alibaba can be a valuable tool for finding Chinese suppliers for your online business.
ALSO READ:
YULUSTORE COMPLETE REVIEW: PROS AND CONS
Why Is Walmart Closing Stores Suddenly In 2023?
How Much Does It Cost To Print Pictures At Walmart?
Walmart Pharmacy Hours: What Time Does Walmart Pharmacy Open and Close?
Is Walmart Open on New Year's Day? Everything About Walmart's New Year's Hours