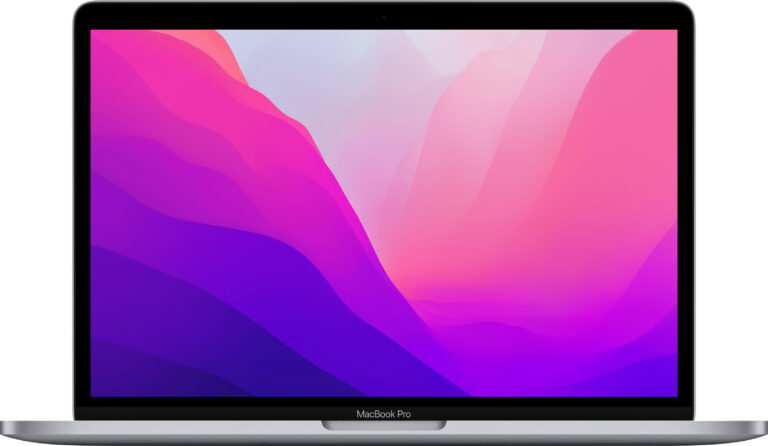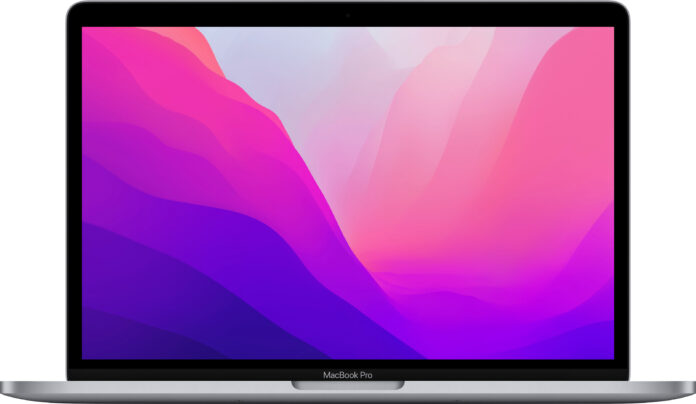 In 2006, Apple launched a new computer called the MacBook Pro. People who like Apple products have been very excited about each new version. This was the first time Apple used a type of chip called Intel instead of the ones they usually used. This meant they had to ensure that all the programs and apps on the computer would still work. They created a Rosetta program, which helped the computer understand the old programs.
Apple changed the type of chip they used in the MacBook Pro to make it faster. The old chip, called PowerBook G4, was slower than the new one, Intel Core-Duo.
The new chip had two processors, so it was fast and didn't use up too much battery power. Many people were happy with the new MacBook Pro because it was faster, but some needed help with some old software. Overall, most people liked the new MacBook Pro. (Source)
The first MacBook Pros were made for people who already had a PowerBook or for people who needed a fast computer for design work. The new Macs looked like the old PowerBook G4s but differed inside. They had faster speeds and more storage.
The MacBook Pro has been around for more than five years now. Apple has made it faster and has given people more choices for screen sizes.
They also fixed some problems that people had with the early MacBook Pros. For example, the first MacBook Pros could only transfer 400 Mb of data per second using FireWire. Still, Apple made it faster, and later versions use something called Thunderbolt, which is even faster. (Source)
MacBook 12in M7 – Specification and Genuine Review in 2023
MacBook Pro Specifications
The MacBook Pro comes in different sizes and prices. The smallest and cheapest one is $1,199 for the 13-inch version. There are bigger ones available, like the 15-inch and 17-inch, and they cost more (Source). If you only need a computer for simple things, the 13-inch might be good enough, but if you want to use bigger programs like Final Cut Pro or Photoshop, you might need a bigger one.
The MacBook Pro uses an Intel chip, which can be different depending on the model you choose. The smallest one, the 13-inch, has a chip with 2 processors, called dual-core, which can't be upgraded to a chip with 4 processors, called quad-core.
The bigger MacBook Pro models come with a quad-core chip, which makes it faster. The quad-core chip has twice as many processors as the dual-core, but it doesn't make the computer twice as fast. People who use the computer a lot for things like editing videos will notice the difference more than people who use it for simple things like email and the internet. (Source)
The MacBook Pro has 4GB of memory, but you can make it bigger and upgrade it to 8 GB. The amount of memory doesn't change based on your chosen screen size.
Apple says that the MacBook Pro's battery can last for 7 hours, but it can be different depending on what you're doing on the computer.
If you're using it for simple things like browsing the internet, it might last for 7 hours, but if you're doing something that takes more power, like editing music or playing video games, the battery won't last as long.
The newest MacBook Pro models have a new type of port called Thunderbolt. It's faster than the old FireWire 800 and can transfer data 10 times faster. Thunderbolt is special because it works with many other connections like USB, FireWire, and computer screens. (Source)
This is what makes many Apple fans excited about it. Now that we know what the MacBook Pro comes with in terms of hardware let's look at the software it comes with.
ALSO READ: Macbroo – Everything You Need to Know
Macbook Pro and Macbook Air Comparision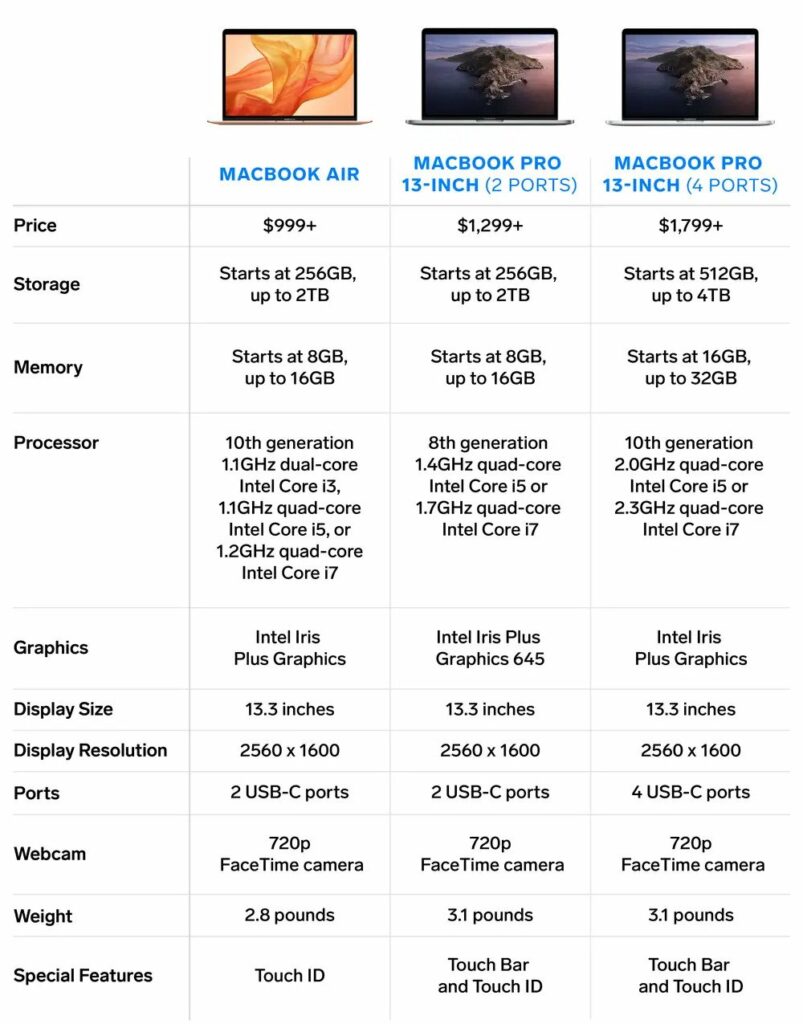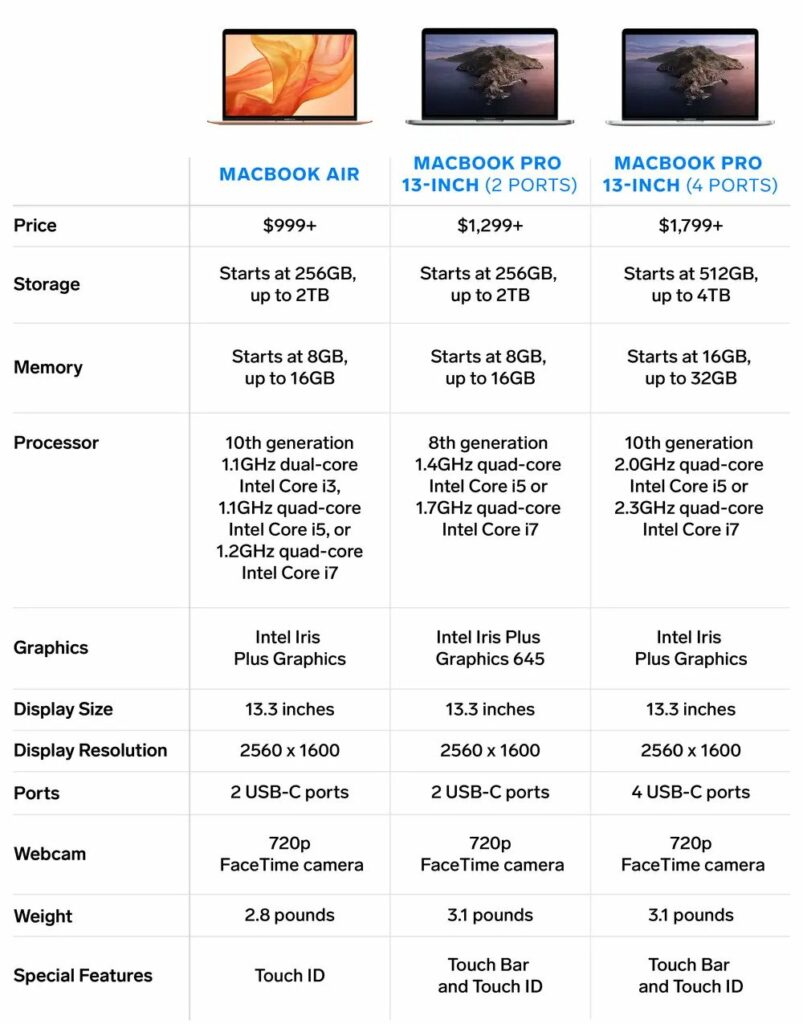 MacBook Pro Software
The MacBook Pro comes with a set of programs called the software bundle. It includes the newest operating system made by Apple, OS X Lion, and many other programs that can organize things, communicate with friends, create and edit different media types, and browse the internet.
The new MacBook Pros come with a new operating system made by Apple called Lion. Some people like it, but others think it could be better than the previous one, Snow Leopard.
Some people even say it's similar to a Microsoft operating system called Vista, which had a lot of bugs. Some think Lion has fewer new features than Apple usually includes with new operating systems, but it's still worth upgrading. (Source)
The new MacBook Pros has two programs to help you stay organized: Mail and iCal. Mail is like a computer version of the email, where you can get and organize your messages.
iCal is a calendar program where you can keep track of all your appointments and plans.
If you have other Apple devices like an iPad or iPhone, you can connect iCal to them to see your schedule on the go. You can also connect iCal to Google calendar if that's what you prefer to use.
The MacBook Pro also comes with a group of programs called iLife. These programs are great for people who like to create music, videos, and pictures. (Source)
With GarageBand, you can make your songs, iMovie lets you edit videos, and iPhoto helps you organize and edit your pictures. There's also iTunes which helps you keep your music library organized and lets you easily download music and podcasts.
The new MacBook Pro comes with FaceTime, which lets you video chat with others who have a MacBook, iPhone, or iPad (Source).
You can talk to friends, family, and co-workers using the built-in camera called FaceTime HD Camera. However, some people might not like that it only works with certain devices and not others.
The MacBook Pro also has other software that you can buy. One example is iWork, a group of office work programs. There's also Time Machine, which helps you back up your computer automatically.
You can also use Time Machine with a special device called the Apple Time Capsule, a router with a built-in hard drive. Time Machine saves your old files and remembers how your computer was set up. That way, if your computer starts having problems, you can restore it to how it was before it started. And next, we'll look at accessories you can get for the new MacBook Pro. (Source)
MacBook Air
The MacBook Air is a new computer from Apple that is meant to be used daily. It is not as powerful as the MacBook Pro but also not as heavy. The 13-inch Air weighs 3 pounds, while the 13-inch MacBook Pro weighs 4.5 pounds. Additionally, the MacBook Air has fewer ports for connecting other devices.
MacBook Pro Accessories
Apple has many accessories that you can use with the MacBook Pro. Some of them come with a computer when you buy them. Others you can buy separately from the Apple website, Apple store, or other online retailers like Amazon.
Bundled Accessories
The MacBook Pro comes with a trackpad, a special surface you can use to control the cursor. You can move the cursor using "gestures," like moving your fingers up and down the trackpad.
For example, instead of using the arrow keys or clicking and dragging to scroll on a page, you can move your first two fingers up or down the trackpad to scroll through the screen.
You can also purchase an external mouse to use with the MacBook Pro.
All MacBook Pros come with a special accessory called the MagSafe power connector. Instead of plugging the power cord into a port on your MacBook Pro, it attaches with a magnetic connection.
This might not seem a big deal, but it's very helpful. If you accidentally pull the power cord while your laptop is still plugged in, the MagSafe will pull away easily instead of yanking your laptop to the floor. This means it can save your laptop from getting damaged if you accidentally trip over the power cord. (Source)
The FaceTime HD camera is one of the coolest accessories with the new MacBook Pros. This camera is built into the computer, and you can find the lens above the screen.
The camera is high-resolution, which means it takes really good videos and pictures. You can chat with other MacBook Pro users, iPhone 4 users, and iPad2 users using FaceTime. It's a great way to stay connected with friends and family. (Source)
Apple Accessories
The MacBook Pro, like other computers, comes with different cables and adapters, but a few Apple accessories are special. One of them is the Thunderbolt Display.
If the 17-inch screen on the MacBook Pro is too small, you can buy this external monitor, which is 27 inches, for $999. (Source) It also has a built-in FaceTime HD camera, so you don't need to use the camera on your laptop to video chat.
The Thunderbolt technology used in the display helps transfer data faster, especially when you use multiple monitors together. (Source)
Do you need more space to store your files? The External Thunderbolt Storage is an external hard drive that uses Thunderbolt to transfer data faster than a USB or FireWire drive. You can use this external drive with the Time Machine software to back up your computer or to store more files if you run out of space on your MacBook Pro. (Source)