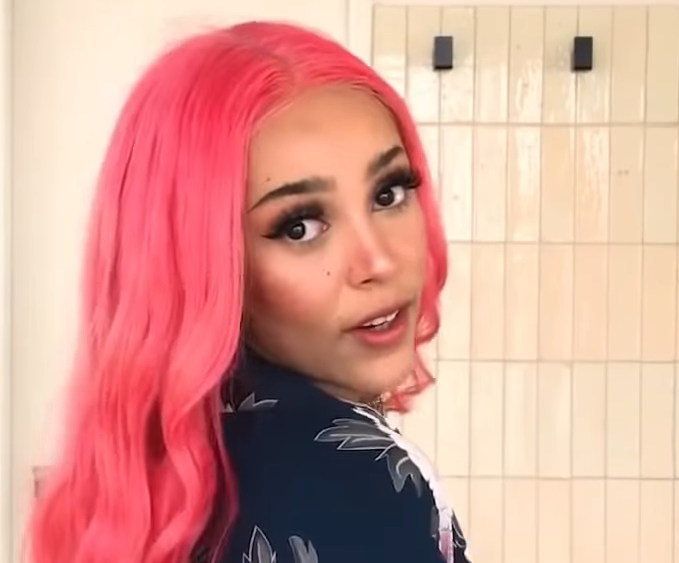 Doja Cat Net Worth- $4 million
Profession- rapper, singer, and songwriter
Date of birth- October 21, 1995
Age- 25 years
Born- Los Angeles, California, united states
Nationality- American
Doja Cat is a rapper, singer, and songwriter who has a net worth of $4 million; her income source is mainly from album sales and YouTube videos, where she has over 5.6 million subscribers. Her net worth will definitely grow over time as her future looks in good shape.
She gained viral popularity in the past couple of years with her suggestive music videos and dance numbers. Also, Doja Cat has been nominated for three Grammy awards and has won a slew of other awards and honors.
She is a newcomer in the music scene; she has ties to the entertainment industry through her father; he is a popular performer in his own right in his home country, South Africa.
 She is perhaps best known for her viral song "Mooo!" and her #1 single "Say So." Doja cat is also a popular TikTok and Instagram star. 
Read more- Brazilian Sensation: Neymar jr. and his net worth
Early life:
The real name of the Doja cat is LikAmalaratna Zandile Dlamini; she was born on October 21, 1995, in Los Angeles, California.
After she was born, she moved to New York for five years. After five years, she returned to Oak Park, California. From childhood, Doja cat was interested in music; she used to take dance and piano lessons and listen to songs a lot.
In an interview, she revealed that she was inspired by Erykah Bad, Rihanna, D'Angelo, and Drake. Also, she dropped her studies when she was just 16vyears old for her music career.
Doja cat family:
Father name- dumisani dlamini
Mother name- Deborah Elizabeth sawyer
Doja cat mother is an American painter, and her father is an actor, composer, and film producer of Zulu descent best known for starring in the 1992 musical film Sarafina!
Doja's family always supported her music career.
Music career:
Just like some new singers, Doja cat also started her music online. She used to download the beats from youtube to create her own music. First, she started posting her songs on SoundCloud frequently, and her one track, "so high," got viral and has over 4 million spins.
In 2014, when Doja cat was just 17 years old, she signed to RCA records label kemosabe records, and later that year, she released her debut EP tired "Purrl!" under the label MAU records.
Also, she collaborated with many artists like skoolie Escobar, pregnant boy, and frumhere.
In 2018, her song "roll with us" entered Spotify's global viral chart 50. After that, she released her studio albums "Amala" and "juicy," which got it and debuted at 83 and peaked at 41 on the billboard hot 100.
On October 26, 1029, she released her second album, "Hot Pink," which was a huge success. Recently she released a remix of "day so" featuring Nicki Minaj that topped the Billboard hot 100 and became the first number-one single for both artists. Even in an interview, Ariana Grande has said that she is planning to release a song with Doja Cat.
Her Billboard Charts history is also impressive. On May 16, 2020, her single "Say So" peaked at No. 1, and she has two other top 10 hits, including "34+35" with Ariana and Megan Thee Stallion and "Kiss Me More."
In 2020, to support the Taylor's family, she donated $100000 to the justice of Breonna Taylor.
Personal life:
Doja Cat is a little closemouthed about her personal life, noting in September 2021 that the general public should not expect to hear who she is dating until they are married.
Till now, she has not formally come out or made an official announcement about her sexual affairs. However, she stated that she likes dicks and um and like people who can have sex with her. Also, she has alluded to her queer sexuality in the song "naked: on which she rape that she likes bananas and peaches.
Doja cat has not revealed officially whom she is in love with.
Doja cat award:
As a famous singer, Doja cat won many awards like:
American music awards (the artist of the year)
American music award (favorite female soul/R&B Artist
Billboard music awards (top R&B female artist
BMI pop awards (winning songs)
GAFA award (best international new act)
I heart radio music awards (best new pop artist)
MTV Europe Music Awards (best new act)
Europe music awards MTV(best air directions)
MTV video music awards Japan
video play awards of MTV
NAACP image awards
NRJ music awards
People's choice awards
Read more- What is Bella Poarch Net Worth?
Quotes by Doja cat:
"I don't want to name my fandom; I want them to name themselves. If I'm cool with it, I'm cool with it."
"Day to night to morning, keep with me at the moment I'd let you know it; why don't you say so?"
"It's been a long time since you fell in love. You ain't coming out your shell; you really ain't been yourself."
"Tell me what must I do 'Cause luckily I'm good at reading"
"I wouldn't bug him, but he won't stop cheesin'."
"Why are you beating around the bush? And knowing you want all this woman."
"All of them bitches hating I have you with me All of my niggas saying you mad committed."
"Yeah, ain't tryna be cool like you Wobblin' around in your high-heeled shoes"
"I'm clumsy, made friends with the floor."
"Two for one, you know a bitch buy four And two left feet, you know I always drop."
"I'm the whole damn cake and the cherry.
"You ain't even here to party Ken in the club tryna pipe a Barbie."
"I don't wanna row the boat Wrist full of rocks, and I hope I float."
"Big up yourself 'cause you know they don't I chew 'cause they hope I choke."
"I'm a bitch and a boss; I'm a shine like a gloss."
"I've been the stallion, you've been the seahorse. Don't need a report, don't need a press run. All of my bad pics have been all my best ones."