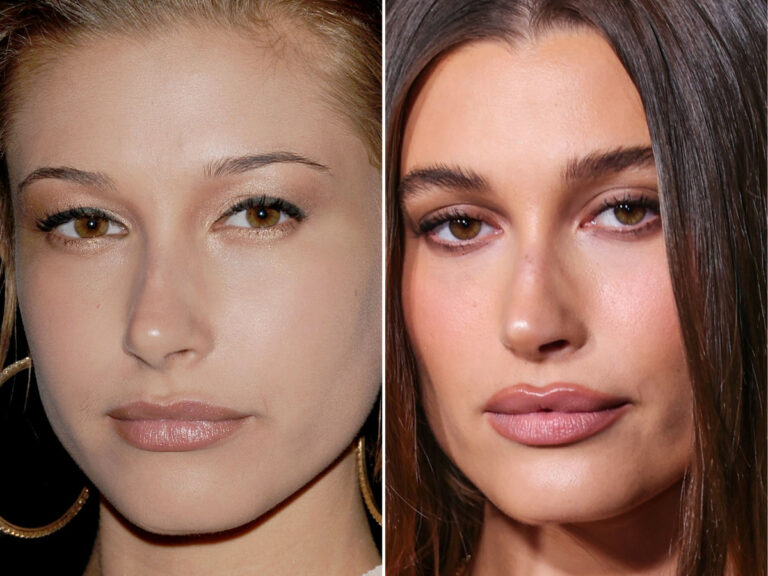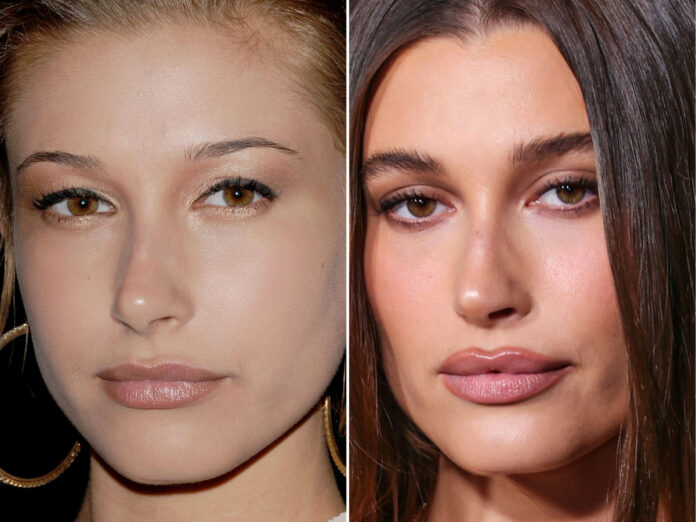 This article has been updated since its original publication to include additional relevant details. Recently, there has been considerable discussion about Hailey Baldwin nose job,appearance ,particularly in light of claims made by Kanye West regarding her having had a nose job. Hailey and her husband, Justin Bieber, vehemently denied these allegations.
Hailey Bieber's Beauty Transformation
Despite the 26-year-old Victoria's Secret model and her inner circle maintaining their stance on whether she had any procedures, it's evident that her appearance has notably evolved since the beginning of her career. This is why fans continue to discuss and speculate about potential changes she might have made.
Hailey Bieber Before And After Pictures
The Instagram page @celebrities_before_after recently posted some pictures of Hailey from her younger days and compared them to more recent ones. The difference is striking, especially regarding the shape and size of her eyes and nose. It needs to be clarified whether these changes resulted from surgery or less invasive methods. It's essential to remember that all the speculations from us and her fans are just guesses, as Hailey has stated that she hasn't undergone any cosmetic procedures.
On May 11th, the famous account @plasticne, where fans often analyze pictures of celebrities who might have had cosmetic work, shared a photo of Hailey as a teenager alongside a more recent image. While some commenters complimented her appearance, noting that she looks beautiful in both pictures, others speculated that she might have had a rhinoplasty to alter her nose and a "surgical lip flip" for her lips, as one person suggested.
Fans Think Hailey Looked Better 'Before'
Fans had varying opinions about Hailey's appearance in the pictures shared by @celebrities_before_after. One fan expressed, "She looked so much better before," referring to the earlier photos. Another fan shared a similar sentiment: "I thought the 'before' picture was the 'after' because she looks much better." Someone else added, "Her 'before' look was much better, with a softer and more feminine appearance."
On the other hand, there were critical comments as well. One person likened her to a "snake," while another remarked, "Now she looks like a duck." Some fans believed that any potential surgery had made her appear older than her actual age. One fan questioned, "Did she make herself look older?" Another commenter stated, "She was much prettier before, and it seems like nothing is going on behind her eyes."
Many fans shared that her earlier appearance was more appealing, with comments like, "Much better before!" and "I don't say this often, but she should have left her nose as it was; it was perfect."
Other Fans Think Hailey Still Looks Good Now
You've probably heard the saying, "Beauty is in the eye of the beholder," before, right? Well, when it comes to Mrs. Bieber, there were different opinions. Some folks thought she looked fantastic in the pictures after any changes. One fan commented, "Still beautiful," along with heart eyes emojis. Another fan shared, "I think she looks great! Good for her," and used three hand-clapping emojis to express their excitement.
One interesting comment pointed out, "She was gorgeous before, but I do feel like they slightly improved the overall harmony of her face with the procedures. She does look less unique now, though." Another fan added, "These procedures make her look older, but she does appear more glamorous and less like the girl next door." Many fans couldn't help but wonder and talk about the changes she might have made to her face.
Has Hailey Bieber Had Plastic Surgery?
Some fans came up with interesting theories about Mrs Bieber's appearance changes. One fan speculated, "Maybe she got lip filler, cheek filler, a nose job, lip lift, and a brow lift!" Another fan joined in, mentioning, "I think she might have had blepharoplasty and a brow lift," noting the difference in her eyes. Yet another fan suggested, "Possibly upper blepharoplasty, chin, jaw, cheek, and nose."
Another person in the conversation shared, "It looks like she did something to her nose and got a little lip filler, but the most noticeable change is her eyebrows. She also seems more mature," which many people agreed with.
One fan added some humour, saying, "Maybe a mid-brow lift, nose job, upper lip injections, and enough Botox to freeze a pond in the summer." Another fan concurred, stating, "It's like she went to the surgeon and removed all traces of her 'Baldwiness' from her face," a sentiment shared by many in the replies. Someone even exclaimed, "Seriously! You can't even recognize her genetics," with another person adding, "That's exactly what I was thinking."
Did Hailey Bieber Have A Nose Job? An Expert Weighs In
A plastic surgeon named Dr. Gary Linkov created a YouTube video in October, shortly after Kanye West raised questions about Hailey's possible nose job. What he had to say was quite intriguing!
He proposed, "It appears that she may have undergone a nose job around 2013," and illustrated his point by comparing a picture of Hailey from 2011 with one from 2013. He elaborated, "Her nose tip appears slimmer and less rounded, but the bridge seems unchanged, suggesting that she may have had less extensive work done." He also noted, "It's likely she opted for a closed approach to conceal any potential scars on the outside."
What Did Kanye West Say About Hailey Bieber?
In October 2022, the rapper known for the song "Heartless" expressed his frustration on Instagram because several celebrities criticized him for featuring "White Lives Matter" shirts in his Yeezy Paris Fashion Week show.
Although Hailey didn't directly respond to this situation, Kanye West mentioned her in several Instagram posts. In the first post, which he later removed, he commented, "They want Gigi Hadid, who they consider uncool, and Hailey Baldloose, who underwent a nose job, to support an event that doesn't truly belong to the fashion industry, more like Corey Gamble-level non-fashion stuff."
Hailey appeared to address Kanye's comments subtly when she voiced her support for Vogue editor Gabriella Karefa-Johnson, whom Kanye had mocked for her remarks about his controversial fashion show. Hailey shared on her Instagram Stories, "I have a lot of respect for you, my friend! It's a pleasure to get to know you and an honour to work with you."
Shortly after that, Kanye shared a screenshot from an article discussing Hailey's actions and directly reached out to Justin, her husband, in another post (which he later deleted). He captioned it with, "Wait, am I facing cancellation again??? Justin, please inform me."
Read More: IShowSpeed Surgery Over Swollen Eye – "It Feels Like Somebody is Stabbing My Eye With a Knife"