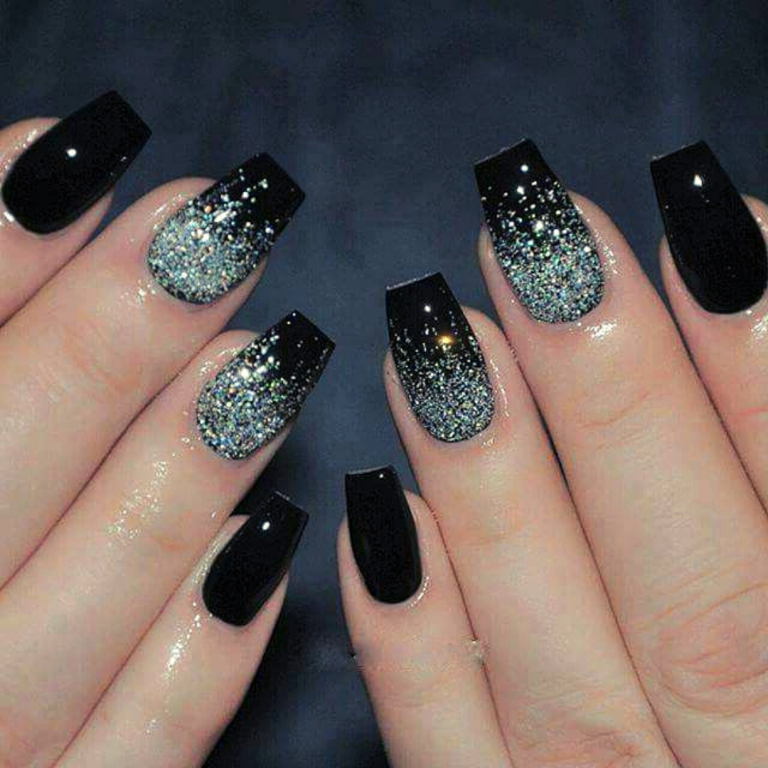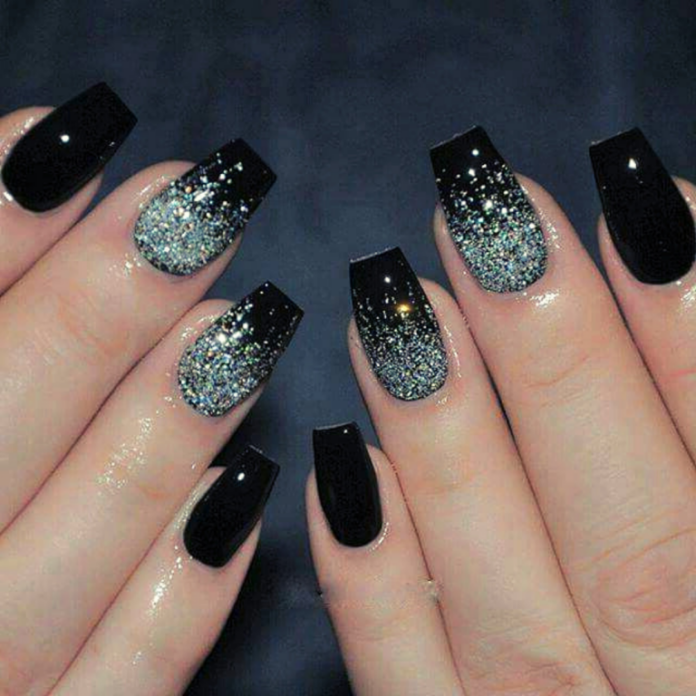 Black Glitter Nails: If you want to make your nails look fancy in an easy way, think about using black glitter . What's cool about these designs is that you can choose shiny gold or silver specks and try different shapes and sizes. This blog post has 17 really pretty ideas for black glitter nails.
We all want to show our best selves. Luckily, glitter stuff lets you do that whenever you want. You can make up your own style for black glitter nails or pick one of the 17 ideas below.
Whether you're going out with friends or need to impress at a big work meeting, if you want people to be impressed, these sparkly nails are a great choice!
Black Glitter Nails TO Try
1. Glitter black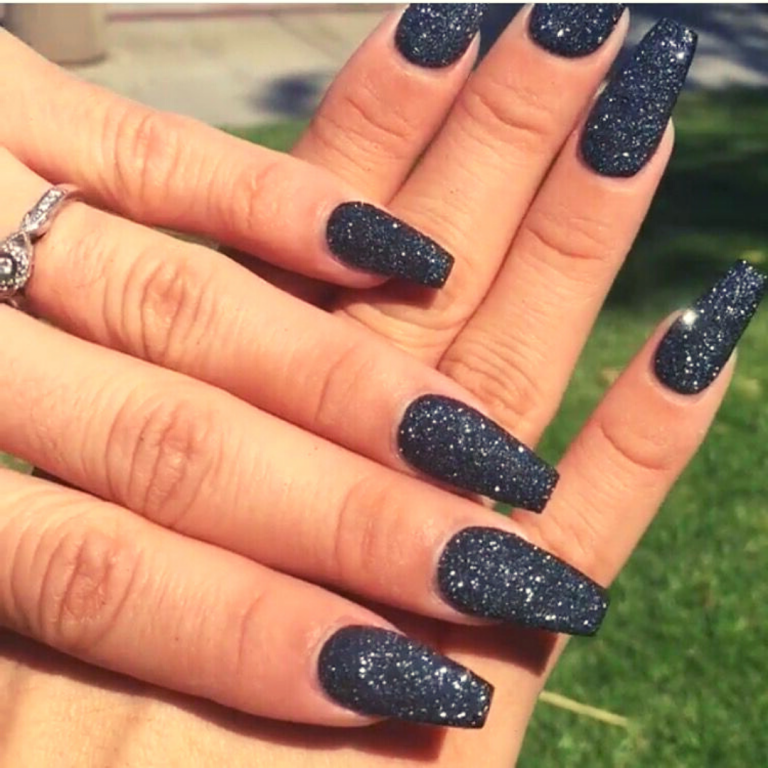 Glitter black nails showcase a rich black shade accented with glimmers of silver or gold. This style isn't for those who prefer subtle looks; it's for those who want to make a strong statement and stand out.
2. Black And Gold Glitter Nail Art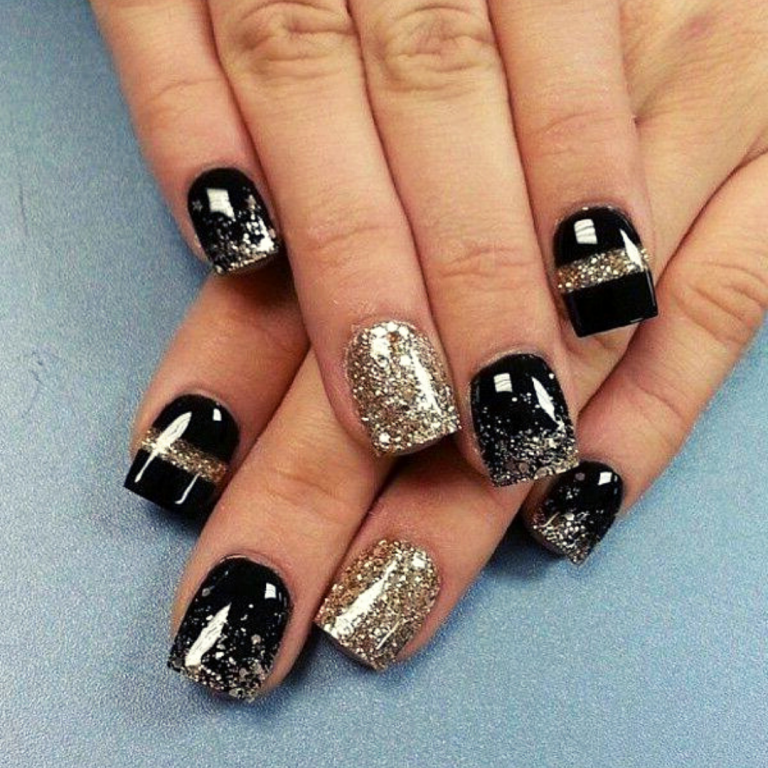 If you're searching for something more refined yet stylish, look no further. This nail art design combines black glitter with touches of warm gold. It's an effective way to make your nails captivating without going overboard.
3. Black and silver Glitter nails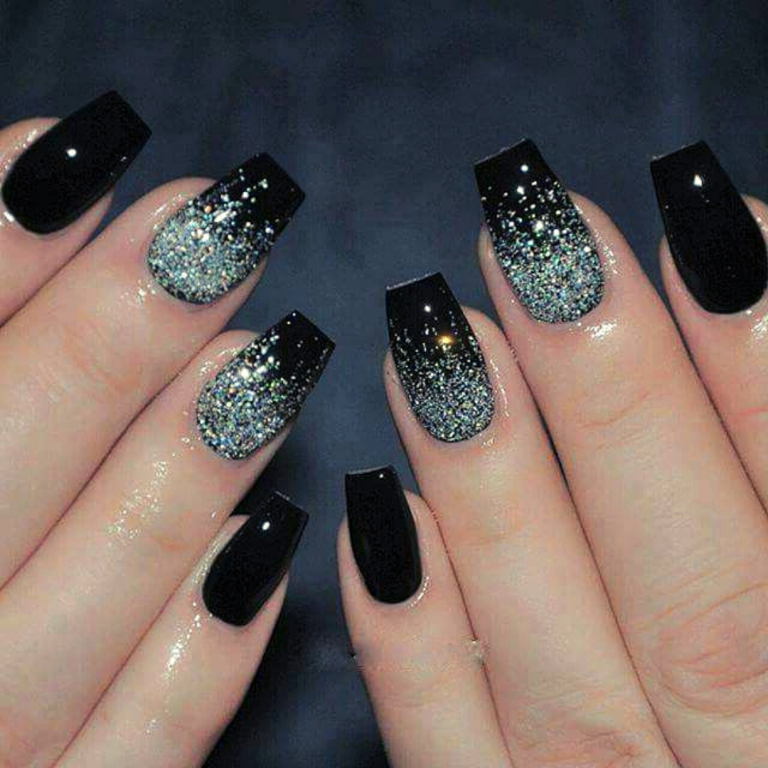 This design is classic, simple, and sophisticated. The black glitter pairs harmoniously with silver accents, creating an elegant look that complements any outfit.
4. Black sparkly nails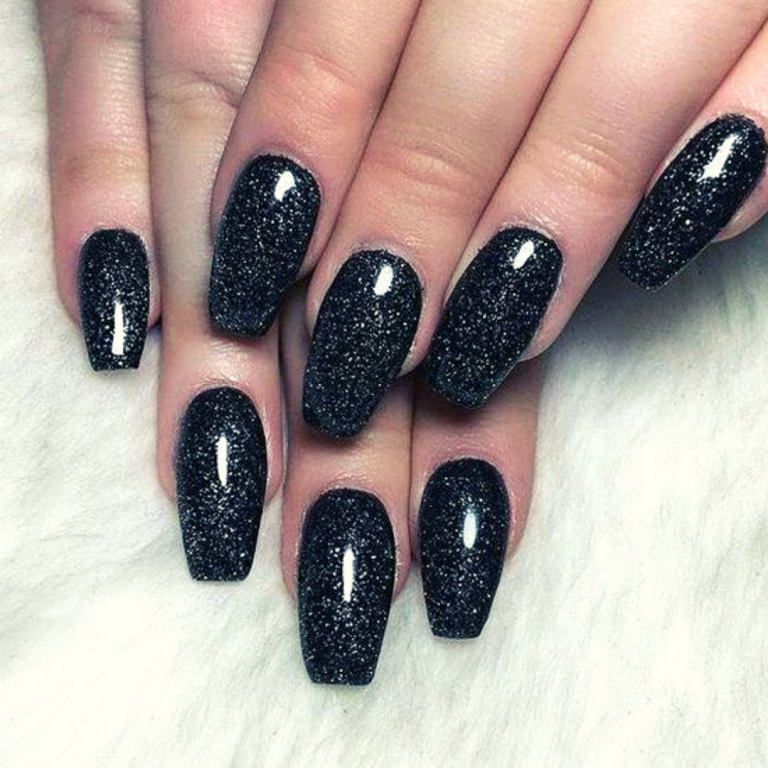 For those seeking a lighter and more playful appearance, this style is an excellent choice. It blends black glitter with lively and daring colors to maintain an energetic and vibrant vibe.
5. Black sequin nails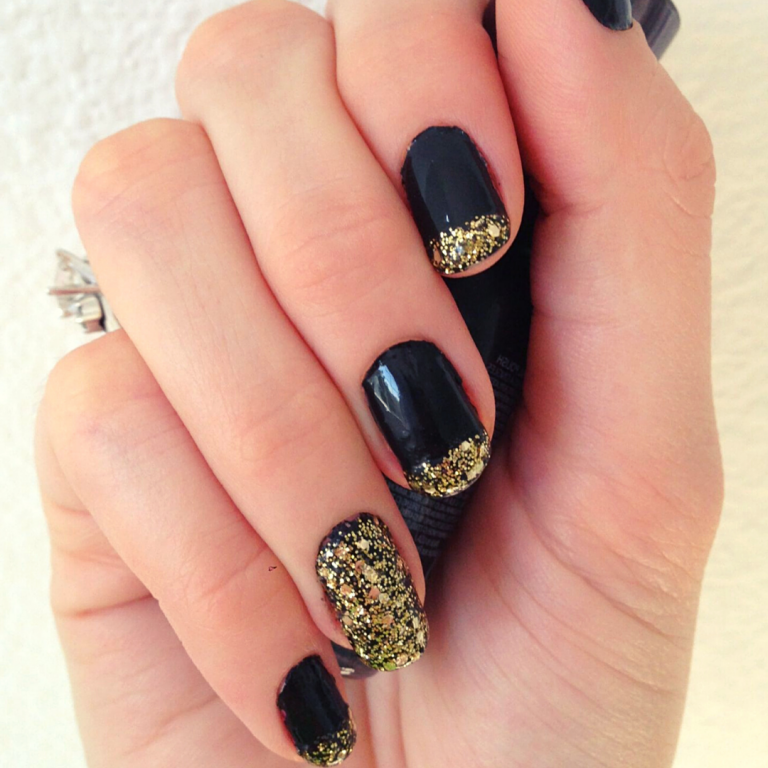 This design introduces black sequin polish at the nail tips, resulting in a luxurious effect reminiscent of dipped gold. It effortlessly merges classic elegance with a modern touch.
6. Black Glitter nails with gold accents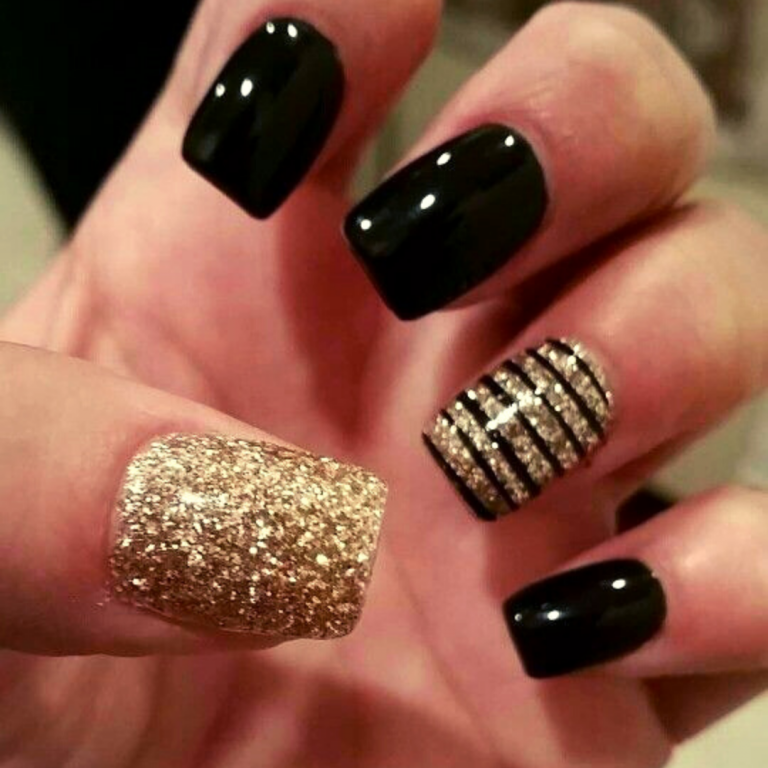 In this design, black glitter is layered over a soft silver base, resulting in a delicately understated glitter. It's a great option for those aiming for an alluring nail look without going over the top.
7. Black almond shaped nails with Glitter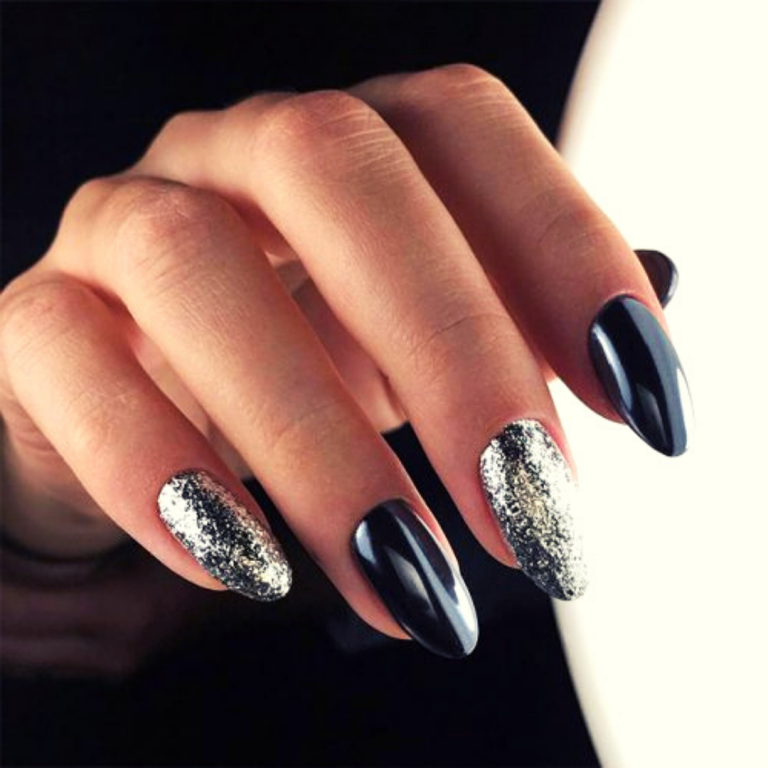 Featuring black glitter on almond-shaped nails, this design radiates a timeless and sophisticated allure.
8. Brushed gold accent with black tips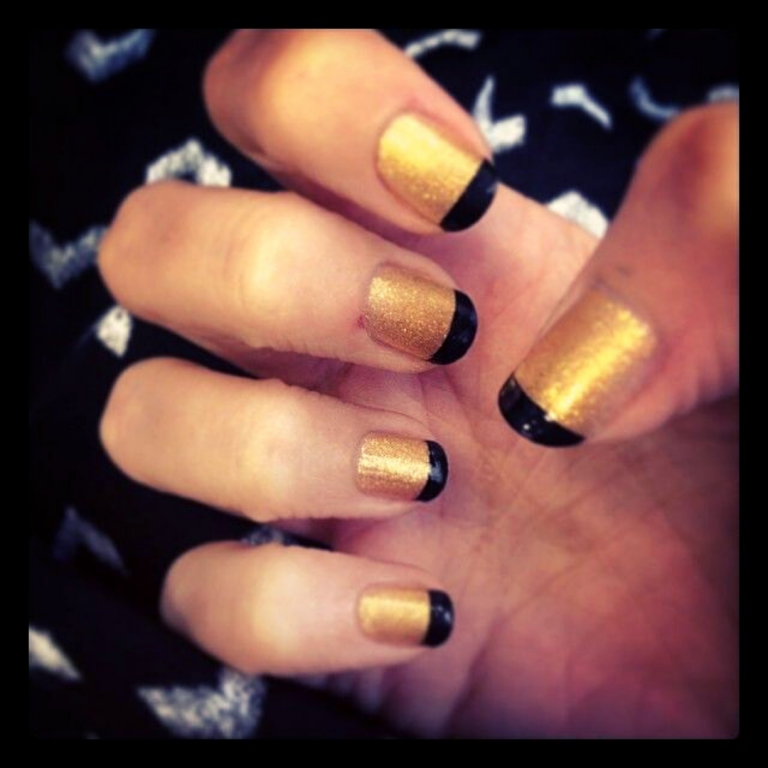 For a more subdued look, this design achieves a balance between shine and subtlety. The addition of gold polish imparts a gentle radiance that beautifully complements the black tips.
9. Black and Gold Glitter Coffin Nails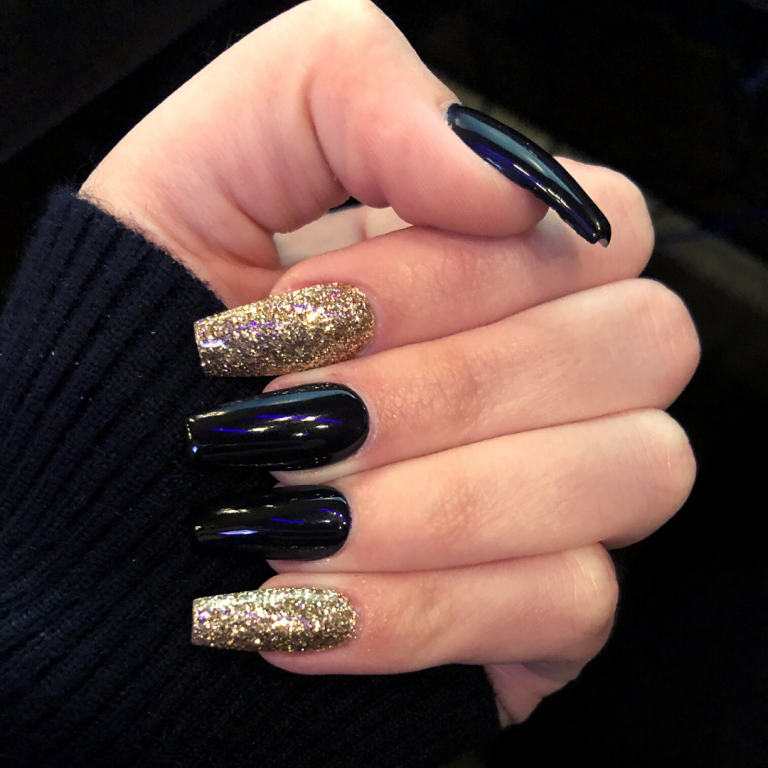 Perfect for special occasions like New Year's Eve, this design showcases black glitter on the tips of coffin-shaped nails. It's a captivating and audacious style bound to capture attention.
10. Black with Sparkling Accents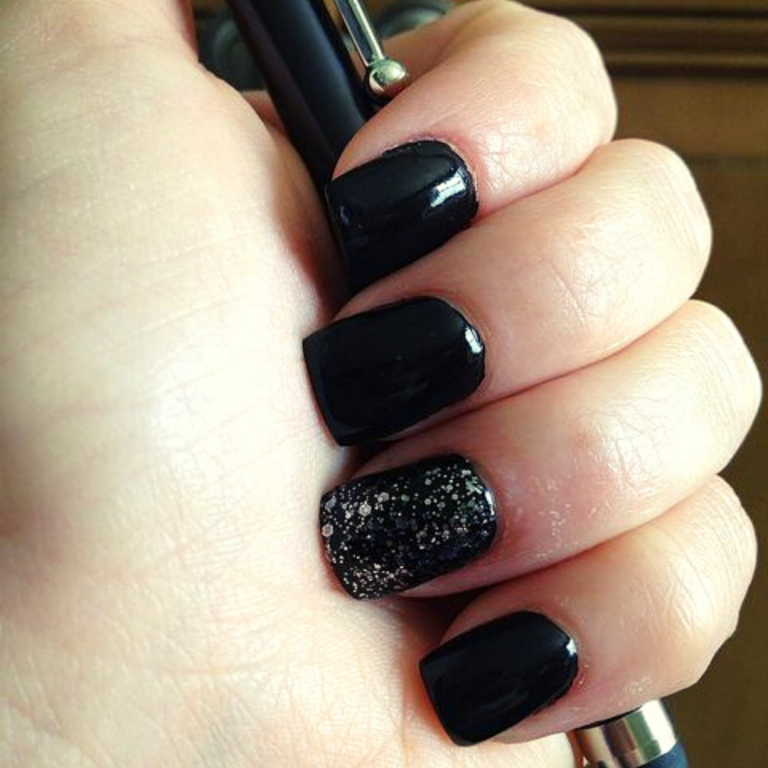 For a subtle glimmer, these nails are an ideal choice. Personalize this design by playing with different shades of black and enhancing it with silver or gold glitter.
11. Black Matte Nails with Stars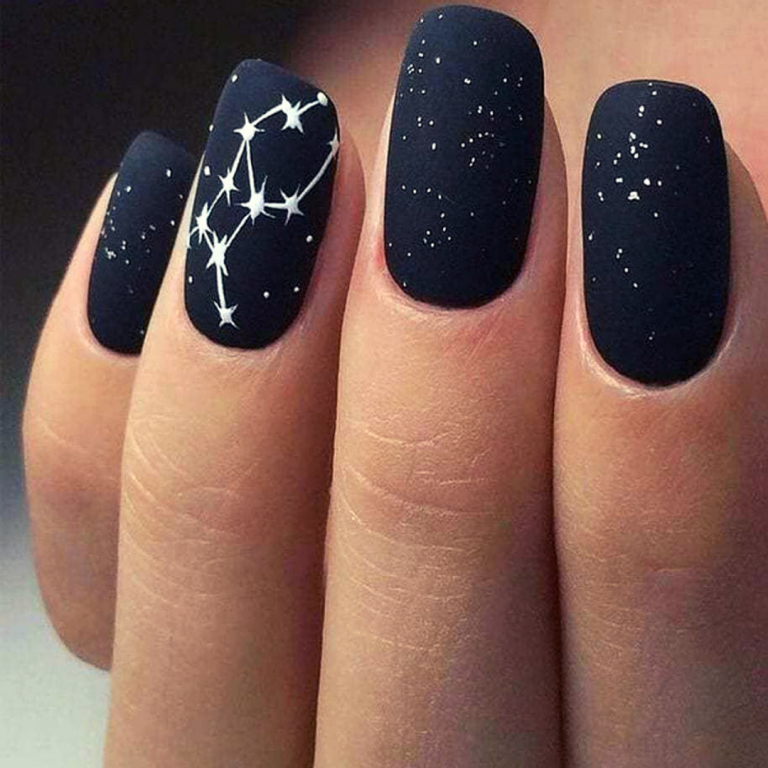 A straightforward and enjoyable look that calls for nail polish in your preferred matte shade, a sponge brush, and nail art stars. You can also experiment with combinations like matte black and gold glitter, or even blue with silver.
12. Black Nails with a Splash of Color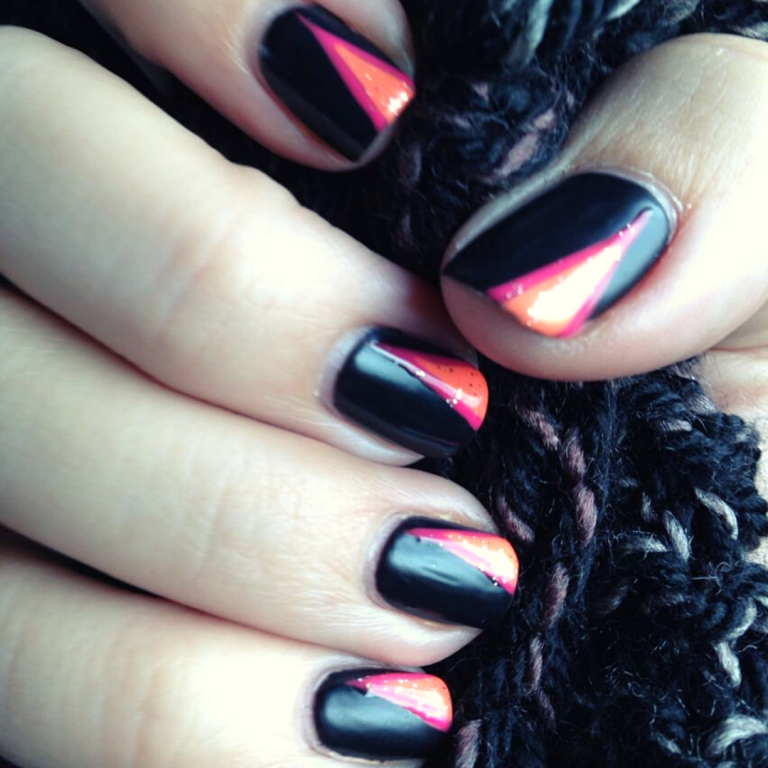 This style introduces just the right amount of color to prevent your nails from seeming dull while maintaining a harmonious appearance. Consider shades like blue or pink for a distinctive twist.
13. Black Nails Stiletto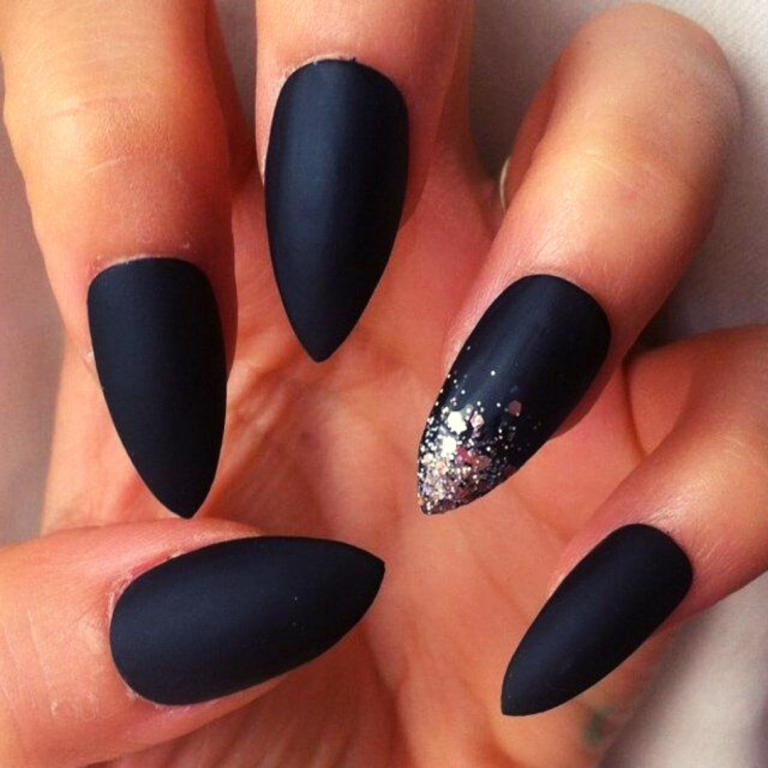 For a femme fatale-inspired look, this design mimics the elegance of a stiletto heel. Achieve this by applying black nail polish and layering two coats of glitter at the nail tips, ideally in both gold and silver.
14. Black Nails Criss-Crossing Pattern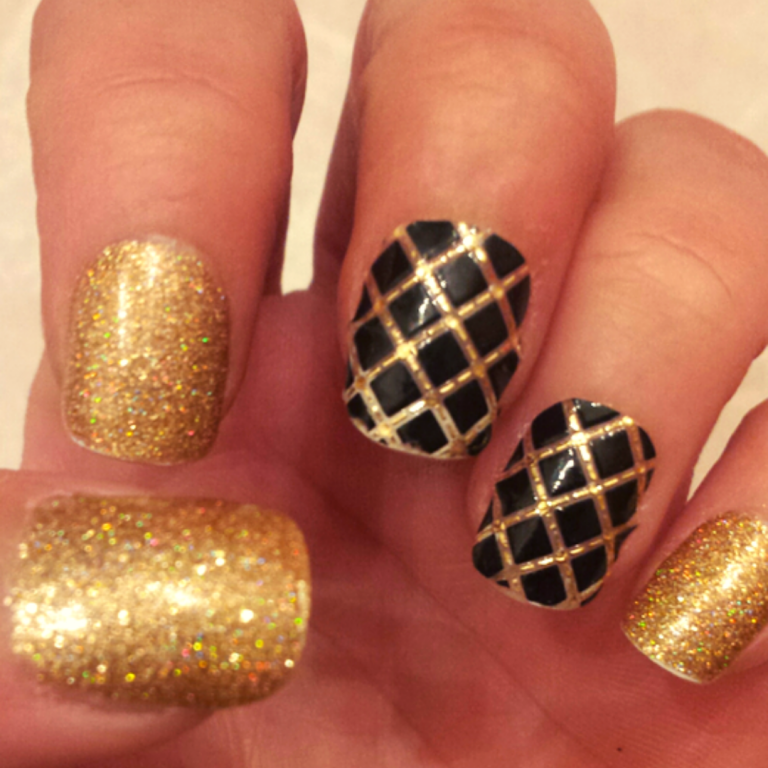 Elevate your black nail art by introducing a different hue of glitter or rhinestones at the end of each nail. Gold or silver can work well to create a captivating contrast.
15. Black French Manicure with Glitter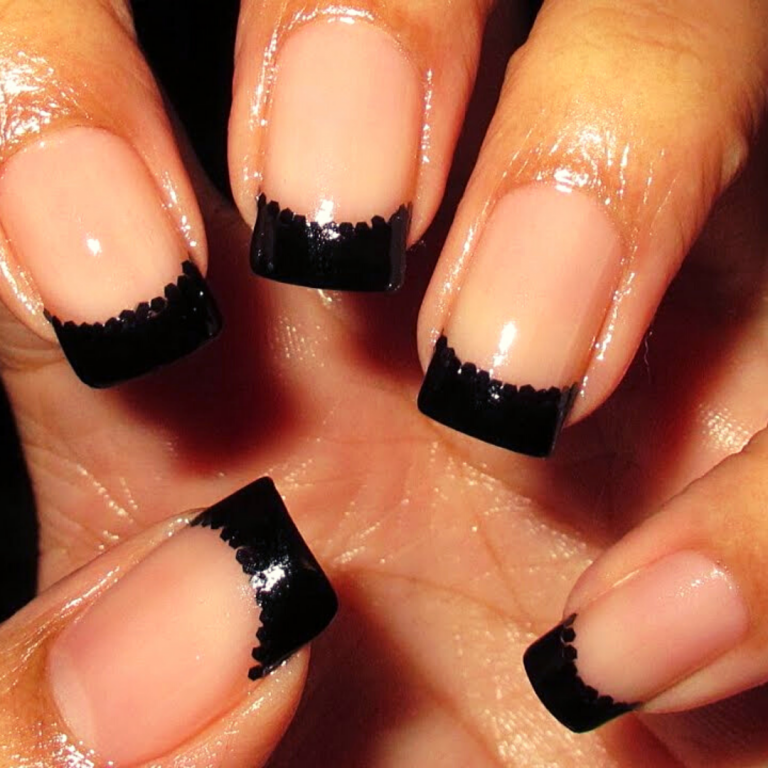 For an elevated appearance, incorporate black and gold glitter onto your French tips. This brings together various nail trends into a single, sophisticated style.
16. Black Tips with Contrasting Colors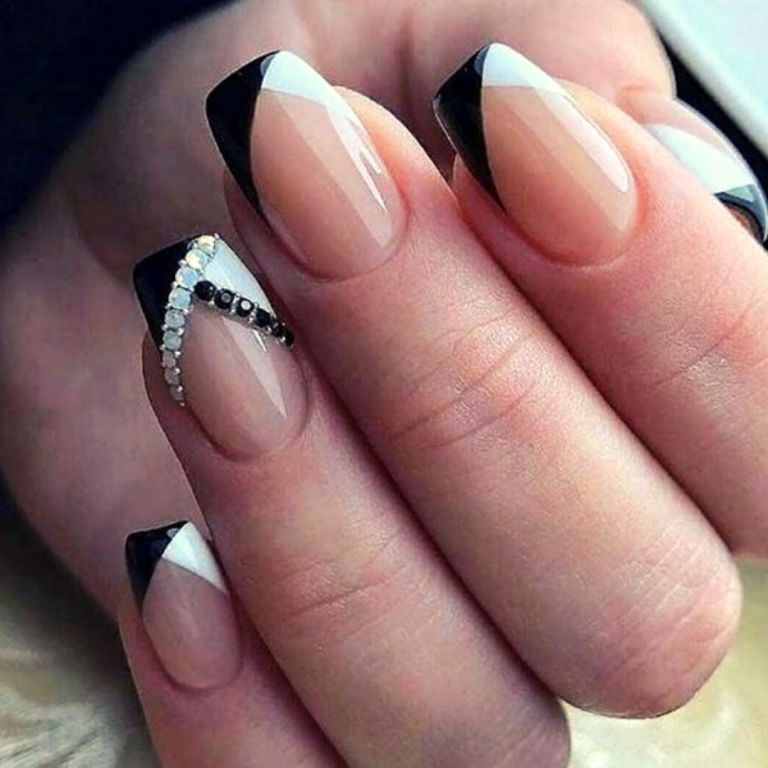 If you're in search of something simple yet gleaming, this design is worth considering. Experiment with different colors to infuse a festive touch or stick with a single hue.
17. Lace Nail Art in Black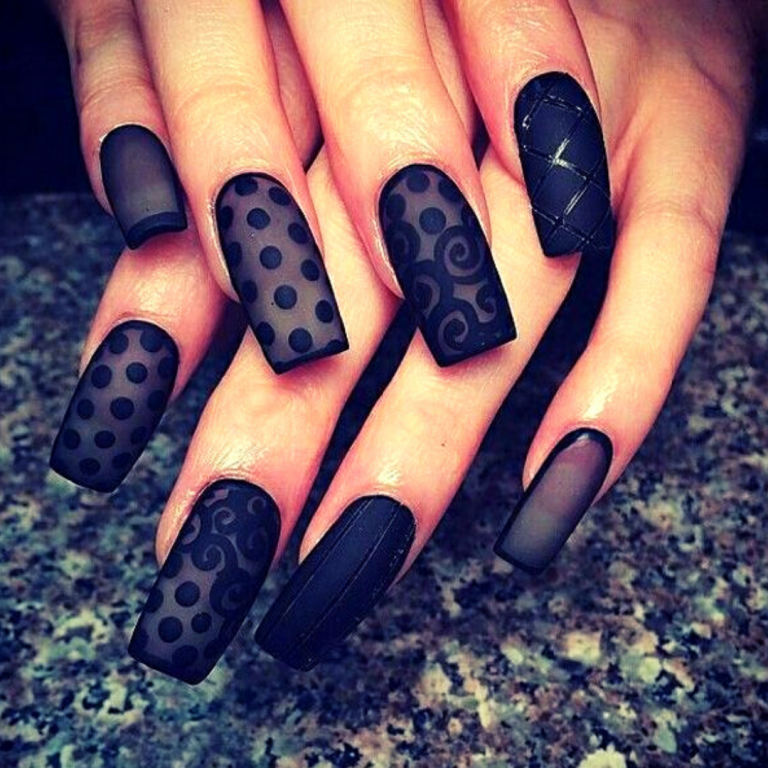 Lace enthusiasts will find delight in this design. The black glitter adds a touch of glitter for a festive feel without overwhelming the overall aesthetic.
Recommendation
25 Red Coffin Nails to Try in 2023
Toenail Falling Off: Causes, Care And Treatment
How to Stop Nail Biting- Reasons and Prevention of Nail Biting
Cute Birthday Nail Designs For Your Special Day Glam
Conclusion
We hope these 17 black and glitter nail designs have ignited your imagination for your next manicure. These cool, pretty, and creative black glitter nails designs are nice. You can show off your favorite designs anytime. Black nails make things look more special and fun, especially for holidays. Have fun trying these designs!