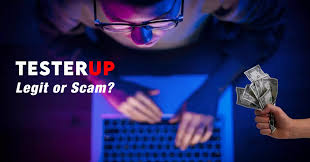 Are you searching for an exciting way to earn additional money? Well, here's an attractive opportunity for you! You can explore a platform that compensates you for experimenting with new apps and websites. How awesome does that sound?
It's not only about having a good time testing new things online; you can also earn some extra cash. One of the popular platforms for this type of work right now is known as Testerup. They specialize in paying individuals to evaluate new apps and websites, and you can earn up to $120 for each one you assess.
Here's the burning question: Is Testerup legit, or is it a scam that could waste your time? Let's investigate further. I'll share my insights and research findings based on firsthand experience.
What is Testerup? | Testerup Review
Testerup is a neat website where you can earn money by trying out new apps and games. According to their official website, Testerup members can try out more than 50 different apps and fun, and these opportunities add up to a total value of over $800. And what's even better? You can test on your phone, tablet, or computer. Sounds intriguing.
But here's the kicker: If you become a Testerup member, you won't be limited to testing apps and games. They also give you access to try out surveys, products, cosmetics, and other exciting things. So, it's not just about experimenting with apps and games; they offer many items to test and explore. Pretty awesome.
Key Features
Let's delve into four crucial aspects that can help you decide if Testerup is the right option for you.
Features
 Testerup offers various ways for you to make money. You can try out new apps, test products, play games, and even take surveys. Additionally, if you refer your friends, you'll earn extra money. You can enhance your profile by adding pictures and sharing your favourite social networks. This helps Testerup suggest offers that match your interests. Having a profile picture can also lead to more tasks being assigned to you.
Earning potential
When you first sign up, you might see 25 offers that could make you up to $1,419.50 if you complete them all. Once you've finished five "Premium" offers, you'll unlock more opportunities and higher earnings. Furthermore, if you invite your friends to Testerup, you'll receive 10% of the money they make during their first year.
For access to the higher-paying offers, it's a good idea to download the Testerup app on your Android or iOS device since many apps you'll test are available only on a mobile. You can cash out your earnings through PayPal once you've reached $70, but you can withdraw a maximum of $250 at a time. The money might take a few days to be transferred to your account.
Ease of Use 
Both the Testerup website and mobile apps are user-friendly and easy to navigate. If you're familiar with playing games online, most of the tasks should be straightforward to complete. Remember that occasionally you may need to make in-app purchases while testing apps.
Security 
Testerup is a German company that adheres to strict regulations to protect your personal information. They take privacy seriously and even use facial recognition to verify your identity before providing payment. This is a good security measure. However, please note that for some tasks, you'll need to have location tracking enabled.
In summary, Testerup is a safe and straightforward option to earn extra money online.
How does the Testerup work? | Testerup Review
Here's a simplified guide to getting started with Testerup:
➡️  Go to the official Testerup website. You can sign up by clicking "Continue with Facebook" or entering your email and creating a password. Then, follow the instructions.
➡️  Once inside, you'll find something like this on your screen: "Try out cool new games and apps."
➡️  Your main aim is to finish these missions. The more tasks you complete, the better you become as a tester, which means you can earn more money.
➡️  Besides completing missions, you can also make money by inviting your friends to join Testerup. They'll give you a unique link to bring people in.
➡️  Here's the excellent part: If someone you invited completes a task on Testerup, you'll receive 10% of the money they make for an entire year. So, if they earn $200, you'll get $20.
➡️  To sum it up, there are two ways to make money on Testerup:
➡️  By testing offers (completing missions).
➡️  By inviting your friends through the referral program.
Testerup Premium Tester | Testerup Review
When you wrap up your testing of new games and apps on Testerup, you're progressing towards reaching a higher status. Certain offers, known as "premium missions," are your ticket to becoming a premium tester on Testerup.
So, what's fantastic about being a premium tester?
✔ You earn more money.
✔ You receive more job offers.
✔ You get to tackle unique and exclusive tasks.
✔ Occasionally, you can snag bonuses such as points and freebies.
Based on what I've gathered, it usually takes completing five premium missions to attain excellent tester status.
How Testerup Stands Out
Testerup sets itself apart from many other money-making apps and opportunities in these ways:
Rather than solely relying on winning games or participating in surveys, Testerup offers a unique blend of enjoyment by letting you play games like GSN Casino and Bingo Blitz while still giving you the chance to earn cash, regardless of whether you win or lose.
Even better, Testerup pays you in cash, not just in gift cards, which differs from how many similar apps operate.
Comparable Options
Let's look at how Testerup measures up against other choices you might consider.
Scramble
Much like Testerup, Scrambly allows you to experiment with various apps and games and offers a referral program. Scrambly might seem like a more attractive option than Testerup for several reasons:
✔ You can cash out your earnings through PayPal with just $1 and receive your money instantly. Moreover, after your first withdrawal, you can earn money by participating in surveys.
✔ Scramble provides new users with the opportunity to earn cashback on their very first in-game purchase, making it appear as a more advantageous choice compared to Testerup.
✔ Scrambly has a more significant number of offers available for users who prefer desktop computers. However, it's worth noting that the most rewarding and high-paying offers often require an Android or iOS mobile device.
Survey Junkie is slightly different from Testerup because it's not about playing games to make money. Instead, it's all about earning cash by sharing your thoughts through surveys. Survey Junkie is considered a reliable option for making extra money and has even received a 4.1-star rating from GOBankingRates.
However, like many similar websites, accumulating a decent amount of money can still take some time. The neat thing about Survey Junkie is that you can cash out once you've reached just $5, which is much quicker than Testerup.
Who Testerup Is Best For
If you enjoy gaming and want to earn some additional cash, Testerup could be a great option. However, remember that it requires patience when completing tasks and waiting for your earnings. Additionally, be prepared to invest some money in in-game purchases.
Testerup Payment and Testerup Minimum Payout | Testerup Review
I read on the Testerup website that they'll transfer your money via PayPal within 24 hours.
But here's the thing to remember: You must have at least $70 in earnings before requesting a payout. This minimum amount is relatively high compared to other money-making apps.
Is Testerup Legit? | Testerup Review
Based on information I found from various sources, some folks believe there might be better ways to spend your time than Testerup. Their main gripe is that the minimum amount you have to earn before you can cash out is set pretty high, and getting that money can be quite challenging. This situation leaves many users needing help to receive their earnings. Moreover, when people have issues or complaints, Testerup's customer service sometimes gets back to them.
Testerup Rating on Trustpilot | Testerup Review
Testerup has a 2.6 out of 5 rating from 21 users on Trustpilot, which isn't too impressive. It's considered in the "poor" or "bad" category.
Now, let's see what some of the Testerup users had to share in their reviews on Trustpilot.
Testerup Rating on Google Play | Testerup Review
Testerup has been rated at 3.2 out of 5 on Google Play, so it's in the middle; it's not great, but not wrong either.
Now, let's dive into some user reviews from Google Play.
After checking them out, quite a few people have complaints about Testerup. So, if you're considering using the platform, think it over carefully.
How Much Does Testerup Pay?
You can make money, varying from $20 to $100 when you complete a task. However, there's a catch: Sometimes, you might need to spend your money to meet the requirements for finishing that task.
Furthermore, they'll reward you with cash, ranging from $2 to $10, just for signing up on survey websites, side hustle apps, and rewards apps.
Additionally, you can boost your earnings by referring people. You'll receive 10% of what your referred members earn for a whole year whenever they complete a task on Testerup.
Testerup App
Testerup offers a mobile app that's free to download on both iOS and Android devices. But there's a twist: The Testerup app might not be accessible in certain countries. To make sure, you can check in the Google Play Store or Apple Store on your phone.
Now, even if you can't get the app from these stores on your mobile device, you can still use Testerup through its website. However, this comes with a catch – you won't be able to participate in offers that specifically require testing on a mobile phone.
Who Can Join Testerup?
Anyone can create an account as long as they're 18 years old. Testerup welcomes people from all over the globe. So, it doesn't matter if you're from the US, UK, Australia, New Zealand, Canada, Germany, Asia, Europe, or any other country – you're welcome to join Testerup.
Testerup Customer Support
If you encounter any issues, have complaints, or need answers about Testerup, you can visit the official Testerup website. They've got a FAQ section that might have the information you need. But if you can't find the answer there, you can always contact them through the "Contact Us" section on the website.
How to Delete a Testerup Account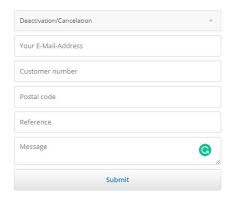 If you ever want to close your account because Testerup isn't meeting your money-making needs, you can follow these steps:
➡️  Go to the Testerup website and locate the "Contact" option at the bottom left of the page.
➡️  You'll come across a form. Provide your information, including your email address, customer number, postal code, and a message. At the top of the document, choose "Deactivation/Cancellation."
Testerup Pros and Cons
Here's a breakdown of the good and not-so-good things about Testerup:
Testerup Pros
It offers a variety of apps, games, and opportunities to its members.
You can sign up for free; no need to spend any money.
It's available to people all around the world.
It's user-friendly and easy to navigate.
You can use it on both Android and iOS devices.
Payments are processed through PayPal.
Testerup Cons
Some tasks take a lot of time to finish.
Some members may need help keeping track of their earnings from completing offers.
The minimum amount you need to earn before cash out is relatively high, so it can take a lot of work to reach.
There's little precise information about the company, who owns it, or an "About Us" section on the website.
Final Thoughts on Testerup Review
Testerup is a platform where you can earn money by trying out apps, games, surveys, and more. It's still pretty new, not even a year old.
But here's the deal: There are quite a few not-so-great reviews about Testerup. Some users have faced issues with their customer service, while others had trouble getting their money. Many people also think that completing tasks and offers takes too much time. On top of all that, the platform has a low rating, just 2.6 out of 5 from 21 users on Trustpilot. So, I wouldn't recommend investing your time in this platform, especially since reaching the minimum payout seems challenging.
FAQs on Testerup Review | Is Testerup Legit or a Scam?
Is Testerup legit?
From what I've heard from most folks who've given it a shot, Testerup might not be the best way to spend your time. Reaching the minimum payout can be challenging, especially when you have to invest your money to complete some tasks. Plus, it tends to eat up a lot of your time.
Who can join Testerup?
No matter where they're from, anyone can become a member as long as they're 18. You can sign up on the Testerup website. Remember that having a PayPal account is necessary to get your earnings.
Is Testerup free?
That's right, joining Testerup won't cost you a dime. It's free to sign up. But here's the thing: Some tasks require you to spend your money to complete them.
Does Testerup Pay?
That's correct; Testerup does pay its members. But here's the thing: You need to earn at least $70 before you can cash out your earnings.
What is the minimum withdrawal from Testerup?
You'll need to gather at least $70 in your Testerup account before you can cash out your earnings.
Read More: SurveyWorld Review: Is Surveyworld Legit Or Not? (Read This Before You Join!)